—
Colorado Daily – Utah
—
November 26th – GameDay!!
… CU in a few minutes … 
Drew Litton's take on CU's home finale against Utah
From the Daily Camera …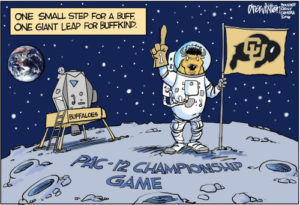 —
Neill Woelk's tribute to CU's senior class
From CUBuffs.com … With a 9-2 record (7-1 Pac-12), the ninth-ranked Buffs will play host Saturday to a formidable Utah squad (8-3, 5-3) with a Pac-12 South title on the line. A Colorado win will send the Buffs to the Dec. 2 conference championship game for a meeting with North champ Washington at Levi's Stadium in Santa Clara, Calif.; a Utah win will hand the division title to USC.
Either way, there will be more football for the Buffs this year after Senior Day, something that hasn't been the case for nearly a decade. But they would rather control their destiny for at least another week and a win Saturday would do just that.
Of the 27 players who will be honored on Senior Day, the vast majority are members of head coach Mike MacIntyre's first recruiting class at CU. They are players who bought into MacIntyre's sales pitch when he arrived in Boulder. With little else to peddle, MacIntyre sold those players a chance to leave a foundational impression on the program, a chance to build something on their own that would withstand the test of time.
Now, three years later, they have stared difficult times in the face, endured three years of struggles in the Pac-12, grown up and said, "Enough."
Enough losing. Enough coming close. Enough moral victories.
Those wet-behind-the-ears kids who came in with MacIntyre are now battle-hardened young men whose stated goal of changing the trajectory of Colorado football has gone from dream to reality.
"It means everything that this group of guys were able to get it done in their time," MacIntyre said earlier this week. "It's really unique to me that these guys' hard-earned work, all their blood, sweat, tears and body parts, that these guys get to do it. Not often in life does that happen. If we finish this like we want, it truly is a dream come true."
… Continue reading story here …
—
November 25th 
… CU in a few minutes … 
A list of CU's 27 seniors, and their biographies
From CUBuffs.com … just click on the name of a senior to check out their biography:
CU SENIORS
WR Jaleel Awini
WR David Bagby
OLB Jimmie Gilbert
WR Joseph Hall
TE Chris Hill
OLB Aaron Howard
TE Sean Irwin
OC Alex Kelley
QB Sefo Liufau
RB Joey Tuggle
DL Josh Tupou
—
Sefo Liufau's NFL stock improving … more than JAG ("Just a guy")
From NFLDraftScout.com …
Sefo Liufau, QB, Colorado, SR. (6-3, 230, 4.76, #13)
Considered a JAG ("just a guy") prospect by scouts over the summer, Liufau has been one of the key reasons for Colorado's resurgence this season, helping lead the Buffs to a possible Pac-12 championship. Built well at 6-3 and 230 pounds, he looks the part and has the functional mobility to extend plays with his legs.
Liufau doesn't have elite arm talent, but his ball velocity is good enough and there is obvious touch on his passes, showing the ability to drop coins in the bucket. He is also a physically tough guy, who is built for punishment and has proven time and again this season that he will play hurt.
Liufau needed to do that on Saturday when he injured his hip and retreated to the locker room for a short time before returning and converting a key third down that led to a game-clinching touchdown. Against the Cougars, Liufau out-played Luke Falk and finished with 345 passing yards on 65.9 percent completions, adding 108 rushing yards and three touchdowns on the ground. He isn't considered a top-flight NFL prospect, but his play on the field and resilient mentality will earn him more and more looks by pro teams.
—
Neill Woelk's Friday Five Keys to the Utah game
From CUBuffs.com … Last week, folks were calling the Colorado-Washington State game the biggest at Folsom Field in more than a decade.
That designation lasted a week.
Now, Saturday's much-anticipated 5:30 matchup with Utah is the latest big game at Folsom, and it includes a script twist: while the 9-2 Buffs (7-1 Pac-12) will be playing for a Pac-12 South title and a chance to play in the conference championship game, the 8-3 Utes (5-3) have been relegated to the role of spoiler.
It's a role they'll likely embrace, especially given the fact that it was Colorado who ruined Utah's chances of a division title in 2011 with a win in the regular season finale.
The Utes are coming off a disappointing 30-28 loss to Oregon at home, a game that crushed their hopes of winning their first division title.
But the Buffs have not underestimated the Utes. They spent the week preparing for a well-coached team that boasts a solid defense, a capable offense — and one that will quite likely come to Boulder with a chip on its shoulder. The Utes can't win the division, but they can improve the quality of their bowl bid and keep alive the possibility of a 10-win season.
What the Buff must do to win clinch a 10-win season for themselves and claim their first division title since 2005:
… Continue reading story here …
—-
November 24th
… CU in a few minutes …
Alex Kelley:  "… let us run with perseverance the race marked out for us …"
From the Daily Camera … "I can't even believe how we started to where we are now," said center Alex Kelley, who has started 35 of CU's 36 games over the past three years.
For Kelley, the journey has been longer than it has been for most of the Buffs. In fact, offensive line coach Klayton Adams joked that Kelley is a "ninth-year senior."
A member of CU's 2011 recruiting class — the only current player remaining from that class — Kelley grayshirted, meaning he didn't enroll until the spring of 2012. He endured the 1-11 season of 2012, which led to coach Jon Embree being fired and current coach Mike MacIntyre being hired.
Kelley then went through a rough first three years with MacIntyre, going 10-27.
During his career, he's had two head coaches and three position coaches.
A religious young man, Kelley cited one of his favorite scriptures from the Bible, Hebrews 12:1, which says, "… let us run with perseverance the race marked out for us …"
"That's kind of been my thought process throughout these four, five years: just stay the course, keep grinding, keep working, keep doing what you're doing," he said.
… Continue reading story here …
—
CBS: Colorado/Utah one of the top five games of the weekend
From CBS Sports … Week 13 puts two conferences front and center: The Big Ten and the Pac-12. Those are the two conferences with the most playoff scenarios and the most to clean up over Thanksgiving weekend.
Not a bad way to end the season before conference championship week, huh?
5. Utah can't win the Pac-12 South, but it can prevent Colorado — the most unforeseen college football story of the year — from doing so. If the Buffaloes win, they move on to the Pac-12 Championship Game to face either Washington State, which it already beat 38-24 in Week 12, or Washington. If they lose, USC goes. Colorado's playoff hopes have been hampered by the lack of a staple win, but if it wins out and things fall the right way elsewhere, the conversation could shift.
2. This is the most important Apple Cup in years. It's a winner-take-all battle for the Pac-12 North crown, a rivalry's dream scenario. This game is especially crucial for Washington, which needs to win out to have a chance at the final four. The selection committee has cited the Huskies' strength of schedule as an issue, so the margin for error is non-existant moving forward.
—–
November 23rd 
… CU in a few minutes …
Tweet of the Day … From CU defensive coordinator Jim Leavitt … "Eating barbecue chips and drinking Pepsi watching practice. Focus was there, laser focus. Excited to compete at a high level with these men!"
—
Colorado has been dominant in the fourth quarter this fall
From the Daily Camera … The defense has allowed just 24 fourth-quarter points all season — 14 of those coming from Arizona after the Buffs had build a 42-10 lead. Eight of 11 opponents have failed to score on offense against the Buffs in the fourth quarter.
It's a testament to CU's conditioning, but also their confidence and the ability to make in-game adjustments.
"The main thing is (defensive coordinator Jim) Leavitt, and then on top of that the seniors and stuff like that, we're able to talk to guys and get guys in the right fit," safety Tedric Thompson said. "Another key thing that we do, everybody in the locker room is talking and telling each other what we see. I think that's why our adjustments are so good."
The offense has done its part, too, coming through with some clutch fourth-quarter points in key games. In addition to the Washington State game, there were three other times where the defense shut out the opposition in the fourth and the offense came through.
On Sept. 24, the Buffs outscored Oregon 8-0 in the fourth quarter to win 41-38. On Oct. 22, they were able to grind out a key field goal late in the game to beat Stanford 10-5. And, on Nov. 3, after going into the fourth tied 10-10 with UCLA, the Buffs closed on a 10-0 run.
… Continue reading story here …
—
Injury Update
From the Daily Camera … Two players who left last week's game with injuries might be back on the field this Saturday.
Safety Ryan Moeller suffered a concussion early in the win against Washington State. He has been going through concussion protocol this week and has not practiced, but is improving.
"He made it through the stage he was supposed to make it through (Wednesday), so hopefully he'll make it through the stage (Thursday)," MacIntyre said. "If he makes it through tomorrow morning's stage, then he'll be able to practice tomorrow, so it looks very positive."
Receiver Bryce Bobo sprained his left ankle against the Cougars. He has not practiced this week, either.
"It's still going to be a game-time decision on that," MacIntyre said. "He didn't do a whole lot today, but he's a quick healer and we'll see what happens."
Left guard Gerrad Kough will not play against the Utes. He missed the Washington State game with a sprained ankle and is not ready to return.
… Continue reading story here …
—
Utah "the most physical team we've faced this year"
From CUBuffs.com … Jobs are most interesting when routines are absent, ruts are avoided. Klayton Adams and Jim Jeffcoat have interesting jobs. Rarely does this week present the same challenge as last week, or next week the same as this.
In Colorado football, which employs both men, this is Utah week. And from past experience in the Pac-12 Conference both Adams and Jeffcoat know that preparing for the Utes means all of your linemen – Adams coaches the ones on offense, Jeffcoat the ones on defense – must eat well, get the proper amount of rest, and suddenly don't go weak in the knees. Or anywhere else.
Confronting Utah is different from confronting Washington State – CU's last opponent. The Utes are brUtes. Saturday's four quarters at Folsom Field (5:30 p.m., Fox) matches the No. 9 Buffs against 18-wheelers whereas their four quarters last weekend pitted them against SUVs.
"There's no question they're the most physical team we've faced this year," said Jeffcoat.
Added Adams: "It's a little bit different style of football than we've seen the last few weeks in that there might not be quite as many movements and not as many moving parts. But a little bit more old school of we're-going-to- line-up-and-try-to-stop-you type of football."
… Continue reading story here …
—–
November 22nd
… CU in a few minutes … 
Tweet of the Day, from Brian Howell of the Daily Camera … "#cubuffs less than 1,000 tickets away from a sellout for Saturday. They expect to be sold out today or tomorrow"
—
Sefo Liufau: "The freshmen hate me right now" (but you'll love why)
From CUBuffs.com … A couple of weeks ago, the Buffs freshmen got an early wakeup call – courtesy of Liufau. Among the things that he and members of this senior class, the team captains primarily, have emphasized to the newcomers are accountability and responsibility.
Adhering to both is paramount, and if one player doesn't everyone pays a price. Classes and tutorial sessions must be attended. Absences in either aren't overlooked.
"The freshmen hate me right now because I don't want this program to fall apart after I leave," Liufau said. "I'm pretty hard on missing tutors and missing class. We've been up together, the freshmen and the captains at 4:45 in the morning for punishment (running).
"There is a fine line. Some of them get really grumpy with me. But it's really important to stress that it's not just about football. Those things that are on the outside can really leak into football and football can really leak into life. So, I'm trying to stress to those guys that school is really important and if they're going to hate me for that, it'll probably be for the week. I'll take that. It's important for those guys to learn all of that at a young age."
Asked what Liufau has meant to the CU program, MacIntyre answered, "Everything. He's meant everything."
… Continue reading story here …
—
Sefo Liufau a finalist for Polynesian Player of the Year
From CUBuffs.com … Colorado QB Sefo Liufau was one of five players named a finalist for the Polynesian College Football Player of the Year Award, the Polynesian Football Hall of Fame announced Tuesday.
The Award is presented annually to the most outstanding Polynesian college football player that epitomizes great ability and integrity.  University of Oregon and Tennessee Titans Quarterback Marcus Mariota was selected as the inaugural recipient of the Award in 2014, and Notre Dame and Baltimore Ravens Offensive Lineman Ronnie Stanley was selected as the recipient in 2015.
The other four finalists for 2016 include TE Cole Hikutini (University of Louisville), DT Lowell Lotulelei (University of Utah), DB Kai Nacua (Brigham Young University) and WR Juju Smith-Schuster (University of Southern California).
The Finalists were chosen by a selection committee composed of past head football coaches Dick Tomey (Chairman), LaVell Edwards, Ron McBride and Dick Vermeil, ESPN SportsCenter anchor Neil Everett, NFL player personnel expert Gil Brandt, past NFLPA president Kevin Mawae (Polynesian Football HOF Inaugural Inductee) and Hawai'i sportscaster Robert Kekaula.
—–
November 21st
… CU in a few minutes … 
Tweet of the Day … From CU co-offensive coordinator Darrin Chiaverini … "Football has taken me and my family all over this country but nothing beats Boulder Colorado! #TheRiseIsReal #CUSwag"
—
Uniform combination for Utah game 
—
Injury update 
From CUBuffs.com …
INJURY UPDATE: Both Bryce Bobo and Ryan Moeller were at practice Monday, but neither participated. Bobo is wearing a walking boot to contain swelling in his foot while Moeller is still undergoing concussion protocol. MacIntyre said Bobo's status would likely be a game-day decision while Moeller's status could be decided later this week.
SENIOR DAY: The Buffs will honor this year's seniors at Saturday's regular season finale when CU hosts Utah in a 5:30 p.m. game at Folsom Field.
"I love to see them go out on a winning note and with a lot riding on it," MacIntyre said. "It will be the biggest crowd in I don't know how long, definitely the biggest crowd I've seen here. It's going to be exciting for the young men and the fans."
KICKING DUTIES: MacIntyre said the Buffs' field goal kicking will continue to be "by committee." The duties had gone back to Davis Price last week, but after the redshirt freshman missed a try in the first half, the Buffs turned to junior Chris Graham, who delivered a career-long 46-yard kick to give CU a 31-24 lead in the fourth quarter.
—
Coach MacIntyre post-practice comments to media
From YouTube, courtesy of CUSportsNation.com:
—
Utah receiver Tim Patrick: "I want (Colorado) to feel how we felt after Oregon"
From Salt Lake City Tribune … After getting their own dreams dashed by Oregon in a 30-28 loss last weekend, the Utes are readying to embrace the spoiler role themselves.
"They're trying to get to the championship and we're trying to stop them from getting to the championship," Utah receiver Tim Patrick said on Monday. "They have to come through us to get to the championship.
"I want [Colorado] to feel how we felt after Oregon," senior receiver Tim Patrick said.
This week finds Utah facing a top-10 opponent in the Buffs, which are fresh off a win over visiting Washington State.
Utah coach Kyle Whittingham said the Buffaloes remind him of Washington: a complete team with a balanced offense and a stingy defense.
… The Utes who attended Monday's press conference said they were still angry at missing out on a chance to play for a title this weekend, but were refocusing for motivation against a team they've beaten in four straight meetings. Colorado has always played Utah tough, even in all the years it finished last in the Pac-12: The last five games have all been within a score.
Colorado played spoiler itself in 2011, when Utah fell at home on a late field goal on Senior Day, 17-14, with a chance to clinch a Pac-12 title game berth. The Utes aim to return the favor.
"It's already bad right now," Williams said. "We don't want to make it worse."
… Continue reading story here …
—
SI: "Pac-12 title, playoff become realistic goals for Colorado after win over Washington State"
From Sports Illustrated … A matchup between two of the worst Power 5 programs of the last decade was one of the most thrilling contests in a bland Week 12 slate. No. 10 Colorado and No. 22 Washington State entered Saturday's meeting in Boulder with division and conference title aspirations. The Buffaloes handled the Cougars, 38–24, to move to 9–2 (7–1 in the Pac-12) and extend their winning streak to five games.
Here are three thoughts on what unfolded at Folsom Field and the Pac-12 more generally:
1. Colorado did enough to slow down Washington State …  
2. It's time to talk about Colorado as a playoff contender … 
3. The Pac-12 South race is not over… yet … 
… Check out the full story here …
—
Jeromy Irwin: Sefo Liufau's leadership "is the reason we are where we are today"
… Related … "From boos to chants of 'Sefo!,' Liufau has seen it all at Colorado" … from ESPN
From CUBuffs.com … "I've said it before, but I truly mean it," Sefo Liufau said. "If I don't play another down after college football and I give it all to these guys and we go out with a bang — it will all be worth it. I'd do it over again in a second. I love this team, I love playing with these guys. The bond we've developed here is special — I'd do anything for them."
The feeling in the CU locker room is mutual. Over the last three-plus seasons, Liufau has helped forge a mentality that has seen these Buffs echo his warrior attitude. It's a mentality that helped them survive difficult times — and now they are thriving.
"He's the toughest guy I know — hands down," said Buffs left tackle Jeromy Irwin. "We run him a lot but he just takes it. We all count on him. We know when he gets hit, he's gonna get up. We just know that. He leads by example, he's vocal when he has to be. Any aspect of leadership that you can think of, Sefo represents it.
"You can write this down — the leadership he has displayed over the last two years is the reason we are where we are today."
Liufau will be the first to admit he's not the fastest quarterback around. He doesn't wow NFL scouts with his arm or accuracy. He doesn't have the passing stats of Cal's Davis Webb, the quarterback who spurned the Buffs (and who is now quarterbacking a 4-7 team that has won just two Pac-12 games).
But he is the toughest. He keeps coming back. He's refused to quit, refused to allow the last three seasons shape him, and has been determined to leave a legacy worth remembering.
It's impossible to argue with the results.
"He's such a battler, such a warrior," head coach Mike MacIntyre said. "He played really well, like I thought he would. He's kept our team fighting and believing."
… Continue reading story here …
—–
November 20th 
… CU in a few minutes .. 
Colorado a ten-point favorite over Utah
From VegasInsider.com … Colorado opened as a 12-point favorite over Utah (Saturday, 5:30 p.m., Fox), but the line quickly moved down to ten points. There was movement in other games involving Pac-12 teams as well:
The rest of the Pac-12: 
— Washington a 4.5-point favorite on the road against Washington State (Fri., 1:30 p.m., MT, Fox) (was 6.0)
— Arizona State a 3.0-point favorite on the road against Arizona (Fri., 7:30 p.m., ESPN) (was 6.0)
— USC a 17.0-point favorite at home against Notre Dame (Sat., 1:30 p.m., MT, ABC)
— Oregon a 3.0-point favorite on the road against Oregon State (Sat., 2:00 p.m., MT, Pac-12 Networks)
— UCLA a 4.0-point favorite on the road against Cal (Sat., 5:00 p.m., MT, ESPN2)
— Stanford a 33.0-point favorite at home against Rice (Sat., 6:00 p.m., MT, Pac-12 Networks)
—
Buffs not interested in polls; focus on taking on Utah Utes 
From CUBuffs.com … Colorado has lost four straight to Utah, with the last win coming in 2011. That year, a 17-14 CU victory in Salt Lake City prevented Utah from winning the Pac-12 South.
"The intensity has to go up a lot," Buffs running back Phillip Lindsay said after Saturday's win. "We have to stay focused and we're going to have to compete. It's an exciting feeling and we just don't want that train to end. So we're going to work hard and get ready for this game."
Colorado's rise in the national rankings has also spurred plenty of national attention. By late Saturday and early Sunday, national writers from almost every major sports news source were taking note of the Buffs' ascension, from ESPN to Fox Sports to CBS Sports.
But this week, the Buffs' approach will be what it has been all year. While the stakes have been raised each week, they've approached each game with a single-minded focus.
Saturday evening, after addressing his defense, Buffs defensive coordinator Jim Leavitt made it quite clear that rankings won't be on the Buffs' minds this week.
"Utah," Leavitt said emphatically, pointing his finger for even more emphasis. "That's all we're worried about now. Utah. Good team. They're going to come in here ready to play. We'd better be ready."
… Continue reading story here …
—
Salt Lake City Tribune: "Familiar problems plagued Utes in Oregon defeat"
From the Salt Lake City Tribune … Under Mark Helfrich, Oregon had never won a game it trailed after three quarters. Under Kyle Whittingham, Utah had gone 82-6 in games it led at halftime.
But on Saturday, historical precedent took a backseat, leading to an unpredictable upset for wholly predictable reasons.
Utah (8-3, 5-3), which dropped to 21 in Sunday's AP poll after falling to Oregon 30-28 at home on Saturday, will have plenty of painful hours — or days, or weeks — to parse over what led the 14.5-point favorite to falter and miss one of their best windows to finally go to the Pac-12 Championship.
Certainly, there will be those who second-guess the last defensive call, a max blitz that UO signal-caller Justin Herbert beat with a 17-yard throw to Darren Carrington with not an inch to spare. There will be those who question why Utah went away from running back Joe Williams, who got only five carries in the final quarter despite averaging 6.5 yards per rush.
But two major factors that decided the game — Utah's inability to limit big plays, and the inconsistency of the Utah's offense particularly passing the ball — were ones that anyone could have seen coming.
Whittingham sounded weary after the loss that made Utah's South Division hopes crash and burn.
"We knew what type of talent Oregon had," he said. "I think our guys knew what they were up against."
… Continue reading story here …
—–