—
Rankings and Ratings
—
November 22nd 
… Foe Pause … 
CU up one spot, to No. 9, in latest College Football Playoff rankings
From CUBuffs.com … Three days after a win over No. 22 Washington State, the Colorado Buffaloes stepped up to No. 9 in the College Football Playoff rankings.
The Buffs, who checked in at No. 10 a week ago, moved up thanks to a loss by Louisville. The Cardinals, who were No. 5 a week ago, fell to No. 11 after losing to Houston, their second loss of the season.
It now means Mike MacIntyre's Buffs are ranked No. 9 in the Associated Press and USA Today/Coaches poll as well as the CFP rankings. CU was No. 15 in the initial CFP rankings, then moved up to No. 12, then No. 10 before the latest rankings by the committee.
Colorado is one of six Pac-12 teams in the CFP top 25. The list also includes Stanford (No. 24) and Washington State (No. 23), both of whom the Buffs have beaten. At No. 22 is Utah, who the Buffs host Saturday in a 1:30 p.m. game at Folsom Field.
… "Colorado is a team the committee is really impressed with," said CFP selection committee chairman Kirby Hocutt. "They're strong on both sides of the ball."
The Buffs have the chance to play two more ranked teams in the next two weeks. If they beat Utah on Saturday, the Buffs will advance to the Dec. 2 Pac-12 championship game, where they would face the winner of Friday's Washington-Washington State contest in Pullman.
"It shows you how deep our conference is with six in the top 25," MacIntyre said. "The fact that our conference plays nine games and some conferences don't also adds to our strength of schedule. Certainly whoever wins our conference is going to deserve to be highly ranked."
… Continue reading story here …
1. Alabama
2. Ohio State
3. Michigan
4. Clemson
5. Washington
6. Wisconsin
7. Penn State
8. Oklahoma
9. Colorado
10. Oklahoma State
11. Louisville
12. Southern California
13. Auburn
14. Florida State
15. Florida
16. Nebraska
17. Tennessee
18. West Virginia
19. Boise State
20. Houston
21. Western Michigan
22. Utah
23. Washington State
24. Stanford
25. Navy
—
CU's Mike MacIntyre up to No. 1 in Coach-of-the-Year rankings
From CampusInsiders.com … As the importance of every game and every Saturday reaches a fevered pitch in November, the jockeying for position in the 2016 Coach of the Year has heated up as well. The biggest plummets in the rankings belonged to Bobby Petrino and Kyle Whittingham, whose teams were upset by Houston and Oregon, respectively. The biggest beneficiaries? Navy's Ken Niumatalolo and USC's Clay Helton, who cracked the top 10 for the first time.
Through a dozen weeks of action, the following coaches have so far done the best jobs of exceeding preseason expectations and managing the myriad challenges associated with being the face of a major program.
1. Mike MacIntyre, Colorado (2)
The Buffalo administration was patient with MacIntyre, who entered this season with a 10-27 mark through three years. The payback for that patience has been nine wins, a Pac-12 South lead and more eyeballs on Boulder than the past 10 years combined. Colorado is relevant again, beating ranked Washington State a week ago to move within a win over Utah Saturday from appearing in the Dec. 3 Pac-12 Championship Game. Only Washington in the league is ranked higher than the Buffs, hard to fathom for a team pegged in the preseason to finish in the division cellar.
—–
November 21st
… Foe Pause … 
USA Today Heisman trophy survey … Sefo Liufau gets a vote for No. 2
From the USA Today … It's no secret that it would take a miracle to catch Lamar Jackson in the Heisman Trophy race, even after a mediocre performance in Louisville's setback loss against Houston last week. Jackson is still way out front with 78 total points in this week's survey of writers and editors with Heisman votes who work for properties owned by Gannett, parent company of USA TODAY.
In the race for second place, though, it's much more interesting.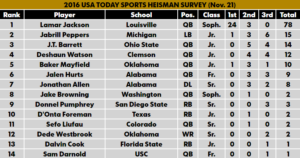 —
Liufau and Fisher named Pac-12 Players of the Week
From CUBuffs.com … Colorado added two more Pac-12 honors to its season total on Monday, as Sefo Liufau was named the league's offensive player of the week and Nick Fisher the defensive player of the week for their performances in leading No. 9 CU to its ninth win of the season last Saturday against Washington State.
The two selections bring CU's season total up to eight (four offensive, two defensive and two special teams), which has tied with the 2001 team for the most honorees in a year in Colorado history. That 2001 team had four defensive selections, two offensive and two on special teams when back in the Big 12.
The eight total selections are also the most from any Pac-12 school this season.
This marks the first week since Sept. 23, 1995 that CU collected both offensive and defensive player of the week honors for the same game. That year it was with QB John Hessler on offense and ILB Matt Russell on defense after the duo led the Buffs to a 29-21 win over No. 3 Texas A&M at Folsom Field when CU was in the Big 8 Conference.
For Liufau, he becomes the first Pac-12 player to earn two offensive player of the week honors this season. This was the first of weekly accolade of Fisher's career.
Fisher was pressed into action after CU lost two safeties ahead of him and all he did was step right in and make six tackles (all solo) with one pass breakup. After only playing 39 snaps previously, Fisher played 67 vs. WSU and recorded three third down stops and a fourth down stop, the latter at CU's 15-yard line when Washington State was driving trying to score a go-ahead touchdown when trailing 28-24 with 13:17 left in the game.
Fisher and the CU defense held Cougar quarterback Luke Falk 26-of-53 passing, or 49.1 percent. Falk entered the game leading the nation with a completion percentage of .739.
—
ESPN Pac-12 Power Rankings … Colorado No. 1
From ESPN … Welcome to the Week 12 Pac-12 power rankings. You can see last week's rankings here. If you don't like where you're ranked, play better.
1. Colorado (9-2, 7-1, No. 2 last week): Business is taken care of. It has been a while since the Folsom faithful have enjoyed a good field-storming, but they did after beating Washington State 38-24. Next week's game might be epic, as the Buffaloes could lock up the South against Utah. With a win, they are in the Pac-12 title game (against Washington? Washington State?). If they lose, that head-to-head against USC will come back to bite them.

2. USC (8-3, 7-2, No. 5 last week): Make it seven straight wins for the Trojans, who cruised by UCLA 36-14 and won their second consecutive game against the Bruins. The Trojans' conference schedule is closed, and they'll finish next week against Notre Dame. All they can do at this point is cheer for the Utes next week against Colorado.
6. Utah (8-3, 5-3, No. 4 last week): It was a bad, bad 30-28 loss to Oregon. Utah has shown the past couple seasons that it has all the tools to make a run at a division title. The Utes have the athletes, the facilities and the fan base. But the lack of consistency down the stretch is becoming an all-too-familiar trend.
—
Jon Wilner's AP ballot … CU the No. 6 team in the nation
From the San Jose Mercury News … There were changes to the second five.
No. 6 Louisville lost (to Houston) and dropped several spots in the process.
I did not move No. 7 Washington into the vacancy, however. Instead, Colorado jumped four positions, and over the Huskies, into the six hole after its victory over Washington State.
The Buffaloes have a better resume than UW at the moment:
They have played a tougher overall schedule.
Both teams have lost to USC, but CU's defeat came in a close game in the Coliseum, whereas UW was beaten soundly at home by the Trojans.
CU's other loss came in Ann Arbor, in a close game for three quarters, while Washington has no equivalent non-conference game: The Huskies played a string of cupcakes.
That contributes to Colorado's significant edge in SOS.
Both teams have beaten Stanford. The Huskies did it handily at home; the Buffs in a close game on the road — slight edge to UW there.
BUT: Based on Saturday's results, Colorado's best league win, over Washington State, trumps Washington's best league win, at Utah.
The Utes' home loss to Oregon de-values Washington's win in Salt Lake City, which could have significant playoff consequences for the Huskies two weeks from now.
(Add the fact that Utah has also lost to Cal, and the Utes no longer qualify as a quality win for anyone.)
… Continue reading story here …
—–
November 20th
Colorado up to No. 9 in both Associated Press and USA Today coaches polls
From CUBuffs.com … Fresh off of Saturday's 38-24 win over Washington State, Mike MacIntyre's Buffaloes added another milestone to their storybook season Sunday, moving to No. 9 in both national polls.
Ranked No. 12 in both the Associated Press and USA Today/Coaches polls last week, the 9-2 Buffs (7-1 Pac-12) jumped three spots in both on Sunday. It marked the first time they've been in the top 10 of either of the national polls since early in the 2002 season, and it comes on the heels of a No. 10 placement in last week's College Football Playoffs rankings.
The new CFP rankings will be released Tuesday and the Buffs are expected to move up in those as well. Those are the rankings that are truly important now, as they decide the four teams that will advance to the national semifinals as well as have a major influence on bowl placement.
The Associated Press poll:
1. Alabama
2. Ohio State
3. Michigan
4. Clemson
5. Wisconsin
6. Washington
7. Oklahoma
8. Penn State
9. Colorado
10. Oklahoma State
11. Louisville
12. Southern California
13. Florida
14. Western Michigan
15. Florida State
16. Auburn
17. Nebraska
18. Houston
19. West Virginia
20. Boise State
21. Utah
22. Texas A&M
23. Washington State
24. Tennessee
25. LSU
Others Receiving Votes: Stanford (8-3) 81; Virginia Tech (8-3) 77; Navy (8-2) 62; North Carolina (8-3) 55; Pittsburgh (7-4) 24; South Florida (9-2) 24; Arkansas (7-4) 10; Iowa (7-4) 7; Troy (8-2) 6; Minnesota (8-3) 5; Temple (8-3) 1; Wyoming (8-3) 1
—
The USA Today coaches poll:
1. Alabama
2. Ohio State
3. Clemson
4. Michigan
5. Washington
6. Wisconsin
7. Oklahoma
8. Penn State
9. Colorado
10. Oklahoma State
11. Louisville
12. Southern California
13. Florida
14. Florida State
15. Nebraska
16. Auburn
17. West Virginia
18. Western Michigan
19. Boise State
20. Utah
21. Houston
22. Texas A&M
23. Washington State
24. Tennessee
25. North Carolina
Others Receiving Votes: Virginia Tech (8-3) 101; Stanford (8-3) 96; LSU (6-4) 90; Navy (8-2) 82; South Florida (9-2) 46; Minnesota (8-3) 11; Arkansas (7-4) 10; Pittsburgh (7-4) 8; San Diego State (9-2) 7; Wyoming (8-3) 6; Miami (Fla.) (7-4) 1; Iowa (7-4) 1; Tulsa (8-3) 1
—
Sefo Liufau named CBS National Player-of-the-Week
From CBS …
National Player of the Week
Sefo Liufau, QB, Colorado: Liufau and Colorado hosted Washington State on Saturday in what was easily the biggest college football game played in Boulder in quite a while, and Liufau made sure everybody in black and gold went home happy.
Liufau threw for 345 yards, and though he didn't toss any touchdown passes, he ran for two while finishing with an additional 108 yards rushing.
As a result of Liufau's performance, Colorado remained atop the Pac-12's South Division and kept itself alive for both a Pac-12 title and maybe even a College Football Playoff spot. Who would have thought at the beginning of the season that Colorado could be looking at the Rose Bowl as a consolation prize?
—–