—
Colorado at Arizona Preview: "T.I.P.S." for the Buffs' trip to the desert
—
How are the Buffs supposed to get motivated to play the Wildcats?
How are they to avoid a trap game against a team with a 2-7 record (0-6 in Pac-12 play)? How they are going to stay motivated when, owing to an 8:00 p.m., MT, start, there may be as many empty seats in Arizona Stadium as there are fans?
Well, for a change, we can't use the "never defeated them as a member of the Pac-12" mantra as motivation.
After going 4-0 this fall against teams (Oregon, Arizona State, Stanford, UCLA) against which the Buffs were 0-18 in Pac-12 play, Colorado finally gets to play a team which it has already posted a conference victory.
Granted, the CU win was back in 2011, the Buffs' first season in the Pac-12. The 48-29 demolition of the Wildcats in Boulder was the first-even win for the program as a member of the Pac-12.
Since then, though, Arizona has won four straight in the series …
How's this? Rich Rodriguez wasn't the coach for Arizona in that CU victory (the 2011 season represented the end of the Mike Stoops era) … which means …
Rich Rodriguez is 4-0 against Colorado.
There you go … some motivation for the Buffs on Saturday night: Beat Rich Rodriguez (because, with the way things are going right now in Tucson, the Buffs might not get a second chance).
There are other motivations for the Buffs, of course – getting the offense back on track; eliminating penalties; maintaining their lead in the Pac-12 South division race; maintaining a presence on the national stage.
But helping to keep Rich Rodriguez miserable should be motivation enough …
—
This week's "T.I.P.S." for No. 16 CU at Arizona … Saturday, 8:00 p.m. MT, FS1
—
T – Talent
In the 69-7 drubbing by Washington State, the Wildcats tried three different quarterbacks.
– Junior Anu Solomon has been injured this season, but played much of the game against the Cougars, going 9-of-13 for 122 yards. Solomon's calling card, though, is (was) his mobility. Against Washington State, Solomon had eight carries … for a minus-28 yards. Quarterback rating: 1.4.
– The starter for the game was Brandon Dawkins, who, in his four pass attempts, completed as many passes to the Cougars (one) as his own players (also one). Quarterback rating: 11.6.
– In the fourth quarter, true freshman Khalil Tate got playing time, who, in his six pass attempts, completed as many passes to Cougars (one) as his own players (also one). Quarterback rating: 1.0.
One, two, or all three might see playing time against Colorado.
The quarterbacks are not all to blame for the Wildcats' woes, however.
Star running back Nick Wilson has been hampered by injuries, and Monday was declared out for the rest of the season. Freshman tailback J.J. Taylor, who was the second leading rusher, has also been lost for the season. To try and shore up the unit, former wide receiver Samajie Grant has been moved to running back.
Not much to fear here, at least on paper.
The Arizona passing game? … Not very effective.
Arizona is 104th in the nation in passing offense, with only 190.8 yards per game. The offensive line has been no help … as the Wildcats are 90th in sacks allowed (with 11 sacks allowed in the past two weeks).
The most telling stat …
Since scoring 47 points against Hawai'i in week three, the Wildcats' points total has declined each week … 28, 24, 23, 14, 10, 7.
The defense has gone south this year as well.
The Wildcats did not record a sack against the Cougars last Saturday night, and had only one tackle for loss, a season low.
Rodriguez said Monday that linebacker DeAndre' Miller got hurt after three plays against Washington State. He did not return. Arizona already was without linebackers Cody Ippolito and Michael Barton.
Overall, Arizona is 117th in the nation in both total defense (475.2 yards per game) and scoring defense (37.1 points per game).
If there was ever a chance for the CU offense to get back on track, it will be this weekend.
Special teams?
Of Washington State's first three punt returns, the shortest one was 26 yards. Their fourth punt return only went for 14 yards.
Paging Isaiah Oliver …
—
I – Intangibles
It's a strange new world for these Buffs.
"It's great to be 7-2 and it's a lot better than being on the opposite end, 2-7 trying to fight for respect," said quarterback Sefo Liufau after CU's sloppy 20-10 win over UCLA. "There's a lot to learn from this game but to be able to go into the right direction no matter how small the step is, is always a great thing to see".
Compare that quote to that of Arizona head coach Rich Rodriguez after the blowout loss to Washington State, eliminating the Wildcats from bowl consideration: "For us, the only thing we can do right now is try to mess up someone else's season. We're not going to quit trying. That's the one thing I've told the team. … Try to figure something out – that's our job as coaches. We'll let this hurt for 24 hours, get back home and try to play better."
The Wildcats, as the Buffs have had to do for some many recent Novembers, are playing for pride. The Buffs, meanwhile, are leading the Pac-12 South, and control their own destiny for a trip to the Pac-12 title game.
A trap game for the Buffs?
An argument could be made that the Buffs, after first re-joining the national rankings a few weeks back, suffered a let down the following weekend against USC. Then, upon rejoining the rankings after defeating Stanford, suffered a let down in their next game against UCLA.
A let down against Arizona?
Not likely.
Had the Buffs blown out the Bruins last Thursday, they may have been over-confident heading to Tucson. They might have been caught off-guard against a team playing with nothing to lose.
But the Buffs – in their own minds – played poorly against UCLA.
They still have so much to prove.
Advantage: Colorado.
—
P – Preparation / Schedule
By the time the Buffs take the field late Saturday night, they will have a good idea of where they stand in the Pac-12 standings. Utah plays Arizona State on Thursday night, and the USC/Washington game will be nearing its conclusion.
If both Utah and USC lose – not outside the realm of the reasonable – the Buffs could open up a two-game lead with only two games to play. A Colorado win against Arizona would then give the Buffs the chance to clinch the Pac-12 South with a win against either Washington State or Utah … a nice position to be in with two games against ranked teams left to be played.
On the other hand, if both Utah and USC win – also not outside the realm of the reasonable – the Buffs will have to win to keep their lead. Plenty of incentive there as well.
Arizona, meanwhile, is trying to avoid its first winless season in conference play since 1957 (the Wildcats have never finished winless as a member of the Pac-10/12 … they joined the then Pac-8 with Arizona State in 1978). Arizona takes to the road to face Oregon State next weekend, before finishing at home in the Territorial Cup battle against Arizona State.
Oregon State appeared to be an easy mark earlier in the season, but has played better of late. Arizona State, meanwhile, has fallen to 5-4 after a 5-1 start. With games against Utah and Washington left on their schedule, the Sun Devils may well head down to Tucson with a 5-6 record, be on a five game losing streak, and in desperate need of a win over the Wildcats to earn bowl eligibility.
Arizona, with three games to play, is looking dead into the face of a potential 2-10, 0-9 season.
The Wildcats have fallen, and it's up to the Buffs to make sure that they don't get up.
—
S – Statistics
If you love Colorado football, and love statistics, these Buffs are posting the best numbers in well over a decade … with some of the numbers approaching historic levels.
Last fall, in the first year under defensive coordinator Jim Leavitt, the Buffs cut the points allowed average from 39.0 points per game (in 2014) to 27.5 points per game … and Leavitt was hailed as a savior.
This year, the points allowed total has been reduced to 17.2, the 12th-best average in the nation. The last three opponents (Arizona State, Stanford, and UCLA), have been held to an average of 10.3 points per game, and an average of 224 total yards.
What words can adequately describe how well the Buffs' defense is playing?
For the season, the Colorado defense is giving up an average of 296.9 yards per game. That figure is 120 yard per game better than last year … the best improvement number, year-over-year, in all of the FBS. Two years ago, in 2014, the Buff defense surrendered an average of 461.0 yards per game.
From 461.0 yards per game to 296.0.
In less than two years.
Can we start making moldings for a Jim Leavitt statute (or, at the very least, pass the hat so we can raise Leavitt's salary enough to keep him)?
Meanwhile, the Colorado offense is producing almost twice as many points (33.7 points per game) as are being surrendered. The Buffs, after flirting with a season average of 500 yards per game – something never before accomplished in the history of the program – are "down" to 474.4 yards per game.
It is very true that the Colorado offense has produced only two touchdowns in the past two games.
It is also very true that the Arizona defense is not nearly as good as the defenses fielded by Stanford and UCLA.
"I'll take our offense over any offense in the nation," senior safety Tedric Thompson said after the UCLA game. "And I'll take Sefo over any quarterback in the nation. We know what he can do, we believe in him and he's going to take us where we want to go. What he's done to get here, to get us here, is amazing."
Buff fans who stay up for #Pac12AfterDark this Saturday may well be treated to a much more successful version of the Colorado offense.
—
Prediction … On the first play from scrimmage against Washington State last Saturday afternoon, Arizona quarterback Brandon Dawkins hit wide receiver Nate Phillips for a 75-yard touchdown.
An upset in the making?
Nope. The touchdown was called back for an offensive penalty … bringing to a quick close the Arizona highlight package.
It was just that kind of a day for the Wildcats, who went on to trail 24-0 after the first quarter in a 69-7 rout.
The contrarian in me wonders if the game might have turned out differently had Arizona taken a 7-0 lead 15 seconds into the game.
Probably not.
But that is also a cautionary tale for the Buffs. Colorado cannot allow Arizona to pick up even a whiff of momentum … or it could be a longer night than expected.
If I were on the Colorado coaching staff, I would also choose the 2015 CU/Arizona game for the in-flight movie to Tucson. Last fall, the Buffs led the Wildcats, 24-17, heading into the fourth quarter. Three touchdowns in ten minutes later, Arizona had a 38-24 lead on its way to a 38-31 victory.
Cautionary tale No. 2 for not allowing the Wildcats to stick around and be competitive Saturday night.
Thing is … I don't think the Buffs will suffer a let down. I don't see this team as over-looking Arizona.
The Colorado offense may not return to juggernaut status, but it will be successful against the Arizona defense.
And the Buff defense should have a field day against the struggling Wildcat offense.
There could be some tense moments – like a 75-yard pass on the opening play of the game, a successful trick play, a special teams gaffe by the Buffs – but I can't see sustained success by the Wildcats.
I can see the Buffs overcoming a few (inevitable) adversities Saturday night. After all, they have been doing it all season.
I like the fact that Arizona's point production has declined throughout the season, and the fact that Arizona has just one takeaway in the past five games.
That, for the Buff faithful, are telling statistics.
… No. 16 Colorado 34, Arizona 10 … 
—–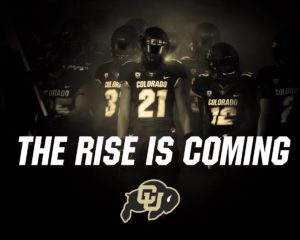 —–