—
Sisyphus
—
Most people know the story of Sisyphus.
Sisyphus is known to history as the former King of Corinth, who, according to Greek mythology, was condemned to spend eternity pushing a boulder up a hill, only to have the boulder roll back to the bottom of the hill.
(If you want to read a brief history of the antics which resulted in Sisyphus being relegated to such a fate – including his placing handcuffs on Hades, king of the underworld, so no one could die – check it out here).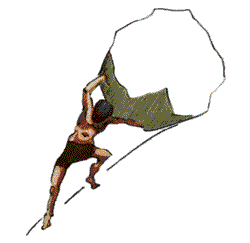 For over ten years, the Colorado football program has been the Power Five conference equivalent of Sisyphus.
The Buffs – and their fans – have been condemned to push the boulder uphill towards restoration of their program, only to have the boulder drop back down to the bottom, forcing the Buffs – and their fans – to start all over again.
It started with the scandal which wasn't; the rape accusations which never led to any arrests; the finding of guilt without the nuisance of actually having a trial.
Then head coach Gary Barnett got a bad case of "foot-in-mouth" disease, with the truth, once again, not playing a role in the condemnation of the Colorado football program.
Dan Hawkins seemed like a good fit to get the boulder heading back uphill again, and continue (not restore, continue) CU's winning ways. A 19-10 loss to Montana State in Hawkins' debut should have been a clear sign of things to come, but the program – and its fans – kept pushing the boulder up the hill, hoping for better days.
After Hawkins was finally dismissed after five tortuous seasons, Jon Embree and Co. were brought in. The CU administration and the Buff Nation bought into the concept of bringing back former Buffs, players and coaches who understood what it took to get the rock up to the top of the hill and keep it there.
So CU fans started over, pushing the rock up the hill once again.
Embree, though, was never able to get the rock moving up the hill … if anything, the rock fell further down towards the bottom.
Enter Mike MacIntyre. With the top of the hill nowhere in sight, the new coach Mac and his hires, along with the Buff players and fans, started over yet again. Under MacIntyre, the Buffs went from hideous in 2012 (average score: 46-18) to a better grade of lousy by 2014 (average score: 39-28).
The 2015 season, MacIntyre's third, was supposed to be the season of progress. Perhaps not the ten-win success MacIntyre enjoyed in his third season at San Jose State, but progress nonetheless.
The boulder had been pushed far enough back up the hill that the Buffs and their fans could at least see the summit once again. After a slip to start the season against Hawai'i, the boulder started edging up, with the Buffs posting their first three game winning streak in seven years. A 41-24 loss to Oregon, while not a step higher up the hill, was at least not a step back. It was a sign of progress that the Buffs – and their fans – were upset that they had let an opportunity to take down a vulnerable Duck program slip away.
Then … the Arizona State game.
And the boulder slide back down the hill once again.
Witness:
2011: Arizona State 48, Colorado 14
2012: Arizona State 51, Colorado 17
2013: Arizona State 54, Colorado 13
2014: Arizona State 38, Colorado 24
2015: Arizona State 48, Colorado 23
Same song, different verse.
And it's not as if the Sun Devils are the dominant team in the Pac-12 conference. Arizona State came into the game against Colorado with a record identical to that of the Buffs – 3-2 – and were one week removed from a humbling 42-14 home loss to USC.
What's different about the 2015 Colorado football team to make the Buff Nation believe that the team will not slide right back into the same old losing routine the remainder of the season?
Check out these pre-game quotes:
"I think it could be a measuring stick. They're a very good team', said Sefo Liufau. "We're going out there to win. We're not going out there to measure how close we can lose by. You should never go in with that mindset. We're going out there to win. We're going out to win every Pac-12 game. So, everyone has got the belief right now";
and
"I think it's just about improving on what we did last year," Nelson Spruce said. "I think we're a more competitive team overall. This is a team that kind of dominated us last year, honestly. We didn't play as well as we could have last week but I think we learned how to fight for four quarters. I think if we handle our business on offense and defense, we'll still be in it".
Pre-game talk before taking on Arizona State?
Well, yes and no.
These are pre-game quotes from Sefo Liufau and Nelson Spruce before the Buffs took on Arizona State.
But they are quotes taken from pre-game interviews given by Sefo Liufau and Nelson Spruce before the Buffs took on Arizona State … last year.
Now, go back and read those quotes again, bearing in mind this came before the Buffs went on to lose at home to the Sun Devils, 38-24, at home, going on to post their first winless conference season in 99 years.
Same song, different verse.
Now, there is hope for the 2015 Buffs. The Pac-12 has proven in the early going that almost any team can beat almost any team.
Washington was supposed to be in a rebuilding year … but this weekend the Huskies took out preseason top 10 USC … on the road.
Washington State was supposed to be wondering about a replacement for head coach Mike Leach … but this weekend the Cougars took out preseason top 10 Oregon … on the road.
Almost any team in the league can beat any other team, with only two constants to date: No one has been able to beat Utah; and Colorado can't beat anyone.
The Buffs have lost 13 consecutive Pac-12 games. One more, and they will tie the team record of 14 consecutive losses, with that record set way back between September, 2012, and November, 2013 (so yes, for those of you scoring at home, that is a 14-game conference losing streak, followed by a win over Cal in November, 2013, followed by 13 more conference losses … a run of 1-27 in Pac-12 conference games).
Before conference play opened, the Buffs, sporting a 3-1 record, had some impressive statistics, out-gaining opponents 477 yards per game to 341; out-scoring opponents on a clip of 36-17.
In two Pac-12 games, however, the Buffs have been out-gained by an average of 514 yards to 349; out-scored on a clip of 44.5-23.5.
The boulder may have not fallen all the way back to the bottom of the hill … but it's slipping again.
—
Two weeks ago, Buff fans were talking about beating Oregon.
Today, Buff fans are calling for Mike MacIntyre's head (or at least those of offensive coordinator Brian Lindgren and special teams coach Toby Neinas).
Two weeks from now, after two potentially winnable games against Arizona and Oregon State, Buff fans might be talking about bowl possibilities … or openly wondering if coach MacIntyre can survive as head coach if he posts two consecutive seasons losing every Pac-12 conference game.
If history is any guide, a betting person would side with the latter scenario being more likely.
And once again the Buff Nation, like Sisyphus, will be left to start pushing the boulder back up the hill.
—–