—
Colorado Daily – Arizona State
—
October 10th – GAMEDAY!
… CU in a few minutes …
Sefo Liufau on facing Arizona State: "I'm definitely confident going up against them"
From cubuffs.com … Sooner or later, the Colorado Buffaloes believe, they will break through with a Pac-12 win that most people didn't expect, one of those signature victories that will send a clear message that the program has turned the corner.
The Buffs would prefer sooner, of course — and their next opportunity is Saturday night's matchup with Arizona State at Sun Devil Stadium (8 p.m., Pac-12 Networks).
It's not a stretch to say the Buffs need a Pac-12 win — of any kind — in the worst way. After last week's loss to Oregon in their conference opener, the 3-2 Buffs now own a 12-game conference losing streak, one that stretches back to late 2013.
The Sun Devils aren't exactly the optimal opponent for the Buffs to end the drought. CU has never beaten Arizona State, with four of the six all-time losses coming since Colorado joined the Pac-12 in 2011.
Still, the Buffs enter Saturday's game with the same mantra they've had since Day One of the 2015 season. They are good enough to win — if they limit the mistakes that have cost them a pair of wins this year.
"We just want to go out there and win, and we really don't want to focus on the past," quarterback Sefo Liufau said. "We think we can do some really good things on offense against ASU."
… "They cause havoc," MacIntyre said. "We just need to realize that when havoc is caused, it's not a bad thing to have a negative play. We just have to take care of the ball."
To keep up with ASU, Colorado will need a solid game from  Liufau, who last year threw for 278 yards and three touchdowns against the Sun Devils — but also threw a pair of interceptions.
"They'll make some plays, because they do so many blitzes," Liufau said. "I think that if we block it right up front, then we can get some big plays on them. I'm definitely confident going up against them."
… No doubt, it's not the optimal situation for the Buffs to earn their first Pac-12 win since 2013. But if they are going to realize their preseason goal of earning a bowl berth, they are going to have to win some games they weren't picked to win.
"We need to take the next step," MacIntyre said. "We are improving and we have to go win games to get over that hump. There's no doubt that we have to win football games to get over that hump."
… Continue reading story here …
—–
October 9th
… CU in a few minutes …
Arizona Republic scouting report/prediction
From azcentral.com ….
ASU on offense
The Sun Devils are coming off their best offensive performance, but they still have room to grow. They average 27.6 points per game (11th in the Pac-12) and 5.5 yards per play (tied for 10th). Behind RBs Demario Richard (101.6 rushing yards per game) and Kalen Ballage (44.5), ASU will try to establish the run. QB Mike Bercovici added to this effort against UCLA, rushing for three first downs, including a 34-yard TD. Overall, Bercovici – the Pac-12 Offensive Player of the Week — averages 268.8 passing yards per game (fourth in the Pac-12), but completes just 59.7 percent of his attempts (11th). WR D.J. Foster has 26 catches (fifth in the Pac-12) for 246 yards and 2 TDs. The Sun Devils rank 100th nationally in red-zone efficiency, producing just 13 TDs in 23 drives. … Colorado allows 21.4 points (fifth in the Pac-12) and 5.2 yards per play (tied for sixth.) The Buffaloes have forced 10 turnovers. Their 8 INTs rank second in the Pac-12 and 14th nationally. Colorado likely will be without top LBs Kenneth Olugbode and Addison Gillam because of injuries.
Advantage: ASU.
ASU on defense
The Sun Devils give up 26.8 points per game (10th in the Pac-12) and 5.0 yards per play (fourth in the Pac-12). Remove Cal Poly and New Mexico – triple-option teams that liked to run on nearly every down – and ASU has allowed 105.3 rushing yards against Texas A&M, USC and UCLA. LB Salamo Fiso – who leads the country in solo tackles – leads a unit that ranks sixth nationally with 44 TFLs. … Colorado averages 33.4 points (eight in the Pac-12) and 5.4 yards per play (11th). The Buffaloes – which rush on 59 percent of their total plays — have topped 200 rushing yards in three of their five games. Overall, they average 233 rushing yards per game, which rank third in the Pac-12. RB Michael Adkins (70.7 rushing yards per game) is questionable with a hamstring issue. Phillip Lindsay and Christian Powell both average over 5 yards per carry. QB Sefo Liufau has played through shoulder issues, completing 59.2 percent of his attempts with 5 TDs and 2 INTs. WR Nelson Spruce is his top target and among the Pac-12's best at his position.
Advantage: ASU
Bottom line
With a trip to Utah waiting next week, ASU needs to build off last week's UCLA win. The offense still has a lot to clean up, particularly in the red zone. Sticking with Richard and Ballage in the running game will help. Also, count on a big special teams play for the second week in a row.
Prediction
ASU 37, Colorado 24
—
Neill Woelk's Five Keys to the Arizona State game
As usual, Neill is spot on.  Here is the opening:
From cubuffs.com … A week ago, the Colorado Buffaloes played Oregon to a draw for 30 minutes, but couldn't sustain the effort for four quarters and came out on the short end of a 41-24 decision.
Saturday night, the Buffs will need a complete game when they attempt to record their first victory ever over Arizona State (ASU holds a 6-0 all-time series edge) in an 8 p.m. contest at Sun Devil Stadium (Pac-12 Networks).
… Continue reading story here …
—
… Some Random Musings  on the day before the game …
… Many of these numbers were generated by perusing CU SID Dave Plati's Game Notes, which can be found here …
– With Washington's defeat of USC Thursday night, the Pac-12 North, seen as the weaker division, is now 4-1 so far this fall against teams from the Pac-12 South (the other three North wins … Stanford over USC and Arizona; Oregon over Colorado, with the only win for the South coming in Utah's win over Oregon). Two more games will be played between the divisions this weekend, with Oregon State traveling to Arizona, and Cal taking on Utah.
– One of the keys to turning the program around this season was an emphasis on turnovers. Last season, during the 2-10 debacle, the Buffs forced only 11 turnovers all season. Overall, the Buffs were a minus-10 in turnovers, giving the ball over 21 times. Fast forward to the first five games of 2015, and the Buffs are a plus-three in turnovers with ten turnovers forced … only one shy of last season's entire total.
– After enduring a season in season in which only one player (Tedric Thompson) had an interception, the Buffs have had seven different players pick off a pass this year (Jered Bell being the only one with two). The Buffs have had an interception in five straight games this fall, after finishing the 2014 season with eight straight games without a single pick. The seven different players with an interception is the most for the program since 2007, when ten different players had an interception.
– Colorado has out-scored its opponents so far this season by a cumulative score of 167-107 (33.4-21.4). The last time CU had a scoring advantage this far into the season was 2007. Colorado has also spent more time in the lead than its opponents (124:35 – 116:24). Last season, the Buffs spent 261:22 of game clock in the lead, but CU's opponents were in the lead for 374:46.
– While much has been made by Coach MacIntyre and his staff about the maturity of this year's team ("we're not a JV team anymore"), there is still a great deal of inexperience out there on the field. CU has had 33 players who have taken the field for the first time. This is the second-highest total in the country, behind only TCU's 36. As for first-time starters, Colorado has had 11, which is the seventh-highest total in the nation, and the highest in the Pac-12.
– Diego Gonzalez has hit on 9-of-12 of his field goal attempts, including six of seven from over 40 yards out. CU's opponents, meanwhile, have hit on 5-of-8 field goal attempts, already posting more misses than all of 2014, when CU opponents went 18-for-19.
– Despite the hand-wringing in the Buff Nation over the daunting Pac-12 schedule, some very positive numbers will follow the Buffs into the final eight games of the regular season. Colorado, which has not been in the top 50 in the nation in scoring offense since 2001 (with four finishes of 100+ during that run), is currently 45th, at 33.4 points per game. Similarly, the Buffs, who haven't been in the top 75 in the nation in scoring defense since 2006 (with four straight finishes of 100+), is currently 46th in scoring defense, giving up 21.5 points per game. Granted, playing UMass and Nicholls this September have helped these numbers, but in previous years CU has also had teams like Central Arkansas, Charleston-Southern, and Sacramento State on the non-conference calendar, and the Buffs were still not able to get within sniffing distance of the top half of the these important statistical categories.
—–
October 8th
… CU in a few minutes …
Buff Stories …
– "Fourth-and-one call in the fourth quarter against UCLA shows Sun Devils' renewed confidence" … from the Arizona Republic
– "Buffs boast emerging force in kicker Diego Gonzalez" … from the Daily Camera
– "Ryan Severson ready to step in at linebacker" … from the Daily Camera
– "John Lisella no stranger to proving doutbters wrong" … from BSN Denver
– "CU Buffs Klayton Adams: Phillip Lindsay 'working towards' every-down back status" … from BSN Denver
—
Sefo Liufau: "I'm definitely struggling on some throws, which is frustrating"
From cubuffs.com … Coming off a year in which he launched an unprecedented assault on the Colorado record books, Sefo Liufau was expected to pick up this year where he left off in 2014.
But for a variety of reasons, it hasn't happened. While Liufau been an effective game manager and dramatically reduced his interceptions from a year ago — one of the points of emphasis when the season began — his numbers have been rather pedestrian this season.
In five games, Liufau has completed 91 of 155 attempts for 1,002 yards and five touchdowns, along with two interceptions. That's nowhere near his numbers after five games a year ago, when he had completed 156 of 239 attempts for 1,573 yards and 17 touchdowns —  along with six interceptions.
Quotes on Liufau from the story:
– "I'm definitely struggling on some throws, which is frustrating," Liufau said. "We just have to go back and look at film, fix the corrections, and just try to be more fundamentally sound, so I can hit my receivers and continue drives."
– "There's just a handful of throws each game when you watch the film, you say, 'He can make that throw. He's made it before,'" CU offensive coordinator Brian Lindgren said. "We've got to get him to be more consistent."
– "I wouldn't say he's been losing us games," Lindgren said. "He's done a really good job of managing the game for us and he's done a really good job of taking care of the football. We've just got to get him to keep being more consistent with his accuracy. I think his percentage will go up and we'll start moving the ball more consistently."
– "Sefo feels a lot better today than he did last Tuesday," MacIntyre said at his weekly press conference. "I think that will help our rhythm with the different things that we're doing. One thing is that we had such high expectations for our offense, which we should. But, I think we'll end up reaching them."
—–
October 7th
… CU in a few minutes …
Coach Mac Wednesday post-practice media comments
From YouTube, courtesy of BuffStampede.com
—
Buff Stories …
– "Neill Woelk: Tuesday Buffalo Bits" … from cubuffs.com
– "Kenneth Olugbode joins list of battered Buffs" … from the Daily Camera
–  "KPHO.Com: Speak of the Devils Podcast: ASU vs Colorado Preview" … from KPHO.com
– "ASU asks fans to not paint faces before 'blackout' game" … from azcentral.com
– "ASU Tuesday practice report: Keep moving forward" … from the Arizona Republic
– "Column: Get ready for another rollercoaster ASU Football season" from HouseofSparky.com
—–
October 6th
… CU in a few minutes …
Coach Mike MacIntyre Tuesday press conference quotes
From cubuffs.com (link will also take you to press conference quotes from quarterback Sefo Liufau and defensive end Justin Solis) …
General
"First of all I'd like to talk about the crowd Saturday night, the game. As far as the lightning and coming and going, I was really impressed with the enthusiasm, the energy. It was exciting for our players to see and it was a lot of fun for those young men out there. That really inspired our guys. I want to thank our fans and our student body for being into it. I think it was the latest kick off and ending of a game ever. Now we're getting ready for ASU. They're an excellent football team. They really hit their strides Saturday. Their quarterback played really, really, well. They were able to move the ball early and often. Defensively, they caused a lot of problems for UCLA. We're going down there to play. It's a tough place to play. Todd Graham does a great job with their team. They have excellent athletes. It's going to be a tough test for us but our kids are excited to go down there and play. We had the best Tuesday practice we've ever had after a loss. That was the best practice we've ever, ever, ever, had on a Tuesday with the enthusiasm and the effort. We played late at night. We played a physical game. Those guys came out there today with an excellent pep in their step which is a pleasant thing to see as a coach knowing they came off of a tough loss after a late night. I was excited to see their enthusiasm and their effort today."
On Current Team Injuries
"The injuries are piling up and that's what happens when you're playing game after game. The good thing is that we've got guys that are going in there and doing a good job. Kenneth Olugbode hurt his leg. He hurt it in the first half and kept playing. Basically he got hit in the leg and it started swelling up. It had nowhere to go so they had to take him to the hospital and cut his leg and drain it. He'll be out four to six weeks. He's an excellent player for us but we're able to throw Ryan Severson whose played a lot of football for us. Now our two starting linebackers are down and out but we'll keep moving along. We had to move a few people on the offensive line when Sam [Kronshage] got dinged up a little bit but we had been preparing for that. We have Shane Callahan and we can move Stephane Nembot to the other side. We have John Lisella, so I feel good about these guys being able to play. You're right though. We play in the Pac-12 and we have a lot more games left. We're going to get banged up but we'll get some other guys back too. We'll get Patrick Carr back this week and hopefully we'll get a couple of other guys back as the week goes along. It's kind of a rotating deal. We are getting a little thin in some spots but the good thing is we're putting some guys in that I think can definitely play. Michael [Adkins] was out there running today. I'll get with the trainers again tomorrow. Hamstrings are a weird type of thing. It's not something you can gut through. We'd love to have him back but I don't know if we'll have him back this week or not.
On Diego Gonzalez's Strong Performances In Game
"I've always had confidence in Diego [Gonzalez] from the first time I've ever seen him kick. You come to practice and you can just hear the ball. His issue was that when he got here, he was getting used to everything and then he tweaked his leg a bit, his back had a little thing so he had to rest it and that set him back or he would have kicked for us some last year, especially kick offs. I have all the confidence in the world in Diego to make any kick. He can make it from 60 if he has to. It's a long kick but I wouldn't hesitate if we had to get a game winner from 60, I wouldn't be surprised to see him make it. He hit the two 52 yarders that had plenty of distance. I feel really good about Diego and he has a lot of confidence. When you get to know him a little bit, he's a great kid with a great personality. He has a good personality for a kicker. He just lets those things roll off his back a little bit. I wish I had that with my golf swing but I don't."
On Arizona State's Defense
"Todd does a really good job with their defense. They have a great defensive staff. The thing that presents the biggest problem is that their D-Line is quick and athletic. So when they do stun and move, their guys are powerful and can bend. So you have to be squared up on them and staying in front of them. They do blitz you a lot. It's either feast or famine so to speak. You have to understand that they're going to get some negative plays on you. But hopefully if you pick it up right and do some things, you can bust some runs and get some big throws so you have to have the mentality that 'they got us this time but we'll get them the next two times.' You can't get down. They're going to make some plays and hopefully we'll make some plays."
On CU's Run Game
"I definitely hope our running game is better than it was last week and that we're able to hit on it. When we played them last year, we ran the ball really well against them. But we had some negative runs too. But we also popped some 40 and 50 yarders. I think that's how the game will probably go. There will be a couple, 'why did you just run that play coach?' and then it pops. That's just the way their defense is and how it works. That's what I foresee us being able to do. We definitely need to be able to run more. That puts us on balance to score more and control the clock and do those types of things."
On Sam Kronshage's Concussion
"We don't know yet. He's in the concussion protocol. They did the test today and it's a process. We're preparing for him not to be there but he could be there."
On The Defense's Mistakes Against Oregon
"On the first touchdown run, we busted when their 21 bounced outside. We screwed up. A couple of runs later, he made some really good runs and we made some good blocks. Number 5 is extremely fast. On his one run, he just made us miss in the hole and then took off and our safety had a bad angle. You go back and go 'wow we just had to make the tackle in the hole.' That happens sometimes. When we rally, we have to have more guys there and keep preparing. The thing that we didn't do is we caused the one turnover. We need to cause a couple of more turnovers. If we do that on defense, that helps us out tremendously. We stopped them on the big fourth down and one of the big plays in the game is when they ran the reverse on third and two. It was a nice run by the guy and Tedric [Thompson] had a great chance but it was just a good play by their guy. If we get his heel, they're punting to us and then it's anybody's ball game. We have to do better fitting up the run. They've always been a good running football team. Like I said, Royce Freeman is one of the top three or four backs in the country."
On Arizona State's Running Game
"ASU's running game is good. I don't know how we're going to take down Kalen Ballage when 22 guys can't tackle him from 30 yards out. We have to figure out how to do that. They're a good running football team. I thought last week their quarterback ran the ball more and was a little bit more of a duel threat guy. I think he felt comfortable. I know that's what they'll do again, something to that effect so we have to be able to account for the quarterback and the running back. I think we're improving on defense but they're good athletes in space and we have to cause turnovers and make some stops on third downs. Pac-12 teams are going to gain some yards but we have to keep them out of the end zone and cause some more turnovers."
On The Offense's Inability To Get Into A Rhythm
"It would be [a reason for our inability to find an offensive rhythm]. But it can't be an excuse. We have to find a bit better rhythm. We've had some games where we've had some rhythm. I think we'll be better at that this week. We have a couple of running backs back. Sefo feels a lot better today than he did last Tuesday. I think that will help our rhythm with the different things that we're doing. One thing is that we had such high expectations for our offense, which we should. But, I think we'll end up reaching them. Last year I don't think we had high expectations for them but I think now we have high expectations for our guys. We moved the ball well against this team last year. I think we had 534 yards and I'd like to do that again."
On Small Mistakes That Could Have Changed The Course Of The Game
"We made some big stops, we're right there, we're moving the ball and there's something unfortunate. We didn't pick up a blitz correctly or Sefo scrambles and we have the fumble. That gave them a short field and that was a huge turning point in the game. Then on the third down and two play. Honestly, if you take those two plays out and they go the other way and we get the guy, we pick up that blitz, it's a different game. That's not coach speak. That's reality. It used to be nine or 10 plays. Now it's down to one or two or three. I look at that as progress. It's still not a win and it's still disappointing and not good enough. But, I think that's where we are. We have to make those one or two plays we're not making and against Pac-12 teams, you're going to have different pressure and you're going to have different speed. I know that we will start making some of those plays in some of those games coming up and we'll be in here talking about a victory."
On Linebackers Jaleel Awini and N.J. Falo
"N.J. is playing inside and Awini is playing outside. He (Awini) played a bit the other night and he'll play some this week. He's also playing a huge role for us on special teams. He's on every single special teams (unit). He starts on all four of them and has been doing a good job there. We're just getting his feet wet. N.J. has played a bit on inside linebacker and on special teams so those are guys that as it keeps unfolding will get more playing time."
On "Unsung Heroes" Of The Team
"I think Justin Solis has really improved. He's playing a good role inside and is doing a good job there. I think that Alex Kelley, our center, is a stable to us and a great team leader that does a great job. Sean Irwin hasn't caught a lot of balls, there's been a few. But he does everything for us on offense, tight end. George Frazier is kind of a utility guy, an unsung hero so to speak. Jordan Murphy, our backup fullback, is on our leadership council and plays on every special teams. He's had some big plays for us and does a lot of things. I also think that Rick Gamboa has really stepped in and done a good job for us and played hard. He's an extremely smart football player. Ryan Severson is a guy that will start this week. He plays every special team and defense. He's a warrior for us. Those are guys at the top of my head that may not get as much accolade as the others."
On Taking The Next Step
"We need to take the next step, we need to get more than one [Pac-12 win] for sure. That's what our plan is. If I would have asked all of you in the Summer, even into Spring Practice, that we would be tied at half time with Oregon and with eight and a half minutes to go it's 31-24 and we have the ball, how many of y'all would have said 'I'll take that bet, Mike'?. So, we did not win, that is not good enough whatsoever. But we are improving and we have to go win games to get over that hump. There's no doubt that we have to win football games to get over that hump."
On The Team's Slow Second Half Against Oregon
"The disappointing thing about Saturday night was the beginning of the second half. It was kind of crazy. The first play we ran, we were wide open and we slipped down. The next play, we're open and we slip down. We just slipped. I don't know if we came back out and we were the first ones on the field and it was kind of dewy. I don't have a clue but those type of things hurt us. Then they went down and ran the ball down our throats and scored and we had the situation there. We came back and were able to stand up and make some plays. The beginning of the second half was disappointing for all of us and we have to do a better job of that coming out in the second half. We've had a couple of second halves where we've come out and done well."
On Coach Joe Tumpkin's Unsportsmanlike Conduct Penalty 
"I just want to let all of you all what happened during the game. Unfortunately the way that it was handled, that's not who I am or who my character is. But, this is exactly what happened. After the play was over, Ryan Moeller got slammed to the ground late and I asked the official if they were going to call that. He goes, 'Coach you better get your coaches off of the field or I'm going to throw a penalty.' I turned, saw some of our coaches on the field, got Joe [Tumpkin] and pushed him back. I turned around and saw the flag. Turned back around and said 'Joe you just got us a 15 yard penalty.' I was intense at the moment in the heat of a battle. I will not handle it that way again. Later on the official who threw the flag came up to me and told me 'Coach you have to keep your coaches off of the field or I'm going to throw flags.' I have to do a better job of our coaches controlling themselves and me controlling myself. I'm sorry the way it was handled and Joe and I are fine. There's no issues there whatsoever and that's something that will not happen again. That's exactly what happened and how it happened and why it went on."
—
Linebacker Kenneth Olugbode out 4-6 weeks
According to a tweet from Neill Woelk of cubuffs.com, linebacker Kenneth Olugbode will be out 4-6 weeks. Addison Gillam is also still out, which means the Buffs two leading tacklers from last season are both out … at a position which was razor thin to begin with. Ryan Severson will start in Olugbode's place.
Stopping the Arizona State rushing attack was going to be difficult before. Now, it appears next to impossible.
… Cue the "Shouldn't have allowed Kenneth Ballage to get away" threads on the message boards …
… On a brighter note, it does appear that running back Patrick Carr, out the past few weeks, will be able to play this weekend …
—
Uniforms for Arizona State game …
White helmets, white uniforms, black pants …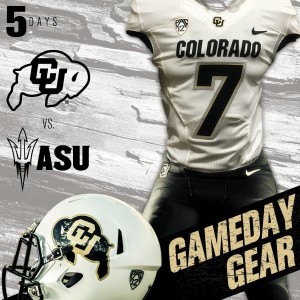 —
Infamous "Fifth Down" game against Missouri – 25 years ago today
… The Pac-12 Networks will be airing a "Pac-12 Classics" show on the game tonight (9:00 p.m., MT). Watch a preview here …
… The Archive Game of the Week on the front page of the website (also here) is the 1990 game between Colorado and Missouri (including video of the last drive).
There is also this story posted on the ESPN website today about the game. From the story …
Tuesday marks the 25th anniversary of an indelible moment in college football history — the Fifth Down Game between Colorado and Missouri.
On their way to a share of the national championship, the visiting Buffaloes benefited from an infamous officiating mistake and beat the Tigers 33-31 at Memorial Stadium in Columbia, Missouri, on Oct. 6, 1990. Colorado, ranked No. 12 in the nation at the time, was awarded five downs on the game's final series and scored the winning touchdown as time expired.
The Buffs actually dropped two spots in the AP poll after the win but won their next seven games to finish 11-1-1. The Tigers were coming off an impressive victory over a ranked Arizona State team and might have been able to use a win over Colorado as a springboard. Instead, their season unraveled on the way to a 4-7 record.
… and something I didn't know …
The man operating the down marker was a Missouri alumnus
Rich Montgomery is a Missouri alum and lifelong Tigers fan. One of his sons was a walk-on at Mizzou who later became a grad assistant with the program.
He's also the unlucky guy who happened to be in charge of the down marker for the Fifth Down Game, having worked on the chain crew at Memorial Stadium for two decades. Upon hearing the final series recounted over the radio on his drive home from the game, he literally pulled over and threw up.
Montgomery works as a member of the chain crew at Missouri to this day — his 45th season in that role.
—–
October 5th
… CU in a few minutes …
"CU Buffs Joe Tumpkin: 'I was in the wrong, Coach was in the right' "
… From Ryan Koenigsberg at BSN Denver …
One of the big talking points after Colorado's 41-24 loss to Oregon, was the altercation that took place between Mike MacIntyre and safeties coach Joe Tumpkin after Tumpkin received a 15-yard unsportsmanlike conduct penalty. We caught up with Tumpkin to talk about that incident …
—
Neill Woelk: Running the ball and stopping the run a priority against Arizona State
From cubuffs.com … Learn, correct and move on.
The 3-2 Colorado Buffaloes, still a bit blurry-eyed after a late night and early morning 41-24 weekend loss to the Oregon Ducks, returned to practice Sunday evening with the same goals in mind they've had all season.
Learn from their mistakes and move forward. With eight Pac-12 games left to play, the Buffs know there's still plenty of opportunity to achieve their goals.
… Rush defense. Twice this year, Colorado's defense has been gouged for big yards on the ground. Colorado State ran for 218 yards on CU, but Colorado's turnover differential in the game — plus two — made the difference.
The Ducks, though, took care of the ball, particularly in the second half, and simply wore down the Buffs' defense.
The Sun Devils don't have the same caliber of running attack as the Ducks, but they still have potent weapons. ASU ran for 192 yards in a 38-23 win over previously undefeated UCLA on Saturday, getting 79 yards from Demario Richard and 59 from Kalen Ballage. Quarterback Mike Bercovici (273 yards passing, two touchdowns) also had a 34-yard scoring run.
Running game. The Buffs were held to a season-low 77 yards rushing against the Ducks, a number slightly skewed by five quarterback sacks.
Still, it was not a good performance. If Michael Adkins is able to return from a hamstring injury this week, it should help — Adkins had 209 yards rushing and three touchdowns in CU's first two games — but the Buffs will also need more than that.
"We need to be able to execute a little bit better," MacIntyre said. "When we've been able to run the ball well, we've gotten to the second level and kind of cut off the 'backers a few times and gotten into the secondary. We'll have some nights we can run it and some nights we can't run it as well. But I definitely believe we can run the football."
… Continue reading story here …
—
Game time set for Homecoming game against Arizona
From cubuffs.com … The Pac-12 announced this morning that the Arizona at Colorado football game on Saturday, October 17 (CU's homecoming) will be televised nationally on FOX Sports 1 (FS-1) and will kickoff at 7:00 p.m. mountain time.
The full Pac-12 TV slate the next two weekends (all times mountain):
Pac-12 football game on Thursday, 10.8.15 
7:00 pm – Washington at USC, ESPN
Pac-12 football games on Saturday 10.10.15 
2:00 pm – Oregon State at Arizona, FOX Sports 1
4:00 pm – Washington State at Oregon, Pac-12 Networks
8:00 pm – Colorado at Arizona State, Pac-12 Networks
8:00 pm – California at Utah, ESPN  (8:15pm KO, w/five-minute slide available to 8:20pm)
Thursday, 10.15.15 (previously announced)
8:30 pm  – UCLA at Stanford, ESPN
Pac-12 football games on Saturday 10.17.15 
2:00 pm – Oregon State at Washington State, Pac-12 Networks
5:30 pm – USC at Notre Dame, NBC
7:00 pm –  Arizona at Colorado, FOX Sports 1
8:00 pm – Arizona State at Utah, ESPN or ESPN2 (Network to be designated at least six-days in advance. Utah approved 8:15pm KO, w/five-minute slide available to 8:20pm)
8:30 pm – Oregon at Washington, ESPN or ESPN2 (Network to be designated at least six-days in advance.)
—
Sefo Liufau okay to play
From the Daily Camera … Oregon defenders took plenty of shots at Colorado quarterback Sefo Liufau on Saturday night.
Liufau was in rough shape at the end of the Buffaloes' 41-24 loss to the Ducks, to the point that he skipped a postgame press conference so he could get treatment from trainers.
Sunday evening, though, the junior was in good spirits when asked if he'll be ready to play when the Buffs (3-2, 0-1 Pac-12) visit Arizona State (3-2, 1-1) on Saturday.
"Yeah, you wanna go play right now? We can go play," Liufau said as he joked with reporters after Sunday's walk-through at Folsom Field.
… Continue reading story here …
—
Other Buff stories …
" CU Buffs not quite ready for the big stage" … from BSN Denver
"Woelk: Once Again, Mistakes Doom Buffs" … from cubuffs.com
—–
October 4th
… CU in a few minutes …
Coach Mac Sunday post-practice talk with media
From YouTube, courtesy of BuffStampede.com:
—
Colorado a 12.5-point underdog to Arizona State
Much will be written this week about Colorado's first two trips to Tempe as a member of the Pac-12 conference. In 2011, the Buffs were mauled by the Arizona State Sun Devils, 48-14. In 2013, in Sefo Liufau's first game at quarterback for the Buffs, the final was 54-13.
So it should come as no surprise that Colorado (3-2, 0-1) is a double-digit underdog to Arizona State (3-2, 1-1) for their matchup Saturday night (8:00 p.m., Pac-12 Networks). The Buffs have opened as a 12.5-point underdog to the Sun Devils, according to vegasinsider.com.
Other Pac-12 games:
– (Thursday night) – No. 17 USC is 17.0-point favorite at home against Washington
– No. 5 Utah is a 7.0-point favorite at home against No. 23 California (with ESPN College GameDay to be on hand for the game)
– Oregon is a 20.0-point favorite at home against Washington State
– Arizona is a 12.5-point favorite at home against Oregon State
… UCLA and Stanford are idle. They will meet up next Thursday night (October 15th) in Palo Alto
—
Associated Press poll has Utah in at No. 5 in the nation
Five teams from the Pac-12 remained in the Associated Press poll this week, with idle Utah having the best of it. The Utes moved from tenth to 5th, and, a week after receiving their first first-place vote in school history, are up to seven votes for No. 1.
The Utes also received the good news that ESPN GameDay would be heading to Salt Lake City for the matchup of Cal and Utah.
The other Pac-12 teams in the poll … No. 16 Stanford, up two spots; No 17 USC, holding its spot; No. 20 UCLA, down 13 spots; and No. 23 Cal, up one spot.
Oregon, which defeated Colorado, 41-24, did not re-enter the poll, coming in at No. 26. The Ducks actually fell out of the USA Today coaches poll, coming in at No. 26 a week after being in a tie for No. 24 last week.
The Buffs' next opponent, Arizona State, came in at No. 32 in the AP poll, and in a tie for No. 31 in the USA Today coaches' poll.
| | | | | |
| --- | --- | --- | --- | --- |
| 1 | Ohio State (38) | 5-0 | 1444 | 1 |
| 2 | TCU (5) | 5-0 | 1371 | 4 |
| 3 | Baylor (10) | 4-0 | 1364 | 5 |
| 4 | Michigan State | 5-0 | 1291 | 2 |
| 5 | Utah (7) | 4-0 | 1254 | 10 |
| 6 | Clemson | 4-0 | 1217 | 12 |
| 7 | LSU | 4-0 | 1212 | 9 |
| 8 | Alabama | 4-1 | 1026 | 13 |
| 9 | Texas A&M | 5-0 | 1009 | 14 |
| 10 | Oklahoma | 4-0 | 976 | 15 |
| 11 | Florida | 5-0 | 935 | 25 |
| 12 | Florida State | 4-0 | 922 | 11 |
| 13 | Northwestern | 5-0 | 753 | 16 |
| 14 | Ole Miss | 4-1 | 731 | 3 |
| 15 | Notre Dame | 4-1 | 721 | 6 |
| 16 | Stanford | 4-1 | 617 | 18 |
| 17 | Southern California | 3-1 | 498 | 17 |
| 18 | Michigan | 4-1 | 452 | 22 |
| 19 | Georgia | 4-1 | 441 | 8 |
| 20 | UCLA | 4-1 | 415 | 7 |
| 21 | Oklahoma State | 5-0 | 332 | 20 |
| 22 | Iowa | 5-0 | 254 | NR |
| 23 | California | 5-0 | 233 | 24 |
| 24 | Toledo | 4-0 | 87 | NR |
| 25 | Boise State | 4-1 | 65 | NR |
| | | | | |
Other Receiving Votes: Oregon 39, Duke 31, Houston 31, Temple 23, Memphis 19, Navy 19, Arizona St. 15, Mississippi St. 11, West Virginia 8, Texas Tech 4, BYU 3, Kansas St. 1, Missouri 1
—
Oregon 41, Colorado 24 … A "moral victory"?
The talk in the locker room after the game was whether the 17-point loss could still be considered as a "moral victory". After all, the 24 points were the most Colorado had scored against Oregon in Pac-12 play, and the 41 points by the Ducks was their lowest point total in those same five games.
"I don't know when the last time it was 17-17 at the half with Colorado and Oregon; but in no way shape or form do we take any kind of moral victory", said head coach Mike MacIntyre.
Moral victory? Perhaps. Perhaps not. A sampling of quotes from the players:
– Center Alex Kelley: "I still think Oregon is a top tier team. We can hang with top tier Pac-12 teams. That's what I take from this. Every single team in the Pac-12 is good. We didn't play as well as we can but I think some of the young guys are starting to build confidence".
– Running back Christian Powell: "If this was two years ago, I would say this was a moral victory. But we felt like we were capable. We just had too many mistakes. We can't take this as a moral victory. We lost the game and that's what it is. We just have to work at it and keep moving forward".
– Running back Phillip Lindsay: "It's going to be like that every game because it's a different breed of people now. We're here to win. We're not here to just compete anymore. We're here to win. We need to put big plays together. We're a team. We have to stay close to each other. That's giving everybody props when they're doing well because that's only going to make our team stronger. It's about team building".
– Wide receiver Nelson Spruce: "Obviously you want to win every game but we are kind of looking at it like we need to learn our lesson from this one. This team has a different feeling about it and we feel like we can be competitive in every game so we can't let a loss like this carry on into our week of practice and affect next week. We are going to come in and watch film tomorrow, learn what we can and shake it off and get ready for ASU".
– Defensive back Tedric Thompson: "I mean we always knew we could compete with them. We look at them as another decal. No disrespect towards them, but we don't look at them as like a super great team, we feel that we can beat them. That's how we feel about every great team. So when it was 17-to-17 we felt like we should have been up, to be honest with you. We weren't even in the locker-room like patting each other on the back, it was more like why is this team tied with us; we shouldn't be tied. That's the kind of attitude we had".
—–