—
Colorado vs. USC – A Preview … Your paraskevidekatriaphobia "T.I.P.S." for Friday the 13th
—
As if the Buffs needed something else to worry about …
It's not enough that Colorado will be facing a USC team which is on a roll, winning its last three games under interim head coach Clay Helton.
It's not enough that USC owns a 9-0 record over Colorado in the all-time series, with the Trojans scoring at least 40 points in each of the last five meetings.
But the game has to be on national television (7:00 p.m., Friday, ESPN2)?
On Friday the 13th?
Oh well, perhaps there are enough Trojans suffering from paraskevidekatriaphobia – that's a fear of Friday the 13th, for those scoring at home – to keep them from playing their best.
Perhaps the colder temperatures – in the 30's for much of the game – will distract the Trojan players from the task at hand.
Keep reaching … the Buffs need all the help they can get.
—
Here are this week's "T.I.P.S.", the Friday the 13th version …
—
T – Talent
Another week, another star player exciting about coming to Boulder.
Last week, it was Stanford's Christian McCaffrey.
This week, it's USC quarterback Cody Kessler.
No, not because Kessler has a connection to the state of Colorado (he played his high school football in Bakersfield, California), it's just that Kessler has fond memories of the black-and-gold.
Last season, Kessler set a school record for touchdown passes in a game, with seven against the Buffs in a 56-28 rout (to add insult to injury, the record Kessler broke belonged to Matt Barkley, who had six touchdown passes against – you guessed it – Colorado, in 2011). Kessler had four touchdown passes in the first quarter against the CU secondary, as the Trojans built a 28-0 first quarter lead and coasted from there.
This season, Kessler has passed for over 2,500 yards, with 20 touchdowns to only five interceptions.
Nelson Agholor, who had three touchdown receptions against the Buffs last year, has moved on to the NFL, but Kessler is certainly not lacking for weapons. JuJu Smith-Schuster has already passed the century mark this fall, with 60 receptions for 1,094 yards and nine touchdowns (the sophomore had surgery on his hand last week, but had eight catches against Arizona, and is expected to play Friday night).
Ronald Jones II is USC's leading rusher, with 723 yards and six touchdowns … and an amazing 8.0 yards per carry. Last weekend against Arizona, Jones had 19 carries for 177 yards … a 9.3 yards per carry average (and Jones has been listed behind Tre Madden and Justin Davis on the depth chart all season … damn).
The USC defense is not quite as amazing as its offense, giving up almost 400 yards per game (66th nationally). The Trojans are led by Su'a Cravens, who is one of ten semi-finalists for the Butkus Award this fall (Cravens was dinged up against Arizona, but is expected to be available to play against Colorado). Cravens, who considers himself a "safety playing linebacker", has been called the "best defender in the Pac-12" by Utah head coach Kyle Whittingham.
As you might expect from a lineup composed almost exclusively of four- and five-star prospects, there are not too many holes in the USC defense for the Buffs to exploit.
Sigh.
—
I – Intangibles
And the weather isn't cooperating, either.
Mike MacIntyre Monday jokingly asked for "25 inches of snow on the ground and negative windchill" … but he won't get it.
The forecast for Friday in Boulder is about as good as you could hope for in mid-November, with a sunny day of 51-degrees turning into a star-filled evening with the temperatures in the 30's during the game.
The mild temperatures might help the "blackout" planned by CU get the crowd into the 40,000's (CU needs just over 41,500 to avoid its third-straight season of below 40,000 in average attendance … which last happened in 1983-85), but it probably wouldn't have hurt the Buffs' chances to have the game played in a blizzard.
Colorado, even with its anemic 83-yard rushing effort against Stanford (43 of those yards by Sefo Liufau), is still ranked above USC in rushing offense (the Buffs are 49th nationally in rushing; the Trojans are 59th), so poor weather grounding the USC air attack wouldn't have been altogether bad.
Still, even though the forecast is favorable, the Trojan wide receivers are still a bit leery. "It's pretty tricky because your hands are kind of frozen," sophomore Steven Mitchell Jr., who is from Pasadena and played at Mission Hills Alemany High, told the Los Angeles Times.
Let's hope it's just cold enough for the USC players to just want to get the game over with … giving the Buffs a chance to hang around long enough to give them hope of an upset.
… What else might the Buffs have going for them? …
Well, it will be senior night, with 15 Buff players running out behind Ralphie for the last time. One last chance at a Pac-12 victory at home … which would double the home conference win total for these seniors to two, the only other home conference win in the past four seasons coming against Cal in 2013.
Want to hear a sad quote? Nelson Spruce, the Buffs' record-setting wide receiver, was asked to name a particularly memorable moment at Folsom.
He couldn't do it.
"Not one that sticks out," Spruce said earlier this week. "That's why I'm trying to make this one special. One big win, especially in my last home game, would be awesome."
That's really sad. Four years … no valuable memories.
… Well, there's always the cool uniforms. The Buffs will be wearing black uniforms and gold helmets – a good look for the ESPN audience.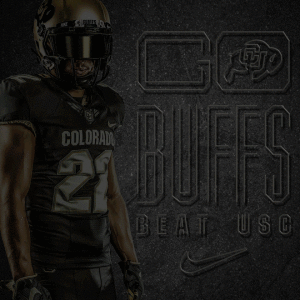 —
P – Preparation / Schedule
The Trojan players could be forgiven if they are looking past the Buffs.
Since falling to Notre Dame in interim head coach Clay Helton's debut, the Trojans have rattled off three straight wins, taking down previously unbeaten Utah before having their way with Cal and Arizona.
The next two games for USC after taking on Colorado?
On the road against Oregon, and then the regular season finale at home against UCLA. With big time rivals on the horizon, do you think the Trojans are worried about the Buffs?
Probably not.
Especially when you consider the scores of the USC/Colorado games since the Buffs joined the Pac-12 … 42-17, 50-6, 47-29 and 56-28.
It's hard to take an opponent seriously when you haven't been challenged.
So the Buffs have that going for them, which is nice.
… The short week should, at least in theory, help the home team. Both teams played at home last weekend, but the Colorado doesn't have a travel day this week to worry about, giving the Buffs a little extra prep time. The NCAA-mandated day off this week for the team will be Saturday, with the Buffs practicing every day this week leading up to the USC game.
… Then there is this little thing known as the "Pac-12 South standings".
The Buff Nation has been waiting for four years for someone in the Pac-12 South to back up a bit, and both Arizona schools are doing their best of late to be accommodating. Both the Wildcats and Sun Devils are on three-game losing streaks. Arizona State is 4-5, 2-4 in Pac-12 play, while Arizona is 5-5, 2-5.
This weekend, Arizona State hosts Washington, while Arizona hosts No. 10 Utah. It's not inconceivable that both Arizona schools will lose on Saturday. If that were the case, and Colorado were to upset USC, the standings would read:
Colorado … 5-6 … 2-5
Arizona … 4-6 … 2-5
Arizona … 5-6 … 2-6
Yes, ladies and gentlemen, the Buffs would be in fourth place in the Pac-12.
Dare to dream …
—
S – Statistics
Pac-12 statistical categories in which Colorado is ranked higher than USC:
– Rushing offense: Colorado 5th in the Pac-12 (183.8 ypg.); USC 8th (174.4);
– Pass defense: Colorado 5th (219.3 ypg.); USC 8th (254.8);
– Punting: Colorado 9th (36.4 net); USC 10th (35.3);
– Kickoff returns: Colorado 6th (22.4 ypr.); USC 12th (18.9);
– First downs: Colorado 2nd (23.4 per game); USC 9th (22.2); and
– Time of possession: Colorado 3rd (31:29); USC 7th (28:43).
… and that's about it.
You will note that there are several significant omissions from the list, items like: scoring offense (USC is 18th in the nation; CU 73rd); scoring defense (USC is 37th; CU 77th); total offense (USC is 25th; CU 46th) and total defense (USC is 66th; CU 91st).
You can't have everything.
Other freaky stats heading into Friday the 13th … USC is 9th in the nation in turnover margin … the Trojans are 18th in the nation in passing offense … Colorado is down to 110th in rushing defense … the Buffs are all the way down to 119th in the country in red zone scoring percentage.
… And then there is this … Neither Colorado nor USC have ever played a football game on Friday the 13th … but Colorado is 13-3 all-time in games played on November 13th, including nine straight wins dating back to 1954 (remember the 38-31 win over Kansas State in 2004, when Joel Klatt hit Ron Monteilh for a 64-yard touchdown with 16 seconds left? You can read the game recap, and watch the highlight of the final play, in the CU at the Game Archives).
—
Prediction … The Buffs have been frustratingly slow off the mark in Pac-12 play so far this season. Colorado has yet to own a lead at the end of the first quarter or at halftime in any of its six conference games. Overall this season, the Buffs have been out-scored 91-66 in the first quarter. That doesn't bode well when the Buffs are taking on a team which was up on them, 28-0, at the end of the first quarter in the 56-28 rout in Los Angeles last fall.
It will be Senior Night for the Buffs this Friday. There will be a blackout in the stands. The Buffs will be on ESPN for only the second time this season.
If the Buffs can't get pumped up for this game … when will they?
I can see the Buffs playing well in the first quarter, just as they did against Stanford. For Colorado to stay in the game, however, they will have to have some lucky breaks, and gain some turnovers (against a team has lost only eight turnovers all season, 10th-lowest total in the nation).
The Buffs might have been able to count on the USC players looking past them, and forward to their game against Oregon next week. The problem is that the USC coaching staff won't look past the Colorado game. For better or worse, interim coach Clay Helton are auditioning for jobs next fall, either with USC or another team. They have a very real financial stake in keeping the Trojans looking impressive.
I'm afraid that they will.
… USC 45, Colorado 21 …
—–