—
Colorado Daily – USC
—
November 12th
… CU in a few minutes …
Spruce one of five seniors expected to be in the starting lineup
From cubuffs.com … Nelson Spruce is one of just five seniors expected to be in the starting lineup Friday night, joining left tackle Stephane Nembot, cornerback Ken Crawley, nose tackle Justin Solis and free safety Jered Bell.
Other Buffs making their last appearance in Folsom will be offensive linemen Vincent Arvia and Ed Caldwell; fullbacks Jordan Murphy and John Finch; wide receiver Colin Johnson; defensive back Marques Mosley; running back Christian Powell; linebacker Hunter Shaw; long snapper Wyatt Tucker Smith; and defensive lineman John Paul Tuso.
For Bell, his final game at Folsom will signal the end of a six-year marathon, a career extended by two redshirt years due to injury. A freshman in 2010 under Dan Hawkins, he has played for three different head coaches with the Buffs.
"(There have) been a lot of ups and down and things, especially for me and the things that I've seen," Bell said. "A lot of people that weren't part of it before can't see it. For me, I've seen the program go up and down. And now it's back up again, rising. The fans, they are supporting us and not leaving after the second quarter any more. The overall unity of the team has been increasing; it is more of a family now. It's been a change for the better, this past year."
… Continue reading story here …
—
Other Buff stories …
– "CU football: Seniors believe they've built foundation for Buffs' success" … from the Daily Camera
– "Clay Helton says Cody Kessler followed tradition in Colorado preparation" … from the Los Angeles Times
– "USC tailback Tre Madden out for Colorado game due to knee injury" … from the Los Angeles Times
—
KOA and the University of Colorado extend contract
From cubuffs.com … The University of Colorado and iHeartMedia Denver announced Thursday a four-year extension of its broadcast agreement that will keep the Buffaloes football and basketball programs on one of the premier sports stations in the country.
KOA-Radio has been the home to CU football for all but three years dating back to 1940, with the station originating basketball broadcasts in the mid-1970s.  The new agreement extends the broadcasts on KOA-Radio (850 AM and most recently 94.1 FM as well) – with select games airing on sister-station Real Talk (760 AM) – through the 2019-20 athletic season.
In addition, the weekly coaches' show, Buffs PrimeTime, will continue to air during the football and basketball seasons.
The relationship was secured by Learfield Sports' Buffalo Sports Properties, the exclusive multimedia rights holder for CU Athletics.  In addition to Colorado, Learfield oversees rights for nearly 120 collegiate properties nationwide.  The Boulder-based team oversees all aspects of the CU Radio Network.
"We're thrilled that our relationship with KOA will continue through the end of this decade.  It has been our 'radio home' spanning eight decades in all; that's almost as long as sporting events have been broadcast in all of history," said CU athletic director Rick George.  "It's been a great partnership between KOA and the Buffs and we're pleased we'll be together for at least four more years."
That's not an exaggeration; the first sports broadcasts in the United States were just 20 years earlier.   The Jack Dempsey-Billy Miske heavyweight fight was broadcast on Sept. 6, 1920 (by WWJ-Radio in Detroit) and the first game followed later that year on Nov. 20, Texas A&M versus Texas in Austin (WTAW broadcasted the game back to the College Station area).
KOA's Mark Johnson will continue as the play-by-play voice for both football and men's basketball, a role he has occupied since the fall of 2004.  Johnson also serves as KOA NewsRadio's sports director and sports anchor during Colorado's Morning News.   Larry Zimmer is completing his 42nd and final season as the "Voice of the Buffaloes," as he announced his retirement earlier this summer.  He handled the play-by-play duties for 30 seasons (1971-81, 1985-2003) before shifting into the analyst role in 2004.  His final game at Folsom Field is Friday night when the Buffaloes host Southern California, and the school will honor him after the first quarter.  Former CU football coach Gary Barnett will replace him in the booth next season.
"KOA NewsRadio and the Buffs have a long-standing partnership," said Tim Hager, Market President of iHeartMedia Denver.  "We're excited to extend our agreement with the University of Colorado, and reach more fans with KOA NewsRadio's recently-launched 94.1 FM signal."
—–
November 11th – Thank you, veterans!
… CU in a few minutes …
Rick George: No question that Mike MacIntyre will be the CU head coach in 2016
From Neill Woelk at cubuffs.com …  It's that time of the year, when college football coaching jobs around the nation are opening up.
Colorado won't be one of them. I ran into Colorado athletic director Rick George on Wednesday, and here's what George had to say about Colorado coach Mike MacIntyre:
"I've said it publicly several times: Mike MacIntyre is going to be our coach next year," George said. "There's really nothing to discuss. I've said it several times, and nothing has changed. People have asked and I've said the same thing: Mike's going to be our coach. Let's move on to the next topic."
MacIntyre's Buffs are 4-6 this year, already double the number of wins from a year ago. They also defeated in-state rival Colorado State and ended a 14-game Pac-12 losing streak and a 13-game conference road losing streak with a win at Oregon State. The Buffs have been competitive in nearly every Pac-12 contest. They held leads against UCLA and Arizona in the fourth quarter; were within a touchdown of Oregon in the fourth quarter; and their overall talent level has continued to improve under MacIntyre's direction.
George's statement should end any speculation that MacIntyre may be on the proverbial "hot seat."
More importantly, it will end the possibility of other coaches using it as a wedge in recruiting battles.
Speaking of George, it should be no surprise that his name immediately popped to the surface with the announcement Monday that Illinois had fired athletic director Mike Thomas.
George is an Illinois grad. He played football for the Illini, then worked for the football program as the recruiting coordinator before making the move to Colorado. He has strong ties to the school and state, and his performance at CU makes him a very appealing prospect.
But, George told me, nobody from Illinois has contacted him.
"Nobody has called me and I haven't talked to anyone," George said. "I'd be lying if I didn't say at one point in my life being AD at Illinois wasn't my dream job. But I love it here at Colorado and I'm excited about what we've accomplished since I've been here as well as what the immediate future holds. But I just think it's way too early to be talking about anything right now in that regard."
—
Facilities video update
A short video update from CU athletic director Rick George.
The video can be found here (and stay on the webpage for a Veteran's Day video with the basketball team
—
Mike MacIntyre Tuesday press conference quotes
From cubuffs.com …
General
"Of course we play USC on ESPN, our guys are excited about that. One thing I noticed, we're the only game on in America that night, so it's good exposure for us and of course for USC. They're an excellent football team, very talented. The offensive line is huge and athletic. I think [USC QB] Cody Kessler is an excellent quarterback who will play on Sundays (in the NFL). Defensively, they have a big front. The line backing corps is good. But there secondary, to me, is extremely athletic and quick and can make a lot of plays. I'm glad there's only one [DB] Adoree' Jackson because it seems like there is four of him. He's everywhere, he's an excellent player. We have to know where he is; when he comes in on offense we have to know where he is, and he's also an excellent returner."
On if there is any added pressure playing on ESPN 
"I think there is always pressure to have a good performance. I just think it's exciting for our kids to be able to play a night game at home on a Friday night. It's pretty exciting. I hate that it conflicts with some of the high school (games), but a lot of the high school (football seasons) is done now too, there's some playoff games that are extremely important. But, there will be a lot of high school kids all over the country watching, which will be good for us also."
On what benefits it can have in recruiting being the only game on TV that night       
"One thing, it can show off our stadium, our program. I think there will be some stuff on there about our new facility, which will be great for us. Then, of course winning the football game helps a lot also."
On if he knows what the temperature is supposed to be at kickoff        
"No, I don't. I'll just show up and [director of football equipment] Tyler [Baltierras] will have the correct stuff for me in my locker to put on, no matter what the weather is. I don't know what the weather is going to be. Do you ever know in Colorado what the weather is going to be? I imagine it will be a little colder being a night game of course."
On it being senior night and longtime radio announcer Larry Zimmer's last game     
"I think there is a lot of exciting things going. Any time it's the seniors last game its always special to our whole team and especially those seniors. It's so true – and all of you can remember from when you were in college – and you blink, you get there as a freshman and you think it's going to last forever and by your sophomore year you think, 'When is this ever going to end, and then you blink and you're out about three years, you wish you could go back. Exams aren't really that tough compared to real life. The seniors are of course excited about it, of course their parents will be. It's kind of a bitter-sweet type moment. The blackout games are nice. But then of course, for Zim's last game, it's extremely special for him and Brigitte (his wife) and all their family, and all of the CU fans for years-and-years (listening to Zimmer's voice), and then former players. When you turn on the radio next year, you won't hear his voice and that's going to be also tough. I think it's great to honor him and he deserves it. I'm really glad he's here, because this time last year, we weren't sure he was going to be here (due to health scare). So I'm really excited that were here and able to honor him and that he's able to be honored."
On some of the seniors he is most excited for
"It's hard to just pick out a few. I think about all of them. Even the guys that haven't gotten to play a lot. [Offensive linemen] Ed Caldwell and Vinny Arvia, those guys that give everything they got every day on the practice squad and show up every day with a big smile on their face and they're excited to be here. There's other guys like [LS John] Finch who fits into that category, and mean so much to our program and a lot of fans don't really know who they are. Then of course you have the [WR] Nelson Spruce's and [TB] Christian Powell's and all those guys, [DL] Justin Solis, [DB] Ken Crawley, I could just keep naming them, but all those guys that play and you know about. Each one of them has their own unique story. Each one of them has a unique story out of their families, there's a lot of pride there. Definitely senior night is big, but graduation in December and graduation in May is really even bigger. So, those young men are going to do that also, and some of them already have graduated. [OL] Stephane Nembot's story, you won't ever have another story very similar to that ever. I mean his story is amazing, and to see that and see him walk out there too."
More on OL Ed Caldwell and Vincent Arvia    
"Ed and Arvia play on our offensive line on our scout team. They backup on some of our different special teams and they're walk-ons that give everything they got and love the place. Both of them did internships this summer, then worked out and came back and are paying their own way through school. There are a lot of other guys that do that. But to go out there and be the scout offensive line every day and be a backup on field goal and do some things there, and they travel with us. They're the heart and soul. Offensive linemen are always the most unselfish players on the team, but I would say that scout team offensive linemen have to be the most humble people. They are both are very bright, already have jobs set up, and no doubt in my mind they will both be extremely successful in life and a lot of qualities they've earned in football have helped that."
On USC's offense and what the defense has to prepare for
"They do have a good passing attack. But since [interim] coach [Clay] Helton came in they are running the ball more. The thing is they are very balanced and to me a balanced football team with a weapon they have at quarterback and the speed they have outside it keeps you off balanced. They're good. Their receivers are fast, athletic. The thing that is unique about Cody Kessler is he can really get out of the pocket and is very accurate once he gets out of the pocket. You have to be careful on how you pass rush him – you definitely have to rush him, you definitely have to hurry him – but he's able to make plays on the move and hit receivers down field. The other thing is their receivers are very good run after catch, very athletic, that effect. We're going to have to get up on them and do some different things. If you just sit in zone coverage they will pick you apart and they'll run it will. I think their offensive line is really what makes it go. Their skill guys are great, but their offensive line is very big and very athletic."
On his seniors graduating and letting them go
"I think, one side of it, you're extremely happy for them. The other side of it is you feel a lot of love and concern for them and you'd like to have them here. You realize they're moving on. So you have mixed emotions both ways. But you also know it's time to let them move on and let them go on and keep growing. You hope that you have had an influence on them that makes a difference in their life."
On Christian Powell and his new role
"Christian has done a very good job of that. He's done a good job with his role. He's one of the guys on our leadership council. We have him do different things in different games; he's been able to carry the ball at different times more. We've had different packages depending on what we thought was best to attack the opponent. Christian is a great young man, a guy that has been a lot to this program and it means a lot our team."
On the sense of urgency for the last three games of the season
"There is a sense of urgency for us to make sure we get some more wins, there's no doubt. There is also a sense of urgency by the seniors, especially with our last home game being now. And then you have two on the road. Sometimes, usually you have one game after that or you have your last game at home. I think that has given them a little more sense of urgency in the sense that they know this is their last home game."
On the relationship between his father and Coach Mack Brown
"Coach Brown and my dad know each other really well. Coach Brown's brother, Watson Brown, was the offensive coordinator for my dad at Vanderbilt. I've known the family for a long time. I think the world of the Brown family, and they think the world of my dad. Mack Brown, he played at Vanderbilt, and Watson played at Vanderbilt. I know Coach Brown and he's always been really nice to me throughout my career, when I would see him on the road recruiting or at conventions. I remember when he was at Appalachian State when he first started, I think it was his first head job. My brother and my dad went up there and spend some time with him, and showed him around. They've been really close and have talked a lot throughout the years."
On GA Tyrone Mckenzie and his addition to the team
"It's been great. I didn't really know Tyrone that well. Coach Leavitt knew him really well. When we brought Tyrone in, he's done a phenomenal job. He is a great worker. He has a great rapport with the players. He has great experience, in of course in college and in the NFL. He's been a real worker and has done a great job with the young men. I'm very glad he's on our staff."
On the athleticism of USC
"They have the most (athletes) we've seen. They've had the most we've seen every year. You have to be able to tackle them in space. On defense you have to anticipate a little bit more. You have to recognize the sets and anticipate what they're going to do. They have certain guys you need to get close to because if they get the ball in space it's hard to get them. The other thing is you have to do is run to the football like crazy, because if they make them miss at least you can get the guy cutting back, and the next guy can be there. In that case we'll play a few more guys to keep us fresher. That way there's more guys getting to the football. We've worked on that; you have to play sound. If you're off your outside leverage and you're supposed to be inside leverage, you could be in trouble. You have to be really exact. Our guys are getting better at that on defense. We are having less of those types of mistakes, which is helping us some. We need to make sure we're on our Ps and Qs this week."
On Washington's defeat of USC earlier this season
"Washington played really well. They've been playing excellent on defense all year. Their outside linebackers, 41 [Deion Hart] and 42 [Uchenna Nwosu], are long and athletic. They made a lot of plays on film. Since that game, Southern Cal has kind of changed their offense a little bit. They're doing a little more running attack, a little bit more of that type of thing. I think that's helped them on offense. They're not spread out as much as they were in that Washington game."
On USC's interim head coach Helton
"I've never been around an interim head coach. I've never been one and I've never been around it in 26 years of coaching. I don't know how that is or how that works out. Coach Helton has done a heck of a job and I think he did it before also for USC's bowl game a couple of years ago. So, he's doing a good job at it and understands that the organization of everything is a key."
—–
November 10th
… CU in a few minutes …
Friday will mark the home finale for 15 seniors
From cubuffs.com … Friday night's game at Folsom Field against USC marks the final home appearance for 15 Colorado football players. Senior Night, said CU coach Mike MacIntyre, is always "kind of a bittersweet type moment."
Coaches share that kind of sentiment because while they are proud to see players leave with degrees and enter life after a college sport, it's also difficult not to have those players in the locker room.
"Each one of them has their own unique story," MacIntyre said. "Each one of them has a unique story out of their families, there's a lot of pride there. Definitely Senior Night is big, but graduation in December and graduation in May is really even bigger."
College life and athletics, noted MacIntyre, usually accelerate as if a fast forward button has been pushed.
"You blink, you get there as a freshman and you think it's going to last forever," he said. "And by your sophomore year you think, 'When is this ever going to end?' And then you blink and you're out about three years, you wish you could go back. Exams aren't really that tough compared to real life."
CU's 15 seniors: OL Vincent Arvia, S Jered Bell, OL Ed Caldwell, CB Ken Crawley, FB John Finch, WR Colin Johnson, S Marques Mosley, FB Jordan Murphy, T Stephane Nembot, TB Christian Powell, LB Hunter Shaw, LS Wyatt Tucker Smith, NT Justin Solis, WR Nelson Spruce, DL John Paul Tuso.
Other notes of note … Christian Powell had led the Buffs in rushing for three consecutive seasons. That's not likely to happen this season. The 6-foot, 235-pounder is second with 326 yards on 65 attempts, but in last weekend's 42-10 loss to Stanford he didn't have a carry. Powell has been utilized more as a blocker later. "We have him do different things in different games," MacIntyre said. "We've had different packages depending on what we thought was best to attack the opponent." . . . . MacIntyre has coached for 26 years but has never worked for an interim coach or been in an interim role like USC's Clay Helton, who succeeded Steve Sarkisian on Oct. 12. "I don't know how that is or how that works out," MacIntyre said. Helton is 4-1 as an interim coach, having worked in that capacity for USC in the 2013 Las Vegas Bowl and at Memphis when former head coach Tommie West was recovering from off-season heart surgery. MacIntyre said it was obvious that Helton "understands the organization of everything is a key." . . . . Friday's game marks the seventh night game for CU this season. The Buffs' eighth after-dark contest will be on Nov. 21 at Washington State (8:45 p.m. MST kickoff). CU's previous high for night football games was six (2008 and 2009), and in its first four seasons in the Pac-12 the school played only 10 total night games . . . . USC is 9-0 all-time against CU and has outscored the Buffs 333-104 in those nine wins . . . . Neither CU nor USC has played a football game on Friday the 13th. It's a Blackout Game for the Buffs . . . . The Trojans, riding a three-game winning streak, are a sliver outside the AP Top 25, coming in this week at No. 26 among "others receiving votes."
—
CU uniforms for home finale blackout against USC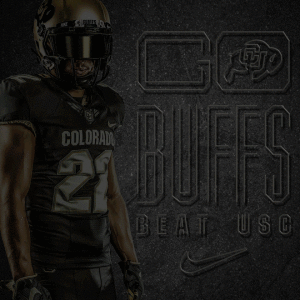 —
CU safeties prepare to face yet another top quarterback
From cubuffs.com … While the names and uniforms change each week, one thing remains virtually a constant for the Colorado Buffaloes' defense:
The Buffs are almost guaranteed to see a quality quarterback. Week in, week out, the conference known for its quarterbacks delivers.
It's up to the Buffs to figure out a way to stop them.
"When you're playing in the Pac-12, every week you know you're going to face a really great quarterback who takes control of their offense," CU safety Tedric Thompson said this week. "You've just got to dial in and know that you're going to see his best and you have to try to stop him."
Two weeks ago, it was UCLA freshman sensation Josh Rosen. Last week, it was Stanford's Kevin Hogan. Next up is USC's Cody Kessler in Friday night's home finale at Folsom Field (7 p.m., ESPN2).
Kessler has enjoyed some of his most successful days at USC against the Buffs, including last year's 56-28 win in Los Angeles, when he tossed seven touchdown passes. But the 4-6 Buffs believe they are a different defense this year. While they've yielded a few big passing games, it hasn't been the norm.
A year ago, CU gave up 256 yards per game through the air; this year they've cut that number down to 219. Overall, the Buffs have reduced the opponent's average yardage total from 460 to 428.
But most importantly, they've reduced the scoring by double digits. In 2014, CU was 11th in the Pac-12 in scoring defense, giving up 39 points per game. This year, they are currently sixth in the conference, yielding just more than 28 per game.
"We're not getting pushed around like we used to," Thompson said. "Nobody's out there running up points and doing whatever they want to against us."
… Continue reading story here …
—
Other Buff stories …
– "USC staff didn't return the calls of, then USC commit, Shay Fields" … from BSN Denver
– "Ryan Moeller likely to miss fourth game in a row" … from the Daily Camera
– "USC Coach Clay Helton calls Cody Kessler's game 'phenomenal,' though stats are less so" … from the Los Angeles Times
—
Balch Beer Garden to be open to watch CU men's basketball game before the CU/USC game this Friday
From cubuffs.com … Colorado will be in the national spotlight on Friday, Nov. 13, in two events, and Buffaloes fans have the unique experience to enjoy both.
Fans with a ticket to the Colorado-USC football game at 7 p.m. will have the opportunity to arrive early to watch the men's basketball season opener in the Balch Fieldhouse beer garden.
The men's basketball team tips off the 2015-16 season with No. 7 ranked Iowa State at the Sanford Pentagon in Sioux Falls, S.D., at 3 p.m.
Both events will be televised nationally on ESPN2.
Gates at the Southwest entrance (the Buffalo Plaza) will open at 2:45 p.m. and fans will go directly to Balch Fieldhouse where they can enjoy concessions and the big screen televisions to watch the basketball game.
Fans must have a ticket for the football game to enter and Balch Fieldhouse will be the only location available to patrons until 5 p.m. when all stadium gates will open.
—–
November 9th
… CU in a few minutes …
Coach MacIntyre's Monday post-practice comments
YouTube video courtesy of BuffStampede.com …
—
USC game (7:00 p.m., Friday, ESPN2) to be a "Blackout" game
Even the field will be blacked out …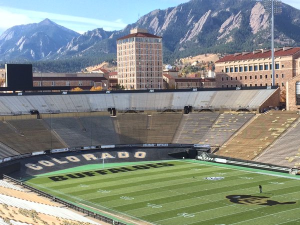 —
CU at Washington State kickoff time set for next weekend
From cubuffs.com … The Colorado at Washington State football game on Saturday, November 21, will kick off at 7:45 p.m. PST (8:45 p.m. mountain) and will be televised nationally on ESPN2.
Conference television info for Nov. 21:
Games held for six-day selections on Saturday 11.21.15 
California at Stanford
USC at Oregon
UCLA at Utah
11.21.15 TV selection order/network options/start time options:
*ESPN (either

12:30pm PT

/5:00pm PT/7:30pm PT; network options include ABC or ESPN or ESPN2)
*FOX (

12:30pm PT

, FOX broadcast)
*ESPN (either

12:30pm PT

/5:00pm PT/7:30pm PT; network options include ABC or ESPN or ESPN2)
(*Mountain start time options for UCLA at Utah: 1:30pm MT/6:00pm MT/8:00pm MT)
Pac-12 football games on Saturday 11.21.15 
12:30pm PT/1:30pm MT – Arizona at Arizona State, FS1
3:00pm PT – Washington at Oregon State, Pac-12 Networks
7:45pm PT/8:45pm MT – Colorado at Washington State, ESPN2
—
CU looking to get past the "close, but …" identity
From Neill Woelk at cubuffs.com … Colorado head coach Mike MacIntyre was recently asked what he would like his team's "identity" to be.
MacIntyre didn't hesitate with his answer. CU's third-year coach said he wanted the Buffs to be "physical on defense and athletic,"  and balanced on offense, a team "that can be able to run and throw it."
The Buffs aren't there. Not yet — and this isn't just a sportswriter lobbing Monday morning analysis from the press box.
Here's more from MacIntyre:
"We've made strides. We're more athletic, you've heard other teams say that. … We're getting bigger and stronger, (but) we've still got a ways to go."
… Continue reading story here …
—
Other Buff Stories …
– "Buffs look to keep focus in short week" … from the Daily Camera
– "USC Now morning report: Trojans are big favorites at Colorado" … from the Los Angeles Times
– "USC seeks faster starts entering the stretch run" … from the Orange County Register
—–
November 8th
… CU in a few minutes …
Colorado a 14.5-point underdog to USC
The Buffs, a 22.5-point underdog to UCLA and a 16.0-point underdog to Stanford, open as a 14.5-point underdog to USC, according to vegasinsider.com.
Other Pac-12 games this weekend:
– No. 18 UCLA is an 8.5-point favorite at home against Washington State
– Arizona State is a 3.5-point favorite at home against Washington
– Cal is an 18.5-point favorite at home against Oregon State
– No. 10 Utah is a 4.5-point favorite on the road against Arizona
– No. 7 Stanford is a 9.5-point favorite at home against Oregon
—
Colorado remains at No. 11 in latest ESPN Pac-12 power rankings
From ESPN … the bottom three:
10: Arizona Wildcats: The Wildcats are in the middle of a three-game skid and have been sitting on five wins since the middle of October. Remember, their bye week is Week 13, so they only have two opportunities left — at home Saturday against Utah and then at ASU — to make the postseason. The Rich Rodriguez-to-(insert school of choice) rumors are also swirling.
11. Colorado Buffaloes: Not sure what can be said about the Buffs that hasn't already been said. Yes, they are a better team than last season, but at some point you need to win. The Buffaloes aren't officially out of the bowl picture, but I wouldn't bank on the their running off three straight against USC, Washington State and Utah.
12: Oregon State Beavers: The Beavers are officially eliminated from bowl contention. All that's left is pride and a search for that first conference win under Gary Andersen. I'm reminded of the scene from "The Lion in Winter:" "When the fall is all there is, it matters."
—
Stanford up two spots in latest AP poll; Utah into the top ten
Clemson has replaced Ohio State as the No. 1 team in the nation in the latest AP poll. Stanford, 42-10 winners over Colorado, moved up from No. 9 to No. 7, while Utah moved up three spots to No. 10. UCLA, meanwhile, moved up five spots to No. 23.
CU's next opponent, USC (7:00 p.m., MT, ESPN2) is 26th in the latest poll. The only other Pac-12 receiving votes is Washington State, in at No. 32 in the poll.
| | | | | |
| --- | --- | --- | --- | --- |
| 1. | Clemson (31) | 9-0 | 1489 | 3 |
| 2. | Ohio St. (26) | 9-0 | 1460 | 1 |
| 3. | Alabama (2) | 8-1 | 1376 | 7 |
| 4. | Baylor (2) | 8-0 | 1351 | 2 |
| 5. | Oklahoma St. | 9-0 | 1256 | 12 |
| 6. | Notre Dame | 8-1 | 1219 | 8 |
| 7. | Stanford | 8-1 | 1144 | 9 |
| 8. | Iowa | 9-0 | 1091 | 10 |
| 9. | LSU | 7-1 | 1050 | 4 |
| 10. | Utah | 8-1 | 900 | 13 |
| 11. | Florida | 8-1 | 887 | 11 |
| 12. | Oklahoma | 8-1 | 858 | 14 |
| 13. | TCU | 8-1 | 841 | 5 |
| 14. | Michigan St. | 8-1 | 807 | 6 |
| 15. | Michigan | 7-2 | 684 | 16 |
| 16. | Houston | 9-0 | 561 | 18 |
| 17. | N. Carolina | 8-1 | 506 | 21 |
| 18. | UCLA | 7-2 | 403 | 22 |
| 19. | Florida St. | 7-2 | 379 | 17 |
| 20. | Mississippi St. | 7-2 | 357 | 24 |
| 21. | Temple | 8-1 | 310 | 23 |
| 22. | Navy | 7-1 | 218 | NR |
| 23. | Wisconsin | 8-2 | 183 | NR |
| 24. | Northwestern | 7-2 | 177 | NR |
| 25. | Memphis | 8-1 | 137 | 15 |
 Others Receiving Votes: USC 104, BYU 35, Mississippi 22, Boise St. 6, Texas A&M 6, Toledo 4, W. Kentucky 2, Washington St. 2
—
USC rallies to hand Arizona its third straight loss
From ESPN … JuJu Smith-Schuster had a plate and a screw surgically installed in the palm of his broken right hand only five days earlier, so Southern California's star receiver had to make eight catches for 138 yards using "all fingers," he said with a grin.
Although the Trojans are all hanging onto the chance for a memorable season by their fingertips, a gritty comeback win over Arizona improved their grip.
Ronald Jones II caught a touchdown pass and rushed for 177 yards, including a 74-yard scoring run late in USC's third straight victory, 38-30 over the slumping Wildcats on Saturday night.
Cody Kessler passed for 243 yards and two touchdowns as the Trojans (6-3, 4-2 Pac-12) improved to 3-1 under interim coach Clay Helton and stayed in the race for the Pac-12 South title, but only after rallying from an early 14-point deficit.
"I love how this team is," Helton said. "They just rise up. They stay extremely poised."
… Nate Phillips, David Richards and Cayleb Jones caught touchdown passes from Anu Solomon for the Wildcats (5-5, 2-5), who have lost three straight and five of seven. The defending Pac-12 South champions were officially eliminated from contention for a repeat.
… Continue reading story here …
—–