—
Colorado Daily – Washington State
—
November 21st – GAMEDAY!!
… CU in a few minutes …
Drew Litton
From the Daily Camera …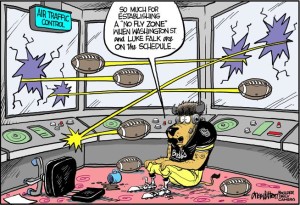 —
Cougars have learned how to win the close games … CU game plan won't change (much) with Apsay at quarterback
From cubuffs.com … While there are plenty of differences in their statistics, the style of play, their approach and the schools themselves, the biggest distiniction — this year, at least — between the Washington State and Colorado football teams might be about four minutes.
That, at least, is the total amount of time that has been the difference in at least four victories for the 7-3 Cougars this season. To wit:
A touchdown with 13 seconds remaining lifted WSU to a 37-34 win over Rutgers. A touchdown and interception in overtime made the difference in a win over Oregon. A touchdown with 2:03 remaining in the game led WSU to a 45-42 win over Arizona. And last week, it was a touchdown with :03 on the clock that gave the Cougars a 31-27 win over UCLA.
Take those four minutes away, and the Cougars' record would be 3-7. But instead of coming up short, they've come up strong in the clutch.
…
CU's coaches have said their game plan won't change much with Apsay at the helm.
"We'll do a few things that Cade likes," MacIntyre said. "Everybody kind of has their strengths and certain pass patterns, or pass routes, they like; (but) it won't be a drastic change."
Despite another season peppered with frustrating, narrow losses, the Buffs still have a very slim chance at a bowl berth. But to get there, they'd have to win both of their last two games, then hope not enough teams have the requisite number of wins to automatically qualify.
They could take a big step with a win over the Cougars. The Buffs have lost 21 straight games against ranked teams and 25 straight on the road against ranked teams.
But, they have a little bit of history on their side: CU is 3-0 against Washington State in the state of Washington, with wins in Seattle, Spokane and Pullman.
And, speaking of making plays that made the difference: the last time the Buffs visited Pullman, in 2011, CU rallied from a 17-point fourth-quarter deficit to score three touchdowns in the final 7:06 of the game to beat Leach's Cougars, 35-34.
"That's all I need to remember," said CU tackle Stephane Nembot, who played in the game. "I hope this time we go back and do the same thing."
—
More CU stories …
– "Woelk: Friday's Fast Five Keys To Buffs Vs. WSU" … from cubuffs.com
– "CU football: Buffs' pass defense faces stress test against Washington State" … from the Daily Camera
– "CU football: Buffs can't overlook WSU running game" … from the Daily Camera
– "Here's what needs to happen for the CU Buffs to make a bowl game" … from BSN Denver
—–
November 20th
… CU in a few minutes …
Friday musings …
Some random thoughts and stats as we head off to Pullman to take on the Cougars (8:51 p.m., MT, ESPN2):
– Colorado is 7-4-1 all-time in games played in the state of Washington (compare the state of California: 2-19-1). The Buffs are 3-0 against Washington State on the road, but only 1-0 in Pullman, with the other two wins coming in Spokane (1982) and Seattle (2004);
– So perhaps the Buffs should have petitioned to have this game played in Tacoma or Yakima, so as not to disturb the one game, one victory streak;
– Through 11 games, the Colorado defense is giving up an average of 28.2 points per game. The last time CU allowed less than 30 points per game was back in 2009;
– Defensive tackle Jordan Carrell hasn't made the huge splash Buff fans were hoping for when he was signed out of junior college. Carrell is 11th on the team in tackles, with 40, with one sack and five tackles for loss. What Carrell has done, to use a baseball metaphor, is chew up innings. With Tyler Henington and Josh Tupou lost for the year before the season even began, Carrell has been a workhorse. He has been on the field for 82.8% of the defensive snaps, on pace to be the 8th-highest percentage of plays ever (Chidera Uzo-Diribe was on the field for 80% of the defensive snaps in 2013, the most for any Buff since 2008, but only good enough for 14th-highest percentage all-time);
– You probably already read this, but Sefo Liufau, who wears No. 13, was injured on Friday the 13th, with his season coming to an end just 13 yards shy of the CU all-time passing yards lead (7,397 to Cody Hawkins' 7,409). All ready CU's all-time leader in total offense (7,842 yards), completions (688), and completion percentage (62.9%), Liufau begins his rehab third in all-time passing attempts (1,093; 221 behind Hawkins) and second in passing touchdowns (49; behind 60 by Hawkins);
– If Colorado can get into the fourth quarter with a chance to beat Washington State, who would bet against the Cougars coming out on top? Washington State has won four games this season alone by way of a fourth quarter comeback. My fear: if it's close, the Cougars will be saying to themselves: "Here we go!", while CU players will be saying to themselves: "Here we go again";
– Colorado is giving up 201.6 yards rushing per game. With Washington State (which is last in the Pac-12 in rushing … by a wide margin, averaging only 77.9 yards per game) and Utah (which just lost its star running back) left on the schedule, the average may well dip below 200 yards this season. The significance? That hasn't happened in Boulder since 2011;
– Freshman punter Alex Kinney is quietly improving every week. After a rough start to his career, Kinney has averaged over 43 yards per punt in each of his last three games, and has his season average up over 40 yards per kick (third-best amongst freshman punters in school history, behind only Matt DiLallo and Darragh O'Neill);
– It's a mixed bag for CU's other new kicker, Diego Gonzalez. He has made all 30 of his PAT attempts, and his 17 field goals are the most-ever for a first-year kicker at Colorado. Gonzalez is 17-for-25 overall, however, with the .680 percentage the lowest in the Pac-12;
– In a season in which Colorado had at least one starter making their first career start in each of the first eight games (19 players overall have had their first career starts this year), only one Buff, offensive lineman Sully Wiefels, has made their first career start in the past three games. The overall number will rise to at least 20, as quarterback Cade Apsay is slated to make his first career start against Washington State;
– Colorado is one of only seven schools in the nation (and one of only two in the Pac-12 – Oregon State) to have started at least 20 different players on both offense and defense this fall. The Buffs have had 23 different starters on offense; 22 different players earning starts on defense;
… Washington State fun facts …
– In the four years Mike Leach has been at Washington State, the Cougars have had seven sellouts. In the five years, prior: only one sellout;
– Capacity of Martin Stadium is only 32,952, by far the smallest stadium in the Pac-12 (Oregon State's Reser Stadium is next smallest, at 45,674);
– Washington has been to 11 bowl games in its history (CU has been to 28). The Cougars are 1-3 in four Rose Bowl appearances, defeating Brown, 14-0, in 1916. The other three Rose Bowl appearances: 1931; 1998; and 2003; and
– Lest we forget … CU is 25th in all-time wins (685); Washington State is 81st (520) … CU has had 31 consensus All-Americans; Washington State has had five … CU has spent 293 weeks in the Associated Press poll; Washington State 128.
… And then there is this …
– In his first three seasons at Washington State, Mike Leach was 12-25. In his first three seasons at Colorado, Mike MacIntyre is 10-25.
—
Uniforms for Washington State game
More traditional … personally, I prefer the gold helmet to the black and white ones …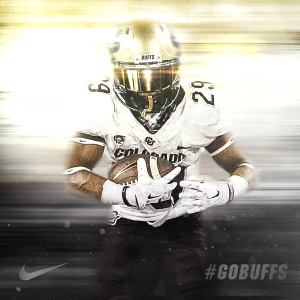 —–
November 19th
… CU in a few minutes …
Rick George: "I'm staying"
From cubuffs.com … Breathe easy, Buffs fans. Colorado athletic director Rick George put to rest Thursday speculation that he might be a candidate for the vacant athletic director's post at the University of Illinois.
"There has been a lot of speculation out there that I will be considered for the athletic director position at the University of Illinois," George said. "While it is flattering that my name has been connected to the Illinois job, I believe it is due to Illinois being my alma mater and others pushing my name publicly.
"Should Illinois contact me, again that would be both humbling and flattering, but I would gracefully decline because Colorado and Boulder is my home for the foreseeable future."
… "My family and I are very happy here at Colorado and we have no intention of leaving," George said. "I am proud of what we have accomplished in a short period of time but we have much more to get done.  I am excited about the future and I am looking forward to taking on the challenges that we face in athletics with our student-athletes, staff and coaches.  I can honestly tell you that I plan on being at Colorado as the Athletic Director".
… Continue reading story here …
—
CU defensive coordinator Jim Leavitt sees progress, but is still not satisfied
From cubuffs.com … Ask Colorado defensive coordinator Jim Leavitt about his defense and he cuts to the chase in a hurry.
"Points," Leavitt says. "Our biggest stat that we want to be good at, obviously is points. Scoring defense. We're better than what we've been, and we need to keep improving."
Indeed, while the Buffs have improved significantly in most defensive areas this season (for instance, did you know they're the leading pass defense in the conference in Pac-12 games?), the most important step forward has come in the category of points allowed.
A year ago, the Buffs were 11th in the Pac-12 in scoring defense, allowing 39.0 points per game. This year, that number after 11 games is 28.2 points per game, good enough for sixth in the conference.
It's that type of improvement that head coach Mike MacIntyre brought Leavitt to Boulder to produce, and the results in his first year have been solid. The Buffs have been competitive in the majority of their Pac-12 games, and one big reason has been a defense that's kept the Buffs within striking distance.
But by no means is Leavitt satisfied. He still envisions a day when the Buffs dominate foes defensively.
"We're getting better," Leavitt said. "I'm really happy with them; I'm really proud. We've got a ways to go, we all know that. But I've seen this team start to have more confidence. We've got another tough challenge this week; we'll see how they play in this one."
—–
November 18th
… CU in a few minutes …
Rick George to Illinois rumor mill heats up
When the Illinois athletic director position opened up, the name of Rick George, an Illinois alumnus, was mentioned.
Last week, when asked by Neill Woelk of cubuffs.com about the possibility of leaving Colorado for Illinois, George was non-committal.
"Nobody has called me and I haven't talked to anyone," George said. "I'd be lying if I didn't say at one point in my life being AD at Illinois wasn't my dream job. But I love it here at Colorado and I'm excited about what we've accomplished since I've been here as well as what the immediate future holds. But I just think it's way too early to be talking about anything right now in that regard."
Now, FootballScoop.com is reporting:
Illinois: Sources tell FootballScoop that Illinois is hoping to have an agreement in place with their new athletic director by early next week (at the latest). Sources tell us that people involved in the search continue to believe that Colorado AD Rick George is a strong candidate. Separately, sources in Colorado relay back that they would be highly surprised to see George leave, noting he "walks on water" at CU and has done an excellent job fundraising. Reading the tea leaves…sounds to FootballScoop like Rick George is about to get a raise from one of the two schools."
… Stay tuned …
—
Mike MacIntyre post-practice talk with the media
From YouTube, courtesy of BuffStampede.com …
—–
November 17th
... CU in a few minutes …
Colorado defense bracing for the best pass offense in the Pac-12
From cubuffs.com … "We're working on (stopping the run), but our emphasis this week is getting to the quarterback and disrupting him," CU senior defensive tackle Justin Solis said Tuesday.
In the overall disruption department, the Buffs have been average in Pac-12 play. Their 18 quarterback sacks ranks them seventh – 11 behind conference leader Arizona State. In all games, CU has 24 sacks, a number that coach Mike MacIntyre calls "good, not great, not super, not terrible."
In dealing with "Air Wazzu," he said CU's ideal scenario would be to create pressure with "four (rushers) rather than to bring people (linebackers, corners)."
If a defense relies too much on blitzing linebackers and defensive backs, the Cougars' screen passes to backs and receivers "will make you pay," MacIntyre continued. "I think Leach wants you to do that."
The Cougars have allowed a league-worst 30 sacks in conference, but MacIntyre can easily explain that stat: "They lead the league in sacks (allowed) because they throw it so much. There's more opportunities . . . teams are able to put their ears back a little bit more."
In overall pass defense, CU tops the Pac-12 (231.9 yards allowed a game) but that number also must be balanced against a Buffs run defense that is No. 11 in the conference (232.4 yards allowed a game).
INJURY REPORT: In addition to Sefo Liufau, MacIntyre said running back Michael Adkins II (hamstring) and safety Ryan Moeller (concussion) would not play this week. However, guard Gerrad Kough (neck, shoulder) will be back.
QUOTABLE: "We'll take anything we can get from the quarterback." – Nembot on Apsay joking a couple of days ago that keeping him upright for an entire game might be worth a gift to his O-linemen.
NOTABLE: Now in his fourth season, Mike Leach's three-year overall record at Washington State was 12-25. MacIntyre's overall record at CU is 10-25. On the surface, the rebuilding projects have been similar, but MacIntyre still points out, "It's always different at every school. There's different demographics, different recruiting areas, different academic standards . . . . You just keep working, you set your program in place, your culture in place, and then you keep recruiting to it, you keep working and watching your team mature to it. I think (WSU) has done that in a lot of ways." . . . . The Cougars (7-3, 5-2) are off to their best start since 2003 (8-2) and are bowl eligible for the second time in three seasons (2013) . . . . CU's Saturday night contest is the eighth night game this season – the most in school history. Six of those night contests were in the Pac-12 . . . . The 8:51 p.m. MST kickoff at Wazzu is the second-latest this season (No. 1 was the opener at Hawai'i) but the game's length could be the longest for the Buffs. Averaging 57 passes a game, only one of the Cougars' 10 games has been shorter than 3 hours – the opener against Portland State was 2:59.  WSU's other nine games have averaged right at 3:30 in length . . . . In conference games, the Cougars are first in passing offense (436.6 yards a game), second in total offense (510.7 yards a game) and third in scoring (38.1 points a game).
—
Washington State wide receivers familiar with Mike Leach's offense before they ever hit Pullman
From ESPN … The Air Raid offense began recruiting Gabe Marks long before Mike Leach ever did.
Every time Marks sat down to play his NCAA Football 08 video game there was one team he always picked — Texas Tech. He imagined himself playing in that offense with that gunslinging coach and quarterback. He just wasn't sure he'd ever actually get to play in it.
"They made it look really easy to throw the ball around the field," Marks said. "Everybody was really dominant, it was just like a machine. So I was really interested in how it worked."
Seven years later, his coach in the video game is now his coach in the actual game. And his quarterback in the game, Graham Harrell, is now his wide receivers coach. And he leads all Washington State receivers with 13 touchdowns and 957 yards on 81 receptions.
So in theory, Marks, who caught the game-winning touchdown over UCLA last weekend, began studying Leach's offense as a 14-year-old.
Marks said that it's a common theme among many of the Cougar receivers — that the offense they saw on TV in the late 2000s was their introduction to Leach and the Air Raid long before Leach ever sat in their living rooms or called them.
… Continue reading story here …
——
November 16th
… CU in a few minutes …
Brian Lindgren on the CU offense under Cade Apsay: "I don't see it changing too much"
From cubuffs.com … The quarterback will change but Colorado coaches insist the offense will remain largely the same.
That was the message Monday morning, when the Buffs completed their first practice of the season without Sefo Liufau as their No. 1 quarterback. Liufau, who suffered a Lisfranc foot injury in Friday's 27-24 loss to USC, watched on crutches from the sidelines as the Buffs began preparations for Saturday's contest at Washington State (8:45 p.m., ESPN2).
It will mean an especially intense week of preparation for redshirt freshman Cade Apsay, who replaced Liufau against the Trojans, and offensive coordinator/quarterbacks coach Brian Lindgren.
Lindgren, however, said he doesn't foresee any dramatic shifts in the Buffs' game plan.
"I don't see it changing too much," Lindgren said. "There will be some things that I think are Cade's strengths and we'll get called for him, and there are some things where Sefo was good at and we played off his talents. But it will be very few. The offense will remain pretty much similar."
Indeed, there wasn't a lot of difference in CU's offense when Apsay took over after Liufau's injury in the USC game. Liufau had guided the Buffs to their first touchdown of the night — a 61-yard drive, the Buffs' longest touchdown drive of the evening — on CU's second possession, and completed six of eight passes for 94 yards. Apsay came in and led the Buffs to two touchdowns and a field goal, completing 18 of 23 attempts for 128 yards and two touchdowns.
"We were pleased with some of the things he did, and I was really pleased with the way he competed and battled," Lindgren said. "He took some shots and was playing against a really talented defense and he got up after he got knocked down and made some throws and moved us at times and got the ball in the red zone. I thought there were some things to build off and obviously a lot of things he's got to keep working at."
… Continue reading story here …
—
Colorado at Utah kickoff time set
From cubuffs.com …
The Colorado at Utah football game on Saturday, Nov. 28 will kick off at 12:30 p.m. MST and will be televised nationally on the Pac-12 Networks.
—
Mike MacIntyre and Cade Apsay post-practice comments to media
From YouTube, courtesy of BuffStampede.com …
And comments from quarterback Cade Apsay:
—
Colorado a 15-point underdog to No. 24 Washington State
Colorado will be playing Washington State on Saturday night (8:45 p.m., MT, ESPN2), its third game against a ranked team in four weeks (USC was No. 26 last weekend). Once again, the Buffs will be looking for their first road win over a ranked teams since 2002.
The Buffs are 15.0-point underdogs to the Cougars, not too far removed from what Colorado faced against UCLA, Stanford, and USC.
Other Pac-12 games:
– Utah is a 2.0-point favorite over UCLA (the Bruins opened as a 2.0-point favorite, but the money is coming in on the Utes);
– Washington is a 16.0-point favorite on the road against Oregon State;
– Oregon is a 4.5-point favorite at home against USC (up from 1.5-points at the opening Sunday);
– Stanford is a 12.0-point favorite at home over Cal in the "Big Game";
– Arizona State is a 6.0-point favorite at home against Arizona in the battle for the "Territorial Cup".
—
An Open Letter to Colorado Offensive Coordinator Brian Lindgren
An Open Letter to Brian Lindgren from CU at the Gamer Robert OByrne:
Hello Brian,
I am not sure how to get a letter to you directly so I thought I would take this approach and hope for the best.  I also feel it might provide catharsis for myself as well as many Buff faithful as we struggle with our frustrations with being so close but not quite there.
Let me begin by thanking you.  The CU job was not a premier coaching position and it remains a difficult position to coach in.  You have brought life to an offense that was truly struggling prior to your arrival and turned it into an offense that can be successful in the PAC 12.  I know that many of us will always appreciate what you have done for our program. 
I believe that part of this success is what contributes so much to the frustration many of us our feeling.  The brilliance of your offense is too often marred by plays and calls that are difficult to understand.  I believe it would significantly help the Buff faithful to specifically point these issues out and get an understanding of what you were actually thinking.  If you are unwilling to explain to us what you were thinking in anything other than coach speak then it is my hope that at least you take a long hard look at the issues we see and re-analyze your decisions (as I am sure you have already looked at them at least once).
Many of the issues I will raise below have been filtering around the internet for a month or two often disguised as some general dissatisfaction with your play calling.  Before I drafted this letter I needed to confirm my impressions of what I saw with a more robust analysis of the games that I think truly mattered.  I do not have access to the game film so I was limited to watching the games from the TV perspective and then charting and noting each play with an eye towards these questions.  While I am not a professional I have done enough film study that I feel comfortable that these points are valid and backed up in actual play on the field in the UCLA, Stanford (before the game got away), and USC.
Perhaps my biggest question centers on your commitment to the spread offense.  Since the beginning of the season I have consistently noted the success of your pro set offense with the quarterback under center.  For the past month I have been certain that your play calling from the pro set is very good and your players execute extremely well against the best competition in the PAC 12.  My film study of these three games not only confirmed this impression but significantly enforces it.  Here ae some statistics:
These statistics combined with my impressions lead me to a few conclusions:
The pro set consistently generates explosive pass plays.
The pro set did not produce an incompletion or sack.
The pro set was often used in short yardage situations against the other team's short yardage personnel and still was successful.
The pro set consistently produces more yardage per run attempt.
It is understandable that there would be some discrepancy and some minor benefit that a change of pace offensive formation might have but the starkness of the differences make me interested in getting your opinion as to why you do not use this offensive set much more.  This is still your offense that is having this success, it is still your play calling that is driving these results so I am a little at a loss to understand why you do not use this set as your players seem so much more effective from it. 
Many years ago in a previous era when CU was struggling another coach was tasked to resurrect CU's football program.  With the offense struggling the coach made a difficult decision and completely changed up their offense to a wishbone offense.  This switch began the resurrection of the program and led our program to its highest points.  If you are uninterested in trying to run the pro set offense more I would be interested in what are the specific statistics and reasons that support this decision.  Not just the coach speech that you are "confident that the players will stop making the small mistakes that are limiting the offense."  Why wait for them to stop making those mistakes as they are clearly not making those mistakes in the pro set?  Maybe you should consider that the players you have are just better suited to a pro-style offense?
Secondly, I have noticed a very concerning trend in your play calling in the games I reviewed.  Do you realize that anytime your team is "behind the sticks" (2nd and 8 or 3rd and 4 or worse) you call a pass?  It is so consistent I am sure opposing defenses have picked up on it.  It might be why your QB is under so much pressure.  In the UCLA, USC and the potion of the Stanford game I reviewed I found that you only broke this tendency 1 time.  I have found it strange how aggressive the pass rush is at times.  I thought you had picked up a significantly bad tell in your offense that the teams other teams had picked up on and I think this is it.  I am not sure how long this trend goes but I believe it has been there for a bit as the opposing defenses seem to be in a straight pass rush mode in these situations and are able to bring pressure in those cases.
I have also noted this tendency seems to have significant impacts to the way defenses approach your offense.  Because you are seeking to maintain as much balance in your play calling as possible I believe it has increased the likelihood of you calling a running play on 1st down (18 runs 10 passes at USC, you start off 6 runs and 1 pass before the game gets away at Stanford, and 27 runs to 21 passes versus UCLA but there were times you were 2/1 and it was the rush of the passes at the end of the game that evened it up more).
This also appears to be related to your reliance on passing during critical moments.  As soon as your team gets behind the sticks you transition to a passing offense.  This ends up in a predictable pattern of run on first down because you are trying to establish he run and maintain balance, the defense sets up for a run defense and holds us to 3 or less yards.  This then allows the defense to transition to a pass defense and really aggressively go after the quarterback.  It also means that on 3rd and 4 or even 5 your tendency to pass is so overwhelming the defense can ignore the run lanes to rush the passer.
I have not done the research to validate these tendencies for games outside of the 2 ¼ I reviewed closely but against the opponents you have faced in those games I think it very likely that they have picked up on those tendencies.   
In addition to these two issues I am interested in getting a better understanding regarding your policy of running back by committee.  History and standard coaching would tend to disagree with this approach.  I agree that you have 4 running backs that have a potential to be very good running backs (Lindsey, Lee, Adkins, and Carr).  I will always respect Powell but he is not one of them.  Recruited as a fullback he stepped up on the field as a leader and did his absolute best for the team.  As a person who has made sacrifices for our team he deserves the honor and respect that sacrifice required but every time he is on the field instead of one of the other players he does not provide the explosiveness nor the average yards the other backs offer.  When looking at the statistics versus our conference opponents only (you have to eliminate the non-conference opponents to exclude UMASS and Nichols State)
Every time Powell is in the game you are sacrificing the explosiveness the other backs provide as well as .6 to 1.2 yards per carry.  My personal belief is that Powell is trying so hard to succeed he is doing too much and that has led to his fumbles.  He is stretching his abilities and because of that small mistakes are amplified.  You are not being fair to him or the rest of the team by putting him in a situation he needs to overachieve to just be what the other backs are.
With Adkins hurt you have a three legitimate backs with very similar capabilities though they accomplish them all in very similar ways.   I can understand substituting a back that has been struggling for a series or two, substituting a back for when one has been in a long drive and may be tired, or substituting a back for a change of pace.  But you actually just constantly rotate the backs through the game.  On drives we can regularly see 2 to 3 backs with backs often only being in for a few plays at a time.  During my time playing I found it very important to actually be in a game and get a feel for the game.  I found that as the game went on I would get a better feel for where the play would develop and holes would emerge.  I have heard this reflected from many other players.  You don't seem to subscribe to this belief as your running backs will rotate constantly.  I would be interested in hearing why you do not subscribe to this widely held belief.  Statistically, the teams that have identified a primary running back and stick with that back tend to have a higher yards per run as well more explosive plays.  I will concede that there is an argument that the reason these backs are primary backs is because they are better and would have a higher average even if they were platooning.  I will also concede that having a freshman play significant amount of time puts that freshman at risk for injury and may hurt their long term prospects as their bodies may not be developed enough to sustain the sort of beating running backs in a D1 game sustain.  With all of that said wouldn't it be worthwhile to at least try using a primary back and see if it improves your backs production?  The difference between Lindsey, Carr, and Lee would seem to be so small that you could easily use one as your primary for a whole game (Lindsey), use another when Lindsey needs risk (Carr), and use another for a chain of pace back (Lee).
I would like to end my letter by again thanking you for your contributions to our football program.  I know you have a made a positive contribution to the team and have helped us transition from a cellar program to one that is almost ready to turn the corner.  I am sure you have put in a tremendous amount of time and effort, and I know that I and many other fans really appreciate it.  Our frustrations are largely drawn from the fact that we seem to be so close and it seems that there are things under your control that are impacting our ability to get over that hump.  We are not professional coaches though and so there may be reasons for doing what you are doing.  Helping us understand those reasons will help us be patient with the process you are leading the program through.  I also know from my own career that often times I can be too close to a problem and I have been unable to see something right in front of me.  An outside prospective often finds these issues or solutions to these issues that we cannot see because we are too close.  If this is the case I hope I have given you some ideas about what we can do to help ourselves over the last two games.
Sincerely,
Robert
—–
November 15th
… CU in a few minutes …
Pac-12 has five teams in Top 25 …. but none in the Top 15
Colorado will play its third ranked team in four weeks, as Washington State, off of its upset of UCLA in Los Angeles, has moved into the Top 25. The Cougars, at No. 24, are joined this week in the poll by Oregon, in at No. 23, and USC, at No. 22.
While the Pac-12 gained three teams in the poll this week, the conference lost another, as UCLA dropped out, coming in at No. 30 overall.
| | | | | |
| --- | --- | --- | --- | --- |
| 1 | Clemson (34) | 10-0 | 1496 | 1 |
| 2 | Ohio St. (2) | 10-0 | 1460 | 2 |
| 3 | Alabama (4) | 9-1 | 1424 | 3 |
| 4 | Oklahoma St | 10-0 | 1301 | 5 |
| 5 | Notre Dame | 9-1 | 1286 | 6 |
| 6 | Iowa | 10-0 | 1216 | 8 |
| 7 | Oklahoma | 9-1 | 1182 | 12 |
| 8 | Florida | 9-1 | 1055 | 11 |
| 9 | Michigan St. | 9-1 | 1008 | 14 |
| 10 | Baylor | 8-1 | 946 | 4 |
| 11 | TCU | 9-1 | 857 | 13 |
| 12 | N. Carolina | 9-1 | 791 | 17 |
| 13 | Houston | 10-0 | 790 | 16 |
| 14 | Michigan | 8-2 | 738 | 15 |
| 15 | Stanford | 8-2 | 668 | 7 |
| 16 | Florida St. | 8-2 | 559 | 19 |
| 17 | LSU | 7-2 | 549 | 9 |
| 18 | Utah | 8-2 | 514 | 10 |
| 19 | Navy | 8-1 | 465 | 22 |
| 20 | Northwestern | 8-2 | 397 | 24 |
| 21 | Wisconsin | 8-2 | 338 | 23 |
| 22 | USC | 7-3 | 201 | NR |
| 23 | Oregon | 7-3 | 170 | NR |
| 24 | Washington St | 7-3 | 167 | NR |
| 25 | Mississippi | 7-3 | 44 | NR |
Others Receiving Votes: Toledo 39, Arkansas 35, Memphis 32, Mississippi St. 25, UCLA 18, Pittsburgh 15, Temple 13, Georgia 8, Texas A&M 8, W. Kentucky 4, Bowling Green 4, Arkansas St. 1, Air Force 1.
—
Colorado bowl hopes fade as Saturday games produce adverse results
Colorado coaches and players were still talking bowl bids after Friday night's 27-24 loss to USC. Despite the 4-7 overall record, there was discussion as to the possibility of a 6-7 Buff team still earning a bowl invitation.
"We have two more games left" said Mike MacIntyre. "There's also an outside shot still – I know it sounds crazy – of going to a bowl [game] because there might not be enough 6-6 teams, and if we go 6-7 they might take a Pac-12 team over another team that is 5-7 or something like that with an open bowl. So, our kids are still hoping for that".
"We've just got to keep on fighting. We still have two games left. We still have a chance you know to potentially make a bowl game", said senior defensive lineman Justin Solis. "This one definitely hurts but we're going to try to leave this one behind us, come back on Monday and start getting ready for Washington State. We're down right now but we're definitely not out and we'll definitely be back next week."
The Buffs' chances at a bowl game depended first on Colorado upsetting both Washington State and Utah on the road … giving CU two chances at a 6-7 record: fat and slim.
And now even though chances are gone.
Colorado needed help at both the top and the bottom of the Pac-12 standings for a bowl trip to become a reality … and every Pac-12 game played Saturday worked against that dream.
First, Colorado needed a Pac-12 team to make it to the College Football Playoffs, and have a second conference team earn a bid to the Rose Bowl. Stanford needed to win out to make it to the Playoffs, but lost to Oregon, 38-36. The Buff's second-best hope for a Playoff team, UCLA, lost to Washington State (the Pac-12's third ranked team, Utah, also lost, but hoping for the Utes to earn a Playoff bid would be contingent on winning out, including a win over Colorado).
Now, with no one-loss teams left in the conference, the Pac-12 is the easy choice for the odd-man out of the Power Five conferences vying for the four Playoff positions.
Why important to the Buffs?
A Pac-12 Playoff team (Stanford), coupled with a strong conference runner-up (UCLA) would have given the league two teams in the top tier bowls, moving everyone up in the conference up a notch. The Pac-12 has seven bowl tie-ins, including the Rose Bowl, so an extra top tier team would have given the Pac-12 eight bowl slots to fill.
Now, the Pac-12 champion will play in the Rose Bowl, with the other six slots – Alamo, Holiday, Foster Farms, Sun, Las Vegas and Cactus bowls making their picks.
Which is where the bottom of the league also had to help out the Buffs on Saturday … and failed to do so. The Pac-12 started Saturday with six bowl eligible teams: Stanford, Oregon and Washington State from the North division; Utah, USC, and UCLA from the South. Cal was 5-4, Arizona was 5-5, with Arizona State and Washington sitting at 4-5. The Arizona schools entered play Saturday on three-game losing streaks; Cal had lost four in a row.
For Colorado, at 6-7, to fill a void in Pac-12 bowl slotting, the Buffs needed three of those four teams to finish at 5-7 or worse.
No such luck.
Arizona is now bowl-eligible after upsetting No. 10 Utah, and Cal is also at six wins after taking out Oregon State. That gives the Pac-12 eight bowl eligible teams to fill seven slots, with Arizona State, at 5-5, and Washington, at 4-6, still in the running for bowl eligibility.
So the hopes of Colorado qualifying for a bowl bid at 6-7, a faint hope at best on Friday night, officially came to an end at the close of business Saturday night.
—–