—
Colorado Daily – Hawai'i
—
September 4th
Imperfect end to an imperfect road trip …
How Colorado makes headlines on ESPN …
It was a rough start to the season for Colorado.
1. The Buffaloes flew all the way to Hawaii for a game that threw common sense to the wind and kicked off at 11 p.m. MDT. Here's a suggestion for athletic directors: Only agree to play games that occur while your fans are awake. They'll appreciate it. Definitely don't agree to play games in the middle of the night during the week.
2. While the nation slept, the Buffs played like they wished they were sleeping.
3. Despite the poor showing, they still had a chance to tie the game late only for a bungled attempt by the officiating crew to set to ball in time for either a spike or a shot at the end zone. Final score: Hawaii 28, Colorado 20. It's not the worst officiating blunder we've seen — and Colorado was still facing an uphill battle, needing a score and a two-point conversion to even force overtime — but for a team that hasn't gotten many breaks since joining the Pac-12, it probably doesn't feel that way.
Then, as the team returned home, it appeared things were possibly getting better.
Jim Leavitt tweet … Coming into Boulder. The mountains are spectacular beautiful sight…..needed it. Great people here. They deserve great things. Go Buffs!
4. But, of course, that didn't last long.
Tweet from offensive lineman Alex Kelley … Oh perfect the bus broke down…
Harsh.
—–
September 3rd – GameDay!
—
—
CU Video – Forward – Episode I
Enjoy!!
https://vimeo.com/137581069
—
GameDay! Sefo: "We really believe we are ready"
From cubuffs.com … They're bigger, stronger and faster — but are they better?
Quotes … "You only get so many opportunities to play the game," Mike MacIntyre said. "You need to think every one of them is the biggest game of your life, because honestly, you never know when your last game is going to be. I don't see that as pressure, I see that as a great opportunity every time you play.
"If all of our kids can take that thought process, that this is the biggest game of their life because it's the next game — then they have the right attitude and will play well."
… "This offseason was especially long," quarterback Sefo Liufau said. "I think we let ourselves down last year to a certain extent. We made some critical mistakes in some games we could have won. Now, we're just waiting to come back out here and play and show people what we can actually do. We put in the work in the spring, put in the work this summer and now we're ready.
"We really believe we're ready."
… Full story can be found here …
—
Aloha Stadium likely to be only half-filled for CU game
From the Daily Camera … Hawaii is expecting a lot of empty seats for Thursday night's opener against Colorado.
According to the Honolulu Star-Advertiser, Hawaii officials are hoping for attendance in the low 20,000s. As of late Tuesday, only 20,513 tickets had been distributed for the game. Aloha Stadium has a capacity of 50,000.
Since Aloha Stadium opened in 1975, the lowest attendance for a Hawaii home opener came in 1976, when only 22,708 fans showed up to see a loss against Texas A&I. When CU visited for the 2011 opener, attendance was 37,001.
This week's opener was originally set to be played on Saturday, and the Star-Advertiser said UH officials believe a combination of the date change, 7 p.m. kickoff time locally and the game being free to TV viewers will hurt attendance.
… Continue reading story here …
—
Drew Litton does it again!
Always right on point …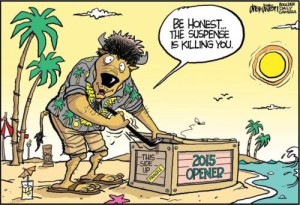 —–
September 2nd
"Breaking Down Hawai'i" … A free read from Adam Munsterteiger at BuffStampede.com, interviewing Honolulu Star-Advertiser beat writer Dave Reardon.
"Best case / Worst case: Colorado Football 2015" … A very funny, tongue-in-cheek from Ryan Koenigsberg at BSN Denver at the 2015 CU season.
—
Buffs visit Pearl Harbor
From cubuffs.com … Seventy-five Colorado football players walked into a theater Wednesday morning with the swagger and lively chatter one would expect from a college football team.
Roughly 25 minutes later, the players exited from the Pearl Harbor visitor center auditorium with an almost palpable air of solemnity. As they took a ferry ride from the visitor center to the USS Arizona Memorial, players spoke in hushed tones about what they'd seen and what they were about to see at the memorial.
… Continue reading story here …
—
Buffs adjusting to weather and time zone change
From cubuffs.com … Approximately 10 hours after the Colorado Buffaloes boarded a plane for Hawai'i on Tuesday, they were back on a football field, practicing in preparation for Thursday night's season opener at Aloha Stadium.
Head coach Mike MacIntyre put his team through about 90 minutes of drills at St. Louis High School, with players in shorts, T-shirts and no helmets.
"We wanted to get them off the plane and get them moving," MacIntyre said. "We put them through a little stretch and then did a good practice walk-through at a slower pace."
The Buffs continued to fine-tune their game plan for Thursday's contest, giving their No. 1 offense and defense a look at what the CU coaches believe they could see from Norm Chow's team on Thursday.
CU officials have been keeping a close eye on the weather for the last week, as at least one hurricane had a chance of hitting the islands at the same time the Buffs arrived. But Tuesday, Hurricane Ignacio was tracking well north of Hawai'i, and the Buffs were greeted with mostly sunny skies, with temperatures in the high 80s and about 70 percent humidity.
"This was a good way to get them acclimated," MacIntyre said. "There's a great breeze and I thought they did well."
… Continue reading story here …
—
Christian Powell trying to become the second Buff to lead the team in rushing four straight years
From cubuffs.com … Every week, every day, every practice, Colorado running back Christian Powell has a simple reminder for himself:
"This is it."
There is no next year for Powell with the Buffaloes, no looking into the future and planning for better days.
The future is now for Powell. Any better days in his college career must come over the next four months — a relative blink of an eye for the 6-foot-0, 235-pound senior who this season could become just the second player in history to lead the Buffs in rushing for four consecutive seasons.
"It feels like it went by so fast, but I've been here a long time at the same time," Powell said earlier this week. "So much has happened, so much has changed — but it's a blessing to be here in this building and attend this university. I'm just looking forward to my last year and going out on a good note."
A "good note" for Powell would be a winning season and a bowl game. Every player wants to start, wants to put up big numbers, but Powell is every bit sincere when he says, "I want us to win. That would be a good season."
… Continue reading story here …
—
Sophomore wide receiver Devin Ross hoping to make a contribution this fall
From the Daily Camera … As Devin Ross watched his University of Colorado teammates suffer one heartbreaking loss after another in 2014, he could do little else but grit his teeth and bear it as best as possible.
Unlike those teammates, who left it all out on the gridiron during four Pac-12 losses in which the overall deficit totaled just 15 points — including a pair of three-point defeats in double overtime — Ross could only watch, wondering if even a slight contribution from his diverse skill set might have made a difference.
In 2015, Ross finally will find out.
After making a minor splash as a true freshman two seasons ago and taking a redshirt season last year, Ross will be one of three wide receivers heading the top of the Buffaloes' depth chart when they kick off the 2015 season late Thursday night at Hawaii (11 MDT, CBS Sports Network).
"I'm anxious to get out there," Ross said. "It's just fun being able to come out here and compete with my teammates again. I love football so much and it's a great feeling being able to compete again".
… Continue reading story here …
—–
September 1st
"Neill Woelk: Five Areas to watch in CU-Hawai'i game" … at cubuffs.com
—
Some Notes of Note … Hawai'i
– Hawai'i is one of only two teams in FBS which this season is replacing all three coordinators – offense, defense, and special teams;
– The Rainbow Warriors are 29-58 (.333) all-time against teams in the Pac-12, 2-2 against Colorado;
– Hawai'i has played at least one Pac-12 opponent each year since 2005, with a 5-11 record. The Rainbow Warriors were 0-3 against the Pac-12 last year, but the three losses were by a total of only 18 points (21-12 to Colorado; 17-16 to Washington; 38-30 to Oregon State);
– The CU/Hawai'i game will be nationally televised by CBS Sports Network. Hawai'i has lost its last 19 games which were played on national television, with the last win coming in 2011 … against Colorado;
– Last season, Hawai'i led the Mountain West, and was 36th nationally, in red zone defense, giving up points 78.4% of the time. Last season, Colorado was 23rd in the nation in red zone offense, scoring 88.9% of the time;
– Colorado is 126-41-4 all-time against teams from the Mountain West Conference. The only team which the Buffs do not own a winning record against? Hawai'i, with the series tied at 2-2;
– Only one player on the current CU roster traveled with the team for the 34-17 loss to open the 2011 season … wide receive Nelson Spruce. Spruce was a red-shirt freshman that season (safety Jered Bell was on the team, but suffered a season ending injury during fall camp, and did not travel with the team to Honolulu for the 2011 opener).
—
Hawai'i/Colorado connections
– One of the offensive stars for Hawai'i is offensive lineman Ben Clarke, who played at Chatfield high in Littleton, Colorado. Clarke has started 37 consecutive games, and has been honorable mention All-Mountain West all three years. (Clarke was a two-star recruit from the Recruiting Class of 2011. His only scholarship offer was from Hawai'i);
– Backup defensive lineman Korey Rasmussen spent his first year in college at CU, before transferring to Hawai'i in 2013;
– Former Buff Chris Naeole is in his third year as the offensive line coach, and this spring was appointed to assistant head coach. Naeole was a consensus All-American at Colorado in 1996, and was the 10th overall pick (by New Orleans) in the 1997 NFL draft.
—
Fullback George Frazier to miss the first quarter of the Hawai'i game
From the Daily Camera … Colorado head football coach Mike MacIntyre told the Daily Camera that fullback George Frazier will be suspended for the first quarter of Thursday's game at Hawaii after the sophomore was arrested on July 12 and charged with driving under the influence.
Frazier pleaded guilty to a lesser charge of DWAI (driving while ability impaired). He received 18 months probation and 24 hours of community service. He also received a suspended jail sentence. As long as he follows all of the terms of his probation, he will not serve jail time.
In addition, Frazier spent the past month following a set of rules MacIntyre and the school set for him to prove his good standing. The team suspension reflects Frazier's high character, impeccable prior record and behavior over the past six weeks, MacIntyre said.
"(Since the arrest), he has done everything he was supposed to do with the school, with the courts, with working on his community service, all of his punishment and for us," MacIntyre said. "I feel like he's done what he's supposed to."
… Here is the story concerning Frazier's arrest back in June …
—
CU looking into first of its kind Sports Governance Center
From cubuffs.com … The University of Colorado Department of Athletics is embarking on an ambitious new initiative between academics and athletics – the proposed creation of a Sports Governance Center (SGC), which would be among the first of its kind in the nation.
If approved, the SGC would be an innovative academic unit within Athletics, with a mission that would focus on teaching, research and service. The goal is to conduct leading research, education and outreach related to the governance of sport, including college athletics and professional sports.
A proposal for the center will be submitted in the spring to the Graduate School for approval, said CU Professor Roger Pielke Jr., who is spearheading the effort along with Athletic Director Rick George.
Public lectures and events related to the center are being planned in the fall and a 2000-level, three-credit course called Governance of Sport is in the works for spring. Pielke taught a similar course in the spring 2014.
The vision for the center focuses on the implementation of rules and the exercise of power as related to the governing of sports. The subject matter would run the gamut from concussion studies, to doping in sports, to the ongoing FIFA scandal and the role of the NCAA and big time athletes at the modern American university.
The center concept is the result of an initial collaboration between the athletic director and Pielke, an environmental studies professor whose research in recent years has focused on sports governance.
"This is another collaboration between athletics and our faculty," George said. "Given the topics that are going on nationally in the NCAA with governance, it's really the perfect time for us both to work together to better understand the issues."
Pielke, who in 2002 led efforts to create the Center for Science and Technology Policy Research within the Cooperative Institute for Research in Environmental Sciences (CIRES) at CU-Boulder, said the Sports Governance Center will further the goal of "better integrating athletics and academics on the Boulder campus."
"The new SGC will also represent a significant step nationally in the currently-evolving role that college athletics play on major university campuses across the United States," Pielke said.
Center organizers plan to announce affiliates from across the CU-Boulder campus including faculty members in business, medicine, law, engineering and social sciences, along with members of an external advisory board, in coming months.
Pielke said numerous faculty members and researchers across campus are already engaged in scholarship related to sports and the Sports Governance Center would help to support their work and foster new collaborations.
Pielke said one of the reasons the center's creation is so exciting is because it is so interdisciplinary and would draw on the natural and social sciences, as well as the humanities. It is also very international, due to the fact that sports take place in every nation and are overseen by international organizations, such as the International Olympic Committee.
"Like any issue that is societal in nature, no single university department can adequately capture the complexity of this topic," Pielke said. "We are focusing on a topic then using the resources of traditional disciplines to assemble the expertise we need."
—–
August 31st  
Mike MacIntyre talks with the media after Monday's practice (the final practice in Boulder before the game)
YouTube video courtesy of BuffStampede.com:
—
CU injury report relatively short
From cubuffs.com …
DE – Tim Coleman – hamstring – he was hampered with a severe strain much of the summer (he injured it on June 15), and reinjured it on Aug. 27 – OUT
FB – John Finch – ankle – suffered a severe sprain in scrimmage action (Aug. 15) – OUT
DE – Tyler Henington – ankle/leg – suffered dislocation/fracture when accidentally stepping in a hole walking home; had surgery on July 26 OUT/SEASON-ENDING
LB – Travis Talianko – knee – he tore ligaments in conditioning workouts in late July; had surgery on July 28 OUT/SEASON-ENDING
DE – De'Jon Wilson – back – has endured muscle spasms throughout the summer, has limited him at times OUT
—
Notes on Depth Chart
The Buffs released their season-opening depth chart on August 28, and it shows that the Buffaloes, while still heavy in underclassmen, have more balance than in MacIntyre's first two seasons. In the two-deep, including all players expected to see game action in the opener at Hawai'i (22 scrimmage positions plus four special teams—P, PK, SN, H), there are just nine seniors—out of 15 on the team (four of whom were junior walk-ons have decided to play a seniors in 2015). Juniors (22), sophomores (17) and freshmen (16, including five true) appear to be in position to see extensive action in games this fall.
—
Notes on Leadership Council (Team Captains)
Mike MacIntyre is nothing short of innovative; the team voted on captains early in the summer, and 12 different players received enough votes where it was impossible for the coaches to select four or even six. So instead of a revote or paring it down on his own, he decided to go with a "leadership council" with the dozen. Four players will rotate as captains for each game, with the possibility that four will be selected for the postseason. The council: seniors S Jered Bell, FB Jordan Murphy, OT Stephone Nembot, TB Christian Powell and WR Nelson Spruce; juniors CB Chidobe Awuzie , ILB Addison Gillam, C Alex Kelley , QB Sefo Liufau and ILB Kenneth Olugbode; and sophomores TB Phillip Lindsay and DE Derek McCartney.
—
CU in season openers
Colorado is 77-43-5 in 125 season openers, with an 18-18-3 mark on the road and seven wins in its last 12 openers. This is just the ninth time the Buffs will open on the road since 1970 (3-5), and just the second time since 1995 (their last season opening win on the road, 43-7 at Wisconsin). The other time was also in Honolulu, a 34-17 loss to the Rainbow Warriors in Jon Embree's first game as head coach in 2011. The Buffs have started a season just four times at home since 1997, those coming in 2004, 2005 and 2009 against Colorado State and in 2001 when the Buffs dropped a 24-22 decision to Fresno State in theJim Thorpe Association Classic. CU was 9-6 in openers as a member of the Big 12 Conference and is 1-3 since joining the Pac-12.
—–
August 30th
Mike MacIntyre talks to the media after Sunday's practice
YouTube video of Mike MacIntye after Sunday's practice, courtesy of BuffStampede.com:
—
Buffs excited for trip to Hawai'i … "We had a good day. It was a really good practice"
From cubuffs.com … The Colorado Buffaloes have finished most of the "heavy lifting" of fall camp. They've installed their game plan for Thursday's season opener at Hawai'i, they're working on what they believe they'll see from the Rainbow Warriors, and they're now in full-blown game week mode.
"The kids are excited," head coach Mike MacIntyre said after Sunday's practice, a lively workout despite the 90-plus degree temperature. "You can kind of smell it in the air. We had a good day. It was a really good practice."
The Buffs have just one practice remaining in Boulder — a Monday morning workout — before they depart for Hawaii, where they'll practice twice more before the season opener.
Already, this season has been a rarity for the Buffs, or any team, for that matter. The Buffs did not suffer a single season-ending injury in training camp practices.
"That's the first time I've ever gone through a camp that that has happened," MacIntyre said. "Ever. Usually, you have a labrum or a knee … last year, we had a few, this year we haven't had any. That's been encouraging."
… Continue reading story here …
—
Other Buff stories:
– "Brian Howell column: Buffs see the light at end of the tunnel" … from the Daily Camera
– "CU football preview: Jim Leavitt brings new direction to defense" … from the Daily Camera
– "The sixth round for Jered Bell" – from BSN Denver
– "One reason why Colorado isn't likely to be down much longer" … from the Arizona Daily Star
—
Hurricane Ignacio currently a category 4 hurricane, but looks less and less like an issue for the Buffs' travel plans
From accuweather.com … Ignacio is more than 600 miles east-southeast of Hilo, Hawaii, and not expected to pass north of the islands until Monday night and Tuesday, but impacts will begin sooner.
"Ignacio will pass to the north of the Hawaiian Islands impacting the islands with rough surf and strong rip currents," warned AccuWeather Senior Meteorologist Mike LeSeney.
The threat for rip currents and rough seas increase across the Hawaiian Islands (in an east-to-west fashion) on Sunday, with the potential to become quite dangerous late on Sunday into Monday.
Ignacio will continue to shift towards the northwest, bringing it closer to the Hawaiian Islands on Monday.
The northwestward progression will bring Ignacio into an environment of cooler ocean waters, drier air, and increasing shear.
These factors will begin to weaken Ignacio by Monday, and this trend will cause Ignacio to become a tropical storm by Wednesday as it passes just north of Hawaii.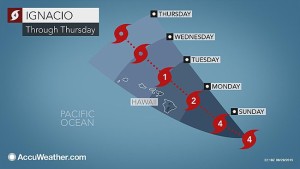 —–