—
Colorado Daily – Colorado State
—
September 20th
… CU in a few minutes …
Colorado sells more tickets to the Rocky Mountain Showdown than Colorado State … again
The ticket sales battle was as close as the game. But, as has been the case with every other Rocky Mountain Showdown in Denver, the University of Colorado sold more tickets than did Colorado State.
With CU season ticket holders given the choice of "opting out" of buying CSU tickets, there was concern that this would be the first year the Rams sold more tickets than did the Buffs. Even without 30% (or around 6,000 tickets) of the season ticket base, CU still sold 31,796 tickets to the game, to 31,601 (the Denver Broncos sold 2,856). Of the CU total, 7,145 were to students.
—–
September 19th – GAMEDAY!
… CU in a few minutes …
CU video – Forward: Episode 2
Quality stuff. CU Video continues to do the school proud … you can find it here
—
Drew Litton … Colorado v. Colorado State, 2015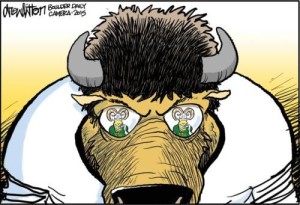 —
For What It's Worth … CSU's first two opponents of the season did not fare well in Week Three
Granted, we are talking apples and oranges here, but if you are looking for that last piece of karma for the Rocky Mountain Shootout, you can take with you information about the outcome of the games played by CSU's first two opponents of the season.
In Week One, Colorado State took out Savannah State by the score of 65-13. A very impressive score, but the Tigers do not have much bite to them. This week, Savannah State fell to Akron, 52-9. Akron went 5-7 last season, and came into today's game 0-2, with losses to Oklahoma (41-3) and Pittsburgh (24-7).
In Week Two, Colorado State gave Minnesota all it could handle, falling 23-20 in overtime. The Golden Gophers gave No. 3 TCU all it could handle in the opener. In Week Three, Minnesota, though, played Kent State at home. The final score was Minnesota 10, Kent State 7. Mind you, this is a Kent State team lost to Illinois, 52-7, in the opener. Last season, Kent State went 2-9, including a 40-17 loss to Massachusetts.
—
Addison Gillam sidelined by injury
While not officially stated by the University of Colorado, there is enough out there now in social media and the internet that it's deserves posting …
It is being reported by reliable sources that Colorado junior linebacker Addison Gillam will be out for an as yet undetermined amount of time due to an MCL injury.
A Freshman All-American in 2013, Gillam suffered a myriad of injuries last fall. Gillam's issues began in August camp with a case of mononucleosis and an elbow problem, which was followed by a concussion. Next came a shoulder injury, and then another concussion. Gillam had finally overcome those issues when, on the night before the Oct. 25 game against UCLA, he became ill. The following week, what initially felt like a bad cold turned into bronchitis.
During fall camp this August, coach MacIntyre felt that his starting inside linebacker was back, seeing "Addison coming back to Addison". After a five tackle effort against Hawai'i, though, Gillam was in for only 27 plays (one tackle) against UMass.
Buff fans will have to wait for more official word as to when – or even if – Gillam will be able to play again in 2015.
—
Buffs say they are ready for the Showdown against the Rams
From cubuffs.com … If there's been one overriding, overarching point of emphasis for the Colorado Buffaloes since the day fall camp began, it's been that: finish.
Finish every play, every quarter and every game. It's what the Buffs didn't do last year on too many occasions, a season in which they allowed fourth-quarter leads to melt away in five different games.
But of all those painful losses — including a pair of double-overtime defeats in Pac-12 play — none may have stuck with the Buffs more than a 31-17 loss to in-state rival Colorado State, a game Colorado led 17-7 in the third quarter and 17-14 in the fourth.
Memories of the loss have gnawed at the Buffs ever since. They're reminded about it on a regular basis by classmates, teammates, coaches — and just about anyone else who has even a mild interest in the game.
… Quotes …
– "The best way for me to explain it is you win or lose this game … for the next 365 days your hear about it," CU head coach Mike MacIntyre said.
– "Since I got the job in January, everywhere I've been, everyone has talked about this game, what it means, how important it is that we play CU," new CSU head coach Mike Bobo said.
– "It's a huge game for us," said CSU wide receiver Joe Hansley. "I'm 2-1 against CU. It's the Buffs. It's always fun to go out and compete with them; it's always a great game to play in and the atmosphere will be great."
– "The crowd is really into it on both sides," CU quarterback Sefo Liufau said. "They play a factor in the game. People are flying around, energy is high throughout the game. It's just a big atmosphere. … Hopefully we can come out and play as well as we did last week."
– "Every loss from last year has stuck with us," linebacker Kenneth Olugbode said. "We have to start fast and finish strong. I think we're all really ready for this one."
—–
September 18th
… CU in a few minutes …
Coloradoan: Keys to CSU victory …
Take it with a grain of salt, considering the source, the Coloradoan.
The story includes the opening … CSU hasn't won back-to-back Rocky Mountain Showdowns since 1999-2000, and according to the experts in Las Vegas, the Rams won't win Saturday's rivalry football game against the University of Colorado.
Don't listen to the experts.
… Continue reading story here …
—
Best CSU put downs
If logic and numbers aren't working for you against the Ram fans in your life (see "Dealing with Ram fans", below), you can always resort to trash talk.
Ryan Koenigsberg at BSN Denver has put together a compilation of some of the better suggested retorts for CSU fans. The article can be found here.
Some of the better responses:
– Waste Management colors are green and yellow so CSU alums feel at home for their first job after school;
– The last time CSU beat CU in consecutive years, Brian Griese was Denver's starting QB;
– @CSUFootball Will your Twitter account be around after the RMS or does it go away for a year like your fans?;
– CSU fans are like the fantasy football 2nd place guy. Not a champ and MWC isn't even real football;
– The best part of CU-CSU week is the endless replays of Lawrence Vickers ending that dude's career. Best play ever. No challengers.
—–
September 17th
… CU in a few minutes …
Rocky Mountain Showdown getting plenty of ink
There are plenty of stories out there about the Colorado game against Colorado State (5:00 p.m., CBS Networks).
A sampling (if you are short on time, go for the nice bios of CU fullback Jordan Murphy and CU defensive back John Walker … and avoid anything from the Coloradoan):
– "Fast Five: Keys To CU-CSU Game" … from cubuffs.com
– Video … cubuffs.com writer Neill Woelk is a visitor on the Pac-12 Networks
– "CU Buffs Jordan Murphy was told he wasn't 'good enough to play D-I' while at CSU" … from BSN Denver
– "CU football: O-line finds strength in numbers" … from the Daily Camera
– "For the Buffs, the Showdown is a must win" … from the Coloradoan (warning: Open at your own risk. The opening: "I'm sorry, but UMass doesn't count" … and it gets worse from there)
– "Mike Bobo on injuries leading into Showdown: Expects Rashard Higgins to play" … from BSN Denver
– "CSU v. CU football: Predicting the Rocky Mountain Showdown" … from the Coloradoan
– "John Walker Blessed to be a Buff" … from BuffStampede.com
—
Dealing with Ram fans
I know it's hard, especially coming off of a loss in the 2014 Rocky Mountain Showdown, but Ram fans need to be put in their place. When confronted with a Ram fanatic, keep some of these facts in your back pocket:
… Bragging on the front page of the Colorado State media handout for the RMS:
– "15 Conference championships" … Nice, except for the fact that CU has 26
– "14 bowl game appearances" … CU has 28
– "45 weeks in the polls" … CU has 293
– "Three consensus All-Americans" … CU has 31
– "Three members of the College Football Hall of Fame" … CU has seven
– "One national award winner (Thorpe)" … CU has nine (a Heisman, two Thorpe Awards, two Butkus Awards, a Doak Walker, a Walter Camp, a Ray Guy, and a Lombardi Award)
… And what you won't see on the front page of the Colorado State media handout for the RMS:
– CSU has had 100 NFL draft picks … CU has had 266 … From that list, CSU has had 5 first round picks … CU has had 24;
– The Rams win over Savannah State was the 500th in school history. Of course, CSU still has an overall losing record (500-554-33; .474) … Compare the University of Colorado – 682-482-36; .583 … CU is 37th in overall percentage nationally; Colorado State is 105th; and, of course …
– CU has a Heisman trophy winner and a national championship (one of 24 in the nation, one of only three in the Pac-12); CSU, of course, has neither.
—
… The series …
– Colorado leads the all-time series, 62-22-2 (.733) … Since the series resumed in 1983, CU leads, 19-8 (.703) … In games played since 1983 in which the game was not the first game of the season, 8-1 (.888).
– Colorado State is looking to win for the third time in four years, something which the Rams have accomplished all of three times in the series (1999-2002, with three straight wins in 1925-27 and 1931-33) … Compare: winning streaks CU has had in the series of at least three games (in chronological order) … 8 games (the first eight games played), 5, 4, 3, 12, 5, 8, and 3 (the most recent, in 2003-05) …
—–
September 16th
… CU in a few minutes …
Updated ticket sale numbers
According to tweets from Brian Howell from the Daily Camera
– As of this afternoon, CSU has sold 28,240 tickets to Saturday's game, 10,800 of those to students
– Updated #cubuffs ticket sales for Saturday's RMS: 30,003 sold, 6,926 of those to students
– Between the 2 schools, 58,243 tix have been sold, 17,726 to students. Broncos ticket office sells tix, too. Those numbers aren't in #cubuffs
—
Coach MacIntyre talks with the media after Wednesday's practice
From YouTube, courtesy of BuffStampede.com:
—
Season ticket holders offered four free tickets to Nicholls game
Colorado season ticket holders received the following email this morning:
Dear Buffs Fans,
As we head into the Rocky Mountain Showdown this weekend after a great win over UMass, we want to thank you for your support and investment in the Buffaloes for this season. It's an exciting time for our program and your season ticket purchase is making a difference for all our student-athletes.
We would like to take care of our very best supporters by offering you access to four additional tickets on a complimentary basis for the next home game against Nicholls State on September 26 at 11:30 a.m. …
… Hopefully, such a giveaway will prompt a better-than-35,000 figure which attended the UMass game. Of course, a win over Colorado State will bring in more fans than any giveaway …
—
Coach MacIntyre: "I see it as a rivalry"
From B.G. Brooks at cubuffs.com … OK, once more, for the umpteenth time: Is it or isn't it a rivalry?
With the clock ticking toward Saturday's Rocky Mountain Showdown with Colorado State (5 p.m., Sports Authority Field, CBS-SN), the preferred answer this week on the University of Colorado campus is yes . . . maybe . . . and why not?
Like most other questions, your answer depends on the answeree.
At 1-1 against the school nearly due north of his, third-year CU head coach Mike MacIntyre says, of course, this is a rivalry. What's more, it's a rivalry game that's "huge, huge" MacIntyre said shortly after the Buffs had ground down Massachusetts 48-14 on Saturday. (We'll get back to the hugeness in a bit.)
But CU quarterback Sefo Liufau and receiver Nelson Spruce – both out-of-staters, as is their head coach – allowed Tuesday that whether or not the rivalry tag fits (for the record, Spruce says it does) they'll approach Saturday's game as the next one on the schedule. Which is always a good answer, but sometimes a little hard to believe, too.
"I see it as a rivalry," said MacIntyre, who followed Liufau and Spruce fielding questions at Tuesday's weekly media conference. "What they're saying is they want to make sure every game is important . . . they see it as a rivalry; it's definitely a rivalry game for all of us."
What makes it so is this: For the past 11 months at church, in restaurants, almost anywhere except his living room, MacIntyre said anyone who recognizes him and has Rams roots has gently (or not) reminded of CU's come-from-ahead 31-17 loss last season that featured 21 unanswered CSU points.
"Whether you win or lose this game," MacIntyre said, "you hear about it."
… Continue reading story here …
—–
September 15th
… CU in a few minutes …
Game Time set for Nicholls
You'll have to get up a little earlier for the next home game.
The Colorado/Nicholls game will kick off at 11:30 a.m. on Saturday, September 26th, and will be televised nationally on the Pac-12 Networks.
—
Tuesday press conference video
Here is a link to the video of Coach MacIntyre's Tuesday press conference.
—
Next man up … Sam Kronshage to take over at starting left tackle for injured Jeromy Irwin
From cubuffs.com … Since the beginning of fall camp, Colorado head coach Mike MacIntyre has said one of the biggest difference in this year's team compared to last season's is its depth.
That theory received one of its first major tests of the season Tuesday, when the Buffs announced that starting left tackle Jeromy Irwin would be out for the rest of the year with a knee injury. Taking his place in the lineup Saturday vs. Colorado State in Denver (5 p.m., Sports Authority Field, CBS-SN) will be redshirt sophomore Sam Kronshage, a 6-foot-6, 285-pounder from The Woodlands, Texas.
Irwin was hurt in the first half of Saturday's game, and Kronshage played 42 offensive snaps against UMass. He also had 12 offensive snaps against Hawai'i in the season opener, and appeared in two games last year, including playing almost the entire game against Washington after Irwin was injured in that game.
"It's not my first rodeo," Kronshage said Tuesday morning. "I got a bunch of playing time against UMAss, and last year I stepped in there a couple of times. You have to prepare like you're going to be the starter when you're the backup, which I've definitely been doing. When someone goes down you have to be ready to step in and fill that role, and I'm excited to get out there against CSU on Saturday."
MacIntyre said losing Irwin is no doubt a blow.
"It's very unfortunate to lose Jeromy; he's really kept improving," MacIntyre said. "This is his second season ending injury. So, I would believe that he will definitely get a sixth year.  ..  Right now, I hate to lose him. He's a fine young man, he was really playing well".
… Continue reading story here …
—
Ken Crawley preparing for CSU assuming he'll see All-American wide receiver candidate Rashard Higgins
From cubuffs.com … Every week, Colorado defensive back Ken Crawley knows what to expect.
He'll see the best. The best receiver the opposing team has to offer and the best effort that receiver can put forth.
It's what goes with the territory of being a team's No. 1 cornerback — and Crawley wouldn't have it any other way.
"It's what every DB wants," the CU senior said earlier this week. "Everyone wants to check the best receiver. You want to be out there and testing yourself. You have to have the confidence that you can get it done."
This week will be no different. Late Saturday afternoon, he'll line up at Sports Authority Field in Denver and expect to see Colorado State standout wide receiver Rashard Higgins across the line of scrimmage.
Higgins' availability is still a question mark because of an ankle injury. He missed the Rams' last game, a 23-20 overtime loss to Minnesota —  but no one in or around the CU locker room is expecting Higgins to miss this one. The Rams didn't provide an injury update Monday, but the Buffs are counting on Higgins being ready.
… Continue reading story here …
—–
September 14th
… CU in a few minutes …
Call goes out for a Whiteout from Buff fans for the Rocky Mountain Showdown
From social media …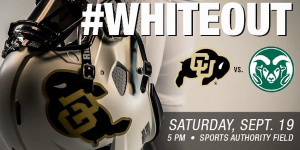 The team will also be all in white, with the Buffs using their "Storm Trooper" look: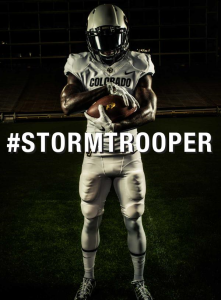 —–
September 13th
—
Coach MacIntyre addresses the media after Sunday's practice
YouTube video courtesy of BSNDenver:
—
Betting line for Rocky Mountain Showdown goes from CSU by one to CU by three
The bettors are favoring the Buffs in the Rocky Mountain Showdown.
The opening line for the game Saturday (5:00 p.m., MT, CBS Sports Network) at vegasinsider.com was Colorado State by one point. The line, though, quickly shifted, and Colorado is now favored by three points.
Other Pac-12 betting lines which have been posted:
– Arizona State by 25 over New Mexico
– Oregon by 48 over Georgia State
– Washington by 5.5 over Utah State
– California by 3.5 (up from 1.5) over Texas
– Oregon State by 8.5 over San Jose State
– USC by 8.0 over Stanford
– UCLA by 14.5 over BYU
—
Buff quotes on Colorado State game
From cubuffs.com …
– Head coach Mike MacIntyre … "It's a big game next Saturday. I'll let our guys enjoy this tonight but I'm already (looking towards CSU). I'm going to go watch the last part of it (right now). And I'll watch it again tonight before I go to bed. We'll be on it tomorrow morning. I'll go to church tonight. But after that, I'll go. That's a huge game for us, a huge game. That's a fun game, I enjoy playing in that game. I haven't enjoyed it for the last 365 days, though, I'll tell you that much."
– Wide receiver Nelson Spruce … "I've already thought about it [the CSU game]. I already checked the score of their game against Minnesota. I didn't realize, coming from California, how big this game is. It's my last season and I don't know how I'll be able to live with myself if we don't come out with a win."
– Defensive end/linebacker Derek McCartney … "They're fun to play. It's going to be good."
—
CSU star wide receiver Rashard Higgins sits out Minnesota game
From the Coloradoan … All-American receiver Rashard Higgins suited up for the game and was on the field during warmups but did not play. Higgins suffered a "sprain," presumably of an ankle, in the season opener and was still hurting and unable to practice Thursday, Bobo said.
"It's nothing major," Bobo said. "We thought it might be, but it's not. He's got to get healthy, and when he's healthy, he'll be out there to help us."
Higgins backup, Jordon Vaden, suffered an injury to his right hip while blocking for teammate Dalyn Dawkins less than two minutes into the game and did not return.
—
Rams fall at home in overtime to Minnesota, 23-20
From ESPN … Colorado State coach Mike Bobo saluted his players for giving it their all against the Minnesota Gophers, saying "they played hard, and I mean hard, for 60 minutes."
The problem was the 61st.
Defensive tackle Scott Ekpe stripped running back Dalyn Dawkins on the first play of overtime and Ryan Santoso kicked an 18-yard field goal as Minnesota escaped Colorado State with a 23-20 win Saturday.
"He's the toughest guy on this football team pound for pound," Bobo said. "Just an unfortunate incident."
Dawkins was trying to gather a pass but a linebacker wasn't blocked on the screen and he never had a chance.
"Right when I turned around, I got hit," Dawkins said.
The officials ruled it a fumble, but the ball never hit the ground, so it was actually an interception.
Either way, it was Minnesota's ball.
"I had those situations happen in practice this fall and they always seemed to get away," Ekpe said. "This time it actually stuck to my gut."
Rodney Smith ran five times for 24 yards to the 1, then Santosa ended it.
… Continue reading story here …
—
"Analysis: Colorado State can build on overtime loss" … from the Coloradoan
"No QB controversy and 5 takeaways from CSU vs. Minnesota" … from the Coloradoan
—–