—
Preseason Rankings
—
July 3rd
Golden Nugget – Buffs a four-point pick over Rams
At the College Football Matrix, the odds for September games from the Golden Nugget are being posted. The Colorado/Colorado State game now has the Buffs listed as a four-point favorite (earlier lines had the Rocky Mountain Showdown as a pick 'em game).
Other early games of interest to Buff fans:
8/28 – Arizona a 23.5 pick over UNLV
8/30 – Cal a 9.5 point underdog to Northwestern
8/30 – UCLA a 21.5 point favorite on the road over Virginia
—
9/6 – Stanford a 3.5 point favorite at home over USC in an early-season Pac-12 conference opener
9/6 – Oregon a 13-point favorite at home over a Michigan State team which will likely be highly ranked
9/6 – Colorado State a ten-point underdog on the road against Boise State
—
9/13 – USC is a 23-point favorite on the road against Boston College
9/13 – UCLA is a nine-point favorite over Texas in a game to be played in Jerry's World in Arlington, Texas
—
9/20 – Oregon State is a 13-point favorite at home against San Diego State
9/20 – Oregon is a 23-point favorite on the road against Washington State
—
9/25 – Arizona State is a seven-point favorite at home against UCLA in an early Pac-12 South showdown
—
9/27 – USC is a 17-point favorite at home against Oregon State
——
July 2nd
Preseason magazines: Oregon, UCLA consensus picks to win their divisions this fall
From ESPN … Preseason magazines don't always get it right, but they certainly whet our appetite for the college football season.
As for how they view the Pac-12's 2014 pecking order and national standing among the preseason Top 25s, there's been a high degree of consensus: Thus far, just about everyone has Oregon winning the North Division and UCLA winning the South Division.
PRESEASON PICKS
How Pac-12 teams rank in preseason Top 25 rankings by Lindy's, Athlon, The Sporting News, USA Today and Phil Steele:
| Team | Lin | Ath | TSN | USA | Stl |
| --- | --- | --- | --- | --- | --- |
| Oregon | 4 | 6 | 2 | 4 | 6 |
| UCLA | 8 | 7 | 8 | 10 | 5 |
| Stanford | 13 | 12 | 6 | 9 | 20 |
| USC | 15 | 14 | 16 | 20 | 12 |
| ASU | – | 16 | 13 | – | – |
| Wash. | 23 | 24 | 21 | – | 28 |
Stassen.com is a great preseason reference source, both for this year and as a historical reference. It keeps track of what the preseason magazines prognosticate every year.
If you toss in Phil Steele, who concludes his countdown today, we have five major publications with their predictions: Lindy's, Athlon, The Sporting News and USA Today.
Each ranks defending national champion Florida State No. 1, other than The Sporting News, which ranks the Seminoles No. 3 and Oklahoma No. 1.
Oregon leads the Pac-12 in each poll save Phil Steele, who ranks UCLA No. 5 and Oregon No. 6. The Ducks ranking ranges from No. 2 (Sporting News) to No. 6 (Phil Steele, Athlon). UCLA is ranked as high as No. 5 (Phil Steele) and as low as 10th (USA Today).
As for the Pac-12 standings, all five publications predict Oregon wins the North and UCLA wins the South. All five have Stanford second in the North. Four of five have USC second in the South, with The Sporting News tapping Arizona State No. 2 and USC No. 3. All five have California last in the North and Colorado last in the South.
Is the Pac-12 really this predictable? You can be sure it won't be.
——
June 24th
Athlon tabs six Buffs for All-Pac-12 teams
Athlon has posted its projected All-Pac-12 teams. The full list can be found here.
Colorado is one of three teams which does not have a first-team selection, with Cal and Washington State being the others (Utah has two first-team selections, but both are on special teams.
The six Buffs who did merit mention are … Second Team: Linebacker Addison Gillam; offensive lineman Daniel Munyer; and punter Darragh O'Neill … Third Team: Defensive lineman Josh Tupou … Fourth Team: Cornerback Greg Henderson; kicker Will Oliver.
The overall breakdown by school:  UCLA, 15; Stanford, 14; Oregon, 13; USC, 11; Arizona State, 9;  Washington, 9; Arizona, 7;  Oregon State, 7; Utah, 7; Colorado, 6; Cal, 3; and Washington State, 3.
—–
June 19th
Athlon: Folsom Field the 4th-best stadium in the Pac-12
Just imagine what the ranking could have been had CU won more than two conference home games in its first three seasons in the Pac-12?
From Athlon.com … Ranking anything in sports is subjective. We may all agree on certain things — like Michael Jordan is better than Kobe Bryant or that Lambeau Field is better than the Edward Jones Dome — but for the most part, beauty is in the eye of the beholder.
Ranking college football stadiums is not only subjective but also extremely intricate. General atmosphere, fan support, home-field advantage, amenities, tailgating, the surrounding campus and the college town should all be considered when trying to rank college football stadiums.
Basically, there is no right or wrong answer. Athlon Sports polled Pac-12 experts and asked them to rank their favorite Pac-12 stadiums based on all of the above factors. Here is how things shook out:
Rick Neuheisel, Pac-12 – 5 (Husky)
Bryan Fischer, NFL.com – 10 (Autzen)
Chris Huston, HeismanPundit.com – 5 (Autzen)
Kyle Ringo, The Daily Camera – 3 (Rose Bowl)
Dan Hawkins, SiriusXM – 4 (Autzen)
Greg Hansen, Arizona Daily Star – 7 (Autzen)
Ryan Nece, UCLA Bruins – 11 (Autzen)
Ryan Thorburn, Register-Guard – 3 (Autzen)
Steven Lassan, Athlon Sports – 5 (Autzen)
Braden Gall, Athlon Sports/SiriusXM – 4 (Autzen)
Oregon's Autzen Stadium was ranked first, followed by Washington's Husky Stadium and UCLA's Rose Bowl, with Colorado's Folsom Field finishing fourth.
What Athlon had to say about Folsom:  When the Buffs are good, this is one of the greatest places to watch a game in the nation. It certainly needs a facelift and the accommodations need upgrading across the board, but few places can match the beauty of Boulder, Colo., on Saturdays. Named after former coach Fred Folsom, rowdy fans have poured into this building for nearly a century.
The remaining rankings … 5. Los Angeles Coliseum; 6. Cal's Memorial Stadium; 7. Utah's Rice-Eccles Stadium; 8. Arizona State's Sun Devils Stadium; 9. Arizona's stadium; 10. Stanford's stadium; 11. Oregon State's Reser stadium; and 12. Washington State's Martin stadium.
——-
June 18th
Rick Neuheisel – The next face of college football?
Lindy's sure thinks so.
In its preseason magazine, Lindy's puts former CU head coach Rick Neuheisel in its "Top Five Media Personalities of the Playoff Era", stating: "The former Washington, UCLA and Colorado coach has forged a second career on TV and satellite radio. His analysis and objectivity make him valuable property in a world full of blabber mouths. He'll be snatched up by ESPN soon. Book it".
Lindy's also gives Neuheisel his own top five, "Five Reasons Rick Neuheisel should be the face of College Football":
1.  The songs. Neuheisel was known for busting out his guitar at all three of his stops – Colorado, Washington, and UCLA – and he certainly hasn't stopped with the Pac-12 Networks. His musical tributes are clever and actually pretty listenable: His odes to Ed Orgeron ("Ed-O" set to "Day-O") and Johnny Manziel ("Johnny Football" set to "El Paso") were legitimately funny, and the Legend of Don James ("Sweet Baby James") truly moving.
2.  He wasn't too successful. That's not a knock on Neuheisel; sometimes, as was the case at his alma mater, UCLA, it just doesn't work out. But now Neuheisel doesn't sound like a know-it-all, and his humility shows on television.
3.  He's engaging. The Bruins faltered under him, and one of the main culprits was his affability. It was difficult to buy into Neuheisel's rah-rah in Westwood, but that's part of the reason he's been a hit on television.
4.  He reps the Pac-12. For those weary of across-the-board SEC coverage, Neuheisel is your man, champion-ing the Conference of Champions – which, with Oregon, Stanford and UCLA all with Top 10 talent, should be pretty good this year.
5. The chip off the old block. UCLA backup quarterback Jerry Neuheisel looks, walks and most certainly talks like dear old dad. One "proof is in the pudding" from Junior will have you thinking you're seeing double.
——-
June 16th
Phil Steele projects five Pac-12 teams will be in AP preseason poll
Proclaiming that in 2013 he correctly projected all of the teams in the AP preseason Top 25 poll, Phil Steele has put out his projected AP preseason Top 25 for this fall.
According to Steele, the Pac-12 will have five teams ranked come this August:
No. 3 – Oregon
No. 7- UCLA
No. 12- Stanford
No. 14 – USC
No. 22 – Washington
Projecting what the AP voters is one thing. Phil Steele also is counting down his Top 40 teams. While the countdown continues (down to No. 14 TCU, with USC, UCLA and Oregon yet to be mentioned), Steele has listed the following Pac-12 teams: No. 36 Oregon State; No. 28 Washington; and No. 20 Stanford.
—–
June 8th
College Football News: Sefo Liufau the key to a successful season
From the College Football News … s a slow process, but the Buffs are finally moving in the right direction.
Second-year head coach Mike MacIntyre is a fixer, and he's fixing to get Colorado a little closer to its first bowl game since 2007 and its first winning season since 2005. The Buffaloes improved by three wins a year ago, while breaking in a new coach and a true freshman quarterback, Sefo Liufau.
Beyond the simplicity of the record, this team executed a little tighter and played with more confidence, trends that figure to continue again this fall. In 2013, the Buffaloes scored 7.6 more points than in 2012 and allowed 7.8 fewer points per game. It's not only a start, but also evidence of the impact of MacIntyre, the guy who led San Jose State to 10 wins and a No. 21 ranking in the final 2012 AP poll.
The team will be much better if … it starts faster. Yes, the Buffs improved versus the prior season, but not so much in the first half of games. The only quarter Colorado won in 2013 was the fourth, the proverbial case of too little, too late. The average halftime score of a game was 23-11 in favor of the other guys. The Buffs need to get out of the gate a little quicker this year, keeping the offense from having to operate in a frenetic hurry-up mode.
The Schedule: The Buffs have their share of tests, including the annual rivalry date with Colorado State in Denver to kick things off, but there are breaks. Missing Stanford from the North isn't bad, but they have to go to Oregon and also face Cal, Oregon State and Washington in interdivsional play. Even with two good streches of three home games in four, it'll be rough with road games at USC and Arizona to go along with the date with the Ducks. Fortunately, the non-confrence slate isn't bad with UMass and Hawaii to face as well as CSU.
The season will be a success if … the Buffaloes win two league games. It's a modest pursuit, sure, but one that'll mean Colorado is gradually climbing up the Pac-12 ladder. It defeated lowly Cal last year, yet was generally pummeled the rest of the time. Since the non-conference slate includes games with Colorado State, UMass and Hawaii, two Pac-12 victories positions the Buffs to have a crack at going 5-7. And progress is the buzzword in Boulder these days.
Key game: Nov. 29 vs. Utah. Colorado has already caught up to Cal in the Pac-12 pecking order. Its sights are now locked on to Utah, which had to hold off a Buffs' rally last November to secure a 24-17 victory. MacIntyre's rebuilding process will be gradual, with Colorado content to move up the ladder one rung at a time. The balance of the conference schedule is littered with teams that are out of the Buffs' reach at this time.
—–
Lindy's – "The Buffs might be one more year away from finally returning to the postseason"
Lindy's has Colorado as the No. 77 team in the nation, ranked 11th in the Pac-12.
Some notes:
Primary Strengths: There is no shortage of depth at running back and wide receiver. So if anyone struggles there, coaches will have plenty of options to explore. The same is true in the secondary, where the team is at least two-deep at every position and better at several spots.
Primary Weaknesses: The offensive line cannot afford any injuries because it lacks experienced depth. Colorado is relying on Jeromy Irwin, who has practiced only seven times under MacIntyre following foot surgery. Defensively, producing a better pass rush will be vital.
Overview: Colorado lost six games by 20 points or more during the 2013 campaign, but it should be more competitive in MacIntyre's second season. It's tough to see this team winning more than four or five games unless a lot goes its way. The Buffs might be one more year away from finally returning to the postseason.
—–
June 6th
Addison Gillam highest rated Buff on Phil Steele's All-Pac-12 teams
Phil Steele has posted his preseason All-Pac-12 teams, with six Buffs making the four team roster. The full list can be found here (scroll down to the Pac-12 – the SEC Preseason teams are listed on the top of the page).
There were no CU players listed on the first-team, with sophomore linebacker Addison Gillam the only Buff to make the second team. Offensive lineman Daniel Munyer and kicker Will Oliver made the third team, while wide receiver/punt returner Nelson Spruce, defensive back Greg Henderson, and punter Darragh O'Neill made the fourth team.
Counting out the four team roster (with some duplicates, such as Nelson Spruce):
USC – 14 players (six first-team)
UCLA – 13 players (two first-team)
Stanford – 11 players (six first-team)
Washington – 11 players (four first-team)
Oregon State – ten players (two on first team)
Utah – ten players (two on first team)
Arizona State – ten players (one on first team)
Oregon – nine players (five first-team)
Colorado – six players (none on first team)
Arizona – six players (none on first team)
California – five players (none on first- or second-teams)
Washington State – three players (none on first- or second-teams)
——
May 31st
Athlon has Colorado as No. 71 team in the nation; No. 5 in the Pac-12 South
Athlon has made CU linebacker Addison Gillam as one of its poster boys for its 2014 Pac-12 preview edition: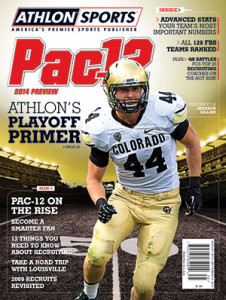 From Athlon's previews, which can be found here:
Previewing Colorado's Offense for 2014:
Sophomore Sefo Liufau will be the opening-day starter at quarterback barring a dramatic drop-off in performance in fall camp. There is no other QB on the roster who has even taken a snap in a college game at the FBS level. Sophomore Jordan Gehrke will likely be the backup. Gehrke played well at the junior college level during the 2012 season. True freshman Cade Apsay will compete for playing time when he arrives in the summer, but he's likely ticketed for a redshirt season.
Christian Powell led the team in rushing the past two seasons and could do so again in his junior year, but he might have a hard time fighting off sophomore Michael Adkins II, who averaged more than five yards a carry and led the team with six rushing touchdowns last season. The Buffs averaged just 3.4 yards per carry and 120.8 yards per game on the ground last fall.
Junior wide receiver Nelson Spruce was second on the team in receiving last season after leading it in 2012. Redshirt freshman Bryce Bobo had a big spring and is the likely starter opposite Spruce, with senior D.D. Goodson, sophomore Devin Ross and speedy freshman Shay Fields likely to get opportunities in the slot. CU also should be improved at tight end, with sophomore Sean Irwin poised to move into a starting role.
The talent is there at the skill positions, but those players are only going to be as effective as the offensive line allows them to be. There could be as many as three new starters.
Previewing Colorado's Defense for 2014:
The Buffs have struggled big time on defense since joining the Pac-12, but they have pieces in place for improvement.
Tackle Josh Tupou, an all-conference-caliber player, will anchor the defensive line. The Buffs are young at end, especially if Samson Kafovalu isn't available (due to academics). If Kafovalu can't go, Jimmie Gilbert would be the most experienced end on the roster after playing 261 snaps as a true freshman last season.
Sophomore middle linebacker Addison Gillam, who led the team in tackles as a true freshman last season, will be joined by Woodson Greer and Kenneth Olugbode in the starting lineup, giving the team much more speed at linebacker than it has had in the recent past.
Second-year coach Mike MacIntyre returned to his roots by working with the cornerbacks during spring drills and may continue to do so during the season. His secondary is loaded with depth. Greg Henderson is the best corner on the team entering his senior season. That leaves potential starters Chidobe Awuzie, Kenneth Crawley and Ahkello Witherspoon fighting for two jobs — the other cornerback spot and the nickel back. The starting safeties should be senior Jered Bell and sophomore Tedric Thompson, but they have plenty of competition, too.
Previewing Colorado's Specialists for 2014:
This can accurately be described as an area of strength. Punter Darragh O'Neill and placekicker Will Oliver are entering their senior seasons and will be four-year starters. O'Neill, who can punt with either foot, set a school record with 22 punts inside the 20-yard line last season. Oliver has been dependable throughout his career, though he hit a rough patch for a stretch last season.
Final Analysis
The depth and talent are improving in Boulder under MacIntyre. But the program is still in rebuilding mode. The Buffaloes have won a combined four Pac-12 games in their three seasons in the league, including one win in each of the past two years. Last season, the Buffs' average margin of defeat in their eight conference losses was 29 points. More wins would be nice, but simply being competitive on a consistent basis would show progress in the short term.
——
May 27th
ESPN Bowl projections have Oregon representing Pac-12 in playoffs
ESPN has posted its "way-too-early" bowl projections, and the University of Colorado will have to fight its way onto the list by winning three or four games this September.
In the meantime, prognosticators Brett McMurphy and Mark Schlabach have made their picks, which can be found here.
Pac-12 projections:
Football playoffs … Oregon
Fiesta … Stanford
Alamo … UCLA
Sun … Arizona State
Holiday … USC or Washington
San Francisco … Washington or USC
Buffalo Wild Wings … Oregon State
Las Vegas … Arizona
Heart of Dallas … Washington State
…. Both ESPN pundits have Colorado State making a bowl appearance, either in the New Orleans Bowl or the Armed Forces Bowl …
—–
May 25th
Orlando Sentinel ranks Colorado No. 92 nationally
Full write-up can be found here.
Excerpts:
Strengths: Freshman Sefo Liufau stepped into the starting quarterback role midway through last season, replacing struggling Connor Wood. During seven starts, Liufau completed 59 percent of his passes for 1,779 yards and 12 touchdowns while throwing seven interceptions. It will be up to offensive coordinator/quarterbacks coach Brian Lindgren to continue to polish Liufau into a premier Pac-12 quarterback. Colorado's offensive line finished fourth in the league in sacks allowed, only giving up 20 sacks in 2013. The unit returns three of its five starters from last season, including fifth-year senior guards Kaiwi Crabb and Daniel Munyer.
Colorado will have to make up for the loss of wide receiver Paul Richardson, who finished the season on the All-Pac-12 first team. Nelson Spruce and D.D. Goodson should provide dependable targets for Liufau, while Christian Powell returns to lead the running backs.
Weaknesses: Colorado finished the season ranked next-to-last in total defense, allowing more than 468 yards and 38 points per game. Seven of the Buffaloes' eight losses were by double digits, with three of those being by 40 points or more. The group struggled to stop the run — allowing a league-worst 208 rushing yards per game — while only sacking the opposing quarterback 17 times.
The departure of defensive end Chidera Uzo-Diribe, who led the team with four sacks and chipped in 46 total tackles will be tough. The team also must replace the production of linebacker Derrick Webb (second on the team in total tackles with 99). The secondary, which returns three of its four leading players, ranked ninth in the Pac-12 in pass defense.
Outlook: Colorado hasn't had a winning football season since 2005, but despite only winning four games in 2013, there is some promise the 2014 season could be different.
The offense and defense, which both finished near the bottom of the league statistically, need work.
The good news is the front end of the schedule features winnable games before Colorado faces a string of difficult Pac-12 games.
… 2014 opponents ranked below Colorado: No. 125 Hawai'i; No. 123 UMass; No. 121 Cal; No. 101 Utah.
—-
May 18th
USA Today ranks Colorado 101st in the nation
Full write-up can be found here.
Excerpts:
It's easier to list the categories where CU didn't improve: passing yards allowed per game, fourth-down offense, net punting, punt returns, punt return defense and time of possession – the latter an antiquated way to gauge success.
In comparison, the Buffaloes made enormous strides in passing offense, scoring offense, pass efficiency defense, third-down offense and total three-and-out possessions on defense, improvements that underline MacIntyre's blueprint for returning this program to its place among the nation's upper crust.
But improvement is relative, of course. Colorado improved, yes, but let's remember where MacIntyre started. Let's also remember where CU plans to go, not to mention how many more next-step strides must be taken before CU contends in the Pac-12 South Division.
This was just the start: MacIntyre has inched the needle past zero and into the positive, though the Buffaloes remain very much on the non-Oregon end of the Pac-12 spectrum – a spot ahead of California, perhaps, but behind the rest of the pack in the nation's deepest conference.
In a nutshell: The idea of what tomorrow could bring to this program should – or will, even – help Colorado smile despite another season spent on the outer edges of the Pac-12 race. Tomorrow will be better than today: CU was better in 2013 than in 2012, will be better in 2014 than in 2013 and will be better in 2015 than 2014, continuing the multiple-year rebuilding project placed on MacIntyre's plate upon his arrival 18 months ago. With a stronger identity in place, the priority this fall should be developing talent, finding another set of answers and locating the sort of depth this team needs to battle for six wins in the nation's deepest conference.
Now, eight – yes, eight – fairly obvious facts: Colorado's offense is improved, the defense is improved, the offense is deeper, the defense is deeper, the offense has potential, the defense has potential, the offense is ahead of the defense and both sides of the ball aren't quite up to the challenge. It's a step-by-step process both offensively and defensively, but the latter remains a step behind in the push for increased competitiveness. But you have to think about where things were, where things have gone and where things can be once MacIntyre's team fully grasps the system and the staff adds enough depth to run with the Pac-12. In total, the basic foundation has been set; next, Colorado needs to be finely tuned.
Certain players are part of a winning future. One is Liufau, who should be measured more by overall command of the offense rather than his statistical output – for one more year, at least. Another is the backfield pair, as well as the younger crop of receivers. Likewise with Tupou, Gillam, the underclassmen ends and the sophomore defensive backs. To be blunt, there are other areas where CU still seems to be trimming the excess weight left over from the previous regime; at some point, MacIntyre will recycle the roster with his players. I would fully expect Colorado to be ready for a realistic push at the postseason in 2015. This season, however, will be another spent outside the bowl picture, scratching and clawing for wins inside and out of the Pac-12.
Dream season: Colorado sneaks into bowl play with a 3-0 mark in non-conference play and league wins against California, Oregon State and Utah.
Nightmare season: The Buffaloes from 4-8 to 2-10. That'd be sour.
… 2014 opponents ranked below Colorado … No. 128 UMass; No. 123 Hawai'i; No. 116 Cal.