—
May 12th
Rick George:  "The fact of the matter is we put a shovel in the ground (Monday) and we hope to have it all completed by the early fall of 2015. Nothing's changed from that standpoint"
Full story on the groundbreaking, including the facilities "fly-through" and information on the Sustainable Excellence Initiative, can be found at cubuffs.com … The first heavyweight commitment Colorado Athletic Director Rick George received for his ambitious facilities renovation/expansion project was from Bruce Benson – which was about the best launch point George could have hoped for.
If CU's president had multiple questions (perhaps even a reservation or two) when George made his proposal, Benson also had faith – and plenty of it. Early Monday afternoon that possible list of questions for George had been reduced to one: "Where's the pile of dirt?"
Nowhere – but the show went on. George, maybe a miracle worker after all, proved that it is indeed possible to have an indoor ground-breaking ceremony. Without the dirt.
Gathered in the Dal Ward Athletic Center's Varsity Room, Benson, Chancellor Phil DiStefano and a host of other school officials, regents and construction honchos were left without dirt for their ceremonial shovels. No matter. Outside in mid-30 degree temperatures under threatening skies, they watched a piece of heavy equipment's bucket delicately dislodge a slab of concrete in the first row of Folsom Field's northeast stands.
Ground was officially broken; a $143 million project designed to benefit CU student-athletes, the university and the entire Boulder community is underway. Now, George added after the ceremony, isn't the time to rest. Fund-raising must continue.
"Everybody is fixated on a number that was thrown out when I was hired – one-third of the project (or about $47.6 million)," he said. "That number is important to go forward, but with the sequence of the build the funding is right on par with (it). We've got to raise a lot more than 50 million for this project, and we intend to do that. This process is going to go on for the next 16 to 18 months. The fact of the matter is we put a shovel in the ground (Monday) and we hope to have it all completed by the early fall of 2015. Nothing's changed from that standpoint."
Gene Hodge, project director for Mortensen Construction, called the venture "rapid, fast, aggressive" and said it will employ about 1,300 workers putting in one million man hours to meet a targeted completion date of late August 2015.
"In the next few days, weeks, months," said Hodge, "you'll see an enormous transformation."
… But it has been a long time coming, noted former Buffs quarterback and current football staffer Darian Hagan: "It was being talked about when I was in school (in the late 1980s/early '90s). To finally have it at age 43 is awesome . . . at least they didn't lie. It just took a while.
"The good thing for me, I was able to experience a new building (Dal Ward) that at the time was one of the best in the country, if not the best. Now, 24 years later, here we are again leading the charge. Hopefully this will help us get the right kids in here and put some more championships up."
Former CU wingback/receiver Mike Pritchard, a Hagan teammate, recalled the buzz surrounding the football program when the Dal Ward construction began just after the Buffs played Kansas State in their final home game of the 1990 season. "We saw the model and everybody was pleased to see it," Pritchard said. "Now, it's 2014, we're in the Pac-12 Conference and there's a lot of work to be done."
Echoing a theme repeated throughout Monday's ceremony, Pritchard called the project "a commitment to be competitive. When you have that and when you create this much excitement, everybody wants to be part of it. When you talk about recruiting the best high school athletes in Colorado, California, whatever state, the facilities and the state of the facilities are important. But more importantly, the commitment and the excitement are going to attract them".
… "A lot of people use 'arms race,'" athletic director Rick George said. "If I had come here and saw these facilities – regardless of what other people had – we would be doing this exact same thing. I know other schools are doing a lot of things, but these really satisfy a lot needs we have. We've talked about this a lot: not what would you like to have, but what do you really need for us to be successful? I think this is a move that's going to allow us to be successful."
After only one season in Boulder, MacIntyre nonetheless is convinced that CU is "striving to be the best. Competitive greatness is what we want. It's where we're headed. This puts a spike in the road; here we come."
At the recent Pac-12 Conference football coaches meetings, MacIntyre said all 11 of his peers approached him individually and asked if CU's facilities upgrades were "really happening." Yes, he answered, dispelling many coaches' long-standing doubts about one of the conference's two newest members finally taking the next step with its facilities.
—
Quotes from the Groundbreaking
President Bruce Benson … "This is really an unbelievably great groundbreaking today. To start on the Sustainable Excellence Initiative is really critical. We've been talking about these things for years now. Finally, it's reality, we're getting going on this project. These facilities will make a great deal of difference to our fans, and, more importantly, it will have a real impact on our teams and on our players".
Chancellor Phil DiStefano … "This is a historic day for CU-Boulder, and for our intercollegiate athletics program. When renovations to Folsom Field are complete, the stadium and the surrounding portions in the area will not just be an athletic complex, but an asset for our entire university community. It will be a competitive advantage for our teams, as they compete in the Pac-12 conference. This great day has come about because we have worked together. Rick and his team, our advancement staff here at CU-Boulder, our faculty, staff and students, President Benson, Regents, our donors, and all of our Buff Nation, have come together to usher in a new era of CU intercollegiate athletics. And this facility will be a place where we can engage our external community for important events".
Head coach Mike MacIntyre … "Our athletes will benefit from this tremendously. Not only with the facilities … but, let me tell you. When they come back (for summer school and summer workouts), and they see what's happening – because they have been hearing about it for awhile. I've even had some joke that there have been pictures up for the past ten years – they are going to be beaming with pride. They are going to be beaming with extra effort. There is going to be an extra pep in their step, and, I am telling you, it will motivate them every time they walk by it, every time new athletes walk in, and every situation. It is 'big' in every phase of the word".
Bill McCartney on athletic director Rick George … "Everything rises and falls on leadership – every university, every government, every town hall . . . Rick George is a live wire. When you get guys like that in leadership positions, they challenge, motivate and inspire everybody around them. What you saw here today was a tremendous gathering of people in important positions, people who have come together with one heartbeat. That's what Rick George does. It's a perfect example of what he does. If you just look at who's here, it's amazing. In all the years I was here, I never saw anything quite like this."
—
BuffClub photo of Chip at the Groundbreaking: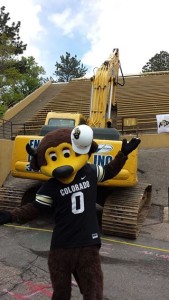 —–
May 11th 
A Groundbreaking Event
—
Hard to believe it's actually happening.
But it's real.
In case you haven't received your invitation to the CU groundbreaking ceremony on Monday, May 12th, here's one for you: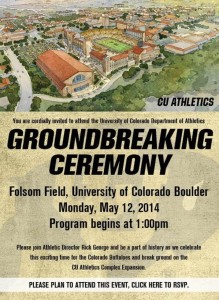 For Colorado and its fans, the ceremonial turning of shovels is more than just a symbolic gesture that a $143 million project is officially underway.
The hardhats and the smiles for the cameras also represent a turning of the page in the annals of Colorado sports history …
… or at least we hope so.
With the NFL draft this weekend, Colorado fans were reminded that not only are the Buffs behind the curve in terms of facilities, but in terms of personnel as well. Only Paul Richardson was given any real consideration as a CU prospect worthy of a draft pick by an NFL team, with Colorado and Washington State the only teams in the conference with just one draft pick.
True enough, as Jon Wilner of the San Jose Mercury News pointed out, there were as many two-star recruits taken in the first round of the 2014 NFL draft as there were five-star recruits.
But neither Wilner nor anyone else is suggesting that programs can make consistent bowl appearances trusting two- and three-star players to regularly compete against four- and five-star competition.
Simply put, Colorado needs to stop hoping for the best, and start expecting the best.
It's time for Colorado to look at its history, and see not what once was, but what can be again.
I am as invested – both emotionally and financially – as most Buff fans. I also carry a passion for statistics and history that borders on (if you listen to my friends) the absurd.
But even I am getting a little weary of dredging up the past to try and justify my allegiance and hope for the future. Colorado is mired in a program worst eight-season streak of losing seasons, yet still has enough history behind it to keep it in the national conversation when the history of the game is discussed.
Some examples:
– Colorado is tied for 4th in the Pac-12 in terms of all-time No. 1 NFL draft picks, with 22. In fact, Colorado is only two first round draft picks out of second place in the league (no one will ever catch USC, which already has 68). Johnny-come-lately Oregon has only 13 first round draft picks in its shallow history. But … The Buffs have had only two first round picks (Nate Solder and Jimmy Smith in 2011) in the past 11 seasons.
– Colorado is 21st in the nation in all-time draft picks, with 266. That number is good enough for 4th in the Pac-12 pecking order, behind only USC (which leads the nation, with 487), UCLA (No. 15, with 300) and Washington (No. 17, with 281). But … It has been slim pickings for Colorado hopefuls in recent years. When Gary Barnett took over the program in 1999, there were 36 former Buffs active in the NFL, one of the top five highest totals in the country. Five years ago, in 2009, there were still 22. At the end of last season, the total had dropped to 12.
– Colorado (with 679) is in the top 25 nationally in all-time victories, third in the Pac-12 (behind only USC and Washington). The Buffs are also in the top 30 nationally in all-time winning percentage (.589), coming in 5th in the Pac-12. But … Just 15 years ago, in 1999, Colorado was 16th on the all-time wins list, and 20th in all-time winning percentage (.619), so the slide over the past 15 years has been dramatic.
– Colorado is one of only 24 schools in the history of college football to boast both a national championship and a Heisman trophy winner (and only one of three in the Pac-12, with UCLA and USC being the others). But … Colorado is only one of four teams on the list (Syracuse, TCU, and UCLA being the others) with only one of each, and it has now been 20 long years since Rashaan Salaam won the Heisman trophy.
For fans – and recruits – who have notoriously short memories, Colorado's storied past means little.
The Buffs' 4-23 conference record since joining the Pac-12, conversely, means a great deal.
Will the groundbreaking of CU's expanded athletic facilities bring about a new sense of optimism to the Buff Nation?
Time will tell.
The Colorado athletic department, under new athletic director Rick George, seems to be energized to not just participate in the Pac-12, but compete for titles.
Colorado has a "Strategic Plan" for the next three years, with some specific objectives: "The vision of CU Athletics is to be nationally recognized as a premier athletics program, by providing a world class and holistic student-athlete experience, operating in a fiscally responsible manner while consistently competing for and winning championships. Thus, the mission:
– Provide a world class and comprehensive student-athlete experience by enhancing our academic, health and wellness, and personal development programs.
– Achieve a significant improvement in the department's financial condition by fiscal year 2016-17, focusing on operating efficiently and increasing total revenues through well-established and innovate initiatives.
– To raise the level of competitive excellence for all 17 intercollegiate varsity programs to be able to compete for and win championships".
The plan goes on … "In order to achieve these objectives, one of the major areas of emphasis will be to develop and renovate facilities that will provide a student-centered experience, enhanced recruiting opportunities and create new revenue streams".
Will new facilities – or at least the promise of new facilities – put Colorado back on solid footing with recruits, and allow the CU athletic department to realize the above stated goals?
So far, at least, the promise of new facilities actually being built (and not just the promise of them being built) is not swaying recruits.
It's still very early in the chase for the recruiting Class of 2015, but, so far, the Colorado Class of 2015 is shaping up much like the Colorado Class of 2014, and 2013, and 2012 …
Colorado currently has three verbal commitments lined up to sign on with the Buffs next February. Linebacker N.J. Falo, defensive end T.J. Fehoko and offensive lineman Dillon Middlemiss are all considered to be solid three star prospects.
Not bad … but the Buffs are not keeping up with the rest of the Pac-12, much less making up ground.
CU's Recruiting Class is currently rated as the No. 62 Class nationally by Rivals, 58th by Scout. Both services have Colorado rated as the No. 11 Class in the Pac-12, ranked only ahead of (traditionally) late-starting Oregon State.
So, still much work to be done by Mike MacIntyre & Co. if Colorado is going to be on an equal talent level with the rest of its conference.
Earth will be turned on Monday just off the northeast corner of Folsom Field.
Colorado fans can only hope – make that expect – that the shovels will turn not only a few chunks of dirt.
Colorado needs to turn the page as well.
—