Fall Camp Notes
August 30th
Colorado State ticket sales "not brisk"
From the Loveland Reporter-Herald … Colorado State fans are obviously not flocking to the Rocky Mountain Showdown in Denver on Saturday.
As of Wednesday, Colorado State had sold only 17,423 of their allotted 33,750 tickets for the game. Of that figure, 5,038 are season-ticket holders and 5,100 have gone to students, including seats set aside (and paid for by the university) for the pep band. The breakdown is 7,258 single-game tickets sold for the event which has seen shrinking crowds lately.
It's not something coaches concern themselves with, though Colorado State coach Jim McElwain joked he was thinking of being shot out of a cannon. Bottom line to him, he said it is up to both programs to make it a must-see game.
"I haven't even thought about it. I think it's our responsibility, as I've said, to make it a big deal," McElwain said. "I think they're building to great things there. Coach (Jon) Embree's a hell of a coach, and he'll get things going right there, and we'll get things going here."
In contrast, Colorado, the host school this year, was allotted 41,250 tickets for the game, and sports information director Dave Plati said they had sold 33,594 through noon Wednesday. Of that number, 7,249 were student tickets, and Plati said a rush was expected since the game falls at the end of the first week of school, not later as in past years.
… Adding up the totals, with two days to go before kickoff, the two teams have sold 51,017 tickets. Last season, some 57,186 were in attendance, and that number was the lowest ever for a RMS game played in Denver.
Now, to be fair, the Colorado totals include season ticket holders (some 22,000-24,000 strong) who have purchased tickets to the game because they had to as part of the CU season ticket package. How many of those season ticket holders will actually attend the game? Anyone's guess. Most, but certainly not all.
What is shocking to me, though, is that, even with promotions (TicketMaster has been running a promotion for 50% off on a purchase of four tickets), there is a dearth of Colorado State ticket sales. True, CSU is coming off of three straight 3-9 seasons, but, with CU down (and potentially vulnerable to an upset), with the momentum of the new stadium talk, and with a new head coach, you would have thought there would have been a surge in ticket sales in Ft. Collins. Last season, despite coming off of five straight losing seasons, Colorado witnessed a surge in season ticket sales after Jon Embree's hire, a surge normally not seen outside of off-seasons after ten or eleven win campaigns.
Don't get me wrong. I would like nothing more than to see the Ram players charge out onto the field at Mile High and see oceans of empty seats along their sideline.
But the lack of support from the students and fans of the "RamNation" is a real surprise.
August 29th
Jon Embree press conference quotes
Introductory remarks … "We're excited about the fact that we are finally in Game Week. We've been in camp for what seems like forever. Kids are getting going in school, so there is some normalcy coming back into our lives, as coaches and players, as far as what we are used to, in terms of a routine. We've had good preparation so far, but we have to finish now. We have three very important days in front of us, from a physical standpoint. We're excited to get started on it."
On his memories of playing CSU … "I remember the first game in 1983 (the first game in the series since 1958), and we beat them (31-3). They had some very good players. Kelly McGregor was an All-American tight end there … I've been on both sides of the fence in this game, both as a player and as a coach. I think it's good for the state that we have this game."
On freshmen getting emotional for the game … "One, it's their first game. but two, we are trying to create a certain level of emotion, a certain style of play for every game. I think that was something we were trying to accomplish last year. As you continue to build your program, good programs play at a consistent level. It doesn't matter who they are playing against. So, from a freshman standpoint, I expect them to be excited to play, certainly, it's their first chance to ever play college football. Playing in an NFL stadium, so there will be a lot of excitement on both sides."
On preparing for CSU, with a new coaching staff … "It's a really unique situation. Coach McElwain, his history as coordinator at Alabama, and at Fresno State, and then you look at (offensive coordinator) Dave Baldwin, and what he has done most recently at Utah State. So there is a lot that you have to look at, and try to filter through, to try and figure out exactly what you think is going to be their fit, what you think they might do. It definitely limits what you can do, because you don't know. But you then have to have enough in your package, that once you figure it out, you can make adjustments, something you can go to. But you are going have a lot of that every year, with your opening game. A lot of staff, whether it's a changeover of a whole staff or a coordinator … You are always going to have to deal with that kind of stuff in your first game."
On playing CSU the first game of the season … "It makes the game a little more exciting. You have a little bit more of a bounce in your step, knowing you are playing them in your first game. You know how important it is. You both want to get off to a good start. So it will be fun."
Are the Buffs looking to make a "statement" against CSU … "No. Because you have 11 games left. This isn't the game. You have a lot of football left. Any coach will tell you that they want to be playing their better football at the end of season anyway. So there are a lot of things you are doing from our perspective – from a coach's perspective, as far as how you view this game."
On The Potential Of Too Much Emotion In The First Game … "No, again I think because it is the first game. I think if you talk to people and it's their first game its crazy. Even though you have gone through how we are going to stretch, trust me, you are going to have guys on the wrong side of the field not knowing where to warm up. That always happens. I remember my first game and how amped I was. The fact that it is your first game just gets you excited whether it's your senior year, or it is your first year, there are a lot of emotions that go on."
On The Game's Implications Of Recruiting In The State … "We have to be better recruiting in state; Jim [McElwain] has gotten off to a good start in the state. I think some of it is kids choosing to play in certain programs. There are some of those allegiances, but also to the uniqueness to the state that there are a lot of kids who could care less about a certain program from a rooting stand point because they moved here from Texas, Arizona or Florida. This rivalry isn't yet a rivalry where kids are raised where there is a line-you are either a Ram or a Buff."
On The Rivalry Being Less Intense Than Similar Ones In College Football … "It can be because it's going to have crazy things happening like the incident at Auburn with the trees. I think there is enough pressure on these kids anyway that when you get in those rivalry games, it is a whole different deal. It is good that our athletes can go out, compete, and then afterwards be good with each other. It is not one of those issues where you have to worry where you are and what part of town you are in. I think fans on both sides are civil. Every fan base on both sides, you will have some people that are a little different. I think this is a fairly civil rivalry."
On Comfort Level Going Into His Second Season As Head Coach … "I feel like I am more patient after my first year. There are so many things you are trying to do and so many things you want to get done, and you realize you can't get it all done. That hits you in the face about once a month. I am more patient, more comfortable with our team and our players knowing what I expect of them and how I react to certain things. It is just a comfort level."
On His Comfort Level With The Team In His Second Year … "Definitely with the younger guys it is what it is, they are learning things now. You have a parade of freshman coming in your office for different reasons. The upper classman are doing a good job of trying to show them and be helpful. We as a coaching staff know what each other are thinking; we have good relationships with each other and can get on each other."
On Colorado State's Strengths … "Offensively, the two guys that jump out at you are the center (Weston Richburg) and the running back (Chris Nwoke)-those are two very good football players. The running back is a great player, when he gets going, he is hard to stop. I think when you watch what he did against Air Force, who I think is one of the better tackling teams. I think it speaks volumes of what he could do against that defense. The Center Richburg is a very good player, he does a good job. He can cut, block and run. He plays with an edge. Those two jump out on the offensive side. On the defensive side, you have to start with [Shaquil] Barrett, very good player. He can come off the edge, he can play inside in the middle, and he can cover. [James] Skelton number 43, linebacker, I like him. He is an old school, downhill linebacker-hits you in the mouth."
On QB Jordan Webb's Experience … "It helps a little bit but at the same time, it is all new to him. It's a new team on both sides for him; he has never faced Colorado State. It will be a new experience for him, but it helps that he has been under center, he's played in front of people and he has been sacked before. All of that will help. He won the job. I believe in him and have confidence in him. He will be a good player for us in that position. No matter who we would have picked, it will be there first time starting for us. I feel confident in him; he has had a very good camp. His teammates have taken to him and I'm excited to see him play."
On Why He Named Webb The Starting QB … "Decisions. He was good with decisions; where to go with the ball, when to run, when to work the pocket. He is very good at making decisions."
On What Fans Can Expect To See Out Of The Buffs On Saturday … "You are going to see some black jerseys and gold pants. I am not a prediction guy, I will be just as excited as them as what transpires. You will see a team that is physical, running the ball. You are going to see a lot of young talent out there. You will see more team speed than in the past. Those will be the main things you will see. You will see a lot of new faces, so keep your program handy so you can look up and see who that player is. We will be playing a lot of new players, but as they continue to grow, they will be very good players for us."
On The New Kickoff Rule … "I think in three weeks, somebody will have found a creative way to take advantage of the rule and do something. I understand the premise of it, trying to make it safer, but I also think it is a very exciting play. When you have a special guy back there returning the ball, you hate this rule. I don't think the five yard penalty-as far as kicking it out of the end zone-is that big of a deal. It will be interesting to see how it all plays out."
On His Africa Trip … "It was great, we saw the big Five. It was a fantastic trip. I won the trip when I was with coach [Mike] Shanahan in Washington. Being able to take it was an eye opening experience. We were only there for 12 days, so it was a lot of fun."
On If He's Chosen On A Backup Quarterback … "No, we haven't so we will continue to talk and work our way through that and figure out what we want to do for Saturday."
Injury update 
The injury report for the Colorado State game is about as good as it can be, and certainly better than it has been in recent years.
Sophomore Alex Lewis, listed on the depth chart as the starter at left guard, wore a protective boot (slight ankle sprain) for Monday's practice, but is listed as "Probable" for Colorado State.
Juinor wide receiver Paul Richardson, as expected is still listed as "Out", with the following explanation: "suffered a torn ACL in practice (April 9th): underwent surgery (April 16th); progressing nicely, but likely OFS (Out For the Season).
Not to jinx things, but in the past few seasons, the Buffs have lost major contributors before the first snap of the year: OL Mike Iltis (2008); LB Jon Major (2009); DL Nick Kasa (2010); DB Vince Ewing (2010); and CB Jered Bell (2011).
Perhaps the lack of injuries this fall is a sign that things will finally turn around for the Buffs on the scoreboard as well …
August 27th
Backup quarterback still to be determined
From cubuffs.com … Quarterbacks coach Rip Scherer said before Monday's practice that a decision on who would back up starter Jordan Webb – the choice is between sophomores Connor Wood and Nick Hirschman – would "probably be decided in the next day or so."
However, Scherer added, "Until somebody really solidifies it, it probably will be a week-to-week thing."
But possibly having Wood/Hirschman prepare as Webb's backup in week one, then have the other prep for that role in week two runs contrary to Scherer's preference.
"I'd prefer one guy to be No. 2 and go from there," he said. "But it's been nip-and-tuck (competition), to be honest with you."
The choice for a backup falls to Scherer. Jon Embree said that he will support whomever the veteran QB coach picked.
Wood, who transferred to CU from Texas during last summer's camp and sat out the 2011 season, and Hirschman, who missed last spring's drills with a broken foot, have continued to battle since Webb was named the starter.
Embree said each "has had his moments, but I know Rip is looking for greater consistency from one of them." He also agreed with Scherer's assessment that naming a backup and keeping him in that role was more desirable than a week-to-week arrangement.
But Embree added if that wasn't how the situation evolved, "the other way (week-to-week) is something that could be worked out."
Notes … Jon Embree has decided that he will go with naming captains on a week-to-week basis, with the team to vote on captains at the end of the season … All of the freshmen did well in summer school, Embree said. He reported that none of them received a grade "below a C or C-minus."
August 25th
More on CU depth chart
The "End of Two-A-Days" depth chart (link), is receiving significant scrutiny.
Here are some more thoughts, from cubuffs.com …
The Buffs' depth chart features 65 percent (15 of 23) of the true freshmen recruits in camp. Some of the freshmen listed on offense and defense also have earned special teams duties. The breakdown of 2012 signees making the depth chart: six on offense, nine on defense, six on special teams (all returners).
Of that total, three newcomers have either nailed down a starting job or are listed as co-starters on offense or defense:
Josh Tupou, a head-turner from Day One at nosetackle, goes into game week sharing that position with junior Nate Bonsu.
Kenneth Crawley, one of three signees from H.D. Woodson High School in Washington, D.C., will open at left cornerback against Colorado State (Sept. 1, 2 p.m., Sports Authority Field at Mile High). He'll also be a primary return specialist.
Christian Powell, one of a trio of signees from Upland (Calif.) High School, emerged from camp as a co-starter at fullback with junior Alex Wood.
Other areas of interest on the depth chart include:
Backup quarterback . . . for now it's a job-share situation. Sophomores Connor Wood and Nick Hirschman are listed as co-Nos. 2, an indication that the duel to back up transfer Jordan Webb was tougher to call than naming a starter. (Webb was named No. 1 after a mere eight days of camp.)
The Buffs will go into the opener with the same punter – Darragh O'Neill – and placekicker – Will Oliver – that finished the 2011 season. But both were pressed in camp, O'Neill by Zach Grossnickle, Oliver by Justin Castor.
Kickoff returns, per the depth chart, will fall to four freshmen. Crawley, slotted as the No. 1 punt returner, and three of his classmates – Marques Mosley, Donta Abron and Gerald Thomas – are the kick returners listed. But as with other positions, that could change.
The first tailback to spell starter Tony Jones in the CSU game could be . . . a game-day decision. Offensive coordinator/running backs coach Eric Bieniemy said this about his second back in: "I'm not sure who our No. 2 guy is . . . all of them bring something good to the table. I want to see who can handle the pressure. Tony's been there, done that."
Bieniemy's list of candidates (in depth chart order) includes D.D. Goodson, Malcolm Creer, Abron, Josh Ford and/or Terrence Crowder. But that order is fluid, said Goodson: "At the running back position we really don't worry about the depth chart. That's one thing that's not on our minds; 'EB' is coaching us all to be the starters. Every rep we can get we take advantage of it."
Added Bieniemy: "I always I tell them, 'I coach the starter to be the starter, but I coach the next guy to take his job.'"
Through the first two games last season, the Buffs' only tailback to get a carry was senior Rodney Stewart. Bieniemy isn't planning on that being the case with Jones. While conceding how many tailbacks he uses will be "situational," he added, "You'd love to have two or three that you can rotate consistently. As a defensive staff looks at it, it's hard preparing when you've got a number of different guys that are playing. Would I like to get to that? Yes. Are we there yet? Not quite."
Of the large number of tailbacks in play, Embree said all offer "different skill sets (that) give us a lot of flexibility. Those guys have had good camps; they've done good jobs of running and being physical on the runs. Sometimes you get those young guys and every time they want to run and score. A 4-yard run is a good run. Those younger guys understand that . . ."
Among the young defensive linemen, it took about thislong for Tupou to establish himself as a significant challenge for anyone going head-to-head with him.
In the D-line world, bigger is better, and at a solid 6-3, 325 pounds Tupou was practically game-ready when he arrived. "A freshman like that," said D-line coach Mike Tuiasosopo, "is special."
Junior center Gus Handler works daily in Tupou's neighborhood at the line of scrimmage. "He's a big boy," Handler said. "Coming from high school, I knew he kind of used his weight to his advantage to just plow over people. Once he gets things ironed out and understands the defense here, he'll be pretty good. Anyone who weighs close to 330 pounds is a real load."
Tupou is sharp, soft-spoken and appears to be taking it all in before letting anything out. "I don't like to say much," he said. "I just like to watch the upperclassmen and see what they do and follow them. I worked hard in the summer to get where I was (he lost about five pounds before camp opened) and to where everybody else is. It took a lot of work; I just came in with one goal – to get better and do whatever I could to help the team."
If Tupou impressed O-line returnees like Handler, the reaction was similar among CU's veteran players in the D-line. Junior Chidera Uzo-Diribe, a scheduled starter at defensive end, called Tupou "a funny guy, a good low-key kind of guy. But you don't see low-key from him when we get out here (on the field).
"It's crazy . . . you see a 325-pound guy out there chasing down receivers and running backs. He's just got a good motor on him and he's going to be a good player for us. He was just like all the rest of these freshmen: He just got it. He understood about getting in his playbook, taking things seriously in the weight room. He got it from day one."
But like most freshmen, the speed of the college game – even the pace of practice – surprised Tupou. Another surprise also awaited: "I was surprised I was able to pick it up a little faster," he said. "But there's still a lot left to learn."
Even with Tupou's size, he was close to being an under-the-radar recruit early on, with Nevada and San Jose State paying the most attention until Tuiasosopo and the Buffs entered the picture and offered a scholarship. Suddenly, UCLA and Washington State began sniffing.
But almost from their first handshake, Tupou developed a solid relationship with his future D-line coach. "I knew when I first met 'Tui' he could coach me," Tupou said. "The (CU) coaching staff reminded me a lot of my high school coaching staff (at Bueno Park, Long Beach, Calif.)."
BUFF BITS: Embree said he is expecting more out of linebacker Woodson Greer III than the sophomore showed in Friday's practice. Greer, said Embree, has practiced hot and cold – with Friday being on the frigid side. "But he's going to be a guy who makes a lot of plays for us," Embree added. "I'm just, as you can tell, not happy with his performance (Friday). But he has had a good camp." . . . . Several veteran players – the list included linebacker Jon Major; defensive end Chidera Uzo-Diribe; defensive backs Ray Polk, Parker Orms and Greg Henderson – were in spectator roles Friday. Not to worry, said Embree: "We just want to heal them up; they've got nagging injuries . . . we're at the stage right now where it gives the young guys an opportunity to get more reps, quality reps, with the No. 1 unit. It was a good time to do that with those guys." . . . . The Buffs could enter game week with no captains named. In fact, they might end the season without identifying permanent captains. Embree said captains could be named on a weekly basis, with the team voting at season's end on who did the best weekly jobs, who were the best leaders, and making those players the permanent captains for 2012. "That's what I'm leaning toward," Embree said. But if he elects not to go in that direction, a team vote on permanent 2012 captains likely would take place next Thursday . . . . Only one player is on the injureed list for an extended time at present, with receiver Paul Richardson (knee) still out indefinitely; no one has been lost for the season which has been the case going back at least three of the last August camps . . . . The Buffs have a "mock game" scheduled for Saturday morning that will entail instructions on leaving the tunnel for pre-game warm-ups, how those warm-ups will be conducted, etc. A brief walk-through also is scheduled, followed by team photos. Sunday is a day off, with fall semester classes starting Monday.
August 24th
Post two-a-days depth chart released
The depth chart has been updated!
Here is a link to the new depth chart.
A few notes of note …
Offense … The starting offense remains the same as before fall camp, with two notable exceptions. First, of course, is the move by Jordan Webb to the top of the depth chart at quarterback. Meanwhile, at fullback, there has been a strong move made by true freshman Christian Powell, who is listed as a co-starter along with junior Alex Wood.
Other true freshmen showing up on the "End-of-Two-a-Days" depth chart: wide receiver Gerald Thomas, second at the "Z" position behind Nelson Spruce; left guard Jeromy Irwin, listed behind sophomore Alex Lewis; Alex Kelley, third at right guard; Vincent Hobbs, fourth at tight end; and Donta Abron, fourth at running back.
Defense … There were some significant moves on the defensive side of the ball over the past two weeks. At the nose tackle position, Kirk Poston has been supplanted by junior Nate Bonsu and true freshman Josh Tupou, who have been listed as co-starters (with Poston moving to a backup role at defensive end). In the secondary, true freshman Kenneth Crawley has been named as a starter at cornerback, with fellow freshman Yuri Wright coming in as the backup at the other corner position behind Greg Henderson. Junior Terrel Smith, listed as a backup to Ray Polk at free safety two weeks ago, is now listed as the starter at strong safety. Parker Orms, the former starter at strong safety, is listed as the No. 1 nickel back, with true freshman Marques Mosley listed at No. 2.
Special Teams … For the first time in what seems to be forever, Colorado has a kickoff returner and a punt returner, with true freshmen taking both positions. Kenneth Crawley is listed as the starter at punt returner (backed by D.D. Goodson), while Marques Mosley is listed as the starter at kickoff returner (in fact, all four of the kick returners listed are true freshmen – Mosley; Donta Abron; Gerald Thomas; and Kenneth Crawley). The kickers remain the same, with Darragh O'Neill at punter, Will Oliver at placekicker, and Justin Castor handling the kickoffs.
Interesting stuff, no?
August 23rd
Buffs lose wide receiver Jeffrey Thomas
Colorado fans knew that they would be without the services of Jeffrey Thomas for the first two games of the 2012 season, after the freshman wide receiver was suspended for the first two games of the season for his involvement in an air-gun incident in early August.
Now, it appears that Buff fans will have to wait until at least 2013 to see Thomas wearing black-and-gold in Folsom Field.
Without any announcement from the athletic department, Thomas' status on the CU home page has been updated to read:
AT COLORADO: This Season (Fr.)-He was projected as a wide receiver his true freshman year in college and participated in August camp for the first 12 days, but needed to return home because of family issues and will delay his enrollment until January, thus becoming a "grayshirt."
Jon Embree, after Thursday's practice, on the status of Jeffrey Thomas …"Yeah. He had some stuff going on back home. I just felt it was better, from a focus standpoint, for him to just go back home, and get it all figured out, and then come back in January. That's the best thing for everybody involved. He'll take some junior college (classes), he'll be normal (five years to play four) when he comes back. It was just some personal stuff, some family stuff. For him, it was better for him to be back home, if he is going to have long-term success. Short-term success is yeah, keep him here and see what happens, but when you are always worried, and thinking about other things … When you walk through those gates, you've got to be thinking about (foot)ball. I don't think he was at that point with some of those things, so it was better for him to go back home and take care of that stuff, take some classes at a community college, and come on back."
What we do know for certain is that the Colorado wide receiver corps, already thin, just lost another potential player. As it stands now, sophomore Tyler McCulloch and red-shirt freshman Nelson Spruce will be the starters, with junior Jarrod Darden, senior Dustin Ebner and sophomore Keenan Canty the only other returning scholarship receivers. Junior DaVaughn Thornton, who has bounced back and forth between tight end and wide receiver the past two seasons, may be spending more time with the wide outs.
The only other freshman wide receiver on the roster, other than the now departed Jeffrey Thomas, is Gerald Thomas, a three-star prospect from New Orleans, who reportedly has had a good camp.
August 21st
Richardson officially out for first two games
Not that this is really news, but it is being reported that junior wide receiver Paul Richardson will not be playing in the first two games of the 2012 season.
It's not news because it was previously reported last week (see August 16th report, below) that Richardson was going through a five week intensive rehabilitation program, and that he would be re-evaluated after September 16th … which is after game three against Fresno State.
"He's not ready," Embree told the Daily Camera Wednesday. "He hasn't run any routes really yet. He hasn't done any team work, timing, all those issues.
"He'll have to get some time with us – when I say us, I mean the players on the field – before we say, 'Yeah, he's ready to go.'"
Embree said Richardson likely will need at least a week of practice before he will be comfortable giving the junior from Los Angeles a thumbs-up to play. He said he will not play Richardson in the home opener Sept. 8 against Sacramento State, a team from the Football Championship Subdivision (formerly I-AA)
Embree said it's possible Richardson could be ready for the Buffs' first road trip Sept. 15 to Fresno State. That is the final nonconference game of the season.
"We'll see what the doctors say," Embree said after a morning practice today. "We'll see how they evaluate him and what his family says and how he looks."
CU hosts 120 corporate sponsors
Gentlemen (and ladies), get out your checkbooks!
About 120 of CU's corporate sponsors attended Monday's practice, and got to see what the press and the rest of the public have missed out on this spring and fall – an actual CU practice. Apparently, no secret plays were revealed to the visitors to Fall Camp. "We were doing four-minute and two-minute (drills) anyway, so it worked out," Embree said.
Embree then spoke to the sponsors following Monday afternoon's work. The event was organized by Buffalo Sports Properties (BSP), with the attendees watching part of practice then eating a dinner catered by Boulder's West End Tavern.
The attendees also received a sneak peek at what the new scoreboards will be like, as documented below …
You Tube video of a potential gameday intro, being shown on the new north scoreboard
August 20th
Video from Week two of Fall Camp
http://vimeo.com/47818536
August 17th
Buffs scrimmage at Folsom Field
With two weeks to go before the start of the 2012 season, the Buffs scrimmaged inside Folsom Field for the first time this fall.
(Note the new scoreboard in the North endzone!)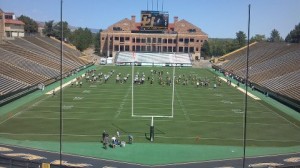 Notes from the first fall scrimmage … Embree reported no new injuries in Saturday's work . . . . Attending the scrimmage were a pair of McCartneys – grayshirt candidate Derek, a freshman defensive end who will enroll in January, and former coach Bill, who watched from the press box and took notes for an upcoming weekly radio gig. Derek McCartney is up 20 pounds (to 235) from his signing day weight . . . . The final week of camp brings the final pair of two-a-days. The first is Monday, the last is Wednesday . . . . The beginning of fall semester classes is just over a week away (Monday, Aug. 27).
Head coach Jon Embree noted that it was Marques Mosley, a physically blessed defensive back in the 2012 class, turned in the special teams play of camp on Saturday. Mosley, who has been working primarily at free safety and also some at strong safety, returned a kickoff 100 yards for a touchdown during the Buffs' closed scrimmage. "He's a smart player, he has real good football instincts, he can run and he likes to hit, he really does," Embree said. "He tweaked his hammy a little bit (earlier in camp), and I was holding my breath when he took that kickoff return not just to blow the whistle. "But he didn't have to get to fourth gear, which is good news. He was able to run and score staying in third. So I'm really pleased for him."
Tony Jones looking to become only second 1,000-yard rusher in the past eight seasons
Colorado lost one of its most prolific rushers in school history last December. Rodney Stewart became a Signing Day bonus the day Darrell Scott and Ray Polk faxed in their letters of intent on Signing Day, 2008. While Scott and Polk did not work out (at least as a running back, in Polk's case), Stewart amassed the second-highest rushing yardage total (3,598 yards, behind only his position coach, Eric Bieniemy, who had 3,940), and became the first Buff in Colorado history to lead the team in rushing all four years.
Hard to replace?
Sophomore Tony Jones doesn't see it that way.
Jones, of Paterson, N.J., called his first season under Bieniemy a time of unparalleled growth. "He's definitely wanted me to be the best I can be," Jones said. "He's treated me like he treated his guys when he was in the NFL. He wants the best out of me. Since I have a year under him, he holds me to a higher standard. That higher level is something I want to reach; I'll continue to strive for that."
Jones said that he wants to rush for 1,200 yards in 2012, a considerable improvement on his 297 rushing yards last fall as a backup to Rodney Stewart. For his part, offensive coordinator and running backs coach Eric Bieniemy said that 1,200 yards was "very, very realistic" for Jones, but adds with a grin: "You know what? I'm surprised he said 1,200. I'm surprised he didn't say 1,600. He was being very modest. The thing I love about him is that he's a humble kid. He appreciates having the opportunity that he's worked himself into. He's making the most of it."
Along with his rushing goal, Jones wants to improve his pass protection. On a 1-10 scale last season, he said he probably was "maybe a seven . . . there's never a time when you might think you're the best at it. When you think like that, you're gonna get blown out by a linebacker or a 'D' end. I just try and get better in technique every day, try to fit up on a linebacker as best I can."
What will help Jones – and what Rodney Stewart didn't have – are some true fullbacks.
At fullback, the lone upperclassman is junior Alex Wood, who is inexperienced but has impressed Bieniemy with his camp work and has the size (6-2, 245) needed at the position. Wood is joined by two new scholarship fullbacks and walk-on Jesse Hiss (6-1, 225).
One of the scholarship fullbacks – Clay Norgard (6-1, 240) – was a January enrollee and had the benefit of participating in spring drills and competing with Wood. So the real August camp newbie is Christian Powell (6-0, 235), and he arrived ready to work. Make that continue to work.
From his recruiting visit until he reported in June, he shed nearly 25 pounds. He said he played at Upland (Calif.) High School at 250, but weighed nearly 260 when he visited Boulder.
Malcolm Blacken, CU's director of speed, strength and conditioning, told Powell, "I need you in shape when you get here . . . I'll get you strong."
Powell complied, shedding nearly 15 pounds – and he got stronger. Upon arriving in Boulder, he was power cleaning 220 pounds. Before camp opened, he was up to 308 pounds in that lift "just because he listened to us and wanted to get better," said Steve Englehart, Blacken's assistant director of speed, strength and conditioning.
Bieniemy was impressed by Powell's weight loss, his strength gain and his first week and a half of camp. Noted Bieniemy: "(Powell) has stood out. He's young, but the thing I like about him is that he's coachable, he listens and you only have to tell him once how to do it."
With a new quarterback and a bevy of unproven talent at wide receiver, the game plan for Colorado this fall is to run the ball effectively. The offensive line is good, but not great. However, with large tight ends like Nick Kasa and fullbacks like Powell and Norgard helping with the blocking, Jones could very well become just the second Buff running back since 2004 (Stewart had 1,318 in 2010) to rush for over 1,000 yards in a season.
A benchmark worth tracking this fall …
August 16th
Mark your calendars … September 16th may be D-Day for P-Rich
From cubuffs.com … Paul Richardson has embarked on an intensified five-week rehab regimen that could return the sophomore receiver to the Colorado lineup before the Buffs get deep into Pac-12 Conference play.
The operative word remains "could." As was the case when he began his recovery from ACL surgery on his left knee in mid-April, there still are no guarantees he will play in the 2012 season.
But at the end of his five-week program – on or about Sept. 16 – Richardson will be reevaluated. That date will mark five months since his ACL surgery, an operation which historically can require six to nine months or longer for full recovery.
However, some athletes return faster and Richardson's progress since his surgery has been on the fast track.
Dr. Eric McCarty, the former Buffs linebacker who now is a member of CU's sports medicine team, said Richardson "is doing remarkably well, really shooting past the benchmark (for healing). At the five-month mark we want to see where he is so we can reevaluate and assess . . . see if he's ready.
"We don't know if he'll have all the progress that's required after five months. So we're being very cautious with this; nobody's pushing him but he wants to push and see where he is."
Under the right circumstances, "P-Rich" said he was hopeful of playing this season, but added, "I'm not anxious at all. I'm just happy that I'm going to be able to work out with some cleats on and be out here and put my gear on and feel like I'm a part of the team.
"As far as the timeline goes, it's give and take. I might be ready before, I might be ready after. Or I might just come back 100 percent for the following season."
…
Embree has said the team's won-loss record and how it was playing by mid-September would not have a bearing on Richardson's possible return: "Nope . . . it won't at all."
After opening against Colorado State on Sept. 1 in Denver, the Buffs return to Folsom Field for their home opener on Sept. 8 against Sacramento State. Their first road trip (Fresno State) comes the following weekend – Sept. 15 – followed by their Pac-12 opener on Sept. 22 at Washington State. The Pac-12 home opener is against UCLA on Sept. 29.
Richardson is hopeful that by the end of September he'll know what the rest of the season holds for him. "I'm going to wake up one morning and know I can play . . . it's going to feel so good," he said.
He doesn't know when that morning will arrive, but just as he's been since last spring he is intent on getting there.
Very, very cautiously.
August 15th
Jordan Webb named starting quarterback
From cubuffs.com … Turns out that Saturday's first full scrimmage of August camp will indeed shed light on Colorado's quarterback lineup: It should go a long way in determining a backup.
In only Jon Embree's second season as a head coach, this much we've learned as being indisputable: When he develops a gut feeling on personnel decisions, it doesn't stay in his mid-section too much longer.
As he did in last August's camp in quickly naming then-freshmen Will Oliver as his No. 1 kicker and Darragh O'Neill as his No. 1 punter, Embree on Wednesday again went up-tempo and named Kansas transfer Jordan Webb as the Buffs' starting quarterback.
"You know how I am," Embree said. "If I feel it's right, I'm going with it."
In this case, he went with it was because he believed it was the right call at the right time for all the right reasons. In a surprising story of arrive and conquer, Webb needed only eight days of training camp to separate himself from sophomores Nick Hirschman and Connor Wood.
"He's been very accurate," Embree said of Webb. "He's showed good discipline in taking care of the football. He makes plays."
"Obviously, the experience shows, the poise shows," added CU quarterbacks coach Rip Scherer. "He was able to transfer terminology. Concepts are concepts, but he was able to transfer the terminology relatively quickly. There's still a learning curve for him, but he really progressed quicker than I thought he would."
"Obviously, the experience shows, the poise shows," added CU quarterbacks coach Rip Scherer. "He was able to transfer terminology. Concepts are concepts, but he was able to transfer the terminology relatively quickly. There's still a learning curve for him, but he really progressed quicker than I thought he would."
Webb, a graduate student with two years of eligibility remaining, said he was "definitely excited, but humbled, sure. I know this is just the beginning; I definitely haven't made it. I hope the guys rally around me. I think I've earned their confidence and their trust, but now's the time to really step it up a notch."
Scherer believes the offense has accepted Webb as its leader. "It seems like they have (but) we'll find out," he said. "I think they have rallied around him. He's made the most plays of anybody by far in training camp . . . you don't have to be brain surgeon to figure it out."
Of the three QBs who entered camp on the morning of Aug. 6 competing for the starting job, Webb – strictly from a physical standpoint – might have been the easiest to overlook. Hirschman is 6-4, 230; Wood is 6-3, 225. Webb is generously listed as being 6-1 and 205 – figures whose accuracy might depend on the benefit of cleats, helmet and full pads.
As much as the quarterback position is about numbers, it's also about intangibles – and it didn't take long in his new environment for Webb to demonstrate those. He might have made his move to the front last weekend. Embree told Media Day attendees on Saturday that he would begin testing the trio of QBs in situational work, and true to his word, it began in that afternoon's practice.
In a word, Webb excelled. In one situation – second-and-18 near mid-field with the offense needing a field goal with time running out – Webb threw a pair of incompletions and faced fourth-and-18. Then he threw for 22 yards and a first down to Nelson Spruce, positioning Will Oliver for a successful field goal.
"The most impressive thing about that," recalled Embree, "was on third-and-18 it was the same play call. He and Spruce almost connected . . . then he came back and hit Spruce on the back shoulder. Both times it was against (corner) Greg Henderson and it was tight coverage.
"But that was where you wanted to go with the ball. The fact that he had enough confidence to try and make that throw the first time, then to come back knowing this is to win the game . . . to come back again and make that throw against two man, which is difficult coverage to complete, for him to do that, it was the only place you could put it. For me, it was like, 'OK' . . ."
Asked if that sequence was a turning point in the camp QB competition, Embree answered, "It was one of them . . . each day I try to go in with an open mind and see how they responded. Sometimes when you're in a competition you get in a situation where maybe a guy in front of you does something so you try to come out and do what he did or do better. What you have to do is what's in front of you. If it's a situation where you have to check it down, check it down. Don't force it . . .
"It's not H-O-R-S-E. You don't have to match shot-for-shot. I think sometimes the guys got caught up in doing that a little bit. But as we move on for competing for No. 2, we've just to keep moving forward."
August 14th
Will Harlos' career over before it ever really started
Will Harlos, a freshman safety, came to Colorado as a 6'4″, 200-pounder from Somerset, Texas. He was a last weekend commit from the Class of 2011, de-committing from Wake Forest in order to become part of Jon Embree's first recruiting class.
From the Daily Camera … Last season, Harlos played in the first four games of the season without ever informing the CU medical staff that he was suffering from concussion symptoms. He finally talked to trainers after a loss at Ohio State when his symptoms were causing extreme headaches and missed classed time. He missed the rest of the season. He did not record statistics on defense and finished with five special teams points. The NCAA awarded him a medical redshirt season because he played in only four games.
Earlier this year Colorado coach Jon Embree said he would not allow redshirt freshman Will Harlos to continue playing football in Buff black and gold if the defender from Somerset, Texas, suffered another concussion.
Embree followed through on that promise Tuesday when he informed Harlos and his family that he and CU medical staffers consider it unsafe and unwise for Harlos to continue to play the sport after Harlos suffered another concussion on Monday.
Embree said Harlos has the option of remaining at CU on scholarship if he medically retires. Players who medically retire do not count toward the maximum of 85 scholarships allowed by the NCAA. Embree said Harlos is considering remaining at CU and running track. Embree wasn't sure how the scholarship would be handled in that case.
Harlos also can transfer if he has his heart set on continuing to play and he can find a program to transfer to.
"He's taking it hard and rightfully so," Embree said. "You know, we talk about guys who are passionate for the game and football is important to, it was important to him. It is important to him. He was upset this morning. Like I said, it's unfortunate, but as I explained to him, we all go out at some point, and for him, it's not like we're saying, 'Oh hey, it's an elbow or a knee and you're not going to walk good.'
August 13th
Injury update
It's the stage of camp where several players are nursing injuries, most of them minor. "It's been the usual camp stuff," said Jon Embree of most of the injuries, "but nothing major, nothing serious."
Out – freshman defensive back John Walker (hand, surgery to repair tendon damage scheduled for Tuesday) … linebacker Brady Daigh "might have had a concussion" . Daigh was held out of practices on Monday … safety Marques Mosley has a slight hamstring pull … receiver Gerald Thomas "took a shot" or might have a groin pull … cornerback Sherrard Harrington missed time last week with a sprained ankle, but was back in action Monday … center Gus Handler had a case of pink eye, which kept him out of some practices last week, but he returned on Sunday.
August 12th
Fall Camp Video – Week One
http://vimeo.com/47417520
August 11th
Media Day Saturday
Jon Embree on the quarterback controversy … er … competition
From cubuffs.com … Embree's answers concerning the quarterback race were interesting. Yes, he'd rather name a starter sooner than later, but he won't rush it. No, he doesn't believe anyone currently has a leg (or arm) up – unless Webb's experience (19 games at Kansas) comes into play. And truthfully, that's probably Webb's ace while he learns the offense and his personnel.
Summer classes ended last Friday, so the trio of competitors should be all-in mentally over the next couple of weeks. A scrimmage is scheduled next Saturday (Aug. 18) and if the field can be trimmed to two by then or shortly thereafter, all the better.
Starting QBs need an "it" factor, a swagger that is apparent in the huddle when things aren't running so smoothly or to keep them humming when the afternoon is all on key. Embree said all three of his contenders have "it," but added a qualifier: "At times . . . I want to see who has it all the time."
To reach that conclusion, there will be more situational work aimed at putting the trio in uncomfortable spots and seeing how each copes. The guy who is noticeably nervous or is "whispering plays in the huddle," said Embree, most likely won't be taking the first snap against CSU on Sept. 1.
Asked to rate the strength of CU's QB 3, this is how Embree responded:
Wood: "Big arm…can make all the throws…good grasp of the offense…needs to be more consistent in his decision making…needs to continue to work on his accuracy."
Hirschman: "His teammates really like him, gravitate to him…also has a big arm, but sometimes believes he can throw through his mistakes…needs a better grasp of the offense."
Webb: "A big attribute is his 19 games at this level… does a good job of working the pocket…reminds me of Koy (Detmer) in getting the ball out in unique ways."
One of the chief difficulties in going deep into camp with three QBs is dividing "reps" among them. Three's a crowd. The starter and his backup need extensive work with the first and second offenses. Embree's timetable for naming his No. 1 – even paring the list to a pair – would be "tomorrow" if possible "so I could sleep. But we have to let it play out."
He added: "Whether it's a battle for the backup position or whether it's our backup, we have to get the reps going for that guy. Right now, we're splitting the reps equally. As soon as we know, we've got to give that guy a good dose of reps. Right now, whether it's the guys that haven't played, they still need the reps. If it's Jordan, he needs the reps because he's new on the offense. There's a reason that we have to get it done sooner than later if we can, so we can get those guys going on the offense."
Injury Update
Training camp's first season-ending injury was suffered by freshman defensive back John Walker, who will have surgery to repair torn finger ligaments. Walker, of Washington, D.C., caught a finger in a teammate's jersey earlier this week. After Walker's injury, defensive coordinator/secondary coach Greg Brown told his players to be mindful of "horse-collaring" ball carriers, not only for the injuries possible to the offensive player, but getting their hands/fingers tangled in jerseys or pads.
Richter moves to offensive line
Senior Eric Richter, recognized as the Buffs' strongest player, has returned from defensive line to offensive line. The 6-3, 310-pound Richter moved from offensive guard to defensive tackle last spring. According to D-line coach Mike Tuiasosopo, Richter went back to offense after August camp's second day. Richter had been listed on the pre-fall depth chart as the No. 2 defensive tackle, behind fellow senior Will Pericak.
Crawley's rock smashes Wright's scissors to earn start with first team
Much is expected of the Buffs' two new four-star cornerbacks, Kenneth Crawley and Yuri Wright. One of the two is expected to surpass sophomore Greg Henderson on the depth chart for the left cornerback position come September 1st.
Defensive coordinator and secondary coach Greg Brown will undoubtedly review hours of film in making his choice at starter.
Or … he could have them draw from a deck of cards, with high card getting the start.
For now, one week into Fall Camp, there is little to distinguish between Wright and Crawley, so to decide which player would start in the first day working with pads on Friday, Brown had the pair vie for the first start by competing in … rock, paper, scissors.
For the record, Kenneth Crawley's rock smashed Yuri Wright's scissors, giving Crawley the starting job for Friday's practice.
Not to worry, Yuri fans … Wright will take over the starting position for Saturday's practices.
Quarterback Jordan Webb no longer "swimming"
From cubuffs.com … Kansas transfer Jordan Webb admitted he was "swimming" for the first several days of camp, trying to learn a new system from the most difficult postion – quarterback – and also familiarize himself with CU's personnel.
"Those first couple of days I was kind of swimming with all the information," he said. "But these last couple of days, I've been settling in and getting used to everything as far as the offense and also knowing my personnel a little better. Only having a month and not being in pads and not having any real team stuff, that was tough. There are some little subtle things you have to get used to."
Webb, who is competing with sophomores Connor Wood and Nick Hirschman for the starting job, said CU's camp wasn't vastly different from KU's: "As far as the schedule, yeah, that's kind of similar. But there are differences. The biggest for me is the offense. I'm getting used to it and getting my feet under me. I think most teams do (camp) pretty similar."
As for the full contact going on around them on Friday, the first day in full pads was pretty much business as usual for the QBs. Said Webb: "Everybody comes out fired up and ready to hit each other. Fortunately for us (QBs) we're in green jerseys (non-contact) so we didn't get to take any hits. But there were some good hits, some pops I could hear."
August 10th
Defense leads in first week … will need to lead the team this season
The bad news: the offense suffered six turnovers during Thursday's practice.
The good new: the defense generated six turnovers.
Of course, it's always a glass half-full/half-empty proposition during fall camp. Jon Embree, said the offense "had its moments, but the defense is continuing to get a good job of getting turnovers." Along with sophomore corner Greg Henderson, freshmen corners Yuri Wright and Kenneth Crawley had an interception each – their first of camp. "I was beginning to wonder," Embree joked.
While many Buff fans will be looking to the four-star recruits at cornerback as future stars of the defense, the unit will need the linebackers to carry the load this fall.
Colorado will open the season with two seniors – Doug Rippy and Jon Major – and one junior – Derrick Webb – as his starters. Contrast that with the secondary and defensive line, which likely will feature only one senior starter each (safety Ray Polk, tackle Will Pericak), and linebacker shapes up as the Buffs' reservoir of experience.
Colorado defensive coordinator and linebackers coach Brian Cabral likes it that way.
"It has to be that way," Cabral told cubuffs.com. "Because one, just the nature of the position, you expect your linebackers to be the leaders. But two, we're going to be very green in front of us and behind us. My guys need to know how to lead on the field. That's probably our challenge for this season – to be the kind of leaders that this defense needs."
From what Rippy observed during summer conditioning work, these incoming freshmen are a different cut of Buff. He agrees that several of the players lined up in front and behind him and his LB mates might be first-year players, but he notes, "That really doesn't matter now. The attitudes and demeanor of some of these freshmen is different. These guys came from winning high schools and they know what it takes; they have the attitude that shows it. But it's still up to the veteran linebackers to show them how it's done."
Rippy (middle), Major (strong side) and Webb (weak side) have combined for 35 starts, with Major's 20 tops among the trio. He battled injuries for the first two years of his CU career, but started all 13 games in 2011. Still, Cabral says by late November Major wasn't as whole as he appeared: "He kind of limped through at the end. I'd like to see him have a full, fresh season. We need him to have a healthy year."
Ditto for the other two, especially Rippy, who missed nearly half (six games) of his junior season with a knee injury that required surgery and kept him out of spring drills. Rippy says he's considered "full go" for camp, but Cabral counters, "I'm not going to throw him 'full go.' I have to be smart in how I bring him back.  I just want to bring him along and see what he can handle and how well he handles it. Everything (with his knee) is fine, solid . . . it's just a matter of bringing him back the right way."
Adds Rippy: "My knee feels good and my mind is clear; I'm ready to turn it on. I'm going to do everything the trainers and coaching staff asks me to do."
August 9th
Yuri Wright believes he could play early
Last season, true freshman cornerback Greg Henderson was thrust into the starting lineup for game one, a rare occurrence for any freshman, almost unheard of for a cornerback. Henderson went on to post the most plays ever by a freshman, 823 snaps.
Yuri Wright might duplicate that feat this fall.
From cubuffs.com … "Definitely . . . I think there's a chance that I could be playing really early," Wright said. "My mindset was to come in here and take a starting job . . . it takes some time to learn the defense, but some of the stuff I already knew from studying during the summer and from 7-ons. They definitely helped; I got to see and actually be active on the field while learning things.
"I definitely feel like I'm competitive now, but some of the things I want to work on are learning the defense better – that's basically it. I feel like once I learn the defense that it'll show I'm getting better; the physical things I think I can do now. And I think (learning the defense) will make me more competitive. The more you know, the better you are."
At 6-2, 175, Wright conceded, "I might look a little skinny and small," but added, "I'm like a tall cornerback." He's not targeting a huge weight gain, eyeing a top weight of 180-185 pounds. He said he's able to "run with everybody so far," and has been playing both corners.
"I think he's going to be a good player for us this year," Orms said. "He's got the ability, he's fast, he's smart and he seems like he can make plays . . . I'm really impressed with how well he knows the game of football."
But, added Orms, freshmen make mistakes and Wright is, after all, a freshman. This isn't high school; responsibilities go beyond what athleticism and superior ability can mask. Said Orms: "He's used to 'cover three' where you can line up and do kind of whatever you want. But when the ball's snapped here, you've got to know where you're at and what you're supposed to do. You've got a responsibility and you've got to know it . . . it's just a lot different."
Orms has known Wright for all of 2 1/2 months and watched him warm up – albeit gradually – to his new teammates. Orms also knows something about personal growth and moving past mistakes; he served a four-game suspension early last season for violating team rules and can relate to Wright's wrong.
"He's just like any other college football player," Orms said. "I think he's better now than he was before. I think he's grown even since he's been up here, for sure. I think if he gets on the field this year, (his baggage) will all go away. If he doesn't get in any trouble, stays off the social media-type things, he'll be fine."
August 8th
Defense gets the better of the offense on Tuesday
The Buffs are not in pads yet, but Embree said the defense had a good day on Tuesday. "The defense forced some turnovers and we were able to not only force them but scoop and score with it, so that was good," he said. "Obviously that's bad coming from the offensive standpoint, but I like what our defense is doing. I like the way they're playing with the tempo and energy. The young guys keep showing up, so that's always a positive."
The Buffs are scheduled to put pads on for the first time in Friday. "We'll see once you can be hit, but so far it's been pretty good," Embree said.
Malcolm Creer turning heads
Sophomore tailback Malcolm Creer is back and close to being full speed – an admirable feat after he suffered a knee injury at Arizona State that Embree thought might be "a career-ender." Creer, who had his redshirt pulled late (Oct. 29), saw his freshman season end that night in Tempe, Ariz.
Embree said although Creer has full clearance to participate in camp, the CU staff keeps close watch on him to make sure "he doesn't get in a bad position" if his knee gets fatigued.
"He's still very sharp mentally; he hasn't missed a beat there," Embree said. "He's done well when he's been in there . . . he's helped mentoring some of the younger backs. He could easily try to keep them in a bad situation to protect his position, so to speak, but he's confident enough in his skill and a good enough teammate that he's helped those guys."
Creer, a 5-11, 205-pounder from Los Angeles, said he felt good, but added, "I've just got to keep going . . . I'm not there yet."
Injury update
Freshman receiver Jeffrey Thomas injured his hamstring on Monday. Embree said the Buffs are trying to be careful with Thomas so the injury doesn't become worse. He said Thomas might be back to practice on Friday … Freshman defensive lineman Samson Kafovalu suffered the only reported injury on Tuesday. "I think (he) sprained his ankle," Embree said … Wide receiver Paul Richardson and linebacker Douglas Rippy were both at practice and did some light running. Rippy said he recently underwent another surgery on his knee to remove some debris but he is feeling good and expects to be ready for the opener.
August 7th
Three former walk-ons awarded scholarships
At the end of Monday afternoon's practice, Embree called junior fullback Alex Wood (Steamboat Springs), junior tailback Josh Ford (Denver) and junior tight end Scott Fernandez (Broomfield) to come and stand beside him before their huddled teammates. To a rousing ovation, Embree announced that the three walk-ons were being put on scholarship immediately. "They've all been in the program for two years, they've handled their business on and off the field," Embree said. He then added with a laugh, "But you know me; screw up tomorrow and you're back to the end of the line.".
Injury update
The Buffs will not be putting on pads in practice until Friday, so the injury list should hopefully remain short this week. The only minor first-day injury Embree reported was suffered by freshman receiver Jeffery Thomas (leg). Embree said senior linebacker Doug Rippy (knee) "didn't do team stuff" while junior receiver Paul Richardson (knee) did little other than light running.
Dillon removed as candidate for starting quarterback position
At his press conference for Pac-12 media days last week, Jon Embree indicated that the quarterback race would be a three-man contest, with Connor Wood, Nick Hirschman and Jordan Webb competing. Incoming freshman Shane Dillon underwent shoulder surgery during the off-season, and was a longshot to be a starter this fall, anyway. However, after Monday's practice, Embree removed any doubts. While Dillon has been cleared to practice, "but being cleared and throwing bombs 30 times is a little different".
As to naming a starting quarterback, the race may go on all the way to the end of Fall Camp. "It'll probably happen after camp unless it just clearly separates itself," Embree said of naming a starter. "The thing for me is seeing (what happens) once we get going in pads, once we get into two-a-days and get a little tired, seeing how they react and seeing if it gets down to two how quickly that happens and if it does happen . . . I'd like to have it done sooner than later, that's for sure. But I still want it to be done right."
August 6th
Four players to grayshirt, including Jagne
From the CU athletic department … University of Colorado football coach Jon Embree officially opened his second fall camp here Sunday by welcoming 105 players, including 31 newcomers to the program for meetings and a team dinner.
Freshmen, walk-ons and several new staffers (graduate assistants, technical interns) had pictures taken Sunday afternoon, with some completing physical examinations and equipment sizing. Among the new faces was T.C. McCartney, who will be an offensive graduate assistant this fall after graduating from Louisiana State in May; he is the grandson of Bill McCartney, the winningest coach in CU football history (compiling a 93-55-5 record from 1982-94).
Embree and his coaching staff, which for only the second in the last 24 seasons at Colorado remains unchanged from the previous year, signed 28 players in last February's recruiting class. Four of those players will be grayshirting, meaning they will delay enrollment at CU in January.
Those four include Peyton Williams, a receiver from South Lake, Texas; he suffered a knee injury (torn ACL) in the state playoffs last December and is still undergoing rehabilitation following surgery. Also grayshirting are Kisima Jagne, a defensive lineman from Phoenix (Chandler); Gerrard Kough, an offensive lineman from Pomona, Calif. (Pomona); and Derek McCartney, a defensive lineman from Westminster (Faith Christian). Kough and McCartney were ticketed for grayshirts from the outset; McCartney is T.C.'s younger brother.
The group included seven recruited walk-ons: Vincent Arvia (OL, 6-0, 285, San Diego/Torrey Pines High School); David Bagby (WR, 6-1, 180, San Diego/Torrey Pines); Trevor Carver (SN, 5-11, 180, Louisville/Monarch); Luke Hartung (OL, 6-6, 230, Danville, Calif./DeLaSalle); Jesse Hiss (FB, 6-1, 225, Bonner Springs, Kan./Bashor-Linwood); Harrison Hunt (WR, 6-0, 180, Cleveland Heights, Ohio/Gilmour Academy); and Jordan Murphy (FB, 6-1, 230, Soph., Castle Rock/Denver Lutheran). All are true freshmen except for Murphy, who is transfer from Colorado State who will have to sit out this season per NCAA rules.
The team will begin practices on Monday, first with an early morning walk-through. With CU's second session of summer school in its final week, most of the players will head to classes and will then reconvene in the afternoon for meetings and a 90-minute practice. The same schedule will hold through the week as summer school wraps up. Embree has closed practices to the public and media this year, as with so many new faces and competition at most positions being wide open, he wants to limit as many distractions as possible.
Injury update list mostly good news as Fall Camp opens
Colorado will be very young in 2012, and its depth chart is, well, thin. Suffice it to say that the Buffs can ill afford to lose many players to injury this season.
So it comes as good news that the Buffs start Fall Camp practices Monday with an almost empty injury list. Only one player is listed as "out", with only three others listed as "limited" or "day-to-day". Colorado also welcomes back a number of players as "Full Go" participants. Included on the list are some starters which the Buffs will be counting upon, as well as some names which Buff fans may have forgotten about – but will be glad to see in uniform this fall.
"Out"
Only one player makes this list, and it may be upgraded as the season approaches. Junior wide receiver Paul Richardson suffered a torn ACL in practice on April 9th. Richardson underwent surgery on April 16th, and had been considered to be out for the season. Richardson has made remarkable progress this summer, and has indicated that he would like to play this season – even half a season – if it would help the team.
Richardson's coaches and doctors, though, will have a say. They understand that Richardson is doing well, and they appreciate that he is doing everything right in his rehabilitation. Still, the way Richardson plays – making cuts at full speed – is not something which they can even attempt at this point. It would be great to have Richardson back in 2012, particularly in a season where the Buffs are lacking in experience in the offensive skill positions, but Buff fans have to be realistic. Which would be better overall: 1) an 80%-90% healthy Richarson in 2012, and no eligibility after 2013?; or, 2) a Full Go Richardson for all of 2013 and 2014? (Granted, if Richardson opts to go pro after 2013, it would be better to have 1 1/2 seasons with Richardson than just one).
"Limited"
Only one player made this list, defensive back Sherrard Harrington. The red-shirt freshman suffered a bruised knee in the April 5th scrimmage, and has been kept out of practices since. Harrington, as you may recall, was one of the heralded recruits of the 2011 recruiting class, coming to Colorado from Washington D.C. as the No. 40 cornerback recruit in the nation.
"Day-to-Day"
Two players are on the CU injury "day-to-day" list.
Incoming freshman quarterback Shane Dillon underwent off-season (non-throwing) shoulder in February. While Dillon's injury will not prevent him from being a participant in fall drills, he will likely be limited enough. Head coach Jon Embree has indicated in preseason interviews that the race for the starting job at quarterback was a three man race – Jordan Webb, Nick Hirschman and Connor Wood. Dillon, Embree indicated, will be a participant, but, barring injury or meltdown by the other candidates, will red-shirt this fall.
The other "day-to-day" player on the CU injury list is defensive back Parker Orms. The junior has endured a multitude of injuries in his CU career, missing all but three plays in his red-shirt freshman year. Most recently, Orms suffered a severe hamstring strain in practice on March 13th. Orms will participate in drills during Fall Camp, but will have his "pitch count" limited, in order to reduce the chances of further injury.
"Full Go"
A total of ten scholarship players are listed as a "Full Go" for fall drills, including some names which will be welcome returnees to the CU roster of available players.
Senior linebacker Douglas Rippy is one of the players on the roster which are on the "absolutely cannot do without" list this fall. Rippy was leading the team in tackles when he suffered torn ligaments in his knee against Washington on October 15th last season. Rippy underwent surgery to his knee on November 15th, and had limited participation in the spring. When asked by Adam at BuffStampede.com, CU strength and conditioning coach Malcolm Blacken had this to say about Rippy: "Is he 99 percent right now? No, but I think he will be when it is time to play football for real."
Another senior Buff fans will be counting on is safety Ray Polk. The former running back suffered a wrist sprain in winter conditioning, and was only a minimal participant during spring drills. Polk has no limitations for fall practices, and is listed as the returning starter at free safety.
Unlike Polk, junior defensive tackle Nate Bonsu is not listed atop the pre-fall depth chart.  Bonsu underwent post-season shoulder surgery last November to clear up what was described as "chronic issues". While Bonsu has yet to have the injured asterisk removed from his name, he is listed as a "Full Go" for fall practices.
Sophomore quarterback Nick Hirschman was supposed to battle Connor Wood for the starting quarterback position during spring drills, but suffered fractures of both metatarsals in his feet, with the second coming just days before the start of spring practices. Hirschman has had three corrective surgeries, and will be a "Full Go" to compete for the starter's job this August.
Other "Full Go" players for Fall Camp:
– Offensive linemen Kaiwi Crabb and Ryan Dannewitz. Crabb, a junior, suffered a strained lower back in conditioning in February. Dannewitz, a senior, suffers from chronic lower back pain;
– Defensive backs Jered Bell and Will Harlos.  Bell, a sophomore, suffered a torn ACL on August 6th during fall practice No. 3. Bell was limited to individual drills during spring ball, but is listed as "Full Go" for this August. Harlos, a red-shirt freshman suffered a hamstring injury this spring, but participated in most of the spring drills anyway;
– Running back Malcolm Creer. The sophomore suffered a sprained ACL/MCL at Arizona State last fall. In the two games he played, Creer had 15 carries for 43 yards; and
– Kicker Will Oliver. The sophomore underwent shoulder surgery on March 27th to mend a chronic injury. There should be no limitations on Oliver's participation this August.
August 4th
Football GamePlan posts Pac-12 Preview
Colorado, not surprisingly, is predicted to finish 6th in the Pac-12 South. If you want to fast forward to the CU portion of the preview, it comes just after the 12:00 mark of the video:
July 30th
Nelson Spruce named to preseason All-Redshirt freshman team
CollegeFootballNews.com has come out with its All-Redshirt freshman team, and Colorado wide receiver Nelson Spruce made the team:
WR Nelson Spruce, Colorado
The Buffs are improved at quarterback now that Texas transfer Connor Wood is available, and are auditioning go-to receivers in the aftermath of Paul Richardson's torn ACL on April 9. No one has stepped up at the position more than Spruce, whose play even caught the coaching staff by surprise. The 6-2, 200-pounder has practiced like a different player in his second year, running good routes, rarely dropping balls and getting behind defenders with a long stride and deceptive speed. Even if Richardson's remarkable recovery gets him back on the field in the fall, Spruce still might be good for 35-plus catches.
Other Pac-12 players who made the list … Arizona State quarterback Michael Eubank; UCLA quarterback Brett Hundley; Oregon quarterback Marcus Mariota (yes, three quarterbacks from the Pac-12 alone); Cal wide receiver Maurice Harris; Cal offensive lineman Jordan Rigsbee; USC defensive end Greg Townsend, Jr.; Washington State linebacker Darryl Monroe; USC linebacker Anthony Sarao; and Arizona State Ezekiel Bishop. (That adds up to two players from Arizona State; two from USC; two from Cal; and one each from Colorado; UCLA; Oregon; and Washington State … none from Arizona; Utah; Stanford; Oregon State; and Washington).
July 28th
Notes of note
A few notes as we wait for fall camp to get started next weekend …
– Colorado will open fall camp without five scholarship players from 2011 … Sophomore defensive end Cordary Allen; sophomore offensive lineman Paulay Asiata; senior quarterback Brent Burnette; senior linebacker Vince Ewing; and red-shirt freshman wide receiver Austin Vincent.
– Colorado kept its coaching staff in tact over the off-season for just the second time since 1988 … and for the first time for a second-year staff since Bill Mallory kept all of his assistants for year two in 1974.
– Aces and spaces … Colorado had 28 seniors on the roster last season, the most since there were 30 on the 1987 roster. At the same time, 15 true freshmen saw action in 2011, the most for Colorado since the NCAA allowed freshmen to play in 1972. Counting red-shirts, CU played 25 freshmen last fall, including a total of 23 starts.
– The 2012 season will also be unique in Colorado history, with only eight seniors on the roster. The only season with fewer seniors on the roster was in 1995, when Colorado had only seven seniors. Unlike 1995, though, the eight seniors are not as decorated (and not as likely to post ten victories), as all seven seniors were invited to play in the Hula Bowl, likely the only time in NCAA history in which an entire senior class played in the same post-season All-Star game).
– The eight Colorado seniors for 2012 … offensive lineman Ryan Dannewitz (listed as co-starter at right tackle with Jack Harris); wide receiver Dustin Ebner (second at the Z-position behind Nelson Spruce); tight end Nick Kasa (listed as starter); linebacker Jon Major (listed as starter); defensive lineman Will Pericak (listed as starter); safety Ray Polk (listed as starter); defensive lineman Eric Richter (listed behind Will Pericak at defensive tackle); linebacker Doug Rippy (listed as starter).
– Out of 120 FBS schools, only Indiana, with seven seniors, has fewer seniors than does Colorado (Indiana went 1-11 last season, with the only victory coming over South Carolina State. Not much is expected coming from Hoosiers this season).
– Eight of the 11 top tacklers from the 2011 team return, including four of the top five – Jon Major; Ray Polk; Will Pericak; and Doug Rippy.
Fall Camp schedule
Below is the schedule of events for the month of August. Bear in mind that the practices will be closed to the press and public, so other than interviews with coaches and players after practice, much will be left to the imagination of the Buff Nation as to position battles and depth chart movement.
AUGUST 5— Players Report (by 4:00 p.m.; physicals, photos, equipment, compliance meeting, dinner, team meeting)
AUGUST 6 — Meetings, ^Walk-through (6:30-7:15a), Practice (4:45-6:15p)
AUGUST 7 – Meetings, ^Walk-through (6:30-7:15a), Practice (4:45-6:15p)
AUGUST 8 — Meetings, ^Walk-through (6:30-7:15a), Practice (4:45-6:15p)
AUGUST 9 — Meetings, ^Walk-through (6:30-7:15a), Practice (4:45-6:15p)
AUGUST 10 — Meetings, ^Walk-through (6:30-7:15a), Practice (4:45-6:15p*) First Day In Pads
AUGUST 11 — Two-A-Days / Meetings, Practice (Group I/7:30-9:15a; ST/8:45-9:15a; Group II/8:45-10:35; All/4:15-5:45p*) FOOTBALL/OLYMPIC SPORTS MEDIA DAY
(10:30-12:00 Lunch, Players/Assistant Coaches; 12:00 Embree; 12:45 Olympic Sports; 1:30 Men's Basketball/Int'l Trip Advance)
AUGUST 12 — Meetings, Practice (8:00-10:00a*), ^Walk-Through (4:45-5:45p)
AUGUST 13 — Two-A-Days / Meetings, Practice (Group I/7:30-9:15a; ST/8:45-9:15a; Group II/8:45-10:35; All/4:15-5:45p*)
AUGUST 14 — Meetings, Practice (8:00-10:00a*), ^Walk-Through (4:45-5:45p)
AUGUST 15 — Two-A-Days / Meetings, Practice (Group I/7:30-9:15a; ST/8:45-9:15a; Group II/8:45-10:35; All/4:15-5:45p*)
AUGUST 16 — Meetings, Practice (8:00-10:00a*), ^Walk-Through (4:45-5:45p)
AUGUST 17 — Meetings, Practice (8:00-10:00a*), ^Walk-Through (4:45-5:45p)
AUGUST 18 — Meetings, Practice (Scrimmage 12:00-2:30p*)
AUGUST 19 — Meetings, ^Walk-Through (11:30a-12:30p), Academic Meetings (p.m.)
AUGUST 20 — Two-A-Days / Meetings, Practice (Group I/7:30-9:15a; ST/8:45-9:15a; Group II/8:45-10:35; All/4:15-5:45p*)
AUGUST 21 — Meetings, Practice (8:00-10:00a*), ^Walk-Through (4:45-5:45p)
AUGUST 22 — Two-A-Days / Meetings, Practice (Group I/7:30-9:15a; ST/8:45-9:15a; Group II/8:45-10:35; All/4:15-5:45p*)
AUGUST 23 — Meetings, Practice (8:00-10:00a*), ^Walk-Through (4:45-5:45p)
AUGUST 24 — Meetings, Practice (8:00-10:00a), ^Walk-Through (4:45-5:45p) GLOBAL JAM
AUGUST 25 — Meetings, Practice (Mock Game 8:00-9:30a*) PHOTO DAY, SCHOLARSHIP LUNCHEON (team, private)
AUGUST 26 — No practice (team day off) AD WELCOME BACK PICNIC (no interviews)
AUGUST 27 — Meetings (2:15p), Practice (4:00-6:00p*) FIRST DAY OF CLASSES; GAME WEEK PREP BEGINS
AUGUST 28 — Meetings (4:00p), Practice (4:00-6:00p*) EMBREE KOA RADIO SHOW (7-8 p.m.)
AUGUST 29 — Meetings (4:00p), Practice (4:00-6:00p)
AUGUST 30 — Meetings (4:00p), Practice (4:00-6:00p) BOULDER CHAMBER OF COMMERCE LUNCHEON (11:30, Balch Fieldhouse)
AUGUST 31 — Meetings, Walkthrough (TBA)
SEPTEMBER 1— FIRST GAME: CU vs. Colorado State in Denver (Sports Authority Field; FX, 2:00 p.m.)
^ – walk-throughs (no balls or pads – do not count against 29 allowed practices in fall camp)
* – practices scheduled in pads