Colorado Daily – August
August 26th
Colorado selling twice as many tickets to RMS
And yet, there is still no discussion about moving the game back to campus sites …
The numbers don't lie – the Rocky Mountain Showdown has lost its luster.
From the Daily Camera … Attendance at the Rocky Mountain Showdown fell below 60,000 last year for the first time in the 11 games played in the 76,125-seat stadium. Two years ago, the programs attracted just short of 61,000 fans.
The schools provided ticket sales numbers for the game over the past 10 years to the Camera. CSU hasn't reached 30,000 in ticket sales in any of the past four games played in Denver, and sales for the Rams fell sharply in 2010 when they reported selling approximately 22,400 tickets and 2011 when they dropped to just 17,000. Colorado sold 33,722 in 2010 and 36,897 last year.
There is a clause in the contract with the Denver Metro Sports Commission that would allow the schools out of the contract after the 2014 game is the DMSC does not average $250,000 in net revenues for the sponsorships for the game from 2011-2014. The DMSC can opt out at the same time if the schools are not averaging at least 80 percent capacity.
And yet … Graham said when it comes time to talk about playing the game on campus again, he will insist the Buffs make more frequent visits to Fort Collins than they have in the past. CU is scheduled to play at Hughes Stadium in 2020 for a $1 million guarantee.
"We're not the least bit interested in the kind of conversations that have existed historically where there would be two games in Boulder and one game in Fort Collins," Graham said. "We're not interested in that in any way, shape or form."
Any help for Buff fans from the CU administration? Nope … "We honor our contracts and we have great respect for them as an institution," Bohn said when asked if there has been any consideration to moving the game back to campus. "Our collective institutional leaders worked hard to gain the respect and support of leaders throughout the state and we are working hard to build equity in the game in Denver and we recognize we have a way to go."
Sigh …
August 25th
From the Daily Camera … renderings of Folsom Field improvements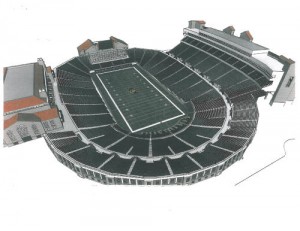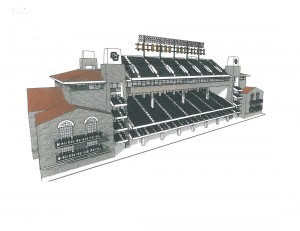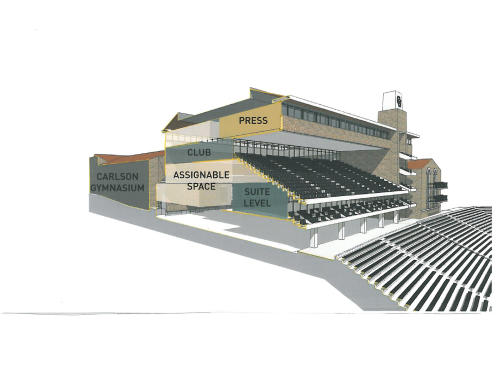 August 24th
CU facilities upgrades still a dream in the making
I don't know if you have been reading the Daily Camera series on the planned for / hoped for facilities upgrades, but it has been pretty depressing.
Today's article, which can be read in its entirety here, talks about what it will take for CU to realize the upgrades Buff fans feel are necessary for CU to compete in the Pac-12.
Some highlights, which illustrate how far CU is from realizing its goals:
If all of those proposed renovations and construction were done around the football stadium, it is believed it would cost somewhere between $175-$220 million.
The athletic department could potentially provide approximately half that money on its own by financing future Pac-12 television money. Eleven of the Pac-12 schools will begin receiving more than $20 million annually this year from the 12-year, $3 billion media rights deal signed with ESPN and FOX. Utah does not begin receiving a full share for another two years.
CU could use $5 million of that television money each year over the next 20 years to fund $100 million of the proposed renovations and construction, but that would still leave the department at least $75 million short of what it would need to reach the low side of the estimated cost.
…
What is clear in all of this is Colorado fans and donors must come through with an unprecedented level of giving to the athletic department if the full-scale project is going to be done any time soon.
Football coach Jon Embree said he understands it's a massive challenge for the athletic department, the CU Foundation, the school's fundraising arm, and fans, but he believes it's achievable. He said the impact of actually completing the renovations and construction in the next few years would be huge.
"One, I think it shows the commitment that we have," Embree said. "That has kind of been a knock on us when we're recruiting by other schools, 'Oh, they're not supportive of football.' So I think that would show it.
"… I think as college football continues to move in the direction it's moving in, those are the kind of things that you're going to need. You're going to need to show that you can provide for your athlete on and off the field."
Embree said the department is crammed academically with more than 300 student-athletes vying for computer time, tutors and space to study. He said the 21-year-old weight room is not big enough to allow the entire football team to lift together, let alone other student-athletes.
"There are a lot of things that affect the athletes that we could eliminate a lot of the problems with the facility," Embree said.
…
CU doesn't have a sugar daddy to foot the bill the way Oklahoma State has T. Boone Pickens or Oregon has Phil Knight. Athletic director Mike Bohn and staffers at the CU Foundation must generate new gifts — big and small — to make the project a reality. And if they want to make it happen soon, they must generate a lot of money in a short amount of time.
That has never been done before in the CU athletic department. Even in the late 1980s when a push was underway to build the Dal Ward Center, CU was only able to raise about $9 million of the $14 million needed. A last minute deal was struck with Coors, which donated the remaining $5 million in exchange for the naming rights to the events center indefinitely.
That happened at a time when CU was competing for national titles on the field and excitement around the program was at a high.
There are some indications the athletic department is at least on the right path in fundraising now. Last year, the department raised $11.7 million, which was second only to 2009, a year that was skewed by one $4.3 million donation left to the department in a will.
The athletic department has received less than 10 gifts in its history of $1 million or more. That fact demonstrates that CU has been more successful recently in raising money, but it also shows there is little history of CU supporters giving in large sums.
…
CU Foundation spokesman Jeremy Simon said CU has one of the lowest rankings among BCS conference schools when it comes to alumni giving back to the school. Simon said 8 percent of approximately 240,000 living alumni give back to CU. Obviously only a small percentage of that total are giving to athletics.
Simon said last year the Boulder campus raised a total of $45.5 million and about 30 percent of that came from alumni. Simon said about 1 percent came from students, which means CU received 69 percent of its donations last year from people who did not attend the school.
…
We were reaching out to people who didn't come to games. They didn't need football tickets. They didn't need basketball tickets. They didn't care. But they could endow scholarships and they could help us with capital projects or get involved at some level. And they would come back for a game or two and we would entertain them."
Gulbrand said CU is not relying on one major gift or waiting on one donor to fund the Folsom Field project.
"We're not going to be a department that is looking after the golden egg all the time," Gulbrand said. "We've got to find a lot of people that can help us."
…
"We've got to find a lot of people that can help us" … Safe to say that it hasn't happened yet.
CSU is set to announce next month that it is going to go ahead – with 21,000 average attendance, three consecutive 3-9 seasons, and no guaranteed future television revenue – with a $250+ million new stadium.
And CU can't find enough donors – with 50,000 average attendance, and guaranteed money from the Pac-12 in the $25-30 million per year range – to finance a $175-220 million wish list.
Sad. Sad. Sad.
August 22nd
CSU students have purchased less than half of allotted tickets
From the Coloradoan …
CSU has extended the date in which students may purchase tickets for the Rocky Mountain Showdown to Aug. 29, the athletics department announced Wednesday, five days after the original deadline.
Less than half of the 10,000 allotted student tickets, which went on sale July 26, have been sold. The Rams ticket office declined to give a current sales total and media relations didn't know exactly how many have been purchased, but said "more than 3,000."
Tickets have also dropped in price from $30 to $25, which includes processing fees.
Wow ….
Pac-12 Media Guide out online
If you are a stats junkie like me, media guides are must haves. Dave Plati's CU media guides – before the NCAA restricted their size – were stuff of legend. The last full blown media guide, in 2004, went on for over 400 pages.
Now, media guides are mostly just another click to an online link. CU's 2012 media guide is not yet up, but you can still spend some quality time with the "2011 Colorado Information Guide and Record Book" at this link.
Today, though, the Pac-12 Media Guide came out online. Here is a link, so that you can read or download your own copy.
If you aren't into "thumbing through" media guides, here are some notes of note I found this morning:
– USC has won 38 PCC (Pacific Coast Conference), AAWU (American Association of Western Universities), Pac-8, Pac-10, and Pac-12 conference titles, far and away more than the second place school, UCLA, which has 17 (the last in 1998). Next come Washington (15), Cal (13), and Stanford (10). Oregon, which has won the last three conference titles, has ten championships, followed by Oregon State (6), Washington State (4), Arizona State (3) and Arizona (1).
– For those of you counting at home, Colorado has won 26 conference titles in its history (eight as a member of the Colorado Football Association; one in the Colorado Faculty Athletic Conference; seven in the Rocky Mountain Athletic Conference; four in the Mountain States Conference; and six as a member of the Big 7/8/12). Other than the decade of the 1950's, which were dominated by Bud Wilkinson's Oklahoma teams, Colorado has won at least one conference championship in every decade dating back to the 1890's.
– Seven times teams have won the conference championship with two conference losses (the last coming in 2007, when USC and Arizona State tied). No Pac-12 team has rebounded from an 0-2 start in conference play to win a conference title.
– Only five teams in the Pac-12, including Colorado, have had a Heisman trophy winner in their history. Only USC (which has had six), UCLA, Oregon State, Stanford, and Colorado have had Heisman Trophy winners amongst Pac-12 schools. Other than USC, no Pac-12 school other than Colorado has had a Heisman trophy winner since 1970 (Stanford's Jim Plunkett).
– Colorado has had 28 Consensus All-Americans (the last being Jordon Dizon in 2007). That total ranks Colorado fifth in the conference, well behind USC and UCLA, but right behind Stanford and Cal, with 29 apiece (takeaway pre-1950 nominees, and CU loses only Byron White, while Cal loses 11 members from the list; Stanford 13). Bringing up the rear in the Pac-12, in terms of Consensus All-Americans, are Utah, with 4, and Washington State and Oregon, with five apiece.
– With the addition of John Wooten, an All-American guard for the Buffs in the late 1950's, CU will have six former players in the College Football Hall of Fame. This total compares favorably with fellow Pac-12 members Utah (0), Oregon State (2), Arizona (3), Washington State (3), Oregon (5), and Arizona State (6). USC, not surprisingly, leads the league, with 29, followed by Stanford (17, last being John Elway, 1979-82), Cal (16, last being Steve Bartkowski, 1972-74), UCLA (10) and Washington (9).
August 21st
Drew Litton – says it all …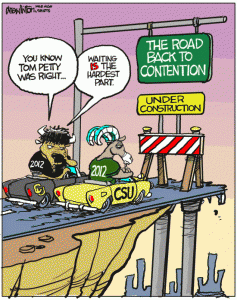 Pac-12 Networks update
As I am in the land of the satellite dish, and have no access to the Pac-12 Networks, I cannot report on how the six-day old Networks are faring.
Here is one report, though, from a CU at the Gamer in Denver … In no particular order: 1) in Denver, Comcast carries the mtn portion, the national appears to be on a sports tier; 2) HD version of mtn is not yet functioning; 3) the streaming portion of the pac-12 net is not yet up, Comcast seems to be quite slow in getting this going; 4) nice intro to the conference for Colorado – a) some classic games were replayed, the '91 orange bowl was one of them, the old nbc broadcast was nicely mixed with current pac-12net interviews (CJ, Hagan, Mac) – b) the CU preview was nicely done; I have copies of each that play in WMP on windows computers; 5) general production values seem quite high, overall quality is good; 6) there are many commercial breaks and the pool of sponsors seems quite broad – a good sign for the network being cash flow positive in its first year; 7) CU, for all its ineptitude over the last 7 or so years is given a fair shake; 8) there is an ambitious programming schedule, beginning next weekend; 9) neuheisel was not annoying and was very gentle with CU.
For those still interested in when and how a satellite deal will be finalized, here is the latest from Jon Wilner at the San Jose Mercury News … Having pieced together information from various sources, it appears the Pac-12 and DirecTV are close to a carriage deal.
Does that mean an agreement in the next few hours … or days … or next week? I'm not sure of the exact timing. And as with any negotiation, last-minute snags are always possible.
But it sure seems like only that — a last-minute snag — will prevent the two sides from reaching a deal prior to the start of the football season.
If/when they do partner up, it won't take long for the Pac12Nets to begin airing on DirecTV — the groundwork is already being laid for signal transmission, according to sources.
A deal with DirecTV could be the only hope for thousands of Pac-12 fans in at least two major metro areas across the country.
Based on what I've heard from readers and info provided by the Pac-12′s channel finder, it appears neither Cox nor Comcast will make the National feed available in Chicago and Washington, D.C./Northern Virginia.
And if the Pac12Nets are not offered on your local cable system, you cannot access them online — even if you have a subscription to Comcast or Cox.
Other Pac-12 Networks thoughts: Because I'm sure some fans will ask, or wonder: I've heard nothing about a deal with Dish.
Subscribers to that satellite operator should begin making other provider plans if the Pac12Nets are important to you. Dish has a different business model than DirecTV — sports aren't nearly as important and, as result, a carriage agreement isn't nearly as likely.
August 20th
WAC may go the way of the dodo bird
From ESPN …The commissioner of the Western Athletic Conference says it has become apparent the league is "unlikely" to have enough football members to compete next season.
Jeff Hurd tells The Denver Post the conference is now emphasizing simply having enough members to remain a Division I non-football league.
Hurd told the newspaper that in July "it became apparent that it was unlikely we could continue with football."
The WAC still needs to add two to three new members for 2013 in order to have the seven required by the NCAA to be a Division I conference.
Hurd says the conference will do everything possible to avoid shutting down, but "there aren't any obvious answers out there."
The WAC now has seven football members, though five have plans to leave next year.
Colorado ranked No. 28 on all-time list of college football teams in AP polls
CollegeFootballNews.com has published the rankings of college football teams, based upon how teams fared in the final Associated Press poll since the poll was introduced in 1936.
Since the AP poll is the only consistent ranking system from 1936 through today, CFN came up with a scoring system to compare and contrast how the programs finished over the decades. Every time a team finished No. 1 in the final poll, it got 25 points. The No. 2 team got 24 points, No. 3 got 23 points, and so on with the No. 25 team getting one point. Through the decades, the AP ranked the top ten teams for a few years before going back to the top 20 rankings, and eventually, it went to the top 25 system it's at now.
The top ten teams …
1 Oklahoma 946.5
2 Michigan 919
3 Ohio State 908
4 Alabama 874
5 Notre Dame 872.5
6 USC 757
7 Texas 750.5
8 Nebraska 701
9 Tennessee 678
10 Penn State 645
Colorado comes in at No. 28 in the survey of final AP polls, fourth in the Pac-12, behind USC, UCLA (No. 15), and Washington (No. 21).
The rest of the Pac-12 … Arizona State (No.33); Cal (No. 38); Stanford (No. 43); Oregon (No. 47); Oregon State (No. 55); Washington State (No. 56); Arizona (No. 69); and Utah (t-70). Colorado State, in case you were wondering, came in at No. 89.
While the last six years of losing seasons certainly have not helped Colorado's cause in the AP final rankings points list, the No. 28 ranking is fairly consistent with where the Buffs fit in on other NCAA all-time lists. Colorado is 21st on the all-time wins list, with 674, and 28th in all-time winning percentage. In the Pac-12, only USC has won more games all-time, while only USC, Washington, and Arizona State possess have higher winning percentages.
August 19th
Associated Press poll tabs USC as No. 1 team
Others receiving votes: Notre Dame 83, Washington 55, Auburn 53, North Carolina 32, Utah 30, Georgia Tech 25, Brigham Young 22, Tennessee 15, South Florida 11, Baylor 9, Texas A&M 5, UCF 4, Missouri 3, North Carolina State 3, Cincinnati 3, Houston 1, Louisiana Tech 1, Mississippi State 1, Northern Illinois 1
For those of you painfully keeping track at home, the last time Colorado was ranked was in November, 2005. The last time Colorado appeared in a preseason poll was 2002.
USC sits atop the preseason national rankings for a seventh time. The Trojans would have been down a rung had it not been for LSU losing its Honey Badger. The Tigers were poised to start the season No. 1 before Heisman Trophy finalist Tyrann Mathieu got kicked off the team a week ago.
In light of that development, the AP extended the voting deadline. Before Mathieu was dismissed, reportedly for failed drug tests, LSU had received 28 of a possible 60 first-place votes. USC was a close second with 22 first-place votes and Alabama was third with nine.
The SEC leads the poll with six teams, followed by the Big 12 and Big Ten with five each. The Pac-12 and ACC have three teams each, while Louisville, in at No. 25, is the only Big East team in the top 25.
August 16th
Webb tabbed as starter at quarterback despite stats, status and stature
Time to get (re)acquainted with the Buffs' newly appointed starting quarterback, Jordan Webb.
High school …  A four-year letterwinner at Union high school in Missouri, Webb was a two-time all-state first team selection at quarterback. Webb was considered by both Rivals and Scout to be a three-star prospect. Rivals rated Webb as the No. 28 pro-style quarterback from the recruiting Class of 2009, while Scout considered him to be the No. 44 quarterback nationally. (For comparison's sake, Colorado had two quarterback recruits from the Class of 2009, Clark Evans and Josh Moten. Both were also considered to be three-star prospects. Evans is no longer with the program, while Moten has moved to defensive back).
While at Union high, Jordan Webb was ranked as the 13th-best player in the St. Louis metro area by the St. Louis Post Dispatch… As a sophomore he was all-state second team… As a senior he threw for 3,100 yards and 31 touchdowns while rushing for 1,024 yards and 24 touchdowns… During his senior year, Webb led his team to an 11-1 record, advancing to the state sectionals… As a junior he threw for 3,832 yards and 46 touchdowns… Webb also played basketball and earned all-conference honors as a sophomore.
At Kansas … Webb enrolled early in 2009, but still sat out the season as a red-shirt. As a red-shirt freshman in 2010, Webb started seven games. Webb started games two through seven before being injured in the Texas A&M game and missing three contests. He then came off the bench against Oklahoma State and then started the season finale against Missouri. As a whole, the Jayhawks did not fare well in 2010, stumbling to a 3-9 record. In fact, the only Big 12 victory for Kansas came in the 52-45 victory over Colorado which cost Dan Hawkins his job (Webb did not play in that game). For the 2010 season, Webb was 121 of 214 for 1,195 yards and seven touchdowns in nine appearances. His 1,195 passing yards were the second most by a freshman in KU history, with his 56.5 completion percentage tied for 10th in Kansas history. In first collegiate start, an upset victory over Georgia Tech, he was 18 of 29 for 179 yards and three touchdowns.
Before the 2011 season, there was debate as to who should be the starting quarterback for the Jayhawks. When it was announced that Webb would be the starter over several other candidates (including incoming freshman Brock Berglund from Colorado), Phog.net had this to say: "In addition to little things such as depth, speed and health, the 2010 Kansas Jayhawks were short one other element typically important to success – continuity under center. That's why head coach Turner Gill's announcement that Jordan Webb would be his starting quarterback in the season ahead is not just the safe choice, it's the right one."
Of course, things did not work out for either Webb or Gill. After winning the first two games of the season over weak competition (McNeese State and Northern Illinois), Kansas finished the season with a ten game losing streak, costing Gill his job. Webb saw most of the action behind center, going 179-for-281 for 1,884 yards. Webb completed 63.7% of his passes, but had only 13 touchdowns to offset 12 interceptions (with six of those touchdown passes coming in the first two weeks of the season. In the last five games of 2011, all losses, Webb had one touchdown pass and seven interceptions).
Here are YouTube highlights from Webb's 2011 season at Kansas:
When Turner Gill was fired, Kansas turned to former Notre Dame head coach Charlie Weis. The writing on the wall was soon evident, as first Notre Dame castoff Dayne Crist transferred to Kansas, then former BYU star Jake Heaps. Webb did not fit into Weis' plans, despite his efforts in Lawrence. "No one could fault Webb for wanting out." wrote Matt Conner for SBNationKansas City last December. "It's clear he's not wanted here and that his only chance will be if someone else falters. Fair or not, he cannot change the fact that he's caught in the middle of a complete overhaul of KU football. While it's what everyone has wanted, some good people can get caught up in the undertow."
Webb did have one note on his resume which was appealing to other teams – he was graduating in the spring of 2012, and, under NCAA rules, would not have to sit out a year upon transfer. Webb had two years of eligibility remaining, and could start immediately. Webb visited Boulder during spring practices, and formally became a Buff after his graduation from Kansas.
Reading the Tea Leaves … It would be fair to ask how a quarterback who has only a month in Boulder under his belt can so quickly beat out two players who have been in the system for over a year. It is also fair to question Webb's stats (only one victory – over Georgia Tech – against BCS competition), his status (ten practices into his CU career) and his stature (Webb is listed at either 6'0″ or 6'1″, but either measurement is considered generous (Connor Wood  is listed at 6'3″; Nick Hirschman at 6'4″).
"You know how I am," Embree said of his surprise decision to name Webb as the starter so early into Fall Camp. "If I feel it's right, I'm going with it.
"His biggest attribute is that he's played in 19 games," Embree said. "None of these other guys have played in a game. Nick played a little bit against Arizona State. None of these guys have played meaningful minutes. You can see that he's played in some games. He does a good job of working the pocket. He reminds me of Koy Detmer a little bit in that he has unique ways of getting the ball to the right guy. He doesn't have the biggest arm. But he generally gets it there on time and it's a fairly catchable ball."
"Obviously, the experience shows, the poise shows," added CU quarterbacks coach Rip Scherer. "He was able to transfer terminology. Concepts are concepts, but he was able to transfer the terminology relatively quickly. There's still a learning curve for him, but he really progressed quicker than I thought he would."
But what of Nick Hirschman and Connor Wood? A fair conclusion is that each was given every opportunity to win the starting job, but failed to convince the coaches that they were up to the task. Hirschman had an opportunity last fall, getting a start when Tyler Hansen was injured. Perhaps a road start against Arizona State was not the best place to begin a career, but Hirschman did not deliver. Then, with his three foot surgeries, Hirschman was not able to compete this spring, further harming his chances.
Connor Wood was a celebrated transfer last September. Coming to Boulder from Austin, many thought Wood was the future of the program. Wood received rave reviews for his scout team work last fall, and was poised – with Hirschman's foot injury this spring – to take over the starting position. Wood pretty much had the first team to himself during all of spring practices, but was not impressive enough for the CU coaching staff to close the competition for the starting position.
Best guess? Reading Embree's and Scherer's comments about accuracy, experience, and poise give clues. Colorado will open the 2012 season with a new running back (Tony Jones, two career starts), two new wide receivers (Tyler McCulloch, two career starts; Nelson Spruce, no career starts), and a new tight end (Nick Kasa, one career start on defense, moved to tight end in the off-season). Asking an inexperienced quarterback to take charge of those players may have been too much. Webb gives the Buffs a quarterback who has played before large crowds before.
Is that enough reason to give Webb the keys to the offense so early?
Time will tell.
August 15th
Kisima Jagne cleared by NCAA
From our friends at allbuffs.com, where a Jagne family member has been posting on the status of Kisima Jagne, who has been fighting with the NCAA all summer to get one of the stars of the 2012 recruiting class qualified …
"Kisima 'khavoc' jagne, has 'finally' been cleared by the ncaa to resume his athletic journey, by playing with the future pac-12 champions and potential national champions…the university of colorado bufaloes.
"We will tell you the real reason very shortly on what has transpired over the last couple of months, but rest assured, he is very appreciative of the love recieved by colorado fans, and cannot wait to get started!
"So during the summer, kisima has been working out at "the pit" in az with current and former arizona cardinals. They have been in his ear showing him the necessary work ethic needed to no only be sucessful but to overcome adversity."
Great news for the Buff Nation, as well as for Jagne and his family, who never wavered in their commitment to Colorado and the Buffs!
Note – Jagne will still be a gray-shirt candidate and will not be in uniform this fall. NCAA rules only allow 25 new players to be signed for any one year. Colorado, with the true freshmen who reported in August, along with transfer Jordan Webb, already have 25 new players in uniform for 2012. Jagne will be able to enroll in January, though, and will still have five years to play four for the Buffs.
August 14th
Predicting records for first year head coaches
Colorado faces six teams with new head coaches in 2012, five in the first six weeks of the season.
Stewart Mandel of Sports Illustrated has posted his predictions for how the first-year head coaches will fare in their first year. Here, in order, is how the Buffs' opponents are rated:
Jim McElwain, Colorado State: 5-7. The former Alabama offensive coordinator should get the Rams (3-9 the last two years) closer to respectability. (Note to Stewart: it's actually been three straight years of 3-9 records, but who's counting?).
Tim DeRuyter, Fresno State: 8-4. Veteran quarterback Derek Carr and tailback Robbie Rouse will thrive in the Bulldogs' new no-huddle spread.
Mike Leach, Washington State: Leach, out of coaching since 2009, brings his patented Air Raid offense to Pullman, to the delight of veteran quarterback Jeff Tuel and preseason All-America receiver Marquess Wilson. The pair could become Leach's Northwest version of Harrell-to-Crabtree. The Cougars' defense has been atrocious for years, and coordinator Mike Breske, formerly of Montana, brings a high-risk, high-reward blitz-heavy philosophy. Wazzu will score lots of points and give up lots of points, but a favorable schedule should enable Leach to take the school to its first bowl since 2003. Predicted 2012 record: 6-6.
Jim L. Mora, UCLA: No question, the Bruins were mediocre under Rick Neuheisel, but he did not leave the cupboard bare. Mora should have his biggest impact on defense, where UCLA ranked just 89th nationally last season. Defensive end Cassius Marsh leads a talented and experienced line. Neuheisel never did develop a consistent — or healthy — quarterback. Fans are hoping touted redshirt freshman Brett Hundley can overtake veterans Richard Brehaut and Kevin Prince. In the meantime, Mora will ride productive tailback Johnathan Franklin. Predicted 2012 record: 7-5.
Todd Graham, Arizona State: It's hard to remember now, but the Sun Devils were 6-2 and first place in the Pac-12 South last year before losing their last five, ensuring Dennis Erickson's ouster. And that was with a veteran team. Graham's first squad returns just eight starters, and no experienced quarterback. He does inherit a deep backfield, led by senior tailback Cameron Marshall and impressive juco transfer Marion Grice. The defense, decimated by injury last year, could improve slightly from its No. 91 ranking with a strong defensive line and the return of linebacker Brandon Magee. Predicted 2012 record: 4-8.
Rich Rodriguez, Arizona: The former West Virginia and Michigan coach is thankful to predecessor Mike Stoops for redshirting dual-threat quarterback Matt Scott last season. The fifth-year senior is 4-1 as a starter and is a natural fit for Rodriguez's spread offense, which could be formidable right away thanks to five returning offensive line starters. Rodriguez is not as thrilled with the mess he inherited on defense. The Wildcats ranked 110th nationally last season and are thin in numbers at several positions. It may take more than a year to get back on the right side of .500. Predicted 2012 record: 4-8.
August 13th
Best-case/Worst-case scenario
An annual must-read by ESPN.com's Ted Miller is the best case/worst case scenarios for the upcoming season.
So that you will give Mr. Miller his due, I won't reproduce the piece in its entirety – which you can read here – but here are some of the "best case" highlights from the article:
Colorado wallops the Rams 42-28, with Jordan Webb throwing two touchdown pass and rushing for another.
The Buffs whip Sacramento State 44-10 and then win their second consecutive true road game outside the state with a gritty 28-24 win at Fresno State.
"Good teams have to win on the road," defensive tackle Will Pericak tells reporters. "We lost 24 games in a row on the road because we weren't a good team. We're different now."
…
The Buffs pick up their third road victory of the season with a 40-35 win at Arizona, and they shock Washington 30-28 when Major returns a fumble from Huskies quarterback Keith Price 44 yards for a late fourth-quarter touchdown.
…
Colorado beats the No. 19 Utes 28-20 and earns a berth in the Holiday Bowl.
The Buffaloes beat Texas 13-10, their fans serenading the Longhorns with chants of "Pac-12!" After the game, Major blasts "Someone like you." And everybody does, in fact, cry.
The Buffs finish ranked 24th. Just ahead of No. 25 Nebraska.
The snow comes early and often and is most righteous.
…
I won't give you the worst-case scenario … but it does conclude with Colorado ending with another three win season.
Let's go with the best-case scenario, shall we?
August 10th
Colorado to open with a quarterback rotation?
"When you say you have two quarterbacks, you are saying you have none".
What do you do when you have three quarterbacks?
With Connor Wood, Nick Hirschman and Jordan Webb battling for the title of starting quarterback, CU's assistant head coach and quarterbacks coach, Rip Scherer, hinted that the battle might continue into the season.
Scherer told the Daily Camera that it's not ideal, but he wouldn't be averse to playing two quarterbacks in the first two games if it's necessary to decide who the starter should be for the rest of the year. He would prefer one of the three players competing for the position steps up and claims the job in practices this month, but decades of experience in the game has taught him it doesn't always work out that way.
"We don't treat it like preseason, but to let it play itself out a week or so into the season, we may have to do that," Scherer said. "The one thing I think we don't want to do is say, 'We're going to have a starter by this date.' Because you may not make the right decision or the best decision."
Scherer said adding Webb and his experience has made it a little easier to sleep at night versus going into the season with virtually no game experience at the quarterback position. That doesn't mean Webb is the favorite to win the job. He has to earn it. Scherer noted that regardless of who the starter is, the man will have little to no experience in the CU offense in a game.
So how will coaches ultimately choose a starter? Scherer said it's no different this year than it was a year ago when Tyler Hansen beat out Hirschman. Hansen moved the team more consistently, made solid decisions with the football and showed leadership on and off the field.
"No. 1, it's productivity," Scherer said. "Sometimes the ugliest guy can take the team down the field consistently and cross the end zone. As I tell them in evaluation, I have a list of things that I evaluate them on and the bottom line is, who takes the offense and scores points? That's the bottom line. Now, who is the best decision-maker and once we get it down to a couple, who emerges as a leader? Who has that leadership component?"
… Who, indeed …
August 8th
CU signs partnership agreement with McDonalds
How long before the Ralphie Burger makes an appearance …?
From cubuffs.com … McDonald's is kicking off the new collegiate school year with the announcement of its partnership with the University of Colorado Athletic Department. The new partnership will cover the 2012 – 2014 athletic years giving students, alumni and fans alike year-round exclusive offers.
As part of the partnership, McDonald's and the Buffs are giving students, alumni and fans the opportunity to pick up a CU branded Arch Card® at McDonald's. Each time they show their Arch Card (at participating locations), they will receive a FREE Medium French Fries with purchase of a regular menu sandwich. Cardholders will also gain access to offers and discounts on CU tickets, apparel and merchandise.
Additional elements of the partnership include McDonald's and the Ronald McDonald House Charities hosting a RMHC day at select basketball, football and volleyball games. As part of the partnership, families staying at the Ronald McDonald House will be given the opportunity to attend the game. An on-field/on-court presentation will be given by RMHC representatives and attendees during the chosen games. McDonald's and CU will also be implementing fundraisers for RMHC throughout the year.
"McDonald's owners/operators around the region are proud to partner with institutions like the University of Colorado to demonstrate our commitment to our consumers and show support for our state's collegiate schools," said Juan Samour, local McDonald's owner/operator. "We look forward to activating this partnership in a meaningful way by offering both McDonald's and CU's biggest fans and alumni the best promotions and value across the state throughout the year."
"We are pleased to partner with one of the most recognized leaders in Colorado in a collective effort to engage the statewide community," said CU Athletics Director Mike Bohn. "When you add a marketing powerhouse as successful and proven as McDonald's, it broadens our reach and opens new opportunities to offer even more value to the fans and customers we collectively interact with every day."
August 7th
Colorado players involved in AirSoft gun incident
UPDATE … Three players have been disciplined as a result of the AirSoft incident last weekend. Junior TE/WR DaVaughn Thornton and freshman wide receiver Jeffrey Thomas, have been suspended for the first two games of the season, while red-shirt freshman linebacker Jermane Clark has been dismissed from the team. Thornton, who has vacillated between tight end and wide receiver during his career, was listed fourth at the Z wide receiver position in the pre-fall depth chart. Clark, who sat out last season, was listed as the No. 4 Will (Inside) linebacker. (Note: some posters have hinted that there may be other factors which contributed to Clark leaving the team. I will post them if they are confirmed).
From the Daily Camera … Ten Boulder police officers were called to respond when two cars containing eight University of Colorado football players were pulled over early Saturday morning after witnesses thought the AirSoft gun they were pointing at each other was a real gun, according to police.
According to a newly released police report, Jered Bell, 20, Keenan Canty, 19, Jermane Clark, 21, Joshua Moten, 20, Jeffery Thomas, 18, DaVaughn Thornton, 21, Paul Vigo, 22, and Derrick Webb, 20 — all current CU football players — were in the two cars. Paul Vigo's brother Moses Vigo, 18, was also in one of the cars, but is not a CU football player.
No arrests were made nor any tickets given, but Boulder police, according to the report, planned to raise concerns with CU's Athletic Department about the athletes and the "impact their behavior had on police services throughout the entire city at the time of the incident."
CU football coach Jon Embree released a statement about his players.
"This behavior is never condoned by our university or our program, and the players who were involved will be disciplined appropriately," Embree said.
Four of the players and Moses Vigo were simply getting rides home when the other four began playing with the AirSoft gun, CU athletics officials said.
According to the police report, around 2 a.m. Saturday, police were waved down near Broadway and Pennsylvania Avenue by a woman who said she saw a passenger in a silver sedan pointing a gun at another car next to the sedan.
Police caught up to the two vehicles — an Audi A6 and a BMW X5 — near Broadway and Canyon Boulevard, where both cars were pulled over. The officers responding called for backup, and a total of nine police officers and sergeants responded to the scene.
The men said they were just playing around with the gun and that they all knew each other. An officer disassembled the gun before returning it to Clark.
No arrests were made and no tickets were issued.
However, according to the report, all of the players were referred to CU's student affairs office and a sergeant was planning to talk to officials in CU's Athletic Department to "discuss the conduct of the athletes and the impact their behavior had on police services throughout the entire city at the time of the incident."
Here is a link to a website which sells AirSoft guns.
August 6th
Embree challenges players
Enthusiasm mixed with grim determination.
That's what the Colorado coaching staff is looking for from the CU players this August, as preparations begin today for the season opener September 1st.
From cubuffs.com … "Who are we? Who are the Colorado Buffaloes?" Embree asked his assembled players, assistant coaches and other athletic department staffers in the Dal Ward Athletics Center auditorium. "They're the defending fifth-place team in the Pac-12 South. Sounds pretty good doesn't it? The defending fifth-place team that's predicted to finish sixth. Is that who we are?"
Embree doesn't believe it is, telling of "having the privilege" of being part of a CU team in 1984 that finished 1-10 with 20-plus point losses to Notre Dame, Missouri, Oklahoma and Kansas State.
But the 1985 Buffs took a huge bounce up, finishing 7-5 and laying the groundwork for incremental improvement that would carry CU to its first national championship in 1990. [Note: In order to end a run of then a school-record string of six straight losing seasons, Bill McCartney threw out the pro-style offense he had used in his first three seasons as head coach – compiling a 7-25-1 record – opting to install a wishbone offense over the off-season. No indication the Colorado offense will undergo such a drastic turnaround this fall].
"I share that with you because I've been in your situation; I've been in your seat," he said, then reminding his players that last season's team goal was to win a road game and this season's goal is to reach a bowl game, which would require at least six wins.
"This team has more talent than that one (that rebounded for a 7-5 finish)," he continued. "The difference was, we really believed it . . . You've heard me say it: We hoped to win a lot last year. We didn't really believe we could win. Part of that belief is confidence and confidence comes about through preparation."
"What are we going to say about you guys?" he asked. "Next year's coming . . . is winning one road game in five years an impressive resume? What do we want to say about you guys (next season)? That we won a road game? That's it?
"Are you going to be about what we say we want to do? If we will be about what we say we want to do, there's no doubt we'll be doing something in December or January (at a bowl). We've got talent on this team. People outside this room don't know it, but we've got some players. And I believe we've got heart. I believe that heart's been developed. I believe that mental toughness we need to win has been developed."
Embree reminded his players that they "were chosen to be here, we chose to bring you here. You chose to be a part of it . . . you got it? And it starts (Monday). Understand this: you guys do what you're capable of doing, it'll be one of the best experiences of your life. But you've got to truly believe. You understand that? And the way I can tell if you truly believe that is by what your actions say. Are you about what we're trying to be about? (Monday) starts the first day of our journey and it's not going to end until January."
August 5th
2012 Welcom back video
Below is a video shown to the players at the first team meetings on Sunday. Note the quote: "Believe and love what we are doing. Success will come":
http://vimeo.com/46885275
Are you ready for some football?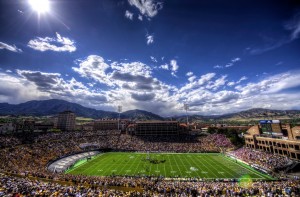 August 4th
Emma Coburn advances to Olympic finals
For the second consecutive Olympic Games, there will be a University of Colorado student-athlete in the finals of the 3,000-meter steeplechase as senior Emma Coburn easily advanced on Saturday morning.
She follows in the footsteps of former Buff Jenny (Barringer) Simpson who finished ninth in the event at the 2008 Beijing Games. Coburn finished the race in 9 minutes, 27.51 seconds, the second fastest time in her career.
She was third in the second section of the event, earning one of the four automatic qualifying positions. Her time was the 11th best of the day. She will run in the finals on Monday at 2:05 p.m. MST (9:05 p.m. in London).
Coburn's CU teammate, Shalaya Kipp, finished 12th in the first heat, and did not advance to the finals.
Another Buff, Dathan Ritzenhein, competed in the men's 10,000 final on Saturday afternoon, finishing 13th. Ritzenhein was a four-time All-American for Colorado, and is a former American record holder in the 5K.
On Sunday, Kara (Grgas-Wheeler) Goucher will compete in the women's marathon. Goucher was a three-time NCAA champion, a seven-time All-American, and a member of the CU Hall-of-Fame. This is Goucher's second Olympics, having participated in the 5K and 10K in the 2008 Olympics in Beijing.
August 3rd
Teams with 5-7 records may become bowl eligible
Where was the NCAA in 1997, 2003, 2008, and 2010?
Had an NCAA rule, adopted this week, been in effect over the past 15 years, Colorado might have played in another four bowl games (and perhaps – shudder – saved Dan Hawkins' job).
From ESPN … The NCAA's Board of Directors on Thursday approved a new selection process for bowl games that includes a possibility for teams that finish 5-7 to be selected to bowls.
Under the new measure, if there are not enough bowl-eligible teams, or if a bowl cannot be filled by its conference affiliations, the open spots would be filled through a six-tier tiebreaking process.
The 5-7 teams, if they have a top-five score on the Academic Progress Rate, can enter at the bottom of the process.
Ordinarily, teams need to finish with a minimum .500 winning percentage with at least six wins — five against other Football Bowl Subdivision teams — to be bowl eligible. A sixth win against a Football Championship Subdivision team only counts if the FCS school meets scholarship requirements.
Now, first consideration will go to 6-6 teams with a win against any FCS teams, regardless of scholarships, then 6-6 teams with two wins against FCS schools.
A team that finishes 6-7 and loses in a conference championship would be next, followed by 6-7 teams that normally play a 13-team schedule, such as Hawaii and its home opponents.
Then bowls could then invite FCS teams making the move to FBS, if they have at least a 6-6 record.
Finally, a team with a top-five APR that finishes 5-7 could be selected.
In my run through of the Buffs' 2012 season, I picked Colorado to finish with a 5-7 record. If such a record comes to pass, it would still be unlikely that Colorado would earn a bowl bid under the above scenarios. With the non-conference slate of fellow Pac-12 teams (most will start conference play with 3-0 or 2-1 records), it is likely that there will be more than enough teams in the conference which will finish with winning records.
Still, another small opening has presented itself for Colorado to go bowling with a losing record.
We'll take what we can get …
August 2nd
Coaches' poll released
The preseason coaches' poll has been released, and it follows the form most expected, with last year's national championship combatants, LSU and Alabama, ranked at No. 1 and No. 2.
The only other team to receive first place votes was USC from the Pac-12. The only other teams from the Pac-12 which will be ranked when the season kicks off in four weeks were Oregon, in at No. 5, and Stanford, at No. 18. Amongst the teams receiving votes, two more Pac-12 teams made the grade. Washington came in just outside the poll, at No. 26, while Utah rated a No. 32 overall ranking.
For those of you scoring at home, the last time Colorado was ranked in a preseason poll was ten years ago, when the Buffs, coming off of a Big 12 championship season, started the season ranked No. 7.
The last time Colorado was ranked at all was November 6, 2005, when CU was ranked 22nd before a meltdown on the road against Iowa State marked the beginning of the losing streak which ended the Gary Barnett era in Boulder.
| | | | | |
| --- | --- | --- | --- | --- |
| RK | TEAM | RECORD | PTS | PVS |
| 1 | LSU (18) | 0-0 | 1403 | 2 |
| 2 | Alabama (20) | 0-0 | 1399 | 1 |
| 3 | USC (19) | 0-0 | 1388 | NR |
| 4 | Oklahoma | 0-0 | 1276 | 15 |
| 5 | Oregon | 0-0 | 1258 | 4 |
| 6 | Georgia | 0-0 | 1061 | 20 |
| 7 | Florida State | 0-0 | 1055 | 23 |
| 8 | Michigan | 0-0 | 1023 | 9 |
| 9 | South Carolina | 0-0 | 981 | 8 |
| 10 | Arkansas | 0-0 | 948 | 5 |
| 11 | West Virginia | 0-0 | 833 | 18 |
| 12 | Wisconsin | 0-0 | 743 | 11 |
| 13 | Michigan State | 0-0 | 717 | 10 |
| 14 | Clemson | 0-0 | 598 | 22 |
| 15 | Texas | 0-0 | 549 | NR |
| 16 | Nebraska | 0-0 | 501 | 24 |
| 17 | TCU | 0-0 | 499 | 13 |
| 18 | Stanford | 0-0 | 497 | 7 |
| 19 | Oklahoma State | 0-0 | 476 | 3 |
| 20 | Virginia Tech | 0-0 | 461 | 17 |
| 21 | Kansas State | 0-0 | 398 | 16 |
| 22 | Boise State | 0-0 | 271 | 6 |
| 23 | Florida | 0-0 | 250 | NR |
| 24 | Notre Dame | 0-0 | 166 | NR |
| 25 | Auburn | 0-0 | 66 | NR |
Others receiving votes: Washington 64, Louisville 46, Georgia Tech 35, Cincinnati 32, Texas A&M 28, Baylor 23, Utah 22, Mississippi State 21, SOUFLA 12, NCSTATE 11, Louisiana Tech 10, Brigham Young 10, Virginia 9, Houston 7, Southern Miss 6, Rutgers 5, UCF 5, Tennessee 3, Missouri 3, FLAINTL 3, Northern Illinois 2, TEXASTECH 1
Jon Major unleashed
This has been posted before, but fall camp opens this weekend, so it's time to get fired up about one of the Buffs' best returning players, senior linebacker Jon Major …
Pac-12 teams amongst the most underrated
Pollspeak.com has compiled a list of the most overrated and underrated teams over the past five seasons. The list took a look at preseason polls, then compared them to final poll rankings for seasons 2007-2011.
It will likely not come as a surprise to Buff fans that amongst the top five nationally are old friends from the Big 12, Nebraska (in at No. 5) and the Oklahoma Sooners, No. 1 in failing to meet preseason expectations.
Rounding out the top five are two Florida schools, Florida (No. 2) and Florida State (No. 4), along with a Pac-12 school, California at No. 3.
As for underrated schools, the Pac-12 was well represented. Following Cincinnati and TCU on the list were, in order, Oregon, Utah, and Stanford. It should be noted, though, that Utah's inclusion on the list was almost entirely due to what happened in the 2008 season, when the Utes, then a member of the Mountain West Conference, began the year unrrated, but finished the season ranked 2nd, accounting for 24 of Utah's 25 points in the survey.
Colorado, which was not ranked in the preseason or postseason during any of the years of the survey (heavy sigh!), was not on the list.
A complete list of the underrated and overrated teams can be found here.