Colorado Daily – Washington State
September 21st
Nowhere to go but up …
Once again, Drew Litton has hit it on the head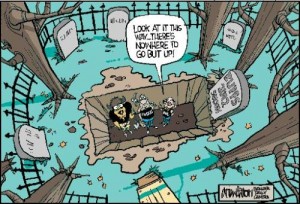 Hey, at least we're not USC!
Take a gander at the Pac-12 South standings (and enjoy it, because it's about to change).
Only one Pac-12 Conference game has been played, with Stanford upsetting USC last weekend. As a result, Stanford is sitting atop the Pac-12 North standings with a 1-0 conference record, while USC is at the bottom of the Pac-12 South, with an 0-1 record.
Welcome to CU spin … week four.
From the Daily Camera … While everyone else views the start of conference action with the reality that it's more difficult than the nonconference schedule which creates the possibility that CU won't win a game this season, Embree and his players are spinning it differently.
"I haven't said anything about it, but a lot of guys have said that in their meetings," Embree said this week when asked if putting nonconference disasters aside and focusing on the start of Pac-12 play can be a positive. "They talked about it is a fresh season. It is a fresh opportunity. That is good that it's coming from them."
The Buffs are 20-point underdogs and after last week some might not think that spread is wide enough.
A Colorado defense still missing two of its best players in linebacker Doug Rippy and safety Ray Polk and coming off a game in which it allowed 665 total yards of offense, must find a way to slow down the passing game designed by first-year Washington State coach Mike Leach.
… Roughly half the games in Embree's tenure have been blowouts in which the CU offense needed to throw often to try to get back in the game. But it's also fair to ask whether coaches should have given up on the running game prematurely at times. Last week's game at Fresno State could be a good example of that.
When asked this week why he chose to go away from the running game so quickly against the Bulldogs, Embree said it was because the Buffs had fallen behind so quickly, he felt the best chance to get back in the game was passing the ball.
CU fell behind 21-0 midway through the first quarter and freshman running back Christian Powell, who had provided one of those 100-yard days a week earlier against Sacramento State, was suddenly a non-factor.
Considering it was still only the middle of the first quarter if the Buffs had persisted with the running game they might have been able to slow Fresno State's momentum and even turn it in their favor.
It doesn't help that CU will likely be without starting center Gus Handler again this week and that backup center Brad Cotner is out for 4-6 weeks with a toe injury. That means guard Daniel Munyer will likely start at center and will be relied on to make the calls in the trenches. Munyer did start the first three games of the 2011 season at center before suffering an injury.
There are indications that coaches recognize they need to establish consistency somewhere and branch out from there. Embree said coaches significantly simplified things for the Fresno State game with hopes that it would allow younger players to play faster and think less. Embree said he plans the same approach this week, which could mean sticking with the running game.
September 20th
Offensive line shuffle continues
The Colorado offensive line has taken a beating this September.
First from opposing defenses, then from the Buff Nation, as what was supposed to be the strength of the offense has been a glaring weakness.
So, a shuffling of personnel was to be expected, but it is taking place for all the wrong reasons … injuries.
From cubuffs.com … In the last two games, due to teammates being injured, Daniel Munyer has been called on to play left guard, right guard and center. He has stepped in and stepped up – although the back-and-forth adjustments have been challenging.
"Pretty difficult, actually," Munyer said. "From a technique standpoint you have to remember where your (blocking) help is, where you don't have help. You have to make sure of your correct sets, how far back you are, little things like that . . . but they can make a big difference.
"I'm pretty comfortable with it now. I've practiced at all three since the summer, so when I'm thrown in there it's not like a big surprise. I'm ready to go. I feel like I'm getting a knack for the game every week and calming down every week, making sure I execute right. Ideally, you'd like to (settle at one position), but there's always situations where you're going to be called on and you've got to respond to that."
Munyer, a redshirt sophomore, might open at center again Saturday afternoon at Washington State (2 p.m. MDT, FX) in CU's Pac-12 Conference opener. But that depends on the availability of starting center Gus Handler, who missed the Fresno State game with an ankle sprain and currently is listed as questionable.
Redshirt freshman Brad Cotner and Munyer shared the position last weekend, but Cotner is out this week (and possibly four more) with a big toe injury. That leaves starting left guard Alex Lewis in an emergency role at center, a position his father (Bill) played at Nebraska and for seven NFL seasons.
Cotner's injury, said CU line coach Steve Marshall, is "a real shame . . . he's busted his tail for two years and finally got the opportunity. I knew he was hurt, he said he was fine – but he wouldn't walk in front of me. We finally pulled him in the third quarter (after 31 snaps); he tore up that toe pretty good."
Depending on Handler's health, Marshall's starters Saturday could be Handler/Munyer at center, Lewis at left guard, Munyer/Ryan Dannewitz at right guard, David Bakhtiari at left tackle and Jack Harris at right tackle. Or some combination thereof probably involving Dannewitz, whose versatility matches Munyer's.
Redshirt freshmen Stephane Nembot and Marc Mustoe, both tackles, and true freshman guard Jeromy Irwin played last weekend. Marshall said all three could play in sub roles this week. He also mentioned freshman Alex Kelley as a possibility at center.
Colorado secondary ready for the challenge?
The "Baby Buffs" in the Colorado secondary are beaten up … and banged up.
Sophomore cornerback Greg Henderson wasn't part of the carnage last weekend at Fresno State, sitting out with ankle sprain.
But that doesn't mean he has bad memories to keep his focus when it comes to Washington State.
From cubuffs.com … Try as he might, the Colorado cornerback has had a difficult time erasing the memory of CU's 31-27 last-minute loss last season to Washington State at Folsom Field. If he's sufficiently recovered from an ankle sprain that has sidelined him for the past two games, Henderson is viewing a rematch against the Cougars and receiver Marquess Wilson as therapeutic.
"I really want to get back out there – especially after last season and the mistake I made at the end of the game," Henderson said.
At the time, Henderson, who had earned the starting right corner job in August camp, was playing in only his fifth college game. He "bit" on a double move by Wilson, who caught a 63-yard touchdown pass to doom the Buffs. Just over a minute before, the Cougars had crept to within 27-24 on another TD pass, but Henderson is haunted only by the second one.
"I think about it all the time," he said. "Every time they run 'triangle' (a three-receiver set) I make sure I get back there and do my job, do what I'm supposed to do. It's a horrible feeling giving up the game, especially when you have it in reach like that."
Henderson hasn't been the secondary's only missing starter. Senior safety Ray Polk suffered a high ankle sprain (Henderson's sprain was lower) and hasn't played since the first quarter of the season opener. He won't play again this week and no timeline has been established for his return.
After taking an early hit from injuries last season, Brown had hoped another epidemic could be avoided. It hasn't been. In addition to Polk, Henderson's replacement on the right side – freshman Yuri Wright – left last weekend's blowout at Fresno State in the second quarter with an ankle sprain. Wright's replacement, freshman Jeff Hall, also left the game with an injury. And safety/nickel back Marques Mosley, also a freshman, tweaked a knee and was sidelined for most of the second half after he attempted to play on it.
It might be wishful thinking, but that trio – Wright, Hall and Mosley – is expected to be able to play in CU's Pac-12 Conference opener. Still, Brown's defense will be minus a pair of starters (Polk, middle linebacker Doug Rippy).
"It's really similar to last year," Brown said. "We're running out of bodies. But it is what it is; nobody's going to feel sorry for you – especially Mike Leach."
September 19th
Halliday likely starter at quarterback for Washington State?
From the Spokane Spokesman Review … The quarterback taking the bulk of the reps was Connor Halliday, though I'm not sure how surprising that is at this point. Jeff Tuel is still wearing a brace and took some reps, too, appearing to throw the ball fine for the most part. His mobility, from what we've seen, doesn't look too bad, though it can be hard to tell because the quarterbacks don't do a whole lot of moving outside of their throwing drills, and even then it's fairly limited. There are two more practices before the game, and if we've learned anything from Leach in this regard, it's that he wants his starting quarterback to be the guy who takes the most reps during practice. Not saying it isn't possible for him to deviate from that, but the next two days should tell us a little more about who we might see starting on Saturday.
Also of note … the Spokesman-Review is also running a poll about the outcome of Saturday's game. About 62% see a Cougar victory between 8-28 points, with about 17% seeing a rout of over 28 points and 16% seeing a close game of less than eight points.  A whopping 2.59% foresee a Colorado victory (just above the number – 2.33% – who voted in the poll only to say "Don't know").
Bieniemy: "I'm not going to lie … I do miss the field"
From cubuffs.com … Embree announced on Tuesday that Eric Bieniemy, CU's offensive coordinator/running backs coach, will move from the coaches' booth to the sidelines for Saturday's Pac-12 Conference opener at Washington State (2 p.m. MDT, FX).
Bieniemy, in only his second season as a coordinator, will continue to work with passing game coordinator/quarterbacks coach Rip Scherer in calling CU's offensive plays. Scherer will retain his vantage point from the coaches' booth and relay plays to Bieniemy, who said his 15 games (12 last season, three this season) in the booth "helped me grow as a play-caller . . .  after doing it now for almost a year and a half, me and Rip have a great line of communication. He can be my eyes and ears upstairs and that helps out tremendously."
Explaining the change, Bieniemy added, "Just after sitting back and observing it . . . we thought it would be good for some type of change to get a little hands-on and generate a little excitement with the guys – just to be there and have a presence."
Bieniemy called plays from the sidelines in last season's opener at Hawai'i before moving upstairs for the home opener against California. Since then, he has worked every game from the coaches' booth. He said one advantage of moving to the sidelines is to gather the offense "between series and make sure our guys are organized – let's get together and talk about each and every play. I think if any coach had their choice, they would love to be on the field."
But when he moved upstairs early last season to see the bigger picture, Bieniemy admitted game day had "a different feel . . . I'm not going to lie, though; I do miss the field."
And the Buffs, among the youngest teams in the FBS, might be missing his emotion. "We know what he brings from an energy and passion standpoint," Embree said. "We're a young team; he can keep those guys going . . . and he's more comfortable down there."
Asked if he had sensed a fire missing in CU's three losses, Bieniemy answered, "We have to coach our kids in every aspect because they're so young. I don't want to say I have to coach excitement, because you shouldn't have to coach excitement. But I feel that just being there will help create more of a buzz and a sense of urgency."
Bieniemy had told his running backs before Tuesday's practice of his impending move to the sidelines, and said with a chuckle, "I don't know if they're excited about this or not." Sophomore Tony Jones laughed and said his position coach's descent from the booth "could be good, it could be bad . . . no, he's a great coach and he's definitely going to be enthusiastic on our sidelines and get us pumped up. When something goes wrong, he's definitely the guy to get us back on track. So, we'll see at the end of the game."
Jones, who missed last weekend's trip to Fresno State due to shoulder and ankle injuries, agreed the Buffs could use more game-day emotion: "Yeah, there could be some. If somebody makes a good play, everybody gets up. But we need that all the time. The emotion is definitely going to be there with (Bieniemy)."
Junior left tackle David Bakhtiari called Bieniemy "a coach not to mess with. I would never want to be on the wrong side of him . . . I have a tremendous amount of respect for the man. I love what he's done, his attitude and his culture."
Bakhtiari said Bieniemy reminded him of an assistant coach at Junipero Serra High School in Burlingame, Calif. – "a short running backs coach who was steaming out of his ears . . . having him on the sidelines, I know for sure those kids will be looking around twice before ever putting their heads down and trying to mope around. Eric Bieniemy will do something; I'm not going to be that guy, let's put it like that."
CU tops the Bottom Ten
"And then, depression set in …" – Bill Murray, Stripes
Colorado has hit the top of the Bottom, ranked No. 1 in ESPN's Bottom Ten this week:
Where did it all go wrong? Or, better yet, how does Colorado even go about making it right? Fresno State had 516 yards … in the first half. Thirty-five points … in the first quarter. It all added up to a 69-14 loss. Colorado players and its president are circling the wagons around head coach Jon Embree, and they want Buffs fans to join them. ("Only you can make this world seem right. Only you can make the darkness bright.")
Historic? Not really.
Colorado, after the 82-42 loss to Oklahoma in 1980, shared the top spot in the original Steve Harvey Bottom Ten with fellow in-state schools Air Force (0-4-1 after a 17-16 loss to Yale) and Colorado State (which lost the weekend before to Iowa State, 69-0).
Been there, done that. Right, Buff fans? …
September 18th
Tuesday press luncheon
The news of note was that CU offensive coordinator Eric Bieniemy will be moving down to the sidelines, while quarterbacks coach Rip Scherer will be going up to the pressbox during the games. No changes are planned for the defensive staff …
Injury update
Head coach Jon Embree … Safety Ray Polk (high ankle sprain) will miss his third consecutive game, but cornerback Greg Henderson (ankle) is expected to play this week . . . . Center Gus Handler (ankle) will make the trip but is questionable. His replacement at Fresno State, Brad Cotner, suffered a ruptured capsule in his big toe and could be out four to five weeks. That would prompt another O-line shuffle, with Daniel Munyer the likely starter at center . . . . Linebacker Doug Rippy (knee) is out again this week, while safety Marques Mosley (knee) should be able to play.
Quotes from the press luncheon
Left tackle David Bakhtiari – "All players need to step up, including me. Guys need to take pride out there, make each play the most important play … that's the biggest thing we have to understand going forward" … On avoiding being down … " 'Here we go again', it's something you don't want to have happen … We have to be more consistent on all phases of the game … I hate it when the quarterback gets sacked. We're going to be more consistent with the blitz pickups, which will make us more consistent in our offense" … On offensive coordinator Eric Bieniemy being down on the sidelines during the game … "Players will look around twice before putting their head down, with Bieniemy on the bench … He'll make sure no heads go down. The players will be too scared to put their heads down … He's going to be in coaching a long time. He's a tremendous coach."
Former head coach Bill McCartney … "Studies reveal that when someone decides not to be loyal, two things happen: They gear down their efforts, and they try and recruit others to their position. I want to take the opposite perspective. There is a principle in construction – the higher you want to build, the lower you have to dig. It takes time to lay that foundation. Chuck Fairbanks won seven games in his three years. I won seven games in my first three years … then we did not have another losing season in my remaining years. We laid a foundation, the leadership stood behind us, and let us see it through … When you haven't been a head coach, there is a time of transition. When I first came here, I made some mistakes.
"I want to compare the pedigree of mine with that of Jon Embree. I played regularly one year (at Missouri). I was part of a strong program (which played in the Orange Bowl). When I coached high school, we won the state championship in football and basketball the same year (McCartney is still the only coach in Michigan high school history to coach a state champion in football and basketball in the same season). In eight years at Michigan, I was one of the top five defensive coordinators and top five recruiters. Jon Embree, I recruited him out of high school, out of Cherry Creek. He turned down Ohio State, Oklahoma, and USC to come to play in Boulder. When he was a sophomore, he was first team all Big Eight. Then we switched to the wishbone, and Embree hardly saw another pass (in his remaining two seasons), he never hung his head. In the NFL, Embree went on to play a couple of years before he got hurt, going on to coach at Colorado and then in the NFL. He's as qualified as you are going to get. He understands the sacrifices it takes, when you are running this type of program.
"I want to suggest to you that there are four characteristics of a leader … The first is character. The second is competence, that you have the necessary training to get the job done. Trust and loyalty comes from that combination. The next one is chemistry. 'I believe in you' are very important words, whether from parents or coaches. Embree believes in his players – that's what you look for in the most difficult times. Lastly, is the word commitment. 'Commitment' is when you get knocked down, and you bleed for a little while, you get back up and fight … When we turned this thing over to Embree, we turned it over to somebody who will make it work. The work right now is below ground, and we can't see the progress. Freshmen will cause you problems; sophomores will have fewer problems; juniors have no problems; seniors solve problems … There are no shortcuts. We are in over our heads right now, but it all depends on leadership. Nobody asked me to come and address you (at the press luncheon) I came here on my own. You have to have perspective. It's not going to get easier; it's going to get harder this year.
"I say to all of the Colorado Buffaloes out there, 'let's circle the wagons'. Let's stand with the players and coaches. Next Thursday, we are going to close ranks. We want to rally the ranks. We want them to believe when there is no real evidence ("Belief without Evidence" was Gary Barnett's theme when he was the head coach at Northwestern). The theme is 'Shoulder to Shoulder' … Come out and support the team …  I don't think it's going to get easier."
Here is a link to a video of Coach McCartney's talk at the Tuesday press luncheon
September 17th
Mike Bohn: "No knee jerk reactions"
Many Buff fans fired off emails to Colorado athletic director Mike Bohn in wake of the embarrassing loss to Fresno State last weekend. Several of you have shared the responses, which have been fairly consistent.
Mike Bohn's responses can be paraphrases as follows: "Thank you for your concern and continued support of CU athletics. While I understand and agree that the performance of the team on the field of late has been less than satisfactory, there will be no knee jerk reactions, and no press statements made just for the sake of making a press statement. We will continue, as we do each day, to focus on improving Colorado athletics".
Pretty much what you would expect. Certainly, one would not expect a response of, "Yes, we have already fired the entire coaching staff, and expect to have a new staff in place before Tuesday's practice". Still, the level of frustration has risen to levels not seen since Dan Hawkins was surprisingly retained at the end of the 2009 season.
If you would like to express your views, and see if you can elicit a different response, Mike Bohn's email address is … mike.bohn@colorado.edu.
CU President Bruce Benson: "We're going to play it out"
From the Denver Post… University of Colorado president Bruce Benson threw his support behind winless football coach Jon Embree on Monday and said he would not step in even if the 0-3 season got much worse.
Benson said he is being patient with Embree, CU's second-year coach, despite Saturday's record-setting 69-14 loss to Fresno State one week after a loss to Sacramento State, a lower-division school.
"I think players kind of said it all after the game when they said, 'This is the best set of coaches we've ever had and we're really behind them and they're great guys,' " Benson said. "Obviously, people are always going to get upset over something. It's not the first time in my life I've seen people upset.
"All we can say is we have a serious rebuilding."
CU finished 3-10 last year in Embree's first season replacing the fired Dan Hawkins. While the Buffaloes were expected to finish at or near the bottom of the Pac-12 this season, few thought they would go winless in the nonconference. CU was upset by Colorado State in its opener, and has sustained two of the most humilating losses in school history the past two weeks. The Buffs likely will be an underdog in every Pac-12 game this season.
Benson said he won't interfere with the job of athletic director Mike Bohn when evaluating the football program.
"People I've talked to say we're in a rebuilding process, let's get going, let's get it done, let's move ahead," he said. "That's what I feel and what I think we all feel. There are always going to be naysayers. Let's be clear about that. We've watched it with CU. We've watched it with the Broncos. We've watched it with everything. There's nothing new here.
"You lose a few games and you're going to have naysayers."
Benson agrees with those who support Embree and point to the team's youth as a big problem.
"We don't have a lot of experience on our team," Benson said. "When you play a bunch of freshmen, they are great kids and are doing a good job but they're new. I don't think any of us when we're brand new in a job are going to be able to do a great job. I think we're doing a great job compared to what we could be doing because we have very, very young talent.
"But I think we do have talent and they've shown that in bursts here or there. It takes a little while to get them trained. This isn't high school ball. It's college ball."
Simplification not the answer
K.I.S.S. – What the Buffs tried against Fresno State … and failed miserably.
From cubuffs.com … After consecutive losses to opponents they were favored to beat, the Colorado Buffaloes shrunk their offensive and defensive game plans for Fresno State. The theory, said CU coach Jon Embree and his coordinators, was to mentally free up their players – particularly the younger ones – with fewer sets and assignments.
An adage in football is to do a handful of things well rather than try to do too much and succeed at nothing – and success had clearly eluded CU in the season's first two weeks. The goal for the Fresno State game, Embree said, was "to give our guys fewer things to think about and let them play faster."
Coordinator Eric Bieniemy said his offense went into Saturday's game with about 50 percent of what was made available in the first two games. The running game, which went from 58 yards in the opener to 153 against Sacramento State, remained his priority. But, Bieniemy added, no matter how simple a game plan becomes, sloppy execution will kill it.
Defensively, coordinator Greg Brown said what his players practiced last week was reduced considerably, with the objective to remain in their base defense and work in various blitzes when called for. The onus remained on the D-line to produce pressure on Fresno State quarterback Derek Carr, and on CU's "Baby Buff" secondary – freshmen corners Yuri Wright and Kenneth Crawley, and safety/nickel back Marques Mosley – to cover.
But on Saturday night, simplification didn't work. Nothing did. And Fresno State did whatever it wanted . . . with ease. Anything simple or elaborate CU had in mind drifted out of Bulldogs Stadium after the Buffs fell behind 35-0 in the first quarter. They left dizzied by allowing 69 points while scoring only 14.  Fresno State practically rewrote CU's football record book, with all the revisions in the worst possible context for the slumping Buffs.
Embree still insists that his second CU team is better than his first, which finished 3-10, although this team's 0-3 record doesn't reflect it. "I just know what I see for the most part every day," he said. "I still believe in this team; I still do."
As Webb did earlier in the week in a players-only meeting, junior offensive tackle David Bakhtiari stood and addressed the Buffs Saturday in their stunned locker room. Bakhtiari asked his teammates "what they play for" and told them "these coaches know how to win – they're the best I've played for. I'm completely distraught to see how we can't execute what they've set out for us. I told them if they're not willing to give them 100 percent and do what they tell you, buy into this program, be a Buffalo, I don't want you coming to practice or suiting up.
"If I had an answer, I'd love to tell you . . . there's something in the turbine that's not letting it spin. I don't know what is going on exactly. I wish I knew so I could tell the team. But whatever it is it needs to go away, I'm sick of it. I don't like it, I want it to change."
Other players also stood up for the staff and their position coaches. Senior linebacker Jon Major said the coaches "haven't gotten what they deserve. It's going to fall a lot on us players (to accomplish that). The amount of respect we all have for them, the work they put in. it's not exaggerating when they put in 16 hours a day at some points. They're some of the best coaches we've ever had. It's sad; if the players can't put something together, something has to happen . . . when they get 69 against you something has to happen. We'll see what they come up with and what we can do as players."
Embree blamed "breakdowns" on both sides of the ball for the Buffs' horrific first quarter, which saw his defense yield 322 yards of total offense and scoring plays of 97 and 94 yards. "Sometimes when we're eager to make plays we give up plays," he said. "We have to do our assignments, particularly on defense. It just takes one guy . . .".
…
"It just takes one guy"?
Really?
Two touchdown plays over over 80 yards? … For the first time in 123 years of football? Over 1,100 games, no team had ever posted two 80+ yard scores against a Colorado team, and the Buffs allowed it to happen in one quarter Saturday night.
322 yards of total offense in the first quarter? Stanford is giving up 322 yards of total offense … per game … and that only is good enough to rank 4th in the Pac-12 in that category.
35 points in the first quarter? 55 points in one half? Colorado gave up more points to Fresno State by halftime than four teams in the Pac-12 have surrendered in three full games.
Colorado is averaging 182.7 yards of passing offense per game, half of league leading Arizona.
Colorado is surrendering 287.3 yards of passing offense per game, twice that league leading Arizona State.
I could go on, but you get the point.
It seems like it has been more than "just one guy" per game, per series, or even per play which has led Colorado to the bottom of the FBS.*
A lot more than just one guy …
*Not for nothing, but I went to a Montana State game Saturday afternoon. The Bobcats are ranked No. 2 in the latest FCS poll, and, let's just say, I'm glad MSU isn't on the schedule this year.
September 16th
Washington State has a quarterback controversy, too
Colorado played three quarterbacks against Fresno State, with none of the three distinguishing themselves. The question as to which quarterback will start against Washington State remains an open one … with Buff coaches largely left to pick amongst the least objectionable choice.
Washington State, meanwhile, may also have a quarterback controversy, but of a much better kind …
From the Spokane Spokesman-Review… What happened in Las Vegas won't stay there when it comes to Washington State's quarterback competition.
And yes, it's probably safe to call it that now.
How could it not be? Connor Halliday's 378 passing yards and four touchdowns spoke for themselves in WSU's 35-27 win over UNLV on Friday.
What remains to be seen is whether senior Jeff Tuel's right knee injury will keep him out of next week's game against Colorado, or whether Halliday's performance might have vaulted him into contention for the starting job even if Tuel is healthy.
The only certainty: Coach Mike Leach is saying nothing, but using a whole lot of words to do it.
"As always, suspense – why do people watch games? Because of suspense, because they want to know what's going to happen," Leach said. "I'm not a guy that tells people the ending to a movie if they haven't seen it and I'm certainly not going to share that with you. If you want to know how it turns out, you've got to come see the movie."
Famed director Peter Berg is one of Leach's close friends, after all.
And even if Leach won't confirm who will have the starring role at quarterback next week, he acknowledged that despite throwing two interceptions, Halliday played well considering the relative lack of repetitions he received in camp.
"For a guy that hadn't played football for a long time, (I) thought he played good," Leach said. "Obviously, two balls he'd like to have back, one he threw behind a guy, the other one he just threw it off his back foot. I thought (he was) really calm for a guy that hadn't played a game. I think his demeanor was really good."
Halliday showed a willingness to throw the ball down the field, completing three passes of 47 yards or longer – two of which (54 yards to Gabe Marks and 81 yards to Marquess Wilson) went for touchdowns.