—
Colorado Daily – TCU Week
—
September 3rd
… CU in a few minutes … 
Colorado 45, No. 17 TCU 42: National media game stories and columns
— CUBuffs.com … (Game Story) Coach Prime's Buffs Stun No. 17 TCU, 45-42 (with video highlights)
— Neill Woelk … Buffaloes Send Nation A Message
— ESPN … (Game Story) Prime shocker: Colorado upsets No. 17 TCU 45-42 in Deion Sanders' debut as Buffs coach
— ESPN … Colorado tops No. 17 TCU in Deion Sanders' 1st game as coach
— ESPN … Welcome to Prime Time
— Daily Camera … (Game Story) Coach Prime, CU Buffs answer doubters in upset of No. 17 TCU
— Daily Camera … Rooney: Thrilling win at No. 17 TCU resets bar for CU Buffs
— Daily Camera … Season-opening win leads to surge in CU Buffs ticket sales
— CBS Sports … (Game Story) Deion Sanders' Buffaloes live up to hype opening with shocking 45-42 win
— The Athletic (Game Story) Colorado stuns TCU in Deion Sanders' debut: Shedeur Sanders, Travis Hunter electric in win
— The Athletic (Stewart Mandel) Deion Sanders made me a believer
–
From ESPN … Nitpick all you want. This was a genuinely epic performance by Colorado, one that assures the Buffs' bandwagon will be replaced with a 1979 Trans Am with a big, gold Ralphie painted on the hood.
Oh, we could try to tamp down the now outsized expectations, because this was, after all, just one game. But to do that is to miss the point. In a sport that routinely churns out the same great teams year after year, this was a genuine surprise. In a week with relatively few marquee matchups, Colorado and TCU delivered the highest of drama, a game with seven lead changes and constant fireworks. And after an offseason marred by endlessly frustrating intrusions of business and economics into college football, Coach Prime gave us something we so desperately needed: fun.
So keep doubting if you must. We're done with all that. We're buying whatever Deion is selling.
–
From CBS Sports … Still, the first performance of the Sanders era remains hard to contextualize. The Buffaloes are likely to join the AP Top 25 next week after the win and should be favorites at home against Nebraska. The buzz around Colorado is unmatched since the Buffaloes were competing for national championships in the early 1990s.
"Guess what, we're here and we're not going anywhere," Sanders said. "These young men in there right now, they believe. Not all of them believed but they came up one by one, two by two, they believe … I'm good with that, we've got room."
–
From Stewart Mandel at The Athletic … "Hold on, hold on, hold on! Oh, no, no, no," he said, before pounding the table in front of him. "DO YOU BELIEVE NOW?"
The reporter didn't want to play along, but I will.
I believe.
I didn't before. I absolutely do now.
To paraphrase his own lingo, Deion Sanders is THAT Guy.
I can see you rolling your eyes already, dear reader. It was only one game! TCU was overrated! They didn't play any defense.
Who. Cares.
TCU reached the national title game last season, and Colorado fielded a non-competitive 1-11 squad. Colorado hadn't beaten a team ranked as high as TCU since 2009, and it had not beaten a top-20 team on the road in more than 20 years.
Be honest: You thought his team would come out and get embarrassed in "the biggest season opener college football has seen in years." (Fox's promo tagline.) I know I did.
–
—
Dave Plati: CU's upset fourth on all-time list (as ranked by point spread)
From Dave Plati … CU'S FOOTBALL WINS AS A BIG UNDERDOG
The list of CU's biggest upsets, listed by points the opponent was favored by in the final game day point spreads:
Sept. 29, 2007  OKLAHOMA                22         W, 27-24
Nov. 25, 2011   at Utah                        22         W, 17-14
Sept. 22, 2012  at Washington State  21         W, 35-34
Sept. 2, 2023    at TCU                         20½     W, 45-42
Oct. 25, 1986   NEBRASKA                 17½     W, 20-10
Oct. 21, 1972   OKLAHOMA                16         W, 20-14
Oct. 15, 2022   CALIFORNIA (OT)      15½     W, 20-13
Nov. 16, 1974   at Oklahoma State     14         W, 37-20
Nov. 1, 1980     IOWA STATE              14         W, 17-9
Sept. 28, 1985  at Arizona                   14         W, 14-13
Nov. 23, 2019   WASHINGTON            14         W, 20-14
–
Coach Prime's Post-Game Press Conference
–
—–
September 2nd – Game Day!
… CU in a few minutes … 
Is CU's overhauled lineup ready for "Prime Time"? 
From the Daily Camera … On Saturday, the fans will finally get a chance to see what first-year head coach Deion Sanders has been building.
What Sanders has already done is nothing short of remarkable. The Pro Football Hall of Famer has generated excitement for the program that hasn't been seen in decades. Ticket sales and merchandise sales have been record breaking. And the attention given to a team coming off a 1-11 season has been unprecedented.
Sanders, of course, is no stranger to the spotlight. Nicknamed "Prime Time," he was a flashy football and baseball star at Florida State in the late 1980s before his hall of fame NFL career and nine seasons in Major League Baseball.
Are his players ready for spotlight, however?
"Well, they came here because they wanted it," Coach Prime said. "They came here because they wanted the light, they wanted to smoke, they wanted the attention, they wanted the focus, they wanted the love. But also you got to understand there's the opposite of that, as well, that you got to be willing to accept when you want all and desire those things.
"These kids are ready. We prepare them not just athletically, we prepare them mentally for things and challenges that's going to happen in life as well. So I like what I see on a daily basis, I really do. Matter of fact, I love these kids. I really do."
… Continue reading story here …
–
—–
September 1st
… CU in a few minutes … 
CU Depth Chart (finally) released … 
Maine transfer Khairi Manns had an impressive preseason, jumping him up to the top of the depth chart at outside linebacker, ahead of two transfers from the SEC, Arden Walker and Jordan Domineck. (Oh, and before you panic … Walker is 6'2″, not 5'2″. There are other errors, like Landon Beebe being listed as being both 6'6″ and 6'3″, so don't get too caught up on heights and weights).
Cole Boscia, a redshirt freshman walk-on from Northern California, is listed as a back-up at the receiver spot Xavier Weaver leads.
Aided by the benefit of being an early enrollee, true freshman Ryan Staub won the back-up quarterback job behind Shedeur Sanders. Walk-on Gavin Kuld is listed third at the position.
Running back is listed as Dylan Edwards or Alton McCaskill, but the Daily Camera reported Friday that Anthony Hankerson, one of the nine returning Buffs, would actually be in the starting lineup. With Gerad Christian-Lichtenhan and Van Wells starting along the line, and Michael Harrison possibly starting at tight end, the Buff offense could have … wait for it … for players from the 2022 team starting against TCU.
Florida State transfer Omarion Cooper is expected to start at cornerback opposite Travis Hunter. Coach Prime said this past week the competition between Cooper and true freshman Carter Stoutmire was neck-and-neck.
Jimmy Horn Jr. is expected to return punts for the Buffaloes, while Dylan Edwards and Weaver are listed as Colorado's top kickoff returners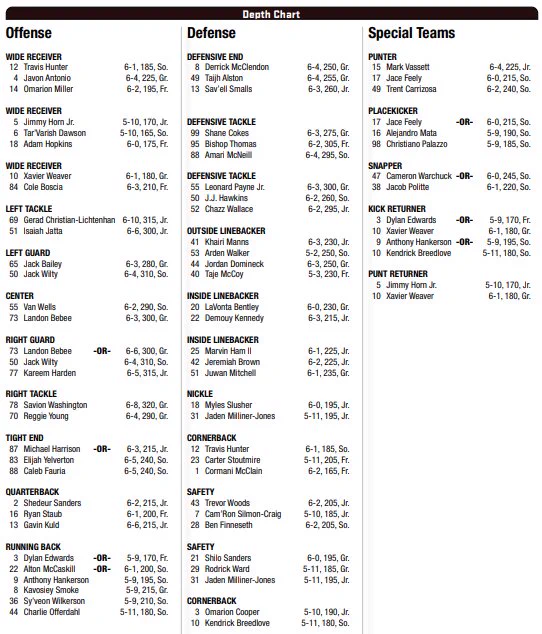 –
—
Neill Woelk's Fast Five Factors for CU at TCU
From CUBuffs.com … Deep down, Colorado's coaching staff couldn't help but smile a little this week.
Deion "Coach Prime" Sanders' Buffaloes are quite possibly one of the biggest unknowns in college football this year. Not only do the Buffs have an entirely new coaching staff — including coordinators who have installed new schemes on both sides of the ball — Colorado also has an almost entirely new roster.
Thus, they have been nearly impossible to scout for Saturday's 10 a.m. season opener at TCU (Fox), leaving the Horned Frogs staff to play what has amounted to a giant guessing game.
Frogs coach Sonny Dykes admitted earlier this week that he hasn't even bothered to watch film of last year's 38-13 win in Boulder. Virtually nothing from that game would be of any help to TCU.
Instead, the Frogs have been watching Kent State film to glean what they might see Saturday from coordinator Sean Lewis' offense. They have been watching Alabama film to hopefully get at least an idea of what they might expect from coordinator Charles Kelly's defense.
And they have also been watching as much film as possible on the transfers who could be significant players Saturday — a near-Herculean task, given that Colorado has nearly 70 new faces that arrived from other schools.
"I'm not completely sure we know exactly what we're preparing for," admitted TCU coach Sonny Dykes earlier this week. "You do the best you can to speculate and obviously to prepare based on what these coaches have done in the past. But you don't know what they're going to do with these players and you don't know how these guys fit their system or the adjustments they're going to make. We just have to be willing and able to adapt as the game goes along."
Granted, the edge is one Colorado won't hold for long. As the game progresses, both sides will get a better feel for what the other might do.
But that unknown factor can't be discounted — which brings us to 2023's first installment of the weekly Fast Five.
What Coach Prime's Buffs must do in order to kick off the Deion Sanders Era with a win:
1. Start fast. This much is no secret: the Buffs are excited about their offense, beginning with QB Shedeur Sanders and continuing through a talented and deep group of wide receivers and running backs. If the Buffs win the opening coin flip, don't be surprised to see them buck conventional wisdom and elect to take the ball right away.
Colorado needs to score early and put the Horned Frogs on their heels. TCU returns seven starters on defense, including four in the secondary (with former Buff safety Mark Perry in the group), as well as outstanding nose tackle Damonic Williams.
If the Buffs can crank up the tempo early, they will have the Frogs guessing. Colorado's offense isn't only geared to run fast, it is designed to utilize every weapon available — and CU is well-stocked in that regard.
That should give Colorado a chance to make TCU adapt on the fly and — hopefully — be a step behind for much of the game.
… Continue reading story here …
–
—–
August 31st 
… CU in a few minutes … 
Listing of former CU players and their status for Week One
From Reddit … posted by TiredAndHungryAtWork (if anyone knows who deserves the credit for all of this work, let me know … It's a great list.
Power Five Transfers:
Kaylin Moore, Jr CB. Playing for Cal, listed as the #2 NB.
Austin Johnson, Jr C. Playing for Purdue, listed as the #2 C.
Cole Becker, Jr K. Playing for Utah. I don't even need to look up if he's starting or not he is excellent.
Nikko Reed, Jr CB. Playing for Oregon. No Depth chart but sounds like he will start at the Nickel/Star position.
Na'im Rodman, Sr DL. Playing for Wazzu. Listed as second string DT.
Montana Lemonious-Craig, Jr WR. Playing for Arizona No depth chart but seems like he will start.
Jordyn Tyson, So WR. Playing for ASU. Listed as injured but I imagine he will play at lot once he gets fully healthy. Coming off of a serious injury not sure how much he will play this season.
Deion Smith, Gr, RB. Playing at. BYU. Listed as the #2 RB.
Aubrey Smith, So LB. Playing at Houston. Not listed on the depth chart.
Jalen Sami, Gr DT. Playing at Michigan State. Don't see a depth chart yet. Will either start or play heavily on running downs.
Jake Wiley, Gr OL. Playing at UCLA. Listed as the #2 RG.
G5 Transfers:
Chase Penry, So WR. Playing for Boise State. Listed as #2 slot WR.
Owen McCown, Fr QB. Playing for UTSA, listed as the #3 QB.
Maddox Kopp, So QB. Playing for Miami (Ohio). Not playing this season as the NCAA denied his waiver. Don't think he was in-line to start or play much.
JT Shrout, Sr QB. Playing for Arkansas State. Listed as the starter.
Keyshon Mills, Fr CB. Playing for SMU Not listed on the 2-deep.
Austin Smith, So TE. Playing for Memphis Not listed on the 2–deep.
Ryan Williams, So DL. Playing for Western Kentucky. Don't see a depth chart, no clue.
Simeon Harris, So S. Playing for Utah State. Listed as the #2 FS.
Zach Courtney, Fr TE. Playing for Coastal Carolina. Unknown as I don't see a depth chart (yet). Will update when we get one.
Joshua Wiggins, Fr CB. Playing for Liberty. No official depth chart but seems like he will be a depth player.
Chase Sowell Fr WR. Playing for Eastern Carolina. No official depth chart but seems like he will be a depth player.
Jackson Anderson, So OL. Playing at UTSA. Not listed on the depth chart.
Tyrin Taylor, Jr DB. Playing at Memphis. Not listed on the depth chart.
Oakie Salave'a, Fr TE. Playing at Hawaii. Not listed on the depth chart and doesn't look like he played in the opener.
Alex Harkey, So OL. Playing at Texas State. Listed as backup swing tackle. 2nd or third string hard to tell listed as an "or".
Grant Page, Fr WR. Playing at Utah State. Appears to be listed as fourth string WR.
Jeremy Mack, Jr S. Playing at Old Dominion. Unknown no depth chart. Will post when I find it.
Victor Venn, Fr RB. Playing at Liberty. No depth chart but seems like he will get some snaps as a depth back in the rotation.
Ty Robinson, Jr WR. Playing at Ball State. Listed as a starter.
Travis Gray, Fr OL. Playing at New Mexico. Listed as either the second or third string RT.
FCS (and below) Transfers:
(can be hard to find depth charts online for some of these teams)
Noah Fenske, Jr OT. Playing for FCS Southern Illinois. Not listed on the 2-deep here but this may be related to NCAA waiver issues.
Dylan Dixson, Fr S. Playing for FCS Missouri State. Don't see a depth chart but based off of pre-season buzz he will be depth player.
Tyas Martin, Jr DL. Playing for FCS Jackson State. Don't see a depth chart but he had 13 tackles last week so he's clearly playing a lot.
Allan Baugh, Fr DL. Playing for Division 2 Valdosta State. Don't see a depth chart anywhere.
Jason Oliver, So DB. Playing for FCS Sacramento State. Don't see a depth chart.
Devin Grant, So DE. Playing for FCS Incarnate Word. Don't see a depth chart.
Aaron Austin, Fr DL. Playing for FCS Stephen F Austin. IDK once again hard to find FCS depth charts.
Xavier Smith, Fr DB. Playing for FCS Austin Peay. Once again no depth chart.
Mister Williams, So LB. Playing for FCS Incarnate Word. No Depth Chart.
Zion Magalei, So LB. Playing for FCS Northern Arizona. No depth chart.
Shakaun Bowser, So DE. Playing at Garden City CC. Moved to DE from OLB.
Non-Scholarship Transfers:
Kaden Ludwick, Fr TE. Playing for Oregon as a PWO. Not listed on the 2-deep.
Uncommited/No longer playing(?):
Jayle Stacks, Jr RB. As far as I can tell he has not transferred anywhere.
Drew Carter, signed with UC Davis to play basketball. Seems like his fb career is over.
Nigel Bethel. Sr DB. As far as I can tell, has not transferred anywhere.
Alvin Williams. Was suspended last season and does not appear to have transferred anywhere.
Erik Olsen. Retired from football to focus on academics.
Eoghan Kerry. Retired from football to focus on academics.
–
—–
August 30th
… CU in a few minutes … 
Returning safety Trevor Woods: "There's definitely a lot more confidence coming into this year"
From the Daily Camera … Trevor Woods, a junior safety, understands the outside expectations might not be much different this time around for this matchup. Internally, however, Woods believes the Buffs will enter the fray with a much different level of confidence than the group that took the field last year.
"There's definitely a lot more confidence coming into this year," Woods said. "Obviously, there's still a lot of question about this year, but yeah, I'm around it. That's more for the media and people outside of the building that have the question. But coming in this year, I feel a lot more confident and I feel we're capable of what we need to do this year."
It's not exactly a homecoming for Woods — his hometown of Katy is nearly four hours from Fort Worth — but the matchup does represent Woods' first opportunity to play a game in his home state. If Woods returns next season, more Texas games could be on the horizon given CU's pending move to the Big 12, but he's ready to embrace the opportunity — even if the first game of the Coach Prime era have made tickets difficult to land.
"It's awesome. I mean, it's still another four hours north of where I am, but, uh, I got a lot of people coming," Woods said. "I wasn't able to get too many tickets. Everyone's from the south on the team now. So everyone's looking for tickets, but my family was all good with that, friends, too. So it'll be fun. I can't wait for the Big 12 too. Not only do I get to see more stadiums and stuff, but just playing more games in Texas, I got friends at all those schools."
… Continue reading story here …
–
—
*Video – LB LaVonta Bentley excited to make CU debut*
From BuffStampede.com …
–
—
Coach Prime's former DC at Florida State compares Sanders' approach to coaching to that of Paul "Bear" Byrant
From ESPN … Sanders might say he doesn't care about culture, but his coaching philosophy is built on the same core principles he learned as a player at Florida State under Bobby Bowden and defensive coordinator Mickey Andrews.
In an interview last year with ESPN's Stephen A. Smith, Sanders said, "I'm pretty much a version of Mickey Andrews right now, the way I go about my job."
He made similar comments to The Ledger newspaper when Andrews retired in 2009: "Not a day goes by when I am coaching, mentoring or teaching somebody that I don't use things coach Andrews taught me. He is one of the all-time great defensive coaches in college football history."
Andrews spent 26 years as defensive coordinator with the Seminoles, and he molded Sanders into a two-time All-American in 1987-88. Andrews' relentlessness with his players, tough love, and emphasis on hard work and discipline are core tenets Sanders has taken with him as a coach. Andrews told ESPN from his home in Tallahassee, Florida, that he and Sanders have talked at length about their similar approach to coaching.
"He has told me a lot of times that he finds himself repeating some of the language I used, and the way I went about talking with players and trying to challenge them," Andrews said. "Deion is a very honest person. I tried to be the same way with the players. I was tough on them, and I understand he is. I tried to create self-discipline. That's how you become disciplined. You have to take ownership of that."
Andrews said the first team meeting Sanders held at Colorado — when he sent an eye-opening message about his expectations — reminded him of his freshman year at Alabama under Paul "Bear" Bryant in 1959.
"I saw the players were sitting around expecting a guy to come in there being jovial. He pinned their ears to the wall right off the bat," Andrews said. "It reminded me so much of Coach Bryant. His deal was you get in or you get out. He wasn't going to have a meeting and try to encourage you to join his team. He told us the first step to winning is to keep from losing, and he said you guys in here that can't abide by that need to find another place to go to school. He was going to force you to make a decision. Deion kind of did the same thing."
Sanders often points to five qualities he's looking for in his players: smart, tough, fast, disciplined, great character. Those close to Sanders describe an approach that prioritizes similar qualities that Bowden valued while building Florida State into a national power, but Sanders has taken full advantage of modern NCAA rules.
First-year head coaches, like Sanders, have access to the NCAA's "Aid After Departure of Head Coach" rule, which allows them to cut scholarship players and not have them count against the 85-scholarship limit, as long as those players remain on scholarship through the university. The transfer eligibility rules that went into effect in 2021 allowed this to become a mechanism for clearing roster space. Additionally, the NCAA Division I Council last year announced a two-year waiver for initial counter limits, which previously capped the number of incoming scholarship players — high school recruits and transfers — in the offseason at 25. These rules make it possible for Sanders and other first-year coaches to revamp their rosters in ways they couldn't before.
… Continue reading story here (It's a lengthy article by ESPN. It's entitled, "Inside Deion Sanders' roster remake of Colorado football", which includes interviews with former players. It's a long read, and generally on point)
–
—
Freshman (not named Cormani McClain) may be starting at corner 
From the Daily Camera … As expected, the Colorado Buffaloes have a true freshman in contention for a starting job at cornerback going into the season opener.
It's not the true freshman that many would have projected to be in that spot, however.
On Tuesday, CU head coach Deion Sanders said true freshman Carter Stoutmire is  battling Florida State transfer Omarion Cooper for the second cornerback spot opposite star Travis Hunter.
"It's gonna go right down to the end," Sanders said. "It may go down to see who gets off the bus – the first one off the bus. That's how tight it is right now. We're comfortable with both of their production, but we just don't know which one may get the nod."
Hunter, the No. 1-rated recruit in the country in the 2022 class, is a clear starter and he'll be heavily involved on offense, too.
Penciled into the second spot for much of the offseason has been true freshman Cormani  McClain, a five-star recruit who was ranked as the nation's No. 1 corner coming out of high school this year.
The Buffs love McClain's potential and it's possible he makes the jump to the first team at some point this year. But, Stoutmire, a three-star recruit who originally committed to Arizona before flipping to CU, has been one of the Buffs' most impressive corners this month in practice.
… Continue reading story here …
–
—–
August 29th
… CU in a few minutes … 
**Coach Prime's TCU Press Conference** (With Neill Woelk article, below)
From BuffsTV … Coach Prime on TCU: "They have great coaching. They did the unthinkable last year and I'm proud of them, residing in Texas for quite some time. They will be prepared. They will be fundamentally sound. It's a good football team" …
Coach Prime on Alton McCaskill: "He tried to fight me the other day to get that jersey off of him. But he just started cutting and moving – we're in it for the long haul. You can see a tremendous difference in the week-to-week. We just want to make sure he's okay and not just throw him out there. When he plays we want him to be they guy who he was" … "I'm sleeping really well on the running back room" …
Omarion Cooper and Carter Stoutmire may start at corner alongside Travis Hunter … Myles Slusher the likely starter at the star position … Defensive line: "I'm happy with what I see … A couple of guys will end up with double digits in sacks" … Warren Sapp had a "hot tub session" with the defensive line …
"Most guys from the team are from the south. We're used to those hundred-degree summer workouts." -Trevor Woods on the Texas heat
–
Safety Trevor Woods
–
From CUBuffs.com … Colorado's Deion "Coach Prime" Sanders made it clear Tuesday at his weekly press conference.
The Buffaloes are ready.
Ready for Saturday's 10 a.m. season opener against 17th-ranked TCU at Amon Carter Stadium (Fox). Ready for the near-100 degree heat forecast for Saturday in Fort Worth.
And perhaps most importantly, ready for the big stage.
That stage includes a national television audience, what is expected to be a sold-out TCU stadium, and the eyes of a college football nation eager to get the answer to one question:
Just how good can the team that underwent one of the most dramatic roster rebuilds in the modern history of college football be?
"These kids are ready," Sanders proclaimed. "Practice-wise, these guys have been getting after it and I'm proud of them. They've been working their butts off and they've kind of challenged one another."
Sanders placed an emphasis on that challenge Tuesday morning. In place of his daily "morning message" to the team, he asked players what they needed to accomplish to be dominant in Saturday's game.
He wrote their answers on the board, then told them, "OK, now go out there and practice and do it. Don't wait until Saturday to do it. Do it now. So I'm happy with our young men. I really am."
The Buffs are coming off what was by all accounts a solid fall camp. CU's offense made great strides under the direction of coordinator Sean Lewis while Charles Kelly's defense — rebuilt from front to back — also settled into a groove over the last couple weeks of camp.
The Buffs' offense, led by quarterback Shedeur Sanders and bolstered by a healthy corps of talented running backs and receivers, is geared to move fast. But there's no doubt that the tempo the Buffs want to establish will depend on the offensive line, a group that made significant strides from the opening of fall camp.
That means giving Sanders time to operate in the pocket.
"I would like to feel real good and I feel good about protecting (No.) two," Coach Prime said. "You protect two, give him a clean pocket, it's going to be some problems."
… Continue reading story here …
–
—
Receiver Javon Antonio a name to remember: "He's a presence. He's a big body that can run"
From the Daily Camera … Throughout Colorado's preseason camp, it became routine to see a No. 4 white jersey leaping over defensive backs to make catches.
Javon Antonio needed a little bit of a time to adjust to the altitude in Boulder, but once he did, he shined.
CU will open the 2023 football season on Saturday at TCU (10 a.m. MT, Fox), with Antonio being among the many intriguing play-makers on offense.
"He's a presence," offensive coordinator Sean Lewis said. "He's a big body kid that can run. He's got a ton of collegian experience, so there's not a whole lot that fazes him. And again, it's a matter of how fast can he uptake with what's going on and then be able to apply that and use his physical gifts."
At 6-foot-4, 225 pounds, Antonio is not only CU's biggest wide receiver; he's actually bigger than some of the Buffs' tight ends.
Antonio also brings a determination to prove himself after finally landing an opportunity at a Power Five conference school.
"I'm very excited," said Antonio, a transfer from Northwestern State in Natchitoches, La. "I felt this time was gonna come and it came. It's like, what are you gonna do with it?"
… Continue reading story here …
–
—–
August 28th
… CU in a few minutes … 
*Video: Monday's practice – "It's Game Week!"*
From Thee Pregame Show …
–
—
Buffs reworked offensive line a key to CU's success: "They're gonna get the job done. They're fine"
From the Daily Camera … It's a reworked offensive line, a group that has a lot to prove. Ten linemen were starters at the college level last year, but most of them at lower levels, including four junior college transfers. The Buffs have been encouraged by the group in camp, however.
"The offensive line is really good," running back Alton McCaskill IV said. "People are saying they've got some doubts, but I don't know. I don't be seeing what people are talking about, at all. We've got a good O-line, definitely. They're gonna get the job done. They're fine. Our O-line is just fine. They're jelling together pretty well. We've got some really good guys out there."
Shedeur Sanders certainly hopes so, as does McCaskill. He leads what appears to be a deep and talented group of running backs.
The AAC rookie of the year in 2021 while at Houston, McCaskill is fully recovered from a torn ACL that cost him the 2022 season. Kavosiey Smoke (Kentucky) and Sy'veon Wilkerson (Jackson State) have been highly productive in their college careers, while Anthony Hankerson and Charlie Offerdahl return to the Buffs after being in the rotation last year.
Dylan Edwards is another weapon that excites Shedeur Sanders and the Buffs. The true freshman running back has blazing speed and might also play at receiver.
"Dylan Edwards is a phenomenal, electrifying player," Coach Prime said.
… Continue reading story here …
–
—–
August 27th 
… CU in a few minutes … 
LB LaVonta Bentley: "Just trying to feed my family and I know this is the best place I can do that"
From the Daily Camera … When LaVonta Bentley chose to transfer to Colorado last winter, he wasn't looking for a guarantee. He was looking for a chance.
Following four seasons as a backup linebacker at Clemson, Bentley came to CU to fight for a starting job, and with the Buffaloes' season opener coming up Saturday at TCU (10 a.m. MT, Fox), he may have found one.
"Better opportunity," Bentley told BuffZone about his decision to leave Clemson for his final two seasons of eligibility. "Just trying to feed my family and I know this is the best place I can do that."
Bentley, listed at 6 feet tall and 230 pounds, was very productive in his time at Clemson, recording 73 tackles, 11.5 tackles for loss and 5.5 sacks in only 417 career snaps. But, he didn't feel he had a path to a bigger role with the Tigers anymore.
"I felt like politics played a part over at Clemson," he said. "I felt like I was next in line, but still got to do the work. I knew my information and all the plays and stuff like that, but God gave me signs that I needed to transition, so that's what it was."
"I felt like politics played a part over at Clemson," he said. "I felt like I was next in line, but still got to do the work. I knew my information and all the plays and stuff like that, but God gave me signs that I needed to transition, so that's what it was."
Once he met CU's new coaching staff, including head coach Deion Sanders and linebackers coach Andre Hart, Bentley committed to the Buffs. There were no promises made to Bentley, other than he'd have a legitimate shot to start.
Hart has been impressed with Bentley's toughness and coachability all offseason.
"He's old school," Hart said. "You can get on him and he'll correct it. He's a leader. He doesn't waver at all from us getting on him and we coach them hard."
For example, earlier this month, Hart moved Bentley down on the pre-practice depth chart without telling him. He wanted to see how Bentley would react, and said, "Bentley had one of his best practices ever that day."
Bentley said that sparked him, but added, "I feel like everybody needs that to not get comfortable."
… Continue reading story here …
–
—
WR Xavier Weaver excited to make the most of his senior season: "I can't see why somebody wouldn't want to come here"
From the Daily Camera … From afar this spring, Xavier Weaver kept hearing about Jimmy Horn Jr. shining with the Colorado football team in practices.
As he finished up his time at South Florida, Weaver would smile when he'd hear about his friend's success and he couldn't wait to join him in Boulder.
"I knew my time was coming," said Weaver, who played with Horn at South Florida. "I was happy to see him, seeing what I saw at USF transfer over to here and just killing it. It was a blessing to see that."
Now, Weaver is doing the same thing with the Buffaloes.
Colorado opens its season on Sept. 2 at TCU (10 a.m. MT, Fox) and Weaver is entrenched as one of the Buffs' top receivers, alongside Horn and others.
First-year CU head coach Deion Sanders overhauled the entire roster, but particularly at receiver, where all 12 scholarship players in that room – as well as three of the six walk-ons – are new to the team.
"Opportunity," he said when asked why he chose CU. "I can't see why somebody wouldn't want to come here. Coach Prime is a prime example. Shedeur (Sanders) throwing the ball, you know he's gonna throw the ball, so it's set up perfectly."
An Orlando native who has spent his life in the Sunshine State, Weaver has been all smiles since getting to Boulder.
"It's been definitely exciting," he said. "It's an opportunity I can't even imagine and I probably didn't think was gonna happen, but it's definitely a blessing and I'm ready to work."
… Continue reading story here …
–
—
Coach Prime impact on local economy substantial; "teens of millions" for sold out games
From the Daily Camera … Deion Sanders' financial impact already has been substantial, particularly for a program coming off a lowly 1-11 season. For the first time in about 40 years, CU sold tickets to the annual spring game. The event sold out. Less quantifiable but no less profound has been the exposure Sanders has brought to campus. That spring game aired live on ESPN, and the Buffs will be featured on the first two Fox Big Noon broadcasts of the year against TCU and Nebraska.
Following the COVID-19 pandemic shutdown of 2020, the return of fans to Folsom Field the past two years hasn't provided the usual boon to the local economy. After averaging 49,473 fans in the final pre-pandemic season of 2019, a number buoyed by home games against Nebraska and Air Force, CU averaged 46,484 fans in 2021 and just 42,847 last year. The numbers from 2021 and 2022 are lower than the Sanders-led Buffs attracted for the spring game in April (47,277).
Tayer was unable to cite specific numbers regarding the impact of a bountiful football Saturday in Boulder, but said estimates indicate the economic impact for Boulder is in the "teens of millions" for every "high-attendance" game at Folsom.
Given CU sold out its allotment of season tickets in April, and the home dates against Nebraska and Stanford already have sold out, it should be a bountiful fall for Boulder's business community.
"There's no question that for our hotels that are seeing higher occupancy, and the extreme interest in the game attendance, it has been a positive," Tayer said. "That reflects in restaurants, and we're very confident we'll see a surge from the attendance, as well as the local retail shops. All of that just around it — the excitement of game day activity in the Coach Prime era — is something that has been a great benefit to the economy.
"Even beyond that, having the attention of a national high-profile coach who's bringing in and attracting strong talent to the football team, is something that has great potential for not only the university, that is already seeing an upswing in applicants based on the attention the university is getting, but it's something that allows us to put our community out there in a visible, positive manner. Every time he is out there and is interviewed about our community, and the game's he's coaching on TV, all of that allows us to talk about our community and the wonderful, attractive nature of our business community."
–
—