—
Colorado Basketball – Fall, 2023
—
October 24th
… CU in the Arena … 
CBS men's basketball rankings – CU in at No. 31 "Buffs will be in the NCAA Tournament five months from now"
From CBS Sports … College hoops' season is less than two weeks out. The longest offseason traverse in major American sports is almost over. Hallelujah. With the season under a fortnight away, I am proud to present to you our biggest preseason piece of content each year: A master ranking of the sport.
Below, you'll find capsules for the 101 best teams in men's college basketball. If you came looking for a general scan of the top of college hoops or an in-depth look at why I've decided to underrate the likes of NC State and Indiana again, you're in luck! This protracted primer offers more than just a little to know about a lot of teams.
Each year, as I build out this massive project, I consciously choose to avoid preseason metrics and human-based prognostications. You'll find some teams aligned next to numbers here that you won't find anywhere else — for better or worse. Probably better. I'm basically never wrong with this annual October science project, you know?
Of course, most of this will be immaterial by the time teams get a few games to their name, so leap head first into my rankings and bask in the optimism that comes with every preseason. Will Purdue be this year's 2019 Virginia? Will Florida Atlantic be this year's Florida Atlantic? Is the Big 12 going to take a dial back with 14 teams? Which coach will text me and protest his team's placement on this list within minutes of the story publishing? (I almost published two names right here.)
So much excitement with finally releasing this to the public every year. I hope you enjoy reading it as much as I enjoyed building it for you.
From the Pac-12 … 
No. 8 … Arizona
No. 10 … USC
No. 30 … UCLA
No. 31 … Colorado … The Buffaloes will be in the NCAA Tournament five months from now and the biggest reason why is senior forward Tristan Da Silva. The German-born Da Silva is 6-9 and 230 pounds. He shot 39.4% from long range last season and should see his 15.9 points average rise, even with one of the best freshmen nationally also in the fold. That's right: Colorado landed a five-star, and I'm not talking football. Cody Williams was the fourth-ranked player in last year's high school class. He's the highest-rated recruit in program history and the most anticipated to suit up for CU since Chauncey Billups in the mid-90s. He'll play alongside KJ Simpson, who is a borderline top-100 player. Eddie Lampkin comes via TCU and will make matters even better down low. Dark horse pick to win the Pac-12 here.
No. 50 … Utah
No. 53 … Arizona State
No. 54 … Oregon
No. 63 … Washington
No. 70 … Stanford
Not in Top 101 … Oregon State … Washington State … California …
–
—–
October 18th
… CU in the Arena … 
CU women ranked in preseason polls for the first time since 2013
From the Daily Camera … For years, the Colorado women's basketball team has had to scratch and fight for wins and respect.
Based on the national rankings released Tuesday, the Buffaloes now have that respect, but the fight to climb won't change as they gear up for the 2023-24 campaign.
Coming off its first Sweet 16 appearance in 20 years, CU landed at No. 20 in the preseason Associated Press Top 25 poll and No. 18 in the USA Today Coaches' poll.
"Honestly, I don't really worry about that too much," head coach JR Payne said at CU's annual basketball media day on Tuesday. "We've recruited a bunch of players with these massive chips on their shoulder, people that were under recruited, they don't have any stars next to their names out of the recruiting process, and we like it that way.
"We have a bunch of players that love to be an underdog and love to be sort of overlooked and love to have something prove. Whether we were ranked No. 1 or not ranked at all, it's just built in our DNA that we want to prove people wrong, we want to prove that we're really good. No matter what the ranking is, this team will have that mindset. We're excited and honored to be preseason top 25 … but we're motivated to continue to climb that ladder."
This is the first time since 2013 that CU is ranked in the preseason, as the Buffs were No. 19 in both polls that year.
–
—–
Four-star in-state guard Andrew Crawford commits to Colorado
From the Daily Camera … Another Colorado connection is coming to the Colorado men's basketball team.
On Saturday, coach Tad Boyle's program received a verbal commitment from ThunderRidge combo guard Andrew Crawford. Crawford is the second commitment for CU's 2024 class, following last month's pledge from Doryan Onwuchekwa.
Crawford, a 6-foot-6 native of Littleton, is ranked as a four-star prospect by 247Sports. He is considered the top prospect in Colorado and is ranked No. 87 nationally.
Per the ThunderRidge MaxPreps page, Crawford averaged 19.7 points, 11.7 rebounds and 6.3 assists last year, while shooting 47 percent from the field.
The Buffs have consistently targeted top in-state recruits under Boyle, who is going into his 14th season at CU. The list of former Buffs scholarship players brought to Boulder from within the state under Boyle include Josh Scott, Wesley Gordon, Xavier Talton, Dominique Collier, Derrick White, Dallas Walton, and D'Shawn Schwartz. It also includes two players who transferred out of the program after several seasons, Daylen Kountz and Nique Clifford, as well as current Buffs Luke O'Brien, Julian Hammond III and Assane Diop.
–
—–
October 16th
… CU in the Arena … 
CU No. 27 in preseason Associated Press poll; only Arizona and USC ranked (Buffs ahead of UCLA)
From ESPN … Bill Self likes to remind his team that the faces might change at Kansas but the expectations within his program never do.
Expectations outside the program? Turns out they are as high as possible this year.
The Jayhawks were the clear No. 1 pick in the AP Top 25 preseason men's basketball poll released Monday, earning 46 of 63 first-place votes to easily outdistance No. 2 Duke and No. 3 Purdue. It's the third time since Self's arrival in Lawrence in 2003 that his team will start the season on top but the first time since the 2018-19 season.
"You know you'll have a target on your back playing at Kansas," said Kevin McCullar Jr., who decided to return for a second season with the Jayhawks and fifth in college hoops. "We'll have that chip on our shoulder, you know, prove everybody wrong, and state why you should be the No. 1 team in the nation. You go out there and use that. You use that as fuel every day."
The Jayhawks had a disappointing follow-up to their 2022 national title last season, losing to Texas in the Big 12 championship and falling to Arkansas in the opening weekend of the NCAA tournament. Self, 60, missed both of those events after having a valve in his heart replaced, but the coach is back on the sideline and chasing a third national title in the 75th anniversary season of the AP poll.
Duke picked up 11 first-place votes to land at No. 2 in Jon Scheyer's second season, and Purdue got three first-place nods as it tries to avenge a stunning end to last season. AP player of the year Zach Edey and the Boilermakers became the second men's No. 1 seed to lose to a No. 16 seed in the NCAA tournament when they lost to Fairleigh Dickinson.
Conference watch
The SEC led the way with five teams in the preseason poll, with Tennessee in the top 10. The Big 12 and Big East had four apiece, with the latter landing three among the top eight in Marquette, UConn and Creighton. The ACC and Big Ten had three apiece.
Outside looking in
Wisconsin, Colorado and UCLA are the first three outside the Top 25; the Bruins were No. 7 in the final poll last season. Also on the outside were Xavier and Kansas State, both of whom were in the top 15 entering last year's NCAA tournament.
1. Kansas (46)
2. Duke (11)
3. Purdue (3)
4. Michigan State (1)
5. Marquette
6. UConn (2)
7. Houston
8. Creighton
9. Tennessee
10. FAU
11. Gonzaga
12. Arizona
13. Miami
14. Arkansas
15. Texas A&M
16. Kentucky
17. San Diego State
18. Texas
19. North Carolina
20. Baylor
21. USC
22. Villanova
23. Saint Mary's
24. Alabama
25. Illinois
Others receiving votes: Wisconsin 53, Colorado 49, St. John's 47, UCLA 47, Maryland 34, Virginia 27, Auburn 27, TCU 24, Mississippi State 20, Kansas State 13, Xavier 8, Memphis 7, Missouri 6, Boise State 4, Indiana 3, Charleston 2, Florida 2, Drake 1, New Mexico 1
–
CU No. 28 in KenPom preseason rankings (highest preseason ranking ever) …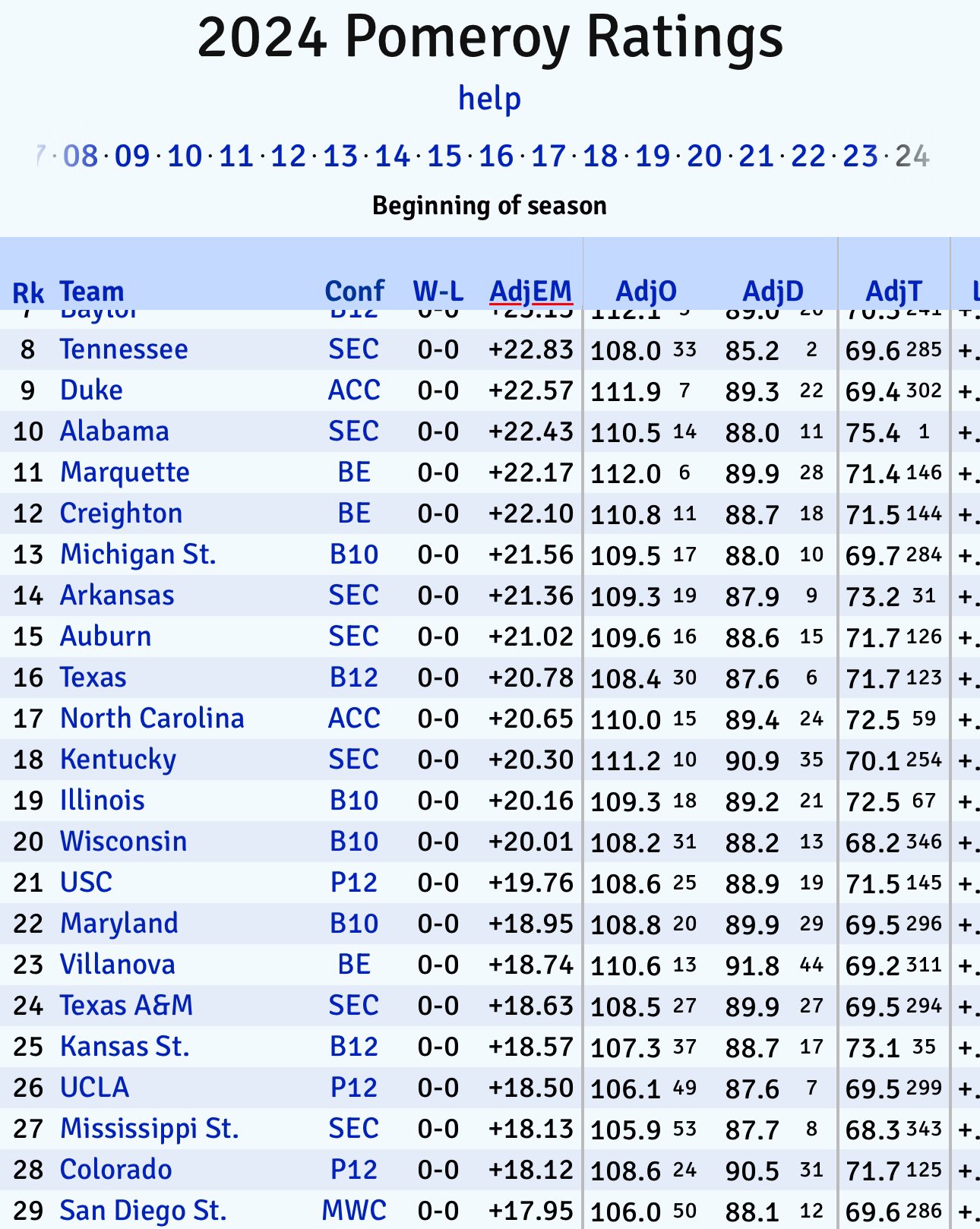 –
—–
October 11th
… CU in the Arena … 
CU men picked 5th in preseason media poll – Boyle: "If we're the fifth-best team in the Pac-12, the Pac-12's pretty good this year"
From the Daily Camera …. Colorado head coach Tad Boyle rarely makes much noise about the annual Pac-12 Conference preseason media poll. Unless, of course, there is some glaring slight that could prove useful as a motivational tool.
Yet when this year's poll was released on Wednesday to kick off CU's final appearance at the Pac-12 men's basketball media day, slotting the Buffs fifth, a confident Boyle offered a single observation.
"If we're the fifth-best team in the Pac-12, the Pac-12's pretty good this year," Boyle said. "I like the combination of our returning players, our veterans, and the new young talent is about right. And we've had some really good practices. I think we're 12 practices in, and this is a competitive group."
Two-time defending conference tournament champion Arizona took the top spot, landing 18 of the 22 first-place votes. With 303 points, the Wildcats were a decisive choice over second-place USC (264). UCLA (249), Oregon (228) and the Buffs (210) rounded out the top five. Voters generally agreed on a drop-off after the top five, as Arizona State finished sixth with 148 points.
"This is a good group," Boyle said. "A lot of talent, a lot of depth. Picking us fifth is great, because the pressure's off. But the internal standards and goals we have for this program are much higher than fifth in the league."
… Continue reading story here …
–
—–
October 10th
… CU in the Arena … 
K.J. Simpson/Tristan da Silva preseason first-team All Pac-12 selections; freshman Cody Williams gets an honorable mention
From CUBuffs.com … University of Colorado senior Tristan da Silva, junior KJ Simpson and freshman Cody Williams received recognition on the Preseason Pac-12 All-Conference Teams Tuesday as voted on by media members that cover the league.
Da Silva and Simpson were named to the media's 10-member All-Pac-12 First Team. Williams earned honorable mention, receiving at least five votes from the media panel.
Da Silva was a 2022-23 All-Pac-12 Conference First Team selection as a junior, leading Colorado at 15.9 points per game on just under 50 percent shooting. He led the Buffaloes with 54 3-point field goals and 44 steals while ranking second on the team in rebounding with 168.
The preseason honors are rolling in for da Silva. Colorado's active career leader in scoring, da Silva was named to Blue Ribbon Yearbook's Preseason All-America Fourth Team, named Preseason All-Pac-12 and the 56th best player in the nation by The Almanac and topped NCAA.com's Andy Katz's list of top small forwards in the nation.
Simpson was a 2022-23 All-Pac-12 Conference Second Team selection as a sophomore, leading Colorado in assists (111) and steals average (1.5 spg) and was second in scoring at 15.9 points per game – just a fraction behind da Silva – and in 3-point field goals (37). On the Pac-12 charts he was fifth in free throw percentage, six in steals and seventh in scoring and assists.
Williams is a Naismith and McDonald's All-American from Gilbert, Ariz., where he guided Perry High School to the 2023 Open Division State Championship. A five-star recruit, Williams played for USA Basketball's U19 Men's National Team at the 2023 FIBA U19 Men's World Cup Championship in Hungary this past summer.
2023-24 Pac-12 Men's Basketball Preseason Media All-Conference Team
First Team
Oumar Ballo, Arizona
Adem Bona, UCLA
Keion Brooks Jr., Washington
Branden Carlson, Utah
Isaiah Collier, USC
N'Faly Dante, Oregon
Tristan da Silva, Colorado
Boogie Ellis, USC
Spencer Jones, Stanford
KJ Simpson, Colorado
Second Team
Fardaws Aimaq, California
Kylan Boswell, Arizona
Kobe Johnson, USC
Caleb Love, Arizona
Jordan Pope, Oregon State
Honorable Mention (votes from 5-or-more members of media)
Kwame Evans Jr., Oregon
Pelle Larsson, Arizona
Aday Mara, UCLA
Cody Williams, Colorado
–
—–
October 6th
… CU in the Arena … 
J'Vonne Hadley looking for a bounce back season: "I'm just a lot more confident in myself"
From the Daily Camera … Blocking out any exterior noise often is easier said than done.
J'Vonne Hadley does his best to avoid those sorts of distractions. Still, a few comments inevitably get through. And, much like his first year at Colorado, Hadley heads into the season feeling as if he has something to prove.
Now in his second season with the CU men's basketball team, Hadley is attempting to build on an injury-shortened performance last year that showed him to be a gritty and resilient interior player who nonetheless played with limitations.
"I'm just a lot more confident in myself," Hadley said. "I see some of the things that go out there on Twitter and stuff like that. I try not to but sometimes it finds its way back to me. It's just like Coach Prime says. I'm taking mental notes. I know what everybody says about me, that I shouldn't be a starter and can't shoot the ball. I proved them wrong before. I guess I'll have to do it again."
… It remains to be seen if Hadley will retain his spot in the starting lineup, or if Boyle will turn to him as one of the first options off the bench. Regardless, a squad without a premier individual rebounder still will need Hadley to display a nose for the ball. Plus, in the move to a five-out offensive system, the Buffs still will be able to take advantage of mismatches to utilize Hadley's scoring touch inside.
"The coaches are telling me every day at practice to get your shots up," Hadley said. "I'm shooting the ball more at practice. I'm not forcing it, but whatever comes my way, I'm working on getting that shot, getting my feet set and letting it go just like I did in junior college."
… Continue reading story here …
–
—
Full 2023-24 schedule released; Buffs open Pac-12 play at home v. Washington schools
From CUBuffs.com … The 2023-24 University of Colorado men's basketball schedule is complete, with the Buffaloes once again featured prominently on a national stage.
The Pac-12 Conference has released the dates for its full 120-game schedule along with tip times and television designations for the majority of the league-controlled contests.
Colorado has 27 regular season games scheduled to air on one of the Pac-12's television partners. The Buffaloes will appear on the ESPN Family of Networks for half of their Pac-12 schedule (10 games). Colorado will have 14 games overall on the Pac-12 Network with three on FS1.
Last month, the Pac-12 announced the conference weekly pairings, but Thursday's announcement set the full schedule. The Buffaloes open Pac-12 play against Washington on Friday, Dec. 29, with a 7 p.m. tip on ESPNU at the CU Events Center. Colorado then hosts Washington State on Sunday, Dec. 31, at 12 p.m. on the Pac-12 Network.
The Buffaloes have two different sets of three-game road trips as well as two separate three-game home stands during the league schedule. Colorado rings in the New Year with three of those instances, which adds up to a stretch of six of nine on the road.
After a trip to the desert to play Arizona (Jan. 4, 7:30 p.m., ESPN) and Arizona State (Jan. 6, 6 or 8 p.m., ESPN2/U), Colorado heads to the Bay Area for a single game with California (Jan. 10, 9 p.m. MT, ESPNU). The Buffaloes return home for a weekend contest with USC (Jan. 13, 8 p.m., ESPN2) and will then host Oregon (Jan. 18, 8:30 p.m., FS1) and Oregon State (Jan. 20, 5 p.m., Pac-12) the following week.
Colorado embarks on its second three-game road swing with its final Pac-12 trip to Washington (Jan. 24, 9 p.m. MT, ESPNU) and Washington State (Jan. 27, 3 p.m. MT, Pac-12) before heading to Salt Lake City to face Utah (Feb. 3, 3 p.m., Pac-12).
Colorado hosts Arizona State (Feb. 8, 6 p.m., FS1) and Arizona (Feb. 10, 6 or 8 p.m., ESPN/2/U) before making a farewell tour of Los Angles at UCLA (Feb. 15, 7 p.m., ESPN2) and USC (Feb. 17, 8 p.m. ESPN2).
The Buffaloes head down the home stretch by hosting Utah (Feb. 24, 7 p.m., Pac-12), California (Feb. 28, 6 p.m., Pac-12) and its lone game with Stanford on Senior Night (Mar. 3, 7 p.m., FS1) before closing the regular season at Oregon (Mar. 7, 7 or 7:30 p.m., ESPN/2) and Oregon State (Mar. 9, 3 p.m., Pac-12).
The times and ESPN designation for Colorado's games at Arizona State and home against Arizona will be determined two weeks out while the game at Oregon will be decided one week ahead of the contest.
During the nonconference schedule Colorado will have two games, and possibly a third, air on CBS Sports Network, including the hardwood edition of the Rocky Mountain Showdown against Colorado State on Nov. 29 at 7 p.m. in Fort Collins. A television partner for the NABC Brooklyn Showcase game against Miami on Dec. 10 is still to be determined.
All seven of Colorado's home nonconference games will air on Pac-12 Networks, tipping off with Towson on Nov. 6 at 5:30 p.m.
In addition to the regular season schedule, the Buffaloes added an exhibition game against MSU Denver for Oct. 28, at 7 p.m. at the CU Events Center.
Colorado men's basketball season tickets are on sale now and can be purchased online at CUBuffs.com/tickets or by calling 303-49BUFFS.
–
2023-24 CU Buffs men's basketball schedule
Oct. 28: METRO STATE, 7 p.m. (exhibition)
Nov. 6: TOWSON, 5:30 p.m. (Pac-12 Network)
Nov. 10: GRAMBLING STATE, 6 p.m. (Pac-12 Network)
Nov. 14: MILWAUKEE (Sunshine Slam), 7 p.m. (Pac-12 Network)
Nov. 20: vs. Richmond, 6 p.m. (at Daytona Beach; Sunshine Slam; CBS Sports Network)
Nov. 21: vs. Florida State/UNLV, 2/4:30 p.m. (at Daytona Beach; Sunshine Slam; TV TBD)
Nov. 26: IONA, noon (Pac-12 Network)
Nov. 29: at Colorado State, 7 p.m. (CBS Sports Network)
Dec. 3: PEPPERDINE, 3 p.m. (Pac-12 Network)
Dec. 10: vs. Miami (Fla.), noon (at Barclays Center; NABC Brooklyn Showcase; TV TBD)
Dec. 15: NORTHERN COLORADO, 6 p.m. (Pac-12 Network)
Dec. 21: UTAH TECH, 5 p.m. (Pac-12 Network)
Dec. 29: WASHINGTON, 7 p.m. (ESPNU)*
Dec. 31: WASHINGTON STATE, noon (Pac-12 Network)*
Jan. 4: at Arizona, 7:30 p.m. (ESPN)*
Jan. 6: at Arizona State, 6/8 p.m. (ESPN2/U)*
Jan. 10: at California, 9 p.m. (ESPNU)*
Jan. 13: USC, 8 p.m. (ESPN2)*
Jan. 18: OREGON, 8:30 p.m. (FS1)*
Jan. 20: OREGON STATE, 5 p.m. (Pac-12 Network)*
Jan. 24: at Washington, 9 p.m. (ESPNU)*
Jan. 27: at Washington State, 3 p.m. (Pac-12 Network)*
Feb. 3: at Utah, 3 p.m. (Pac-12 Network)*
Feb. 8: ARIZONA STATE, 6 p.m. (FS1)*
Feb. 10: ARIZONA, 6/8 p.m. (ESPN/2/U)*
Feb. 15: at UCLA, 7 p.m. (ESPN2)*
Feb. 17: at USC, 8 p.m. (ESPN2)*
Feb. 24: UTAH, 7 p.m. (Pac-12 Network)*
Feb. 28: CALIFORNIA, 6 p.m. (Pac-12 Network)*
March 3: STANFORD, 7 p.m. (FS1)*
March 7: at Oregon, 7/7:30 p.m. (ESPN/2)*
March 9: at Oregon State, 3 p.m. (Pac-12 Network)*
March 13-16: Pac-12 tournament, Las Vegas (T-Mobile Arena)
(All times Mountain; Home games in CAPS; *Pac-12 Conference game)
–
—-