—
Pac-12 Notes – Arizona State Week
—
October 27th 
… Foe Pause …  
Pac-12 Commissioner: "I have yet to talk to anyone in the UCLA and USC community who's in favor of the move" (to the Big Ten)
From ESPN … USC's and UCLA's upcoming move to the Big Ten has not been popular with their supporters, according to Pac-12 commissioner George Kliavkoff.
Both USC and UCLA will become full members of the Big Ten in 2024 after an offseason move that changed the structure of college sports.
During Pac-12 basketball media day on Wednesday, Kliavkoff said he's spoken to more than 100 people connected to both programs, including players and coaches, and the consensus has been against the move to the Big Ten.
"I think saying hundreds would be an exaggeration — dozens, more than a hundred," he said. "And I have yet to talk to anyone in the UCLA and USC community who's in favor of the move. I will say that I probably hear from folks who are not in favor, not surprisingly."
Last month, he sent a letter to the University of California system regents that stated UCLA's move to the Big Ten would create financial challenges for the Bruins. He reiterated those claims Wednesday without providing specific numbers.
According to reports, UCLA will reap an eight-figure gain annually when it joins the Big Ten.
"We believe that between the travel and coaches' salaries and some of the other expenses that you incur when you join the Big Ten, that the small delta in the [Big Ten] media rights deal will be more than offset and we stand by those numbers," Kliavkoff said.
Oregon men's basketball coach Dana Altman said he's "disappointed" by USC and UCLA leaving the Pac-12, noting that the Los Angeles market has been important for recruiting and the league's overall prominence.
"There's no way to sugarcoat it," Altman said Wednesday. "It's not good for our league. But we'll survive. We've got 10 good teams. It's our challenge to improve."
… Continue reading story here …
–
—
Of Pac-12 contenders, UCLA has the easiest November
From the San Jose Mercury News … With October coming to a close, four teams stand above the pack. Oregon, UCLA, USC and Utah are the only Pac-12 teams ranked in the AP top 25 this week and are 11-0 in conference play against the other eight schools.
Within the quartet, the results have been even: Oregon beat UCLA, which beat Utah, which beat USC.
Each team has at least one game remaining against the others, but the stretch-run schedules aren't exactly even.
Oregon has the toughest path based on the current conference records of its upcoming opponents, while UCLA has the easiest.
Oregon
at Cal (1-3)
at Colorado (1-3)
vs. Washington (3-2)
vs. Utah (3-1)
at Oregon State (3-2)
Opponent record: 11-11 (50%)
UCLA
vs. Stanford (1-4)
at ASU (1-3)
vs. Arizona (1-3)
vs. USC (4-1)
at Cal (1-3)
Opponent record: 8-14 (36.3%)
USC
at Arizona (1-3)
vs. Cal (1-3)
vs. Colorado (1-3)
at UCLA (3-1)
Opponent record: 6-10 (37.5%)
Utah
at WSU (1-3)
vs. Arizona (1-3)
vs. Stanford (1-4)
at Oregon (4-0)
at Colorado (1-3)
Opponent record: 8-13 (39.1%)
We would not necessarily peg UCLA as the frontrunner, especially with the head-to-head loss to Oregon.
But with only one remaining game against an opponent with a winning record (USC) — and with that game at home — the Bruins possess the most favorable path to one of the top two seeds and a berth in the conference championship.
–
—
CU back in ESPN's "Bottom Ten"
From ESPN …
Inspirational thought of the week:
Oh, hold him, darling
Please hold him tight
And brush the tear from your eye
You weep because you had a dream last night
You dreamed that he said goodbye
Hush hush, sweet Charlotte
Charlotte, don't you cry
Hush hush, sweet Charlotte
He'll love you till he dies
— "Hush, Hush Sweet Charlotte," Patti Page
Here at Bottom 10 Headquarters, located behind the rich mahogany bookcase where Gene Wojciechowski keeps leather-bound volumes of his "College GameDay" feature scripts, we spend our autumn weekends on the road watching games, but spend most of our weekdays bunkered in at the Bottom 10 basement home office.
For those who don't know, that's in Charlotte, aka also the home of the Charlotte 49ers, aka the only FBS team located 10 miles from my house. That living situation can get a little awkward. Like having to still share an apartment with the newly former significant other that you caught making out with your best friend, Tommy, at your birthday party, because neither one of you can afford to move out. No matter how hard you might try to avoid each other, there's no way to dodge those accidental and overtly uncomfortable encounters in the kitchen, standing in silence at the island waiting on the coffee maker to finish, but both of your skulls echoing with the words that you screamed at that party, "YOU ARE THE WORST! LIKE, RANKED NO. 1 AMONG THE 10 WORST THINGS IN OUR WORLD!"
That's what it is like for me at the grocery store, the gas station, even at church whenever the Niners are ranked in the Bottom 10. And they have been a lot. On Monday, after Charlotte fired head coach Will Healy, everyone knew what had to be done. Especially the guy in line behind me at Starbucks with his 2019 Bahamas Bowl Runner-Up sweatshirt on, angrily staring at me over the top of his grande pumpkin spice latte. We might as well have been exes in an apartment kitchen.
"I already know you're gonna have us No. 1," he grumbled. Then he set down his red pepper egg white bite, raised a fist and slowly cranked up a middle finger. "Well, guess what? So are you."
With apologies to Peter Quill, Will Healy and Steve Harvey, here are the post-Week 8 Bottom 10 rankings.
5. Agricultural & Mechanical College of Texas (3-4)
As a kid, I saved money for months from doing chores around the house, washing cars around the neighborhood, even scrounging up bottles from around town to get the deposit change. Why? To buy a special spy X-ray camera that I saw advertised in the back of a comic book. My dad warned me not to believe it, that maybe my time and dollars were better spent elsewhere, saying, "It'll just be another cheap piece of plastic like all of the other stuff you bought, like the sneakers that were going to make you run faster and the rubber bands that were going to make your muscles look like Superman's." But, undeterred, I kept going back to that ad, the one that promised that this would be different, finally a foolproof pathway to unimaginable superpowers. When the spy X-ray camera arrived, it was indeed just another piece of plastic. Also, Texas A&M.
6. North by Northworstern (1-6)
This month the Mildcats have lost to Wisconsin, a team that forgot to bring a head coach; Maryland, a team that has forgotten what conference it's supposed to be in, and now faces Iowa, a team that has forgotten that its stadium has end zones.
9 . Colora-duh (1-6)
The absence of Colorado State from these rankings makes room for the Rams' hated neighbors to the south, who followed up their emotional, shocking first win of the season at Cal with an emotional, shocking 33-point loss at Oregon State. Now the Buffs welcome Bottom 10 Wait Listers Arizona Skate for a game that is also shocking in that it kicks off at 7:30 p.m. ET. It feels more apropos to give this a #Pac12AfterDark time slot so that it can air alongside 1-900 chatline ads and Jim Bakker's infomercials selling doomsday barrels of pancake batter.
Waiting list: Georgia State Not Southern, FI(not A)U, Whew Mexico, Whew Mexico State, Temple of Doom, Living on Tulsa Time, Arizona Skate, Virginia Tech Nokies, Arkan-saw State, Northern Ill-ugh-noise, Central not Western or Eastern Michigan, Lose-iana Tech, political ads interrupting football games.
–
—-
October 25th
… Foe Pause … 
CU one of four Power Five teams in CBS Bottom 25
From CBS Sports … Anybody who has paid attention to college football long enough knows the growing divide between the haves and have-nots in the sport. The Power Five conferences, through realignment and television money, have separated themselves further and further from the rest of the sport. Even within the Power Five, certain schools have been able to pull away to a tier all their own. But while we've long been aware of it at the top of the sport, we're also starting to see it at the bottom.
When I created my rating system, it was with meritocracy in mind. I wanted something that didn't care who you were, where you played, or what you'd done before. You would only be judged on what you did now. For the first decade of my ratings, we saw far more Power Five programs at the bottom closer to the cellar-dwellers than you'd ever find in other rankings, be they numbers-based or opinion-based. But that's changing.
Not only do I see fewer Power Five teams creeping into The Bottom 25, but there also seems to be a limit on how far most of them are capable of plummeting. Colorado hung at No. 1 until it finally won a game, but other than the Buffs, there's not much competition from the rest of the Power Five.
This week's Bottom 25 has four Power Five teams, which is a high number for 2022, but Colorado is the only one to crack the Bottom 10. Whether 2022 is an outlier season or the beginning of the end for Power Five teams in The Bottom 25 remains to be seen, but it's something I'll be keeping an eye on.
No. 24 … Virginia Tech … The Hokies had the week off and return Thursday night at NC State. You do not have to watch it. Southern Miss and Louisiana will be playing at the same time. Watch that game instead. (21)
No. 23 … Boston College … With all the injuries they've suffered, you may want to consider walking on at Boston College if you have eligibility. You might get a roster spot. If nothing else, you might get some free gear. We can all use some new sweats as winter approaches. (NR)
No. 13 … Northwestern … The Wildcats blew a 17-7 lead against Maryland and lost 31-24 despite Maryland being without starting QB Taulia Tagovailoa. It may have been the best shot at a win remaining on the schedule. The next best is this week on the road against Iowa. First to two points wins, assuming either side ever gets there. (13)
No. 6 … Colorado State … Colorado State is 2-1 in the Mountain West but No. 6 in The Bottom 25. Does this amuse you as much as it amuses me? The Rams beat Hawaii 17-13 in The Bottom 25 Game of the Century of Last Week and will play for first place in the division this weekend against Boise State! (2)
No. 3 … Colorado … The Buffs got stuffed 42-9 by Oregon State, which was not the kind of performance they were looking for following that 20-13 win over Cal. This week's game against Arizona State is the team's best chance to get a second win before a murderous November slate begins. (5)
… Continue reading story here …
–
—
Stanford giving away tickets to final two home games 
Below was posted on the Stanford website. Last Saturday, the Cardinal hosted the Arizona State Sun Devils, winning 15-14. The announced crowd was 25,061, or roughly 50% of capacity for Stanford stadium (50,024).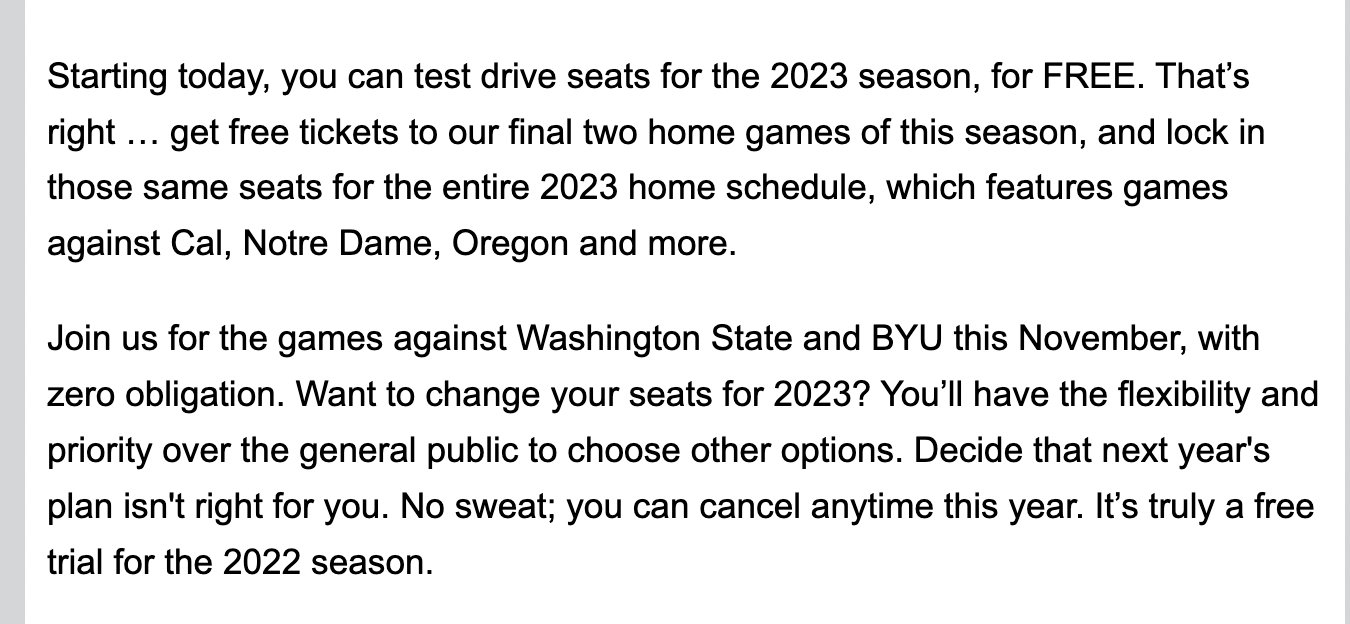 –
—–
October 24th
… Foe Pause … 
Why USC remains the Pac-12's best bet for a Playoff berth
From the San Jose Mercury News …
1. Playoff path narrows
It's Oct. 23, and there are no perfect records remaining in the Pac-12.
Alone among the Power Five conferences, it has no unbeaten teams after UCLA's defensive no-show in a 45-30 loss at Oregon that was easy to see coming.
But the Pac-12 isn't out of the College Football Playoff race, not with three one-loss teams.
The following assessment of the contenders assumes each team wins out and captures the conference championship.
UTAH
Best-case record: 11-2
CFP prospects: Just this side of zero
Assessment: The Utes were effectively eliminated in early October when they stumbled at UCLA. No two-loss team has made the cut in the eight years of the CFP, and the Pac-12 won't be the conference to change the paradigm.
OREGON
Best-case record: 12-1
CFP prospects: Weak but detectable
Assessment: We're hesitant to discount the Ducks entirely because any one-loss Power Five champion will receive consideration. But the magnitude of the season-opening face plant to Georgia won't be easily overcome. There is no way to spin 49-3, no matter how impressive the Ducks are down the stretch. And if Georgia claims the No. 1 seed, they have zero chance. Because that No. 1 vs. No. 4 matchup would be completely untenable.
UCLA
Best-case record: 12-1
CFP prospects: North of slim, south of solid.
Assessment: The Bruins would have three hurdles to overcome with the selection committee: 1) The 15-point loss to a team (Oregon) that lost to Georgia by 46 points; 2) The soft non-conference schedule; and 3) The impact of that non-conference schedule on their overall resume. The Bruins likely would have just three wins over teams in the final CFP rankings (Utah, USC and their opponent in the conference title game). We aren't sure that's enough.
2. Best bet for the CFP
We split USC off from the other contenders because the Trojans are, in fact, on a different level — a higher level.
They possess a vastly better chance of qualifying for the CFP than Utah, Oregon or UCLA.
Why? Because USC is the only team that can finish 12-1 and avoid the Georgia stain.
Think about it like this under the best-case scenarios laid out above:
Utah would have two losses; Oregon would have lost to the Bulldogs by 46 points; and UCLA would have lost to the team that lost to Georgia by 46 points.
But as a 12-1 conference champion, the Trojans would have either beaten Oregon in the Pac-12 title game or avoided playing the Ducks altogether.
Their resume would have immunity, so to speak.
Many observers were quick to dismiss the Trojans after the one-point loss at Utah, and that was a serious mistake.
If they beat UCLA on Nov. 19, thump Notre Dame on Nov. 26 and then beat either Oregon or Utah in the conference title game, the Trojans will receive serious consideration from the selection committee.
Also working in their favor, and never to be ignored: Brand bias.
It exists, even in a space as objective as the selection committee's boardroom. And you can bet your last dollar that one-loss USC, with Lincoln Riley and Caleb Williams, would have oodles of support.
Whether USC made the cut in that situation would depend on the competition — on the number of zero- and one-loss teams from other Power Five leagues.
It's Oct. 23, and there are no perfect records left in the Pac-12.
But the conference remains alive in the playoff race as long as USC doesn't lose again.
… Continue reading story here …
–
—–
October 23rd 
… Foe Pause … 
CU a two-score underdog to Arizona State (5:30 p.m., MT, ESPNU)
From VegasInsider.com …
Thursday, October 27th
No. 14 Utah at Washington State … 8:00 p.m., MT … FS1 … Washington State is a 7.0-point home underdog
Saturday, October 29th
No. 8 Oregon at Cal … 1:30 p.m., MT … FS1 … Cal is a 13.5-point home underdog
No. 10 USC at Arizona … 5:00 p.m., MT … Pac-12 Networks … Arizona is a 15.0-point home underdog
Arizona State at Colorado … 5:30 p.m., MT … ESPNU … Colorado is an 11.0-point home underdog
Stanford at No. 12 UCLA … 8:30 p.m., MT … ESPN … UCLA is a 14.5-point home favorite
Bye weeks … Oregon State and Washington …
–
—–