—
Colorado Daily – Oregon State Week
—
October 22nd – Game Day!
… CU in a few minutes … 
Buffs ready for Beavers: "You've just gotta see that we're capable of winning football games"
From the Daily Camera … For weeks, the Colorado football team talked about great practices and then had to explain why those weeks culminated in embarrassing losses.
Last week, the Buffs finally got the opportunity to celebrate a win after a great week of practice.
Was the 20-13 overtime win against California on Oct. 15 an anomaly or the start of a second-half resurgence? The Buffs could find out Saturday night in Corvallis, Ore.
"I think you've just gotta see that we're capable of winning football games," junior quarterback JT Shrout said of how the Buffs can build on the win against Cal. "We've been talking about belief and believing in ourselves and just not doubting any of our abilities or anything like that. Just putting our all on the line and giving our best efforts and I think we did that (against Cal).
"We know we can do it and we've just gotta build on it, clean up some mistakes and there's definitely gonna be things we can do better."
Although the Buffs responded positively to interim head coach Mike Sanford in his debut, they certainly weren't perfect last week. The offense still had trouble putting points on the board. And, as good as the defense was overall, the Buffs gave up points on three of Cal's final five possessions of regulation.
The Buffs were also fueled by emotion and having 50,471 fans who brought significant energy as they desperately hoped for a win, as well.
It may have been the perfect storm for CU, but as the Buffs move forward, the taste of victory has them wanting more.
"We saw Saturday that, hey, we can do this," freshman linebacker Aubrey Smith. "Saturday was a team win."
… Continue reading story here …
–
—–
October 21st 
… CU in a few minutes … 
Neill Woelk's Keys to the Oregon State game
From CUBuffs.com … When Mike Sanford took the reins as Colorado's interim head coach, the Buffaloes had seven games remaining — six against teams with winning records.
Now, after last weekend's 20-13 overtime win against Cal, the road doesn't get any easier.
Five of CU's remaining six opponents — beginning with Saturday's game at Oregon State — have winning records. Three are ranked in the nation's top 15 this week, with the Beavers in the "also receiving votes" category.
 The Buffs (1-5 overall, 1-2 Pac-12) will kick it off against OSU (5-2, 2-2) in a 6 p.m. contest Saturday at Reser Stadium, with KOA Radio providing the broadcast and the Pac-12 Network televising the game.
The Beavers, in their fifth season under head coach Jonathan Smith, have slowly but steadily made the climb back to respectability in his tenure. OSU dominated Boise State, 34-17, in its opener this year, the beginning of a 3-0 start.
Then came a heartbreaking 17-14 loss to USC, followed by a 42-16 thumping at the hands of Utah.
But the Beavers have rebounded the last two weeks, knocking off Stanford (28-27) and Washington State (24-10).
The Beavers are by no means fancy. They boast a balanced attack that averages 184 yards rushing and 234 yards passing per game. After starter Chance Nolan threw eight interceptions in OSU's first five games, the Beavers turned to Ben Gulbranson, who has led them to wins in their last two games.
They also have an outstanding freshman running back in Damien Martinez, who ran for 111 yards in the win over Washington State. Big back Jack Colletto, a two-way player, has carried 17 times for 72 yards and six touchdowns this year (he has 22 scores in his career), and has also recorded 14 tackles and a fumble recovery as a backup linebacker.
But the Beavers have hung their hat on defense this year. OSU has allowed more than 30 points just twice and is allowing opponents just 125 yards per game on the ground. Sanford has known Oregon State defensive coordinator Trent Bray for years, and is familiar with his reputation for putting sound defenses on the field.
 "They have good personnel, they play physical, they play tough, they don't give you a lot of gifts," Sanford said. "You have to earn everything you get."
For the Buffs, that will mean taking another step forward offensively. Colorado ran for just 118 yards and threw for 210 in the win over Cal, numbers that will almost certainly have to improve if the Buffs want to be in the game down the stretch Saturday.
The Buffs had four dropped passes against Cal, including a long one on the first play of the game that almost certainly would have been a touchdown had Daniel Arias managed to haul it in.
But the Buffs will also have to contend Saturday with a solid OSU pass rush, one that produced six quarterback sacks in last weekend's win over Washington State.
The series between the two teams is tied 6-6, and it's been a wild one in recent years.
Colorado won last year in Boulder, 37-34, in overtime. In the previous meeting, also in Boulder, Oregon State overcame a 31-3 deficit to collect a 41-34 victory in overtime in 2018.
The Buffs have had good luck in Corvallis, winning the last two (2015 and 2017).
The keys for CU on Saturday:
1. Win the turnover battle. Colorado actually lost that battle last week against Cal, giving up three turnovers and collecting two takeaways.
But the Buffs will need to give their offense every opportunity possible, which means creating some of those game-changing moments on defense and taking care of the ball on offense.
Turnovers have been a thorn in OSU's side this year. The Beavers' two quarterbacks have combined for 11 interceptions (eight by Nolan, three by Gulbranson). In their two losses they've committed eight turnovers, which have led to 31 points for the opponent.
The Buffs need to add to that total Saturday, and their best route to that goal is …
… Continue reading story here …
–
—
*Buffs Primetime – Mark Johnson and Mike Sanford*
From BuffsTV …
–
—-
October 20th 
… CU in a few minutes … 
J.T. Shrout to start against Oregon State
Tweet from CU SID … At his weekly radio show at The Post, Coach Sanford announced that JT Shrout will start Saturday at Oregon State. Tune in to the radio show at 8 PM on @KOAColorado to hear more about it
–
—
New traditions have brought new energy to the CU locker room
From the Daily Camera … Sanford took over on October 2nd after head coach Karl Dorrell was fired. During his brief time leading the program, Sanford has pushed seemingly all the right buttons. The Buffs are 1-0 under his direction, with a tough test looming at Oregon State (5-2, 2-2) on Saturday in Corvallis, Ore. (6:10 p.m., Pac-12 Network).
One of Sanford's most significant moves at this point has been to make every player on the roster feel important.
In addition to giving Finneseth a life-long memory, Sanford and his staff have created new roles and positions for some players on the roster. And, there is a new aspect of the weekly routine called the "Ralphie Bowl" – a Sunday scrimmage for those who played less than 10 plays in the game.
Sanford's efforts have helped the team rally together as they try to salvage what was a sour season through the first five weeks.
"When you have more people bought in and more people invested in what's going on on Saturdays, you get better results in practice," Sanford said. "You get better results in your process and your preparation. And ultimately, I believe it pays off with a more invested team on game day and that's what we saw (against Cal)."
Some of the changes were evident on game day, including special teams player Ben Finneseth's role as captain. CU has had the same four captains all season – defensive end Terrance Lang, linebacker Quinn Perry, offensive lineman Casey Roddick and tight end Brady Russell. Sanford decided to add a fifth, honoring a different member of the special teams units throughout the remainder of the season.
–
—–
October 19th
… CU in a few minutes …
*Video: CU inside linebackers coach Mark Smith*
From YouTube, courtesy of BuffStampede.com …
–
—
CU offensive line improving: "I don't want to let my teammates down"
From CUBuffs.com … Buffs tackle Jake Wiley, who Sanford said had his best game of the year against Cal, said he has changed his approach recently.
 "I just feel I don't want to let anyone else on the team down so I feel like for me my performance on Saturday was really playing for everyone else," Wiley said. "For me, what really pushed me to play my best was just having the pride and knowing that I don't want to let my teammates down."
Against Cal, the 6-6, 310-pound sophomore had his best overall Pro Football Focus grade of the season in games in which he has played at least 25 snaps.
Also having a solid game against Cal was true freshmen center Van Wells, who played 73 snaps against the Bears. After starting two games at left guard, Wells has started the last two at center and continues to improve on a weekly basis.
Earning a start on the offensive line as a true freshman is a rarity. It is even more rare to get the nod as center. That's the position that is in charge of making line calls and communicating prior to every snap.
"It's his athleticism, his love for playing the game," Sanford said. "When you watch him play, you can feel his joy for the game of football. He  just gets better and better and better every week. That's a rare position to start as a true freshman. His communication is getting better. He's been a really positive addition for our offense."
Wells, from Houston, did not arrive on campus until the summer session. But he has caught on quickly and has given CU some flexibility on the interior, allowing the Buffs to also use veterans Noah Fenske and Austin Johnson at center and guard.
… Continue reading story here …
–
—–
October 18th
… CU in a few minutes …
Sanford reinstates Victory Club
From CUBuffs.com … University of Colorado football coach Mike Sanford announced Monday the reinstatement of the "Victory Club," first conceived under coach Bill McCartney when he arrived at CU in 1982, singling out players who graded out over 80 percent playing a significant amount of snaps in a game.
CU defeated California 20-13 in overtime Saturday, earning the team's first win of the season and the first with Sanford as the interim coach.
A total of 32 players earned the honor in the win:
Offense (9): OG Tommy Brown, RB Anthony Hankerson, WR Montana Lemonious-Craig, OG Casey Roddick, TE Brady Russell, RB Deion Smith, WR Jordyn Tyson, C Van Wells, and OT Jake Wiley;
Defense (19): ILB Robert Barnes, CB Nigel Bethel Jr., ILB Josh Chandler-Semedo, ILB Marvin Ham II, S Simeon Harris, DT Justin Jackson, DE Terrance Lang, DE Chance Main, DT Tyas Martin, CB Kaylin Moore, OLB Jamar Montgomery, CB Jason Oliver, ILB Quinn Perry, CB Nikko Reed, DT Jalen Sami, OLB Aubrey Smith, S Tyrin Taylor, OLB Guy Thomas, and S Trevor Woods;
Special Teams (4): PK Cole Becker, S Anthony Lyle, CB Toren Pittman, ILB Mister Williams.
Players of the Game were also awarded by the coaching staff.  Those included Lemonious-Craig for offense, Woods for defense and Lyle for special teams.  Leading up to the game, the Scouts of the Week were Trey Ortega III and Chernet Estes.
Lemonious-Craig caught eight passes for 119 yards and a touchdown, which game in the first overtime and proved to be the game-winner.  He caught every pass he was targeted on, three of which were contested, and he had 53 yards after the catch and 28 yards after contact.  He had three plays over 15 yards, made four defenders miss tackles and was responsible for five first downs.
Woods tied for the team lead with nine tackles, including eight solo stops, and had a critical pass breakup in overtime of a seemingly game-tying touchdown from the Bears.  He also had one third down stop.
Lyle leads the Buffs in special teams snaps on the season and has played a significant role in five of six special team's units.  He was credited with four special teams points in the game against Cal, including two tackles on punt coverage and a knockdown or springing block on both punt return and kick return.
The Buffs travel to Oregon State Saturday in a 6 p.m. MT game with the Beavers, to be televised by the Pac-12 Network.  The Buffs are next in Folsom Field the following week against Arizona State for Homecoming.  Tickets can be purchased at cubuffs.com/tickets.
–
—
*Video: Mike Sanford Weekly Press Conference*
From BuffsTV … Highlights … Running back Deion Smith – all positive reports, could play this weekend against Oregon State … Quarterback Owen McCown did suit up for practice Tuesday, but will be a game-time decision for Saturday … Quarterback Brendon Lewis has entered the Transfer Portal. Never had discussions about him changing positions, because Lewis wants to be a quarterback … Quarterback J.T. Shrout has grown, with improved preparation. His teammates believe in him, and there is now some tape to back that up … New third-string quarterback Drew Carter – He's ready to play if necessary … First road game as interim head coach – preparing for rain in Corvallis … Emotions were high on offense last weekend, but execution wasn't there – had good execution in practice this week … Learned from never being a starter at Boise State – My fifth year at Boise was my first year as a coach, learning from Boise State head coach Chris Petersen … Oregon State has speed on the perimeter; a strong offensive line; play two tight end sets … Sanford's father shared an office with Mike Riley at USC, and Jonathan Smith's offense is similar to what Mike Riley ran at Oregon State … OSU's defense won't give you any gifts, you have to earn everything … With the four northwest schools, you pretty much anticipate playing at least one rain game a year – it won't change the game plan …
… Also interviewed … Offensive lineman Jake Wiley and safety Anthony Lyle …
–
—
Quarterback Brendon Lewis enters the Transfer Portal 
Tweet from Adam Munsterteiger … #CUBuffs quarterback Brendon Lewis has entered the transfer portal. Lewis started all 12 games for the #Buffs in 2021 and he started the 2022 season opener but he has been third on the depth chart in recent weeks.
… Can't see this as a surprise. Lewis, barring injury or change in position, was not going to see the field of play this fall. For a full year starter at a Power Five program, you can see him wanting to try his luck elsewhere …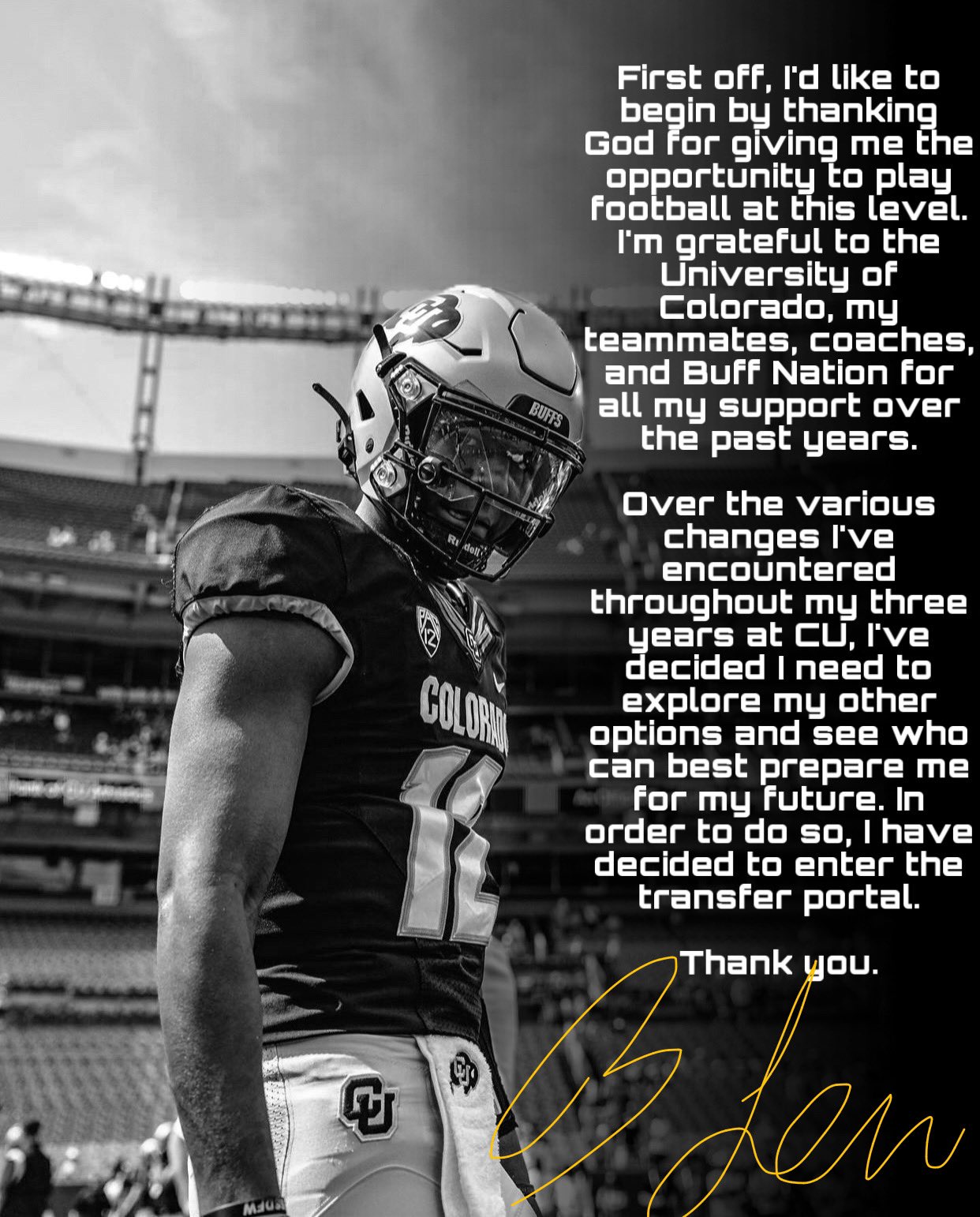 –
—
October 17th
… CU in a few minutes … 
Buffs "flip the script" on defense: "I knew that these players were capable of doing that"
From CUBuffs.com … Colorado's defense performed a historic turnaround in the Buffaloes' 20-13 overtime victory against Cal on Saturday at Folsom Field.
In their last outing, the Buffs gave up 673 yards of offense in a 43-20 loss at Arizona.
Saturday, Colorado held Cal to 297 yards. The Bears, who had been averaging nearly 400 yards per game and had a 354-yard rushing effort against Arizona, were held to just 35 on the ground.
The 376-yard difference between CU's Arizona game and Saturday's Cal game was the seventh-biggest improvement in Colorado history.
Saturday's game was CU's first under the direction of interim head coach Mike Sanford and new defensive coordinator Gerald Chatman.
"I believed in Gerald and (Athletic director) Rick George believed in Gerald," Sanford said. "I knew that I believed in him because most importantly, this is about the players. I knew that they were going to rally behind him and then I knew that our defensive staff was going to work together tirelessly to put our players in the best position and do so on a unified front. That's what we saw.'
The Buffs were aggressive all day. They finished with 10 tackles for loss — more than half of the 18 total they had in the first five games — along with a pair of quarterback sacks and two turnovers.
Equally importantly, the Buffs reduced explosive plays.
In the first five games, CU had allowed 19 plays of 20 yards or more on first down, and 50 of 10 or more. Saturday, the Buffs allowed just one play for 20 yards on first down and only five of 10 or more.
Colorado also held Cal to 5-for-17 on third-down conversion attempts.
… Continue reading story here …
–
—
Neill Woelk's Takeaways from the Cal game 
From CUBuffs.com …
1. Keep it simple. When Mike Sanford took the reins as CU's interim head coach two weeks ago, he elevated Gerald Chatman to defensive coordinator. The two wanted to simplify the defense, focus on the strengths of their personnel and allow the Buffs to play fast instead of worrying about making a mistake.
For one game at least, mission accomplished. The Buffs played fast and recorded 10 tackles for loss — more than half of their total in the first five games combined. They played loose, with confidence and with a purpose. They made big plays, reduced "chunk" plays and overall dictated the pace and tempo of the game.
Sanford and Chatman did make some schematic weaks. That added a "big nickel" defender and an extra linebacker on occasion. But the Buffs had no trouble executing the new scheme because it wasn't overly complicated. The message was simple: execute your assignment, stay in your gap and trust that the guy next to you will do the same.
As a result, CU's defense was a step ahead of Cal most of the day. The Buffs managed to not leave their young corners on a man-to-man island very often — but still managed to bring pressure from all angles while also playing solid, consistent run defense.
It was a winning combination.
Speaking of run defense …
2. The defensive line Buffs fans thought they would see. When the season began, the general consensus was that the Buffs D-line would be a strength. CU had a nice core of returning vets and some depth that would give Colorado the foundation of a solid run defense.
But that strength didn't materialize in the first five games. In fact, CU entered Saturday's game with the nation's worst ranked run defense, yielding nearly 300 yards per game on the ground.
That all changed Saturday. Colorado's men in the trenches — Na'im Rodman, Jalen Sami and Terrance Lang — all had arguably their best games of the year, limiting Cal to a measly 35 yards rushing.
They also helped Colorado record two sacks, and perhaps more importantly, kept Cal QB Jack Plummer uncomfortable in the pocket all day — a huge help to CU's secondary. Their play up front also allowed Colorado's linebackers to roam free and make plays (10 tackles for loss).
In short, it is the line Buffs fans had expected to see early on.
… Continue reading story here …
–
—
Deion Smith doing well after injury – could even play v. Oregon State
From the Daily Camera … It was a scary moment for the Colorado football team when running back Deion Smith was injured and taken off the field on a stretcher on Saturday.
Fortunately, he is doing well.
On Sunday night, interim head coach Mike Sanford said Smith is "in a good place" after taking a big hit in the Buffaloes' 20-13 overtime win against California at Folsom Field.
Smith was injured early in the fourth quarter after catching a pass and taking a hit to the mid-section. He fumbled the ball and then lay motionless on the field for a few minutes. Doctors and trainers from both teams rushed to his side and wound up strapping him to a stretcher and taking him off the field on a cart.
Sanford said Saturday night that Smith was walking around after the game and he gave an even better report Sunday. Smith did not have to be hospitalized.
"He was able to walk out of the facility on his own accord," Sanford said. "It just ended up not being as drastic as what was feared originally. Complete functionality of all limbs; all fingers, all toes have feeling. He's in a good place. I spoke to him last night and his mother; she was certainly relieved. Also this morning I checked in with him.
"I don't think it's anything that's going to be a significant long-term injury from what I gathered at this point."
Sanford, in fact, did not rule Smith out of playing in Saturday's game at Oregon State (6 p.m., Pac-12 Network). He added, however, that Smith would likely not practice when the Buffs return to the field on Tuesday.
"We'll play it by ear with regards to his availability for this week," Sanford said.
… Continue reading story here …
–
—–
October 16th 
… CU in a few minutes … 
Montana Lemonious-Craig on first 100-yard game of the season: "The ball just found me"
From the Daily Camera … Lemonious-Craig has made some big plays in his career at CU, but he had never had a day like he had Saturday.
The third-year sophomore had career highs in catches (eight) and receiving yards (119) while also snagging the game-winning touchdown in overtime. Prior to Saturday, his career highs were three catches for 52 yards against Arizona on Oct. 16, 2021.
"The ball just found me," said Lemonious-Craig, who had five catches for 49 yards on the season before Saturday. "It was really the same game plan. And really, the base stuff we do is just (this was) the game where the ball found me and I was able to take advantage of every opportunity that I had."
Lemonious-Craig now has 13 catches for 168 yards on the season, already topping his numbers from the entire 2021 season (10 catches for 123 yards).
"He made a great play when the moment was the biggest and that's how Montana is," quarterback JT Shrout said. "He's a gamer and when the moments are the biggest, that's when he plays his best football."
Lemonious-Craig was the first Buff to catch eight passes in a game since Laviska Shenault had the same amount against Stanford on Nov. 9, 2019. His 119 yards were the most by a CU receiver since Dimitri Stanley had 126 on Nov. 14, 2020, at Stanford.
–
—
Neill Woelk: Buffs Take a Huge Step Forward
From CUBuffs.com … For the last two weeks, Colorado interim head coach Mike Sanford has insisted that "it's all about the players."
Saturday afternoon, while a few diehard CU fans were still celebrating an overtime win over Cal in Folsom Field, Sanford reiterated that belief.
"This has nothing to do with me hitting the right buttons," a jubilant Sanford said at his first post-game press conference as Colorado's head coach. "This is all for the players and all about the players. This is all about their response, their resolve … We talked about how unbelievable of a group of resilient fighters that we have in our locker room. I think everybody had a chance to see that on full display today. I'm just really proud of these players."
When Sanford took the reins handed to him by Buffs Athletic Director Rick George on Oct. 2, he vowed to inject new energy into the program. He changed up CU's practice approach, spent time on the road recruiting, shuffled his coaching staff — but most of all, used every possible moment to convince CU players to believe in themselves.
Have joy in playing the game, he insisted. Remember why you love football, he told them.
They responded. His words of encouragement, his insistence upon playing with a positive mindset, his relentless enthusiasm and energy made a difference.
Saturday afternoon, the Buffs did things they hadn't done in five previous games, and did so in front of 50,000-plus fans who were hungry — desperate — for anything resembling a positive step forward.
The Buffs delivered more than a step. They took a huge leap.
… Continue reading story here …
–
—
Pat Rooney: Buffs Trying to Put the Past Behind Them 
From the Daily Camera … Daniel Arias was having a bad day. And that was after Colorado's offense had run all of six plays.
On CU's first play, following a Buffaloes' interception, Arias dropped a bomb that would have sent Folsom Field into a frenzy. The Buffs' second possession ended with a third down drop that would have extended the drive.
Then Mike Sanford, anointed as CU's interim head coach less than two weeks earlier in place of Karl Dorrell after a listless 0-5 start, did something along the sideline Buffs fans haven't seen in years. He, you know, coached.
After Arias' second drop, Sanford was beside the senior receiver immediately. Only those two know what exactly was said, but based on body language it seemed Sanford's message was less critical than it was encouraging. It was a small gesture, but perhaps one that perfectly encapsulated the shift in mojo at Folsom from the statuesque Dorrell to the exuberant Sanford.
That energy carried the Buffs through overtime and, for the first time this season, into the win column, as CU christened the interim Sanford era with a 20-13 overtime victory against California. Arias bounced back to make big catches on a pair of scoring drives during a day littered with CU heroes, from JT Shrout's relief appearance at quarterback to Montana Lemonious-Craig's incredible toe-grazing touchdown in overtime to Trevor Woods' game-saving hit two plays later that exemplified the full 60 minute-plus effort of a defense that looked nothing like the generous sieve that led to the exit of defensive coordinator Chris Wilson alongside Dorrell.
"We just put the past behind us and it's a credit to (this) team," defensive lineman Terrance Lang said. "We were able to take in information. We've been through a lot of adversity and nobody ever phoned it. Nobody ever gave up. They bought into what coach Sanford and coach (Gerald) Chatman were trying to say. And the result showed on the field."
… Continue reading story here …
–
—
Transcript of Mike Sanford's Post-game press conference
From YouTube, courtesy of BuffsTV …
Opening statement:
"This is all for the players. This is all about the players. This is all about their response, their resolve. The stuff that I said here 10 days ago, everyone thought I was crazy. We talked about how unbelievable a group of resilient fighters that we have in our locker room. I think everybody had a chance to see that on full display today. I'm really proud of these players. I told him after the game, that's a great moment. It's a moment we're gonna celebrate, but we talked about a fresh season, a new season. What I told them is the best part about being 1-0, which we are in their new season, post bye week, is that you have a chance to be 2-0 and that's where our attention turns 24 hours from now. We're gonna get back to work tomorrow and we're gonna practice. We're going to add some Sunday work and we've just got to keep our eyes straight ahead. Enjoy this. It's one of those days you'll never forget. But at the end of the day, we've got a job to do and we believe in our abilities to go do that and that's where our eyes are going to be fixated."
On Deion Smith's health:
"I just wanted to first off address Deion Smith's health. That was an emotional moment and more importantly, we've said that this thing is going to be all about our players, our student-athletes and there's positive updates on Deion's status. He's standing up and walking around, so a lot of the fears that everybody has when somebody comes off on a stretcher, I think that I was able to assure the team that that's nothing that we have to be concerned with. So Dion is up and walking. I think he was emotional because he didn't have a chance to celebrate on the field with his teammates, but he was a huge part of that victory, both in his play and more importantly, just how much this team loves him and shows their support for him there. That was a moment I'll never forget in my coaching career, just the brotherhood that was shown through that moment."
On when went through his mind right after the game finished:
"This week was really interesting, I think starting back on Monday, Tuesday, Wednesday, that bye week, there was so much work that had to be done. I think just buried myself in the work. I had a chance to go recruiting in California. It's where I'm from. A lot of our players had a chance to touch base at home and reconnect with their roots. The joy of football for me, it was at Los Alamitos High School. I was down in Southern California and there was some really clear thinking that I was able to do with regards to where I wanted this program to go and in this coming game week, really. In doing so, it was weird over the course from really Thursday on I've had, I would call them dreams or whatever…I actually dreamt specifically about the student section rushing the field. I really believed it and it sounds crazy, but I really believed that. I had visions in that light sleep. I had visions of Montana [Lemonious-Craig] making plays. I'm not obviously saying I'm a prophet, but there were just a lot of visions of guys making plays. I told the players about that. That wasn't just a motivational tactic. I saw that. My wife was asking me this morning 'Why are you not nervous?' I was like 'I just believe I believe in these players. I believe in the work they're putting in.' I had a piece about what we could do today and I also have the peace about what we can do going forward. I'm just really excited to go back to work with these players and for them to understand that the process that we put in place…process is always gonna be greater than results, right? What they believe in now is that the process yielded a result, right? That's what this thing is about going forward. It's how we practice, how we go about our business on a daily life, how we care for a locker room. Those things are really important and that process has to continue."
On the improvement of the run defense:
"I believed in Gerald [Chatman] and Rick George believed in Gerald. I knew that I believed in him because most importantly, this is about the players. I knew that they were going to rally behind him and then I knew that that our defensive staff was going to work together tirelessly to put our players in the best position and do so on a unified front. And that's what we saw. It was a blast behind the defensive headsets. I just can't imagine calling my first defensive game ever. Like ever. I don't even know if he's called a scrimmage before. But with that type of atmosphere – sold-out Folsom – there was there's a lot of crowd noise, like there were times I was trying to get the crowd to quiet down because the defense communication I was listening to on the headset, it felt like you were driving out east to Frederick where I live and you don't get any AM signal. I was just proud of most importantly just how our players played, how they flew around and the belief. You saw it. It was tangible and I've known that was there since I got here in January. I looked at our defensive squad and I was like 'We have some dudes here.' We have Jamar Montgomery, Guy Thomas. These are guys that I knew had the ability to make plays. Na'im Rodman, the linebackers, Quinn Perry, T Lang, Chance Main, I see these guys. These are guys that I have coached against, these types of body types and athletes that I've coached against at the highest level of my career. I knew that these players are capable of doing that. It was just flipping the script in terms of their belief."
On watching the winning touchdown catch on the video board and the spirit of the team:
"I had no idea. I thought it was clearly out of bounds and frankly, as a quarterback coach, you know, I was mad at JT for leaving the ball out of bounds. I always tell him the only thing you can't do in the red zone is throw the ball two or three yards out of bounds. If you just put it in that corner of the end zone – we call it the pie hole – then you at least give your receiver a chance to make a play. My mind immediately went to quarterback coach mode and looked at it like, oh, he threw it a yard and a half out of bounds. And then [director of strength and conditioning] Shannon Turley came up to me and he's like, hey, that's a catch. And I was like, really? Of course, my mindset shifted immediately. What I believe is that today was a day where we got some breaks, but breaks don't come as a result of just luck. Breaks come because of a will, a spirit, the way you practice, the way that you go about it and a belief. I felt like those kinds of breaks that were made I think really came from the heart of our players. I saw that."
On players playing with joy and where that joy came from:
"I haven't talked about it very much externally. It's kind of been an internal thing this week because the word joy isn't probably the most football-centric term. It doesn't really equate to hard hits and tackles for loss and in passing touchdowns, but we established really starting on the first day that we met. We said that for these next seven weeks, our culture is gonna be defined as joy and that's exactly what we've made the mission of what these next weeks are about. I said it when I had the opportunity to have this press conference. This isn't about me. This is about them. I've talked to the players and I'm teaching them the different levels and different definitions of what joy means. Joy is something that is completely independent of your circumstances. It's how you wake up every single morning. It's how you come to this facility. It's how we practice. I've seen a team that bought into that vision and we've got to continue to buy into that vision. This is a new challenge for us in this 2022 season – how do we bring joy, but also humility after a big win. That's the challenge. Already in the locker room, we moved on to Oregon State."
On switching quarterbacks from Owen McCown to JT Shrout:
"Owen took a pretty significant hit. I want to say it was in either the first or second quarter. It was one of those kinds of abdominal lower kind of mid mid section type hits. I've played the position. I've been around the position my whole life. I kind of knew what he was physically going through. For me, I just felt like it gave our offense the chance of having a healthy JT play in that moment against a banged-up, at least in the moment, Owen. It had nothing to do with the play. I thought both players played exceptionally well. When we're in the situation that we're in as a football team, it's going to require all of us to go win football games. I think the quarterback room embodied that today, as well as I feel like all the rooms that we had. It took not only all of our football team, but it took our fan base, it took our students section. I feel like that was a full program win today and I think the quarterback position room resembled that."
On motivational tactics he used, like showing the team a pregame hype video on the field hours before kickoff:
"The Buff Walk is such a cool tradition. That was my first Buff Walk. I didn't have a chance to be a part of that because I always came straight here and went right to the recruits. We want to continue to grow that tradition and have more and more of the fan base there and more and more support from our coaches. A lot of the assistants hadn't been on the Buff Walk. We took basically the entire program on the Buff Walk today. I grew up the son of a college football coach that coached some of the best programs in America. I love the traditions in football. I love the pomp and circumstance, the stuff that predates my time on Earth. That was really important, but I also felt like the Buff Walk was kind of anticlimactic. I wanted to have some type of moment where we could all come together and visualize what we were going to do on that field. I wanted to show him the images on that screen of what they've done, of the culture of joy being on that screen, of how we practiced and then also showing them the plays that we've made this year. In fits and starts, we've made plays to win football games. We just haven't pieced it together. I think that I saw that today. That was one piece of it, but really at the end of the day, it has nothing to do with me hitting the right buttons. It has everything to do with the players and how they played. I fully believe that."
On the improved pass game and what caused it:
"Probably because I was on the sideline [laughs]. It got me out of the box. I think it was a belief. I think what we saw in practice all week and during the bye week is very competitive. I kept talking about how we had very competitive periods. When you're defense and you're going good on good, we all saw what the defense looked like, right? Not all of us had a chance to see that defense. Shoot, we were going against that and it was hard. That's a good thing. When you can face a defense daily that's tough to move the football against as an offense, that helps you. It's like a doughnut on the bat, right? I felt like we were swinging with a doughnut on the bat. We stepped into the batter's box, shoved the doughnut off and we could go out and play ball. That's exactly what how championship football teams operate. It should feel very challenging against your own defense in practice and then you get to game day and it's easier. Now, it wasn't easy. Cal's a good defense. They don't give up a whole lot of points minus one game. They held Notre Dame to 20, I believe. They've played some really good teams and they've held some teams under 20 points. I was really just pleased with our overall performance offensively and our resolve throughout the course of the game."
On Tyrin Taylor's first-quarter interception:
"It was huge. It was huge. I don't know if you guys know, but the song that plays after every turnover, that's what we do in practice. The players have a turnover song, a takeaway song for the defense. I can't remember the exact song. Something about a trap. Jalen Sami brought his little Bluetooth speaker to the walk through and during the walk through this morning, he had that song playing over and over and over because we associate that song with getting the ball. That set the tone for us defensively. I think it set the tone for the energy of the crowd. Energy, like I talked about, is not just something that you go out and just run around and do jumping jacks. It's backed by execution. It's backed by plays that we talked about making an emphasis on. That was really fun to watch that song come on. It came on one time and there was a penalty, so I had to kind of get everybody back to play the next snap of defense."
On Jordyn Tyson's trick play pass to Montana Lemonious-Craig:
"We had a couple of gadgets up our sleeve, some of those JUCO gadgets that come from [interim offensive coordinator] Coach [Clay] Patterson, some DII football down in south Texas. We're gonna continue to explore all that. I liked the timing of the call. Honestly, we were in a bit of a rut at that point in time. It wasn't wide open. It was players making plays. Montana was phenomenal. I just love the way that he embodied joy today in his play. I saw that from Montana and he just continued to do it throughout the course of the game."
–
—–