—
Random Thoughts – Volume VII – CU's 2020 Pac-12 schedule; the "Surrender Cobra"
—
Thoughts on CU's 2020 Schedule … 
About a month later than usual, the Pac-12 released its conference schedule this past week. While the non-conference schedule was known, and the Pac-12 opponents for the 2020 season were known (CU misses Oregon State and Cal this year), how the Buffs' trek through conference play was to play out wasn't known until now …
Sept. 5th … at Colorado State
Sept. 12th … FRESNO STATE
Sept. 19th … at Texas A&M
Sept. 26th  … OREGON
Oct. 3rd  —BYE—
Oct. 9th … at Arizona (Fri.)
Oct. 17th … UCLA (FW)
Oct. 24th … ARIZONA STATE (HC)
Oct. 31st … at Southern California
Nov. 7th … WASHINGTON STATE
Nov. 14th … at Stanford
Nov. 21st … at Washington
Nov. 28th … UTAH
Dec. 4th … Pac-12 Championship (Fri.) Las Vegas, Nev
Thoughts … 
— Duck hunting … The first game that jumps out is the Pac-12 opener against Oregon, coming on the heels of CU's trip to College Station to take on (what will be) a highly-ranked Texas A&M squad.
Glass half empty: it will be tough for the Buffs to take on their two most difficult games back-to-back.
Glass half full: it won't hurt to catch Oregon early. The Ducks have a new quarterback to break in, and will be playing FCS champion North Dakota State, Ohio State and Hawai'i to open the 2020 season – all interesting games, and all at home. The CU game will be the first road game of the season for the Ducks … a good time for an upset.
And, not for nothing … in the magical 2016 season, Colorado faced a tough road game against Michigan to close out non-conference before taking on Oregon in the Pac-12 conference opener … and we all know how that game against the Ducks turned out.
— An October to remember … After the Texas A&M and Oregon double dip, the Buffs get a bye week before taking on a three game stretch which will likely decide CU's bowl fate in 2020.
Those three games – at Arizona, and then home to UCLA and Arizona State – will let everyone know where the Buffs stand in the Pac-12 South pecking order. If the Buffs can use their bye week to figure out the Wildcats (while the Buffs are at home resting, the Wildcats will be on the road taking on UCLA in Pasadena), then take out the Bruins and the (likely) ranked Sun Devils, a bowl bid will be in their sights. If the Buffs stumble, however, trying to find a fifth and sixth win in mid-November on the road against the likes of Stanford and Washington will be tough.
— Happy Birthday … In my 40 years as a CU fan, the Buffs have never won a game on my birthday, October 10th. The Buffs are 0-5 in October 10th games played in 1981, 1987, 1998, 2007, and 2015 … and the Buffs haven't even been close. The average score of games played on October 10th since 1980 … 40-13 – Yuck!
I should have had a chance to celebrate a win on my birthday in 1992 – you know, back when the Buffs were good. Instead, television moved the game to Thursday night. The Buffs won the game against Missouri, 6-0 (the first game for CU back in Columbia after the 1990 fifth-down game), but the game was played on October 8th.
Well, this fall, October 10th falls on a Saturday, giving the Buffs another chance at winning a game on my birthday. Except … the ONE non-Saturday game this fall will be played on Friday, October 9th, when the Buffs travel to Tucson to play Arizona.
Guess we'll have to try for CU win No. 1 on my birthday a few more years down the road …
— Coming off a bye … As noted, Colorado gets a bye week to prepare for its Friday night game on the road against Arizona. But two teams get byes before taking on the Buffs. Both Arizona State and USC – two teams which figure to be in the race for the Pac-12 South title – will both have bye weeks before taking on the Buffs (insert conspiracy theories here).
Only Colorado and Cal get the pleasure of having to face two conference rivals who are coming off byes. Meanwhile, USC, Washington, and Washington State all get a 2020 season where they do not have to face a Pac-12 opponent coming off of a bye.
Here is the breakdown of the Pac-12 …. opponents each team will face coming off of their bye weeks …
Cal —> Utah
Arizona —> UCLA
Washington —> Oregon
Colorado —> Arizona
Oregon —> Cal
Arizona State —> CU
Oregon State —> Cal
USC —> CU
Washington State —> Arizona State
Arizona —> Oregon State
Cal —> Stanford
*Utah, UCLA both have byes before a Thursday game; Stanford gets its bye before playing Notre Dame
—
Coach Kap makes a statement 
A tweet was posted by "Football Rumor Mill" on Thursday:
"Colorado OL coach Chris Kapilovic turned down both #Auburn and #Mizzou to stay in Boulder. Huge keep for Mel Tucker."
"Huge" doesn't begin to describe it.
Collegiate coaching staffs are routinely shuffled. Assistant coaches at smaller schools who show promise are hired away by more prominent schools. Some assistants are hired away to become coordinators. Some coordinators are hired away to become head coaches.
And some coaches who are not making the grade are quietly asked to seek other opportunities.
The Colorado coaching staff remains largely in tact as preparations for the 2020 season begins. That, in an of itself, is significant. With a young team still being molded by Mel Tucker and his staff, continuity is important.
But it is also important when a coach with promise, like Coach Kapilovic, decides to stay in Boulder.
If you are regular reader of Jon Wilner at the San Jose Mercury News, you have seen multiple stories concerning the growing media revenue gap between the Pac-12 and other Power-Five conferences. With the SEC positioned to leave CBS for ABC/ESPN and rake in hundreds of millions of dollars, schools like Colorado will soon be in a world where SEC (and Big Ten) schools are bringing in over $20 million per school per year more than is Colorado.
Put another way, over a five year period in the very near future, schools like Missouri and Auburn will each be pocketing $100 million more in television revenue than will Colorado.
And that money is going to be allocated somewhere, including salaries for assistant coaches.
It's great that Coach Kapilovic turned down two SEC schools to stay in Boulder.
But, in a world where SEC assistants are going to be paid two to three times what CU can offer … how long will CU be able to keep its quality assistants?
—
The Thrill of Victory … 
Last Saturday, Clemson's men's basketball team accomplished something it hadn't done … ever.
The Tigers went to Chapel Hill, and defeated the North Carolina Tar Heels on their home court.
It was the first win for Clemson over Carolina in, well, ever. The two teams had been playing since 1926. The Tigers and Tar Heels had squared off in Chapel Hill 59 times … with North Carolina winning all 59 games.
Clemson finally broke the streak – the longest such losing streak in the history of NCAA basketball – with a 79-76 overtime win on January 11th.
Aamir Simms hit an overtime-forcing 3-pointer for the Tigers with 3.5 seconds left in regulation, and Clemson went on to erase decades of futility at North Carolina with a 9-6 run in overtime. The outcome remained in doubt until the Tar Heels missed two potential game-tying three-pointers in the final five seconds of overtime.
Simms said "my heart stopped" when UNC's Brian Robinson launched what would have been the tying 3-pointer to force a second overtime.
"I'm just watching the ball like in the movies, just going in slow motion," Simms said. "I'm just watching it go, and when I saw it hit the back rim, all I could think was, `I'll have to run and find somebody on my team so I could give them a hug.' It's something I'll never forget in my life."
Just after the final buzzer, this photo was taken, with Clemson forward Hunter Tyson gaining some serious altitude …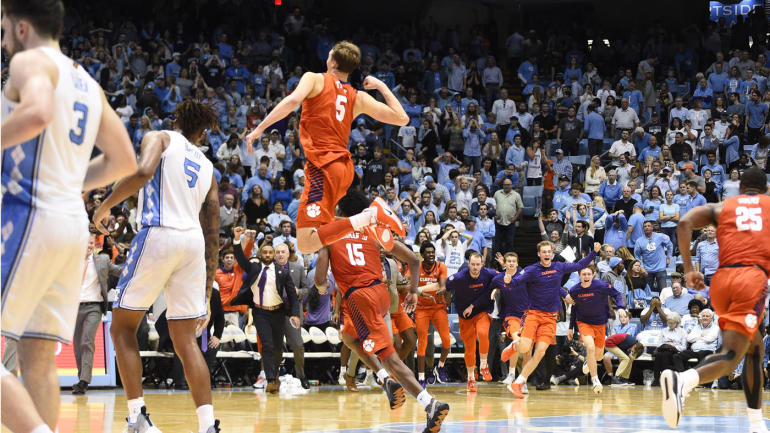 Why I am making note of this game? Well, I do love historical quirks like the breaking of a 59-game losing streak, but what really caught my attention and made me linger over the story of this game was the above photo.
Take a second look … and then a third.
The photographer captured the agony and ecstasy that is college sports.
It's easy to be draw to the euphoria of the Clemson players and bench, but take a look at the first two rows of spectators.
In the front row, there is a boy in a blue and red shirt doubled over in either joy or pain (I'm going with pain), while the man in the second row can't bear to see that which is unfolding before his eyes. Meanwhile, the elderly couple (who look old enough to have been there for UNC's first win in the series, in 1926), sit passively, like they have seen it all before.
Behind the first rows of fans, you see multiple versions of the "surrender cobra" – interlocked hands behind or above the head – demonstrating complete and utter disbelief.
While not a physical act that you would think would come naturally, it is all too natural for sports fans who are discombobulated by what they have just witnessed:
I don't hold any serious animus towards North Carolina, and Clemson, with its dominant football team, certainly doesn't need my sympathy or support.
But I do love the thrill of victory – and the agony of defeat – that collegiate sports bring us week in and week out.
–
—–