—
Pac-12 Notes – Oregon Week
—
December 20th
… Foe Pause … 
Arizona State also backs out – Oregon and CU the only Pac-12 teams going bowling
From azcentral.com … ASU coach Herm Edwards confirmed in his post-game radio interview that the Sun Devils will not play in a bowl game even if a spot is available.
"That's been talked about," Edwards said. "For the best interest of the players this is it for us. This was our last game. We end the season 2-2 and get ready for spring football."
Ray Anderson, ASU Vice President for Athletics, said in a statement issued after the game: "We are proud of our student-athletes and applaud them for the way they represented Arizona State University through this challenging season. We have maintained from the beginning of the pandemic that we would place the health and well-being of our student-athletes at the forefront of our decision making.
"They have endured an emotionally exhausting 10 months in an effort to compete in the sport they have such passion for.  They've done everything asked of them and more in following the strict protocols that were established to provide them the opportunity to play a football season. We also thank our incredible supporters and fans who have stood alongside us and our student-athletes throughout this unprecedented time."
Edwards said the plan is to hold spring practice in March.
Edwards praised his team's resilience and said he told his players afterwards that he was "proud to be their coach."
–
—–
December 19th
… Foe Pause … 
Breaking News: USC will not play in a bowl game 
From USCFootball.com … USC has decided to opt out of playing a bowl game this season, according to sources. It was a decision made by players, coaches and the team's medical staff. USC has since confirmed the news.
"I am incredibly inspired by our players and the sacrifices they made these past six months to play the game that they love," USC head coach Clay Helton said in a press release. "They did everything we asked of them to abide by the challenging guidelines they had to follow to stay safe and well, whether it was daily testing or keeping distant from family and friends or training in less-than-ideal ways. It has not been easy, and it is hard for anyone outside the program to understand how immensely difficult these past few months have been for them. We all share the desire to stay healthy and be with loved ones during the holidays and I fully support this collective decision. I thank our players for their remarkable efforts. We are all disappointed by how our season ended, but I am extremely proud of our players and it is an honor to be their coach."
Trojan athletic director Mike Bohn noted the sacrifices USC's players have made to play in this year's unique season.
The Trojans saw their five-game winning streak snapped Friday after losing the Pac-12 Championship Game, 31-24, at home to the Oregon Ducks. It was a frustrating loss for the team, who Helton described as "heartbroken." The head coach was asked about the possibility of playing in a bowl game following the game, but didn't have an answer for reporters.
"I'll be honest with you, I haven't taught one second past this game," Helton said Friday. "And those are things to talk about in the future. Right now, I'm going to console my kids. And we've been in a mindset … It's been try to be 1-0 all week and don't look back, don't look forward. And right now I got a bunch of kids that just gave their absolute heart and soul that are hurt. And I'm going to focus on that. I'm not going to worry about what's in the future right now. But I'll be honest with you I haven't thought about it."
–
—
USA Today: Pac-12 Robbed CU
… Nice to see the national media rip the Pac-12 for its handling of the Pac-12 title game … 
From USA Today … The Pac-12 Conference can't seem to help itself. After staging another underwhelming football season, this time the league put on a championship game that managed to make its postseason even worse.
Oregon beat Southern California in the Pac-12 title game Friday night 31-24, putting the Ducks (4-2) in a top bowl game they didn't really earn.
And that's only part of this mess. In the end, it's almost like the Pac-12 carried out a backwards blueprint:
How could the league help ensure that its best regular-season teams were not represented at the most important time of the year – USC (5-1), Colorado (4-1) and Washington (3-1)?
The Pac-12 found a way. Here's how:
Pac-12 robbed Colorado
Colorado was more worthy of playing USC for the Pac-12 title than the Ducks. Colorado also was USC's pinch-hitter in waiting, in case the Trojans could not play Friday because of COVID.
To be ready for the call-up, the Buffaloes originally were supposed to play Oregon this weekend in a standby consolation game at the same stadium as the title game in Los Angeles. But after Oregon filled in to replace Washington, CU was left without a game.
The Buffs even sent an equipment truck to a midway point between Boulder, Colorado, and Los Angeles this week to be ready to complete the drive west if USC couldn't play. It didn't happen.
"I do have a lot of empathy for Colorado," Scott said Thursday.
The league also wouldn't allow CU to play USC for the title because they are both in the same South Division. According to league rules, the South Division winner is supposed to face the winner of the North Division for the title. Except Oregon isn't really the winner of the North. And Colorado never got the chance to play USC this year because their scheduled game on Nov. 28 was canceled due to COVID issues at USC.
After being a good sport and doing everything it was asked, what will CU get in return? A berth in the Armed Forces Bowl?
Is this how you treat your best teams?
In effect, each of the league's three top regular-season teams got a bad bargain at the end of a truncated season: USC (see above), CU (see above) and Washington, for getting sick (which was not the fault of the league).
Much of that could have been prevented if the league would have been more flexible and willing to adjust irrelevant rules when necessary, much like other conferences have done for their best teams this year.
Such inflexibility instead only adds to the Pac-12's reputation of being aloof, out of step and easily burned by self-inflicted wounds that already include poor on-the-field officiating and lagging revenue.
Now the second-place team in the North Division won the Pac-12 championship. In a certain, twisted way, that's perfect, at least for Oregon.
–
—
Oregon defeats USC to claim Pac-12 title, shifting CU bowl expectations
… With Oregon claiming the New Year's Six bowl (Fiesta), the Alamo Bowl would likely have taken the Trojans, moving CU down to the Armed Forces Bowl, which will be played on New Year's Eve morning (10:00 a.m., MT. kickoff), against a lower tier SEC team. However, with USC opting out of bowl season, the Buffs will likely be bumped up to the Alamo Bowl, likely to meet either Texas or Oklahoma State … 
From ESPN … In the locker room after Oregon's 31-24 victory against USC on Friday to claim the Pac-12 title and a likely berth in the Fiesta Bowl, Ducks coach Mario Cristobal brought up a conversation the team had in March.
"We said whoever handles this pandemic best is going to end up holding up that trophy," Cristobal recalled.
It wasn't that simple, but in a year in which the Pac-12 shortened its regular season to six games and didn't even begin play until November, no conference was altered quite like it. And there might not ever be as bizarre a path to a championship as the one the Ducks completed Friday.
Oregon (4-2) advanced to the championship game despite not winning its own division. The official designation went to rival Washington (3-1), which locked up first place in the Pac-12 North by not being able to play the Ducks last week because of a COVID-19 outbreak on the Huskies' roster. The Washington-Oregon game would have served as a conference semifinal. Instead, the Ducks sat idle, and the Pac-12 announced Sunday they would play South division runner-up Colorado (4-1), at USC.
… For USC (5-1), which was plagued by costly three costly turnovers and several untimely penalties in the title game, the loss dashed its hopes to finish undefeated.
"There's a lot of hurt souls in our locker room right now," USC coach Clay Helton said. "And it's something that I know that our kids wanted extremely badly to win a championship. And we came up a play too short today."
–
—–
December 18th
… Foe Pause … 
Washington season over; will not pursue bowl bid
… This leaves USC, Colorado, and Oregon which are bowl eligible … Arizona, Cal and Oregon State aren't eligible, while UCLA, Utah, Stanford, Washington State and now Washington have opted out … the only other team which could fill a bowl slot would be 1-2 Arizona State, which would become bowl-eligible with a win over Oregon State Saturday night … 
From gohuskies.com … The University of Washington football program has elected to not pursue a bowl bid for the 2020 season due to medical reasons.
Statement from Director of Athletics Jennifer Cohen
"We have made a medical decision to not pursue a bowl bid this year. I'm truly disappointed for our players, coaches and staff who dedicated themselves to this very challenging season and were looking forward to representing the University of Washington, all of Husky Nation and the Pac-12 Conference in a bowl game. The last 10 days we have made every effort, including pausing all football-related activitiesand continued aggressive testing protocols, to be able to have our team ready to return to the field. However, with the number of positive cases, specifically at the offensive line position, we will not have a team ready for competition due to our comprehensive return to play medical protocols. Since the start of practices this fall, we committed to returning to play only when we were able to do so in a healthy manner, and unfortunately, we aren't at that point at this time.
"I'm so grateful for Coach Lake's leadership, and am proud of the young men in our football program for managing the adversity of this season with grit and class. Our decision also allows our players, who have given up so much this year, to go home and be reunited with their families during the holidays. We also understand this is incredibly difficult for our seniors who have made a remarkable impact on this campus and in our community during their time on Montlake. We would like to thank them for their contributions and leadership, and for being great Huskies."
Statement from Head Football Team Physician Dr. Kim Harmon
"As we shared earlier in the week, we have taken pro-active measures to contain the further spread of COVID-19 in our football program. After continuing our pause on all football-related activities, we are confident we have been able to do that this week. With that said, we have experienced a number of positive cases within a key position group. Due to our thorough return to play policy, we would have not been able to have a team that was ready to return to practice and safely prepare for and compete in a bowl game. Despite the aggressive protocols we created and implemented at the onset of the season, and have strictly adhered to throughout the year, we still found ourselves in this position due to the power of this virus."
Statement from Head Football Coach Jimmy Lake
"Our goal every season is to win the Pac-12 Championship and win the bowl game. I'm so proud of our guys for how hard they have worked to put us in a position to achieve those goals. Unfortunately, due to the positive cases we have seen, specifically on our offensive line, we would have not been able to have a team ready to compete at a high level in a bowl game due to our return to play protocols. This is disappointing for everyone within our program and all of Husky Nation, but this is the right decision to make to protect the health and safety of our players, which is always our greatest priority. Our guys have given up so much this season, and I would like to thank them for how they have handled everything. I would also like to give special recognition to our seniors who poured so much into this program, we are so proud of them for everything they have accomplished on and off the field."
–
—
Utah will not participate in bowl season
From UtahUtes.com … Utah Football student-athletes collectively decided that Saturday's game against Washington State will be the team's final competition of the 2020 season. With a victory over WSU, Utah would become bowl eligible but the team is opting out of any potential postseason bowl. Utah Head Coach Kyle Whittingham, Director of Athletics Mark Harlan and the Utah Athletics administration support the student-athletes' decision.
"Our number one priority is the well-being of our players, and we support the decision they have made," Whittingham said. "They have worked extremely hard since they returned to campus this summer, and they have shown tremendous resiliency in dealing with adversity and challenges. We're proud of what they have accomplished on the field and the way they have handled everything off the field. We look forward to beginning our preparations for the 2021 season when the players return to campus in January."
Utah enters Saturday's game with a 2-2 record, winners of two straight games, including a 38-21 victory at 21st-ranked Colorado last Saturday.
"We support our student-athletes in their decision and applaud them for the way they represent the University of Utah," said Athletics Director Mark Harlan. "We have said from the beginning of this pandemic that everything is about the health and well-being of our student-athletes. They have done everything asked of them in following the strict protocols that were established to provide them the opportunity to play a football season this fall. We thank our incredible supporters and fans who have stood alongside us and our student-athletes throughout this unprecedented season."
–
—
Larry Scott and Pac-12 on the defensive for treatment of Colorado 
… Related … "Pac-12 did no favors for CU Buffs, USC" … from the Daily Camera
From TheSpun.com … The Colorado Buffaloes are literally on standby for this Friday's conference championship game. We're not kidding, the Pac-12 literally has the program waiting for further instructions.
Colorado doesn't have an opponent for this weekend since Oregon was called up to play in the Pac-12 Championship. It was originally supposed to be between USC and Washington, but the Huskies are dealing with issues on the COVID-19 front. The Buffaloes could find themselves playing for a Pac-12 title if the Trojans are unable to play though.
In order to ensure that it'll have a conference championship game, the Pac-12 has Colorado's equipment truck at the halfway point between Boulder and Los Angeles.
Either the equipment truck will drive to Los Angeles for the Pac-12 title game, or it'll head back to Colorado. It's a bad look for the Pac-12, and media members around the country aren't holding back their true feelings about the conference.
"Colorado got absolutely screwed this week," ESPN's Adam Rittenberg tweeted. "I don't pile on the Pac-12's problems as much as others, but this is embarrassing and wrong to do to one of the member schools." 
Rittenberg wasn't the only person to rip the Pac-12 for this situation it created.
"This is absurd. Colorado has been literally left on the side of the road by the Pac-12," John Canzano of The Oregonian wrote on Twitter.
All we can hope for at this point is that Colorado is taking good care of the equipment truck drivers.
–
—–
December 17th
… Foe Pause … 
Arizona suffers more defections, including starting quarterback
From  Tucson.com … Arizona Wildcats sophomore quarterback Grant Gunnell and sophomore wide receiver Boobie Curry plan to enter the transfer portal less than a week after the dismissal of head coach Kevin Sumlin.
Both players haven't officially entered the transfer portal, but sources told the Star the UA is hopeful both players can return. Matt Moreno of Rivals first reported the Gunnell news.
The Houston natives were two of the Wildcats' highest-rated recruits for the 2019 class, the first official recruiting cycle of the Sumlin regime. Gunnell and Curry were high school teammates at St. Pius X, where they set Texas state records.
Gunnell formerly was committed to Texas A&M when Sumlin was still in College Station and maintained a close relationship with offensive coordinator Noel Mazzone, who often compared Gunnell to former protege Brock Osweiler.
The 6-foot-6-inch, 228-pound Gunnell completed 165 of 248 passes for 1,864 yards and 15 touchdowns, and went 1-7 as a starter in two seasons. The 6-2, 203-pound Curry had 16 catches for 157 yards.
–
—
UCLA to conclude season with Stanford; will not accept bowl bid
… You would think that this move would all but guarantee CU a bowl bid. There are only four Pac-12 tie-ins at present. USC is 5-0; CU is 4-1; Oregon and Stanford are 3-2; with UCLA at 3-3. With UCLA and Stanford bowing out, the best any other team would be to get to three wins (Utah is 2-2; ASU is 1-2; Oregon State is 2-4). It would be hard to pick a three win team over a 4-1 CU team … 
From UCLABruins.com …  UCLA Athletics today announced that this Saturday's matchup against Stanford will be the football program's final game of the season.
The decision to decline a potential bowl invitation, if eligible, was led by the football student-athletes, and fully supported by Alice and Nahum Lainer Family Director of Athletics Martin Jarmond, Head Football Coach Chip Kelly and UCLA Athletics administration.
"I'm so proud of our student-athletes for how they've conducted themselves this season in order to be able to play the game they love. It's a tremendous credit to them that we have played every weekend so far," said Jarmond. "It's also a credit to the many people who have worked behind the scenes to make a season possible. I'd like to thank Chancellor Block and campus leadership for their support as we navigated this 2020 season. The health and safety of our student-athletes, coaches and staff has been our North Star throughout the pandemic, but the student-athlete experience is also always at the forefront of my mind. These young men have already sacrificed so much for each other; now is the time for them to shift their focus, be with their families and take a well-deserved break."
UCLA is one of only two football teams in the Pac-12 Conference that has played all six weekends of the season, so far. The program has had only five total COVID-19 cases following the initial round of intake testing upon returning to campus in late June.
"We are a player-led team, and we listened to our players when it came to making this decision," said Kelly. "Our guys have given everything they've had to this season, and I've been so impressed by the maturity and selflessness they've shown. I want to thank our Return to Training Committee and Athletics administration for all of their efforts on our behalf. Our job was to create a safe environment, and our players sacrificed all season long to adhere to that environment. It's a testament to them – and to their families – that we've played a full schedule this year. We are all looking forward to competing together one more time against Stanford on Saturday."
The Bruins take a 3-3 record into their season finale against Stanford this Saturday, Dec. 19 at 4 p.m. PT at the Rose Bowl Stadium. They have outscored opponents by a 201-167 margin, the third-highest in the Pac-12. UCLA rates at or near the top of the conference in rushing offense (220.5 yards per game, second), total offense (450 yards per game, second), interceptions (six, second), sacks by (21, first) and first downs (145, first).
–
—
Mario Cristobal signs extension with Oregon 
From CBS Sports … Oregon coach Mario Cristobal had been mentioned as a candidate for the vacant Auburn job, but the third-year coach of the Ducks will be staying in Eugene. Athletic director Rob Mullens announced Thursday that Cristobal and Oregon agreed to a contract extension through the 2025 season. A one-year extension will be added to the contract if Cristobal wins the Pac-12 North or wins nine regular-season games in one of the years on the deal. The new contract will pay Cristobal an average of $4.55 million annually. He will make $3.2 million in 2020 and his paycheck will increase annually through 2025, when he will make $5 million.
"I am humbled and honored to be part of the best college football program in the country," Cristobal said in a statement. "The tremendous commitment from the University and our administration to our student-athletes, coaches, and support staff is unmatched and has been unwavering since day one. I am grateful to President [Michael] Schill and Rob Mullens for all of their support and for entrusting our staff with the future of Oregon Football. We are just getting started, and I am fired up to relentlessly work and build upon the success so far. We are privileged to call Oregon home, and we love the sense of family and community here at Oregon. We will continue to work tirelessly to elevate the Oregon football program to the next level, and we can't wait to see the best fans in the nation back in Autzen Stadium next fall. Go Ducks!"
The new contract also includes several incentives, like a $375,000 bonus for making the College Football Playoff National Championship, $325,000 for making a national semifinal and $300,000 for making a New Year's Six bowl. His $500,000 bonus for winning the national title and $150,000 bonus for winning the Pac-12 will remain the same. He is only eligible for earning one of those incentives per season.
–
—
Democratic senators introduce 'College Athletes Bill of Rights' that could reshape NCAA
From USA Today … Sens. Cory Booker and Richard Blumenthal on Thursday are introducing legislation that would dramatically alter the compensation and treatment of athletes in major-college sports programs.
The measure backs those changes with a variety of enforcement provisions that would be directed by a commission whose governing board would be appointed by the President and have subpoena power. It also would provide athletes and state attorneys general the right to sue for enforcement.
The 61-page piece of legislation, named the "College Athletes Bill of Rights," would go far beyond other recently introduced bills largely aimed at improving athletes' ability to make money from their names, images and likenesses (NIL).
For example, Booker, D-N.J., and Blumenthal, D-Conn., want to see athletes annually receive money directly based on the revenue surpluses they help their teams generate. They also want athletes to have long-term health care and a set of educational protections.
Their bill would mandate not only individual NIL rights, but also athletes' ability to market themselves as a group. That step, among other impacts, would begin to create a mechanism for athletes to be legally depicted in once-popular video games that were discontinued amid NIL litigation against the NCAA.
From an individual NIL standpoint, schools would not be able to prevent athletes from having arrangements based on what they do outside of mandatory team activities. Schools also could not "prohibit or discourage" an athlete from wearing the shoes of their choice in mandatory team activities "unless the footwear has lights, reflective fabric, or poses a health risk." This and other parts of the bill essentially would allow athletes to have endorsement deals — including with shoe and apparel companies — that conflict with schools' contracts.
… Continue reading story here …
–
—–
December 16th 
... Foe Pause … 
NCAA allows immediate transfers – sitting out a year a thing of the past
From the Associated Press … The NCAA's Division I Council has granted blanket waivers for all athletes to play immediately.
The NCAA's announcement Wednesday includes all Division I sports, but is contingent on certain criteria being met.
Transfers previously were required to sit out a season unless granted a waiver by the NCAA. The NCAA had decided on waivers on a case-by-case basis, but had been more lenient during the coronavirus pandemic.
The decision should have an immediate impact on basketball programs, with some transfers becoming eligible for games on Wednesday.
"The Council continued its trend of voting in favor of maximum flexibility for student-athletes during the pandemic," said Council chair M. Grace Calhoun, athletics director at Pennsylvania. "Allowing transfer student-athletes to compete immediately will provide additional opportunities to student-athletes during this continued difficult time, and perhaps allow games to be played that otherwise might not have been."
The waiver only applies to transfers from other Division I schools. The regular transfer waiver process will be used for non-Division I transfers.
Transfers must already be enrolled fulltime at the current school for the 2020 fall term and it must be their first transfer from a four-year school. Transfers must have left their previous school in good standing academically and are not facing disciplinary suspension.
The NCAA's Division Council is expected consider permanent transfer rules at a meeting next month that would allow all athletes to transfer once without having to sit out a year.
–
—
Wilner: Arizona should understand its limitations (with two candidates)
From the San Jose Mercury News …
Know thy candidates.
Oh, and we forgot to add one thing to the above equation:
The Wildcats aren't in position to pay top dollar, or even average dollar.
They almost certainly will be offering an entry-level salary at the Power Five pay scale — somewhere in the $2.5 million-to-$3 million per year range.
That, in itself, limits the candidate pool.
Speaking of candidates, here we go …
1. Brent Brennan. The current San Jose State head coach — what a turnaround — comes from the offensive side and played receiver at UCLA. But Brennan has deep ties: He was a graduate assistant under Tomey in Tucson and coached for Tomey at San Jose State; his brother, Brad, played for Tomey; and Brennan spoke movingly about Tomey's influence at the late coach's memorial. What's more, Brennan would help former players coalesce around the program. He's a relentless recruiter, immensely likable and, like Tomey, a grinder's grinder.
1A. Joe Salave'a. The former Arizona star is currently the associate head coach and co-defensive coordinator at Oregon. More importantly, he's one of the best defensive linemen in Arizona history. More importantly, he's one of the best recruiters of the Pacific Islands in the Pac-12. Arizona needs to get bigger and tougher on the lines of scrimmage. Tomey leaned heavily on Polynesian players for the core of his rosters. The Wildcats should spend more time recruiting American Samoa and less time poking around Houston.
That's it.
That's our list.
Just Brennan and Salave'a.
Arizona needs someone who understands what works in Tucson and what doesn't.
It needs someone willing to devote heart-and-soul to the program, someone who won't fret over what's lacking but will focus on — and sell — what makes the program special.
Someone who will wake up each morning, year after year, eager for the grind.
Arizona can win, and win consistently, but the path is narrow and the challenges unique.
From here, there's no choice:
Hunker down, take the long view, and hire from within the family.
–
—
Arizona AD: "No easy answer" in coaching search / 300 ex-Wildcats hold Zoom meeting to offer input
Related … "300 ex-Arizona football players hold Zoom meeting to offer input on head coaching vacancy" … from DesertSwarm.com … The purpose of all of this?
"To figure out what in the Sam Hill is going on, and what can we do, and how can we be a positive influence," Bray said. "And anything that goes for it, I have no idea. This is a situation like none I've ever seen before." …
–
From Tucson.com … Arizona athletic director Dave Heeke, appearing on AM 1290 on Tuesday, said he is looking for a passionate, fiery program builder and leader who has the "highest level of integrity" to become the Wildcats' next football coach.
Heeke made his first media appearance, on the UA's flagship radio station, since firing Coach Kevin Sumlin on Saturday. In the 20-minute-plus interview, Heeke explained why he moved on from Sumlin – beyond his 9-20 record – how that decision was communicated to the staff and team, and what his vision is for the program under new leadership.
"We need a builder," Heeke told host Rich Herrera. "We need a program builder. We need a leader. We need someone who has unbelievable passion and a fire inside their gut, inside their belly – for football, for this job, for this place, for U of A, this city and this state."
Below is a transcript of the bulk of that interview.
On the decision to fire Sumlin:
"Obviously, I'm always evaluating the program. It was certainly, after two years, a critical year this year to begin to see progress. It got to a point where I just didn't feel like the program was headed in a direction that I really felt confident about. And I didn't feel that that could change significantly. …
On what Heeke is looking for from the football program and new coach:
"I believe our football program can be positioned to be highly competitive in the Pac-12 Conference. It can be developed into a winning program, one that can compete for championships, can compete for bowl games each year, would be in the mix. We want to be a really tough game on schedules. We want to build a winning football program here, consistently winning football program, and build it the right way. That takes time. It takes really critical though and really clear decision-making, strategic decision-making of where we want to go. …
"I don't think there's an easy answer – 'Hey, here it is, A-B-C.' But we've got great facilities. The Lowell-Stevens Facility. The enhancements that we've done in the football stadium, and we'll continue to do that. We have a tremendous venue for young men to compete in. The Davis Center, the indoor practice facility that is right there adjacent to our outdoor facility, is as good as anything in the country.
"We've made great strides through the years here, and so there are a lot of assets in this program that can allow us to be very successful, that will aid the next group and the next head coach as they come in to build this. We need a builder. We need a program builder. We need a leader. We need someone who has unbelievable passion and a fire inside their gut, inside their belly – for football, for this job, for this place, for U of A, this city and this state.
"There's a little toughness, a little bit of blue-collar attitude to it. But a real program builder that can put all those pieces together. Because this isn't just about who can call plays. It isn't about one aspect. A head football coach has to be able to look at, very broadly, all of the things that go on in a football program – recruiting, game-planning, developing your staff, your relationships with your players, your academic program, your character-building program, the overall plan, the grand plan of recruiting, roster management; that's a whole different aspect that wasn't here 10, 15 years ago. …"
–
—–
December 15th
… Foe Pause … 
Washington 0-for-20 in available offensive linemen
… Which begs the question? Why wait until Monday to cancel? If the Huskies had been realistic about their chances of playing, the Pac-12 could have scheduled accordingly, giving CU another North Division opponent (Oregon State being the most likely candidate) … 
From Sports Illustrated  … Twenty University of Washington offensive linemen fill up the roster.
Zero are available.
None were able to play in the Pac-12 championship game against USC on Friday.
Each player either produced a positive COVID-19 test or were exposed and went in quarantine.
That includes all scholarship and walk-on linemen.
Such is the world of the 2020 pandemic that won't go away soon enough.
"Our team, the members who have tested positive, are doing well," Husky coach Jimmy Lake said. "They have mild symptoms and nothing extremely serious, and that's really what I want the focus to be first and foremost, that it's always been about the safety of our players and our staff.
"Thankfully, they're on the road to recovery and we're anxious to get those guys back here soon."
The UW football team's first positive virus cases during the season were singular and isolated, and showed up the day prior to the Utah game held on Nov. 28, according to head trainer Rob Scheidegger.
The situation was manageable. Players with the virus were separated from the others. The team continued to move forward. The Huskies overcame a 21-0 halftime deficit to beat the Utes 24-21.
More cases appeared the following week leading up the Dec. 5 game against Stanford. Yet the positive tests were still individual situations and the players were separated and put in quarantine. The Huskies lost that game, 31-26.
That UW-Stanford match-up never appeared in doubt, but clearly more Husky players had become unavailable.
Move to Tuesday of last week and the situation escalated to the point the UW found multiple cases, some bunched in position areas
The school had no choice but to shut down all football activities, hoping to play Saturday's Oregon game in Eugene.
Things got worse, not better. There's no surefire way for eluding this infectious disease right now as it spikes nationwide.
"This virus is spreading across the whole country," Lake said. "It seems like it doesn't cherry-pick where it's going to go or where it's not going to go. It goes everywhere."
The Huskies needs consecutive days of negative testing before it can resume practice and Lake's team simply didn't have enough time to make that happen before Friday's game. Hence the cancellation.
… Continue reading story here …
–
—
Oregon's Mario Cristobal denies having any contact with Auburn ("but I don't know if my agent has")
From DuckTerritory.com … Rumors are swirling around the SEC's Auburn Tigers going after Oregon head coach Mario Cristobal to become their new head coach. Oregon Duck fans are having flashbacks to 2017 when another school came calling to Willie Taggart and plucked the Ducks head coach.
Monday evening Oregon head football coach Mario Cristobal addressed those rumors head-on.
"We seem to get a lot of rumors at this time of the year. This is what I can say. I haven't been contacted, but I don't know if my agent has," said Mario Cristobal.
"I trust Phil Knight, I trust Rob Mullens. I trust our administration and I trust people here at Oregon. As you guys know, we have been working on something when the pandemic first hit and things kind of stalled and things have picked back up."
Cristobal and the Ducks were in discussions of a new deal after the Rose Bowl win against Wisconsin, but those were put on hold when the hiring freeze hit the University of Oregon due to COVID-19.
"I've always been transparent with every single one of you and I will continue to do that. Hopefully, in the next couple of days, there's more stuff to talk about as it relates to that," said Cristobal. "That in itself right there hopefully explained to you exactly where things are with me."
… Continue reading story here …
–
—–
December 14th
… Foe Pause … 
Pac-12 Press Release: Washington out; Oregon in for title game
… As of this moment, CU is in limbo … Pac-12 conference call this afternoon … CU to take on Pac-12 North No. 3 team (Oregon State)?… A non-conference opponent (like CSU?) … or sit back, waiting to see if USC backs out – which would make CU/Oregon a title game? … stay tuned … 
From CBS Sports … The Pac-12 announced a new opponent for USC in the championship game on Monday, replacing Washington with Oregon after the Huskies informed the league that it will not be able to play on Friday.
"This decision was made under the Pac-12's football game cancellation policy and Football Championship Game policy due to Washington neither having the minimum 53 scholarship student-athletes available for the game nor the minimum number of scholarship student-athletes at a position group, in each case as a result of a number of positive football student-athlete COVID-19 cases and resulting isolation of additional football student-athletes under contact tracing protocols," the league announced in an official statement.
Oregon gets the nod to replace Washington as the team with the next-best record in the Pac-12 North. Oregon and Stanford are currently tied for second place with a 3-2 record, but the Ducks win the tiebreakers as a result of their head-to-head win in the first week of Pac-12 play.
Undefeated at 5-0, USC began to prepare for both Washington and Oregon on Sunday when reports circulated that the Huskies might not be able to meet the requirements to play laid out by the league in its return-to-play protocol. Now Clay Helton and the Trojans coaches can turn their attention fully to the Ducks, and a matchup of the two preseason division favorites.
While Oregon has fallen out of the rankings with two straight losses to Oregon State and Cal, the Ducks are one of the few teams in the Pac-12 with a comparable talent level to the USC roster, so their promotion into the championship game presents no relief for Trojans.
"Let's settle it on the football field. We're unable to play. That's unfortunate obviously for our fans and our staff and our players, but now [Oregon's] the next team in the game," said Washington coach Jimmy Lake on Monday. "If they win the game, they should have the Pac-12 championship trophy. … Through this crazy, challenging year, they should be viewed as Pac-12 champion."
Despite his team being unavailable for the Pac-12 title game, Lake insisted Monday that trying to play the 2020 season was worth the effort. The Pac-12 played the shortest season of any Power FIve team, starting on Nov. 7.
"I wouldn't change a thing. We want to play. We don't want to be on the sideline," he said.
Washington's "whole team" is in isolation, per Lake. It has not practiced since last Wednesday. There are no offensive linemen currently available to play for the Huskies between COVID-19 positives and contact tracing. For Washington to practice, two days of negative tests would have been necessary. Some football staff have also been impacted.
"The players are completely crushed we could not play last week and devastated we could not play Friday," Lake said.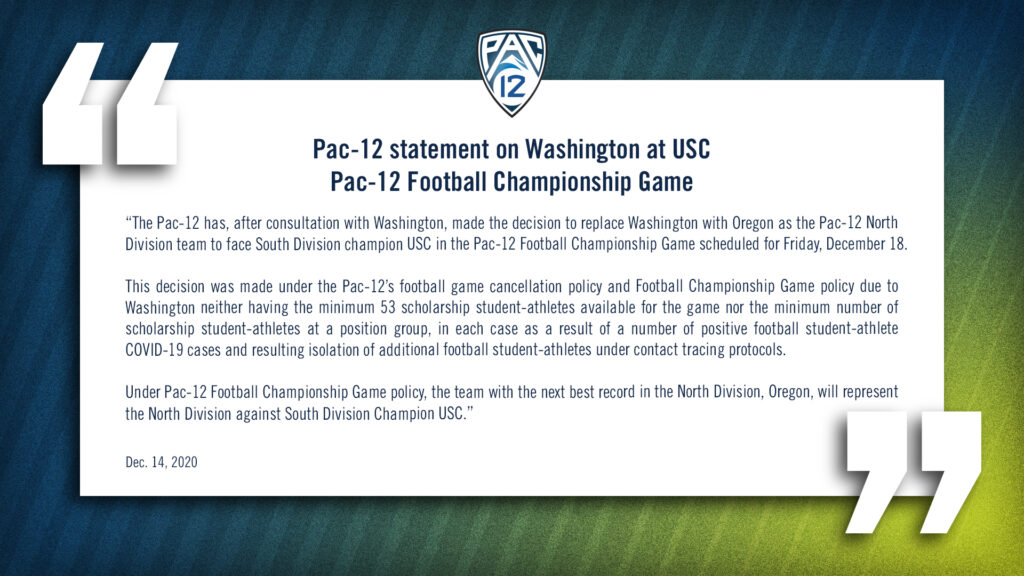 –
—
Bowl projections: CU still in the mix for one of the Pac-12 four bowl bids
… NOTE … Due to cancellations, the Pac-12 is down to four bowl bids: Fiesta Bowl; Alamo Bowl; Armed Forces Bowl and the Independence Bowl. Based upon ESPN and CBS Sports projections, Colorado could land in any one of bowls other than the Fiesta Bowl, which goes to the Pac-12 champion … 
From ESPN … With the College Football Playoff selection show (ESPN and ESPN App, noon ET) just a week away, there is a little shake-up in our weekly projections.
After No. 6 Florida's shocking loss against LSU, one ultimately decided by an untimely penalty after the Gators' Marco Wilson tossed a cleat down the field, we are looking at a different semifinals lineup.
Teams that have opted out of bowl games so far are Boston College, Pitt, Virginia and Stanford. LSU has self-imposed a bowl ban.
ESPN's Kyle Bonagura and Mark Schlabach make their latest picks. This will be updated as game matchups become locked in.
PlayStation Fiesta Bowl – January 2nd
State Farm Stadium (Glendale, Arizona)
2 p.m. (MT) on ESPN and the ESPN App
Bonagura: USC vs. Indiana
Schlabach: USC vs. Indiana
Valero Alamo Bowl – December 29th
Alamodome (San Antonio)
7 p.m. (MT) on ESPN and the ESPN App
Bonagura: Oklahoma vs. Washington
Schlabach: Iowa State vs. Colorado
Lockheed Martin Armed Forces Bowl
Amon G. Carter Stadium (Fort Worth, Texas)
10:00 am (MT)  on ESPN and the ESPN App
Bonagura: Colorado vs. Missouri
Schlabach: Washington vs. Mississippi
Radiance Technologies Independence Bowl – December 26th
Independence Stadium (Shreveport, Louisiana)
5 p.m. (MT)) on ESPN and the ESPN App
Bonagura: Army vs. Oregon
Schlabach: Army vs. Oregon
—
From CBS Sports …
PlayStation Fiesta Bowl – January 2nd
State Farm Stadium (Glendale, Arizona)
2 p.m. on ESPN and the ESPN App
 USC vs. Indiana
Valero Alamo Bowl – December 29th
Alamodome (San Antonio)
7 p.m. (MT) on ESPN and the ESPN App
Iowa State v. Washington 
Lockheed Martin Armed Forces Bowl
Amon G. Carter Stadium (Fort Worth, Texas)
10:00 am (MT)  on ESPN and the ESPN App
Colorado v. Mississippi
Radiance Technologies Independence Bowl – December 26th
Independence Stadium (Shreveport, Louisiana)
5 p.m. (MT)) on ESPN and the ESPN App
Oregon v. Army
–
—–
December 13th 
… Foe Pause … 
Colorado opens as a nine-point underdog to Oregon – no Pac-12 games within a touchdown
Pac-12 opening lines from VegasInsider.com …
— Washington at No. 13 USC – Pac-12 championship game … Friday, December 18th (6:00 p.m., MT, Fox) … USC an 8.0-point favorite
— Colorado v. Oregon (at USC) … Saturday, December 19th (7:00 p.m., MT, FS1) … Oregon a 9.0-point favorite
— Washington State at Utah … Saturday, 11:30 a.m., MT, FS1 … Utah a 10.0-point favorite
— Stanford at UCLA … Saturday, 6:00 p.m., MT, ESPN2 … UCLA an 8.0-point favorite
— Arizona State at Oregon State … Saturday, 8:30 p.m., MT, ESPN … Arizona State a 8.0-point favorite
— Arizona v Cal … pending … may not be played …
–
—
Oregon head coach Mario Cristobal mentioned as candidate for Auburn head coaching position
… Related … "At Auburn: 'They have to get a big name' " … From FootballScoop.com …
From SaturdayDownSouth.com … Once Auburn made the move to fire Gus Malzahn, the number of possible names to replace him on The Plains poured in, and it was a who's who of notable names from Power 5 schools, and others with NFL ties as former head coaches.
Pete Thamel of Yahoo Sports, John Talty of AL.com and Brandon Marcello of 247Sports each mentioned Oregon's Mario Cristobal, a former Alabama assistant, along with Liberty's Hugh Freeze, who is familiar with the SEC West from his time at Ole Miss, and Louisiana's Billy Napier. Freeze and Napier were also mentioned prominently for the South Carolina opening, including Napier reportedly being interviewed, before the Gamecocks hired Oklahoma assistant Shane Beamer.
Before Oregon, Cristobal spent four seasons (2013-16) at Alabama as the assistant head coach, offensive line coach and recruiting coordinator under coach Nick Saban, as he was on the staff when the Crimson Tide went to the to the CFP National Championship in 2015, as well as a runner-up finish the next season.
Other names include both Clemson coordinators, Louisville coach Scott Satterfield, also briefly connected as a possible candidate South Carolina, former Houston Texans and Penn State coach Bill O'Brien, former Atlanta Falcons coach Dan Quinn and Oklahoma State coach Mike Gundy.
–
—
USC only remaining Pac-12 team in the poll (coming in at No. 13)
From CBS Sports … Things at the very top of the AP Top 25 and most college football rankings remain very much in place after Week 15 action. Alabama remains not only No. 1 but the unanimous choice for the top team in the country according to the AP voters, followed by Notre Dame at No. 2, Clemson at No. 3 and Ohio State at No. 4. Of those four teams only the Crimson Tide, the one with the least amount of debate regarding its ranking status, was in action on Saturday, and they left absolutely no doubt with a 52-3 win against Arkansas.
But there are some notable changes just outside the top four following a Saturday that saw two top-10 teams lose. Florida was ranked No. 6 in the AP poll prior to a shocking home loss against unranked LSU. It's the only second loss of the season for the Gators, who had already locked up the SEC East title and a spot in the SEC Championship Game against Alabama, but it's one that comes with a sharp reaction from the AP voters. Florida was a 23-point favorite in the game and the mistakes — including a penalty for throwing the shoe of an LSU player — stood out as much if not more than the success of the shorthanded Tigers team in Gainesville. That disappointment has Florida down five spots to No. 11, one spot behind a Georgia team it beat earlier in the year and just ahead of two-loss Oklahoma and undefeated USC.
Voter disappointment is extended to Miami, another team that had just one loss on the season coming into the day. The Hurricanes took an even steeper fall from No. 9 to No. 19 after a stunning 62-26 loss to North Carolina. Miami's high ranking was aided by its increasing collection of wins and its only loss coming to Clemson, so when the Tar Heels ran up the score in Hard Rock Stadium there was bound to be a sharp response from the AP voters. Of course there is also a boost for North Carolina, who jumped from No. 20 to No. 16 after the win.
Other notable changes in the AP Top 25 include Coastal Carolina breaking into the top 10 at No. 9 and San Jose State making its first AP poll appearance since 2012, checking in at No. 25.
Check out the AP Top 25 below: 
Alabama (62 first-place votes)
Notre Dame
Ohio State
Clemson
Texas A&M
Cincinnati
Indiana
Iowa State
Coastal Carolina
Georgia
Florida
Oklahoma
USC
BYU
Northwestern
North Carolina
Louisiana
Iowa
Miami
Tulsa
Texas
Liberty
Buffalo
NC State
San Jose State
Dropped out of the rankings: No. 21 Colorado, No. 25 Washington
Others receiving votes: Oklahoma State 83, Marshall 47, Boise State 12, UCF 11, Washington 9, Army 9, Auburn 8, TCU 3, Appalachian State 1
–
—–