—
Pac-12 Notes – Utah Week
—
December 12th – GameDay!
… Foe Pause … 
Pac-12 announcement: USC v. Washington for Pac-12 title
Tweet from USA Today reporter Brent Schrotenboer … Confirmed that Oregon would fill in for Washington and Colorado would fill in for USC if either Washington or USC is unable to play in the Pac-12 football championship game Friday because of COVID.
Press release from the Pac-12 … The WASHINGTON Huskies will represent the Pac-12 North Division and meet the No. 15 USC Trojans, representing the Pac-12 South Division, in the 10th annual Pac-12 Football Championship Game, presented by 76, on Friday, December 18. The Conference title game will take place as a home-hosted model this season with USC earning the home game for United Airlines Field at Los Angeles Memorial Coliseum. The #Pac12FCG will be televised on FOX, with coverage beginning at 4 p.m. PT / 7 p.m. ET ahead of the 5 p.m. / 8 p.m. ET kickoff, and will be broadcast via ESPN Radio.
"In a football season that has thrown unprecedented challenges and adversity at our football teams and student-athletes, USC and Washington have performed at the highest levels and earned their places in the 2020 Pac-12 Football Championship Game as the Pac-12 South and North Champions," said Pac-12 Commissioner Larry Scott.
Washington (3-1, 1-1 vs. Pac-12 North) has now captured the Pac-12 North title for the third time in the last five seasons (also, 2016 & 2018), tied with OREGON for the second-most division titles in the Pac-12 era (Stanford has won four Pac-12 North titles). The Huskies have allowed 35 points-or-less in each of their last 75 games dating back to 2014, the longest such active streak in the Football Bowl Subdivision (FBS). The Huskies finished with the highest winning percentage (.750) in the Pac-12 North.
–
—
Arizona fires Kevin Sumlin – list of potential candidates already posted
From ESPN … Arizona fired coach Kevin Sumlin on Saturday, a day after the Wildcats' 70-7 loss to rival Arizona State.
The Wildcats, 0-5 this season with another possible game next week, are on a record 12-game losing streak after dropping their final seven games in 2019. The 70 points they allowed Friday night marked the most ever surrendered in Territorial Cup series history, dating to 1899.
"When we hired Kevin three years ago, we had very high hopes for our football program," Arizona athletic director Dave Heeke said in a statement. "Unfortunately, we simply have not seen the results and upward trajectory in our program that we needed to, and I believe now is the time for a change in leadership. I thank Kevin for his service to the University of Arizona and wish him the very best in the future."
Sumlin had two years left on his contract. Heeke said the school will honor the terms of Sumlin's existing deal, including a $7.5 million buyout.
Arizona went 9-20 — 6-17 in the Pac-12 — with no bowl appearances under Sumlin, and lost all three games to Arizona State. The lopsided Territorial Cup defeat comes two years after the Wildcats blew a 19-point fourth-quarter lead in a 41-40 loss.
Sumlin, 56, came to Arizona from Texas A&M, where he went 51-26 but finished no higher than fourth in the SEC West Division in his final five seasons. He replaced Rich Rodriguez, who guided Arizona to a Pac-12 South Division title and five winning seasons out of six.
"Our attention now turns to finding the next head coach at the University of Arizona, while we continue to support our student-athletes, who have sacrificed so much since returning to campus this summer," Heeke said. "We will cast a wide net to identify and recruit a coach who shares our vision, our values and our passion for winning."
Defensive coordinator Paul Rhoads, the former coach at Iowa State, will serve as Arizona's interim coach for a possible sixth game next week.
Potential head-coaching candidates for Arizona include senior defensive analyst and former Wildcats All-America safety Chuck Cecil, Nevada coach Jay Norvell, BYU coach Kalani Sitake, Navy coach Ken Niumatalolo, San Jose State coach Brent Brennan, NC State offensive coordinator Tim Beck, New Orleans Saints defensive line coach Ryan Nielsen, Weber State coach Jay Hill, Fresno State coach Kalen DeBoer and former UCLA coach Jim Mora.
Niumatalolo was a finalist for the job in 2017 before Arizona pivoted to Sumlin.
… Continue reading story here …
–
—
Tucson.com: Arizona has no choice but to fire Kevin Sumlin after 70-7 rout by ASU
From Tucson.com … If the UA fires Kevin Sumlin any time before Jan. 15, it owes him a $7.5 million walk-off payday. If it waits until Jan. 16, 2021 the payoff is reduced to $5 million, payable over two years.
Think about that for a second. Based on Sumlin's current $3.5 million salary, he is paid $1,198 per hour. Of course, that is based on a 40-hour work week and an eight-hour day. That means in the 3½ hours it took Arizona State to deliver the most crushing, embarrassing and historic Territorial Cup loss to the Wildcats, 70-7, Sumlin earned $4,194.
Give or take a few cents.
The only thing that makes sense now is for Arizona president Robert C. Robbins and athletic director Dave Heeke to work out the language with the school's attorneys and part ways with Sumlin immediately, if not sooner, and not delay until Jan. 16.
It would save $2.5 million, which would be the only victory in Arizona's 2020 football season.
And how can you move forward and hire a replacement while waiting until Jan. 16, saving $2.5 million? Let the attorneys handle it. You could hire San Jose State head coach Brent Brennan or Oregon assistant coach Joe Salave'a — or whoever — as soon as possible and begin work salvaging the badly-damaged brand of Arizona football.
If Sumlin sues, he sues. That would be much less painful than Friday's 70-7 Territorial Cup loss, one that will live in Tucson football infamy, a scar that won't go away for about 100 years.
… Continue reading story here …
–
—–
December 11th
… Foe Pause … 
Wilner: If Buffs and Trojans win – CU v. USC for the title would serve the "greater good"
From Jon Wilner at the San Jose Mercury News … Since the Huskies can't play Oregon, the next order of business is to determine their availability for the conference championship game on Friday, Dec. 18.
While the CDC has reduced the recommended period for quarantines to 10 days — or seven days with a negative test — there is no indication that the state of Washington or King County officials have done the same.
Which means all the players in quarantine this weekend would be unavailable for 14 days.
The Huskies likely would not be able to participate in the title game.
The Colorado factor
The Buffaloes are 4-0 and finish at home, against Utah, on the national stage:
The game has been moved from Friday evening to Saturday morning — into the 'Big Noon Kickoff' time slot on FOX.
Whether it wins by three points or 30 points, Colorado cannot claim the division title if USC beats UCLA.
The Trojans would have the tiebreaker advantage (a better division record).
But if both win this weekend, the Pac-12 has a problem: An undefeated team — and one of two ranked teams — would be left out of the championship game.
If Washington plays, wins and finishes 4-1, the move to Defcon One is more difficult for the Pac-12.
But if the Huskies are unable to play this week and cannot participate in the championship game, the conference is expected to revisit the protocols and consider allowing Colorado to play USC for the title.
Why not send Oregon, so the North is represented?
The Ducks would be 3-2, unranked, and in second place.
Colorado would be 5-0, ranked and tied for first place.
Would the Ducks fight the move?
They could argue that the situation is beyond their control, that UW's virus issues prevented them from having an opportunity to control their own fate.
But that's exactly Colorado's argument in the South, and the Buffaloes would have a perfect record to bolster their case.
The Greater Good
Sometime late Saturday night or early Sunday, Pac-12 commissioner Larry Scott, football operations chief Merton Hanks  and the athletic directors will discuss, debate and plot the schedule for Week 7.
The championship game will be atop the priority list if the Huskies have shut down and Colorado and USC are undefeated.
What's better for the conference:
— Sending two-loss, unranked Oregon to the title game despite its runner-up status, simply because tradition holds that the North and South meet for the championship?
— Or creating the best matchup for the FOX broadcast, with two undefeated, ranked teams colliding?
USC is the Pac-12's only hope — however faint — to enter the playoff discussion.
The Trojans are No. 15 in the committee rankings and must win their final two games impressively, then hope for carnage elsewhere — all that, just to sneak into the race.
That would be much easier done with the propulsion gained from beating an undefeated, ranked opponent — Colorado is No. 21 — for the championship.
Two-loss Oregon, on the other hand, would provide no rocket fuel for the Trojans.
And if the Trojans have no fuel, they have no chance.
What's better for the conference?
USC vs. Colorado would be better, by an order of magnitude.
–
—–
December 10th
… Foe Pause …
SEC moving from CBS to ABC/ESPN in lucrative deal
From ESPN … ESPN and the SEC announced Thursday that they have reached a 10-year deal beginning in 2024 that will make the network the exclusive rights holder of SEC football and men's basketball.
The deal provides the network, including ABC, up to 15 premier football games, including the SEC championship game and rivalry games such as Alabama-Auburn and Florida-Georgia.
"This new agreement was born from a strong foundation which began almost 25 years ago and now reflects a shared vision of the future with the SEC, commissioner [Greg] Sankey and their member institutions," said Jimmy Pitaro, chairman, ESPN and sports content. "With all the conference's games under the ESPN umbrella and adding ABC and ESPN+ to our distribution channels, ESPN will have complete scheduling flexibility, resulting in maximum exposure and adding significant benefits for SEC schools and fans."
Beginning in 2024, ABC will air an SEC game every week, including a regular late-afternoon kickoff, and will have the option to feature an SEC game on ABC's Saturday Night Football for the first time.
"So Saturday night, prime time on ABC is the highest profile window, the biggest stage in terms of college football. And we love the fact that we can now bring the ABC platform into the mix, starting in 2024," Pitaro told The Associated Press.
ABC also will air the SEC championship game in the late afternoon, and either ABC or ESPN will feature a late-afternoon Friday-after-Thanksgiving SEC game.
"This is a significant day for the Southeastern Conference and for the future of our member institutions. Our agreement with ESPN will greatly enhance our ability to support our student-athletes in the years ahead and to further enrich the game-day experience for SEC fans around the world," Sankey said. "One of our primary goals was to improve the television-scheduling process in ways that will benefit our students, coaches, alumni and fans. By working in collaboration with ESPN, we were able to secure an agreement that includes more lead time for many game-time announcements, and in many ways modernizes the college football scheduling process."
… Continue reading story here …
–
—
Washington/Oregon game canceled; "unclear" as to whether Washington can play title game 
Update … Report has been confirmed by the Pac-12 … 
From the Seattle Times … Another rivalry game is gone.
A day after Washington (3-1) paused all team-related football activities due to an increase in positive COVID-19 cases within its program, Saturday's game at Oregon will be canceled and declared a no contest, a source confirmed to The Times. The Pac-12 Conference has yet to officially announce the cancellation.
The Pac-12's minimum threshold requires each team to have 53 available scholarship players — including one quarterback, seven offensive linemen and four defensive linemen — for a game to go on. According to a source inside the program, the Huskies are "well below" the 53-scholarship minimum.
On Wednesday evening, UW reported 11 active positive COVID-19 within its athletics department — six more than a week ago. However, a source also indicated not all 11 cases can be traced to the football program. It's university policy not to specify how many cases are tied to each team.
Since UW athletes began returning to practice on June 15, 559 athletes have received a total of 5,950 PCR tests — with 64 positive cases (1.07%).
It's unclear whether the Huskies — who, based on winning percentage, have won the Pac-12 North — will be cleared to participate in the conference title game on Dec. 18.
UW previously had its amended season opener at Cal and the Apple Cup against Washington State canceled because of COVID-19 concerns tied to its opponents. The Husky baseball program also suspended its offseason workouts on Nov. 4, following positive COVID-19 cases and subsequent contact tracing.
UW head coach Jimmy Lake's policy is not to comment on injury- or illness-related absences within his program to maintain a competitive advantage. However, following last Saturday's 31-26 loss to Stanford, redshirt junior wide receiver Ty Jones acknowledged that "it's tough when we got guys coming out (of the lineup) due to coronavirus."
Several players in UW's two-deeps — including outside linebackers Ryan Bowman and Cooper McDonald, wide receiver Puka Nacua and quarterback Ethan Garbers — missed the Stanford game for unspecified reasons.
When asked Saturday night whether his team has been significantly impacted by COVID-19 leading up to the game, Lake said: "Just like the whole country, we're all dealing with issues — whether it's injuries or the pandemic — and we'll continue to deal with that for the rest of the season."
… Continue reading story here …
–
—
Utah's Kyle Whittingham on CU's success: "The cupboard was not left bare. They had a lot of good players when the last coach moved on"
From The Deseret News … Entering the season, expectations were low for Colorado, which was picked to finish fifth in the Pac-12 South.
But here are the stakes for the Buffaloes — if they defeat Utah and USC falls to UCLA, they would win the South Division and host the Pac-12 championship game on Dec. 18.
How does Colorado find itself in this position?
"In their situation, the cupboard was not left bare. They had a lot of good players when the last coach moved on," said Utah coach Kyle Whittingham. "And the last coach moved on on his own accord. He wasn't let go because of lack of success.
"They're just building upon what was started last year. Their players are playing hard. It's all lined up for them so far. They've done a good job. They've got a lot of things going for them right now. They're 4-0. So what can you say? They've been taking care of business."
Dorrell gives credit to the players for building a winning attitude.
"I'm pleased with the foundation we've been able to start and establish this year. We put a lot of work into it in the offseason, teaching the culture in our program," said Dorrell, who coached at UCLA from 2003-07. "The players have done a nice job of making some positive steps in creating that foundation. It's not completely done but it is progressing."
… Continue reading story here …
–
—–
December 9th
… Foe Pause … 
Pac-12 Stock Report: CU rising (as are CU's chances at a title game)
From the San Jose Mercury News …
Rising: Colorado
Whether the Buffaloes beat Utah or not, whether they play for the conference championship or not, whether they make the New Year's Six or not … the season has been a smashing success.
In fact, the discussion of access to the conference championship — both in the media and on social media — has generated attention that might not otherwise have come CU's way had they been contending for the division in a normal year.
More broadly, the attention helps squash the unflattering narrative that trailed the football program after Karl Dorrell was hired …
That the move was uninspiring.
That he wouldn't win.
That the Buffs has secured a permanent place at the bottom of the division.
The same surreal circumstances of 2020 that made Dorrell's task so difficult have created an opportunity for him — a pulpit, in a sense — to take a hammer to the original narrative.
Rising: Chaos.
Prior to publication of this stock report, Washington announced it was pausing team activities due to COVID issues, jeopardizing the showdown Saturday at Oregon.
The Huskies are undergoing a round of PCR testing, which is more accurate than the daily antigen tests. Results are expected by Thursday morning.
If the game is declared a no contest, Washington would finish 3-1 and win the North by virtue of the best record — a half-game better than the Ducks (3-2).
But if the Huskies can't play this week because of COVID, there's a reasonable chance they won't be able to play next week, too.
Which means the North winner wouldn't be available for the conference championship.
At that point, the door seemingly would open for Colorado to advance.
… Continue reading story here …
–
—
Big Ten amends its rules so Ohio State can play in title game
… So … If CU beats Utah … and Washington and Oregon can't play … think the Pac-12 could "amend" its rules to allow CU v. USC for Pac-12 championship? … 
From CBS Sports … The Big Ten is expected to revoke the six-game minimum requirement for teams to compete in the conference championship game, according to CBS Sports' Dennis Dodd. ESPN's Heather Dinich and Yahoo Sports' Pete Thamel previously reported that conference athletic directors were on the verge of overturning the rule on Wednesday. As a result, No. 4 Ohio State would be eligible to play for the Big Ten title on Dec. 19 against No. 14 Northwestern.
The Buckeyes' eligibility for the Big Ten title has been a national talking point for the past couple of weeks and it took center stage on Tuesday. Ohio State's Dec. 12 game against Michigan was canceled due to ongoing COVID-19 issues within the Wolverines' program, putting its eligibility for the title game in jeopardy. At 5-0, Ohio State fell one game below the six-game minimum for title game eligibility previously agreed upon by Big Ten ADs before the season. By default, No. 12 Indiana would have been the Big Ten East representative even though the Hoosiers lost to Ohio State 42-35 on Nov. 21.
Also at stake was the Buckeyes' path to the College Football Playoff. Based on the selection committee's latest rankings, Ohio State would probably be in regardless of whether it won the Big Ten title, but this adds to the assurance for the Buckeyes.
… Continue reading story here …
–
—
**Washington suspends activities; Oregon game (and title game availability) now in question**
Tweets from Jon Wilner … If the Huskies cannot play this weekend, they would finish 3-1 and win the North
— And certainly, if there's no UW-Oregon game and the Huskies win the division but cannot play Dec. 18 in the title game, then a Colo-USC championship would *have to be* explored
— My speculation: If UW's situation forces a cancellation this weekend, then availability for champ game Dec. 18 could depend on whether King Co implements new CDC rules on quarantine (10 days, or 7 with neg test).
—
Statement from the University of Washington …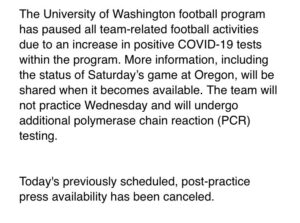 –
—–
December 8th
… Foe Pause … 
SI's Pat Forde's predictions: Undefeated CU to play for Pac-12 title
From Sports Illustrated … There are nine undefeated teams left in the sport. One of them, Notre Dame, has been bubble-wrapped by the Atlantic Coast Conference for safe passage to the league championship showdown against Clemson. The other eight are in action this week, trying to get to the regular-season finish line unscathed. Can they do it?
The Dash appraises each game and ranks them in likelihood of losing, from most likely to least:
USC, to UCLA. The line: Trojans by 3 1/2. Clay Helton's Good Luck Tour finally runs into an obstacle. USC (4–0) will not play the only other Pac-12 unbeaten, Colorado, due to a COVID cancelation, and the Trojans are playing well, coming off a pair of convincing victories. But the Bruins may have turned a corner (finally) under Chip Kelly: At 3–2, they have a winning record for the first time in Kelly's tenure and the first time since Oct. 21, 2017. (If that sounds a bit sad, well, it is.) Dash pick: Rivalry upset special. UCLA 28, USC 27.
Colorado, to Utah. The line: Colorado by one. The Buffaloes (4–0) have been one of the better success stories of the season, even if few people have paid attention. This matchup will be strength vs. strength: the Pac-12's best rushing attack (Colorado checks in at 245.5 yards per game) against the Pac-12's best rushing defense (Utah allows only 104.7). Worth tuning into what could be a snow game Friday night in Boulder. Dash pick: Colorado 23, Utah 21.
… Read full story here (note that CU was picked as the second-most likely undefeated team to lose this weekend) …
–
—–
December 7th
… Foe Pause … 
LA Bowl canceled – Pac-12 down to four bowl tie-ins
Canceled bowls to date … 
Bahamas Bowl (C-USA vs. MAC) – Located in the Bahamas
Fenway Bowl (AAC vs. ACC) – Located in Mass
Hawaii Bowl (AAC vs. Mountain West) – Located in AHawaii
Holiday Bowl (ACC vs. Pac-12) – Located in California
Las Vegas Bowl (Pac-12 vs. SEC) – Located in Nevada
Los Angeles Bowl (Pac-12 vs. Mountain West) – Located in Califorina
Pinstripe Bowl (ACC vs. Big Ten) – Located in NY
Quick Lane Bowl (ACC, Big Ten, MAC) – Located in Michigan
Redbox Bowl (Big Ten vs. Pac-12) – Located in California
Sun Bowl (ACC vs. Pac-12) – Located in Texas
This leaves the Pac-12 with ... New Year's Six bowl for conference champion (likely the Fiesta Bowl) … The Alamo Bowl (Pac-12 No. 2) … The Independence Bowl (presumably now bumped to No. 3, a game v. Army) … and the Armed Forces Bowl (an addition by ESPN, with the Pac-12 v. SEC) …
–
—
ESPN: Celebrating Karl Dorrell's Triumphant (So Far) Comeback
From ESPN … It's OK to admit it: The 2020 college football season has been frustrating and exhausting. We began the campaign with the sport's leaders proving they aren't capable of working in unison even during the nation's worst health crisis in a century. We watched as a bunch of stars either opted out or battled through injury-plagued seasons. Of late, we've also gotten to watch as well-paid adults who should absolutely know better lost their discipline and turned COVID-19 issues into rivalry smack and, in essence, questions of effort.
We're all tired — coaches and players most of all. The extra layers of effort they've had to go through to create as much normalcy as possible have been exhausting in themselves, with constant COVID testing, cancellations and postponements all taking an emotional toll.
As the regular season approaches its conclusion, we should take the time to applaud some of the season's happier stories. We saw quite a few of them this past weekend.
What there's been of the Pac-12 season has been thrilling
We've seen only 24 games involving Pac-12 teams. The light load relegated them to non-starter status as far as the College Football Playoff is concerned, but what the conference has lacked in quantity, it's made up for in fun storylines.
You like close games, right?
Of those 24 games involving Pac-12 teams; 14 of them have been decided by a touchdown or less, and five of six games this past weekend were up for grabs deep into the fourth quarter. From USC's early-morning win over Arizona State on Nov. 7 to the dueling dramatic finishes of UCLA-Arizona State and Oregon State-Utah late this past Saturday, the drama has unfolded at all hours of the day.
Karl Dorrell's triumphant (so far) comeback
There are five remaining unbeaten teams in the power conference ranks: Alabama, Notre Dame, Ohio State, USC … and Colorado. The Buffaloes have been far from dominant, nearly blowing huge leads in their first two wins (over UCLA and Stanford) and giving their past two opponents (SDSU and Arizona) the ball with a chance to tie in the fourth quarter before putting the games away. But winning without style points is still far better than losing!
Dorrell took over in February; including interim coaches, he was the Buffaloes' fourth coach in about 16 months. The Buffs have enjoyed one above-.500 finish in the past 14 seasons, and Dorrell hadn't served as a head coach since his 2007 departure from alma mater UCLA.
Dorrell was run out of Westwood after producing, per SP+, only top-40 status on average. The Bruins have achieved that level only four times in the 12 seasons since, which reflects well on him. So does what he's doing with CU thus far.
UCLA is … fun and promising?
With wins over Arizona and Arizona State in the past two weeks, the Bruins have spent their first two weeks back in the SP+ top 40 since the midway point of 2017. They lost 18 of Chip Kelly's first 25 games in charge, including the season opener against Colorado. But despite COVID issues causing shuffling at QB, they've won three of four.
UCLA beat Cal and Arizona by a combined 61-20, nearly taking down Oregon in between, and the Bruins survived a Saturday night collapse in Tempe, Arizona. After bolting to a 17-0 lead over Arizona State, they proceeded to give up an 18-0 run. But with the game on the line, Dorian Thompson-Robinson guided the Bruins on a six-minute, 82-yard drive before Demetric Felton strangely got himself shoved into the end zone by ASU defenders trying to let him score with 1:09 left.
… Continue reading story here …
–
—–
December 6th 
… Foe Pause …
Chaos in the Pac-12 South: Different scenarios for title game
From the San Jose Mercury News …
Chaos looms: South division
The situation is actually more combustible in the South, because of the potential for Colorado and USC to finish unbeaten.
In the event both teams win out, the Buffaloes would be 4-0 in conference but only 3-0 in the division.
USC would be 5-0 in conference and 4-0 in the division.
Without the head-to-head result, the tiebreaker would move to the second step: Division record, which is USC's advantage.
So, yes: Colorado could very well finish the season as one of two unbeaten teams but not have a chance to play for the championship because of games canceled by its opponents (ASU and USC).
And because of the North vs. South format in the conference championship game.
FOX announcer Joel Klatt sounded off on this issue Saturday evening, tweeting:
"The Pac 12 is really going to keep their division format this season and put a team with a loss in the Champ Game vs. USC while a potentially undefeated @CUBuffsFootball team watches aren't they You do you, Pac 12, you do you
"Keep in mind that the cancellation of both the ASU and USC game for Colorado was due to COVID issues with those teams… Do away with the division format immediately and allow two undefeated teams the opportunity to play for the Conference crown…Massive implications
"Due to the fact that CU and USC haven't had the opportunity to play this is not only reasonable, but obvious to any objective observer."
OK, two thoughts here:
1) Klatt played for CU
2) He is also an advocate for doing away with the division format in general — in all conferences — so this isn't an alma-mater soapbox situation.
There is some merit to the approach, especially this year. (The ACC scrapped its divisions in 2020.)
But the Pac-12's athletic directors voted on the process for determining the football championship game participants this year, and they simply aren't going to abandon the division-winner model …
… Continue reading story here …
–
—
Three Takeaways from the Utah/Oregon State game
From the Salt Lake City Tribune …
Jordan, a true freshman playing in his third career game, rushed for 167 yards and his first career touchdown on 27 carries. He added two catches for 22 yards to finish with a team-high 189 all-purpose yards.
"Ty Jordan, as evidenced by what you saw tonight, has separated himself and right now, he is definitely our lead back, and that's how it goes," said Utes head coach Kyle Whittingham, who later noted he would like to get Jordan more touches in the pass game.
Jordan, who is drawing early comparisons, fair or not, to Zack Moss, is getting most of the work, while Jordan Wilmore was dressed and available, but did not play due to injury. Devin Brumfield, the projected starter at the outset this fall, has just 21 carries through three games.
Red zone, short-yardage offense is a problem: Whittingham saved most of his postgame frustration for this topic, specifically the red zone.
On Utah's first three drives of the night, it had third-and-8 on the Oregon State 15-yard line, third-and-goal on the 2, and third-and-5 on the 9. All three plays were either a bad throw or an overthrow to a tight end by Jake Bentley, and all three wound up in Jadon Redding field goals. At the 12:27 mark of the second quarter, the Utes led 9-0, but should have been up 21-0.
When posed with this topic postgame, Whittingham, without being rude about it, cut the question off and began venting.
"We didn't score, we got field goals, that's a whole different deal," Whittingham said. "That was extremely frustrating, the first three trips to the red zone to end up with field goals. The game should have been blown wide open earlier, and it was our inability to function how we need to in the red zone, our ineptness in the red zone. That game should not have even been close early on."
As for general short-yardage, in the fourth quarter, the Utes ran five plays of 2 yards or less to go. All were runs, netting a total of 1 yard. Within that, with Utah nursing a 30-24 lead late in the game, Jordan was stuffed on second, third, and fourth-and-1 from the Beavers 43-yard line.
Not good enough, especially when the Utes clearly won the line of scrimmage for three-plus quarters.
Utah was undisciplined, which is uncharacteristic: Utah committed eight penalties in its first two games to lead the Pac-12 in penalties per game, then committed 11 on Saturday for 96 yards.
Oregon State's first touchdown drive of the night featured a 15-yard personal-foul penalty on Viane Moala, a 13-yard personal foul on Hauati Pututau, a targeting penalty on Malone Mataele, for which he was ejected, and a holding call on Devin Lloyd on first-and-goal at the 2.
Utah overcame all these things Saturday, but to have that many penalties for that many yards sticks out because it is uncharacteristic. Dating back to 2012, the Utes have not averaged more than 7.4 penalties per game in a season.
–
—
Utah build a nice lead (again), but this time hold on to defeat Oregon State, 30-24
From UteZone.com … After a heartbreaker the week before in Seattle the young 2020 Utes were out to correct some wrongs (turnovers) at home against a depleted Oregon State team missing both its starting quarterback Tristan Gebbia and star running back Jermar Jefferson. While not as hot of a start as the previous week, Utah did build up a nice lead, but once again found themselves having to fight through the fourth quarter to stay alive. Last week penalties were the culprit, this week was defensive penalties (11 for 96 yards). In the end however, a young Utes team got their first confidence building win, 30-24, in a very weird season.
"I'm proud of our guys for hanging in there, particularly the defense had to get some crucial stops there to preserve the victory," head coach Kyle Whittingham said. "Disappointing we let the game get away from us. We were up 30-10 I believe it was and in complete control and then lost control. Fortunately we were able to have enough in the tank to get the victory at the end."
… "We face adversity every day so it wasn't nothing new, it started to get hard out there but we don't back down, we don't fold under pressure," cornerback JT Broughton said.
The Utes have one more game this season on the road at Colorado where they will surely be looking to clean up more inconsistencies (penalties and short yardage situations) before putting to bed one of the most interesting college football seasons in our lifetime.
.. Read full story here …
–
—–