—
Pac-12 Notes – Stanford Week
—
November 14th – GameDay!
… Foe Pause … 
USC needs a last minute score to defeat Arizona, 34-30
From ESPN … Southern California had too many penalties, struggled in the red zone and found itself in a late hole for the second straight week.
The Trojans rallied to win a week ago, and they did it again with another pair of late scoring drives.
Resiliency has been the theme so far for USC in this pandemic-shortened season.
Vavae Malepeai plowed his way through multiple tacklers for an 8-yard touchdown run with 25 seconds left, and No. 20 USC beat Arizona 34-30 on Saturday.
"We have some things we need to get better at, but we're 2-0," Trojans coach Clay Helton said. "A lot of teams would like to be in that position."
USC was outplayed by Arizona State last week before scoring two touchdowns in the final three minutes of a 28-27 victory.
The Trojans again rallied late to win a game they were outplayed in for most of Saturday afternoon.
In fact, USC has won both of its games after trailing in the final two minutes. Entering their winning drive last week, the Trojans had a 22% chance to prevail. Entering the winning drive this week, they had a 15% chance to collect the victory. Together, there was only a 3% chance they would win both games, according to ESPN's win probability model.
… Continue reading story here …
–
—
CU's game against Arizona State already in doubt: "This is bad. Really, really bad"
From YardBarker.com … The Arizona State Sun Devils having to cancel Saturday's scheduled game against the Cal Golden Bears due to positive COVID-19 cases and subsequent quarantines may have only been the beginning.
–
—–
November 13th
… Foe Pause … 
Herm Edwards tests positive 
From SunDevilSource.com … Arizona State's Week 2 matchup versus Cal has been canceled after "a number of" of its players and coaches — including head coach Herm Edwards — tested positive for COVID-19, statements from ASU and the Pac-12 said on Friday morning. The Sun Devils were set to host the Golden Bears in Tempe at 8:30 p.m. on Saturday in what would have been their home opener.
While it is unclear how many players and staff members were impacted, ASU athletic director Ray Anderson said in a statement that the Sun Devils' positive tests dropped them below the 53 available scholarship player minimum to play the game.
"We have had to invoke the Pac-12's football game cancellation policy for this week's game," Anderson said in the statement. "The cancellation of a game is very difficult to accept for all of us, but it is the right decision under the circumstances. In every case we continue to consider the health, safety and welfare of out student-athletes as our number one priority.
"I feel for our student-athletes and everyone associated with Sun Devil Athletics, as well as Sun Devil Nation."
Edwards said in a statement that he and his family are doing well.
"First, I want to say that [Edwards' wife] Lia, [his daughters] and I are fine and I will be back quicker than you can say 'Forks Up!'" Edwards said. "Second, even with the marvelous care our medical professionals have provided for myself, my staff and my team over the past few months the virus still found me. So, I encourage all of you to take this virus seriously, to wear a mask, practice physical distancing and get tested whenever possible."
The news of the Sun Devils' positive tests comes after serious doubts were cast on their game versus Cal due to testing-relating issues in Berkeley. The Golden Bears did not play their Week 1 contest versus Washington after a member of their defensive line tested positive for the virus.
Berkeley health guidelines require anyone who came in contact with a positive test to enter a 14-day quarantine regardless of their health status. Those rules essentially wiped out the entire Cal defensive line, dropping the team below the scholarship player minimum at the position to play a game.
Multiple reports on Friday morning said that the Golden Bears have been cleared to play on Saturday or Sunday and their Week 2 cancellation ultimately came down to ASU's testing situation.
… Continue reading story here …
–
—
**With Cal at ASU and Utah at UCLA canceled – Cal at UCLA scheduled for Sunday**
From the Pac-12 …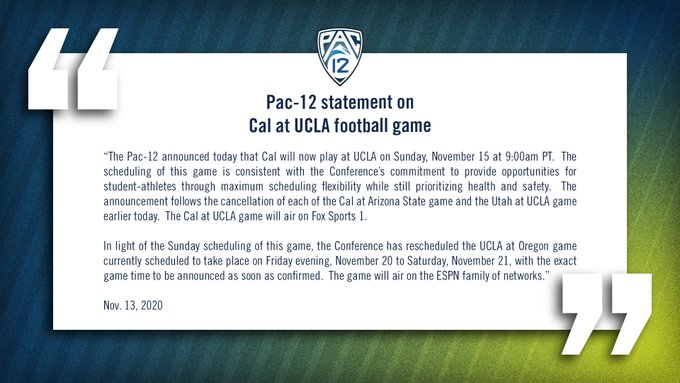 –
—–
**Utah at UCLA canceled; UCLA v. Cal a possibility**
Statement from the Pac-12 …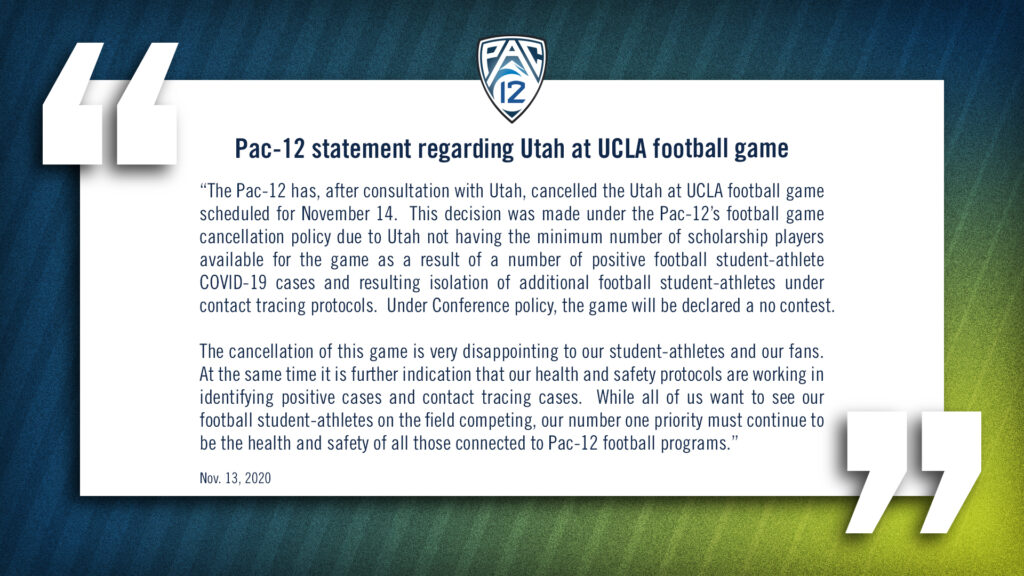 –
—–
**Cal at Arizona State (CU's next opponent) canceled due to ASU positive tests (including Herm Edwards)**
Statement from the Pac-12 …
–
—
**Stanford tests were false positives; players (including starting QB) cleared to play**
Statement from Pac-12 …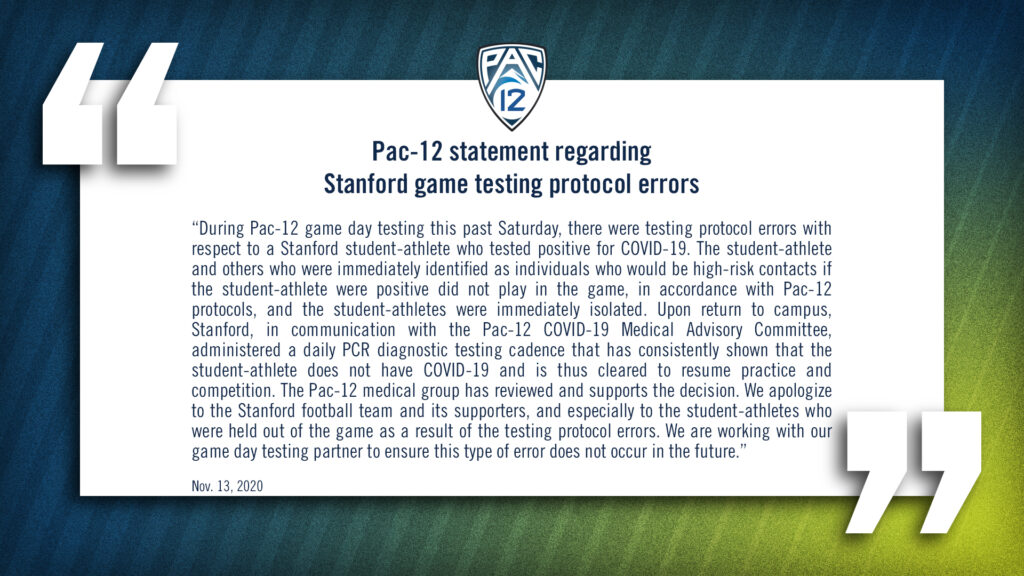 –
—–
November 12th
… Foe Pause … 
Recruiting Dead Period to be extended to April 15th
… It's looking ahead, but not being able to bring recruits to Boulder and the Champions Center could have a negative impact on CU's Class of '22 … 
From CBS Sports … The NCAA Football Oversight Committee has recommended the football recruiting dead period be extended 3 ½ months to April 15, several sources tell CBS Sports. The date has been extended multiple times as COVID-19 has swept across the country in the last nine months. The current deadline is Jan. 1.
The NCAA Council is expected the approve move next week at its Nov. 18 meeting.
The football dead period — when coaches cannot meet face-to-face with recruits — was originally extended in March when the NCAA Tournament and spring sports were canceled. This next extension would mean coaches will not meet in person with recruits for more than a year.
However, a different — some say, better — recruiting culture has risen out of Zoom calls.
"It's as good as it can be without actually being here," Texas A&M coach Jimbo Fisher said. "I will say Zoom has saved us. It's just more personal than it is on the phone or Facetime. I definitely think it will be involved in the future."
Since spring prospects have also been prohibited from making official visits on campus because of the coronavirus, there is momentum to expand the use of Zoom. For example, perhaps coaches could ask the NCAA to allow parents to interact on Zoom and compare notes about the recruiting process. That suggestion was made by Todd Berry, executive director of American Football Coaches Association.
"Everyone has become efficient at Zoom," Florida coach Dan Mullen said. "I'm great talking to the kids and all that. The coaches leaving campus, maybe you don't even go on the road recruiting anymore [in the future]. You can do it on Zoom. You can talk and have these conversations.
"[But] it's hard for me in a Zoom presentation to show what standing in the middle of The Swamp is like. … You're down here in Florida, November, December, January, February, it's palm trees. The actual beauty of our campus. You don't get that in a Zoom call.
"… I wonder, in the future, do they even let the coaches ever out on the road again?"
… Continue reading story here …
–
—–
November 11th 
… Foe Pause … 
Stanford in one Bottom 25; Nebraska makes TWO Bottom Tens
From CBS Sports … It happened again. With both the MAC and Pac-12 getting underway last week, The Bottom 25 has once again been thrown out of sync. Just as when the Big Ten and Mountain West joined the fray a few weeks ago, throwing in 20 new teams who have played one game into the mix wreaks havoc on the overall rankings, and leads to volatility.
This is, temporarily at least, good news for our teams that had been hanging around The Bottom 10 all season long. It's a bit of a respite, but as those teams have already seen, things balance out once the newcomers start playing and the cream truly drops to the bottom.
Also, with so many games being postponed last week, I have made the official decision that only teams who have played a minimum of four games will qualify for The Bottom 25 Playoff this season. I hope this decision doesn't lead to teams trying to break the rules and play through, but that's the risk I have to take for the playoff's integrity.
No. 13 – Oregon State … My Beavers had some problems defensively in a 38-28 loss to Washington State to start the season. Life won't be any easier this weekend when they travel north to face a Washington team that had its game against Cal canceled. (NR)
No. 10 – Nebraska … Listen, Nebraska, I'm not trying to pick on you, but you can't spend as much time crying publicly as you have been and just keep losing. Circumstances have been rough for you, I get it, but you're far from the only program that's been affected by the 2020 season. Stop acting like you're being persecuted. Just shut up and win a game. Perhaps you could start with this week's game against No. 17 Penn State because it's The Bottom 25 Game of the Century of the Week. (2)
No. 3 – Stanford … Stanford missed four field goals during its 35-14 loss to Oregon on Saturday. Oregon missed one as well. Nobody made one. This probably didn't alter the game's outcome or anything; it just made me wonder when the last time a game featured at least five field goal attempts, and none of them were successful, so I looked it up. It was in 2006 when UNLV's Sergio Aguayo missed five field goals in a 21-7 loss to San Diego State . (NR)
—
From ESPN's Bottom Ten … 
No. 10 Nebraska … The Cornhuskers lost to Northwestern for the fifth time in seven years. Let's go live to reporter Lincoln Rosenblatt, who is standing by outside Memorial Stadium. Lincoln?
"Ryan, it's a bizarre scene here. From our vantage point across Stadium Drive, we are watching a group of Huskers supporters who have been joined by fans from Tennessee, Michigan and Penn State. They appear to be unloading Doc Brown's DeLorean off the back of a flatbed truck that just arrived from UCLA."
Lincoln, has anyone there told you what this group might be up to?
"I am being told they are trying to go back to the 1990s. Back to the Future, er, I mean, back to you."
–
—
Cal/Arizona State game in jeopardy as Cal players remain quarantined 
… Four SEC games scheduled for Saturday have been postponed: Alabama/LSU; Georgia/Missouri; Texas A&M/Tennessee; and Auburn/Mississippi State …
From ESPN … Saturday's football game between California and Arizona State is in jeopardy of being cancelled because several Golden Bears players remain in quarantine due to contact tracing related to one positive case of COVID-19 on the Cal roster.
It would be the second straight cancellation for Cal after last week's game against Washington was called off, but there was some optimism this week within the program that the City of Berkeley Public Health Division would release several members of the team from quarantine for contact tracing upon further inspection of the Bears' practice protocols.
However, on Tuesday evening, a spokesperson for the city issued a statement to ESPN indicating that will not happen.
"The University was made aware last week of the timeline for when the case will end their isolation period and for when the contacts will end their quarantine," city spokesman Matthai Chakko said in a statement. "The team should use that information as a timeline for return of those individuals to the field. No further direction is pending from the City."
The Bears player tested positive early last week. Cal's entire defensive line is in quarantine and is not scheduled to exit that 14-day mandated period for those determined to have come into close contact with a positive case of COVID-19 until Nov. 17, sources told ESPN.
The players in quarantine have continued to test negative for COVID-19, but those negative tests do not allow a player to exit quarantine due to the virus' 14-day incubation period, Chakko said.
The Pac-12's game cancellation policy set the minimum threshold for available scholarship defensive linemen at four for teams to be able to play, though it does allow for the possibility a team could choose to play below the minimum.
Last week, Cal coach Justin Wilcox said without the availability of the impacted position group, the team could not play.
On Tuesday, Wilcox said he was told by Cal's athletic administration and the university he would learn the status of the game on Wednesday.
"They told me there's a chance that we would play," Wilcox said.
What remains unclear to Wilcox is why so many members of his team were placed into quarantine despite following practice and meeting protocols designed to avoid close contact designations.
"I don't know why they would make the decision they've made," Wilcox said. "We're trying to get clarity on that, but those are not discussions I'm involved in."
… Continue reading story here …
–
—–
November 10th
… Foe Pause … 
Availability of Stanford QB Davis Mills "unknown" 
From the San Jose Mercury News … The availability of four Stanford players, including quarterback Davis Mills, is still uncertain due to coronavirus protocols heading into the game against Colorado on Saturday.
Mills, starting receiver Connor Wedington and defensive end Trey LaBounty missed the season-opening 35-14 loss at Oregon last Saturday due to COVID-19 testing results and contact tracing protocols.
Shaw indicated on Tuesday that a fourth player has since been affected and that a combination of Santa Clara County health officials, campus administrators, and the Pac-12 conference will determine their availability.
"We still have four COVID-related situations that we're waiting to be resolved," Shaw said Tuesday afternoon. "We'll see how that gets resolved, whether or not those young people will remain isolated or be able to work back. So it's not in our hands, but we'll work with whatever comes our way there."
Two of the six Pac-12 games scheduled for this past Saturday were postponed due to positive coronavirus tests at Cal and Utah, but Shaw did not express concern that the game against the Buffaloes was at risk.
Wedington tweeted before the Oregon game that he tested negative but was out due to contact tracing.
Shaw said there was no timeline for when a decision would be made about the four players' availability.
"This is professionals doing their jobs in order to keep our communities safe," Shaw said. "I don't want to get into the inner workings. There's a lot of communication from the medical professionals and the county. We'll just wait for them to let us know what's going on, and the rest of us will prepare for Saturday."
… Continue reading story here …
–
—
Stanford coach David Shaw on CU: "They've been one of the underrated teams in our conference"
From Shaw's Tuesday Pac-12 press conference:  Shaw was asked for starters his early impressions of Colorado …
"I commend all the head coaches around the country that were new hires that didn't have spring football and still were able to come out and put their team together. (Colorado) was helped by having both coordinators coming back, but still, mixing the staff together and trying to work with their guys — I thought they came out and played great against UCLA."
"They've been one of the underrated teams in our conference for the last couple of years. They've lost some tight games but they've won some really good games, too. Defensively, I think they do an outstanding job of mixing it up against you. They're really difficult to stay on the field on third down — great blitz packages. Offensively, they've got playmakers. They played very well against UCLA."
Shaw's take on Colorado's 48-42 win over UCLA …
"I thought top to bottom, Colorado played with a lot of aggression, they played fast, they played physical — it didn't look like a game one for them. They created a ton of turnovers against UCLA, got great field position, turned those things into points and they played the way that you're supposed to play — they played hard, played physical, created turnovers and scored in the red zone. That's what they did."
–
—
Utah/UCLA game remains in doubt due to Utah positive tests
From BruinReport.com … The Utah football team is experiencing a COVID-19 breakout that could threaten the UCLA game on Saturday, according to many reports out of Salt Lake City.
UCLA coach Kyle Whittingham told reporters on Zoom Monday that there has been such a rash of COVID-19 infection among his players to the extent that practices have included scout-team members getting two-deep reps, with walk-ons also getting reps to prepare them to play.
The 247Sports Utah site, Ute Zone, reported Monday that Whittingham said his team is barely over the threshold of the 53 scholarship players needed to play, according to NCAA and Pac-12 rules.
"Barely, we're right on the borderline," Whittingham said.
"Some of these guys haven't taken really any reps since camp started, since we've broken into scout teams, which was after the first week of camp," Whittingham told the Salt Lake Tribune. "We've got a bunch of guys that are now going to be counted on to help us win, so that's where we're at. We're doing our best to be able to play the game."
Utah had to cancel its season opener against Arizona last week because it didn't have enough players after a rash of infections.  Utah announced it needed to cancel the game on Friday, the day before it was supposed to face the Wildcats, after testing and contact quarantining had put it under the necessary 53-player requirement.
The Utah athletic department announced on Sunday, however, that the football team had "two consecutive days of no positive COVID-19 test results," which it took as a positive step toward fielding a team this weekend against UCLA.
The game was moved from Friday to Saturday (7:30 p.m., FOX), to better accommodate Utah's effort to field a team.
… Continue reading story here …
–
—–
November 9th
… Foe Pause …
CBS Rankings: CU moves up 44 spots (all the way to No. 66!)
From CBS Sports … The CBS Sports 127 has been one week ahead of most polls and college football rankings — not just this season but in general, though it did happen again seven days ago as Alabama was named the new No. 1 team in the country last week. The first-place votes had been getting shifted around between Alabama, Clemson and even Ohio State for a few weeks, and after the Crimson Tide blew out Mississippi State while Clemson needed a late rally to erase a double-digit halftime deficit against Boston College, enough votes changed hands to make the swap official.
Alabama was moved to No. 1, while Clemson settled in at No. 2. Even that reduced ranking for the Tigers did not last long because after losing 47-40 in double-overtime at Notre Dame, they are down again in the CBS Sports 127, our comprehensive ranking of every FBS team in action this year. Clemson now sits at No. 4, while Notre Dame moved ahead of it after the win. However, unlike some of the top 25 polls released Sunday, the Fighting Irish did not jump ahead of Ohio State, which narrowly finished ahead in the balloting for the No. 2 spot.
Florida checks in at No. 5 after beating Georgia over the weekend, one spot ahead of the Texas A&M team that beat it earlier this season in College Station, Texas. The Aggies are packed tight in a trio with No. 7 BYU and No. 8 Cincinnati, all within a few percentage points of each other. However, the Gators at No. 5 and Oregon at No. 9 are a bit separated from that pack.
Other notable changes included double-digit drops for Michigan and Penn State, as well as a surge of confidence for Liberty after its win against Virginia Tech. For more on the biggest movements up and down, check out our mover's report below.
From the Pac-12 … 
No. 9 … Oregon … up two spots
No. 17 … USC … down two
No. 28 … Arizona State … up five
No. 32 … Washington … up six (without playing?!?)
No. 38 … Utah … up eight (also didn't play)
No. 49 … Cal … no change
No. 56 … Stanford … up one
No. 60 … Washington State … up 37
No. 66 .. Colorado … up 44 spots 
No. 72 … Nebraska … down four 
No. 80 … Colorado State … up 21 
No. 100 … UCLA … down 11
No. 105 … Oregon State … down 28 s
No. 110 … Arizona … down three
–
—
Stanford writer: "Plenty of reasons for optimism" after 35-14 loss to Oregon
From TheBootleg.com (Stanford's 247 Sports site) … Stanford's David Shaw made it clear the Cardinal didn't trek to Eugene for moral victories after the 35-14 loss to #12/14 Oregon on Saturday night. Stanford has lost five straight games dating back to last season and overall the game pretty much revealed truths most considered self-evident before it was played and even when you factor the absences of starting quarterback Davis Mills and wide receiver Connor Wedington. This was a 14-7 game at halftime but Oregon came out in the second quarter and took complete control of the game. The Ducks won that quarter 14-0 and outrushed Stanford 94-10. While Stanford averaged 9.5 yards per play to Oregon's 7.4 during this quarter, this was when Oregon put up the stretch of play that ultimately swung the game.
For much of the night, there were plenty of reasons for optimism, and most of them were coming from the offense. First, Stanford's offensive line is back, and it's glorious. The Cardinal did not allow a sack and only permitted one QB hurry in the game. Stanford also ran for 6.4 yards per carry bolstered by 100 yards on 20 carries from Austin Jones and 93 more on six Nathaniel Peat carries. West was unspectacular, but he was also a far cry from his disastrous game last year against UCLA. Tanner McKee is already a dude. You can see it. Regardless of Mill's availability next week, he needs to see the field early and often in his Stanford career. His 46-yard fling to Simi Fehoko was an awfully impressive throw. Brycen Tremayne is a player. With Mills tonight, Stanford very likely has 28 points at the half. Going forward, they are going to bring much more to the table than their scheduled opponents can handle presuming Mills gets back by Game Three.
Defensively there were some definite bright spots. Levani Damuni recorded his first career interception in his second career game played, added a fumble recovery on the ensuing Oregon drive, and per Stanford was the first Cardinal player to have an interception and a fumble recovery in the same game since Frank Buncom had two interceptions and a fumble recovery against TCU on December 18, 2017 in the Alamo Bowl. Ethan Bonner was attacked, but to be honest, it took some pretty amazing catches against decent coverage to beat him. I think Stanford has a good one there despite a growing pains night in Eugene.
The bottom line, however, is that Stanford's defense had no answers for Oregon. It wasn't a shock to see that but it was still unsettling to watch. The Ducks were 9-11 on third down and only punted once on the night. Oregon averaged 7.9 yards per play on first down and 4.6 yards to go on third down. Tyler Shough hurt Stanford with his legs and his arm. The Cardinal had no sacks and just one hurry. There were some cringe moments at safety and outside linebacker, and it really just seems like it's going to be a struggle for this group to turn the corner but we shall see.
To quote former Stanford Head Coach Denny Green, the Cardinal is very much who we thought they were. They've got too much talent not to be good offensively. ShawVita had a good game plan tonight that included multiple verticals to challenge Oregon where Stanford had an advantage. We're not going to get into the missed field goals, the time-outs, or anything else tonight.
Years of defensive recruiting shortfalls are the big concern at the end of the night here. Even prior to '21 Stanford's recruiting cycle offensive commits were carrying the bulk of the ratings pop. And yet, even with that reality, Stanford's offense combined with its schedule should yield a 4-2 or even a 5-1 finish. 'Should' covers a lot of ground, and as we learned tonight nothing is guaranteed, but if the Cardinal gets five more games of Mills, those records are realistic in a college football world where pretty much nobody plays defense.
–
—–
November 8th
… Foe Pause … 
CU at Stanford to be televised on ESPN2; Utah at UCLA moved to Saturday
From the Pac-12 … Fox to show a Pac-12 triple-header on Saturday; Utah at UCLA, originally scheduled for Friday night, has been moved to Saturday; three #Pac-12AfterDark games this weekend
Colorado at Stanford, 1:30 p.m., MT, ESPN2
No. 20 USC at Arizona, 1:30 p.m., MT, Fox
No. 11 Oregon at Washington State, 5:00 p.m., MT, Fox
Cal at Arizona State, 8:30 p.m., MT, ESPN2
Utah at UCLA, 8:30 p.m., MT, Fox
Oregon State at Washington, 9:00 p.m., MT, FS1
–
Wyoming/Air Force game canceled 
From ESPN … The football game between Wyoming and Air Force scheduled for Saturday at Falcon Stadium has been canceled and will not be rescheduled, the Mountain West announced Sunday.
There is an upward trend of positive cases for COVID-19 within the Air Force football team and at the Academy, which resulted in the cancellation, the conference said.
It is the second straight game Air Force has not been able to play due to the coronavirus pandemic, following the postponement of its game Saturday against Army. The academies were working toward possibly rescheduling that game for Dec. 19, sources told ESPN, but there has been no official announcement.
The Wyoming-Air Force game will be ruled a no contest by the Mountain West.
–
—
Short-handed Stanford puts forth a "great effort" in 35-14 loss to No. 12 Oregon
From the San Jose Mercury News … As if opening the season at No. 12 Oregon wasn't difficult enough, Stanford announced less than two hours before the game that starting quarterback Davis Mills would be unavailable because of coronavirus testing results and contract tracing protocols.
Jack West did a decent job in Mills' place, but the offense stalled in Oregon's territory too many times, and a rebuilt Ducks offense finally got going in a 35-14 Oregon win at a rainy and chilly Autzen Stadium Saturday night.
"Our team gave great effort, as we should," Stanford coach David Shaw said. "But we didn't come here to give great effort, we came up here to find a way to win."
After starting three different quarterbacks last year for the first time since 1974, the Cardinal had more turnover in that position before the season even started.
West, a redshirt sophomore making his second career start, went 13 of 19 for 154 yards, with no sacks and no turnovers. It was an improvement from his previous start last year against UCLA, when Mills and K.J. Costello were injured. West completed 15 of 32 passes for 143 yards against the Bruins and was sacked seven times, often because he held on to the ball for too long.
"Jack West has had a bit of a fire in his belly since the game last year," Shaw said. "He was determined to play much better than he did last year, and I thought he did. He ran the operation well, threw the ball accurately, made some great decisions."
Freshman Tanner McKee, a four-star recruit who spent the past two years on an LDS mission in Brazil, appeared in both halves and went 3 of 7 for 62 yards.
Mills didn't disclose whether his absence was because of a positive test or contact tracing.
Stanford was also without starting receiver Connor Wedington, who tweeted that he tested negative for COVID-19 but had to miss the game due to contact tracing.
Shaw said that Mills and Wedington's availability for next Saturday's game against Colorado will be determined in the next few days.
"Hopefully they'll be back but that remains to be seen based on our administration and county health officials," Shaw said.
… Continue reading story here …
–
—
Oregon up to No. 11 in AP poll; half of the Pac-12 receiving votes
From CBS Sports … There's a new No. 1 at the top of the college football rankings as Alabama moved up to take over the top spot in the new AP Top 25 poll following Clemson's double-overtime loss at Notre Dame.
The Crimson Tide were off in Week 10 but had been slowly gaining on Clemson's lead in the ballots, closing the gap in voting points and first-place votes over the last month. The Tigers fell to No. 4 after the defeat, and Alabama took a large portion of those first-place votes to establish a firm hold on No. 1. Notre Dame moved up to No. 2 after the epic win, picking up just two first-place votes along the way, while Ohio State remained at No. 3 with one first-place votes after a routine dispatching of Rutgers.
Florida moved from No. 8 up to No. 6 after beating Georgia in Jacksonville, Florida, but the voters kept the Gators' rise from jumping ahead of Texas A&M, which won the head-to-head meeting earlier this year in College Station, Texas. Georgia fell to seven spots to No. 12 after the loss, but perhaps even more disappointing is being on the outside looking in of the SEC Championship race.
This week's AP balloting saw big gains for Northwestern and Indiana as well as the end of a run for Michigan. Since the start of the 2018 season, the Wolverines have been ranked in every AP Top 25 that they've been eligible for consideration (not counting the weeks the Big Ten teams were removed). After the loss to the Hoosiers, the Wolverines are unranked for the first time since Nov. 2017.
Check out the full AP Top 25 below:
Alabama (59 first-place votes)
Notre Dame (2)
Ohio State (1)
Clemson
Texas A&M
Florida
Cincinnati
BYU
Miami
Indiana
Oregon … up one spot from last week
Georgia
Wisconsin
Oklahoma State
Coastal Carolina
Marshall
Iowa State
Oklahoma
SMU
USC … same ranking as last week
Texas
Liberty
Northwestern
Auburn
Louisiana
Dropped out: No. 21 Boise State, No. 23 Michigan 
Others receiving votes: North Carolina 85, Army 54, Tulsa 47, Utah 33, Washington 21, Arizona State 11, Purdue 8, Wake Forest 6, Boise State 5, Appalachian State 5, California 3, Maryland 3, Nevada 1
–
—–