—
Colorado Basketball
—
July 4th – Happy Fourth of July!
… CU in the Arena … 
Former Buff Spencer Dinwiddie sparks controversy by calling attention to the national deficit
From Fee.org … The NBA is considering allowing players to use personalized statements on jerseys to promote social justice causes. The season, which has been halted due to the coronavirus, is expected to restart July 30 in Orlando, Florida.
Jerseys are expected to carry statements such as "Black Lives Matter," "I Can't Breathe," and "Hands Up, Don't Shoot" which have become popular at protests and political rallies in recent years following the high-profile deaths of young black men such as Trayvon Martin, Eric Garner, Michael Brown, and most recently George Floyd.
Spencer Dinwiddie of the Brooklyn Nets already has a message in mind, though it's a different kind of social statement.
"If you're wondering what I'm gonna put on the back of my jersey it'll be 'Trillion," Dinwiddie tweeted. "A lot of issues at the moment. I think the fact that the country is 26 (ironically) Trillion dollars in debt is high on the list." (Dinwiddie sports #26 on his jersey.)
Dinwiddie's comments were correct—the national debt is $26.3 trillion—but also remarkable. The NBA point guard is only 27, after all. Only "boomers" are supposed to worry about things like the national debt, especially in light of recent police injustices, such as the death of George Floyd.
Dinwiddie's tweet caused a big enough stir—some were unhappy he was not choosing a statement that acknowledged racial injustice— that he felt compelled to elaborate on his cause.
Woke up at 4am to see that I'm getting lit up in the comments for talking about the Global Debt. Comments ranging from massive amounts of debt are good (which I disagree with), to its not personal debt (obviously), to its a waste of a platform, amongst others …

To those I question, what is the purpose of putting a social issue on the back of the jersey? To inspire change right? Considering that nobody opts out of the complete global financial system and the USA weaponized the dollar that means you need leverage within the system.

In my opinion like it or not, change for us comes down to Group economics. Rethinking how we approach finances. Acquiring hard assets. Recycling dollars etc. Til then the slow burn of marches/protests will produce progress but will still yield similar results…
People are free to criticize. But Dinwiddie, a bitcoin investor, is correct that the national debt is a serious social cause—especially for the young—and one that receives precious little attention.
… Continue reading story here …
–
—–
June 30th
… CU in the Arena … 
Mark Johnson interview with new assistant coach Rick Ray
From BuffsTV …
–
—–
June 26th
… CU in the Arena … 
Tad Boyle names former Mississippi State head coach Rick Ray as new assistant
From CUBuffs.com … Former Mississippi State and Southeast Missouri State head coach Rick Ray has been named an assistant coach for the University of Colorado men's basketball team head coach Tad Boyle announced on Friday.
Ray replaces Anthony Coleman and will officially begin his duties mid-July.
Ray has 23 years of experience coaching at the NCAA Division I level, the last eight as a head coach. He spent the previous five years at Southeast Missouri State after initially joining the head coaching ranks at Mississippi State from 2012-15.
"I have a ton of respect for coach Boyle and what he's done at CU," Ray said. "He's well renown in this business for doing it the right way. I want to work for people in that same ilk; Brad Brownell (Clemson head coach), Matt Painter (Purdue head coach), just reminds me of those guys who do it the right way and are in it for the right reasons."
Boyle has known Ray for more than two decades, dating back to their days as assistant coaches in the Missouri Valley Conference; Boyle at Wichita State and Ray at Indiana State in the early 2000s.
"He's a tremendous coach on every level," Boyle said. "He can teach the game, knows the game, recruits and builds relationships with players. We are very fortunate to be able to bring him on board."
Ray brings a wealth of relationships and recruiting experience in the Southeast and Midwest, and now turns his attention to the Mountains, and West, of the Pac-12 Conference.
"I'm in this business to help young men," Ray said. "I'm there to help them on and off court. I want (the players) to know there's no ego, I'm humble, I just want them to reach their goals and dreams in classroom and on the court. Recruiting is about relationships. I'm a person who is honest and truthful to recruits and parents and people appreciate that."
Before embarking on his first head coaching position with MSU, Ray was an assistant coach, or associate head coach, at four schools over 15 seasons. During that span Ray's teams went to seven NCAA Tournaments, including a pair of Sweet 16 appearances.
… Continue reading story here …
–
—–
June 21st
… CU in the Arena … 
CU coaches can meet with players as soon as July 20th – Boyle: "I'm not sure that's etched in stone"
From the Daily Camera … In a month, Colorado men's basketball coach Tad Boyle and his staff will be able to work with his players on the court for the first time since March, when the NCAA Tournament and the remainder of NCAA athletics was sent to the sideline by the onset of the COVID-19 pandemic.
No doubt, Boyle and the Buffs are excited by the prospect of truly getting back to work. Yet CU's leader still views that July 20 target date as a sort of believe-it-when-it-happens proposition after the NCAA Division I Council last week approved an updated activities calendar for men's and women's basketball, allowing for up to eight hours per week of coach-supervised workouts.
That eight hours per week guideline will be in place for up to eight weeks from July 20 through Sept. 15 or until the first day of classes, whichever arrives first. While July 20 remains the target date, individual schools still will have the flexibility to alter the start of those workouts in accordance with local health guidelines.
"I'm not sure the July 20th date is etched in stone," Boyle said. "We're hopeful that will be the case, but it's hard to say how official that is just yet. Obviously we normally would get eight weeks in the gym with access to our guys in the summertime. And I think if we were able to get three or four weeks this year, I think every basketball coach in the country would be happy with that. We'll wait and see how that all plays out. We don't know how that's going to happen. A lot of it is going to depend on football and there's a lot of things I think that have to be ironed out between now and then."
… Continue reading story here …
–
—–
May 26th
… CU in the Arena … 
CU 75, Kansas 72 – Virtual Watch Party tonight 
On Pac-12 Networks at 6:30 p.m., MT …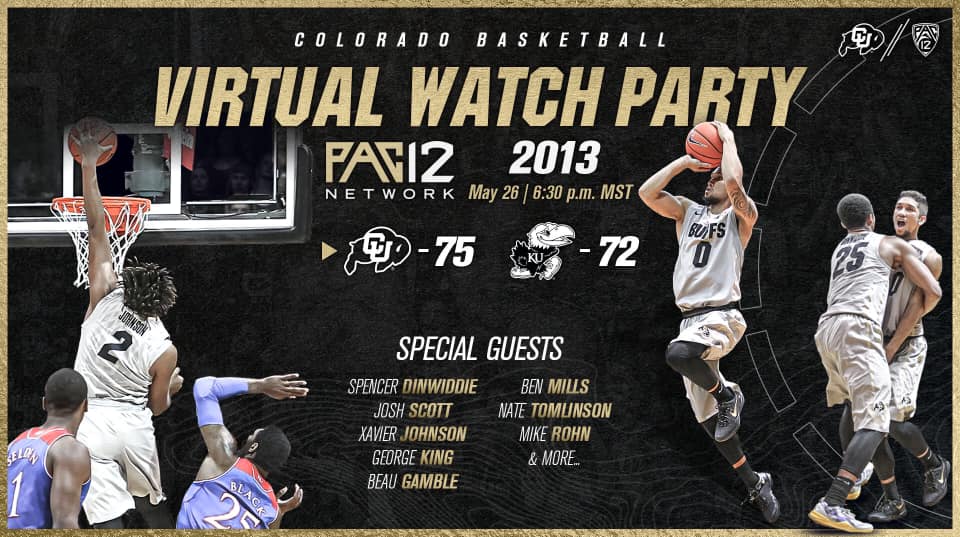 —
May 25th
… CU in the Arena … 
Tyler Bey: From "Trouble maker" to NBA prospect
From the Las Vegas Review-Journal … Tyler Bey wanted to quit. He hated the 4 a.m. wake-up calls at Middlebrooks Academy in the Los Angeles area. He loathed the running, the lifting and most of all — the ice baths.
"We had to hold him down there (in the cold tub) a couple times but he eventually got it," said William Middlebrooks, who founded the Los Angeles area prep school. "Tyler had his challenges with in the beginning. But he finally bought in."
Bey says he "probably would be in jail or something right now" if he hadn't.
Instead, he's a potential first-round pick in this year's NBA draft on the cusp of a career he couldn't fathom.
Bey, a 22-year-old Las Vegan, has blossomed from an unranked, anonymous high school recruit into the reigning Pac-12 Defensive Player of the Year and a dynamic professional prospect ranked No. 35 by ESPN. The 6-foot-7-inch forward left Las Vegas High after his junior year to attend Middlebrooks, where he reformed his academic profile and evolved into a high-major recruit.
He spent the ensuing three years at Colorado and concluded his junior year as one of college basketball's best defenders — equipped with the protypical attributes to become a disruptive defender in the NBA.
"I didn't see myself where I am today," Bey said. "I had no clue."
… Continue reading story here …
–
—–
May 19th
… CU in the Arena …
Christmas week home game v. Kansas highlight of CU's non-conference schedule
From the Daily Camera … The most anticipated basketball showdown in years at the CU Events Center will tip off at an inopportune time. Yet given the commitments already filling the calendar for the Colorado Buffaloes and Kansas Jayhawks, a weeknight, pre-Christmas matchup was the best date the former Big 12 Conference rivals could settle upon.
Last week, Kansas announced its nonconference schedule, with the return date for a home-and-home series with the Buffs slated for Tuesday, Dec. 22 at the CU Events Center. It isn't the ideal time slot for two programs that were ranked when KU posted a home win against the Buffs last season. But with both squads committed to nonconference tournaments, as well as CU's scheduling adjustments sparked by the Pac-12 Conference's move to a 20-game league schedule, the late December, weeknight slot was one of the few available dates.
Kansas once again is expected to be a preseason Final Four candidate, and it will be the Jayhawks' first visit to Boulder since Dec. 13, 2013 — a Buffs win immortalized by Askia Booker's running 35-footer at the buzzer.
"A lot of that was on the KU end. When we first set that contract up, that was the date they had available," Boyle said. "It's not ideal. We'd rather have it earlier in December. But with us going to a 20-game league schedule this year, there's a week in there that was off the market. That makes it even a little more difficult. You have fewer teams to get, but you also have fewer slots to get."
The Buffs already have a full slate of Saturday games on tap for December, including the Saturday previous to the KU matchup on Dec. 19, when CU takes on TCU in Las Vegas as part of the inaugural Pac-12 Coast to Coast Challenge. The showcase at T-Mobile Arena also will feature Pac-12/Big 12 matchups between Washington and Oklahoma, with Oregon taking on a Big 12 team still to be determined. The lineup also includes a marquee women's basketball showdown between Oregon and Baylor.
… Continue reading story here …
–
—–
May 7th
… CU in the Arena … 
Tad Boyle hands out (by video) CU's 2019-20 season awards
From CUBuffs.com … University of Colorado men's basketball head coach Tad Boyle announced the team's 2019-20 season awards Wednesday night during a video conference call.
McKinley Wright IV received the Chauncey Billups Award as the team's Most Valuable Player. The Chauncey Billups MVP Award is one of five voted on by Colorado men's basketball student-athletes. Tyler Bey won the Best Defender Award, Eli Parquet was named Most Improved, Evan Battey was voted Most Inspirational and Alexander Strating won the Tebo Family P.A.S.S. Award.
In addition, two annual statistical champion awards were recognized. Bey won the Stephane Pelle Rebounding Award while Wright earned the Jay Humphries Assist Award.
Wright is the Chauncey Billups Award recipient for the third-straight year, joining Josh Scott as the only multiple winners. Scott won three times between 2013-16. Wright led the Buffaloes at 14.4 points and 5.0 assists per game. A two-time All-Pac-12 Conference selection, Wright was second on the team in steals (36), blocks (11) and free throws made (95) and third in rebounding (5.7 rpg) and 3-point field goals (39).
Wright won the Jay Humphries Award for the third time, named after the Buffaloes' all-time leader in assists (562 from 1980-84). This season, Wright joined Humphries as the only two Buffaloes in team history to reach 500 career assists. With 159 assists in 2019-20 he now owns three of Colorado's top eight single-season totals.
Bey was voted Best Defender for the third-straight season. He was named the Pac-12 Defensive Player of the Year, becoming the second Buffalo to earn that distinction, joining Andre Roberson (2012-13). Bey was the Pac-12's leader in rebounds at 9.0 per game while coming in fifth in steals (1.5 spg) and seventh in blocks (1.2 bpg). He was the lone Pac-12 player to rank in the top 15 of all three categories.
Bey won the Stephane Pelle Rebounding Award, named after Colorado's all-time rebound leader, for the second-straight year. His 280 rebounds rank 18th on CU's single-season list.
Parquet, a sophomore guard, played in 30 games averaging just under three points per contest. After playing limited minutes early, Parquet surged during the last half of the season. He averaged over 19 minutes per game over the final 11 contests, highlighted by a career-high eight points in 36 minutes against Utah. Parquet ranked fourth on the team in blocked shots with nine.
Battey was voted as the team's Most Inspirational Player for the second time. After missing two years of basketball with academic and medical issues, Battey has put together back-to-back solid seasons and has become the emotional and energetic leader for the Buffaloes. He led Colorado in offensive rebounds (84) and ranked second on the team in overall rebounding (5.9 rpg) and field goal percentage (.526).
Strating repeated as the Tebo Family P.A.S.S. Award selection, in its third year overall. Named in honor of Stephen Tebo, a long-time supporter of the Colorado basketball program, the award was created to recognize the player, or players, that best exemplified the virtues of Perseverance, Attitude, Selflessness and Success. Strating graduated in December with his degree in Mathematics and currently pursuing a second degree in Economics.
–
—–
May 4th
… CU in the Arena … 
NBA First Round Mock Draft: Six from the Pac-12 (but no Tyler Bey)
From CBS Sports … The NBA announced last week that the NBA Draft Lottery and NBA Draft Combine will both be delayed indefinitely because of the COVID-19 pandemic that's ravaged our country. So you know what's next, right?
Yep, the 2020 NBA Draft will probably also be pushed back — reportedly to August or even September. So the gap between the day when prospects declare for the draft, and the night when prospects are selected in the draft, is going to be wider than it's ever been. That's obviously not ideal.
There are more questions than answers
The uncertainty is rough.
But that didn't stop literally every projected first-round pick from declaring anyway. So, sure, the 2020 NBA Draft is widely considered to be a weak draft relative to most drafts — but at least all of the best prospects who could be in it are going to be in it. Such isn't always true. But it's true this year. And the following is a look at the 30 who could go first. Please note, team needs were NOT taken into consideration at all because, at this time, I'm more interested in having a proper order than I am in making sure somebody is a good fit for the franchise theoretically making the selection. That'll come later — but not until the lottery order for the 2020 NBA Draft is officially set.
From the Pac-12 … (bear in mind that CU's 2019-20 record was 21-11; 10-8) … 
Onyeka Okongwu C … USC … Pick No. 7 (Chicago Bulls) … USC's 2019-20 record: 22-9; 11-7
Isaiah Stewart C … Washington … Pick No. 17 (Boston Celtics) … Washington's 2019-20 record: 15-17; 5-13
Nico Mannion PG … Arizona … Pick No. 18 (Oklahoma City Thunder) … Arizona's 2019-20 record: 21-11; 10-8
Jaden McDaniels PF … Washington … Pick No. 21 (Denver Nuggets) … Washington's 2019-20 record: 15-17; 5-13
Josh Green SG … Arizona … Pick No. 26 (Boston Celtics) … Arizona's 2019-20 record: 21-11; 10-8
Zeke Nnaji C … Arizona … Pick No. 30 (Boston Celtics) … Arizona's 2019-20 record: 21-11; 10-8
–
—–
May 1st
… CU in the Arena … 
Tyler Bey CU career ends with hiring of an agent
From a tweet from John Goodman from watchstadium.com … Colorado's Tyler Bey told @Stadium he has signed with agent Mike Higgins and is 100 percent staying in the NBA Draft.
Here is word on super-agent Mike Higgins
–
——
April 28th
… CU in the Arena … 
CU schedules non-conference game v. TCU in Las Vegas
Tweet From Jon Rothstein … Sources: Matchups are set for the 2020 Pac-12 Coast-to-Coast Challenge at T-Mobile Arena in Las Vegas on December 19th.
Oregon/Baylor
Colorado/TCU
Washington/Oklahoma
–
—
CBS 2020-21 preseason Top 25 includes four Pac-12 teams
From CBS Sports … Three Gonzaga players — Filip Petrusev, Corey Kispert and Joel Ayayi — have applied for early entry to the NBA Draft. So fans of the consistently great West Coast Conference program are going to have to sweat this thing out.
Who stays? Who goes?
The definitive answers to those questions will come later. But it should be noted that none of the Zags are projected first-round picks, and all of them have said returning to school is an option they're considering. So, for now, I'm projecting all three to play college basketball again next season — and that's among the reasons Gonzaga remains No. 1 in Version 10.0 of the 2020-21 CBS Sports Preseason Top 25 And 1.
If you've been following these updates, you know that what I do is assume all consensus projected first-round picks will remain in the NBA Draft, make educated guesses about other underclassmen, and omit (for now) all traditional sit-out transfers. As always, when I need to adjust, I'll adjust. Version 11.0 is likely right around the corner. But, at this moment, Mark Few's Bulldogs are No. 1 based on the idea that everybody who can return from a team that finished 31-2 will return from a team that finished 31-2. If that happens, the Zags will have three of their top five scorers back and benefit from a top-10 recruiting class highlighted by 5-star guard Jalen Suggs.
From the Pac-12 … 
No. 19 … UCLA … The greatest in-season turnaround of the 2019-20 season belonged to UCLA, which went from 8-9 to 19-12 by going 11-3 in its final 14 games. It was incredible stuff from Mick Cronin and his staff. And now the top five scorers from that team should be back – provided Chris Smith withdraws from the NBA Draft, which is the projection here. If that happens, he'll be joined by 5-star point guard Daishen Nix, a one-and-done talent who will return exciting basketball to Pauley Pavilion.
No. 20 … Arizona State … The surprising addition of Josh Christopher was a major development for Arizona State, which will pair the 5-star guard with a talented and experienced core – as long as Remy Martin and Romello White withdraw from the NBA Draft, which is the projection here. If that happens, Bobby Hurley's Sun Devils will be in a position to finish in the top three of the Pac-12 for what would be the third consecutive season.
No. 21 … Oregon … It's impossible to overstate what losing somebody like Payton Pritchard will mean to Oregon; he was fabulous and a worthy All-American. But two of the other top-three scorers from the Pac-12 champs are expected back – and Dana Altman has worked the transfer market again. So it would be foolish to assume the Ducks will do anything but compete for another Pac-12 title.
No. 23 … Stanford … A late commitment from 5-star wing Ziaire Williams was enough to push Stanford into the Top 25 And 1 under the assumption that Tyrell Terry will ultimately withdraw from the NBA Draft. If that happens, the Cardinal will add a heralded freshman to a roster that would include the top six scorers from this past season's team that finished in the top 45 at KenPom.
–
—–
April 25th
… CU in the Arena … 
NCAA to give teams scheduling options for 2020-21
From sportsnet.com … The NCAA is giving teams new scheduling options for the 2020-21 season.
The NCAA's Division I Council approved a proposal Friday to give men's basketball programs choices with 28- and 29-game schedules.
The council vote still must be reviewed by the NCAA Board of Directors and won't be considered final until the conclusion of its board meeting on Wednesday.
The proposal will allow schools that schedule 28 regular-season game to participate in one multiple-team event of up to three games. Programs with 29-game regular-season schedules can participate in a multiple-team event with up to two games.
A team that does not participate in a multiple-team event can have up to 29 regular-season games.
Three-day multiple-team events must by completed within 10 days and two-day events must conclude within five days, under the proposal.
Non-Division I programs may participate only if they are the event host.
–
—–
April 19th
… CU in the Arena … 
Tad Boyle's first-ever graduate transfer, Jeriah Horne, ready to step into starting lineup
From the Daily Camera … On this subject, Tad Boyle doesn't typically mince words. Given a choice, Colorado's 10-year men's basketball coach prefers building his program from the ground up.
That was in display this past season, when a core group playing its third year together posted a 21-win season marred somewhat by a late five-game losing streak and the cancellation of the NCAA Tournament. Yet with a glaring hole separating the Buffs from another possible NCAA tourney run, Boyle stepped out of his comfort zone to dip into the graduate transfer market for the first time.
That opened the door for the addition of Jeriah Horne, a 6-foot-7 forward who played the past two seasons at Tulsa and who signed with CU this past week. Horne primarily will be tasked with easing the Buffs into life after Tyler Bey, who decided to forgo his senior season to enter the NBA draft.
"It was a good fit. We knew we wanted some experience," Boyle said. "Everyone talks about us losing Tyler. And that's obviously a big loss. But not a lot of people talk about us losing Lucas Siewert. Lucas was a big part of this year's team. And his perimeter shooting ability, along with Shane Gatling's that graduated, is something we felt like we needed to replace.
"So with Jeriah, you factor in the experience, and you factor in his body is ready and he's proven himself at the high level of Division I basketball, and he can shoot the ball from the perimeter. He's a very, very good perimeter shooter for a guy his size. And he can rebound the ball well. He brings a lot of things to the table."
… Continue reading story here …
–
—–
April 18th
… CU in the Arena … 
Jabari Walker has gone from 6'5″ to 6'8″ in a year: "I don't think I'm done growing"
From the Daily Camera … Jabari Walker is, by any definition, a late bloomer. And given Walker's age and abrupt improvement over the past year, he alone might boast the most untapped potential in a Colorado 2020 recruiting class full of players with tantalizing ceilings.
At the beginning of this past basketball season, Walker figured a year at a prep school was, most likely, his next destination. But a growth spurt combined with the opportunity that opened up on the Buffaloes' roster over the past month changed those plans. Now the 6-foot-8 Walker is one of the new additions to the CU frontcourt — and a player who not only could help the Buffs in the 2020-21 season, but one head coach Tad Boyle firmly believes is a key component of the future of the program.
The son of former 10-year NBA veteran Samaki Walker, Jabari Walker says he grew three inches over the past year. And at just 17-years old, that growth spurt may not be over.
"I'm still growing as we speak," Walker said hours after signing his letter of intent on Wednesday to officially join the Buffs. "I went from 6-5 last year and now I'm 6-8. I feel myself getting stronger. I don't think I'm done growing."
… Continue reading story here …
–
—–
April 17th
… CU in the Arena …
Modified NBA Draft rules make it easier for McKinley Wright; Tyler Bey to return to college
From SportsPac-12 … With a shortened college basketball season due to COVID-19, the stars of the Pac-12 had to make decisions about their professional careers in highly unusual circumstances. The murkiness of the NBA Draft process, with the Combine in question, has no doubt played a role in some players holding off on announcing.
Fortunately, early-entrant NBA rules as revised and implemented by the NCAA Division I Council in 2016 afford underclassmen a number of protections:
Declaration for the draft no longer results in automatic loss of college eligibility. As long as a player does not sign a contract with a professional team outside the NBA, and makes a timely withdrawal from the draft, he will retain college eligibility.
A player who has hired an agent retains his remaining college eligibility regardless of whether he is drafted after an evaluation from the NBA Undergraduate Advisory Committee.
NCAA players may participate in the draft combine, and are allowed to attend one tryout per year with each NBA team without losing college eligibility.
NCAA players now have until 10 days after the end of the NBA Draft Combine to withdraw from the draft.
With these rules in mind, let's look at the noteworthy Conference of Champions underclassmen who have declared for the NBA Draft. The players are arranged in no particular order, with a prediction of where they may end up on draft night.
… McKinley Wright, Colorado … There is no doubt that Wright has a professional career ahead of him, it's just a matter of whether it will start in the G-League or overseas. Nobody doubts his skills or leadership, but his size is a major hurdle. Still, if he were to perform well at the Combine he could sneak in as a late Second Round pick.
As a junior, he would significantly benefit from another year of college experience to generate better name recognition. Were he to come back, he could lead CU to the top of the Conference, and would be an early-season favorite for Player of the Year.
Tyler Bey, Colorado … Bey, another player who would substantially benefit from a strong Combine performance, has the skills to make it in the professional ranks. His mid-range scoring, free throw shooting, and ability to finish around the rim make him an appealing prospect.
His defensive abilities could set him apart, making him a Second Round pick on draft night. As things stand now, it's likely that Bey keeps his name in the draft as opposed to returning to Boulder for his senior year.
–
—–
April 16th 
… CU in the Arena … 
Tad Boyle turns down post-season bonus
From the Daily Camera … After taking his time to mull it over following the abrupt and unfulfilling end of Colorado's basketball season, CU athletic director Rick George decided coach Tad Boyle had done his job.
Despite a late slide, the Buffaloes did what they were supposed to in order to earn a berth to the NCAA Tournament. And although that bid never arrived when the tournament was canceled out of fears of the spread of the coronavirus COVID-19, George ultimately decided Boyle had earned the bonus written into his contract.
Boyle, though, refused it.
During his latest state-of-the-Buffs conference call with the media on Thursday, George said he offered the NCAA Tournament bonus, worth $105,000, to Boyle, but that CU's 10-year coach declined it.
"I did offer Tad the bonus based on the principle that we felt like he earned it. But Tad declined it," George said. "He preferred that we use it in other areas that would help us during this crisis. It speaks to who Tad is. I thought he earned the bonus, and it was offered to him, and he declined it."
… Continue reading story here …
–
—
Tad Boyle excited about Signing Day additions: "It's an exciting, talented and deep class"
From CUBuffs.com … University of Colorado head men's basketball coach Tad Boyle has added three players to his 2020 recruiting class.
Someday soon, he hopes to meet them face to face. Someday soon, those players will be able to see campus in person, for the first time.
Despite the inability to conduct in person, on campus visits, reputation and research allowed the Buffaloes to sign Jeriah Horne, Jabari Walker and Tristan da Silva as the NCAA's regular signing period opened on Wednesday.
All three, listed in the 6-foot, 7-inch to 6-8 range, will bolster the Buffaloes front court. Walker and da Silva, combined with the November signings of guards Luke O'Brien and Dominique Clifford, and then add in redshirt freshman Keeshawn Barthelemy, represent the future nucleus of the Colorado basketball program.
"It's an exciting, talented and deep class with multiple players at multiple positions," said Boyle noting five freshmen could have impacts next season. "We will lose a big chunk of our production (from five seniors) after next year so this class is about the future of Colorado basketball the next 2 to 4 years."
"What is unique is that all three young men decided to come without ever setting foot on campus, obviously due to conditions beyond control," Boyle said. "To have all three come to Colorado, when they had other choices, that means a lot to us."
… Continue reading story here …
–
—–
April 15th
… CU in the Arena … 
CU finalizes roster with the addition of Tristan da Silva
From the Daily Camera … As the spring signing period began on Wednesday, coach Tad Boyle's Colorado basketball program landed Tristan da Silva, Oscar's younger brother and a 6-foot-8 forward out of Germany. Da Silva rounded out a class that also includes 2020 forward Jabari Walker out of Arizona and Tulsa transfer Jeriah Horne, also a forward who is the first immediately-eligible graduate transfer to join Boyle's program.
The three newcomers fill the roster spots vacated over the past month by Tyler Bey, who has opted to pursue a pro career, as well as Daylen Kountz and Jakub Dombek, both of whom decided to transfer out of the program.
… Tristan da Silva checks in at 6-foot-8, about an inch shorter than his brother, and he isn't as potent a scorer in the post. However, Boyle reports that Tristan da Silva is an extremely polished shooter who, along with incoming freshman Luke O'Brien, will give the Buffs a bigger wing presence for years to come with 6-foot-7 D'Shawn Schwartz and 6-foot-6 Maddox Daniels set to be seniors next season.
"Tristan probably is a little more advanced in his perimeter skills at the same age, but he doesn't quite have the same size," Boyle said. "He's 6-foot-8, which is plenty tall enough, but he's not as tall as Oscar is. But his skill level is very, very good, and his ability to put the ball on the floor and face the basket and to play on the perimeter is really exciting. When you get players with size and length, and they have skill, that's the exciting part."
… Continue reading story here …
–
—–
April 10th
… CU in the Arena … 
ESPN: CU's Jeriah Horne rated as one of the best transfers of this off-season
From ESPN … The college basketball season's premature end did nothing to slow the proliferation of transfers; it just got things started earlier than usual. There have been about 40 players entering the NCAA transfer portal each day since the season ended in mid-March, and that's unlikely to slow down anytime soon.
For now, we have the transfers separated into two categories: sit-out transfers and immediately eligible graduate transfers. That could change to one big group on May 20, as the Division I Council is expected to vote on a change to the transfer rule that could eliminate sit-out transfers.
18. Jeriah Horne, 6-7, 222 pounds, F, RS Jr., Tulsa
Committed to Colorado
Started his career at Nebraska before blossoming into a key player for Tulsa the past two seasons. Averaged 11.1 points and 5.2 rebounds last season and also made 56 3-pointers.
–
—–
April 9th
… CU in the Arena …
Early 2021 Bracketology: Colorado a No. 9 seed (Six Pac-12 entries)
From CBS Sports … First off, I hope you are all doing well and staying safe as we shelter ourselves away from COVID-19. Like all of us, I am looking forward to getting back to watching sports in the present rather than living in the past. In the spirit of contemplating that future, here is a way-too-early bracket for the 2020-2021 season. After all, it is only 340 days to selection Sunday.
Of course, we still do not know everyone who is going off to the NBA early or transferring to other schools. Just in the last few days since I started on this bracket, Cassius Stanley (Duke), Jalen Smith (Maryland), Tyrese Maxey (Kentucky) and Kofi Cockburn (Illinois) are among those declaring for the NBA Draft.
Michigan has had two players announce they are transferring, the most notable of which is guard David DeJulius. Purdue was surprised to learn that 7-foot-3 center Matt Haarms was going to leave as a grad transfer. Again, that's just since I started working on the bracket, and there have been others.
To say the least, a lot more roster movement is coming.
Here is a look at the projected No. 1 seeds for now: Gonzaga; Baylor; Villanova; and Creighton
From the Pac-12 … 
No. 5 UCLA
No. 5 Oregon
No. 8 Stanford
No. 9 Colorado
No. 10 Arizona State
No. 12 USC
First four out … Utah …
–
—
Tulsa grad transfer Jeriah Horne commits to CU
From 247 Sports … Tulsa transfer Jeriah Horne  turned 22 on Thursday and part of his celebration included a commitment to play his final year in the Pac 12.
"The style of play at Colorado takes me in the direction I imagined for my last year," said Horne. "Greater intensity on both ends of the court is one of my personal goals going forward and, from interactions with the coaching staff, my goal matches Colorado's expectations."
He also fits a need with Tyler Bey likely gone to the NBA Draft.
"Colorado lost two key players in 2020 to graduation and the NBA draft," said Horne. "My plan is to help fill that void and bring value to CU by delivering on offense, being productive on the glass, and defending the ball."
… Continue reading story here …
—
From the Daily Camera … Replacing Tyler Bey was not going to be easy. Yet in a few short days, Colorado basketball coach Tad Boyle and his staff have filled that void on the fly while setting up the Buffaloes of a possible run at the 2021 NCAA Tournament.
On Thursday, the Buffs received a verbal commitment from 6-foot-7 forward Jeriah Horne, a graduate transfer from Tulsa. Horne's announcement arrived two days after the Buffs received a commitment from 6-foot-8 forward Jabari Walker, a four-star 2020 freshman out of Chandler, Ariz.
As a graduate transfer, Horne is eligible immediately to help the Buffs reload following a 21-11 campaign in 2019-20. Horne spent the past two seasons at Tulsa, averaging 11.2 points and 5.2 rebounds this past season while shooting .413 overall and .339 on 3-pointers. Horne posted a solid .860 mark at the free throw line, though he averaged fewer than two attempts per game (49-for-57), and he recorded more assists (43) than turnovers (40).
… Continue reading story here …
–
—–
April 7th
… CU in the Arena … 
Buffs pick up a commitment from a four-star recruit, 6'8″ forward Jabari Walker
… Related … Rivals bio … 247 Sports bio … 247 Sports has Walker as the No. 42 power forward prospect in the nation, the No. 203 player overall nationally, and the No. 7 player overall out of the state of Arizona … Walker had offers from ten schools, including Cal and West Coast Conference power St. Mary's …
From the Daily Camera … The Colorado men's basketball team has locked down the frontcourt reinforcement it sought after the graduation of Lucas Siewert and Tyler Bey's departure for the NBA draft. And more help might still be on the way.
On Tuesday afternoon, the Buffaloes received a verbal commitment from Phoenix-area forward Jabari Walker, who made his announcement via his Twitter account. The 6-foot-8 Walker, considered a four-star recruit out of the 2020 class by 247Sports.com, is the son of former Louisville star and 10-year NBA player Samaki Walker.
Walker is expected to sign his letter of intent when the spring signing period begins April 15. Walker previously announced CU, Cal, and St. Mary's as his three finalists.
Jabari Walker is considered a late-bloomer who grew at least an inch since last year, and whose skills have evolved accordingly. The addition of Walker fills one of the three open scholarships available to head coach Tad Boyle this spring following the departure of Bey and the transfer decisions of Jakub Dombek and Daylen Kountz.
Walker joins a 2020 freshman class for the Buffs that already includes in-state talents Dominique Clifford from the Vanguard School and Columbine's Luke O'Brien. Guard Keeshawn Barthelemy also will be eligible as a freshman after redshirting this past season.
… Continue reading story here …
–
—–