—
Pac-12 Notes – Arizona State Week
—
September 21st – GameDay!!
… Foe Pause … 
Washington State quarterback Anthony Gordon passes for nine touchdown passes … and loses to UCLA, 67-63
… Related … "Analysis: Second-half collapse dooms Washington State in 67-63 upset loss to UCLA" … from the Spokane Spokesman-Review …
From ESPN … Coach Chip Kelly says he never lost faith in his UCLA team, even as it lost its first three games.
Kelly said the Bruins played hard all 12 quarters of those losses, and that paid dividends when they fell behind at No. 19 Washington State on Saturday.
Dorian Thompson-Robinson threw a 15-yard touchdown pass to Demetric Felton with 1:07 left in the game as UCLA overcame a 32-point second-half deficit to claim a wild 67-63 victory over the Cougars.
"I always thought we were a good football team," Kelly said. "if we could be consistent."
He added, "When you are battle-tested like our guys are, I think that showed up today."
The Bruins overcame a record nine TD passes by Washington State's Anthony Gordon.
After Felton's TD, Gordon was sacked and fumbled — the team's sixth turnover of the game — on the next possession with about a minute remaining, and UCLA recovered and ran out the clock.
Thompson-Robinson threw for 507 yards and five touchdowns for UCLA (1-3, 1-0 Pac-12).
Gordon threw for 570 yards and broke the school record with nine TD passes for Washington State (3-1, 0-1). Jacksonville Jaguars starting QB Gardner Minshew II, a sixth-round draft pick who was on the WSU sideline for Saturday's game, held the school record of seven TD passes in a game, set in November 2018 against Arizona.
–
—
Cal holds off Ole Miss and its former Pac-12 coaches – finish September as the Pac-12's only undefeated team
From ESPN … California linebacker Evan Weaver finished with 22 tackles Saturday against Mississippi. The last one was the most important.
Weaver tackled Ole Miss quarterback John Rhys Plumlee for no gain at the 1-yard line as time expired to preserve No. 23 Cal's 28-20 victory over the Rebels. Weaver crashed hard from the right flank, wrapped up Plumlee and stopped his progress as help arrived to finish the play.
"Just stop the guy with the ball. Keep him from crossing the white stripe," Weaver said. "We got some push in the middle and put it in them."
Cal coach Justin Wilcox, whose team is 4-0 for the first time since 2015, was not surprised. Weaver led every statistical category defensively for the Golden Bears, who let a late 28-13 cushion nearly disappear in the final six minutes.
"Weaver has 22 tackles. When was the last time we didn't talk about what a great player he is? He produces every week," Wilcox said. "He's a really good player. We're proud of him."
The last-minute heroics almost overshadowed a brilliant performance from Chase Garbers, who threw for four touchdowns and finished 23 of 35 for 357 yards. Touchdown passes of 9 and 60 yards to Jordan Duncan and Jake Tonges on the opening two possessions of the second half preserved a lead Cal never surrendered.
… Continue reading story here …
–
—–
September 20th
… Foe Pause … 
No. 10 Utah falls to USC, 30-23, and Trojans third-string quarterback
… Related … "Utah crumbles at USC, complicating its plans for Pac-12 glory" … from the Salt Lake City Tribune
From ESPN … Matt Fink decided to stay at Southern California even after finishing third in the Trojans' four-man quarterback competition in training camp last month.
A few weeks later, Fink found himself passing for 351 yards, leading a victory over No. 10 Utah at the roaring Los Angeles Memorial Coliseum, and sitting between Reggie Bush and Matt Leinart for a postgame interview on national television.
Fink didn't give up on his USC dream, and the Trojans are grateful they had such a talented backup to their backup.
Michael Pittman Jr. caught 10 passes for a career-high 232 yards and a touchdown from Fink in USC's 30-23 victory over the Utes on Friday night.
Fink went 21-of-30 with three touchdown passes for USC (3-1, 2-0 Pac-12) after taking over when freshman Kedon Slovis left with a possible concussion on the second play of the game. Fink mostly looked sharp as the third quarterback to play important snaps in four games for the Trojans, who lost starter JT Daniels to a season-ending knee injury in their opener.
"I don't think this moment was too big for me," Fink said. "I've been in the era of Sam Darnold, and I've seen things that are much crazier. Getting in today and showing what I can do is what I really wanted to do by staying here."
After barely playing the past two seasons, Fink nearly went to Illinois as a graduate transfer last spring. The Los Angeles-area native instead decided to stay home and wait for a chance, however remote.
… Continue reading story here …
–
—
Pac-12 Power Rankings – Cal can win the North; CU fourth in the Pac-12 South
From the San Jose Mercury News … The Hotline occasionally ventures into the realm of the hypothetical. This is not one of those times.
Cal has an all-too-real opportunity to win the North, an end game that would turn the conference on its head while setting it back decades and ushering in a new era.
Take that scenario up Tightwad Hill and smoke it.
Our belief in the Bears' prospects for success isn't rooted in the improved offense or the granite defense or the apparent lack of a dominant team in the rugged division.
It's that entire Old Blue-and-gold package, delivered to Strawberry Canyon on a wing and a bear.
Let's dig into, shall we?
Key point to start the exercise:
Cal was closer than you think to contending in the North last year
… To the power ratings …
2. Arizona State (3-0)
Last week: 4
Result: Won at Michigan State 10-7
Next up: vs. Colorado
Comment: Yes, the officials blew it, and MSU should have be awarded a short field goal to force OT. But the Spartans malfunctioned time after time — how does the kicking team have 12 men? — and ASU did not. #moregameslostthanwon
–
4. Colorado (2-1)
Last week: 3
Result: Lost to Air Force 30-23
Next up: at Arizona State
Comment: Even in defeat, credit the Buffs with another gritty second half. But could someone please explain why they were outscored 37-10 in the first by Nebraska and Air Force?
… Read full story here ..
–
—
Report: USC President doesn't want Urban Meyer
From YardBarker.com … Very few people believe we have seen the last of Urban Meyer coaching college football, and the one school the three-time national champion has been consistently linked to is USC. But even if Meyer is interested in that job, the feeling may not be mutual.
According to a report from Sports by Brooks, USC President Carol Folt is not in favor of hiring Meyer to replace Clay Helton. As a result, the school's trustees are facing pressure to look elsewhere for a head football coach.
Sources: SportsbyBrooks has learned USC President Carol Folt does not want to hire Urban Meyer and pressure is mounting on old guard USC Trustees to stand down on pushing Meyer.
Holt just became president at USC back in March, and she is probably concerned about all of the past scandals Meyer has been involved in. USC has enough problems to deal with, as the admissions scandal that rocked the school is still playing out. The Trojans were also one of the teams involved in the FBI's investigation into corruption within college basketball. Holt likely played a role in former athletic director Lynn Swann recently stepping down, as Swann was heavily criticized for the way he handled a lot of the issues at USC during his three-plus years there.
As Jim Harbaugh recently said, controversy seems to follow Meyer everywhere he goes. More than two dozen players were arrested during his six seasons as the head coach at Florida, and he left Ohio State in the wake of allegations that he ignored domestic violence allegations against a member of his coaching staff.
If USC's priority is getting its football team back to national prominence, there are few arguments to be made against hiring Meyer. But if hiring a guy with a clean reputation who won't bring more scandal to the university is the main goal, looking elsewhere makes sense.
–
—
ESPN: How Kyle Whittingham built Utah into a Power-Five Power
From ESPN … On the eve of a trip to Southern California for a Friday night showdown with USC, Kyle Whittingham sits in his office at the University of Utah, the school founded by Young in 1850. Out the windows behind the head football coach is the valley that those pioneers pulled those handcarts into and the city they used those nails to construct.
It hasn't been quite 10 years for Coach Whitt's fortress-building project. It has been nine. Just shy of a decade for the Utes as a member of the Pac-12 conference. Now, after all these seasons of quietly hand-carting and hand-nailing their program into a Power 5 worthiness, Utah isn't merely in a position to finally win a Pac-12 football title. It is now the popular choice of most as the team best-built to lead the once-proud conference out of College Football Playoff purgatory.
"Yes, I am fully aware of the current expectation level when it comes to this football team, and everyone in this building is," Whittingham, 59, reluctantly confesses. He speaks of the Utes' ranking atop the Pac-12 preseason poll and current No. 10 ranking in the AP Top 25.
"But if you know me and you know everyone in this building who works with me or plays for me, then you also know we don't care about that stuff. We really don't. Right now, all we care about is USC. And then Washington State after that, and then everyone who is next up on the schedule, one at a time. I know that probably sounds boring, but that's how it is."
… Continue reading story here …
–
—–
September 19th
… Foe Pause … 
Dear USC: Don't screw up your next AD hire
From the San Jose Mercury News …
To: USC President Carol Folt
From: Pac-12 stakeholders and fans
Dear President Folt,
Please, please don't screw this up.
Much as we hate to admit, the Pac-12 needs USC. It needs USC to function properly, to win games, to generate attention and cash, because a thriving USC athletic department helps us all.
Just like a thriving Ohio State helps the Big Ten.
Or a thriving Texas helps the Big 12.
Yes, of course, we love it when you lose.
We love it when your head coach gets that look — you know: eyes wide, mouth agape, like he's just seen a three-headed cat.
We love it when you take all that talent, toss it into your football machinery and produce five stinkin' wins.
We love it when the national media bashes you and the L.A. Times embarrasses you.
We love it when your athletic director stonewalls the NCAA and you get sanctioned to Neptune and back … or when your other athletic director screams at officials from the sideline during a game … or when your other athletic director signs autographs in North Carolina while Troy burns.
But schadenfreude won't help us pay the bills or sell tickets or get prime-time coverage on major networks.
So please don't mess this up.
… Continue reading story here …
–
—
UCLA athletic director Dan Guerrero stepping down
… Related … Press release from UCLA … 
From The Bruin Report … Dan Guerrero, 68, was hired as UCLA's athletic director in 2002.  He has had a fairly controversial tenure at UCLA, on one hand being responsible for some significant additions and upgrades to UCLA's facilities and expanding its fundraising. He spearheaded the renovation of Pauley Pavilion; the construction of the Wasserman Center, the football-only facility; and the Mo Ostin Center, the basketball training facility.
On the other hand, Guerrero is responsible for an inordinate number of dubious head coaching hires, including that of basketball coach Steve Alford and football coaches Karl Dorrell and Rick Neuheisel.  He's also ultimately responsible for UCLA being touched by a few scandals, including the college admissions scandal that implicated former men's soccer coach Jorge Salcedo in corrupt admission practices.
It's been known privately that UCLA had quietly been starting the search for Guerrero's replacement. Names that have been mentioned are Fresno State athletic director Terry Tumey, UNLV athletic director Desiree Reed-Francois, and current UCLA Senior Associate Athletic Director Josh Rebholz.
… Continue reading story here …
–
—
HBO all-access series to feature Washington State (the week of its game against CU)
From ESPN … HBO announced a new, all-access college football series titled 24/7 College football, chronicling Arizona State, Florida, Penn State and Washington State in-season beginning in October.
The four-part documentary will showcase the lives of head coaches Dan Mullen, James Franklin, Herm Edwards and Mike Leach, along with players and assistant coaches, all over a one-week period during the regular season, according to a press release.
"For many years, we have been enamored with the storylines and unrivaled traditions of college football, and we're excited for the opportunity to expand the 24/7 franchise into the realm of college sports," said HBO executive producer Rick Bernstein.
"Viewers will feel the tremendous electricity of some of the best atmospheres in the country, and see the meticulous preparation and challenges facing these programs in the build-up to gameday and during the game action. We are excited for the challenge of delivering a four-part series of four different college programs over a four-week period with the production values and storytelling associated with our 24/7 franchise."
The first episode will focus on the University of Florida, chronicling the week leading up to the Gators' game against Towson on Sept. 28, and will air at 10 p.m. ET Oct. 2. The next episodes will feature Penn State on Oct. 9 at 10 p.m, leading up to the Nittany Lions' game against Purdue; and Arizona State on Oct. 16 preceding the game against Washington State; and will conclude on Oct. 23 with Leach and his Washington State program leading up to their game against Colorado.
… Continue reading story here …
–
—
Arizona Republic: Predictions for CU at ASU
From the Arizona Republic … The Arizona State football team has entered the national rankings.
Can Herm Edwards' team stay there with a victory over Colorado on Saturday?
Early picks for the Pac-12 opener for the Sun Devils are out and they seem to like ASU's chances, although many are predicting a close game in Tempe.
Check out what they are saying about the game, which is set to kick off at 7 p.m. and can be seen on Pac-12 Networks.
The ASU football team is a 7-point favorite ….
ASU 24, Colorado 14 … Emily Horos writes: "The Sun Devil defense hasn't given up many points this season and that won't change much this week. Still it won't be able to stop the combination of QB Steven Montez and WR Laviska Shenault altogether. This week ASU will get something going on offense, which will allow Sun Devil fans to leave the game early with a two-possession lead."
–
—–
September 18th
… Foe Pause …
Pac-12 lines: Six ranked conference teams taking on six unranked opponents
From 5Dimes.com … Week Four betting lines form Las Vegas:
From the Pac-12 … 
Friday … 
— USC … a 4.0-underdog at home against No. 10 Utah … 7:oo p.m., MT, FS1
Saturday …
— No. 23 California … a 2.5-point underdog on the road against Mississippi … 12:00 p.m., MT, ESPNU
— No. 22 Washington … a 7.0-point favorite on the road against BYU … 1:30 p.m., MT, ABC/ESPN
— Stanford … a 10.5-point underdog at home against No. 16 Oregon … 5:00 p.m., MT, ESPN
— No. 24 Arizona State … a 7.5-point favorite at home against Colorado … 8:10 p.m., MT, Pac-12 Networks
— No. 19 Washington State … an 18.5-point favorite at home against UCLA … 8:30 p.m., MT, ESPN
— Arizona … Idle … next game: UCLA (9/28)
— Oregon State … Idle … next game: Stanford (9/28)
–
—
ASU trying to avoid letdown after emotional win over Michigan State
From the Associated Press … A year ago, Arizona State beat UTSA in its opening game and drew national attention by knocking off Michigan State in Tempe.
The Sun Devils followed that up with a disappointing loss to San Diego State, another to Washington the following week on the way to a 7-6 season.
Arizona State opened this season with wins over Kent State and Sacramento State then had another national attention-grabbing win by beating Michigan State 10-7 on Saturday.
The goal now is to avoid the repeat letdown, starting with Saturday's Pac-12 opener against Colorado at home.
"Last year we were in a similar spot. We had some success and then we got our nose punched in, so we'll find out," Edwards said. "All the warning signs are there and I'm going to talk about it all week, then we're going to go in the ball yard and find out."
So far, Arizona State has shown signs it can handle the attention.
Despite starting a freshman at quarterback and at two offensive line spots, the Sun Devils have yet to wilt under pressure.
The opening two wins against smaller-conference schools were not perfect, but had the expected outcomes.
Against Michigan State, defense kept the Sun Devils in the game and Jayden Daniels, the freshman quarterback, made the plays when his team needed it most.
Arizona State's offense labored all afternoon, but Daniels orchestrated a scoring drive with his arms and legs. Playing with the poise of a much older player, he picked the Spartans apart passing and twice had big gains to keep the drive alive, including a scramble for a first down on fourth-and-13. Eno Benjamin scored the go-ahead touchdown on a 1-yard run and Arizona State avoided overtime when Michigan State's Matt Coghlin missed a 42-yard field goal on a re-kick — he made the first one — after the Spartans were penalized for having 12 men on the field.
… Continue reading story here …
–
—–
September 17th
… Foe Pause … 
ESPN: Is the Pac-12 already out of the playoff chase?
From ESPN … The Pac-12 has already seen some of its top College Football Playoff contenders — outside of Utah — lose a game: Oregon in Week 1, Washington last week and USC this weekend.
Is the conference in danger of missing the College Football Playoff for a third straight season?
It's fair to say the league is playing from behind because the top contenders in the other Power 5 conferences have also been more impressive. When it comes down to Selection Day, what we've already seen will factor in, as the committee will evaluate the Pac-12 champion against the others and compare nonconference wins.
That's why even undefeated Utah could be in trouble, as good as the Utes have looked.
It's why Michigan State's loss against Arizona State could impact the strength of schedule for Ohio State and Michigan. It's why Clemson has almost no margin for error, and Florida's victory over Kentucky actually helps the SEC East.
Pac-12 …
Top contender: Utah
Work to do: Oregon, Washington, Washington State
On Saturday, No. 24 USC lost on the road in overtime against a BYU team that looked tougher and more determined. Unranked Stanford went all the way to Florida to get trounced by UCF. USC is now likely to join Stanford in the unranked category. Utah and Washington State are still ranked and undefeated, but it appears the Pac-12 is again missing a truly great team despite having some very good ones.
This does not mean the Pac-12 is out of the playoff hunt, but strength of schedule could be a problem. Michigan still has Notre Dame. Clemson beat Texas A&M. LSU had Texas. The Pac-12 missed that résumé stunner when Oregon lost to Auburn.
Utah has BYU, Northern Illinois and Idaho State. Oregon now has Nevada and Montana. Neither Washington State nor Washington play a Power 5 nonconference opponent. The league, collectively, has to be good enough to overcome that.
–
—
UCLA up (?) to No. 7 in CBS Bottom 25
From CBS Sports … Last week, I wrote about why I preferred the early season Bottom 25 to the later season version because the results are more volatile. Well, if that's true, then I guess I love the early results for this season's rankings more than I've ever loved them before because things are wild this year.
I'm seeing results on both ends of my rankings that I don't typically see, and I've been doing these rankings for a decade. Sure, there have been some tweaks here and there, but never anything drastic enough to cause huge waves from season to season. This offseason, I didn't make any changes, so why the strange results? I could be wrong, but my theory is we're seeing far more teams take early season byes this year. I don't recall seeing so many having played only two games following Week 3 in past seasons, and it's producing drastic results.
No. 17 – Colorado State … The Rams were unable to make it two wins in a row against Arkansas, allowing 55 feral points to run wild upon them. Colorado State has now allowed at least 50 points in both of its losses, so Toledo knows what it has to do this week to get a win. (NR)
No. 7 – UCLA … Chip Kelly lost seven games in four seasons at Oregon. He's lost 12 of his first 15 games at UCLA. This week, it's a road trip to face Washington State, but the biggest game on UCLA's schedule is a home date against Oregon State. Anything can happen, obviously, but looking at the rest of this schedule, with how UCLA has looked, if the Bruins don't beat the Beavers, well … (13)
–
—–
September 16th
… Foe Pause … 
ASU looking to ride momentum, freshmen into Pac-12 play
From the Arizona Republic … In some ways, Arizona State's football season thus far is mirroring what the Sun Devils did last year in the early going.
The Sun Devils (3-0) are coming off a 10-7 win over Michigan State in which the outcome wasn't sealed until the final second when the Spartans missing a game-tying field goal.
Last year, the Sun Devils beat the same team 16-13 on a field goal by Brandon Ruiz on the last play of the game.
And in both cases, the win got the Sun Devils into the national rankings.
What coach Herm Edwards and his team hope to avoid is repeating what happened after that last season. The Sun Devils proceeded to lose to San Diego State 28-21 in another nail-biter, which prompted their fall out of the rankings.
This season, the game that follows Michigan State is even more important because it is the Pac-12 opener as the Sun Devils square off against visiting Colorado (2-1) at 7 p.m. Saturday at Sun Devil Stadium.
ASU played a lot of newcomers last season but has played even more of them this far with an unprecedented 28 freshmen — 16 of those true freshmen — seeing action through the first three games. It has yet to be seen how the young players will react.
… Continue reading story here …
–
—
Pac-12 admits its officials erred on final play of Arizona State/Michigan State game
From ESPN …  The Pac-12 Conference acknowledged an officiating error on the last play of Arizona State's 10-7 victory at Michigan State on Saturday.
The conference said Sunday night that the Sun Devils should have been called for leaping on Michigan State's missed field goal attempt as time expired.
"An Arizona State defensive player took a running start and leapt over the kicking team's line in an attempt to block the kick," the Pac-12 said in a statement. "In the process, he leapt into the frame of the body of an opponent. The penalty would have been 15 yards from the previous spot and an automatic first down. In this case, it would have been administered as half the distance to the goal and Michigan State would have been provided one untimed down."
Michigan State had a tying field goal in the final seconds negated for having too many men on the field, setting up a second attempt that Matt Coghlin hooked well left.
–
—
Los Angeles Times: UCLA had made the Rose Bowl a depressing place 
From the Los Angeles Times … There are two different Rose Bowls.
There's the Rose Bowl that is the home of "The Granddaddy of Them All" every New Year's Day and there's the Rose Bowl that is the home of UCLA football team six times per year in the fall.
One is famous for the most magical setting in college football, the other is currently infamous for being arguably the most depressing.
The only similarities between the two are the steel and reinforced concrete that makes up the 97-year old stadium.
… Last week San Diego State defeated UCLA, 23-14, for the first time in front of an announced crowd of 36,951, which was the school's smallest crowd for a home opener in more than 40 years and the fourth-smallest for a UCLA home game at the Rose Bowl.
Saturday's game against No. 5 Oklahoma attracted an announced crowd of 52,578 despite the school distributing over 75,000 tickets. Not only were there more than 20,000 no-shows but most in attendance were cheering for the Sooners while many others were there because they got free tickets and left the blowout early.
In an effort to attract more UCLA fans to come out and watch a winless Bruins football team, the school's athletics department reached out to all the season-ticket holders who attended that dreadful home opener and offered four complimentary tickets to Saturday's game against Oklahoma, which they said were "valued at $280."
It was the equivalent of a restaurant offering its customers gift certificates after they had suffered food poisoning.
… Continue reading story here …
Rose Bowl for Oklahoma game: 1/4 blue; 1/4 red … and 1/2 empty …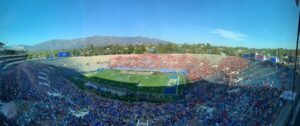 –
—–
September 15th 
… Foe Pause … 
Arizona State and California join the Top 25; Utah enters the Top Ten
… Related: "Return of the Pac? Six Pac-12 teams now ranked" … from ESPN
From CBS Sports … A mostly chalky Week 3 in college football resulted in zero changes within the top 10 of the coaches poll. By and large, the latest AP Top 25 poll ended up looking the same as well. The biggest change at the top, if you want to call it that, is Michigan falling from No. 10 to No. 11. The Wolverines are replaced by Utah, who beat Idaho State 31-0 on Saturday. While Michigan had an open week, it faces a huge road test next weekend when it travels to Wisconsin. The Badgers came in the latest poll tied at No. 13 with Big Ten foe Penn State.
Three new teams entered the AP Top 25 this week: Cal, Arizona State and TCU.
1. Clemson
2. Alabama
3. Georgia
4. LSU
5. Oklahoma
6. Ohio State
7. Notre Dame
8. Auburn
9. Florida
10. Utah … up one spot from last week
11. Michigan
12. Texas
13T. Penn State
13T. Wisconsin
15. UCF
16. Oregon … down one spot
17. Texas A&M
18. Iowa
19. Washington State … up one spot
20. Boise State
21. Virginia
22. Washington … up one spot 
23. Cal … up four spots
24. Arizona State … up 11 spots 
25. TCU
Others receiving votes: Kansas State 91, Oklahoma State 51, Army 50, Michigan State 37, Memphis 26, Wake Forest 14, BYU 12, Temple 7, Iowa State 7, Mississippi State 4, Appalachian State 2, Minnesota 1
—
USA Today / Coaches' poll
1. Clemson (62)
2. Alabama (3)
3. Georgia
4. Oklahoma
5. LSU
6. Ohio State
7. Notre Dame
8. Florida
9. Auburn
10. Michigan
11. Utah … up one spot from last week
12. Penn State
13. Texas
14. Wisconsin
15. Texas A&M
16. UCF
17. Oregon … unchanged
18. Iowa
19. Washington State … up one spot 
20. Boise State
21. Washington … unchanged 
22. Virginia
23. Cal … up five spots
24. Arizona State … up 19 spots
25. Kansas State
Others receiving votes: Oklahoma State 100, Memphis 68, TCU 55, Michigan State 40, Wake Forest 33, Army 31, BYU 28, Kentucky 14, Appalachian State 12, Temple 7, Mississippi State 6, Minnesota 5, Duke 4, Nebraska 4, Navy 4, Tulane 3, Iowa State 3, Arizona 1, Wyoming 1, SMU 1
–
—
Los Angeles Times: Was hiring Chip Kelly a mistake?
From the Los Angeles Times … At some point Saturday during another wilting night at the Rose Bowl, somebody involved in the UCLA athletic department surely asked the question.
Maybe it occurred as quickly as the game's first play, in which Oklahoma quarterback Jalen Hurts sliced through a week of Bruins preparation by sprinting 52 yards untouched down the sideline.
Maybe it was about two minutes later, when Hurts sprinted 30 yards on fourth down through seemingly clueless Bruins defenders for the first of the Sooners' six virtually uncontested touchdowns.
Maybe it was early, often, and throughout fifth-ranked Oklahoma's 48-14 demolition of a simply rank UCLA team that rarely looked as if it belonged on the same field.
But, surely, at some point, somebody had to finally be asking the question whose answer could haunt this program for years.
Was hiring Chip Kelly a mistake?
… Continue reading story here …
–
—–