—
Pac-12 Notes
—
November 30th – Game Day !
… Foe Pause … 
Utes hoping fans will show up despite the weather and point-spread
From the Salt Lake City Tribune … Utah coach Kyle Whittingham interrupted his own answer to an unrelated question, working in a request for fans to arrive at Rice-Eccles Stadium in time for the Senior Day ceremony prior to Saturday's 5:30 p.m. kickoff vs. Colorado.
That's fair, as long as the Utes don't make them agonize until the end of the game on a cold night in late November.
No. 6 Utah (10-1) is positioned to celebrate a second straight Pac-12 South championship and advance to the conference title game vs. Oregon, with the Rose Bowl or even the College Football Playoff in view. All the Utes have to do is beat a Colorado team with a losing record, while honoring a potentially legendary senior class.
"We have good players graduate every year," Whittingham said. "We seem to have an abundance of them this year."
Driven by those 11 senior starters, the Utes are four-touchdown favorites Saturday. ESPN's Football Power Index gives them a 95.1% chance of winning, with ABC's prime-time telecast showcasing a team that's rising in the CFP rankings. What could go wrong?
The haunting history of 2011 is in play, after that Utah team needed only to beat the lowly Buffaloes to qualify for the Pac-12 championship game vs. Oregon (with USC ineligible). The Utes lost 17-14. In this year's case, a 10-2 Utah team could fall to the Holiday Bowl by losing to Colorado.
–
—–
November 29th
… Foe Pause …
Signs point to Colorado State football program moving on from Mike Bobo
Note … The Rams have gone 2-13 against rivals Air Force, Colorado and Wyoming and have lost 12 in a row against those teams. CSU hasn't beaten Boise State and went 0-3 in bowls under Bobo.
From the Coloradoan … The arrows now point to Mike Bobo being shown the exit, ending his time as Colorado State University's football coach.
There was no official word after Friday's 31-24 loss to Boise State at Canvas Stadium.
A report from FootballScoop published right after the game said moving on from Bobo was expected at CSU "barring an unexpected change."
Athletic director Joe Parker declined to comment after the game.
"I hope to be back," Bobo said postgame.
"It's like I told them in there, 'despite the noise outside, we're really, really close to being really, really good.' But it's a bottom line business. I know that. I think we all know that and we didn't get it done enough this year."
Bobo and Boise State coach Bryan Harsin shared a long embrace after the game. Maybe this is reading too much into that exchange but it felt like more than a "good game" hug.
As he always does, Parker stood in the back of Bobo's press conference as the coach talked about a loss for the 17th time in the last two seasons.
"I can't tell you what Joe's thinking," Bobo said. "We have meetings and he's supportive and gives us everything we need to be successful. I do not have a scheduled meeting with him."
The Rams followed last season's 3-9 record with a 4-8 finish in 2019 as Bobo's $1.8 million yearly salary ranks second in the Mountain West.
—
Announced crowd for CSU/Boise State game: 12,324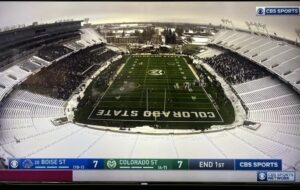 Boise State 31, Colorado State 24 … Game story from ESPN …Curtis Weaver knows his Boise State history. The Broncos' outside linebacker knows how hard it is to earn a footnote in that history.
That's why Weaver takes great pride in his team earning their place in that storied history.
Jaylon Henderson accounted for three scores, defensive tackle David Moa came up with a big late sack and No. 20 Boise State beat Colorado State 31-24 on Friday to finish undefeated in Mountain West play for the first time.
Yep, 8-0 has a nice ring to it.
"The past Boise State teams always had something they had. We wanted something," Weaver said. "Today, we wrote history."
This version of Boise State (11-1, 8-0 MW, No. 20 CFP) will go into the books as the program's first one to run through Mountain West regular-season play unbeaten. The Broncos have finished the conference portion of their schedule with one loss five times since joining the league in 2011.
"They've accomplished something that's pretty special," Boise State coach Bryan Harsin said.
… Continue reading story here …
–
—–
November 28th – Happy Thanksgiving!
… Foe Pause … 
Report: USC leaning towards keeping Clay Helton
From The Athletic … The biggest job expected to come open this winter on the college football coaching carousel might not actually come open after all.
New USC AD Mike Bohn has been impressed with Clay Helton with the Trojans head coach in his time around him. And USC president Carol Folt, nearly as new on the job as Bohn, also is a believer in Helton, is very comfortable with him and likes the tone of his leadership, people with knowledge of the situation tell The Athletic. Both appreciated the way he has run the USC program and how the team has battled for Helton despite a slew of injuries at key spots that included having to rely on third-team QB Matt Fink to beat a Top-10 Utah squad.
It's hard to find anyone around USC who doesn't see Helton as a genuine, decent man, but more than that, his team never stopped battling for him.
As I wrote around mid-season, I'm not sure there are more than a handful of teams in college football who could have beaten a team as good as Utah with their third-team quarterback and then gone on the road to a tough place like Washington missing both quarterback Kedon Slovis and their best defensive player, safety Talanoa Hufanga.
USC's only blowout loss was a month ago against then-No. 7 Oregon, when a 10-0 USC lead devolved into a mistake-filled night that ended in a 56-24 defeat. Many expected the Trojans to go in the tank from there and the Helton tenure to come to an end soon after. Instead, USC won its next three games and finished 8-4. They are No. 22 in the latest CFP rankings — the highest of any four-loss team. Given the run of injuries, this wasn't a bad year for the Trojans. They're a Top 25 team but weren't close to being a Playoff contender, which is the expectation around USC, especially four years into a coach's tenure.
Helton is 40-21 in his time at USC. In the past four years, he's 34-17. He's won a Pac-12 title and a Rose Bowl — the season the Trojans finished No. 3 in the AP poll. But many USC fans were done with him after last year's dismal 5-7 season. Then-AD Lynn Swann decided to give Helton more time and a bigger contract. Helton did make significant changes on his coaching staff and to some degree how he runs the program.
… Continue reading story here (subscription required) …
–
—–
November 26th
… Foe Pause … 
Utah moves into No. 6 position in polls; Playoff rankings (Oregon down to No. 14)
… Related … Associated Press poll … College Football Playoff rankings … 
From ESPN … Ohio State leaped LSU as the No. 1 team in this week's edition of the College Football Playoff rankings after downing Penn State on Saturday. The Buckeyes return to the top spot, where they debuted in the season's first edition of the CFP rankings before dropping to No. 2 the last two weeks.
The rest of the top five remained unchanged, with No. 2 LSU followed by Clemson at No. 3, Georgia at No. 4 and Alabama rounding out the top 5.
Oregon (9-2) fell from No. 6 to No. 14 after an upset loss at Arizona State on Saturday night. Utah moved up one into the No. 6 spot, followed by Oklahoma at 7, Minnesota at 8, Baylor at 9 and Penn State rounding out the top 10.
LSU, which had been the top team in the past two rankings, dropped a spot by no fault of its own. The Tigers improved to 11-0 with an emphatic 56-20 win over Arkansas. But the committee determined that Ohio State's 28-17 win over a Penn State team that was ranked No. 6 at the time with a 9-1 record, was enough to bump the undefeated Buckeyes up to the top spot.
… Continue reading story here …
–
—
Chip Kelly defends his coaches (by throwing his players under the bus)
From bruinsnation.com … the Bruins lost to Southern Cal, 52-35, in a game where the defense was pretty nonexistent.
After the game, UCLA Bruins head coach Chip Kelly met with the media and he was asked to assess the ob his coaches have done with the team.
That's when Kelly threw his players under the bus.
To be sure, he didn't drive the bus back over them again and again, but the fact of the matter is that Kelly actually threw the players under the bus when he replied:
"I think our staff's done a good job considering what we have right now."
Re-read that comment one more time please, just so you can get the full force of what Kelly said. He said:
"I think our staff's done a good job considering what we have right now."
That, to me, sounds like Kelly knows that his seat is starting to get warm. It's a head coach who knows that his rebuilding is not going well and who's looking to make excuses for the fact that he only has seven wins in 23 games.
These are the words of a coach who has fallen far short of the expectations the fan base had when he was hired two years ago.
It was before Kelly ran off more than thirty players. And, that's the big reason why Kelly loses almost all sense of credibility when he says that his staff has done a "good job considering what we have right now." You can't keep running players out of the program and then come back and complain "what [you] have right now."
Well, you can and Kelly did. But that comes off as hollow and disingenous given the talent level the program had when he arrived and the talent level the program has now.
… Continue reading story here …
–
—–
November 25th 
… Foe Pause … 
Pac-12 betting lines: Colorado a four-touchdown underdog
… Note … Current weather forecast for Saturday in Salt Lake City (5:30 p.m., MT, kickoff) … high of 27, low of 12, morning snow showers …
From VegasInsider.com …
From the Pac-12 …
— Washington – a 6.5-point favorite at home against Washington State
— Utah … a 28.0-point favorite at home against Colorado … Note … The over/under on this game is at 51.0 points, so, if you put the two together, Las Vegas is predicting a game in the neighborhood of 40-10, Utah …
— UCLA … a 2.5-point favorite at home against Cal
— Stanford … a 14.0-point underdog at home against Notre Dame
— Oregon … an 18.0-point favorite at home against Oregon State
— Arizona at Arizona State … not yet on the board
–
—
Utah's Zach Moss looking to achieve single-season records against "one of the worst defenses in the country"
From UteZone.com … It's been a season filled with new highs and career bests, and against Arizona three players in particular inched closer to all-time Utah football records. There are three seniors in quarterback Tyler Huntley, running back Zack Moss, and defensive end Bradlee Anae that have a number of statistical marks in reach as we near the end of this season and their respective careers.
It took a handful of carries on the very first drive for Moss to surpass 1,000 rushing yards for the season, which is the third time he's accomplished surpassed that mark in his four years. After a just a couple minutes and a few more handoffs in the 2nd quarter, Moss hit 100 yards rushing in the game, which was the 18th time he's hit triple digits in his career. Moss already owns the career rushing yardage total with 3,809 rushing yards, and is clearly on pace to become the first Ute to surpass 4,000 career rushing yards.
John White IV owns the single season rushing yard mark at 1,519 yards, while Moss currently sits No. 10 on the list at 1,158 yards. He is 361 yards away from owning the single season record and with his average of 115 rushing yards per game on the season and 165 yards over the last two games, which means that's going to be close. With Colorado coming up next week, a team that is one of the worst defenses in the country, he should be able to get a good chunk of yardage next week.
Moss also owns the career rushing touchdowns record with 37 rushing touchdowns in his four years, but he's two away from taking over the single season rushing touchdown mark of 15, also held by John White IV, as he currently sits 14.
… Continue reading story here …
–
—
Going from bad to worse at Arizona – six straight losses and 73rd-ranked recruiting Class
From azdesertswarm.com … Things have gone from bad to worse for Arizona football on the field.
The Wildcats have lost six straight, all by double digits. For the second straight year, they will not be going to a bowl game. They have fired three defensive coaches in the last few weeks. Attendance numbers hit new lows.
If you are a recruit being pursued by Arizona football, does that sound like a very appealing situation to walk into? No. It helps explain why UA's 2020 class, which consists of 13 players, currently ranks 73rd in the country (18 spots lower than last year) and 10th in the Pac-12.
But head coach Kevin Sumlin, obviously, delivered a different pitch to some of the recruits, like four-star edge defenders Jason Harris and Regen Terry, who were visiting for Saturday's 35-7 home loss to Utah: you can help us be better. And you won't have to wait.
"We were just talking about that a few minutes ago with those guys. Those guys are here on official visit capacities and some guys unofficially, and in times like this things might look a little different because those guys are here with the early signing date," Sumlin said Saturday. "They can see the opportunity to really help early and that's really the message we're giving to them because we got a lot of combination of freshmen and first-year players that are out there playing for us right now and we've obviously got some holes to fill. Those recruits can have an immediate impact on our football program."
… Continue reading story here …
–
—–