—
Dave Plati War Stories – Part IV – On Inventing the "Red Zone"; His toughest day; Chuck Fairbanks
—
Previously posted … Part I – "The Resignations of Bill McCartney and Rick Neuheisel" … can be found here …
… Part II – "On Broadcasters: Keith Jackson, Joel Klatt, Chris Fowler … and O.J. Simpson" … can be found here …
… Part III – "On '86 Nebraska game; the '90 Championship season; and Salaam's Run the Heisman" … can be found here …
—
Dave Plati, whose official title is CU's Associate Athletic Director / Media Relations Director (full bio can be found here) has been a part of CU athletics history for over four decades, and has many stories. He was kind enough to share some of them with CU at the Game …
––
On his CoSIDA Hall of Fame and FWAA Lifetime Achievement Awards received this year
As Fred Casotti would have said, 'Those are awards that demand great age'. That's what he said about his historian title, it was a title that demanded great age.
The award from the football writers was from out of the blue. They have only given out like five or six of them, so it was like, 'Whoa. Where did this come from?'. I think was due to the fact that I have been working the playoff games for the past ten years. I do the seating, and it's really like a domino effect on how you seat people – 'Which 200 people do you put in the press box? Which 200 people do you put outside of the press box?' There's a method to that, taking care of the media for the teams that are playing, as you should. I think part of the award comes from being able to navigate those waters without too much conflict.
And actually, no one was doing notes before the championship game until I started helping out with the BCS games. I was like, 'Let's do some pregame notes'.
Then, based upon my history and what we've done here at CU, I was a good candidate for the Lifetime Achievement Award. It was very humbling.
—
On attribution for creating the "Red Zone" and other stats
It wasn't called that originally. It was called, "Penetrating the 20″. The Broncos told me to get rid of the word, "penetrating'.
I still get sideways with college football, because the 20 is not in the red zone. The original name was "Penetrating the 20″. The way I came up with that, I'm sure, was a combination of things. First, teams at a football practice, they practice most of their field goal attempts – at least back then – from the 20 yard line. Then I remember listening to a Bronco game on the radio, and Bob Martin said something like, 'This is the fourth or fifth time the Broncos have been inside the 20, and they only have one score to show for it.' So, I thought, 'Hmm. That would be really cool to track that'.
I invent different things, but they don't all catch on. There was one game, like it 1986, and I was thinking, 'Wow. How many first downs has – it was either (Anthony) Witherspoon or O.C. (Oliver) – how many first downs have they run for? And I figured it out, and I gave to the late Tim Mimick at the Gazette, and he used it. And I thought, 'That would be a great stat to track'. The NFL just started using that stat around five years ago. I haven't seen anybody else in college use it.
There are others that I am surprised haven't caught on. 'Tackles for Zero' hasn't caught on. We've been able to use that. Like (Nate) Landman last year had like 25 stops last year, at or behind the line of scrimmage. That's sounds a lot better than say, 13 tackles for loss. Any coach will tell you, they are perfectly happy with a tackle for no gain.
'Third down stops' hasn't really caught on. It might have been (Greg) Biekert, back in 1988 or 1989. I totaled up his tackles for the coaches, and it occurred to me, 'It seems like a lot of those were on third down'. So, I went back to the play-by-play, and sure enough, he had like six third down stops. Back then, we just tracked tackles, but a couple of years later we were like, 'Well, if you bat a pass down, that's a third down stop'. Same with an interception. Anything that stops the opponent on third down.
I'm still trying to come with a new stat … a new one every year. Last year, with kickoff and punt returns, it was 'Average starting yard line after the return'. I've tried to convince the guideline committee that, the average yard line from where these guys are punting from, it makes a difference. They put a lot of stock into the 'inside the 20′ punting stat, but a lot of these guys from Alabama and Auburn, they are punting from the 40 on, and it enhances their 'inside the 20′ stats.
For us at CU, it's usually between the 30 and the 34. It usually doesn't vary that much. But it would be interesting to see what that stat would be for a high-powered offensive team today.
—
On CU Naming rights
(Fred) Casotti has got the press box, which is fitting. Folsom has got the stadium. Bill McCartney has the fourth floor here (at the Champions Center). But, Bill Marolt doesn't have anything named after him, and he won seven straight titles (with the ski team, 1972-78). If I won the lottery, I wouldn't have anything named after me, I would have something named after the forgotten (Bill Marolt). If we ever get a quality ski building, they should name the building after him.
The same goes for Mark Wetmore (CU's track and field coach). As soon as he retires, he's going to the Hall of Fame.
Richard Rokos is another. He has probably the funniest quote. When I think of the best quotes here, everyone thinks of Reuben Vaughn's, 'I hate Nebraska more than I hate dog shit on my shoes'.
Stoltenberg after the extra point in the Oklahoma State game, when we scored a touchdown on a fake field goal attempt. Stoltenberg said, 'We're going to need another bus for Coach Mac's balls'.
But then there is the Rokos quote. We won the national championship in 1998, and I was with him when we gets a call. I answered the call, so I knew who it was, but when he hangs up he says, 'Davie, Davie. Do you know who that was? It was the President! Not the one having all the sex, but our President (of the University)'.
—
On the toughest day: The Oklahoma State plane crash in January, 2001
… Oklahoma State press release on the crash from January 27, 2001 …
The Oklahoma State plane crash was probably the saddest night. I knew the names before most others did because Kim Christensen's husband worked for NTSB, and he called me, and said, 'I'm going to run some names by you. I'm pretty sure it's one of Oklahoma State's planes. We have the manifest from the third Oklahoma State plane that we can raise on the radio'. He starting reading the names, and I recognized the third guy Will Hancock, their SID, and then the OSU radio guy.
I had talk to Steve Buzzard at Oklahoma State, and he called me to see if I had heard anything, and I told him that I was sworn to secrecy, but that I can't not not tell you, so I tell him.
It then got out that I had the names. So, I get a call from a woman at Fox 26. 'We know you have the names, so we need to know who was on that plane'. I tell her that I couldn't tell her. She starts screaming at me. She then says, 'Can you tell me this: Were the five starters on the plane?'. I lit into her. By now they knew that it was an Oklahoma State plane, but they didn't have the names, so yelled back at her, 'A third of the travel party has been lost, and your asking me if the starters survived? Fuck you'. That was pathetic.
—
On the Pac-12 Networks coverage of NCAA Skiing championships
… Note … This is an issue for me. While Utah and Colorado (members of Pac-12, the last time I checked) annually compete for national championships in skiing every March, the "Conference of Champions" network routinely shows reruns of its half-hour basketball roundup from the night before instead of covering the NCAA skiing championships, which can only be found on the NCAA website … 
We have pitched that so many times. They just haven't shown any interest, likely because you would need a lot of cameras and personnel to pull of a ski meet when they have most of their resources committed to basketball tournaments around the same time.
And it's a sport that's in trouble. New Mexico is dropping its program permanently. That brings the count down to 41 schools that ski. And you have to have 40 schools that sponsor a sport to have an NCAA championship. The question then becomes: If the number drops to 39, would the NCAA actually cut it?
And they have ripped that sport already. You talk about the mental health of an athlete, let's talk about what they do to the skiers. It used to be that used to be 'five-score-three' (five athletes from a school can participate in a race, with the top three scores counting toward the team total), then it was 'four-score-three', and now it's 'three-score-three'.
If somebody falls and doesn't score, you've probably done your team in. Why can't you go back to 'four-score-three'? Even if the schools were willing to pay to take the four extra athletes – and they probably would for the NCAA championships – it isn't happening.
—
On Chuck Fairbanks: his hiring and the CU logo
We had the logo redone. It was 1980. Tim Simmons, the SID at the time, and John Clagget, had the new logo, and we took it over to Chuck (Fairbanks). We show it to Chuck, and he takes a long draw from his cigarette, and says, 'Shit. It looks like a fucking pig'. This is where the nickname, 'The Pigalo' was born. I'm the only one who uses it still. I still call it the 'Pigalo', but Fairbanks came up with it. He must of taken a 20-second drag on his cigarette, calculating that response.
If you recall, he had his own logo designed the year before. We never used it. It made it onto stationery, but it never made it to the helmets.
Here is the never-used CU logo Chuck Fairbanks favored: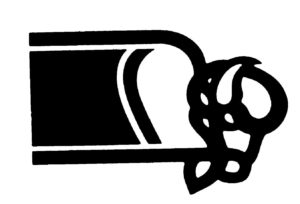 Then there was the hiring of Fairbanks (away from the New England Patriots), and that whole four month saga. 'You're going pay a coach $50,000?'. I was just a freshman in the office. I remember when Howard Cosell broke the story on Monday Night Football. Mike Moran calls me, 'Come over here. I need help with the phones'. That was probably about 7:30 our time, so there was still plenty of time to get it in the paper, but it was a circus. I was over at Sewell Hall, so it just a three-minute walk away. That was a crazy night.
–
… My thanks to Dave for taking the time to talk with me. Of course, there are many other stories to be told, so perhaps we will be able to to something similar in the future … 
–
—–