—
Colorado Daily – Colorado State
—
August 30th – GameDay!!
… CU in a few minutes … 
Drew Litton: "Tucker Time"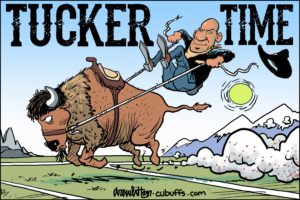 –
—
Mel Tucker: A 1998 game his "most life-changing event"
From BSN Denver … Over the course of an hour-long conversation, despite many attempts, the newly-minted head coach at the University of Colorado only breaks from football three times. Once to include his parents in his greatest influences, alongside coaches like Barry Alvarez, Nick Saban, Romeo Crennel and Jim Tressel. Once to share that "Anthony Bourdain: Parts Unknown" is his favorite TV show of all time. And once for a conversation about how much better the food is in Boulder than in Athens.
Coach recommends the Churros at Boulder's River and Woods, and as any good CU coach would, Pasta Jay's.
As our conversation nears its end, I throw out one last attempt to learn about Mel Tucker beyond football.
"What's the most life-changing thing you've ever experienced?" I ask.
"Wow," he says as he brings his hand to his chin and gazes out the window at the stunning flatirons, taking his time to formulate his answer.
Maybe it's his first date with his now-wife JoEllyn, which also happened to be the day he proposed to her—true story. Maybe it's the birth of his two sons. Maybe it's one of the two national championships. Maybe it's getting the chance to be an NFL head coach for five games.
It's none of those things.
"Probably 1998," Tucker says. "I was at Michigan State, and we were not having a great year. That was my second year as a graduate assistant."
… Continue reading story here …
–
—
Mel Tucker: "It's going to be a huge challenge for us"
From CUBuffs.com … History is no doubt on the side of the Colorado Buffaloes in Friday night's nationally televised season-opening matchup with in-state rival Colorado State in Denver (8 p.m., ESPN).
 The Buffs have won four in a row in the series and five of the last six — and the last three haven't been close, with CU outscoring CSU 106-23 in that stretch.
But history never scored a touchdown or made a tackle, meaning it will be a clean slate for both squads when they square off under the Friday night lights.
Certainly, Colorado head coach Mel Tucker, who will be getting his first taste of the in-state rivalry, is taking absolutely nothing for granted. Tucker has enough experience in rivalry situations — in the NFL and in college ball — to know that rivalries have a funny way of bucking conventional wisdom.
Tucker will be squaring off against another head coach who traveled a similar path to Colorado. Tucker was the defensive coordinator at Georgia before being named to the Colorado post; CSU head coach Mike Bobo was Georgia's offensive coordinator before taking the Rams' job in time for the 2015 season.
"Mike's a great coach," Tucker said last week. "I've gotten to know him a little bit over the years. He's a first-class guy, really accomplished, he's great at what he does. He's really tough to prepare for, what he does offensively. He's done a great job with his program so it's going to be a huge challenge for us. I know he'll have his team ready to go and they'll be at their best."
… Continue reading story here …
–
—-
August 29th
… CU in a few minutes … 
Senior safety Lucas Cooper awarded a scholarship
From the Daily Camera …This week, the Buffs also put walk-on safety Lucas Cooper on scholarship. A fifth-year senior, he has been a key special teams player the past couple of seasons and provides depth on defense.
–
Cooper's bio, from CUBuffs.com … This Season (Sr.)—Likely figures to be a key contributor on special teams again … CU's official nominee and finalist for the William V. Campbell Trophy, otherwise known as the academic Heisman.
2018 (Jr.)—Named to the Colorado Chapter of the National Football Foundation All-Academic first team and was honorable mention on the Pac-12 All-Academic team … Played in the first eight games of the season before missing the final four due to injury … Played two games on defense with four plays … Had five specials teams points on the season with four tackles, including one inside the 20.
2017 (Soph.)—He appeared on defense in two games, but primarily saw action on special teams where he saw the field in 11 contests … On defense, he saw 13 plays from scrimmage and forced a fumble in the win over Texas State in the first action of his career … On special teams, he was credited with four points on the backing of one assisted tackle, two knockdown or springing blocks on kick returns and was credited with being the first down field on a kickoff or punt that altered the return path once.
2016 (Fr.-RS)—He was the recipient of the Defensive Scout Player of the Year award … He played in six games and dressed for the remaining other seven games … Seeing action mainly on special teams, he was credited with two tackles (one in the Idaho State game, the other against Oregon State) … He had an interception in the spring game.
2015 (Fr.)—Redshirted; did not see game cation … Practiced all season at defensive back … Joined the team as a recruited walk-on just prior to the start of August camp.
–
—
CU defensive coordinator Tyson Summers taking on former boss in Mike Bobo
From the Daily Camera …Colorado defensive coordinator Tyson Summers was busy working one recent evening when his phone rang.
On the other end was Colorado State head coach Mike Bobo.
"He was up there working and I was trying to figure out what they are going to do," Bobo joked about the call.
Summers didn't give any secrets, of course, but on Friday, the two will try to figure each other out when the Buffaloes and Rams meet in the annual Rocky Mountain Showdown at Broncos Stadium at Mile High in Denver.
In his first game as the Buffs' defensive coordinator, Summers will aim to stop Bobo's offense as CU goes for its fifth consecutive win against the rival Rams. It will be the first head-to-head battle between the two friends, who worked together at CSU in 2015.
"Obviously coach Bobo has been one of my closest friends for close to a decade now and a guy that I've worked for, a guy that's been good to me and my family and given me a lot of opportunities," Summers said.
… Continue reading story here …
–
—–
August 28th
… CU in a few minutes … 
CU Video: "Relentless: Episode 1" makes its debut
Here is a link to "RELENTLESS: Episode 1", a 12-minute video to help you get ready for the 2019 Rocky Mountain Showdown …
—
Neill Woelk lists his nine Buffs "ready for a breakout"
From CUBuffs.com … Players ready for a breakout. Here we venture into the area of educated guesses. Odds are, we'll miss someone who will have a huge game Friday night.
 But if you are looking for some new faces who might be ready to turn heads in a hurry, try:
— Freshman running back Jaren Mangham, who had an outstanding camp and showed flashes of being a force, inside and out.
— Wide receivers Dimitri Stanley, Daniel Arias and La'Vontae Shenault. Stanley is an electric redshirt freshman who will also return punts. Arias is a big, physical receiver who can outrun defenders and still go get the ball in traffic. Shenault is a talented youngster currently just third on the depth chart, but with the kind of talent that will be hard to keep off the field.
— DBs Mekhi Blackmon and Aaron Maddox. Both juniors, these two showed flashes in camp of being able to come up with big plays. Their inexperience could be a factor, but their athleticism could also help the Buffs produce some key turnovers.
— DE Terrance Lang. After a year as a pass-rush specialist, Lang has a chance to become an every-down guy. If he produces in that role, he could be a difference-maker.
— TE Brady Russell. The former walk-on is number one on the depth chart after a solid camp that saw him improve on a daily basis. He is a threat as a receiver, a more-than-capable blocker and can play several spots in the tight end playbook.
— DB Mark Perry. Keep your eye on this guy. A talented, physical back who hunts the ball, Perry should get some time with the No. 1 defense when they go into a nickel package.
… Read the rest of Woelk's Game Week Primer here …
–
—
Captains for Rocky Mountain Showdown announced
Head coach Mel Tucker has indicated that there will be different captains for each game throughout the season, with team captains selected at the end of the year.
For the Rocky Mountain Showdown v. Colorado State (8:10 p.m., MT, ESPN), the captains will be (announced via Twitter): junior linebacker Nate Landman; senior center Tim Lynott, Jr.; and junior wide receiver KD Nixon.
Uniforms
The CU uniforms for the game will be the traditional gold helmets, black uniforms, and gold pants.
Fan Attire
C-Unit is pushing for all CU students to wear black.
Mile High Stadium Policies
The stadium's clear bag policy and metal detectors will be enforced and in effect. Premium gates open at 6 p.m. and public gates open at 6:30 p.m. Students should enter through Gate 9.
Parking And Tailgating
Parking information is available in the linked PDF. Lots E, D, C, Z and Z-O are all CU's official permitted parking lots and all of those lots will open at 4 p.m. for tailgating. Game day parking will cost between $25-$30 in Lots M, N and R and fans can pay with cash or credit. Those are expected to be sold out by 5 p.m. and if you are parking after 5 p.m. without a permit, parking is available at Pepsi Center and the Auraria Campus.
–
—
Tim Lynott on starting line: "we've been working together honestly since the second week of camp. Everyone knows what they're doing"
From the Daily Camera … It seems like ages since CU has had the same group of five offensive linemen working together week after week. Going into Friday's opener, however, senior Tim Lynott said the Buffs feel some comfort because they finally have some cohesion.
Lynott is slated to start at center, while Kary Kutsch (left) and Colby Pursell (right) will be at guard and Arlington Hambright (left) and William Sherman (right) at tackle.
"That five, we've been working together honestly since the second week of camp," Lynott said. "Everyone knows what they're doing. It makes it easier for everyone on the line, knowing everyone does their job.
"That's the best thing you can have on the line. You can trust one another, and that's huge. Trust is a big thing on an O-line. If you don't trust the guy next to you what are you going to do? You're going to freak out and mess up your assignment."
–
—
Mel Tucker: The RMS "a moment we can embrace and show what we're all about"
From the Daily Camera … Although Mel Tucker has never been involved with the Rocky Mountain Showdown, Colorado's new head coach has an understanding of the magnitude of the matchup with the rival Colorado State Rams.
"I haven't heard the players talk about how big the rivalry is, but I know it's a huge game because there hasn't been a day that I've been here, since Dec. 5, that someone hasn't said something about this game to me and how important it is," Tucker said Tuesday after the Buffaloes' practice.
Tucker's debut as head coach comes Friday, when the Buffs and Rams square off at Broncos Stadium at Mile High in Denver.
"It's a moment we can embrace and show what we're all about," Tucker said.
For many of the Buffs, it'll be their first moment in a CU uniform, their first playing in front of 70,000 fans and perhaps their first in an NFL stadium.
… Continue reading story here …
–
—–
August 27th
… CU in a few minutes … 
Local Family Law Firm To Donate $100 Per 'Stop' to SPAN, CU Office of Victim Assistance
From CUBuffs.com … University of Colorado Athletics and its multimedia rightsholder, Buffalo Sports Properties, announced today their partnership with Burnham Law to "Stop Domestic Violence" this 2019-20 football season. For each defensive three and out or 4th down "stop" that the Buffs record, Burnham Law will donate $100 to benefit locally based SPAN (Safehouse Progressive Alliance for Nonviolence) and the CU Boulder Office of Victim Assistance (OVA), two organizations that support survivors, raise awareness around domestic violence and reduce violence in Boulder and surrounding communities.
"Burnham Law has long been a champion for children and families affected by all forms of domestic violence, and we're pleased to be able to turn a unique connection with the Buffs into an initiative dedicated entirely to helping others within our communities," said Burnham Law Founding Partner Todd Burnham. "We are very excited to partner with CU Athletics to support SPAN and the University of Colorado Boulder's Office of Victim Assistance to raise awareness around domestic violence and to reduce violence right here at home."
This year marks SPAN's 40th year serving the Boulder area, and it takes a community-based approach to reduce domestic violence, said Anne Tapp, executive director of SPAN,
… Continue reading story here …
–
—
* Video – Mel Tucker's last meeting with press before the CSU game *
From YouTube, courtesy of BuffStampede.com … "Really good energy at practice today … Just taking it one day at a time … It was a good day's work … The only thing different this week is that we're game-planning … We're not saving it. We're getting after it at practice … Let's get that first hit in, and go play … Every play is going to have a history of it's own. We just want to play one play at a time …".
–
—
ILB Jonathan Van Diest on starting role: "You can't slack off … Every day is a fight"
… Related … "Buffs LB Van Diest Ready To Roll As CU Set For Opener vs. CSU" … from CUBuffs.com
From the Daily Camera … It has been three and a half years since Jonathan Van Diest first gave his verbal commitment to sign a letter of intent with the Colorado Buffaloes.
An inside linebacker from Cherry Creek High School, he and prep teammate Dante Sparaco were the Buffs' first commits of the 2017 class. Since that moment (and probably before), Van Diest has dreamed of landing a starting role and becoming a major contributor on the Buffs' defense.
Going into Friday's season opener against Colorado State at Broncos Stadium at Mile High, Van Diest is finally atop the depth chart.
Don't think he's comfortable there.
"You can't slack off," the redshirt sophomore said after Monday's practice. "Just because you're No. 1 on the depth chart doesn't mean you're going to be No. 1 on the depth chart next week or in a couple weeks. Every day is a fight. I'm coming back in to watch film, learning more, taking care of my body and just doing what I can to get better every day."
… Continue reading story here …
–
—
Experience not an issue for CU special teams
… Related … "Experience, consistency key to CU Buffs special teams" … From the Daily Camera …
From CUBuffs.com … While inexperience has been a concern and developing depth has been a priority for the Colorado Buffaloes at a number of position groups this fall, there is one place where neither is an issue: special teams.
There, at least, the Buffs have plenty of experience and solid depth.
It starts with senior punter Alex Kinney, senior long snapper J.T. Bale and junior kicker James Stefanou. All are proven veterans, all have been performing well in camp and all give the Buffs reason to have confidence in their special teams for 2019.
Kinney played in just four games last year after suffering a broken collarbone in the second game of the year making a tackle against Nebraska. He then missed eight games but returned for the last two and finished with 16 punts, averaging nearly 42 yards per attempt while dropping seven inside the 20-yard line. Opponents returned his punts for a total of just 15 yards, leaving him with a stellar net average of 41.6.
Kinney — a starter for the Buffs since his true freshman season — has been named to the preseason watch list for the Ray Guy Award (given to the nation's top punter) and was a second-team preseason All-Pac-12 pick by Phil Steele.
And, if Kinney kicks in at least 10 games this year, he will become CU's all-time leader in games played. He has already appeared in 43 games for Colorado, and trails all-time leader Quinn Sypniewski (a tight end from 2000-05) by just nine games.
… Continue reading story here …
–
—–
August 26th
… CU in a few minutes … 
* Video – Defensive coordinator Tyson Summers talks about CSU preparations *
From YouTube, courtesy of BuffStampede.com …
–
—
KD Nixon: "We want to show we're the best. We're not going to talk about it"
From CUBuffs.com … Colorado wide receiver K.D. Nixon can't help but smile every time he lines up for a play.
"When we look at the refs to make sure we're lined up on the ball, you can see the other receivers across the field looking at the ball — and it's like dang, we have a feeling nobody can stop us," Nixon said with a grin Monday morning. "It's a confidence thing. We're not in a war with anybody, we're not competing with anybody. We're supporting one another, helping one another, learning from one another, watching film together — and it's just clicking."
There is no doubt a widespread consensus that the Buffs have a very talented wide receiver group this year, one that has been ranked as one of the top 15 in the country by national experts. Led by preseason All-American Laviska Shenault Jr. and Nixon, it is a deep and explosive bunch.
But when the Buffs line up for their season opener Friday against Colorado State at Broncos Stadium at Mile High (8 p.m., ESPN), Nixon and his cohorts won't be worried about national rankings or reputation.
"We're not the best in the country," Nixon said simply. "We want to show we're the best. We're not going to talk about it, we're not going to listen to what other people say. We just want to be a team and keep going."
… Continue reading story here …
–
—
Senior cornerback Delrick Abrams: "I have to be a leader and try to set an example"
From the Daily Camera … It wasn't long ago that Delrick Abrams Jr., was a newcomer to the Colorado football team, trying to figure out how to make his way through a bigger school, a new state and a higher level of football.
Now, just a year later, Abrams is being counted on as a leader for the Buffaloes, and the lone senior at cornerback is trying to embrace that.
"It's just something where I have to step up," the Louisiana native said. "I have to be a leader and try to set an example. It's really not a lot of pressure on me."
It is, however, important for Abrams, known as "Slim" to his teammates, to be at his best and stay healthy because the Buffs come into the season extremely thin on experience at the position.
Abrams (eight starts in 2018) is, by far, the most experienced corner on the team. Junior Mekhi Blackmon and sophomore Chris Miller combined for five starts last year, and the rest of the group is made of up four freshmen. Two of the freshmen – Dylan Thomas and Tarik Luckett – began this month as receivers, and another – D.J. Oats – had never played corner before coming to CU.
… Continue reading story here …
–
—
OT Arlington Hambright: "I know how important this game is for CU fans and all the Buffs. We just want to go out there and get it done"
From CUBuffs.com … Colorado offensive lineman Arlington Hambright doesn't try to hide his excitement about the prospect of getting back on the field and starting a game.
Hambright, who transferred from Oklahoma State, is slated to be CU's starting left tackle Friday when the Buffs kick off their season with an 8 p.m. game against in-state rival Colorado State in Denver (ESPN). It will be his first start since Week 5 last year at OSU, when he suffered an injury and did not play again until the Cowboys' bowl game.
"I'm feeling good," Hambright said with a grin after Sunday morning's practice. "I'm excited and ready to go. I missed a lot of games last year and I'm ready to get out and complete a full season."
Hambright is one of Colorado's most physically gifted offensive linemen, and pound for pound, he also tested out as one of CU's most explosive athletes. He is big (6-5, 300 pounds), strong and has excellent quickness, particularly for an offensive lineman.
But he is also learning his third offensive system in his college career. He played two years of juco ball before transferring to Oklahoma State, and because he did not have the luxury of spring ball in Boulder this year, it has meant a summer of playing catch-up.
"Physically, he's gifted — really  good feet, just athletic and twitchy for an offensive lineman," Buffs O-line coach Chris Kapilovic said. "Technically, there's some things we have to continue to work on, like most O-linemen. Then just really grasping the system. He's got the base offense. But all of a sudden, they do this … what's our counter to that? You have to be able to make quick decisions and those are the things he's starting to get better at."
… Continue reading story here …
–
—
Pat Rooney: It's difficult to foresee the Buffs finishing better than 4-8 
From the Daily Camera … The math simply doesn't add up for the Colorado Buffaloes.
The same team, in many crucial areas, that authored a collapse of epic proportions last year, plus a markedly more difficult schedule, equals a frustrating season looming in the crystal ball for the Buffs in 2019.
It might be a gloomy autumn for CU football fans, but at least it should be an entertaining one. First-year coach Mel Tucker looks to cement a foundational imprint for Pac-12 Conference races still to come. Fans of offensive fireworks should get their money's worth at Folsom Field, as quarterback Steven Montez and the electric Laviska Shenault should make the Buffs a tough out for any opposing defense. And there will be plenty of opportunities for that famed Folsom magic to smite the mightiest of the Buffs' enemies, with home dates against Nebraska, USC, Stanford, and Washington highlighting an intriguing home slate.
Still, the new leadership aside, we've seen this Buffs team before. And that's why it's difficult to foresee the Buffs finishing better than 4-8 in Tucker's inaugural season. The Buffs will score points. Maybe a heck of a lot of them, if some cohesion and Tucker's much-professed team toughness takes hold of the offensive line. But will CU be able to stop anyone?
… Continue reading story here ..
–
—–
August 25th
… CU in a few minutes … 
Neill Woelk: "By all accounts, Tucker's first training camp in Boulder was a good one"
From CUBuffs.com … After three weeks and 20 practices, the Colorado Buffaloes have wrapped up fall camp and are ready for game week.
Because Mel Tucker's Buffs open their season on a Friday, their first game week of 2019 will look a little different. The Buffs took Saturday off and will return to the practice field Sunday to begin preparations for next Friday's 8 p.m. season opener against Colorado State at Broncos Stadium at Mile High (ESPN).
By all accounts, Tucker's first training camp in Boulder was a good one. Here's one last look at the Buffs' fall camp (and maybe a peek or two at what's ahead) …
1. Overall, Tucker was pleased with how the Buffs progressed. Even though Tucker and his staff had a good look at the Buffs in spring ball, fall camp provided another level of inspection and evaluation. There were a number of new faces who weren't present (or weren't available) in spring ball, and the daily work provided a much better look for CU's coaches.
"It's been a very productive camp," Tucker said Thursday. "We've gotten a lot out of it. You really want to get your schemes installed and you want to find out who your best players are, find out how much depth you have, who can do what."
A big part of that is not only installing offensive and defensive schemes, but also identifying strengths and weaknesses of individual players and position groups. Then, CU coaches tailor and tweak those schemes to fit personnel.
"It's critically important to go into games knowing who you are," Tucker said. "That way you can game plan and make sure you are doing what your players can do. You never want to try to fit a square peg into a round hole. Now, from the scheme standpoint, we know how to adapt our schemes to the guys that we have and also have our schemes comprehensive enough that we can have what we need for our opponents."
But, here is a stat that can't be overlooked: overall, CU's entire roster has just 179 total career starts from top to bottom. If you are wondering how this fits into historic comparisons, figure this: it is the fewest returning starts for any Colorado team since the advent of the 11-game regular season in 1971.
… Continue reading story here …
–
—
Mel Tucker: "If I don't believe we can win, then who will believe? The belief starts with me"
From the Daily Camera … On the day he was introduced as Colorado's head football coach in December, Mel Tucker and Buffaloes' athletic director Rick George both shot down any notion of easing into the job.
"He doesn't want a honeymoon period and I don't either," George said at the time. "He's here to get started. This isn't a learning curve. We're going to get this thing done right now."
Consecutive 5-7 season s left CU out of the bowl party once again and prompted George to make a change last winter. George is tired of seeing the Buffs play subpar football, and there's no question the athletic department could benefit financially from a winning product on the gridiron.
Throw in the fact that this is the last season of three-year starting quarterback Steven Montez's college career and likely the last year in Boulder for star receiver Laviska Shenault – who is projected to go in the first round of the 2020 NFL Draft if he skips his senior year – and there is unquestioned urgency to win this season.
Yet, while this is Tucker's first year as a head coach, he's no stranger to pressure. He's spent his entire career working in win-now situations, whether in big-time college programs (Alabama, Georgia, LSU, Ohio State) or the NFL.
"There's pressure every year and pressure every week, pressure every day," he said. "Pressure, to me, is a privilege. If you're trying to do something important, you put more pressure on yourself."
… Continue reading story here …
–
—–
August 24th
… CU in a few minutes … 
Three quarterbacks coaches in three seasons a "blessing in disguise" for Steven Montez
From the Daily Camera … On the first day of preseason camp more than three weeks ago, Jay Johnson was hurrying through a quick post-practice lunch in his office at the Champions Center when he was asked to ponder a curious situation regarding the most important player on his Colorado Buffaloes' offense.
Quarterback Steven Montez has been a fixture in the Buffs' attack going back as far as 2016, when he kept the ship afloat on several occasions in relief of starter Sefo Liufau during CU's run to the Pac-12 South Division title. Since then, though, there has been a revolving cast of voices bending Montez's ear with advice. Johnson is Montez's third quarterbacks coach and third offensive coordinator of his CU career. Including the soon-to-unfold 2019 campaign, those roles have altered each of the past three seasons.
It is a situation that easily could have turned into a source of frustration for Montez. Yet with Montez's senior season finally set to kick off Friday night against Colorado State, both the pupil and his latest mentor believe the turnover of coaching personnel has been a blessing in disguise for CU's signal-caller.
"He is more of a veteran type of player, but I think with all the quarterbacks we try to have a very transparent and a very open relationship that we can kind of work off each other a little bit," Johnson said. "I'm sure I approach things differently than the previous guys in certain capacities, and in a lot of capacities it might be the same."
… Continue reading story here …
–
—
New CU President Mark Kennedy: "I think Mel has shown to be a great face (of the university)" 
From the Daily Camera … Mark Kennedy hasn't been on the job very long, but the new president of the University of Colorado is already impressed with the Buffaloes' first year head football coach, Mel Tucker.
"I think Mel has shown to be a great face (of the university)," Kennedy said Friday after the 31st annual Boulder Chamber kickoff luncheon at Balch Fieldhouse. "He's committed to establishing a program that wins, not just a season, but consistently. I've been familiar with that type of attitude.
Kennedy, who started his job with CU in July, was a multi-sport letterman in high school and graduated from St. John's (Minn.) University, one of the top Division III football program in the country. In fact, St. John's won a national title during Kennedy's years at the school.
Kennedy was also a graduate student at Michigan during the Bo Schembechler years and has sent his own children to Michigan and Notre Dame. Prior to CU, Kennedy spent three years as the president of the University of North Dakota, which won a men's hockey national title shortly after he was hired in 2016.
Kennedy's history has shown him the importance of athletics to a university.
"I do believe that sports serve as the front door to the university," he said. "It attracts a lot of (youth) to fall in love with the university and then later on look inside and see the great things we offer from academics and other offerings."
… Continue reading story here …
–