—
A September to Remember
—
Coach Gary Barnett would always say, "The games they remember are played in November".
True enough.
Rivalry games … Games which have title implications … Games which have bowl-eligibility implications … those are the games which are reserved for the end of the season, when standings and national rankings are more in focus.
Unfortunately for the Buff Nation, however, November has not been kind of late. CU fans have watched their beloved Buffs play in ten games over the past two seasons in which CU, with a victory, could have secured a bowl bid … only to watch the Buffs lose all ten of those games.
And it's not outside the realm of possibility that the Buff Nation could go through it all again this November.
If CU is 5-5 when they get to their second bye week in mid-November, the Buffs could be staring at an end-of-November schedule which presents two opportunities for CU to get a sixth win and a bowl bid.
The two games? At home against Washington and on the road against Utah … the two preseason Pac-12 division favorites.
Ugh.
It's not hard to envision a scenario in which the Buffs, in Year One of the Mel Tucker era, could wind up extending its Bowl Eligibility Glass Ceiling Futility Run to 12 games, finishing with a third straight 5-7 season.
And my, wouldn't the pundits have fun with that one. Another long nine-month off-season for the Buff Nation, with another endless string of preseason prognostications predicting that CU in 2020 will – wait for it – finish last in the Pac-12 South.
But we're getting ahead of ourselves.
Before we can worry about November, or even October, for that matter, we need to savor the month of September, 2019.
The Buffs are 3-1, 1-0 on the young season, and, in terms of record, are behind that which the 2018 Buffs accomplished. Last season, Colorado sprinted out to a 5-0 record and a No. 19 national ranking. A winning season and a bowl bid were givens. with Buff fans eyeing a run at a second Pac-12 South title in three seasons.
And then … well, you know what happened next. Seven straight losses to end the season, and a regime change in the Champions Center.
So, is there reason for optimism that the 2019 Buffs will accomplish what the 2017 and 2018 editions could not – get over the five-win hump and secure bowl eligibility?
Perhaps.
We will know a great deal more about this team after they take on Buff-destroyer Kahlil Tate and Arizona, and then run the gauntlet of: at No. 13 Oregon; at Washington State; No. 21 USC.
Those games will be here soon enough. Before then, let's take a few moments to savor the opening month of the Mel Tucker era:
— Colorado 52, Colorado State 31 … It wasn't always pretty. The Buffs only had a 24-21 advantage at halftime, but four CSU turnovers, combined with three touchdowns by running back Alex Fontenot, were more than enough to give the Buffs their fifth straight win in the Rocky Mountain Showdown.
Some Buff fans may have short memories, but most of us remember all too well how much CSU fans crow when they upset their Big Brother. There has been silence from up north for half a decade now, and that silence is golden.
A loss in the final RMS game to be played in Denver would have been devastating to the program, not only for the 2019 season, but for Buff fans for years to come. Now, the "too scared to play us at a neutral site" argument is gone forever, as the Buffs leave Denver with a 13-6 advantage in games played at Mile High, a winning percentage (.684) not too far removed from their overall winning percentage in the series (67-22-2; .747).
— Colorado 34, No. 25 Nebraska 31 (OT) … There was bedlam in the locker room shortly after the Buffs shocked the college football world in 1986 with their 20-10 win over No. 3 Nebraska. Head coach Bill McCartney's got out only a one sentence post-game speech: "Gentlemen. This is as good as it gets".
The 2019 win over Nebraska may prove, in time, to be almost as significant to the program as the 1986 game.
Yes, the Buffs did defeat the Cornhuskers in 2018 in Lincoln, and that 33-28 victory needs to be savored in its own right. But this was Mel Tucker's first home game – there will only be one first home game (just ask Scott Frost, who will have, no matter how long he coaches or how successful he may become in Lincoln, started his career as Nebraska's head coach with a loss to Colorado) – and Tucker's first game against a ranked opponent. The win also muted the story about the invasion by the Red Horde, with Cornhusker fans paying top dollar to take over Folsom Field. A loss, just like the CSU game the week before, would have been a body blow to the program.
Instead, the Buffs rallied from a 17-0 halftime deficit to stun the visitors. Colorado has only returned from three larger deficits in its history, with none of those three games being played in the past 20 years. The game showed Buff fans (and CU recruits) that the CU players have bought into Mel Tucker and his coaches. "Trust the Process" is not just a catch-phrase in the Champions Center … the Buffs are living it.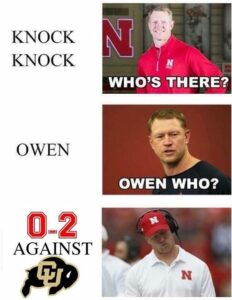 — Air Force 30, Colorado 23 OT … The Buffs played very well in the first half of the first quarter (building a 10-0 lead) and the last half of the fourth quarter (scoring 13 points to send the game into overtime). The other 45 minutes of the game? Not so much.
So, what is there to savor from a loss to a Mountain West team? Mel Tucker not only talks the "no excuses" game, he lives it. Talking about how the Buffs were facing a rival with a 45-year chip on its shoulder, a team with a unique offense, and a team which had basically an entire off-season to prepare (AFA played Colgate – an 0-4 FCS team which has a 38-10 loss to William and Mary on its bio – and then had a bye week before facing Colorado) … you won't hear those excuses from Mel Tucker.
What Buff fans can take from the loss to the Falcons is that the Buffs didn't quit (even after many of us in the stands had already written off the game). Two touchdowns in the final six minutes sent the game into overtime … and could have been enough to win in regulation if James Stefanou hadn't missed the first extra point of his career. CU teams in past decade-plus would not have forced an overtime … but this one did.
In September, Colorado out-scored its opponents 82-37 in the second half … 54-31 in the fourth quarter. The Buff players said all off-season that this was the toughest conditioning program they had been through.
And it's paying off.
— Colorado 34, No. 24 Arizona State 31 … You've heard plenty about how the Buffs' win over the Sun Devils represents CU's first win over a ranked team in 17 years. Getting that 29-game monkey off of the program's back is huge (as was getting CU's first win over ASU in Tempe), but the way the Buffs won is just as important.
The Buffs opened the season with question marks along both lines. Against Arizona State, the CU offensive line did not allow a sack. In 17 games under Herm Edwards, the ASU defensive line has only had three games in which they did not record at least one sack: against Fresno State in a Las Vegas Bowl last season … and the two games the Sun Devils have played against Colorado. Keeping the uniform of Steven Montez clean allowed the Buffs' quarterback to play his best game of the season.
The CU defensive line only posted one sack of its own, but that came on the game's final drive, with the Buffs nursing a three-point lead. The Buffs also posted only one turnover, but that was a fourth quarter interception by backup safety Derrion Rakestraw … the first interception of the season for ASU quarterback Jayden Daniels.
The Buff defense remains a work in progress. Colorado has surrendered 31, 31, 30 and 31 points this season, which is consistent, but not consistently good.
And yet the Buffs have only given up six points – a field goal to CSU and a field goal to Arizona State – in the third quarter this season. For a defense which is still trying to piece together a unit which can hold an opponent under 30 points, having a coaching staff which can make those kinds of adjustments is a real bonus … one which will pay significant benefits in games and seasons to come.
Colorado had a ten-point lead against Arizona State heading into the fourth quarter two years ago in Tempe, gave up 24 points, and lost 41-30.
Colorado had a seven-point lead against Arizona State heading into the fourth quarter last weekend in Tempe, gave up seven points, and won, 34-31.
A win to savor, indeed.
—
We've been optimistic before, and got burned for it:
Dan Hawkins won 50 games in five seasons at Boise State before coming to Colorado – ten wins a season!
Jon Embree represented a return to the "CU Way". Rick Neuheisel and Gary Barnett were family; Dan Hawkins was not. Bringing Embree … not to mention Eric Bieniemy as offensive coordinator and Greg Brown as defensive coordinator … would restore order as CU joined the Pac-12;
Mike MacIntyre had worked miracles at San Jose State. MacIntyre had taken a program which was considering dropping football, and turned it into a ten-win team in three years. Surely, he could do the same for a moribund CU program.
It's been a long 15 years or so. We have remained faithful throughout, but have often gotten burned for it.
And now we are optimistic about what Mel Tucker & Co. bring to the table. The off-season conditioning, the uptick in recruiting, the professionalism of the coaching staff, the attention to detail (anyone else give a big thumbs up to CU getting suits for the players to wear on road trips, as SEC teams do? First class).
We expected the CU offense to be dominant, and it has … at times. At other times, the CU offense has been frustratingly inconsistent. Steven Montez has looked like a wily veteran … at times. At other times, he has returned to bad technique and made poor decisions.
We expected the CU defense to be porous, and it has … at times. Colorado leads the Pac-12 with a +7 turnover margin, and one cringes to think how the Buff defense (117th in total defense; 96th in scoring defense) would look if it hadn't created 11 turnovers in the first four games.
No doubt, the 2019 Buffs are an incomplete team, and will give CU fans moments of frustration and pain going forward.
Mel Tucker & Co. may be the answer to the Buff Nation's prayers. Early returns are positive.
At the very least, CU fans have had a September to Remember …
–
—–