—
1,111 Days – The Legacy of Steven Montez
—
Three years, two weeks, and two days.
With the Pac-12's eight-year calendar rotation*, Oregon was off of CU's schedule for the past two seasons. As a result, it was just over three years – 1,111 days, to be exact – between the 2016 game and the Buffs' return visit to Eugene in 2019.
The last time Colorado played Oregon was on September 24, 2016. It was the sixth game played between the two teams as members of the Pac-12, with the Ducks winning the first five games by scores of 45-2; 70-14; 57-16; 44-10; and 41-24.
For those not willing to do the math, that's an average score of 51-13.
That the Buffs entered Autzen Stadium in 2016 as only ten-point underdogs – with a quarterback making his first career start – was something of a surprise.
The bigger surprise came a few hours later, when red-shirt freshman Steven Montez led the Buffs to a 41-38 victory.
It's been an interesting three years since that game, both for the two teams involved, and for Steven Montez.
It may come as a surprise, but the records of the Buffs and Ducks since September, 2016, are not all that dissimilar. Colorado, since the last time the two teams played, posted an overall record of 20-19. The much more acclaimed Oregon program, over that same time frame? 22-17.
Both teams have fired their coaches since the last meeting, with Oregon's Mario Cristobal having a year's head start on CU's Mel Tucker.
Both teams have turned over most of their rosters, with only a handful of players remaining who played in both games.
One of them is Steven Montez.
In the 2016 game, Montez not only won his first career start, he became the first player in CU history to pass for over 300 yards (333, with three touchdowns) and run for over 100 yards (135 yards and another score) in the same game.
In the 2019 game, Montez threw a career-worst four interceptions, finishing with 131 yards passing and 12 yards rushing.
With the loss to Oregon, Montez has a career record of 15-18 as a starting quarterback. His 33rd career start ties him with Kordell Stewart for fourth on CU's all-time list, with his 30th consecutive start one shy of the school record (31, Gale Weidner, 1959-61). Montez already has the record for the most career games with over 300 yards of total offense (16), and by the time his career ends, he will likely pass his predecessor, Sefo Liufau, on most of the CU career charts:
Career passing yards … 1. Sefo Liufau – 9,568 … 2. Steven Montez – 8,435 … 3. Cody Hawkins – 7,409 …
Career total offense … 1. Sefo Liufau – 10,509 … 2. Steven Montez – 9,286 … 3. Kordell Stewart – 7,770 …
Career touchdown passes … 1. Sefo Liufau/Cody Hawkins – 60 … 3. Steven Montez – 56 … 4. Joel Klatt – 44 …
Despite being in position to claim the top spot in most of CU's quarterback records, Steven Montez will not leave Boulder considered to be CU's GOAT. Like Liufau, who finished his career with a 16-24 record as a starter, Montez has his detractors.
One thread on the Rivals CUSportsNation message board this past week – and mind you, this was before the four-interceptions-in-four-straight-possession game against the Ducks – was entitled: "Worst 5th year senior in college football?", while over at 247 Sports BuffStampede message board a thread was started with a simple but to the point, "Not a winner".
While internet trolls need to be taken at face value, there is room for legitimate criticism. Montez is a fifth-year season, with a world of experience, and should be considered one of the top quarterbacks in the nation. Instead, Montez isn't even considered to be one of the best quarterbacks in his own conference. The Lindy's preseason All-Pac-12 team went three-deep at each position – no Steven Montez. Phil Steele's preseason All-Pac-12 team went four-deep – no Steven Montez. In Athlon's preseason unit rankings, CU's quarterbacks came in at No. 7.
Montez has gone through three offensive coordinators in three seasons, and has been to two Manning Passing Academies. He's had plenty of instruction, but continues to throw off of his back foot, and still tends to scramble backwards instead of stepping up into the pocket.
Pro Football Focus currently has Steven Montez as the No. 7 quarterback in the Pac-12, and the No. 30 quarterback in the nation, behind such luminaries as Eastern Michigan's Mike Glass III, Indiana's Michael Penix, Jr., and UAB's Tyler Johnston III.
Should Buff fans expect more from its fifth-year senior quarterback?
It's cliche that quarterbacks get too much of the credit for wins, and too much of the blame for losses. Montez threw an interception in the end zone late in the first half against Oregon. A touchdown for the Buffs would have made it a 17-10 game just before halftime, but tight end Brady Russell failed to come down with the ball. Oregon defensive back Verone McKinley III, however, did come up with the tipped pass. Eight plays and 80 yards later, it was a 24-3 game at the break, instead of 17-10.
The stat line shows CU's final drive before halftime ended in a Steven Montez interception, but was he really to blame for the turnover? Yes and no. The ball was forced into traffic, but should have been caught (see photo of the play, below).
At the break, Justin Herbert and Steven Montez had combined to throw for 300 yards … 225 for Herbert; 75 for Montez. An ineffective offense? Or a ridiculously porous defense? Both?
After the break, the floodgates opened. Montez threw three more interceptions on CU's next three possessions. Oregon scored two more touchdowns in the first five minutes of the second half to turn a 24-3 game into a 38-3 beat down … with 25 minutes of football left to be played.
In a 45-3 embarrassment, there are plenty of fingers to be pointed. The Buff defense gave up over 500 yards of offense, including nine plays of 20 yards or more. The Buffs committed 14 penalties for 114 yards, including major penalties after the Buff offense twice had the ball inside the Oregon ten yard line.
But, just as Steven Montez will always be fondly remembered for going 3-0 against Colorado State, and 2-0 against Nebraska (engineering fourth quarter comebacks in both games), he will also be remembered for games like the 2019 Oregon game.
"I don't want to take anything away from Oregon, they have a really good team and a really good defense," Montez said. "But I think there's a lot of plays we had out there we could have easily made and it could have gone our way. Those 50-50 balls — a tip interception — you can't control everything. Sometimes those plays go your way and sometimes the don't."
In his career, unfortunately the Buff Nation, there are as many (or more) 50-50 balls (and games) which haven't gone his way as those which have.
1,111 days before he returned to Autzen stadium as a fifth-year senior, Steven Montez set a school record as the first Buff to ever post 300 yards passing and 100 yards rushing in the same game. The 41-38 victory will remain part of his legacy forever.
His four interception game in the same stadium, however – some three years, two weeks and two days after one of his greatest triumphs – will also be a part of his legacy at the University of Colorado.
—–
What might have been … The Montez-to-Russell pass in the final minutes of the second quarter. Instead of falling into Russell's arms, the ball was tipped up again, with Verone McKinley III (not even in the picture) coming down with the interception.
Photo courtesy of CUBuffs.com (click to enlarge):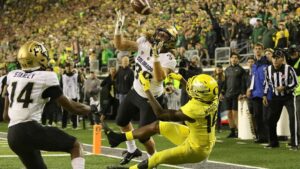 ---
*In the Pac-12's unbalanced scheduling, teams from the South Division play the Washington and Oregon schools six out of every eight years, and play Cal and Stanford in alternating home-and-home series (which adds up to four games against the Cardinal and Bears every eight years). CU played Oregon in each of the first six years of the Pac-12's existence (2011-16) before taking off the next two (2017-18). The 2019 season marks the start of the second time the conference is cycling through the eight year calendar (with CU missing Cal and Oregon State in 2019-20).