—
Colorado Daily – New Hampshire Week
—
September 15th – Game Day!!
… CU in a few minutes … 
Buffs hope to take care of business: "We are going to play our game just like we have been"
From CUBuffs.com … This is no time to relax.
With two wins in two weeks against two long-time rivals now in the books, the 2-0 Colorado Buffaloes finally get a chance to play on their home turf Saturday when they face 0-2 New Hampshire in a 3 p.m. game at Folsom Field (Pac-12 Mountain).
It is not a game in which the Buffs can afford to relax — not, at least, if they want to head into their bye week with some momentum ahead of their Sept. 28 Pac-12 opener with UCLA.
"If we want to be champions, we have to keep getting better," head coach Mike MacIntyre said at his weekly press conference on Tuesday. "We have a saying: you're either getting better or you're getting worse, nothing stays the same."
The Buffs are understandably flying high after opening their season with wins over Colorado State in Denver and Nebraska on the Huskers' home turf. While a win is clearly their No. 1 goal, the Buffs also want to put forth a solid effort on both sides of the ball and keep their confidence level high.
"We are very excited to play at Folsom and excited to play in front of our fans," said quarterback Steven Montez, who earlier this week was named the Maxwell Award national offensive player of the week. "Hopefully we have a good showing out there. Either way, we are going to do what we do on offense and on defense. We are going to play our game just like we have been."
The Wildcats are a perennial FCS power, having advanced to the postseason playoffs.
… Continue reading story here …
–
—–
September 14th
… CU in a few minutes … 
CU will try and re-establish a rushing attack against New Hampshire … after posting 44 yards against Nebraska
From the Daily Camera … Kyle Evans worked diligently to earn a scholarship by his third season with the Colorado football team.
Now in his fifth season with the Buffaloes, Evans' hard work has paid off with a starting role.
Entering Saturday's home opener against New Hampshire, Evans is now waiting for the explosive play to finally come his way.
"I haven't necessarily had a big run, in my book yet, so for me, it's just being patient and making sure I do the little things right and hopefully soon enough it'll come," Evans said.
Evans and the Buffs are hoping the run game, in general, gets on track against New Hampshire. CU ran for 258 yards in a season-opening win against Colorado State, but was bottled up for 44 yards on 35 carries last week against Nebraska.
… Continue reading story here …
–
—
CU highlight video from Nebraska game
From the Colorado Buffaloes Football Facebook page. You have to click on the link, but it may be the best five minutes you spend today. It's video from the CU locker room before the game and at halftime, with ABC coverage (of the Scott Frost coronation) dubbed over, along with video from the sidelines. Enjoy!!
–
—–
September 13th
… CU in a few minutes … 
Mike MacIntyre: CU had a "6-1" turnover advantage over Nebraska
From CUBuffs.com … Along with four "conventional" defensive takeaways this year, Colorado head coach Mike MacIntyre likes to count fourth-down stops by his defense as a turnover.
MacIntyre has a point. Such stops not only result in CU's offense getting the ball back, it also means the opponent didn't punt. That can mean as much as a 40-yard gain in field position.
So far this year, Colorado's defense has produced four takeaways — two interceptions and two fumbles — with the offense converting three of those into touchdowns. That includes a pair of fumbles in the first quarter of last week's 33-28 win over Nebraska.
The Buffs would no doubt like to have more of the same Saturday in their 3 p.m. season opener against New Hampshire at Folsom Field (Pac-12 Mountain).
Along with three takeaways by the defense at Nebraska, CU also had three fourth-down stops against the Huskers. Meanwhile, Colorado converted two of its three fourth-down tries and did not have an offensive turnover.
It all added up to a healthy advantage for the Buffs.
"I figure we caused three turnovers, we had zero, and then we stopped them three times, so that's six (turnovers)," MacIntyre said. "We had one (turnover), so that's 6-1. That to me was the biggest tell-tale difference in the football game."
… Continue reading story here …
–
—
Defensive end Mustafa Johnson proving to a disruptive force
From the Daily Camera … Although lightly recruited out of high school, and only moderately looked at coming out junior college, Mustafa Johnson had confidence he could play well in Division I football.
Two games into his career with the Colorado Buffaloes, however, he's surprising even himself.
A sophomore transfer from Modesto (Calif.) Junior College, Johnson earned a starting job at defensive end in preseason camp and has been the most disruptive defensive lineman for the Buffs (2-0), who play New Hampshire (0-2) in Saturday's home opener.
Johnson has 16 tackles, a team-high 2 ½ sacks, two other tackles for loss, four third-down stops (second only to linebacker Nate Landman), and a fumble recovery. He also tipped a pass that Landman picked off in the opener against CSU.
"All of this is a new shock to me because it's a high level, the crowd was loud, I'm not used to any of that stuff," he said. "I normally don't fold under pressure, but I wasn't expecting to make as big of an impact as I am right now.
"I'm doing well, I have a lot to learn, a lot to get better at and without my teammates and all the other guys … I wouldn't have any of those things, so it's all definitely a team effort."
… Continue reading story here …
–
—
Neill Woelk: Ten Reasons to Watch the Buffs this weekend
… 11th reason: plenty of room to stretch out. Ticket sales have just barely crossed the 40,000 mark, so there will be plenty of empty seats …
From CUBuffs.com … After two wins against two big rivals, the Colorado Buffaloes are flying high.
But they have yet to step foot on their home turf this season. Saturday, the 2-0 Buffs will finally get that chance when they play host to New Hampshire in a 3 p.m. matchup at Folsom Field (Pac-12 Mountain).
There are plenty of reasons to attend. A 2-0 team that is receiving votes in both national polls, fresh off of a win at Nebraska and playing at home for the first time this year, should be enticement enough.
But, just in case you need a quick primer on why Saturday's game is worth your time:
1. A chance to see one of the best sophomore offensive players in the nation. Unless you have been living in a cave (without internet service), you have heard about Colorado sophomore wide receiver Laviska Shenault Jr.
After two games, he is the nation's leader in receptions (10.5 per game) and receiving yards (194 per game), and this week was named the Pac-12 Offensive Player of the Week. He has already earned a permanent spot in CU's pantheon of great plays — his 40-yard winning touchdown catch against Nebraska — and has grabbed the attention of virtually every national writer/broadcaster who covers college football.
He's worth seeing in person.
2. A chance to see one of the best sophomore defensive players in the nation. That thing about living in a cave? Ditto for Colorado inside linebacker Nate Landman, who was the Pac-12's Defensive Player of the Week after his starting debut against Colorado State and then earned Nagurski Award national player of the week honors for his performance against Nebraska.
Landman's teammates call him "The Hammer." CU head coach Mike MacIntyre likes to say, "He gets to the ball in a hurry and he arrives in a bad mood."
Landman leads the Buffs in tackles with 28, including three for loss. He also has a pair of interceptions, five third-down stops, a pair of fourth-down stops, one forced fumble and a pass breakup.
Someday, you'll want to say you saw him in person. Saturday would be a good opportunity.
… Continue reading story here …
–
—–
September 12th
… CU in a few minutes …
"Meet The Hammer: How Colorado linebacker Nate Landman is racking up weekly honors and dishing out bruises"
From The Athletic … A hammer​ produces its​ maximum force when it​ swings downward on​ a smooth​ arc. Any pivot​ or sideways​ movement​​ in the path of the tool can lessen the assisting force gravity provides. It's a tenant of momentum physics.
But this Hammer, as Colorado linebacker Nate Landman's teammates call him, had to find a way to cheat science Saturday with a game on the line.
The Colorado defense had its back against the wall in the fourth quarter at Nebraska. The Huskers, leading 28-27 with less than eight minutes left in the fourth quarter, faced a fourth-and-1 at Colorado's 42-yard line. Nebraska quarterback Adrian Martinez handed the ball to running back Greg Bell, who was slotted just to the right of the quarterback in a shotgun formation.
"Where the ball hit wasn't actually my gap," Landman said. "We tell our guys to go make a play. It's football; you can't always do the right thing every time."
Landman may have shown up at a closed door when he took his first step to the line of scrimmage, but with one duck to the right and a whip-quick leap forward, he landed a hit on Bell that forcefully spun the running back, turning him into a helicopter that crashed a yard behind the line of scrimmage.
"Everything went blurry and I was just gone," Landman said.
… Continue reading story here …
–
—
Mike Macintyre post-practice talk with media (Wed.)
From YouTube, courtesy of BuffStampede.com:
–
—
Drew Lewis adjusting to new role at outside linebacker
From the Daily Camera … Just about everything went right for the Colorado football team during a season-opening 45-13 rout of rival Colorado State on Aug. 31.
For Drew Lewis, however, it didn't feel right.
In the 49 snaps he played against the Rams, the senior outside linebacker finished with two tackles.
"I almost felt like I was a disappointment for that position," Lewis said. "I felt like I wasn't doing my job to the complete potential."
Lewis' feelings weren't surprising, given that in 2017, he led the Buffs with 119 tackles, averaging 9.9 per game. He also had two sacks, eight QB pressures and four pass breakups. From his position at inside linebacker, he was about as active as anyone on the CU defense.
This year, when preseason camp began Aug. 1, Lewis was looking forward to teaming up with fellow senior Rick Gamboa again as the starters at inside linebacker. Together, they racked up 236 tackles last year.
Talented sophomore Nate Landman was expected to rotate in, as well, giving the Buffs a solid trio inside.
Just a few days into camp, however, head coach Mike MacIntyre realized the three-man rotation wasn't the right solution for the Buffs.
… Continue reading story here …
–
—
Kicker James Stefanou also injured
From the Daily Camera … It was uncharted territory for James Stefanou. And in what arguably were the biggest pressure kicks of his 14 games with the Colorado Buffaloes, an ailing Stefanou was unable to convert.
Working with a new holder in a raucous road environment with potential fourth-quarter lead changes in the balance proved too cumbersome for the Buffs' 31-year old sophomore kicker, as the usually-dependable Stefanou missed two fourth-quarter field goal attempts Saturday at Nebraska. Yet Stefanou's teammates were able to pick him up in an exhilarating 33-28 win, and he reports he simply is getting back to work this week with his confidence fully intact as the Buffs prepare for their home opener Saturday against New Hampshire (3 p.m., Pac-12 Mountain).
While Stefanou on Tuesday didn't admit to any physical issues, during his weekly press luncheon head coach Mike MacIntyre said Stefanou suffered a minor groin injury on the PAT following Jay MacIntyre's second touchdown of the game late in the third quarter — a setback MacIntyre was unaware of before Stefanou missed a pair of fourth-quarter field goal attempts that would have given the Buffs the lead.
Stefanou has not kicked in practice early this week and MacIntyre indicated his status is uncertain for Saturday.
… Continue reading story here …
–
—–
September 11th
... CU in a few minutes … 
Mike MacIntyre's Tuesday press conference
From YouTube, courtesy of BuffStampede.com …
–
—
CU uniform combination for New Hampshire – Silver/Silver/Black ...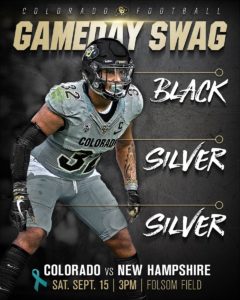 –
—
Mike MacIntyre on New Hampshire: "They are a really good program"
From CUBuffs.com … Two weeks before the Colorado Buffaloes renew their acquaintance with former Oregon coach Chip Kelly — now the head coach at UCLA — the Buffs will get a taste of the program where Kelly first made a name for himself.
Early in his coaching career, Kelly served as offensive coordinator for eight years (1999-2006) at his alma mater, New Hampshire. There, he earned a reputation as an offensive guru, leading to a job at Oregon as offensive coordinator before being named the Ducks' head coach in 2010.
Saturday, New Hampshire will pay a visit to Folsom Field for a 3 p.m. game for their first-ever matchup with the Buffs in CU's 2018 home opener (Pac-12 Networks). The Wildcats are still coached by the man who made Kelly his offensive coordinator at New Hampshire, Sean McDonnell.
"When I was talking to Chip Kelly at the Pac-12 meetings out in Arizona, he asked me who we play before them and I said, 'We play New Hampshire,'" CU head coach Mike MacIntyre recounted Monday. "We started talking and he was telling me all about what he had done there and what Sean had done. I knew he had a great, great program and I knew that when we put them on the schedule a few years back I said, 'Shoot, they're really good.' They are a really good program. The way I understand it, Chip was saying (McDonnell) is one of his main mentors and who he kind of cut his teeth under."
The 2-0 Buffs are vowing not to take New Hampshire lightly. While the Wildcats have struggled to an 0-2 start, they are also a team that has advanced to the FCS playoffs in each of the last 14 seasons.
"They're a great program in FCS and one that's not worried about coming in here to play," MacIntyre said. "I think I saw their slogan on their Twitter page: the next one. Talking about the next big team they're going to get. They have a lot of confidence and our guys need to be ready."
… Continue reading story here …
–
—
Nate Landman named Bronko Nagurski National Defensive Player of the Week
From the Football Writers Association of America … Colorado linebacker Nate Landman recorded 13 tackles and an interception and keyed a second-half defensive shutdown in the Buffaloes' 33-28 win at former longtime conference foe Nebraska. Landman made a fourth-down stop late in the game and his interception stopped another fourth-quarter drive to earn him the Bronko Nagurski National Defensive Player of the Week honor for games of the weekend of Sept. 8, as selected by the Football Writers Association on America.
The 6-3, 235-pound sophomore from Danville Calif., led the Buffs in tackles for the second straight game and now has 29 tackles on the season. His last tackle was perhaps his biggest, as he stopped Nebraska running back Greg Bell on fourth-and-1 with eight minutes left and the Buffs trailing by a point. His interception ended Nebraska's next possession as well.
Nebraska quarterback Adrian Martinez rushed for 92 yards on 10 first-half carries but was held to only 25 in the second half, and the Huskers only gained 86 yards on the ground as Colorado's defense stiffened. On the season, Landman's two interceptions are half of Colorado's four total takeaways. Just under half (14) of his 29 tackles have been solo, with four of them for losses.
Landman will be added to this season's Bronko Nagurski Trophy Watch List. Each Tuesdayduring the regular season, the FWAA has selected a Bronko Nagurski National Defensive Player of the Week since 2001. Horton, a three-year letterman, is a member of the Bronko Nagurski Trophy Watch List. The FWAA and the Charlotte Touchdown Club will announce five finalists for the 2018 Bronko Nagurski Trophy on Wed., Nov. 14. The winner will be chosen from those five finalists who are part of the 2018 FWAA All-America Team.
–
—
Associated Press All-American Watch: Laviska Shenault
From YahooSports … The Associated Press has been honoring college football's best with an All-America team since 1925. This season, the AP released a preseason All-America team and will put out a midseason team. The full three-team AP All-America selections will be unveiled in December. The first installment of the weekly All-America watch features Kansas' all-around linebacker, Colorado's breakout receiver and Alabama's other offensive tackle.
WHO'S HOT?
Laviska Shenault Jr., WR, Colorado
Shenault is a former three-star recruit from Texas who caught seven passes for 168 yards last season as a freshman. At 24 yards per catch, he showed big-play potential. Well, that potential is being realized now in a big way. Shenault has caught 21 passes for 388 yards to lead the nation in both categories. Against Nebraska last week, he caught the game-winning touchdown pass and ran for a score out of the wildcat. At 6-foot-2, 220 pounds, the Buffaloes might have one of the best players in college football.
WHO'S NOT?
Khalil Tate, QB, Arizona
Tate was a revelation last season. He was a backup for weeks, and then became one of the best players in the country. He put up silly stats running the ball, averaging nine yards per carry. His passing was nothing special, but as a ball carrier in coach Rich Rodriguez's spread offense Tate was dynamic.
Rodriguez was fired after the season and replaced by Kevin Sumlin. Through two games, Tate has been unrecognizable as a player. He has run 15 times for 22 yards and two touchdowns, while passing 79 times (completing 52 percent) for 538 with one touchdown pass and two interceptions. Arizona is 0-2.
–
—
Davis Price ready for his first start at punter since high school
From the Daily Camera … Colorado punter Alex Kinney has turned punt placement into a bit of an art form during his career with the Buffaloes.
With the senior captain now sidelined with a broken collarbone, Davis Price will attempt to follow Kinney's lead.
"It's like when you're in little league and the guy before you hits a home run and then you have to bat next," Price joked Monday. "That's how I always feel punting after Alex."
Kinney broke his collarbone while making a tackle on a first quarter punt return during CU's 33-28 win at Nebraska on Saturday. Up to that point, he had handled every CU punt from the start of 2015.
On the watch list for the Ray Guy Award, Kinney had his best year as a junior and set a school record with 28 punts downed inside the opponents' 20-yard line. He's second on the career list, with 67 (Darragh O'Neill had 95 from 2011-14).
Price, CU's kickoff specialist since last season, replaced Kinney and punted four times against the Cornhuskers. Those were his first punts in a game since he was Evergreen High School's punter/kicker during the 2014 and 2015 seasons.
… Continue reading story here …
–
—
CU: No suspensions as a result of hit on Nebraska quarterback Adrian Martinez – MacIntyre: "We are moving forward"
… Related … "Was it a dirty play? Nebraska submits video of Adrian Martinez injury to Pac-12, Big Ten" … from the Omaha World-Herald
From the Daily Camera … Nebraska head football coach Scott Frost wanted further review on the play where his starting quarterback was injured Saturday against Colorado.
In the end, no disciplinary action will be taken against the Buffaloes.
With 3 minutes, 29 seconds to play in CU's 33-28 victory, freshman quarterback Adrian Martinez injured his right knee while being tackled by Buffs' linebacker Jacob Callier. Martinez's right leg was caught underneath him as he was then also hit by Nate Landman and Israel Antwine.
Although he didn't name specific players, Frost felt the play was egregious enough to turn it into the Big Ten and Pac-12 for review.
"I was made aware that Scott Frost and Nebraska submitted a play for review with the Pac-12 Conference office," CU head coach Mike MacIntyre said in a statement released Monday night. "Our athletic department officials have had discussions with the conference office; no one has been suspended and we are moving forward."
… Continue reading story here …
–
—–
September 10th
… CU in a few minutes … 
Mike Macintyre post-practice talk with media (Mon.)
From YouTube, courtesy of BuffStampede.com:
–
—
Laviska Shenault named Pac-12 Offensive Player-of-the-Week
… Not a surprise … joins Nate Landman, who was selected as the Pac-12 Defensive Player-of-the-Week last week for his efforts v. CSU … 
From the Pac-12 …
OFFENSIVE: Laviska Shenault Jr., So., WR, Colorado (DeSoto, Texas)
• In CU's 33-28 win at Nebraska, Shenault caught 10 passes for 177 yards and the game winning touchdown, a 40-yard reception with 1:06 remaining.
• Rushed twice for 5 yards and a touchdown, but picked up key first downs on 4th-&-1 (his TD) and 4th-&-2.
• In two games, he now has 21 receptions (FBS-leading 10.5 receptions per game) for 388 yards, the latter the second-most receiving yards in back-to-back games in CU history.
Also nominated: Manny Wilkins, QB, ASU; Kanawai Noa, WR, CAL; Justin Herbert, QB, ORE; Jermar Jefferson, RB, OSU; Bryce Love, RB, STAN; Britain Covey, WR, UTAH; Gardner Minshew II, WSU
–
—
Neill Woelk – Ten Takeaways from win over Nebraska 
From CUBuffs.com … Less than 24 hours after a successful venture into Lincoln, Neb., the Colorado Buffaloes found their name among the "others receiving votes" in both of the latest national polls.
It was some nice recognition in the wake of CU's dramatic 33-28 win over the Huskers, a win that obviously caught the eyes of some voters. The fact that it came in Lincoln in the much-ballyhooed Nebraska coaching debut of Scott Frost and featured a highlight-reel winning touchdown throw and catch, along with plenty of drama throughout, no doubt turned some heads.
But fact is, the Buffs aren't in the market for recognition right now.  As linebacker Rick Gamboa told me before the season began, "Polls aren't really anything we pay attention to. It's the poll at the end of the year that matters" — and right now, the end of the year is a long, long way away.
What is on the Buffs' minds is Saturday's 3 p.m. home opener with New Hampshire at Folsom Field (Pac-12 Mountain). After that, Colorado will get what amounts to two weeks to prepare for the all-important Pac-12 opener, a Sept. 28 Friday night opener against UCLA (7 p.m., FS1).
That's what matters right now to the Buffs, who are also well-aware of a college football maxim: if you take care of business, the polls take care of themselves.
Thus, with their home opener on the horizon, the Buffs would like to keep their recent momentum rolling. To do that, CU players and coaches will be concentrating on improving the areas that need attention and continuing to fine-tune the things they are already doing well.
Which, naturally, brings us to our weekly 10 Takeaways from Saturday's win in Nebraska:
… Continue reading story here …
–
—–
September 9th
… CU in a few minutes … 
Neill Woelk: Buffs faced adversity and "never blinked"
From CUBuffs.com … Now we know.
Now we know this young Colorado football team has the swagger to stare adversity down in the most hostile of environments. Now we know when plays have to be made, when the game is on the line, these Buffs have the ability to answer the bell.
Not that Saturday's heart-stopping, gut-wrenching 33-28 win at Nebraska will ultimately define this 2018 season. But if these Buffs do go on to do great things, if they do once again prove the "experts" wrong, Saturday will be the moment that we look back at as the beginning.
Two weeks, two games against long-time rivals and two victories. It is not a schedule most coaches would embrace, but these Buffs never blinked.
Certainly they did not back down on this day. Not in front of nearly 90,000 fans, not with the game on the line, not even in the most critical of moments, when virtually everyone in the stadium not wearing black and gold was poised to celebrate a Nebraska win.
Instead, CU's defense rose to the occasion. After a tough first half, when the Huskers rolled up 329 yards and 21 points, Colorado allowed just one more touchdown over the final two quarters. When big plays were needed most, the defense delivered.
… Continue reading story here …
–
—
Associated Press poll: Buffs back among "others receiving votes" (25 votes, good enough for No. 31 nationally)
… Note … in the USA Today/Coaches' poll, CU received 20 votes, 34th overall … 
From CBS Sports … Clemson was put to the test in Week 2 with a talented and dangerous Texas A&M team pushing the three-time ACC champions to the limit in a 28-26 win. But the Aggies aren't the only SEC team continuing to push Clemson as Georgia has started to close the gap on the No. 2 spot in the AP Top 25.
There's very little change in this week's AP Top 25 — South Carolina and Florida out, Arizona State and Oklahoma State in near the bottom of the top 25 — but there is an interesting shift in terms of the battle at the top. Clemson has lost first-place votes to Alabama after each of the first two weeks of action, and heading into Week 3, the Tigers hold a narrow lead over the Bulldogs with a 23-point margin.
1. Alabama
2. Clemson
3. Georgia
4. Ohio State
5. Oklahoma
6. Wisconsin
7. Auburn
8. Notre Dame
9. Stanford … up 1 from last week
10. Washington … down one from last week
11. Penn State
12. LSU
13. Virginia Tech
14. West Virginia
15. TCU
16. Mississippi State
17. Boise State
18. UCF
19. Michigan
20. Oregon … up three from last week
21. Miami (FL)
22. USC … down five from last week 
23. Arizona State … new to the poll
24. Oklahoma State
25. Michigan State
Others Receiving Votes: Utah (2-0) 92; Texas A&M (1-1) 90; Boston College (2-0) 45; Houston (2-0) 32; Maryland (2-0) 30; Colorado (2-0) 25; Iowa (2-0) 23; Kentucky (2-0) 19; Duke (2-0) 10; North Carolina State (2-0) 9; Ole Miss (2-0) 5; Hawaii (3-0) 5; Washington State (2-0) 4; South Florida (2-0) 3; South Carolina (1-1) 2; Florida State (1-1) 1
–
—
New Hampshire falls to 0-2 with loss to Colgate
… Related: "Dean, Defense Shine, But 'Cats Fall to Colgate, 10-3" … from New Hampshire athletic department
From Fosters.com … With the offense sputtering for much of the game, the University of New Hampshire football team finally found the end zone late in the third quarter Saturday night.
However, the apparent touchdown was called back because of a holding penalty. The Wildcats then missed a makeable field goal on their next possession and twice in the fourth moved inside the Colgate 30 only to turn the ball over both times, once on a fumble and once on downs.
It was that kind of game for the Wildcats, who dropped a 10-3 decision to the Raiders at Wildcat Stadium and fell to 0-2 for the first time since 2002. They had won 13 consecutive home-openers.
"Not an easy game on the offensive side of the ball," said coach Sean McDonnell. "I never felt we had a whole lot going and when we did they found a way to make a stop."
UNH has been outscored in its first two games 45-10 and has scored only one touchdown. The Wildcats rushed for just 73 yards on 37 carries against Colgate, the favorite to win the Patriot League.
Christian Lupoli, making his first college start in place of the injured Trevor Knight, completed 14 of 24 passes for 133 yards. Neil O'Connor caught 10 of those passes for 111 yards after being held to two receptions on nine targets in the season-opener at Maine.
UNH finished with 206 total yards.
"People are putting eight or nine guys within eight yards of the line of scrimmage right now," McDonnell said. "They are blitzing. They are attacking us. They are press covering our outside guys. … It's frustrating."
The Wildcats trailed 10-3 at halftime. Their only points came on a 30-yard field goal by Jason Hughes with 4:16 left in the second quarter that made it 7-3.
The big plays in the drive were a 12-yard gain by Lupoli on third-and-11 and a 30-yard completion from Lupoli to O'Connor that gave UNH a first down at the Colgate 25.
A pass interference call on third down moved the ball to the 11, but the drive stalled and they had to settle for three points.
"I mean it's tough, we always want to score to help the team out and help the defense out," O'Connor said. "The defense was awesome. Not being able to do that stinks. Our ultimate goal is to put points on the board. That's how you win. You can't win many games scoring three."
UNH held Colgate to 214 total yards and the Raiders' only touchdown was set up by a turnover.
Colgate scored on a 1-yard keeper by quarterback Grant Breneman with 10:05 left in the second quarter and a 40-yard field goal by Chris Puzzi with 30 seconds to go in the first half.
A fumble by Carlos Washington Jr. at the UNH 19 set up the Raiders' touchdown eight plays and two fourth-down conversions later.
Colgate out-gained the Wildcats 161-71 in the first half and UNH managed only four first downs.
"It was obvious that our offense was struggling so we just tried to bring any type of juice, any type of energy to help those guys," said linebacker Quinlen Dean, who was in on a game-high 16 tackles. "We were just trying to complement those guys and pick them up as best as we can."
The Wildcats finally found the end zone late in the third quarter but an apparent 9-yard touchdown run by Evan Gray was called back because of a holding penalty.
UNH had to settle for a 36-yard field goal attempt by Mitch McPike that went wide and the Wildcats trailed 10-3 entering the fourth. They got as far as the Colgate 27 on their next possession but turned the ball over.
–
—–