—
Colorado Daily – Nebraska Week
—
September 8th – GameDay!
… CU in a few minutes … 
Drew Litton on Nebraska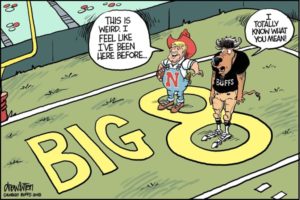 –
—
Buffs looking to write a new chapter in CU/Nebraska rivalry
From CUBuffs.com … Finally, it's time to write a new chapter in the Colorado-Nebraska football series.
For the last week, former players and coaches, media and fans from both sides of the rivalry have reminisced about the rivalry that was once a staple of the Big 7, Big Eight and Big 12 conferences. Great games, great moments and signature victories for both programs have been rehashed, replayed and rewritten on virtually every medium platform possible.
But today, the two programs have the opportunity to produce new memories when they meet again for the first time in eight years in a 1:30 p.m. nationally televised game (ABC) at Memorial Stadium.
The timing couldn't be better for both programs. Mike MacIntyre's 1-0 Buffs, fresh off a 45-13 drubbing of in-state rival Colorado State, are anxious to test themselves in a hostile environment against a Power 5 school. The Huskers, meanwhile, in their first year under the direction of Scott Frost, are anxious to test their mettle against anyone other than themselves. NU's scheduled season opener last week was cancelled by a ferocious thunderstorm, and thus a capacity crowd of 90,000-plus is expected to be at a fever pitch today to usher in the 2018 season.
While the Buffs didn't have the luxury of game film from the Cornhuskers, they did have the opportunity to work out jitters and kinks that normally accompany a season opener. Now, they are are ready to see if they can make that jump in improvement that is so often associated with going from Week 1 to Week 2.
"Film does matter, but hopefully our offense, defense and special teams will be able to handle anything they give us," MacIntyre said. "People change things during the week."
The Buffs will be aiming to pick up where they left off last week, when they produced nearly 600 yards of offense in their win over the Rams. More to the point, they would love another fast start similar to the one that put three touchdowns on the board on their first three possessions against the Rams. Colorado utilized a variety of weapons throughout the game, finishing with 338 yards passing from quarterback Steven Montez, 211 yards receiving from wide receiver Laviska Shenault Jr., 103 yards rushing from running back Travon McMillian and 112 yards receiving from wideout K.D. Nixon.
Those same players figure to be in the spotlight again Saturday.
… Continue reading story here …
–
—
Nebraska offensive coordinator Troy Walters: "They don't know what we're going to do"
From Neill Woelk at CUBuffs.com … While nobody knows for sure what to expect when Colorado and Nebraska renew their rivalry Saturday afternoon in Lincoln (1:30 p.m., ABC), there is one relatively safe assumption:
The scoreboard operator shouldn't be bored.
Colorado's offense is no secret. In last week's season-opening 45-13 win over Colorado State, the Buffs totaled 596 yards (338 passing, 274 rushing) and spread the wealth in doing so. CU chalked up the first game in program history with a 300-yard passer (Steven Montez, 338 yards), a 200-yard receiver (Laviska Shenault Jr., 211 yards) and a 100-yard rusher (Travon McMillian, 103 yards).
And, while this will be the Huskers' first contest of the year, new head coach Scott Frost's offenses have been high-octane wherever he's been, from his days as Oregon's offensive coordinator to his time as Central Florida's head coach.
Thus, the Buffs have spent their week studying UCF film in an attempt to get a bead on what they might see Saturday.
"They have a lot of motion, a lot of different sets, and they play really fast when they do that," CU head coach Mike MacIntyre said. "How you get aligned in those sets and to the motion (is important). Then they do a tremendous amount of zone read type principles, a lot of option-type principles, and they're able to get the ball out of their hands quick to skill guys and they have some skill guys to get it to. … They do a great job of that."
MacIntyre also said he has seen the influence of former CU wide receivers coach Troy Walters, who worked under MacIntyre for three seasons before joining Frost at UCF, and then following him to Nebraska as Frost's offensive coordinator.
Thursday morning, Walters said he believes CU is at a distinct disadvantage by not having any film of the Huskers.
"They don't know what we're going to do," Walters said. "They're watching UCF film, so personnel-wise they don't know who we're going to play with and scheme-wise we've changed some things up. So they don't know what they're going to see and that's an advantage."
… Continue reading story here …
–
—–
September 7th
… CU in a few minutes …
Klayton Adams pleased – but not satisfied – with offensive line play
From the Daily Camera … Klayton Adams pretty much liked everything he saw last Friday night in Broncos Stadium — from the performance of his offensive line to his Colorado debut in the role of co-offensive coordinator.
For at least a week, the Buffaloes were able to quiet preseason concerns about the team's offensive line with a solid showing in the opening-week rout of Colorado State, keeping life stress-free for quarterback Steven Montez while clearing lanes for a running game that amassed 6.4 yards per attempt. Adams, now in his third season as the Buffs' offensive line coach and his sixth on the staff, nonetheless found plenty of coaching points upon his review of the game film. He knows his charges will have to be even better for the Buffs to return to Boulder with a victory in Saturday's rivalry renewal at Nebraska (1:30 p.m., ABC).
"I thought they played hard and confident. But I think there's several areas, probably double-digit areas, that we need to make a lot of improvement in if we want to be a good team," Adams said. "The challenge is to get them to play with better technique without taking the aggression out of it. That's kind of where we're headed."
… Continue reading story here …
–
—
List of CU/Nebraska watch parties
… Note … If you know of others, either formal or informal, let me know cuatthegame@gmail.com, and I'll get them posted … 
From CUBuffs.com … The University of Colorado football team heads to Nebraska on Saturday for its first road game of the season. Whether you're in Lincoln or cheering on the Buffs from Boulder, there are options to enjoy the game wherever you are.
Colorado Athletics is pleased to partner with Blake Street Tavern in Denver, Dark Horse in Boulder, School House in Arvada, and Old Chicago in Fort Collins, Longmont, Broomfield and Superior to host official watch parties for Saturday and games throughout the 2018 season.
2018 Watch Party Headquarters 
BOULDER: Dark Horse
2922 Baseline Road
Boulder, CO 80303
Cost: Free
DENVER: Blake Street Tavern
2301 Blake Street
Denver, CO 80205
Cost: Free
ARVADA: School House Kitchen & Libations
5660 Olde Wadsworth Blvd
Arvada, CO 80002
Cost: Free
BROOMFIELD: Old Chicago Pizza & Taproom
1280 E 1st Ave
Broomfield, CO 80020
Cost: Free
FORT COLLINS: Old Chicago Pizza & Taproom
4709 S Timberline Road
Fort Collins, CO 80524
Cost: Free
LONGMONT: Old Chicago Pizza & Taproom
1805 Industrial Circle
Longmont, CO 80501
Cost: Free
SUPERIOR: Old Chicago Pizza & Taproom
100 Superior Plaza Way #100
Superior, CO 80027
Cost: Free
–
—–
September 6th
… CU in a few minutes …
"An oral history of Colorado's wet, wild and monumental 1990 victory at Nebraska" … from The Athletic
Note No. 1 … If you aren't already a subscriber to The Athletic, I highly recommend it (a non-compensated plug!) …
Note No. 2 … If you need the free story about the epic 1990 game (including the full video of the game), click here …
From The Athletic … Steven​ Montez hadn't​ given a second thought to​ the color of​ the​ lanyard around his​ neck. For​ the​​ Colorado quarterback, it was simply a carrier for his keys during his early days on campus.
Darian Hagan disagreed.
"He looks at me one time and says, 'What's that right there?' " Montez said, recalling the conversation with Colorado's running backs coach. "I said, 'My car keys.' He said, 'I'm talking about the lanyard. It's red. We don't wear red around here.' I went and bought a white lanyard the next day."
Montez can be forgiven if the history between Colorado and Nebraska isn't ingrained into his brain. He was a 13-year-old kid growing up in El Paso, Texas the last time the Buffaloes and Cornhuskers played. His motivation for Saturday's game — the first meeting of the old Big Eight/Big 12 rivals in eight years — isn't tied up in some bitter resentment for a team he's never faced.
Hagan, on the other hand, is a bridge between what the rivalry once was and what it is now: a matchup between two unfamiliar teams that missed out on the postseason last year, both trying to return to something at least resembling past glory.
Hagan was the quarterback during Colorado's most storied victory in Lincoln, a 27-12 triumph in 1990 that propelled the Buffaloes to a national championship season. (Colorado shared the title that season with Georgia Tech.)
It was the first victory for the Buffaloes in Lincoln since 1967, and it came only after a cold, wet and frustrating day inside Memorial Stadium finally turned in the fourth quarter.
… Continue reading story here (including interviews with OT Ariel Solomon, WR Mike Pritchard, RB Eric Bieniemy) …
–
—
15 Buffs in the NFL for first game of the season
With the NFL opening weekend upon us, here are the 15 Buffs who are currently on NFL rosters:
From CUBuffs.com …
Player         Position      Team                      NFL Experience
Chidobe Awuzie CB      Dallas Cowboys           1
David Bakhtiari OT      Green Bay Packers      5
Ken Crawley CB            New Orleans Saints    2
Mason Crosby PK         Green Bay Packers     11
Afolabi Laguda DB       Los Angeles Rams      R
Phillip Lindsay RB        Denver Broncos         R
Daniel Munyer OG-C   Arizona Cardinals      2
Isaiah Oliver CB           Atlanta Falcons           R
Paul Richardson WR  Washington Redskins 4
Devin Ross WR            Tennessee Titans        R
Jimmy Smith CB          Baltimore Ravens       7
Nate Solder OT             New York Giants        7
Tedric Thompson SS   Seattle Seahawks       1
Josh Tupou DT            Cincinnati Bengals      1
Ahkello Witherspoon CB San Francisco 49ers 1
–
IN CAMPS BUT WAIVED
Player (cut date) Pos. Team Exp.
Bryce Bobo (Sept. 1) WR Denver Broncos R
Shay Fields (Sept. 1) WR Washington Redskins R
Will Pericak (Sept. 1) OG Chicago Bears 3
Nelson Spruce (Sept. 1) WR Los Angeles Chargers 2
–
—
Laviska Shenault and K.D. Nixon "feed off of each other"
From the Daily Camera … Generally, when the Colorado football team puts coaches or players on the podium to talk to the media, they go alone.
This week, as the Buffaloes prepared for Saturday's visit to Nebraska, receivers KD Nixon and Laviska Shenault stood shoulder to shoulder in front of the cameras and microphones.
Of course they did.
Nixon and Shenault, both true sophomores for the Buffaloes, have been side by side for years, since junior high and through their careers at DeSoto (Texas) High School.
Last Friday, they jumped into the spotlight together with the Buffs.
"We feed off each other," Nixon said. "We've been like this since high school, since middle school."
Shenault was the unquestioned star of the 45-13 rout of Colorado State, hauling in 11 passes for 211 yards and a touchdown, but Nixon was sensational, as well, with six catches for 112 yards and a touchdown.
It was just the third time in the past nine seasons that CU had two 100-yard receivers in the same game.
"I'm not going to say it's what I expected," Shenault said of his monster numbers, "but I expected myself to go out there and do big things."
… Continue reading story here …
–
—
Junior offensive lineman Brett Tonz pleased with first start as a Buff
From the Daily Camera … As a senior at Centennial High School in Peoria, Ariz., Brett Tonz was asked to help his team by playing on the offensive line.
That was more of a side gig for Tonz, however, as he made his mark as a dominant defensive lineman.
"Really I just did defense and didn't really go over the plays (on offense) much," he said. "They just told me some stuff (to do on offense) and I went out there and did it my senior year."
Four years later, Tonz is a redshirt junior for the Colorado Buffaloes playing full time on the offensive line. The 6-foot-4, 295-pound left guard made his first career start in Friday's 45-13 win against Colorado State.
"It's been a little while, going back to high school, since I had started a game," Tonz said this week as he and the Buffs prepare to visit Nebraska on Saturday. "It was nice to get out there, having fun. All the hard work I put in, just finally getting that opportunity and I'm just trying to run with it."
A member of the 2015 recruiting class, Tonz signed with CU as a defensive lineman and played there during the 2015 and 2016 seasons. During the spring of 2017, however, the Buffs had more of a need for him on offense, and he made the switch.
… Continue reading story here …
–
—–
September 5th
… CU in a few minutes … 
Running backs coach Darian Hagan looking forward to emotional return to Lincoln
From CUBuffs.com … When Colorado running backs coach Darian Hagan began studying the 2018 Buffs schedule in earnest and saw Nebraska, he saw a symmetry that was hard to ignore.
Back on the schedule after an eight-year layoff was the team with whom Hagan very nearly signed his letter of intent 30 years ago — and the team against whom he ended up having a 2-0-1 record as a starting quarterback after signing with Colorado instead.
That alone is enough to open the memory floodgates.
But this year's trip — along with marking the 30th anniversary of his first trip to Memorial Stadium (he suited up but did not play in the 1988 game there) — will be an emotional one for other reasons.
This year, Hagan will be thinking of the woman who changed the course of CU football history three decades ago.
He will be thinking about his mother, Wanda Webb, who is currently in hospice care in California and could be watching her last Colorado-Nebraska matchup.
"She is why I'm here," Hagan said Wednesday morning after the Buffs wrapped up practice. "I was committed to Nebraska. I had all intentions of going there. But after Coach (Bill) McCartney and Coach (Gary) Barnett came to our house, she told me I was going to Colorado. So I came here in 1988 and I'm still here in 2018."
Since that fateful visit by CU's then-head coach and assistant coach, Wanda Webb has been a Colorado fan. She reveled in her son's big wins over the Cornhuskers as a player and she has followed his career with the Buffs ever since.
But for the last 24 years, she has also battled cancer. Four times she has fought back the disease, only to see it return for a fifth time this summer.
… Continue reading story here …
–
—
Mike MacIntyre post-practice talk with media (Wed.)
From YouTube, courtesy of BuffStampede.com:
–
—–
September 4th
… CU in a few minutes … 
Mike MacIntyre Press Conference quotes
From CUBuffs.com …
Opening Statement:
"It's great having Coach Mac [Bill McCartney] here. It was awesome coaching Derek, his grandson. T.C. was a graduate assistant the first year I was here, he went on to bigger and better things in the NFL, doing really well with the 49ers now. I have a close relationship with their family and love having Coach Mac around. He always inspired me. Basically, the way he lives his life inspires me more than anything else he's done."
On Balancing Emotions During Rivalry Week:
"They are excited about playing this game, there's no doubt. They heard about since the last game of last season was over. I think everybody has been talking about this game all the time. I tried to temper it going into last week's game, but the buzz has been around, which is exciting for our players and our program. We're excited about going to play in Lincoln. They do understand the intensity as best as they can at this point, but they'll understand it when we get there for sure."
On Preparing To Face Freshman Quarterback In First College Game:
"We saw him, he got hurt his senior year of high school too so it's been a while since he's played a lot. We watched the spring game and he played really well in that. That gives us our best tell-tale sign of him. We saw him play in high school and he was a heck of a player, [Adrian] Martinez was. He's a really good athlete that can do a lot of different things. We've been watching UCF film and watching spring game film, trying to figure out what they want to do. It's a little bit of an unknown. They'll always have a few new wrinkles and things that they do. Scott Frost and Troy Walters are excellent offensive coaches and I know they'll do really well with what their young men can do. It's really tough without any game tape. We are going off the assumptions that it's going to be similar to Central Florida but we prepare for everything. They have to put 11 guys out there and we have to put 11 guys out. All of your offensive and defensive schemes should handle everything. There's some things that might surprise you a little bit but our kids ought to be able to adjust to it. Now we just have to go play. Hopefully we'll be able to adjust as the game goes on in the first quarter of what they're trying to emphasize offensively with Martinez."
On Staying Focused After Blowing Out Rival Colorado State:
"I sure hope they're not [reading their headlines], that was one game and we have a lot left to do. Practice has not shown that [complacency] the last two days, meetings, the way they've showed up to work, their attitude, their focus, hasn't showed any of those signs that you'd notice. I feel like they're locked in and want to go play really well in Lincoln."
On Nate Landman:
"Nate's an excellent football as you saw. We saw glimpses of it last year and he had an excellent spring. Then about five days into fall camp, I said 'we have to get him, Drew [Lewis] and Rick [Gamboa] on the field at the same time. Matter of fact, I was walking up [to the Champions Center] after talking to the media after practice, and I'm walking up the hill thinking, 'I just said I was going to split time between them, why would I do that? I need to get all three of them on the field.' Drew is a good enough athlete that he can [switch positions] and it opens up our defense having Drew play outside linebacker. We can do a couple more things coverage wise with him because he can run and he's so athletic. Then bringing him off the edge, he brings speed. We have some really good outside linebackers. A lot of times we have a kid that runs a 10.5 [100-meter dash, Davion Taylor] and a kid that runs a 4.4 [40-yard dash, Drew Lewis] that both weigh 220 pounds and are close to 6-2.5 coming off the edge, with Nate and Rick inside. I think that helped our defense. Sitting down and talking to Drew was the biggest deal, but he said, 'Coach I'll do whatever the team needs.' He plays outside, then when we go to nickel he plays inside. All the kids on the team wanted Nate on the field, kind of like all the kids on the team wanted Laviska [Shenault] on the field, so we found ways to get them on the field and let them make plays."
On Laviska Shenault's Versatility:
"[Co-offensive Coordinators Klayton Adams and Darrin Chiaverini] sat down and really started looking at how we could get all of those guys on the field at the same time. Viska can play tailback, Viska can play tight end, Viska can play wide receiver, he could 'mike' linebacker or outside backer. There's a lot of things Viska can do and we felt like we needed him on the field all the time and needed to utilize him in different spots. It makes it harder for them to key on him and gives us versatility with one package of players, so you don't always need to substitute and you can play fast and do a lot of different things. He gives us the ability to do that. Chev brought it to me and said, 'we can get all those guys out there.' I said, ' that's a great idea, let's work on doing it.' Klayton and all the offensive coaches put it together and we've been working on it. Each weeks we'll change up things and make different tweaks, but I'm excited about the way we're headed."
On His Conversation With Drew Lewis About Moving To OLB:
"It didn't take much convincing at all. He played safety in high school, so the outside backer spot is a good spot for him. He can do some coverage things, he can rush the passer, then when we go nickel he'll be back inside because of his versatility there. He was fine with it and knew that it would help our football team if he and Nate [Landman] were on the field at the same time. [Drew Lewis] more versatility athletically to move outside and Nate fits really well inside. It's all about our team winning, and they'll make a lot of plays before the year is over."
On Personalities Of K.D. Nixon And Laviska Shenault:
"K.D. was kind of the bell cow at the school and was kind of the [outgoing] guy at Desoto High School and Viska was his sidekick. They did everything together. Viska has a great personality, he's really funny. He's continued to open up and you'll get see that as you're around him the next couple of years. It was a lot of fun recruiting them. Chev and Darian Haganrecruited them and did a great job with those young men. We even have a package called 'Desoto' with both of them. It's fun with those two guys. K.D. is definitely outgoing but Viska is not as shy as you'd think he is."
On Emotions Of Coaching In Rivalry Game:
"The rivalry game is one that sticks with the coach 365 days a year. You get asked more questions about your rivalry games than you do the others. Growing up watching the Colorado-Nebraska game on Thanksgiving [Weekend], we always used to play the day after on Saturday. I knew about all the games. I didn't know [Darian] Hagan, but I knew No. 3. These young men here understand the Nebraska rivalry. I think when kids with us one of the first questions they get is, 'do you still play Nebraska? When do you play Nebraska?' I still get that question too. No we are, so we're excited about that. There is a little added energy for sure. There's a little added intensity. You wish you could say you line up with the same intensity in all 12 games, but you don't, there's a percentage difference. Plus going to play in Lincoln, that's a phenomenal place to go play a college football game. That's what you work for and that's what the players work for."
On Whether This Compares To Any Rivalries He's Experienced:
"Georgia Tech – Georgia was a big rivalry, that was a lot of fun. It was a little bit closer. Then when I coached at Ole Miss, the Mississippi State rivalry, I would say was a hated rivalry. There was a hatred that ran in that rivalry. They had to have policemen at midfield when we warmed up. Our wives wouldn't even go to the games when they were played away. It was just that bad. I would imagine it's still the same way. It's a lot of fun to play in and coach in."
On Scrambling To Prepare After Nebraska's Game Was Cancelled:
"It's funny David Plati, Rick George and I were all texting and they said it's canceled. I said, 'okay. We're their opening game.' As coaches, of course we want to get the film and get to work on it, but we didn't get any. Klayton Adams had an interesting story about it that I thought was pretty good. For some reason, one year at Boise State they weren't allowed to trade film, so they just had to practice against each other. The opponent got [Boise State] film. He said they won both games. They just practiced really hard and got out there and played. Film does matter, but hopefully our offense, defense and special teams will be able to handle anything they give us. People change things during the week."
On CU-Nebraska Highlight Montage Playing Around Facility:
"They were just on when I got here early Sunday morning. I don't know who put it on, but all the televisions were on. The one in my conference room was on so I watched a few minutes of it, but then I turned it off because I need to go watch film on now and on UCF and everything else."
On Whether Former Coach Bill McCartney Will Address Team This Week:
"I would love Coach Mac to do that. He's talked to our team quite often. He's able to come to practice any time he wants. It's awesome having him around and I would love for him to talk to the team. He's one of those speakers that gets you riled up. The last time he did it, he dropped the mic and walked out."
On Coaching Against Scott Frost And Keys To The Game:
"Their offense is very dynamic going against it a little bit at Oregon. It has a lot of Chip Kelly emphasis in it. I can see some things that Troy Walters brings too, knowing old Oregon film and what they're doing now. Their quarterback they had at UCF is really a Houdini, he's amazing. They were able to let him get out and make plays and I think they'll do the same with Martinez. Controlling the quarterback will be tough. They have a lot of motion, a lot of movement. On defense we have to be able to handle the motion and line correctly so they don't crease you with a dive or a quarterback pull. There's a lot of option emphasis in their offense, which goes back to Scott Frost's days as an option quarterback. They do a great job with what they do offensively."
… Continue reading story here (quotes from Nate Landman, Steven Montez, Travon McMillian) …
–
—
Bill McCartney talks about the Nebraska rivalry
From CUBuffs.com …
Opening Statement
"Just a couple of thoughts before you attack me. What I have learned over the years is everything rises and falls on leadership. Every home, every business, every church, every newspaper, and every station. It is a direct reflection of leadership. What I see in Coach McIntyre and his staff, and I don't know them well, but I watch carefully from a distance, is that these guys are good. They have character. They are trustworthy. They are genuine. There is no deception. They are the real deal. Having coached here for thirteen years, that gives me a lot of reward and satisfaction because I want this place to climb to the top and stay on the top. This is my school. I see in these guys, the ingredients that are necessary to climb that ladder. I coached basketball for many years. I was a disciple of Bobby Knight. He was ornery, but they played hard. They played disciplined. They were organized, and they played for four quarters. He was really a strong leader. That is what I see here. I see that kind of leadership here. I love Boulder. I live close by, and I'm not going anywhere. I think this is as good as it gets. I haven't ever seen a place better than Colorado, and Boulder in particular. But we have to rally them. We have to inspire them. The morale is to the physical as four as to one. It is four times as important your attitude, as it is your actual physical ability. If you think you can or can't, you're right. Big dreams create the magic that stirs men's souls. What I see here is the ingredients for success. I think our coach is a cut above. I think he is the real deal. I just think he has the character, the discipline, and the integrity that you want in a coach. I encourage the media to give him the benefit of the doubt, and to get behind him. You know why? Because you can inspire the throng out there. You have an influence on them. If you find fault all the time, they are going to find fault all the time. They are going to add to your list. But if you choose to take the high road, everybody is going to benefit. You all have a tremendous impact. I have read the sports page, not the whole paper, but I have read the sports page every day for forty-two years. I have never missed a day. You know what I do when I get up? I read the sports page. I find it always interesting and rewarding. There are a lot of people out there like me. The reason we buy a paper is to read the sports page. I'm not saying they are all that narrow, but that's the truth. While I get a chance, you all have a tremendous influence. I encourage you to recognize that what we have here right now is special. This guy is special and he is building something special. It is going to take a little while. Lastly, my grandson, 
Derek McCartney
 who graduated from here and is studying to be a doctor, they treated him so good. They developed him, they encouraged him, they rallied him, they disciplined him. It is a great experience that he had here. I want every kid to have an experience like that."
On What Nebraska Brings Out Of Him
"It is game week. I would rather be dead than red. Seriously, here is what you have to understand about Nebraska. Here we have CU, CSU, Air Force, and the Broncos. You know what they got? Nothing. Just that team that's coming. There is nothing else there for them to do. When they get up every day, that is the only option they have is to get behind that big red thing. We have to beat them. That's the only thing they understand. They understand that. If you beat them, they'll salute. If you don't you will hear about it. We don't want to hear about it, especially from their media. They don't stop. You know what the media can be like right? You know how media gets a little out of control and wears out their welcome? It gets worse there. Sorry."
On Why He Decided To Make Nebraska The Rival
"What had happened to me was, I was coming from the University of Michigan where our favorite saying was, 'Oh how I hate, Ohio State.' When I got here I said, 'Who is our Ohio State?' They said, 'What are you talking about?' I said, 'Who is they team we have to beat? I mean the season is riding on it.' They said, 'Coach, we have to beat them all. We don't like any of them.' There was no rival. There was no game to point to. See, when you get kids from the ages of eighteen and twenty-two, you have to give them targets to shoot at. You can't just give them a big picture. You have to say we are going to put it all together and we are going to keep getting better, then when we go to Lincoln we are going to hit them in the mouth until we take over the place. When we shut them all up we will leave. You have to project things like that. When I came here, there wasn't any of that. I'm not accusing anything from anyone that was before me, but they didn't have that picture. When I was at Michigan, we pointed to Ohio State. Oh how I hate, Ohio State. When I came here we identified Nebraska as the team. One of the reasons we chose them and not Oklahoma or others was because they are a neighboring state. They are next door. They can get loud. You got to shut them up. That is how we approached it anyway."
On The Importance Of The Return Of The Rivalry
"It is more important than any another game. With all due respect, this is the game. I would like to have a shot at the players. Give me two minutes with them because we are all counting on them. We are depending on them. Sleep good this week and then bring your A game, and when you do, we will carry you off the field. That is how I look at it."
On his favorite memory of the Nebraska rivalry:
"Shaking hands with Tom Osborne after we beat them. It didn't happen near enough. He was so gracious, he was very polite. Now, [Oklahoma Coach Barry] Switzer would use profanity, but Osborne was a gentleman."
On getting players to understand the rivalry after long break:
"Tell them we'd rather be dead than red. This is what it's all about. This is bigger than the NFL. Then NFL doesn't get this big. The whole state can rally around this one, maybe not in Fort Collins. What I'm saying is, there a certain things that are more important than other; this is one of them. This is big. You all need to make headlines. You all need to corral our audience. People in Boulder are affluent and they forget how important this [game] is. You have to remind them. Remind them that everything is riding on this game and that if we don't win this game, it's on them. If they take that personal, we have a chance."
On respect for Nebraska and Former Coach Tom Osborne:
"The teams that you want to beat the most are the best teams. When I was seven years old I knew I wanted to be a coach, you knew you were going into the media right? I mean that was your hope right? Well no, you lost all those other jobs and now here you are [laughter]. I knew I was going to be a coach in second grade. I grew up right across the street from a high school and my parents would let me go over there, it was safe, there was no traffic. I would watch the coaches and I'd tell everybody that I was going to be like one of those coaches. They'd tell everybody what to do. I went to University of Missouri on a football scholarship and my coach was Dan Devine, and man did I respect him. He spoke with authority and conviction. I said, 'I want to do that someday.' I was a basketball coach and I hung out with Bobby Knight, for anybody that remembers that guy. One day I was at clinic with 500 people where Knight was speaking and I raised my hand. He said, 'yeah fella, what do you want?' I had never been spoken to like that, let alone in a clinic. I asked him a question and he said, 'hey fella, I didn't come here to debate it. Sit down!' So I learned right away who Bobby Knight was. Anyway, coaches are amazing. In college, coaches go out and get those kids. They bring the team in from around the country and they coach them up. Between the ages of 18 and 22, that's when a boy becomes a man. What do you do if you line up across from a guy whose bigger, stronger, tougher and meaner than you are? Do you turn and run or do stay and play? Where else do you learn that! You learn that right now, in college. That's what football does."
–
—
Nate Landman named Pac-12 Defensive Player-of-the-Week
From the Pac-12 …
OFFENSE: JJ Arcega-Whiteside, Sr., WR, Stanford (Inman, S.C.)
… Also nominated: N'Keal Harry, ASU; Laviska Shenault, COLO; Justin Herbert, ORE; Artavis Pierce, OSU; JT Daniels, USC; Zack Moss, UTAH; Gardner Minshew II, WSU.
DEFENSE: Nate Landman, So., ILB, Colorado (Danville, Calif.)
• In Colorado's 45-13 win over Colorado State, Landman recorded 16 tackles (6 solo, 10 assisted), two tackles for loss and one interception, all in his first career start.
• Landman's 16-tackle performance in Week 1 ties for the second-most tackles per game in the country and among Pac-12 players.
• The Buffs held Colorado State to 284 total yards, a week after the Rams put up 653 total yards of offense against Hawai'i.
Also nominated: Chase Lucas, ASU; Cameron Goode, CAL; Ugochukwu Amadi, ORE; Joey Alfieri, STAN; Adarius Pickett, UCLA; Isaiah Polo-Mao, USC; Marcus Strong, WSU.
–
—
Buffs expect a high-tempo offense from Cornhuskers (following the UCF mode)
From CUBuffs.com … After a highly satisfying win against Colorado State last Friday night, the Colorado Buffaloes look to replicate that performance and take it with them to Lincoln, Neb., when they take on the Nebraska Cornhuskers on Saturday.
After recording six tackles against CSU, senior linebacker Rick Gamboa is anticipating a stern test against the Huskers.
"A lot of high-speed, high-tempo offense by trying to run the ball," Gamboa said. "I also expect a lot of motion and shifting around to make it a numbers game to find out where they've got the best numbers to get their athletes in space. They have a lot of good athletes."
Nebraska is expected to start dual-threat true freshman quarterback Adrian Martinez. While he did play in Nebraska's spring game this year, he hasn't taken a snap in a true game since his junior year of high school after sitting out his entire senior year with an injury.
Gamboa and the Buffs will have to prepare for Nebraska in a different fashion due to the Huskers cancelling Saturday's scheduled season opener against Akron because of inclement weather.
"They haven't played a game yet, so that gives us an advantage playing," said CU head coach Mike MacIntyre. "The other side of it is that we've never seen them play. All we've watched is Central Florida film."
Nebraska head coach Scott Frost previously coached at Central Florida, where he led the Knights to a 13-0 record last year and a victory in the Peach Bowl against Auburn. UCF last year finished fifth in the nation in total offense, averaging more than 530 yards per game while scoring 77 offensive touchdowns (second in the nation). The Knights had a balanced offense, averaging nearly 200 yards per game on the ground and more than 330 in the air.
… Continue reading story here …
–
—–
September 3rd
… CU in a few minutes … 
Mike MacIntyre post-practice talk with media (Mon.)
From YouTube, courtesy of BuffStampede.com:
–
—
Cornerback Delrick Abrams "did a really good job out there" in his first start
From the Daily Camera … Standing on the Kentucky bluegrass field at Broncos Stadium at Mile High on Friday evening, Colorado cornerback Delrick Abrams Jr. was in awe as he looked up and saw over 70,000 fans in the stands.
The junior-college transfer and first-year Buffalo was a long way from his home in Angie, La., but throughout CU's 45-13 victory against Colorado State, he grew comfortable in his new surroundings.
"Delrick did a really good job out there for his first (Division I) start," CU cornerbacks coach Ashley Ambrose said. "He made a lot of plays and did some good things. When I get a chance to grade it (on film), I'll see, but it looked like he graded out really high."
Unofficially, CSU receivers covered by Abrams were targeted 10 times, catching five passes for 42 yards, with just six yards gained after the catch.
Abrams spent much of his night covering highly-touted Tennessee transfer Preston Williams, who torched Hawaii for nine catches, 188 yards and two touchdowns a week earlier. Williams had six catches for 49 yards against the Buffs — with four of the catches against Abrams.
Abrams, who played the previous two years at Independence (Kan.) Community College, finished with nine tackles, including one for loss, and a pass breakup. He was not only impressive in pass coverage, but making stops in the run game, too.
… Continue reading story here …
–
—
Win over Colorado State gives Buffs much needed boost in confidence
From CUBuffs. com … That's a start.
While the Colorado Buffaloes were by no means perfect in their season opener Friday night, they were still plenty good enough in all three phases of the game to dominate an outmanned Colorado State squad, 45-13.
It was the perfect confidence builder the young Buffs needed to begin their 2018 campaign — one that will get demonstrably tougher just a week from now when they head to Nebraska to renew acquaintances with the Cornhuskers, another rival from CU's past.
That confidence boost can't be underestimated. A team coming off a 5-7 season — and a team featuring 11 players making their first-ever collegiate start — needed a solid performance, and the Buffs got exactly that.
Offensively, Colorado delivered from every angle. Quarterback Steven Montez played the role of a seasoned veteran, completing an eye-popping 22 of 25 attempts for 338 yards and four touchdowns, along with a 38-yard touchdown run.
CU's offense also showed that it is loaded with weapons. From sophomore receiver Laviska Shenault Jr. (11 catches for 211 yards, including an 89-yard touchdown) to sophomore receiver K.D. Nixon (6-112 and a 46-yard touchdown) to running back Travon McMillian (10 rushes for 103 yards and a 49-yard score), the Buffs showed the ability to score from anywhere on the field.
… Continue reading story here …
–
—–
September 2nd 
… CU in a few minutes … 
Nebraska/Akron game cancelled due to thunderstorms
From the Lincoln Star-Journal … Only Mother Nature could delay Adrian Martinez's first snap as Nebraska's starting quarterback.
The Huskers' season opener against Akron was canceled thanks to severe weather after a nearly three-hour delay.
The potential for a make-up game is not immediately known, though university officials said no definite plans exist and there is not a clear date that works for both teams before December.
The Huskers will play their first full game of the season next Saturday against Colorado.
Neither NU athletic director Bill Moos nor head coach Scott Frost were made available to reporters Saturday evening after the game was called, and the soonest availability with Frost is Monday afternoon.
It was not immediately known if the fact that the game began — Akron kicked off before play was halted because of lightning — and was suspended rather than outright canceled has any impact on whether Akron is compensated for making the trip. The game contract with the Mid-American Conference school called for a $1.17 million payment.
The official suspension announcement came at 9:55 p.m. — 2 hours, 41 minutes after kickoff and 2:40 after the delay began — and NU officials announced at 10:30 p.m. that the game would not be completed.
–
—
Neill Woelk's Ten Takeaways from the Rocky Mountain Showdown
From CUBuffs.com … Colorado fans were giddy Saturday morning — and rightfully so — in the wake of the Buffaloes' 45-13 win over Colorado State in their Friday night season opener.
The Buffs did lots and lots of things well.
But, as CU coach Mike MacIntyre told his team in the locker room, it was just the first step in a long journey, and while the Buffs' performance was no doubt reason for optimism, there is still room for improvement.
Thus, it's back to the grind Monday for the players and Sunday for coaches, who now find themselves in the position of trying to prepare for Nebraska with no game film. The Huskers' scheduled season opener against Akron was washed out Saturday, and the much-anticipated Scott Frost era will now begin with a visit from the Buffs.
But before we look ahead to a trip to Lincoln, Friday night's fourth straight Colorado win in the Rocky Mountain Showdown is worth another look. Thus, our weekly 10 takeaways:
1. CU's offense is a perfect fit for Steven Montez. For starters, Montez's numbers were terrific Friday night — 22-for-25, 338 yards and four touchdowns in the air, plus three rushes for 41 yards and another score. His 246.4 quarterback rating is the best in CU history for 20-plus and 25-plus attempts in a game, breaking the mark set by Koy Detmer in 1995 against NE Louisiana.
But what is also apparent is that co-offensive coordinator Darrin Chiaverini and quarterbacks coach Kurt Roper are putting Montez in the best possible position to succeed. CU's game plan takes full advantage of his terrific physical abilities while still making sure not all the pressure is on his shoulders.
Montez's ability to read defenses, react and make solid decisions have clearly improved. Meanwhile, those fly sweeps, screens and quick passes to the flat utilizing Colorado's speedy receivers keep defenses honest, keep the ball moving and are perfect for an up-tempo attack.
That up-tempo attack also opens up the downfield passing lanes for Montez's big arm, and he showed it with a picture-perfect 46-yard bomb to K.D. Nixon, who never broke stride en route to the end zone.
But his best pass of the night might have been a simple 4-yard back-shoulder scoring toss to Juwann Winfree. The timing between the two was perfect, as was the throw. Montez put the ball where only Winfree could make the catch, just at the end zone sideline. It was the result of the two spending countless hours over the last year throwing together whenever they had the chance — and unless teams continue to double-cover Winfree as much as CSU did, you can bet we'll see that connection plenty more times this year.
Montez did have one ill-advised toss that ended in an interception — and in the locker room, he was berating himself for the throw. But in the big picture, a 4-to-1 touchdown-to-interception ratio is one most coaches will live with.
… Continue reading story here …
–