—
Colorado Daily – Arizona State Week
—
October 5th
… CU in a few minutes … 
Buffs closing in on a sellout v. Arizona State
A Friday morning tweet from Brian Howell at the Daily Camera:
"As of this morning, #cubuffs have sold 49,193 tickets for Saturday's game vs. Arizona State, with only about 1,400 remaining. This game already ranks 4th in the Mike MacIntyre era (33 home games), with a chance to be the 2nd sell out in the past decade."
–
—
Mike MacIntyre:"We have to be able to run the ball on them and they know that"
From CUBuffs.com … With one of the most dynamic passing attacks in the nation, it's no secret the No. 21 Colorado Buffaloes would love to maintain that trend Saturday against visiting Arizona State.
But to accomplish that goal against the Sun Devils (3-2 overall, 1-1 Pac-12) in their 2 p.m. meeting at Folsom Field (Pac-12 Networks), the Buffs must first establish a run game.
Otherwise, head coach Mike MacIntyre warned, the 4-0 Buffs (1-0 Pac-12) could find themselves with a one-dimensional attack, and "that is when they feast on you."
Sun Devils defensive coordinator Danny Gonzales — a protege of San Diego State head coach Rocky Long — runs a 3-3 scheme that attacks with a variety of blitzes and stunts, all designed to make life miserable for an opposing quarterback. In five games, ASU has recorded 41 tackles for loss, including 18 quarterback sacks.
Thus, to prevent the Sun Devils from teeing off on CU's passing attack, the Buffs must first establish a run game.
ASU has struggled at times against the run. San Diego State gashed the Sun Devils for 311 yards on the ground in a 28-21 win and Washington ran for 171 yards in a 27-20 victory. And, even in a 52-24 win over Oregon State last week, ASU still gave up 261 yards on the ground.
"We have to be able to run the ball on them and they know that," MacIntyre said. "We have to be able to run the football and make some plays there to be able to allow us to throw it."
… Continue reading story here …
–
—
CU announces home-and-home with University of Houston
Press release from CUBuffs.com … The University of Colorado and the University of Houston have agreed to a home-and-home series in football in the middle of the next decade, CU athletic director Rick George announced Friday.
Houston will host the first meeting on Sept. 6, 2025, with Colorado hosting the following the year in Boulder on Sept. 12, 2026.
The two have a short but significant history on the gridiron, as they met in the 1971 Astro-Bluebonnet Bowl in Houston.  The Buffaloes entered the game ranked No. 7 in the nation, the Cougars at No. 15.  Houston took an early 14-7 lead on two short touchdown runs by Robert Newhouse, but CU scored 16 second quarter points to take a 23-14 halftime lead.  Charlie Davis scored twice in the first half, Ken Johnson connected with Larry Brunson on a 5-yard TD pass and J.B. Dean added a 32-yard field goal for CU's scoring.
Houston pulled to within 23-17 and had apparently stalled the CU offense in a 4th-and-9 situation on its own 10-yard line.  But in perhaps the riskiest and gutsiest play call in school history, punter John Stearns saw an opportunity to run and gained 12 yards and the first down.  Nine plays later, Johnson scored from a yard out to seal a 29-17 Colorado win.  It propelled the Buffs to a final No. 3 national ranking, and with Nebraska finishing No. 1 and Oklahoma No. 2, it remains the only time in history three teams from the same conference (the Big 8) finished 1-2-3 in the final polls.
"It's important that we play a game in the state of Texas every few years," said George.  "We obviously have a heavy presence recruiting in the state, it annually produces the third-most players on our roster (after Colorado and California), and we have good alumni bases all over the state."
Colorado has games in Texas in 2020 (at Texas A&M) and in 2023 (at TCU).   Houston has twice visited the state of Colorado, defeating CSU in 1973 (28-20) and losing to the Rams in 2008 (28-25).
The schools have met in various sports through the years, 22 times among sports the two currently sponsor.  The last meeting was in 2012, when CU defeated UH in women's tennis, 4-3.
CU officials previously announced a home-and-home with Georgia Tech those same years, with Colorado hosting the first game on Aug. 30, 2025 with the Buffaloes set to travel to Atlanta on Sept 5, 2026 as the games will serve as the season openers for both teams.   The 2025 schedule is not complete, but 2026 now is as previously it was announced that CU will play Northwestern on Sept. 19 of that year in the front-end of a home-and-home series.
Colgate completes CU's 2027 non-conference schedule and will visit Boulder on Sept. 4 of that year in the season opener.  The Buffaloes then host a pair of Wildcats in Northwestern on Sept. 11 and Kansas State on Sept. 18; CU will in turn play Kansas State in Manhattan in 2028.
It will be the first meeting between the two "CU's" in football, and the second overall in dual competition.  The Buffaloes defeated the Big Red, 74-52, in women's basketball in a game in Boulder on Dec. 30, 2010.  Colgate has previously played one game in the state, dropping a 38-13 decision to Air Force in 2013.
–
—
Laviska Shenault highlight video
From YouTube (the best two-and-a-half minutes you'll spend today!):
–
—
Neill Woelk: Friday's Fast Five 
From CUBuffs.com … It's no secret that last season's loss at Arizona State has been a sore point for the Colorado Buffaloes for the last year.
On the list of games that got away in 2017, a 41-30 loss to the Sun Devils might be at the top. The Buffs had a 10-point lead on three different occasions, just missed a chance to go up by 17 in the first half, and still led by 10 going into the fourth quarter.
That, though, wasn't enough, as the Sun Devils rallied for the win.
Now, the 4-0 and No. 21 Buffs (1-0 Pac-12) have a return engagement with ASU (3-2, 1-1) at Folsom Field.
What do the Buffs need to do in order to pick up their second conference win? Our weekly Fast Five:
1.  Establish a run game and produce long, time-consuming drives. The Buffs have proven they can strike quickly, with 15 of their 25 scoring drives this year taking less than three minutes. There's nothing wrong with being able to score in a hurry, especially when necessary.
But against UCLA, Colorado also displayed the ability to hammer out long, methodical scoring drives that not only took time off the clock, but punished the Bruins' defense in the process. The Buffs used their altitude advantage, and by the fourth quarter, UCLA's defense was running on empty.
The Sun Devils have not been particularly strong defending the run. Their goal is to get teams into obvious passing downs, which feeds perfectly into their 3-3, attacking defense that has 41 tackles for loss and 18 quarterback sacks.
The Buffs must be able to run the ball consistently and effectively against the Sun Devils. If they can put together some long, sustained drives, it will wear out their defense, open up the passing game — and give the Buffs a decided edge in what could be a make-or-break fourth quarter.
… Continue reading story here …
–
—
Buffalo Stampede video featuring CU alum Chris Fowler
Also: Gary Barnett, and a mic-ed up offensive line coach Klayton Adams …
From YouTube:
–
—–
October 4th
… CU in a few minutes … 
Will Sherman "has a chance to be a really good player"
From the Daily Camera … Red-shirt freshman offensive lineman Will Sherman received his first career start at left tackle last week against UCLA, and he is one of six CU offensive linemen who have played at least 175 of the Buffs' 300 snaps. Fillip also saw his most significant playing time against the Bruins, logging 25 snaps after seeing just 12 through the first three games.
"With freshmen, the key is they that have to keep getting better every single game because they have a bigger jump to make than some of the older guys do," Adams said. "(Sherman's) raw ability puts him in position to be successful a fair amount. The more he gets comfortable schematically, and is able to react rather than having to think about things all the time, and the better technique that he continues to play with, I think he has a chance to be a really good player. But just like every player, he has to understand that every week is a growing opportunity."
Sherman has taken that last message to heart. While the Buffs certainly need his production now, while sporting a No. 21 ranking and aiming to make a run in the Pac-12 South, Sherman understands he still has a long way to go to turn into a much-needed anchor for an offensive front that has endured significant shuffling since the start of 2017.
"Every week I think I've gotten better," Sherman said. "There is still a long way to go but I think I've taken big strides since the beginning of fall camp. We're trying out new pass sets now, and it's something a little different than what I was used to in high school. It's not as vertical. That's something we're really trying to stress in order to give Montez more time to make plays."
… Continue reading story here …
–
—
ASU quarterback Manny Wilkins: "I've got to make those special moments happen"
From The Athletic … Manny​ Wilkins' last contest​ at Colorado​ was not a pleasant experience.​ In 2016, the​ Arizona State​ quarterback rushed back​ from an​ ankle​​ injury suffered two weeks earlier. Making matters worse: He broke his right big toe against the Buffaloes. Hobbled, Wilkins couldn't do much of anything, and the Sun Devils limped home with a 40-16 loss.
"I took some licks that game," Wilkins said.
Looking back, Wilkins said it ranks among the worst experiences he's had during his college career. But it's not what motivates him entering Saturday's return trip to face the No. 21 Buffaloes.
Entering the season's midpoint, Wilkins admits he still seeks those "extraordinary moments," the explosive plays that elevate an offense to a higher level. For the Sun Devils (3-2 and 1-1 in the Pac-12) to contend in the Pac-12 South, he knows they probably need to come soon.
It's not that Wilkins has played poorly. His 63.5 completion percentage is respectable. He's thrown 10 touchdown passes and committed just one turnover, an overthrown pass that a Michigan State safety picked off in Week 2. But overall, Wilkins describes his play as just "average," which probably is accurate. He's managed the game well as ASU has shifted to a rush, ball-control approach. He's been solid in his reads.
At the same time, Wilkins has missed on home-run opportunities, and those plays tend to linger in his mind.
… "I hate that I say this every week but it's just small," Wilkins said. "We were this close to the gates just flooding open last week. You hit those, and we might hit 70. Never once have I been discouraged from how we've done in a game because we always take some really good positives from it.
"We'll hit them. I'm confident that I'm going to hit them this week."
… Continue reading story here …
–
—
Details on $3.1 million donation by the Crawford family
Press release from CUBuffs.com … The Crawford family is the fuel behind the energy and performance of student-athletes at the University of Colorado Boulder.
The Crawford's $3.1 million investment in the performance nutrition program announced Thursday will create a hands-on teaching kitchen, grow the fueling stations, and expand supplement and snack offerings for student-athletes. In addition, their transformational gift will support cutting-edge analyses of sports nutrition to pinpoint the nutritional needs of every athlete. In recognition of the family's investment, the student-athlete nutrition center will be renamed in their honor.
"Performance starts with food," said Laura Anderson, associate athletic director for performance nutrition. "That's the motto of the Performance Nutrition Department. We strive to implement and provide nutrition interventions that will contribute to our athletes' health and success. The Crawford's gift provides tremendous support for this mission."
With an unwavering commitment to CU Athletics and student success, the Crawfords have made CU a part of their giving legacy for almost 30 years. The family's Buff pride tradition extends from Gordy and his wife, Dona, to their late son, Brett, who attended CU from 1990-93, and to their son, Jeff (A&S'90), his wife, Orsi, and their two children, Jack and CJ.    
"We hope this gift will inspire others to give to the university, so that Colorado's student-athletes can compete at the very highest level in collegiate sports," said Jeff Crawford. "Go Buffs!"
"Through their continued dedication to this university and to our student-athletes, the Crawford family has created a significant legacy at CU Boulder," said Chancellor Philip DiStefano. "Their support will positively impact the health and excellence of our young athletes for years to come." 
Taking an innovative approach to maximizing performance, the nutrition program develops individualized fueling plans for student-athletes to better understand the relationship between their nutrition and performance.
"The Crawford family has been a proud CU family for many years and has always been generous to our mission," said Athletic Director Rick George. "With this gift, they are permanently changing how our student-athletes view nutrition and its impact on performance. Their gift will give our student-athletes access to cutting-edge programs to maximize their ability."
Learn how you can support CU Boulder's student-athletes through the Performance Nutrition Department at: cubuffclub.com
–
—–
Can the CU defensive front maintain success against better competition?
From the Daily Camera … Through the Buffs' 4-0 start, the defense has set a pace that should easily topple last year's totals of 22 sacks and 54 quarterback hurries. CU has recorded at least two sacks in every game and heads into the ASU showdown with 13 sacks and 34 quarterback hurries. Perhaps more encouraging than the overall numbers is how the Buffs have dialed up pressure from a number of angles. That checklist includes improved play by holdovers on the interior of the defense (Javier Edwards, Jase Franke) to veterans up to old tricks at new positions (Drew Lewis) to newcomers like Davion Taylor and Mustafa Johnson supplying pressure off the edge.
"I think it's more consistent because I think it starts up front with our defensive front," Lewis said. "Those guys are getting more experience and they're getting more comfortable playing in there. We're seeing that on game days. Then you add the outside linebackers and the inside linebackers. I'm trying to get into the scheme more and we're still working on different schemes where we have guys looping in and guys working different combo games up front. We're working on all that kind of stuff to try and get to the quarterback."
The Buffs understand their one game-at-a-time approach will be put to a test as the schedule takes a more demanding turn. Given CU picked up 10 of those 22 sacks in 2017 during a 3-0 run through an underwhelming nonconference slate, it's easy to wonder how well the Buffs' defense will keep pace through the Pac-12 schedule.
… Continue reading story here …
–
—–
October 3rd
… CU in a few minutes … 
Montez getting more runs: "We don't want to run him a ton, but if they are going to give it to us we will let him"
From CUBuffs.com …  In four games this season, Colorado quarterback Steven Montez has three rushing touchdowns, matching the number he produced on the ground in all of 2017.
It is not an anomaly. While remaining judicious with their use of Montez as a rushing threat, the Buffs are incorporating his talents into the ground game at key moments, adding one more weapon to their Folsom Fast attack.
It is difficult to argue with the results. While Montez's numbers — 29 carries for 108 rushing yards — are by no means impressive, those numbers change significantly when sacks are taken out of the equation (unlike the NFL, which subtracts sack yardage from passing totals, the NCAA subtracts sack yardage from rushing totals).
Without the sack yardage — and the sacks counted as rushing attempts — Montez has carried 19 times for 165 yards, a healthy 8.7 yards per carry. That includes a 38-yard scoring run against Colorado State in the season-opening win and two touchdown runs — for 35 and 10 yards — in last week's 38-16 win over UCLA.
"We don't want to run him a ton, but if they are going to give it to us we will let him," head coach Mike MacIntyre said of the game plans concocted by co-offensive coordinator Darrin Chiaverini and Klayton Adams. "He has gotten better at sliding compared to the last few years. It enables us to play fast. Chev has done a great job, both him and coach Adams, in getting things called quickly and getting things going."
… Continue reading story here …
–
—
Mike MacIntyre post-practice talk with media (Wed.)
From YouTube, courtesy of CUSportsNation:
–
—
"Folsom Fast" can also include 12-play, 80-yard drives
From CUBuffs.com … Since the season began, the Colorado Buffaloes' offense has prided itself in being "Folsom Fast."
Of CU's 25 scoring drives, 15 of them have taken less than three minutes to complete. It's what happens when 10 of your touchdown plays cover 25 yards or more.
But in last week's 38-16 win over UCLA, Colorado also proved it can grind out steady, methodical scoring drives that work the clock — and take a toll on the defense at the same time. The Buffs had a 12-play, 80-yard scoring drive that took 5:51 off the clock in the first half, then took control late in the third quarter with another punishing drive, a 13-play march that featured 10 rushes while covering 67 yards and using 5:45.
That drive, which gave the Buffs a 28-13 lead, left the Bruins' defense gasping for air. The Buffs then delivered the knockout punch in the fourth quarter with a six-play, 51-yard drive for a field goal and a five-play, 63-yard march to the final touchdown of the night.
It's a trend the No. 21 Buffs (4-0 overall, 1-0 Pac-12) would like to continue Saturday when they play host to Arizona State (3-2, 1-1) in a 2 p.m. game at Folsom Field (Pac-12 Networks).
"We definitely will want to be able to do that," head coach Mike MacIntyre said at his Tuesday press conference. "We ran the ball well. We also used the clock really well on that drive. We used the clock and were able to get a score. That made a big, big difference."
… Continue reading story here …
–
—–
October 2nd
… CU in a few minutes …
Mike MacIntyre Tuesday press conference
From YouTube, courtesy of BuffStampede.com:
–
—
With Juwann Winfree nursing injuries, Tony Brown emerging as an option for quarterback Steven Montez
From the Daily Camera … Needing a big play late in the fourth quarter at Nebraska, Colorado quarterback Steven Montez had one of his most reliable receivers on the sidelines with an ankle injury.
The junior didn't hesitate, however, to look for Tony Brown.
Off the snap, Brown, lining up in the right slot, took a quick step to his right to shake his defender and then darted inside. Montez hit him in stride for a 17-yard gain on third-and-6 — a pivotal play to set up the game-winning touchdown a few moments later.
"The big play he made when Juwann (Winfree) got hurt at Nebraska, that slant that he broke the safety down and hit, that was a huge third down play on the last drive," head coach Mike MacIntyre said. "I think it gave him a ton of confidence."
To that point, Brown had just two catches for five yards on the season, but he has since blossomed as a go-to receiver for Montez.
With Winfree missing the last two games with his ankle injury, Brown has caught 11 passes for 157 yards. He's had two 53-yard catches.
… Continue reading story here …
–
—
Uniform combo for Arizona State game: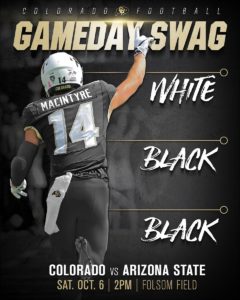 –
—
Buffs averaging 40.3 points per game – 23rd in the FBS
From The Athletic … Raise your hand if you had Colorado as the only undefeated Pac-12 team at Week 5 in the season …
I certainly did not. Coming into this year I thought Utah could be the dark horse in the Pac-12 South as they worked under second-year offensive coordinator Troy Taylor and returned many of their key weapons. But I was mistaken to underestimate what this Colorado offense could look like with third-year QB starter Steven Montez.
The Buffs are averaging 40.3 points per game, the 23rd most among FBS teams and the most (by far) they've averaged under Mike MacIntyre. And yes, their competition hasn't been stout — their three FBS opponents have amassed a 1-12 record so far — but the fact that Colorado has put up 40-plus points per game is a good hint that maybe this could be a season in which the Buffs surprise yet again.
Unlike me, Colorado offensive coordinator Darrin Chiaverini wasn't surprised to see the numbers this offense has been putting up.
"I thought when we were in fall camp that we could be explosive," Chiaverini told The Athletic. "You never know until you start playing games, but I thought we had the skill and the technique. … I've been pleased that we've been able to make big plays consistently."
The road will get tougher for the Buffs from this point.
… Continue reading story here …
–
—–
October 1st
… CU in a few minutes …
Buff defense preparing for a talented Arizona State offense
From CUBuffs.com … This week, the No. 21 Buffs (4-0 overall, 1-0 Pac-12) are preparing for a return engagement with ASU (3-2, 1-0) — and many of the players who led the Sun Devils' comeback a year ago will be at Folsom Field for Saturday's 2 p.m. game (Pac-12 Networks). The list includes senior quarterback Manny Wilkins, junior wide receiver N'Keal Harry and sophomore running back Eno Benjamin.
"It is a very talented team," Colorado defensive coordinator D.J. Eliot said after Monday's practice. "We're going to have to have everybody playing their best in order for us to win."
The Buffs are coming off a solid overall defensive effort in Friday's 38-16 win over UCLA. Colorado held the Bruins to just 289 total yards and allowed them just one trip into the end zone. Colorado had three sacks in the game — two from outside linebacker Drew Lewis — and held UCLA to 5-for-16 on third-down conversions. Linebacker Nate Landman had nine tackles while Buff back Davion Taylor had six tackles, including a sack and another tackle for loss.
But the Sun Devils might be the stiffest test the Buffs have had yet. Under first-year head coach Herm Edwards, ASU has produced a balanced attack, averaging 181 yards per game on the ground and 245 in the air. The run game features Benjamin, who last week set an Arizona State rushing record with a 30-carry, 312-yard, three-touchdown effort in a 52-24 win over Oregon State.
The Buffs got a glimpse of Benjamin in last year's game, when he carried five times for 52 yards, including a game-clinching 19-yard touchdown run in the fourth quarter. But now that he is the feature back, he has taken his game to the next level.
"He's really talented," Eliot said of the 5-foot-10, 210-pound sophomore. "He makes people miss, he's explosive. We have quite a challenge with him this week."
… Continue reading story here …
–
—–
Mike MacIntyre post-practice talk with media (Mon.)
From YouTube, courtesy of CUSportsNation:
–
—
Kickoff time set for CU at USC 
From Dave Plati, CUBuffs.com … The Colorado at Southern California football game on Saturday, October 13, will kickoff at 8:30 p.m. MDT (7:30 p.m. PDT) and will be televised nationally on Fox Sports 1.
(The game will be at the Los Angeles Memorial Coliseum, which is undergoing major facility updates.)
The other two Pac-12 games that day:
1:30 p.m. MDT: Washington at Oregon (ABC/ESPN reverse mirror)
5:00 p.m. MDT: UCLA at California (Pac-12 Network)
–
—
Second half adjustments a key to CU's September success 
From the Daily Camera … In getting off to a perfect start during the first month of the season, the Colorado football team has displayed its firepower on offense.
Laviska Shenault leads the country in receiving, quarterback Steven Montez leads the nation in completion percentage, and Travon McMillian is one of the top running backs in the Pac-12.
Meanwhile, the Colorado defense has been stellar in its own right, helping the 21st-ranked Buffaloes to a 4-0 record (1-0 Pac-12).
In particular, coordinator D.J. Eliot and his staff have been exceptional at making halftime adjustments. Unlike last year, the Buffs have been better on defense as games go along.
"We know our guys really well and we have a really good unit," said Eliot, in his second season with the Buffs. "It's not necessarily the coaching as it the playing. The big thing is that those guys step up to the challenge and they play together and they never quit and they never point fingers. That allows us to make adjustments and execute in the second half."
… Continue reading story here …
–
—–
September 29th 
… CU in a few minutes … 
Buffs happy with win, but not satisfied
From the Daily Camera … In the Colorado locker room on Friday night, the music was cranked up as players danced and hopped around, celebrating their 38-16 win against UCLA.
Even head coach Mike MacIntyre joined in, showing off his dance moves, to the delight of his players.
At 4-0 for the first time in 20 years, the Buffaloes (1-0 in Pac-12 play) are having a lot of fun, but what seems to be making this team different from a year ago is that they know the secret to enjoying those locker room celebrations.
"Just continue to work hard every single day," senior receiver Jay MacIntyre said. "Celebrate this one tonight and then put it behind us tomorrow. Continue to strive to be better and better each day, because we can't get satisfied and we're not going to."
… Continue reading story here …
–
—
Neill Woelk: Ten Takeaways from 38-16 win over UCLA
From CUBuffs.com … For the fourth time in as many games, Mike MacIntyre's Colorado Buffaloes did what was necessary to produce a win Friday night at Folsom Field.
For a half, they sparred with visiting UCLA, then delivered the knockout punch in the third quarter. In a matter of roughly 10 minutes, they turned a close game into a dominant performance by the home team, ultimately scoring 24 unanswered points in the fourth quarter to produce a 38-16 victory.
Now, the 4-0 Buffs will spend the week preparing for their second Pac-12 game, next Saturday's 2 p.m. visit from Arizona State (Pac-12 Networks). They will continue to work on the areas that need improvement, fine-tune the things they have been doing well, and no doubt add a few new wrinkles to show the Sun Devils.
So what did we learn from the Buffs' latest effort — and what does it mean for the future?
Our weekly 10 Takeaways:
1. Defensive coordinator D.J. Eliot is making the right calls. Twice this year, the Buffs have had to make some big halftime adjustments, and twice those adjustments have paid off. At Nebraska, Colorado gave up 21 points in the first half and just 7 in the second. Friday, Colorado yielded 13 points in the first half and just three in the second.
Eliot continues to put his playmakers in position to impact the game. Early Friday night, he brought pressure off the edge in the form of outside linebacker Drew Lewis, who notched his first two sacks of the season (and just missed his third). Eliot also continues to get Buff back Davion Taylor into the mix, with Taylor also recording his first sack of the season. That's something we will likely see more of in the future, as Lewis and Taylor give Colorado a terrific one-two speed rush from the outside.
Meanwhile, Eliot is also doing a nice job of mixing and disguising CU's secondary coverages while getting a good push up the middle from the defensive line rotation. UCLA quarterback Dorian Thompson-Robinson was just 17-for-35 for 138 yards and a score, and his longest completion of the night was just 23 yards. Even when Thompson-Robinson had time to throw, he didn't often have open receivers downfield.
And, the defense also did a nice job of limiting explosion moments. The Bruins had just two plays of 20 yards or more, a 23-yard completion and a 44-yard run.
Yes, the road will get tougher for the defense — but so far, Eliot has done a nice job of using his best players to limit those on the offensive side.
… Continue reading story here …
–
—
CU opponents now a collective 1-16
Adding 0-4 UCLA to CU's list of victims, the record of Buff September opponents fell to 1-14.
Make that 1-16.
Nebraska fell to 0-4 on the season, with a 42-28 loss to Purdue. Dating back to last season, the Cornhuskers have now lost a program record eight games in a row.
The Buffs couldn't even get a break from Week Three opponent New Hampshire, which remains winless, falling to Elon, 30-9.
Colorado State, which owns the only victory by a CU opponent (against Arkansas), remains at 1-4, enjoying a bye week.
–
—–