—
Colorado Daily – USC
—
November 11th – Veteran's Day Game Day!
Drew Litton on CU v. USC
From the Daily Camera …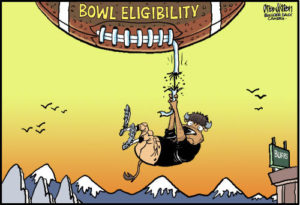 –
—
Buffs want to send senior class out with a home win and a bowl bid
From CUBuffs.com … The math at Folsom Field will be simple Saturday when Colorado plays host to Southern California in a nationally televised 2 p.m. contest (Fox).
The 5-5 Buffs (2-5 Pac-12) can secure bowl eligibility with a win. The Trojans (8-2, 6-1) can clinch the Pac-12 South with a victory.
Thus, one of the teams is going to walk off the field late Saturday afternoon with their future a little more in focus. The other will have to wait until the season finale to figure it out.
But the Buffs say bowl eligibility is secondary on their list of priorities. More importantly, they would like to collect a win Saturday in order to make Senior Day a memorable one for those Colorado players who will be making their last Folsom Field appearance.
"Getting to a bowl game would be a great accomplishment for this team and for our class, but I think focusing on this game and trying to get this win is important," senior offensive lineman Jonathan Huckins said earlier this week. "Everyone always talks about how we've never beat USC, we're just trying to focus on our game plan and trying to do the rights things this week."
… Continue reading story here …
–
—–
November 10th
… CU in a few minutes …
Neill Woelk's Five Keys to CU v. No. 15 USC
From CUBuffs.com … In terms of offensive balance and explosiveness, the Colorado Buffaloes will see the best team they have faced all season when USC pays a Saturday afternoon visit to Folsom Field. Colorado defensive coordinator D.J. Eliot said the Trojans are "as talented as team offensively as we've seen."
The 15th-ranked Trojans are equally talented on defense.
"They have a bunch of pro players," is how CU head coach Mike MacIntyre described the Trojans earlier this week. "They always have, they always will. They have the best recruiting spot of anybody in the country."
Colorado's history against USC has been well-documented over the last week. The Buffs are 0-11 all-time against the Trojans, including an 0-6 mark in Pac-12 play and 0-5 in Boulder.
But if the Buffs are to go bowling this season, they need at least one win in their last two games. They would no doubt like to get that under their belt Saturday in their home finale, when they will honor 21 seniors.
What the Buffs need to do to get that win:
… Continue reading story here …
–
—
CU's Derek McCartney saved the life of … a Nebraska fan
From ESPN …  "What do you say to somebody who saves your life?"
It's a question John Steele has asked for close to two years and one he'll have the opportunity to answer on Friday when he meets Colorado senior defensive end Derek McCartney. That afternoon, on the eve of McCartney's final Buffaloes home game, there will be a family reunion of sorts. Steele will meet the man whose DNA and A-positive blood type he now shares, and whose cells live in his body, keeping him alive through a transplant that saved his life.
"In a million years," Steele said, "I would have never guessed who it was."
Steele and McCartney were a mystery match, brought together by cancer, "Be The Match" by The National Marrow Donor Program, modern medicine and the generosity of the human spirit. According to domestic transplant protocol, a year had to pass before they could even know each other's identity.
Not that Steele didn't try.
…
Since March, Steele and McCartney have exchanged emails and a few text messages. They have yet to speak on the phone. Steele, always mindful of McCartney's schedule, doesn't want to bombard him.
But on Friday, the two will meet, and neither is exactly sure what he'll say. Steele will be joined by Andie, Ryan and Sally for the weekend. They will ride Colorado's team bus to the Pearl Street Stampede pep rally and will be at Folsom Field as McCartney and his teammates take on USC.
"I am really nervous, I know I'm going to blubber all over the place," Andie said. "We're so impressed with the kind of person he is. How do you express that appreciation? There aren't enough words to let them know how much it meant."
Added Ryan: "Other than 'thank you' about a million times."
McCartney looks forward to meeting Steele and wants to be in more frequent contact going forward. They share a link that neither will ever take for granted.
"It's really cool," McCartney said, "that life brought us together."
… Read full story (definitely worth your time) here …
–
—
Ten inducted into CU Sports Hall of Fame
… Related … List (with bios) of every member of the Colorado Sports Hall of Fame …
… Related … Plati-Tudes on ten new members of the Hall of Fame Class …
From CUBuffs.com … Ten Buffs from 10 sports representing six decades became the 13th class inducted into the CU Sports Hall of Fame on Thursday in front of a full house at the Coors Events Center.
Each new member had a different story and each added a personal touch to their induction acceptance speech. But even with all the diversity, all the different stories, all the different paths that led the inductees to Thursday's induction, there was one overriding theme: family.
Specifically, the University of Colorado family, something that obviously had an impact on every new member, not only during their times at CU, but in their lives long after their athletic careers were over.
"This isn't about me," said football great Stan Brock, who followed an All-American career in the late 1970s with a 16-year NFL career. "This is about us. It's about the University of Colorado family. For 16 years in the NFL, it always said, 'Stan Brock, University of Colorado' after my name. I've always been proud of that. That's what makes this so special."
Other football inductees were Mark Haynes (football class of 1979) and Chad Brown (1992). Also honored were the late Frank Brown (skiing 1959), Karrie Downey (volleyball 1995), the late Les Fowler (golf 1948, also coaching), Steve Hatchell (administration 1970), Jay Humphries (men's basketball 1984), Jamilla Lang (women's basketball 1994) and Jorge Torres (track/cross country 2003).
… Continue reading story here …
–
—–
November 9th
… CU in a few minutes … 
CB Isaiah Oliver still "day-to-day"
From the Daily Camera … Colorado has already played two games without star cornerback Isaiah Oliver.
Head coach Mike MacIntyre said he may not know until Saturday if the Buffaloes will go a third game without the junior.
"He practiced (Wednesday) a little bit more, so we'll see at game time," MacIntyre said.
CU (5-5, 2-5 Pac-12) will take on No. 15 Southern California (8-2, 6-1) on Saturday at Folsom Field. Of course, MacIntyre isn't likely to state publicly if Oliver will play or not against the Trojans, but they'd certainly be better with him.
Oliver injured his leg during the first half of an Oct. 21 game at Washington State, and has missed the last two and a half games. The Buffs brought him on the trip to Arizona State last week in hopes he would play, but he was unable to go.
"It's been tough for him, tough for us, tough for everybody," MacIntyre said. "He's a difference maker for sure."
… Continue reading story here …
–
—
Offensive line without Tim Lynott: "It is what it is"
From the Daily Camera … Continuity has been almost non-existent for the Colorado offensive line this season.
A suspension, injuries and ineffectiveness at times have led to the Buffaloes shuffling their line throughout the year. They'll do it again this week after sophomore guard/center Tim Lynott, Jr., tore an Achilles' tendon in a 41-30 loss to Arizona State last week.
Offensive line coach Klayton Adams doesn't have time to dwell on Lynott's injury, though. He and the Buffs (5-5, 2-5 Pac-12) have No.15 Southern California (8-2, 6-1) coming to Boulder this week.
"It is what it is," Adams said. "That's why you have to recruit a lot of good players, and I think we've got other guys that are ready to make their move, and that's what needs to happen. You have to go out and play well, and that's the expectation."
In addition to losing Lynott against the Sun Devils, the Buffs unexpectedly didn't have sophomore tackle Isaac Miller available. Miller has had knee trouble all season and when the Buffs got to the game, Miller wasn't ready to go.
"We tried to figure out the best lineup we had," Adams said.
Miller had started four games in a row at right tackle, but Josh Kaiser filled that role against the Sun Devils.
… Continue reading story here …
–
—
Pac-12 Networks preview: USC at Colorado
From YouTube:
–
—
Secret Lives of mascots – Ralphie
From CUBuffs.com … Since 1892, when a Yale student showed up at a sporting event with his pet bulldog, Handsome Dan, collegiate sidelines have been like Disney's Animal Kingdom, crawling with critters big and small, chosen to represent their school's very literal spirit animal. In the days before such acts became (thankfully) more regulated, football teams shared the field with actual bears and cougars, led around loosely with little more than leashes of rope.
They perform in front of rock star crowds and as a result enjoy the posh perks of living in the spotlight. Don't believe us? Here's a look at the secret life of six of collegiate athletics' archetypal animals …
Ralphie V … 
When Bevo made his debut in 2016, he weighed in around 1,100 pounds. That's good for only the second-heaviest live mascot. The biggest load is located somewhere near Boulder, Colorado. Her name — yes, her — is Ralphie, and she weighs in at 1,200 pounds. Unlike Bevo, her horns aren't long. And much unlike Bevo, there's nothing docile about her, particularly during pregame ceremonies. That's when she dashes across Folsom Field at speeds up to 25 mph surrounded by a quartet of handlers.
The story goes that in the logistics meeting held the night before the 1990 Orange Bowl, a game between Colorado and Notre Dame with heavy national title implications, everyone in the room was perfectly clear on every detail of the night but one. As the meeting wrapped up, Fighting Irish head coach Lou Holtz stood and shouted, "Wait! How the hell does this work with the buffalo?!" The room laughed. Then everyone realized he was serious.
"Hell no, I wasn't joking," he recalls now. "All I could envision was that gorgeous animal getting loose and running over [Notre Dame quarterback] Tony Rice before we'd even played a down. But when I saw how well it was run, I was amazed. I'm still amazed by it."
Before every dash, Ralphie's handlers describe the just-turned-11-year-old as being like a big puppy dog, wagging her tail and even sticking her tongue out of her black and gold trailer to give them a playful slurp. If she isn't acting hyped before her big moment, they take notice.
"We never make her do anything she doesn't want to," explains John Graves, CU's live mascot program manager. "We all know her very well. She lets us know when she's ready or not ready."
Graves has known her nearly since birth. He was a student handler in 2008, when predecessor Ralphie IV hung up her running hooves. When he started, Graves was taken to the pasture where IV grazed, and he was tasked with cleaning, feeding and shoveling whatever she left behind. Today, dozens of students apply for the half-dozen spots that open each season. A larger group helps with her rehearsals and transportation to the stadium. But no matter one's duties, everyone spends time at the pasture to bond with the Buff.
Just don't bother asking where that pasture is.
This is Ralphie's 50th anniversary season, and for all but the first three, the location of her home has been guarded with secrecy befitting the nearby military installations. You can blame that on, well, the military. In 1970, Ralphie I was abducted by a group of Air Force Academy cadets. Ever since, no unauthorized soul has been allowed to visit. (Not even sportswriters and their photographers.)
By the way, Ralphie's gigs aren't limited to football. The day after CU's close home loss to Arizona earlier this season, Ralphie dashed across the field to support the Buffalo soccer team. Hey, you can see it for yourself via her official Twitter feed, @CUBuffsRalphie.
… Continue reading story here …
–
—–
November 8th
… CU in a few minutes … 
Steven Montez ready to face USC for a second time
From CUBuffs.com … Since a halftime benching three weeks ago, Colorado quarterback Steven Montez has put together back-to-back quality performances.
The Buffs sophomore would like to make it three in a row Saturday, when 5-5 CU (2-5 Pac-12) plays host to 15th-ranked USC (8-2, 6-2) in a 2 p.m. game at Folsom Field.
In his last two games — a win over Cal and a loss at Arizona State — Montez has completed 43 of 67 attempts for 692 yards and four touchdowns. Included in that stretch are Colorado's four longest pass plays of the season: a 65-yard touchdown toss to Shay Fields and a 58-yard pass to Laviska Shenault Jr. against Cal; and a 60-yard completion to Phillip Lindsay and 54-yard touchdown pass to Fields at ASU.
While those numbers would be even more impressive had it not been for some key drops against the Sun Devils, Montez said those miscues were a one-time aberration.
"We'll catch them," Montez said. "I'm not even concerned."
The Trojans are one of three teams Montez saw as a starter last year. In a 21-17 loss in Los Angeles, Montez was 25-for-40 for 197 yards, one touchdown and one interception.
… Continue reading story here …
–
—
Mike MacIntyre post-practice talk with media (Wed.)
From YouTube, courtesy of BuffsTV:
–
Steven Montez post-practice talk with media (Wed.)
From YouTube, courtesy of BuffsTV:
–
—–
November 7th
… CU in a few minutes … 
Mike MacIntyre Tuesday press conference quotes
From CUBuffs.com …
Opening Statement
"I'm glad we have that new indoor facility. I wasn't expecting snow when I woke up early this morning at 5 a.m. and saw it out there. We had a good practice. Tim Lynott, he gets operated on tomorrow on his Achilles. Hopefully that goes well."
On How USC Looks On Film
"They're very athletic. There's a lot of athletic guys in the Pac-12 too. Every team has guys that pop (on film) and do things. The quarterback pops out with his athleticism. We have a lot of great quarterbacks in this league and a lot of guys that have played in the NFL at the quarterback position, but he's extremely athletic. He made a throw in the Arizona game that I was amazed. He sprinted out to his left, threw it back over here, over a guy's head right to a running back running down the sidelines 40 yards. Not many people can do that. His athleticism pops out, but they are a very athletic team there's no doubt about it. There are a lot of athletes in our league that pop out quite often."
On The Role The Seniors Had In The Rise Of The Football Program
"They've done a tremendous amount for the university, for our program, for the guys in our program. I can't really put a value mark on it, because of what all they've done. When they came here it was a very hard time and a very, very low point in the program and they've made us extremely competitive all the time. Hopefully we'll win these last two games and be able to go to a bowl. I've calculated it today and I think it's like 1,400 players have gone through here and haven't had a chance to go to back-to-back bowls since they did it last. Close to 1,400 kids don't get a chance to do what these guys are on the brink of being able to do. That puts a really high value on what they have done. People were telling them, 'Don't come here.' They've brought the pride back. We lost a couple heartbreakers this year and could have won them, but didn't. What they've done is made us extremely competitive and be able to keep moving on from there and be a competitive program."
On The Career Of Wide Receiver Shay Fields
"Shay's done a great job. Shay's always played well for us and been able to a lot of plays for us; they were teasing him 'Big Play Shay.' He's done an excellent job. He has a great family; his mom and dad are just tremendous. I've really enjoyed coaching Shay. I've enjoyed watching Shay grow up. He's right on the brink of graduating. I'm going to be sad watching him play his last game on Folsom Field. Also, at the same time, I remember so many joyous moments in there, but also on the practice fields, in the meeting rooms, on the trips and his sense of humor. I'll miss Shay in a lot of different ways just besides the football player."
On If Offensive Lineman Jonathan Huckins Was The Emergency Center In The ASU Game
"He was healthy, or we wouldn't have been able to play him. He wasn't able to practice full speed all week until late in the week. He was completely cleared on Thursday, so he went in a blue jersey and didn't have a lot of contact. He was more of an emergency situation center like it happened. He came in and did a good job."
On If He Envisioned George Frazier As A Two-Way Player When He Recruited Him
"Watching George Frazier on high school film, he played quarterback, he played defense, linebacker, tight end, defensive line and defensive end. So, we didn't really know what he would play when he came. We just worked with him. He fit in at the tight end spot, because of his ability to catch and do some things. He wasn't quite as big as he is now. At that time I think he was about 250 and he's 285 now. He's been able to have that same athleticism and be able to help us on both sides of the ball. In his sophomore year, we were hurting defensive linemen-wise and got him to play both ways. He did a good job there. Last year, we didn't have any injuries in that area and he could just focus on offense. This year coming into the season I knew we were going to be a bit little younger, so we worked with him during spring practice doing both. With some of the things that we've had happened, he's helped us in a lot of different ways and have been a huge part. I think he's had an excellent senior year."
On Tight End/Defensive End George Frazier Being Able To Get His Masters
"When they're here five years, you want them to be able to do that or a lot of them get a second major or minor that they want to emphasize in. In college, you want to do this and this, but about three-fourths of the way into it you realize that's not really what you want to do. In college football, you can't switch, because if you switch then you're ineligible. They say they're normal students, but they're not. It seems like if you have all your units and you're in good standing they'd let you switch. With the fifth year, a lot of times we advise those guys. A lot of people understand all the demands on them. A lot of people looking at them for jobs realize this will be a good fit. They know what they want to do, they've had a lot of experience and they've really worked a job playing football and going to school. They've worked two jobs. That's something that he's doing and I'm very proud of what George has done working on that masters, there's no doubt."
On If Tailback Phillip Lindsay Holds A Special Place In His Heart
"Yes he does. I love all the guys the exact same and care about them all. The reason with him is that the first time I ever met him he couldn't even bend his knee and weighed about 150 pounds. I just saw his energy you see inside of him that you see now and I said, 'I'm going to take this guy no matter what. I don't know if he'll ever play for us,' because at the time I wasn't sure and he wasn't either. My inner-gut told me you better take a chance on this guy, because he's something special just as a person. Sure enough he's been special as a person, as a player and someone that I'll stay in close contact with throughout the years. Whatever he ends up doing, he'll be extremely successful at it."
On What Phillip Lindsay Will Do After Football
"I don't know. I believe he definitely wants to be a police officer back in Denver in the inner-city area. He wants to make a difference. His mission is to mend all the things that we see going on in our country. If there's anybody that can do it, it can be Phillip Lindsay. I definitely hope that he'll still follow his heart and do that. I know there'll be a lot of police forces out there that will be begging to have him for sure. He'd be great for our country, state and for the city of Denver."
On What Graduate Assistant Coach Chidera Uzo-Diribe Has Meant To The Team
"It's been awesome. He's helping us a tremendous amount as a graduate assistant. When I came here, he played really, really well for us. I still have the picture in my house of the play he made against Colorado State when he rushed the quarterback and then he sprinted after the guy – we've been talking about that and we work a strip drill every day – and he strips it just like he's supposed to and the running back fumbles it and [former cornerback Greg] Henderson picks it up and runs with it. That was the game-changing play. I see it every single day. It epitomized someone coming in and embracing us. What was great was him wanting to come back and be a coach here and get into coaching and be a part of who we are and what we do. I admire his work ethic and the person he is and his love for CU. I also am very honored that he thinks that much of me that he wanted to come back and be a part of the program and the way he bought in. He started that whole ability to believe in what we're doing and his attitude was passed on down to guys who were freshmen that year and guys that are seniors now too were a part of that. He was a big part of that."
On If Beating USC Helps Recruiting Student-Athletes From California Or Are All Wins Equal
"All wins are important, but getting a win against USC in that recruiting mecca – it's a fertile, fertile recruiting ground—I definitely think would carry more weight. There's no doubt about it, it would in that area. That's one of our big recruiting areas. Within USC and, counting out traffic, a two-hour radius, there's 100 or more Pac-12, big-time football players within driving distance of their campus and it might even be more than that. It would make a big difference for us."
On How The Early Signing Day Changes The Coaches' Schedules During The Season
"It's changed the season for the coaching staff. We have a lot more official visits during the season. It's definitely sped it up a lot more. There are a lot of things that are sped up, but it definitely has made it a little more frantic and a bit more pressing during the season than it has in the past. I think we've adapted well to it and had a good plan. Our recruiting department has done a great job with preparing for that. The one good thing I'm looking forward to is when we sign them on December 20th, it's basically over then. Now, you're starting for the next year. Maybe after the Christmas holiday it won't be as frantic in January as it was."
On Not Having Offensive Lineman Jeromy Irwin Next Year
"Jeromy is the only guy that was here before I came and is still here. What all he's been through, his work ethic, his fight and tenacity, he's really what you would epitomize if you said a tough football player. He's a tough football player. He's going to have a chance to play at the next level and I wish him the best there. He'll leave here with a degree and he's working on a minor and doing all that. He's just been a rock-solid guy for us and it's been a lot of fun coaching him and getting to see him grow up. Of course, when we had his brother, Sean, here it was really neat. I saw Sean at church on Sunday and we were talking about the games. It's been a lot of fun with Jeromy and I'm definitely going to miss him and the toughness that he brings to our football team."
… Continue reading story here, including quotes from Jonathan Huckins, Jeromy Irwin, Gerrad Huckins, and Afolabi Laguda …
–
—
Derek McCartney named semi-finalist for Collegiate Man of the Year
From CUBuffs.com … On Tuesday, Colorado senior outside linebacker Derek McCartney was named one of 20 semifinalists for the inaugural Jason Witten Collegiate Man of the Year award.
Compiled by a subset of the Jason Witten Collegiate Man of the Year Selection Committee, the semifinalists have all demonstrated a record of leadership by exhibiting exceptional courage, integrity and sportsmanship both on and off the field.
McCartney is one of three Pac-12 football players up for the award and is joined on the list by USC's Jake Olson and Stanford's Harrison Phillips.
McCartney has made the Colorado Buffaloes and his family proud by being an exemplary student-athlete.
He graduated in May 2016 after just three years with a degree in one of CU's most challenging majors – Integrative Physiology – with a Pre-Med course of study at Colorado. He is now enrolled in CU's graduate program for Integrative Physiology and is on schedule to earn his master's this December.
He has given back to the community that supports him and on the field he has been a role model for teammates and others, highlighted by the fact that he is one of just 10 Buffs in program history to serve as a team captain twice. Last weekend at Arizona State, McCartney posted new single-game highs in tackles (14) and pass breakups (3) while also recording one sack and having three third down stops.
… Continue reading story here …
–
—
Back to basics: Tackling fundamentals a must v. USC running game
From the Daily Camera … This week, Colorado will have to contend with USC running back Ronald Jones, who has rushed for 1,082 yards and 13 touchdowns.
In a win against Arizona on Saturday, Jones had 194 yards and three touchdowns, and Pro Football Focus posted that 101 of those yards came after contact. According to PFF, Jones forced six missed tackles.
That's a problem for the Buffs, who have struggled against the run. They gave up 381 yards on the ground to ASU, and CU coach Mike MacIntyre cited missed tackles as the main reason.
"You can kind of work on different things (as coaches), but go back and watch it," he said. "We're right there and (ASU's Demario Richard) just runs over us. Literally. On two long runs he made, two people miss that are faced up on him and they have to make the tackles. Players have to make those tackles. We work on tackling all the time and they have to make the tackles."
MacIntyre said Jones is "fast as lightning" and athletic.
"He's an excellent, excellent back," MacIntyre said. "He's a pro back for sure."
… Continue reading story here …
–
—
Buffs going with all black for USC
Black is back …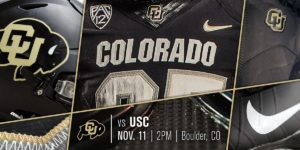 –
—–
November 6th
… CU in a few minutes … 
Buffs have plenty of motivation this weekend
From CUBuffs.com … There will be no shortage of motivation for the Colorado Buffaloes on Saturday when USC pays a visit to Folsom Field (2 p.m., Fox).
— For starters, the 5-5 Buffs (2-5 Pac-12) have never beaten the Trojans (6-1, 8-2). From their first meeting in 1927 to last year's encounter at the Coliseum, Colorado is 0-11 all-time against USC. That includes an 0-6 mark since joining the Pac-12 and an 0-5 record in Boulder.
— It is Senior Day. For 21 Buffs, it will be their last time suiting up for a game at Folsom Field, an event that is no doubt emotional for players, their families and coaches.
— A win would make the Buffs bowl eligible for the second year in a row. CU hasn't gone to bowl games in back-to-back years since 2004-05.
— A win over the No. 15 Trojans would be a quality win in a season that began with high hopes but has not followed that path. A win would by no means make up for all of the tough Pac-12 stretch — but it would no doubt be the kind that can inject momentum into a program that carries through the offseason.
"I think we're all thinking about all of those things," said CU tackle Jeromy Irwin, a sixth-year senior and a team captain. "I just talked to the team about the fact that nobody's beaten that team since we've been here. Nobody wants to go out on that note."
But, Irwin admits, there's more to wanting a win on Saturday than just the historic angle. The vast majority of CU's players were part of last year's turnaround season — and this team doesn't want to be remembered as the group that took a big step back.
"We've kind of got our backs up against the wall right now," Irwin said. "That's probably our biggest incentive. We're going to have to go out there like a trapped animal trying to get out of this situation. It's Senior Day, my last game at Folsom — all those things. I think everybody wants to get this back on the right track. We just want to get the win."
… Continue reading story here …
–
—
Mike MacIntyre post-practice talk with media (Mon.)
From YouTube, courtesy of BuffStampede.com:
–
—
Neill Woelk: Ten Takeaways from CU's loss to Arizona State
From CUBuffs.com … The Colorado Buffaloes likely won't find film study of Saturday's 41-30 loss to Arizona State suitable for family viewing.
One week after playing relatively mistake-free football, the Buffs did just the opposite, making enough miscues to pave the way for an Arizona State comeback that saw the Sun Devils outscore Colorado 24-3 in the final period.
Now, the 5-5 Buffs (2-5 Pac-12) have two games remaining and need a win in at least one to not only become bowl eligible, but also avoid a last-place finish in the Pac-12 South.
But one more win won't be easy. No. 15 USC visits Boulder next Saturday with a chance to clinch the Pac-12 South with a win. One week later, the Buffs close the regular season on the road at Utah.
What we learned from Saturday's loss in the desert:
… Continue reading story here …
–
—-
November 5th
… CU in a few minutes …
Pac-12 lines … Colorado a two-touchdown underdog to No. 15 USC 
From 5Dimes.com …
Pac-12 lines:
No. 9 Washington … a 7.0-point favorite on the road over Stanford (Fri., 8:30 p.m., MT, FS1)
No. 15 USC … a 13.5-point favorite on the road over Colorado (Sat., 2:00 p.m., MT, Fox)
No. 19 Washington State … a 1.0-point favorite on the road over Utah (Sat., 3:30 p.m., MT, Pac-12 Networks)
Arizona … a 23.0-point favorite at home over Oregon State (Sat., 8:00 p.m., MT, ESPN2)
Arizona State at UCLA … no line (waiting on news on Josh Rosen's status) (Sat., 7:30 p.m., Pac-12 Networks)
–
—
Buffs may be down two starters for the rest of the season
From the Daily Camera … Offensive lineman Tim Lynott Jr. and safety Ryan Moeller both went down with what appeared to be leg injuries in CU's 41-30 loss to Arizona State, and head coach Mike MacIntyre feared the worst.
"It doesn't look good for either one of them right now," MacIntyre said after the game, "but, we'll find out more (Sunday)."
MacIntyre did not give specifics on either injury, but when asked if he thought either would play the rest of the year, he said, "I don't think so from what I'm hearing, but you never know. I'll be praying tonight. Miracles happen. Hopefully they'll be OK but I don't know."
Lynott and Moeller will be evaluated on Sunday after the Buffs return home from the trip.
A redshirt sophomore, Lynott has started each of CU's 24 games over the past two seasons, with 20 of those starts coming at right guard.
A senior former walk-on, Moeller made his 27th career start on Saturday, including all 10 games this season.
"Any time you see a guy goes down it hurts you emotionally, it doesn't matter who it is," MacIntyre said.
… Continue reading story here …
–
—
Buffs to face the No. 15 team in the nation Saturday
From CBS Sports … CU's opponent this weekend, USC, jumped two spots in the Associated Press poll after defeating Arizona, 49-35. The Pac-12 is down to three teams in the polls, with Stanford dropping out after losing to Washington State.
Washington, the Pac-12's lone hope for a playoff berth, moved back into the top ten, at No. 9, after routing Oregon, 38-3.
Associated Press poll:
1. Alabama
2. Georgia
3. Notre Dame
4. Clemson
5. Oklahoma
6. Wisconsin
7. Miami (Fla.)
8. TCU
9. Washington … +3
10. Auburn
11. Ohio State
12. Oklahoma State
13. Michigan State
14. UCF
15. Southern California … +2
16. Penn State
17. Virginia Tech
18. Mississippi State
19. Washington State … +6
20. Memphis
21. Michigan
22. South Florida
23. West Virginia
24. Iowa State
25. Iowa
Others Receiving Votes: LSU (6-3) 142; NC State (6-3) 101; Toledo (8-1) 31; Stanford (6-3) 22; Arizona (6-3) 14; Boise State (7-2) 14; Northwestern (6-3) 6; Army West Point (7-2) 2; San Diego State (8-2) 1
–
USA Today coaches poll:
1. Alabama
2. Georgia
3. Wisconsin
4. Clemson
5. Notre Dame
6. Miami (Fla.)
7. Oklahoma
8. Washington … +3
9. TCU
10. Auburn
11. Ohio State
12. UCF
13. Penn State
14. Southern California … +3
15. Oklahoma State
16. Michigan State
17. Virginia Tech
18. Mississippi State
19. Memphis
20. Washington State … +7
21. South Florida
22. Michigan
23. Iowa State
24. NC State
25. LSU
Others Receiving Votes: West Virginia (6-3) 120; Iowa (6-3) 112; Stanford (6-3) 58; Toledo (8-1) 31; Boise State (7-2) 29; Arizona (6-3) 25; San Diego State (8-2) 18; South Carolina (6-3) 6; Northwestern (6-3) 5; Troy (7-2) 4; Army West Point (7-2) 3
–
—–