–
Colorado Daily – Northern Colorado
—
September 16th – Gameday!!
… CU in a few minutes … 
Neill Woelk's Five Keys to the Game
From CUBuffs.com … Not since 2008 have the Colorado Buffaloes opened a season 3-0. They have the chance to hit that number Saturday when Northern Colorado pays a visit to Folsom Field for the first meeting between the two schools since their 1934 game in Greeley (won by the Bears, 13-7).
It's the last nonconference game on the schedule for the Buffs, who open league play a week later with a home game against Washington, a rematch of last season's Pac-12 championship game. It's also the last chance for the Buffs to fine-tune some areas of their game in which they have yet to hit on all cylinders consistently, especially on the offensive side of the ball.
What the Buffs need to do today in order to make sure they hit the conference schedule at a high efficiency:
… Continue reading story here …
–
—
Offensive coordinator Brian Lindgren: "We have to just keep working, keep focusing on the details"
From CUBuffs.com … But more important than statistics is simply how the Buffs play in their nonconference finale.
"I'd like for us to put together a full game on all phases the whole entire time," MacIntyre said earlier in the week. "You always want to see that in every game. I think every coach in America says that after every game or says that going into a game. It's cliché, but it's also true. You want to see good rhythm everywhere and everybody doing well."
Indeed, MacIntyre would like nothing better than to see his Buffs put together a complete game one week before they open conference play with a home matchup against defending Pac-12 champ Washington.
Specifically, he would like to see his offense open fast and maintain that tempo throughout the course of the game. While the Buffs offense has been effective enough to average 27 points and nearly 400 yards per game, that production has come in fits and bursts: 34 of CU's 54 points this season have been scored in what amounts to two quarters of play.
One big area of emphasis will be third-down conversions. The Buffs are just 11 for 29 on third-down tries this year, and have already experienced six three-and-out possessions.
"I think we're close, I really do," co-offensive coordinator Brian Lindgren said. "We have some good players and we have to just keep working, keep focusing on the details."
… Continue reading story here …
–
—–
September 15th
… CU in a few minutes …
Drew Litton on CU/Northern Colorado
From the Daily Camera …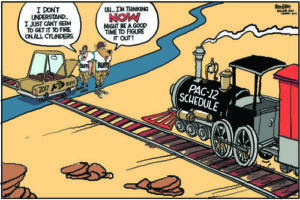 –
—
CU looking to improve upon 101st-ranked rushing offense
From CUBuffs.com … Of all the statistics from last weekend's 37-3 Colorado win over Texas State, maybe the most curious were CU's rushing totals.
The Buffs finished with just 91 yards on the ground, only the fifth time in the last 16 games — stretching back to the beginning of the 2016 season — that CU didn't eclipse the 100-yard mark on the ground.
The stat is even more curious when you consider the other teams who held the Buffs under 100 yards in that stretch: Michigan, USC, Washington and Oklahoma State. No disrespect to the Bobcats, but no one is including their defense alongside those four teams.
It wasn't as if the Buffs didn't try to establish a run game against Texas State. CU attempted 41 rushes in the game (a number that includes quarterback sacks, counted as rush attempts in college ball), but averaged a mere 2.2 yards per carry.
Most telling were Phillip Lindsay's statistics: 26 carries for just 87 yards. While Lindsay was not stopped once for a loss or no gain, he still averaged just 3.3 yards per carry and his longest gain of the day was a mere 9 yards. Only once last year in 14 games — against Idaho State, when he carried just seven times — was Lindsay held without at least one gain of 10 yards or more.
"We didn't pop a couple that we would like to pop and we will do that," head coach Mike MacIntyre said. "Their two inside 'backers did really well at shedding and getting off our second-level blocks. That's an area we have to keep working at and getting better at. It goes back to if it's two times out of 20 runs and he's almost there on a couple, it's a little closer than it looks sometimes."
… Continue reading story here …
–
—
Phillip Lindsay looking forward to playing against his brother
From the Daily Camera … In the Lindsay home, the dining room table has never simply been a place to gather for a meal.
That table has been the glue to keep the family together.
"It was important every night that we'd cook dinner and make sure that we all sit at the table so that we could talk and rehash the day," said Diane Lindsay, the matriarch of the family. "Even as (the five children) have gotten older, if they really need to talk about something they'll come home and sit at the table.
"It's made them close so that they're talking to each other all the time."
The tight bond of the Lindsay family will be on display Saturday when two of Diane's boys, Phillip and Zachary, meet on the football field. Phillip and the Colorado Buffaloes (2-0) will take on Zachary and the Northern Colorado Bears (1-0) at Folsom Field.
CU and UNC will be meeting for the first time since 1934, and it'll be the first time Phillip and Zachary have ever been on opposing teams.
… Continue reading story here …
–
—
Email update from CU athletic director Rick George
We are off and running, nearly a month into the 2017-18 academic and athletic year, and already we have experienced some good successes out of the gate.
Right before the season started, and very similar to a year ago, we celebrated our two bronze medal winners from the 2016 Rio Summer Olympics for making us proud once again in the world track and field championships in London.  Jenny Simpson was up first and finished second in the 1,500-meter run, and then Emma Coburn shocked the track world by winning the 3,000-meter steeplechase. And just last weekend, Jenny won her record-extending sixth straight 5th Avenue Mile in New York City.  We continue to be so proud of how these two graduates continue to represent the University of Colorado with their accomplishments.
As for our current student-athletes, we're off to another terrific start with our fall sports – in fact, we were one of the last two undefeated FBS schools (Football Subdivision, formerly Division I-A) more than three weeks into the year: 27-0-2 at one point.
Soccer was the first team to compete and own a 5-1-2 record after opening 4-0-2, volleyball won its first six matches, football its first two games, and the cross country teams both won the Colorado State Invitational.  Since our first setback, both golf teams finished third to help move our record against all competition to 71-6-2.
Here are some other tidbits for you:
• We have so far enjoyed one of our most significant increases in football season tickets in our history; we currently have sold 20,776 or 2,762 more than in 2016 – that's the sixth largest jump from one season to the next in our history.  In addition, we sold out of the entire allotment of student passes – 11,500 – for the first time since 2009.
• Did You Know?  We have five head coaches who have been here a combined 103 seasons?  Richard Rokos (skiing) leads the way as he is his 28th season; he's followed by Mark Wetmore (cross country and track, 23rd year), Anne Kelly (women's golf, 21st), Nicole Kenneally (women's tennis, 19th) and Roy Edwards (men's golf, 12th).  And then you have Ceal Barry and David Plati starting their 35th year overall as department full-timers.
• In our "Drive for 105," we've raised just under $101 million and are still working hard to reach and surpass that goal.  Kurt Gulbrand, who helped spearhead those efforts, has left us for the University of Tennessee, but his successor in leading the Buff Club, Ben Broussard, will be joining us Oct. 1; he has worked at LSU for the bulk of his professional career and will be a great fit for us as we move forward.
• And you can still donate to the "Drive for 105," just visit http://www.cusustainableexcellence.com; and to support us in other ways, go to www.cubuffclub.com.
• Look for us to announce within the next week or so our updated strategic plan for the years 2018-2020; we made great strides with our initial one but there's still work to be done.
• Concerts returned to Folsom Field for a second straight summer, two encore performances by Dead & Company … the four shows over the last two years have come off well, so look for more shows in the future; Folsom Field, one of the nation's hot spots for concerts in the '70s and '80s, is back!
We have some big events coming up, starting with our annual Ski Ball next Friday night (Sept. 22), our first-ever Women's Tennis Reunion (Sept. 22-23), defending Pac-12 champion Washington visiting Folsom (Sept. 23), the Mark Simpson-CU Invitational in men's golf (Sept. 25-26), our annual fall women's tennis tournament (Sept. 28-Oct. 1), the Rocky Mountain Shootout in cross country (Sept. 30), multiple home games in soccer and volleyball, and Family Weekend on Oct. 6-7, with the Arizona game the centerpiece attraction on that Saturday (kickoff time to be announced).  That's our annual Living Legends weekend where we honor those C Club members who earned their first letter 50 years ago (in 1967).  We will also be hosting several members of the '57 Orange Bowl champion football team that same weekend.
C ollaboration and U nity,
Rick George
Athletic Director
–
—–
September 14th
… CU in a few minutes … 
Devin Ross: "It was just God's plan for me to be here"
From the Daily Camera … It can never be said that Devin Ross lacks confidence.
Last weekend, not long after the Colorado Buffaloes christened the Folsom Field portion of their football schedule with a 37-3 victory against Texas State, Ross was informed he had surpassed the 100-reception mark for his career, a feat also achieved by Bryce Bobo in the same game.
Ross' immediate reaction was to lament the one pass he was unable to haul in along the sideline. Instead of reveling in the milestone, Ross also proceeded to set the bar as high as possible.
"We've just all got to keep going," Ross said. "Hopefully we all get 200 too."
While Ross, Bobo, and Shay Fields give the Buffs the rare luxury of three 100-catch athletes on the same roster with a fourth on the way (running back Phillip Lindsay owns 90 career receptions), Ross perhaps seemed like the least likely candidate to reach such a milestone when he arrived at CU. Fields made an immediate splash with 50 receptions as a freshman, and Bobo's 6-foot-2, 205-pound frame is more akin to that of a No. 1-type receiver than Ross' 5-foot-11, 185-pound stature.
… Continue reading story here …
–
—
Defensive line rising to the challenge
From the Daily Camera … On a Colorado defense loaded with question marks coming into this season, perhaps the biggest concern about that side of the ball was the Buffaloes' front line.
Last year, nose tackle Josh Tupou and ends Jordan Carrell and Samson Kafovalu were rock solid for the Buffs in the trenches.
That trio played the vast majority of snaps on the line, but all three were seniors, leaving the Buffs to essentially rebuild up front this season.
Two games in, the Buffs are rotating more players up front and finding enough success to keep defensive line coach Jim Jeffcoat pleased with the progress.
"They've risen to the challenge," he said. "Every game is a different game and we have to progress and get better each game; they're trying to and they know I'm going to push them to get better."
… Continue reading story here …
–
—
UNC tickets available for fans who donate to the Red Cross
From CUBuffs.com … The University of Colorado Athletic Department is providing two complimentary tickets to the Northern Colorado football game to fans who donate at least $10 to the American Red Cross for Hurricane Harvey and Hurricane Irma relief.
To receive the free tickets, fans must display their donation receipt at the CU Athletics Ticket Office, located near the Champions Center in the lobby of the indoor practice facility (2150 Stadium Drive, Boulder, CO 80309). The hours of the ticket office are Monday through Friday, 8:30 a.m. to 4:30 p.m.  This offer is only good until 4:30 p.m. on Friday, and fans may only redeem it once per account.
Fans can donate to the Red Cross by visiting www.redcross.org, calling 1-800-RED-CROSS or texting "HARVEY" or "IRMA" to 90999 to make a $10 donation, which will be billed to their cellular provider.
–
—
Injury report for Northern Colorado game
From CUBuffs.com …
TB Kyle Evans – hip – suffered a hip dislocation in 3/10 scrimmage; surgery on March 12 (rehab was well ahead of schedule) – PROBABLE
S Nick Fisher – hamstring – strained early in fall camp – DOUBTFUL (though published reports this week indicated Fisher will play against the Bears)
OLB Shamar Hamilton – knee – surgery; out for the season –  OUT
WR Jaylon Jackson – ankle – suffered a fracture and ligament damage in the 8/05 scrimmage; had successful surgery to repair but it out for the season – OUT
TE Dylan Keeney – back spasms – endured all of spring drills but was able to practice most days; limited to non-practice rehab at present – OUT
OL Kolter Smith – heart – has had palpitations, underwent a cardiac procedure Aug. 8, easing back into things – OUT
–
–
—–
September 13th
… CU in a few minutes … 
Offensive line coach Klayton Adams: "We have to find our nasty"
From CUBuffs.com … After two games, Colorado offensive line coach Klayton Adams says his group needs an attitude adjustment.
Safe to say Adams is not looking for a kinder, gentler bunch up front when the 2-0 Buffs take the field Saturday for their non-conference finale against Northern Colorado (noon, Pac-12 Networks).
"The position needs to be played with a certain mentality, a nasty, physical mentality," Adams said after Wednesday's practice. "We haven't been doing that the first two weeks. We have to find our urgency. We have to find our nasty. We have to find our finish. I'm willing to play whoever I have to in order to get that done."
Adams is clearly not happy with the play of the line over the first two games. The Buffs yielded five sacks in the opener against Colorado State (although not all were the line's fault) and last week against Texas State, Colorado failed to hit the 100-yard mark in rushing. Last season, only Michigan, USC, Washington and Oklahoma State held the Buffs under 100 yards on the ground.
… Continue reading story here …
–
—
Mike MacIntyre post-practice talk with media (Wed.)
From YouTube, courtesy of BuffStampede.com:
–
—
Safety Nick Fisher returns to lineup after missing first two games due to a hamstring injury
… Note … coupled with the return of offensive lineman Jeromy Irwin and tight end/defensive lineman George Frazier from suspension, and the Buffs are almost back to full strength … 
From the Daily Camera … Nick Fisher came into this season intent on winning a starting job at safety with the Colorado Buffaloes.
At this point, however, the junior is simply hoping to help the Buffs in any way he can.
After sitting out more than a month with a hamstring injury, Fisher has returned to practice this week and is ready for his season debut as the Buffs (2-0) host Northern Colorado (1-0) on Saturday at Folsom Field.
"I'm feeling great," he said after Tuesday's practice. "We took a long time. I think I've been gone for like a month. That was the time I needed to get it right."
… Continue reading story here …
–
—
Running back Kyle Evans set to make his 2017 debut
From the Daily Camera … Junior running back Kyle Evans is fully healed from a dislocated hip suffered in March. Last year's third-leading rusher (third among running backs), Evans is set to make his season debut on Saturday.
"We're going to throw him in there in the mix on special teams and we'll throw him in there at running back and see how it all works out," head coach Mike MacIntyre said. "Fortunately, everybody has stayed healthy, but usually running backs get nicked up and you're going to need all those guys at significant times during the season."
… Continue reading story here …
–
—–
September 12th
… CU in a few minutes …
Mike MacIntyre Tuesday press conference
From CUBuffs.com …
Opening Statement
"This week in our country is pretty amazing. 9/11, all the floods, all the tornadoes and everything that's been going on puts things in perspective. I thought our guys had an intense practice today, they were getting after out there, and they're excited about playing at home at Folsom again this Saturday."
On Northern Colorado's Second Game Getting Cancelled
"We did it here our first year when we had the flood. We were going to play Fresno State and we didn't play them. I think we made a decision (to cancel the game) on Friday morning. It was the right decision, no doubt. It was interesting, that whole weekend Rick George and I were on the phone trying to get an opponent, and there was only about eight teams that could fit in there, and we were able to get Charleston Southern to play us. They were undefeated when we played them too, and ranked high in 1-AA (now FCS). It's funny, we paid for the lights for their stadium. Rick [George] and them bargained and ended up paying them something like $800,000, or however much their lights were going to cost, and they decided it was worth doing it. That was the only regular season game [Charleston Southern] lost before the playoffs. [Northern Colorado] knew a little bit earlier, so they could take extra time to prepare for us. I would imagine they probably took a day off to let their kids recover a little bit, and then went back at it."
On Steven Montez Stepping Up In The Pocket
"In all fairness to Steven, when he was in high school, he was the biggest, the fastest, the most athletic guy on the field. When people would rush him, he could see it and make them miss, or knock them down and run around them so that was kind of ingrained in him. Him and I sat down right before halftime and talked about it. I said, 'you just have to sit in there and trust it. I don't want to take away your playmaking ability, but you've got to sit in there and understand what a flash and what a free guy is.' And he did, he sat there in the pocket good, and there was one play in the third quarter there where he was able to scramble out and make a play. It's just him doing it over and over. I thought that he grew up a lot in that second half. He's been doing a good job with that in practice this week, also. Some guys can't run well enough to get out of the pocket, he can make plays when the pocket breaks down but we've got to get him to stay in there. That's him just getting comfortable with it, and he will."
On Saturday's Game Being Part Of A Pac-12 Pilot Program To Reduce Game Times
"When I was in the NFL I think we had 12-minute quarters and it went so fast. Then when I came back to college, it seemed like we were there forever. I think basically all the coaches in the Pac-12 would not be against a 15-minute half time. I think it's something that would be good, as long as we don't do things to cut down on what's actually happening in the game. Right now we're cutting down a little bit of commercial time. I was flipping through the channels the other day and I think it was a soccer game or a baseball game, they had a commercial on while the game. You could kind of see the commercial and kind of see the game, and we're so used to multitasking now anyway, so I think maybe they'll put more of that in. It's all television driven, there's no doubt about it. Especially for us on the West Coast playing a late game, we want people to stay tuned. If we have a long halftime and a lot of long commercials, they look at their clocks, and on the east coast they go to bed. If they could go, 'hey, I can stay up through this,' [it's a success.] That's the whole idea I believe. The clock doesn't stop on first downs in pro football and there has been talk about doing that until the last two minutes of a game. That would affect the game a little bit because it would cut down on the number of plays, but with how fast teams are playing it might not make as big of a difference."
On The Difference Between Playing And Coaching In Shorter Games vs. Longer Ones
"Honestly I think if you asked most of the players, they would like to get a drink of water, get some fluids, go to the restroom, relax for a minute, warm up for a minute, and get back in there and play. The only thing that we do in the locker room when it's really hot is sometimes kids get IV's or change their jerseys and that type of stuff."
On How Tailback Kyle Evans Will Fit Back In After His Injury
"We're going to throw him in there on special teams and we'll throw him in there at running back. We'll see how it'll all work out. Michael [Adkins II] has been playing good, Beau [Bisharat] has been playing good and Kyle's good. Fortunately, everybody's stayed healthy, but usually running backs get nicked up and you're going to need all those guys at different times during the season. We're going to have them all prepared to go. They'll all play on special teams also."
On Mixing In New Offensive Linemen
"We'll mix them around. It gives us more options on our offensive line and able to have more depth to keeps us fresh at different times. We'll have moving pieces. We played Jeromy [Irwin] all spring at guard, so he can play guard. We've got multiple things we can do there. That gives you flexibility. We played Timmy Lynott at center in the fourth quarter and that was good. You always want to try to get your best five out there in different ways. Offensive line and secondary don't rotate much, but if they've played a lot of snaps, then you can do that. I think it creates a lot of competition."
On What He Wants The Team To Accomplish Against Northern Colorado
"I'd like for us to put together a full game on all phases the whole entire time. You always want to see that in every game. I think every coach in America says that after every game or says that going into a game. It's cliché, but it's also true. You want to see good rhythm everywhere and everybody doing well. I'd like to see our coverage units on special teams make a jump. Our guys have been kicking so good that we've had some errors that you see on film, but we haven't had it exploited. I'd like to be able to fix those things before it exploits us. Those are some things that we're working hard on that we're trying to sharpen up. We kick so many out of the end zone, there are some times that we don't cover correctly. I'd like to be able to see our coverage units on our special teams sure up some more this week."
On Northern Colorado Making The Jump From Division II To I (FCS)
"It's a good move for them. They have an excellent school up there. They've had great football history there. I was at a school, University of Tennessee-Martin. They were a Division II program that moved to I-AA (now FCS). I was in the second year of that type of situation, so I know what they went through. It takes a while to build it up. It took a while for UT-Martin to build it up. Coach Collins had a good year up there last year. They had a phenomenal quarterback. This year they're good, they started off 1-0. I think they've turned the corner, now he wants to climb to the top of the Big Sky (Conference), which is a very good I-AA league, no doubt about it. They jumped into one of the very best (FCS conferences). That also makes it take longer to catch up. Their talent gets better every year."
On If The Staff Has Determined Who The Five Best Offensive Linemen Are
"We know who are seven or eight guys are and we'll be able to move those guys around. We haven't completely settled on who the best five are, if it's a guard, tackle combination or what. I think we're closer to that once Isaac [Miller] started playing."
On How Good The Defense Has Been
"I expect us for all 12 games not to allow a touchdown. What I've been so surprised about is that we haven't totally blown a coverage or blown a situation. We've lined up right, we've played hard, we've made checks, we've handled different situations and we've played third-down situations correctly. It's like an accordion. They've got to make checks and they've got to move with it. It's not a cookie-cutter thing. I was most impressed with so far that they've played all those situations really well. We gave up that one long run to open the game; thank goodness Isaiah [Oliver] can fly. They rallied right there. They've handled different adverse situations well and been able to line up correctly. I know that sounds simple, but it's not when teams are going fast and lining up in different formations. They make a lot of good checks that have really helped us. That's an area where I thought we'd struggle with early. We haven't really had any bone-headed mistakes. That's a credit to players and I think that's a huge credit to the way our coaching staff and Coach Eliot has been teaching them with some of the different things we've done in practice, our meetings and our walk-throughs that D.J. brought."
On The Team Looking Ahead To Playing Washington
"Everybody asks that, so that's always on their minds. You can't get away from that. I'll find out this weekend, but I sure hope not. If we do (look ahead), then we don't have a team that I think we have. This is an emotional game this weekend. A lot of our kids know a lot of their kids. There's two brothers in this game, the Lindsay brothers. That brings a lot of energy to it. It's a situation where a lot of the people coming to the game are excited about Northern Colorado playing us. That puts an extra incentive into it and so you're going to have lot more energy if we would have just played another 1-AA team from Texas or something. I think it makes a big difference. They know that – the year before I got year – Sacramento State beat us. They've already watched that film, we've already shown it to them. Montana State beat us a few years before that. I believe Northern Colorado beat Sacramento State last year. Our kids know what's at stake and what can happen. You've always got to come to play."
On If He Watches The Pac-12 After Dark Games
"I'll watch some of them. Not many because I'll be up Sunday morning going to church and then coming here to work. I need to get my rest, plus I'll see the whole game on film over and over and over. But of course I'll watch some of them. I do enjoy 12 o'clock kickoffs. My favorite time is the 3 o'clock kickoffs. I like that you can get going, we can have a good breakfast, meet with our guys, and spend some time with the players at the pregame meal. However with this time of a game, you eat a quick breakfast. You don't really have time to meet you've just got to get going. When I was in the NFL, I loved the 12 o'clock games, you had a little down time. But I enjoy the afternoon games, especially in Boulder. It is so beautiful here in the afternoons, especially October afternoons which are spectacular. It seems like we get a lot of night game in October. That can be a good thing and a bad thing. Last year we played a 3:30 PM game and then a seven o'clock game, which were excellent."
On If He Sees The Team Building Towards a "Complete Game"
"Yes I do. I see the intensity level and the fight in them. I see them at the end of practice, instead of just trying to get through practice, which they don't do, they're thinking, 'Okay, we've got one more period.' I'm seeing more competition and guys wanting to stay out afterwards and do a little bit extra. I always watch for that and I am seeing that."
On Outside Linebacker Dante Sparaco's Development As A True Freshman
"I don't know how IMG Academy helped him for this situation. I know that him coming in early helped him. He graduated in January. I remember the first time I met him, he was living in Glenwood Springs and he came up here for camp. He was a rising tenth grader and he looked just like he does now. I thought he was a grown man. He was playing quarterback at the time, now of course he's playing outside linebacker. Dante has had a really good fall for us, he's played really well in the games. He's got a bright future ahead of him. He's physical and athletic. He's bright. He loves being at the University of Colorado. I'm excited about what Dante's done so far and he's got an excellent career ahead of him."
On Other Younger Players Getting More Playing Time
"There are a few guys we've got sitting on the shelf, so to speak. They're practicing and playing their roles. We are going to see how injuries go. I hate talking about injuries but that's how our sport is. We've got to have those guys ready. It's kind of similar to what they do in the NFL. You have a practice squad, you're getting a couple guys ready, you're getting guys from other practice squads. You have guys that you don't activate in the 53, but you're not quite ready for them. We've got a couple guys sitting there. I imagine that a couple will pop up here in the next three to four weeks if we have injuries. If not, we'll have to mix and match and work from there."
On What This Upcoming Game Against UNC Means To Phillip Lindsay, Who's Playing His Brother
"I can sense the excitement with how feisty the Lindsays are. We can't let them cross paths in warm-ups because there might be a big-brother little-brother fight right there. They'll be into it. What a special family. It's been fun watching Phillip's little brother on film. They look very similar. He's a little bigger than Phillip. It's fun. I know they're very excited about it. They have one brother at CSU-Pueblo, one at UNC, and one's here at Colorado. That family bleeds the state of Colorado. They have made the people of Denver South and the community very proud. Great family and great kids."
On Specific Matchups With Northern Colorado
"I've been very impressed with their quarterback. He can throw it. They've got two receivers that are really fast and have made a lot of big plays. Alex Wesley mad a couple good plays in the first game and last year. They've got Hakeem Deggs, he'll remind you of K.D. Nixon in a way. He's real quick and athletic at that size. He makes a lot of plays. Jacob Knipp can make all the throws. I've been really impressed with his arm. He's a big, athletic, good quarterback. Defensively, they're older at their corners. They're good corners. Isaiah Williams is a good pass rusher off of the edge, he's made a lot of really good plays. They've got two really good linebackers, Luke Nelson and Noel Reid that have played really well. They beat Montana which was a good game. They should have beat Eastern Washington who was loaded. They're played really well against teams that have beaten teams in our conference. I was really impressed with their film. We only have the one game from this year. They were up 28-0 within a blink. Their offense has the ability to score and the ability to throw over the top of us. They'll take some shots on us. Their receivers have the speed to do that."
On The Affect Player Suspensions Have On The Team
"I felt like our team responded in both games well."
On 'Hike for Her'
"My mother-in-law passed away November 11th two years ago. My wife started doing this last year, it's called 'Hike for Her.' It's this Sunday September 17th at 9 o'clock at the NCAR-Table Mesa Trail. We'd like for everyone to bring their families and friends to battle ovarian cancer. We had a good turnout last year and we hope to have more and more people come out and represent it. This is like the silent cancer that you don't find out until too late. It's something we want to bring more awareness to after living it. It's dear to our hearts."
… Continue reading story here (quotes from safety Ryan Moeller) …
–
—
Derek McCartney: "It's always fun to play new teams" 
From the Daily Camera … On Saturday, the Buffaloes (2-0) will host the Bears (1-0) at Folsom Field. Revenge for the 1934 13-7 upset loss likely won't be on the mind this week, but the Buffs are looking forward to getting on the field against an old regional rival.
"I know our guys are excited about playing them," head coach Mike MacIntyre said. "They know a lot of the guys on the team. It's a big game for us, any game is; we're looking forward to it."
Linebacker Derek McCartney, who grew up in Westminster, said he doesn't know many players on the UNC roster, but is nonetheless looking forward to the matchup.
"It's always fun to play new teams, honestly," he said. "You get new looks and they run different things on offense, so you have to react differently and prepare differently."
… Continue reading story here …
–
—
Buff offense continues to be a work in progress
From CUBuffs.com … First things first: nobody in the Colorado offensive meeting rooms has hit the panic button.
Yes, Buffs coaches and players are aware they haven't exactly rung the bell when it comes to consistency — but they also know they've been oh-so-close to adding significantly to their yardage and point totals thus far this year.
Monday morning's film session only served to emphasize both points.
"Watching film, I think our guys saw today there were a lot of opportunities out there for them to make plays and keep the sticks moving and score more points," Buffs co-offensive coordinator and quarterbacks coach Brian Lindgren said. "We just left a lot of things out there."
It's not as if the Buffs haven't put up some decent numbers. They've averaged 27 points and nearly 400 yards of offense in their first two games, and thanks to a defense that has yielded just two field goals thus far, they have outscored opponents 54-6 in their first two contests.
But the bulk of their scoring — 34 of those 54 points — have come in the span of basically two quarters. It is why they would like to start fast and continue to roll in their final nonconference game, Saturday's noon contest at Folsom Field against Northern Colorado (Pac-12 Networks).
"I think everybody, coaches and players, are pretty frustrated right now because at times, we see glimpses of what we can be," Lindgren said. "I think we're close, I really do. We have some good players and we have to just keep working, keep focusing on the details. I honestly believe if you keep showing up to work every day and working hard and coming with a positive attitude that things will turn for you."
… Continue reading story here …
–
—–
September 11th
… CU in a few minutes … 
Uniform combination for Northern Colorado 
Black and Gold, with white numerals for the Bears …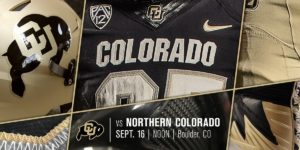 –
—
Mike MacIntyre post-practice talk with media (Mon.)
From YouTube, courtesy of BuffStampede.com:
–
—
CU v. Washington gametime set
From CUBuffs.com … The Washington at Colorado football game on Saturday, Sept. 23 will kickoff at 8:00 p.m. MDT and will be televised nationally on Fox Sports 1 (FS1).
Other television selections for the Pac-12 that weekend (all times MDT):
Friday, September 22, 2017
8:30 pm  – Utah at Arizona, FS1
Saturday, September 23, 2017
1:30 pm PT – USC at California, ABC or ESPN, or ESPN2 – network designation after the games of 9/16
4:00 pm  – Nevada at Washington State, Pac-12 Networks
8:00 pm  – Oregon at Arizona State, Pac-12 Networks
8:30 pm  – UCLA at Stanford, ESPN
–
—
Neill Woelk: Ten Takeaways from Game Two
From CUBuffs.com … Two games into the 2017 season, the Colorado Buffaloes haven't exactly followed the script most envisioned.
An offense many thought would be unstoppable has shown flashes of its potential in stretches — the Buffs have scored 34 of their 54 points in roughly two quarters of play — but they haven't yet dialed in the consistency they would like to see.
Meanwhile, a defense that was an unknown at the beginning of the season and one that many predicted would take time to gel has yet to give up a touchdown while allowing just two field goals.
But while the script may have been a surprise, the ending has been what most expected: a 2-0 record after Saturday's 37-3 win over Texas State in the Buffs' home opener, with next Saturday's home meeting with Northern Colorado next on the agenda (noon, Pac-12 Networks).
What did we learn from the Buffs' latest outing? Here's our latest installment of "10 Takeaways:"
… Continue reading story here …
–
—–
September 10th
… CU in a few minutes … 
Two games in, CU defense on an historic pace 
From the Daily Camera … While it's only been two games, and they have yet to face a great team, the Colorado Buffaloes are playing some serious defense on the gridiron.
In fact, it's been historically good to this point.
CU (2-0) has outscored Colorado State and Texas State by a combined 54-6, allowing just a field goal to each team.
This is the first time since 1958 that CU has played the first two games of a season without allowing a touchdown. And in the post-World War II era, CU's only had three better starts defensively. In 1958, the Buffs allowed three points in the first two games, and they pitched consecutive shutouts to open the 1954 and 1955 seasons.
"That defense is nasty," said quarterback Steven Montez, who faces that defense every day in practice. "I like our defense to do big things as the year goes on. I think they're very, very, very good. I think they were very underrated before the season started."
… Continue reading story here …
–
—
Neill Woelk: Nothing wrong with the Colorado offense
From CUBuffs.com … To paraphrase Green Bay Packers quarterback Aaron Rodgers, "Relax."
OK, maybe that's a direct quote — but you get the idea.
There's nothing "wrong" with the Colorado offense. In two games, the Buffs have averaged 27 points and nearly 390 yards per game. They have had big plays, long scoring drives and a balanced attack (541 yards passing, 234 on the ground).
And, as both running back Phillip Lindsay and quarterback Steven Montez pointed out after Saturday's 37-3 win over Texas State, the Buffs are 2-0 — a record that prior to last season, the Buffs had seen just twice in the previous decade.
But expectations have no doubt been heightened for this Buffs offense, something head coach Mike MacIntyre freely admits he helped boost. MacIntyre has said repeatedly he expects this offense to be "excellent," and he has seen nothing to change his mind.
"I still think we're going to be really good," MacIntyre said after Saturday's win. "We've shown really good glimpses of it and we'll put that together for a whole game and do some really good things."
… Continue reading story here …
–
—
Leo Jackson emerging as CU's primary pass rush threat
From the Daily Camera … With three new starters on the defensive line this season, Colorado needed somebody to step up and be a leader.
Senior Leo Jackson III took that challenge seriously, and so far he's delivering.
In Saturday's 37-3 win against Texas State, Jackson registered a career-high three sacks. In fact, it matched the total he had in his entire 27-game CU career before Saturday. It was also the first three-sack game by a Buff since Josh Hartigan against Kansas State on Nov. 20, 2010.
"That's the main reason we come and play this game, to make plays out here," he said. "I'm thankful to have the teammates I have and the coaches I have to put me in position to make these plays."
Listed at 6-foot-3, 275 pounds, Jackson may be even a bit bigger at this point. He's certainly playing bigger, as he's already got four sacks this season.
… Continue reading story here …
–
—–