—
Colorado Daily – UCLA
—
September 30th
… CU in a few minutes … 
Drew Litton's take on CU at UCLA
From the Daily Camera and DrewLitton.com …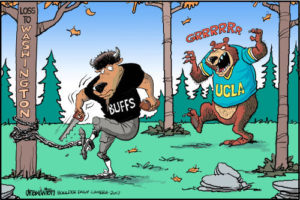 –
—
CU at UCLA – Matchups to watch
From CUBuffs.com …
MATCHUPS TO WATCH: Colorado cornerback Isaiah Oliver vs. UCLA wide receiver Darren Andrews. Last week, Oliver made UW star Dante Pettis a non-factor, limiting him to just three catches. This week, he'll have his hand full with Andrews, who has already caught 32 passes for 457 yards (14.3 per catch) and seven touchdowns. … CU linebacker  Drew Lewis vs. UCLA tight end Caleb Wilson, who has 32 catches for 425 yards and one touchdown. If Lewis can keep Wilson under wraps, it will take away one of Rosen's favorite targets, especially on third-down situations.
KEEP AN EYE ON: Colorado's front seven. The Buffs need to get consistent pressure on Rosen without having to gamble too often with blitzes, which Rosen can spot in a hurry and exploit. At the same time, CU can't afford to let the Bruins get their running game going, which means CU's big men in the middle need to keep the rush attack in check without needing too much help from elsewhere.
THE SERIES: CU trails the all-time series 9-3, including a 1-5 record in Los Angeles. The Buffs' last win at the Rose Bowl came in 2002, when Colorado knocked off No. UCLA 31-17.
NUTS AND BOLTS:
Kickoff: 8:36 p.m., Rose Bowl.
Broadcast: The game will be televised nationally by ESPN2 with Mark Jones (play-by-play), Rod Gilmore (color) and Quint Kessenich (sidelines). The radio broadcast will be carried by AM 760 KDSP with Mark Johnson, Gary Barnett and Mike Pritchard.
In-game live blog, stats: A live in-game blog as well as continually updated statistics will be available on www.CUBuffs.com
–
—–
September 29th
… CU in a few minutes … 
Neill Woelk's Five Keys to the CU/UCLA game
From CUBuffs.com … The UCLA Bruins are by no means a one-man team. It just seems that way at times.
The Bruins do have some quality defensive players, solid players on their offensive line, standout wide receivers and very capable running backs. The Colorado Buffaloes will see them all Saturday in an 8:30 p.m. game at the Rose Bowl (ESPN2).
But throughout the week, Buffs coaches and players heard questions about one player: Bruins quarterback Josh Rosen.
It's no surprise, of course. Rosen is regarded not only as one of the best quarterbacks in a conference laden with great players at the position, he's generally seen as one of the best in the nation. Bestowed with the nickname "The Chosen One" out of high school, he is seen as a player destined for the NFL's first round and a long career of playing on Sundays.
Rosen's numbers this year are outstanding. In four games, he has thrown for 1,763 yards, 16 touchdowns and four interceptions while completing 131 of his 200 attempts (65.5 percent). Broken down, that is 33-for-50 for 440.8 yards, four touchdowns and one interception per game.
One of the reasons for Rosen's big numbers is that the Bruins have been behind in most of their games, forcing UCLA to play catch-up. Sometimes he's been successful — he led UCLA back from a 44-10 deficit to a 45-44 win over Texas A&M — and sometimes not. UCLA has lost its last two, 48-45 at Memphis State and 58-24 at Stanford.
But the biggest reason for Rosen's numbers are that he is an ultra-talented player with the ability to put points on the board in a hurry. As CU head coach Mike MacIntyre said, "Every time I turn on the film, it seems like they're scoring another touchdown."
Thus, the Buffs spent their week watching plenty of film on Rosen and getting plenty of work in the secondary.
What do the 3-1 Buffs (0-1 Pac-12 play) need to do against the 2-2 Bruins (0-1) this week in order to come away with their first conference win of the year?
… Continue reading story here …
–
—
CU athletic department balances budget for third straight year
From the Daily Camera … When he was hired as Colorado's athletic director four years ago, Rick George made it a priority to balance the department's budget.
Thanks in large part to a turnaround season in football, the Buffaloes have done it for a third consecutive year. CU recently wrapped up the final numbers for the 2017 fiscal year, and once again finished in the black.
"That's something that we're proud of because that was a commitment we had made four years ago," George said. "That's been important and that was a priority. That was in our strategic plan (for 2014-17)."
CU's revenue for the 2016-17 fiscal year was $86,537,487, with expenses at $86,537,295. Both numbers were nearly $6 million higher than what the Buffs budgeted.
"All in all, it was really as expected, so that's a credit to a lot of the staff maintaining the strategic plan of a balanced budget," said Cory Hilliard, CU's chief financial officer and associate athletic director over business operations.
The revenue increases were largely attributed to the football team having a dramatic improvement in 2016. The Buffs ended a string of 10 consecutive losing seasons by going 10-4, winning the Pac-12 South division and earning a trip to the Alamo Bowl.
CU generated more than $11.1 million in football ticket revenue last year, nearly $1.7 million over what was budgeted. Playing in the Alamo Bowl added roughly $1.8 million to CU's revenue.
… Continue reading story here …
–
—
Cornerback Trey Udoffia has weathered early season storms
From the Daily Camera … Trey Udoffia knew it was coming.
In a secondary that endured a major offseason makeover, Udoffia still had an experienced safety behind him and a talented fellow cornerback opposite him when he took the field for first time with the Colorado Buffaloes earlier this month.
To no one's surprise, even Udoffia, the Rams attempted to pick on Udoffia out of the gate. To perhaps the pleasant surprise of Buffs fans, Udoffia weathered the early storm and has more than held his own ever since. Expected to make his fifth start this week as a redshirt freshman as the Buffs visit pass-happy UCLA at the Rose Bowl, Udoffia already is showing the sort of ability to shake off a bad play and move on to the next one with the expertise of a veteran.
"I think maybe it's that I've been playing football from a young age, just knowing it's the same game," Udoffia said. "The first play of that (CSU) game I was in on the hit and I was like, 'That was it?' I was expecting a lot more. I slowly got into my groove and once I was in, that was it."
… Continue reading story here …
–
—–
September 28th
… CU in a few minutes …
Red-shirt freshman defensive lineman Terriek Roberts likely to see more playing time
From the Daily Camera … With the Colorado Buffaloes taking a hit to their depth on the defensive line this week, redshirt freshman Terriek Roberts could have a chance to step up.
On Tuesday, the Buffs announced that sophomore defensive lineman Frank Umu has been dismissed from the team. While Umu had been suspended all season, his dismissal leaves a permanent hole up front. Umu was expected to be one of the key figures in a line rotation this season.
On Wednesday, head coach Mike MacIntyre said that should the Buffs (3-1, 0-1 Pac-12) lose anyone in the current rotation, Roberts could get called upon.
"Terriek has been practicing up with the guys on and off and he'll travel with us and he got in a couple of the games earlier," MacIntyre said. "Terriek would be a guy that would be moving up in there.
"Terriek is doing a really good job."
This season, the Buffs have had a primary rotation of six players up front: starters Leo Jackson III, Javier Edwards and Chris Mulumba, as well as Jase Franke, George Frazier and Lyle Tuiloma.
The 6-foot-6, 270-pound Roberts, who is from Denver South High School, has played 11 snaps on defense this season.
… Continue reading story here …
–
—
How will the 2017 Buffs react in a close game?
From CUBuffs.com … It will be no surprise if Saturday night's game is a late-night thriller — and if so, it will be interesting to see how the Buffs react in a tight game.
After all, that might have been the biggest improvement made by the 2016 Buffaloes, who made a historic leap from a 4-9, Pac-12 South last-place team in 2015 to a 10-4, Pac-12 South title winner last season.
Simply, the 2016 Buffs learned how to close the deal.
Remember 2015? Four of CU's Pac-12 losses came by a total of 20 points. Three times, the Buffs had the lead in the third or fourth quarter, and in another game they were tied in the third. They lost all four of those games.
But last year, the Buffs flipped the script. They trailed Oregon in the fourth quarter before rallying for the win. They trailed Stanford early, then halted the Cardinal on a first-and-goal from CU's 4-yard line to protect a four-point lead late in the game before finally taking a 10-5 win. They trailed UCLA at the half and won. They trailed Washington State in the third quarter and won. They were tied with Utah late in the third quarter and won.
The Buffs finished. They didn't panic. They were a senior-laden, veteran group that had been through the Pac-12 wars before and they put that knowledge to use.
This year, the Buffs have yet to face one of those down-to-the-wire affairs.
… Continue reading story here …
—–
September 27th
… CU in a few minutes … 
Rick George announces 2018-2020 Strategic Plan
… Related … Here is a link to the (21-page) CU 2018-2020 Strategic Plan …
Press release from CUBuffs.com … In 2014, approximately one year after his return to the University of Colorado as its sixth full-time athletic director, Rick George implemented the department's first three-year strategic plan.
It marked the beginning of a 15-year vision aimed at making Colorado, "Nationally recognized as a premier athletics program, by providing a world class and holistic student-athlete experience, operating in a fiscally responsible manner while consistently competing for and winning championships."
On Wednesday, George publicly announced the next stage of that vision.
"I am excited to be able to share the 2018-20 Strategic Plan for the University of Colorado Athletic Department," George said.  "Our mission over the next 36 months is that, "CU Athletics will win championships by recruiting, developing and inspiring student-athletes to succeed academically, athletically and personally through leadership and advancing our culture of excellence."
George said CU made several strides and numerous improvements in our recently completed 2014-17 plan, starting with developing core values within the department with the acronym RAPID (Respect, Accountability, Passion, Integrity, Dedication). Further, establishing a long-term vision for CU Athletics.
The previous plan included aspirational but obtainable goals in three main areas: financial, competitiveness, and academic and personal development. Overall, the department finished at 73 percent on track for those goals, including an 89 percent on-track performance in the financial area in the last year of the original plan.
In the new plan, George firmly believes that, "We have the right head coaches (and assistants) in place to help drive the goal: competitiveness with greater focus.  We are creating new programming with the intent of driving better results on the fields and courts of competition as well as the overall holistic health and wellness of our diverse student-athletes."
One of the key focal points within the new plan is to improve the graduation success rate; in the first last plan, the goal was 80 percent of our senior student-athletes.  That mark was reached and exceeded in all three years (83, 86 and 86 percent).  The new goal is 90 percent, which correlates with the NCAA target for the new revenue distribution that begins in 2019-20; those who achieve that level will receive additional monies from the NCAA.
Neill Woelk, CUBuffs.com contributing editor, sat down with George and had an extensive question and answer session discussing the first and second Strategic Plans with CU's athletic director, who recently celebrated his fourth anniversary leading the department.  The link to this Q&A (it follows the story) as well as to the full 2018-20 Strategic Plan document can be found here: http://www.cubuffs.com/news/2017/9/27/general-george-unveils-next-strategic-plan-for-cu-athletics.aspx.
–
—
Mike MacIntyre post-practice talk with media (Wed.)
From YouTube, courtesy of BuffStampede.com 
–
September 26th
… CU in a few minutes … 
Never Stop Rising – Episode II
From the Emmy-Award winning crew at BuffsTV …
–
—
Mike MacIntyre Tuesday press conference quotes
YouTube video of Mike MacIntyre's press conference, courtesy of BuffStampede.com
—
From CUBuffs.com …
Opening Statement
"The sun came out, which is good. I was glad to see that. Our guys had a good day at practice. The UCLA football team is very talented. They have a heck of a team with Josh Rosen. I think they're averaging like 100 points a game right now it seems like. Every time I turn on the film it seems like they scored another touchdown. We're going to have to slow them down and we're going to have to score points to be able to hang with UCLA. Playing at the Rose Bowl is always a lot of fun for our guys. We have a lot of guys from that area. We need to go there and play well."
On If UCLA Is Becoming A Rival
"I think it's always a good game to tune in to watch. Usually it's been close, most of the time it's been high scoring. Last year it wasn't as high scoring. They're very talented. A lot of our guys know a lot of their guys, so that's part of it. Coach [Jim] Mora and their staff does a phenomenal job. He's a heck of a coach and he's done well in the NFL and he's done well and college. They're always well coached and it's always a tough game. The last few games it seems like we match up and it's back and forth. I imagine that this Saturday it'll be the same way."
On Wanting To Play Against A Team That Throws It A Lot As A Defensive Back
"What I did that week if it happened is I'd keep giving my D-linemen extra water. I said, 'Go get the quarterback, please.' As good as Josh [Rosen] is, if he's able to sit back there all the time – and he will some – hopefully our front four can rush him a little bit. The thing that I've been amazed with this year than when we played him two years ago is he's right on target; he's so accurate. No. 81 – the big tall tight end – Caleb Wilson is just making play after play. He's also finding No. 7, Darren Andrews, who's a player and a half. He's making all kinds of plays. Jordan [Lasley] – the outside guy – No. 2 is playing really well. The thing that makes them able to pass it so well is that their offensive line is very talented. They're excellent pass-protectors. Their center, [Scott] Quessenberry, who I know well; his brother played for me at San Jose State. He's one of the best centers in the country and he gets them redirected and gets them on the right page all the time. This is fifth year. I've been really impressed with their offense. If you're a DB, some of these guys I would have been scared to cover. I liked covering the running back when they didn't throw it to him. Put me down in the box as a safety. Our guys are excited about playing against them and I know they'll be excited about playing against us."
On Defensive Linemen Being Able To Pass Rush
"It depends on different schemes and different matchups sometimes. It depends on how long the quarterback holds onto the ball. We try to disrupt routes to give our guys another step to the quarterback. I think that all matches up. I think our guys up front are getting better and better at pass-rushing. We've got some guys that have a knack at it. Some of those guys are young. Jacob Callier is one that's really young, but he really has a knack for being a pass-rusher and I think he's getting better and better. We're going to have to be able to get after the passer a little bit to be able to have a chance at the game and hopefully we can."
On Protecting Quarterback Steven Montez From Sacks
"You want less hits on your quarterback when he doesn't see it coming. On our sacks, some of them were the offensive line's fault for sure and some of them were Steven's fault and some of them were coverage sacks. You'd like to have zero sacks and get rid of the ball. Steven's starting to understand that better and better and he's getting better at it. When he was younger, he could side-step everybody. He can't side-step everybody now and he's starting to understand that and he's starting to step up in the pocket and make some throws with the linemen going past him instead of rolling out. I think all that goes hand-in-hand. They've got some excellent pass-rushers at UCLA. One of them is young, No. 15 [Jaelan Phillips], the freshman. Boy, is he talented? They have pass-rushers all over the place. It seems like they always have a great pass-rusher at UCLA – a first or second round type guy. He looks special. The other guy is inside. [Matt] Dickerson, he's big and long. He can rush the passer from the inside too. We're going to have to protect and Steven's going to have to know where to throw the ball. That's the thing Josh [Rosen] has done so well that he's gotten better at as he's gotten older. He knows right where to go with it. That split-second type situation makes a big difference and Steven's getting there."
On Coaching The Team's Small Mistakes 
"As long as you're not having to be physical, effort, hustling to the ball, the ability to run, catch and throw it, we're doing all those things. If you have to coach that, then you can't ever get the little details fixed and you can't ever get to that point. Those things don't really pop up, because you don't really get the opportunity to see them as much. Everything's in the details, in anything in life. If you want to be successful in anything in life, it's the attention to the little details that end up being the big things. We're just off here and just off there and all of a sudden that's 14 points. That makes a huge difference. We'll start clicking on that and I sure hope it's Saturday. We've had glimpses of it, be we need to do that throughout four quarters against a good football team. Some of it is not giving the team another situation, not making a small mistake that ends up being a big mistake and you turn the momentum. On different Saturdays it happens in different ways. When I was a secondary coach for all those years, I always told my wife that a good day as a secondary coach is when you play really, really good and the quarterback misses two open guys on you. We need to do that offensively. We've been playing against – especially as we get into Pac-12 – really good teams. It just happens at different times."
On Concerns Over The Production From The Offense
"During the game against Washington I was concerned. We were all concerned on that. You're not going to click all the time. That's just the way offense is. The defense has to rise in those situations all the time for the entire time. We'll have games this year where the offense will score a ton and get it done and we'll have games when we'll stifle a little bit and the defense will have to stop them. We've got to find a way to win it. I want our guys to score every drive. That's not realistic. We'll keep making progress. That night, you get kind of frustrated. You move the ball, move the ball and get bogged down at the 40-yard line. You're just that close to putting 17 more points on the board quickly in first two quarters. That's when you get frustrated. It wasn't like we were just totally stifled. We just didn't get it done."
On If The Offense Is Close To Breaking Through, Specifically Against Washington
"When you watch our game against Washington compared to the Pac-12 Championship game, we had more opportunities to make plays and have a chance to win that game than we did in the Pac-12 Championship game. There's four plays there that you easily could have had a touchdown or two or a couple big plays and it might be a different game. We didn't create those opportunities – I felt like – when we played them. I honestly think they're better than they were then. The quarterback's better and I think their running game's a bit better. They were missing one of their top receivers too and that No. 21 [Quinten Pounds] came in and what a catch did he make? I don't know how he caught it still. We had our hands in there and he was bobbling it and it was a heck of a catch. They had to change up a few things they do defensively against us, because we were doing some things to them and we didn't handle the changes as well as we wanted to. That was a good coaching job by their coaches. That showed a little bit too."
On Giving More Playing Time To Other Running Backs Other Than Phillip Lindsay
"Phillip's been running really well. We'll get different guys in there at different times. It's just what we're thinking at the time. Just like the end of the year last year, we road out Phillip and I think Phillip's done pretty good. They'll be times when we need to get other guys in there. We feel good about all those guys."
On Worrying About Wearing Out Running Back Phillip Lindsay
"Yes and no. He's hard to wear down. Yes, there could be one hit that wears him down and no, we'll keep playing him. There's a lot of great running backs out there that keep playing and keep playing. We feel good about the other guys too. We'll just see how it goes. The other side of it is we haven't played as many plays on offense as we'd like. A lot of those games we'd like to be in the 80's and 90's and we've been in the 60's and low 70's. That's 25 more plays, so that's part of it too. We'd like to get a few more first downs and a few more points."
On The Team's Turnover Margin And Penalties
"The biggest deal is turnover margin. Of course you don't want the penalties, but sometimes those penalties are judgement calls. I don't think we've had a ton of offsides or things like that. It's been more targeting – which they need to call – and more aggressive-type penalties. We've caused a few turnovers on defense, but we've had too many on offense. That's the biggest key. The other night, that was a prime example in that football game. We caused one for them and they caused three for us. The punt block could be one too the way I see it. They were four to one. With four to one – if teams are even – they're going to win, bottom line. If you reverse that, we would have won, I really believe that. We've got to be able to take care of that and do better. You have crazy ones every once in a while. On one, Lindsay should have caught it – because he usually catches everything – and it slips through his hands and the ball just hits the guy in the chest and he catches it. Those types of things happen. We've got to change the turnover ratio."
On Wide Receiver Jay MacIntyre's Injury
"He's day-to-day. The good thing is he is making progress. He'll be day-to-day and we won't know until Saturday if he'll play."
On Uniform Combination And The Selection Process
"The way we do it is in the summer, I have all the captains and seniors over to my house to barbecue and hang-out. And then, we lay out every uniform combination and our equipment manager tells us what he thinks the other teams are going to wear. Then the kids just match them all. They really enjoy doing that. It does help us in recruiting. The guys like it, they like coming up with different ideas. I let them do it. They come up with a few ideas and I go, 'ahh' but they're picking it, putting it together and choosing it. For this game coming up, UCLA told us they're going to wear all white. I asked our guys if they were okay with UCLA wearing all white, they said yes. So if it was an afternoon game we weren't going to wear all black, we we're going to wear all grey because it's so hot there. But at night we're going to wear all black. We picked a night uniform and a day uniform. It's fun with the kids and they enjoy having a part of it. I think it definitely helps us in recruiting. Go watch kids from six years old to thirty and when they sit down to play Xbox, they spend at least twenty to thirty minutes doing what? Designing their uniform, designing their stadium, the weather they want and all that. So it's a big deal. I do have some input if it's something crazy but I let the kids do it. Also, we talk a little bit with our marketing group about different things on that. But mainly our guys do it and I let them run with it."
On Players From California Going Back To Play In their Home State
"I think that they enjoy going back there and playing. Number one, their family are all there. Number two, they know a ton of guys on those teams because I'd say 80% of UCLA's and USC's players are from that area. There are so many good athletes there. They played against them, they went to high school with them, they played pee-wee football with them and they probably played AAU basketball with them. That gives them an added incentive to do well."
On Tim Lynott's Snaps And Jonathan Huckins' Injury Status
"Huckins is feeling better, we played Huckins a little bit in that game. He's a guy we can always count on and do. The weather did have a little bit to do with it. That was his first game with some really good talent up front. So when they stun on you, you get a little bit more nervous. They're a little bit quicker and a little bit stronger. And that bothered his snaps a little bit. He understands it, we keep working on it. His ability to hold up in there and block, he did really well. He's a really good guard and center, but you've got to have really consistent snaps or you can't play center. So hopefully he'll keep improving there."
On UCLA Quarterback Josh Rosen's Stats
"They definitely jump out. When I was watching the tape I was saying, 'oh my goodness'. He's just so accurate right now. I mean, he's not missing anything. His pocket is clean a lot which helps him to be accurate. I was joking with our staff and said, 'can they have a supplemental draft today because he could start for half of the NFL teams I think.' Maybe he could leave Saturday and go play for somebody Sunday. He looks really good, he's healthy now, I think he's confident. He's got good weapons and I think he completely understand their passing system. That gives him confidence to go in there and do well. He's got some ridiculous numbers there's no doubt about it. So, hopefully if we could just cut those numbers in half he'd still have pretty good numbers, but not ridiculous."
On If Josh Rosen Is The Best Quarterback In The Country
"I don't know about that, I definitely think he's an NFL quarterback there's no doubt about that. He can make all the throws. He can move well too. He can escape out of the pocket and keep himself alive. When he sets up in the pocket, he just has that look and carry to himself. He flips his eyes and has a quick release. He's really good, he'll be a high draft choice there's no doubt."
On If He Wants Josh Rosen To Throw The Ball Close To 60 Times Against CU
"I'm pretty sure they want more balance. They would not like to have the opponent score 40 points on them. That's why they had to keep throwing. If it's a lower scoring game, they won't throw it as much. They'll run it and do some other things to keep the opponent from scoring. My thought process is that Jim [Mora] is a defensive guy, I'm a defensive guy, If they can do those types of things to help out their defense. You definitely don't want to be that lopsided. They're more run-oriented. They have a lot 21 and 12 personnel run-type sets. But when they got behind, they had to keep scoring. The Memphis game was like a pinball game, both teams just kept scoring on each other. In the Stanford game, they got up on them and Stanford came back. Then boom-boom-boom they were down 21 and they had to throw to catch up. They just threw it every down. So that skewed it a little bit. But I would imagine that they would like to be more 50-50."
On His Message To The Team Regarding The Tense Social Climate In The US
"Everybody has their own individual choices, their own beliefs on that side of it. I think it's definitely an interesting time in our country right now. All the different platforms that people can use to express themselves, there are so many different ways. It's something that we've talked a little bit about, but not in great depth. In college, these young men are developing their thoughts, their processes, their values on those different types of things. I know their talking about it in their classes, trying to express and figure things out. And I think that's a good way for them to do it, it's a good classroom situation for them. They can grow, develop and learn their own thoughts and values from those things."
On The Development Of Quarterback Steven Montez 
"None of them (players) are as far along as I'd like them to be and I'm not as far along as I'd like to be yet. I talked to Steven [Montez], went back and watched the film. The first one wasn't really his fault. The last one, they did a really good job and it's something you learn from. And you hate to learn from it on a pick-six. They walked up in the box the series before, pressured, he felt it, threw the slant, perfect read. The next series, they walked up, and they dropped out. He didn't see it long enough to see them drop out, then he went to throw the slant and the guy just cut in front of it. So that was a great scheme by Washington. That's just a process you learn from. Next time he'll see it, they'll blitz and he'll throw it. Next time they'll drop out, he'll see it, and boom. You see it in the NFL and you see it in college. But he will learn from that. The other one he just overthrew the guy. He still had a good percentage throwing the football, he knew where he was going with it but they just got him. That's going to happen and we need to get the opponent more than we did. He had a higher percentage than our opponent but we threw a few picks. The good thing about it is that they were really good teachable moments. He could really see it and understand it."
On Montez's Ability To Bounce Back After Throwing The Pick-6
"After he threw that pick he got back in the game and kept playing. The thing I loved about his reaction to that play is when he threw the pick he didn't just sit there. He ran and tried to get the guy. That showed a great competitiveness. I was really glad to see that. I hate when I see a guy throw a pick and he's pointing and blaming. As tough as he is he would have gotten him down. I liked that reaction and that competitive nature in the heat of battle in a big situation. That's a horrible feeling. To have the fortitude to try to go make a play, I thought was good by him."
On Montez Locking In On Bryce Bobo During The Pick-6
"They blitzed inside, so you knew he had to get rid of it quick, so he's understanding the timing. We've been telling him about the timing of things. They blitzed before, so he felt them coming. Now, he saw them walk up and he thought they were coming again, so he just took it and went right where he was going to go. He should take it and for a split-second keep his eyes right here. If they're coming, you really don't have time to look off when an all-out blitz is coming. Those are the types of decisions that you've got to make in a split-second in the heat of the battle when the pressure's coming at first. "
… Continue reading quotes from Juwann Winfree and Nick Fisher here …
–
—
Defensive end Frank Umu dismissed from team
Press release from CUBuffs.com … Coach Mike MacIntyre announced Tuesday morning that sophomore DE Frank Umu has been dismissed from the football program.
Umu, 6-4, 295, is from Littleton, Colo., and played his prep ball at Heritage High School.  He appeared in 11 games including the Alamo Bowl as a redshirt freshman in 2016, playing a total of 18 snaps on defense while being in on the PAT/field goal team for 41 tries on the season.  He recoded one solo tackle from scrimmage (against Idaho State).  In the spring, he was named the most improved defensive lineman along with DT Lyle Tuiloma.
Due to FERPA and privacy concerns, MacIntyre cannot comment on the reason for his dismissal.
–
—
CU uniforms for the first road game of the season … still wearing black
… How is this possible? Well, UCLA is calling for a "White Out" against the Buffs, and will wear white uniforms at home in the Rose Bowl this Saturday (8:30 p.m., MT, ESPN2). With the Bruins in white, the Buffs will be in black …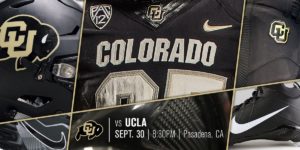 –
—–
September 25th
… CU in a few minutes … 
All signs point towards a high-scoring game v. UCLA
From CUBuffs.com … That Colorado defense many folks thought would be in "rebuilding" mode this year?
After four games, the 3-1 Buffs appear to have made good on their vow to reload instead. Even after last weekend's matchup with (now. No. 6) Washington, the Buffs are still among the nation's leaders in a number of key defensive categories — including the most important defensive statistic of all.
That would be scoring defense, an area in which the Buffs have been rather stingy, allowing an average of just 16.0 points per game, putting CU 20th in the nation and second-best in the Pac-12. That number would be even better — enough to put the Buffs in the top 15 in the nation — if it weren't for last week's interception return for a touchdown by Washington, which still counts as points yielded by the defense.
So far, CU's defensive effort has been overshadowed by an offense that has yet to meet preseason expectations. The Buffs, who were in the top half of the nation in yards per game offensively before the Washington game, are now 66th in yards per game. That's certainly not where they expected to be heading into the season, but with eight games to go, obviously a ranking they have plenty of chance to improve.
Of course, the opposite could be said for the defense — and defensive coordinator D.J. Eliot's crew will get maybe its toughest test of the season thus far when CU travels to the Rose Bowl on Saturday for an 8:30 p.m. matchup with UCLA (ESPN2).
… Continue reading story here …
–
—
Mike MacIntyre post-practice talk with media (Mon.)
From YouTube, courtesy of BuffStampede.com 
–
—
CU v. Arizona – Family Weekend – kickoff set for 6:00 p.m.
From CUBuffs.com … The Arizona at Colorado football game on Saturday, Oct. 7 (part of CU's annual Family Weekend), will kick off at 6:00 p.m. MDT and will be televised by the Pac-12 Networks.
–
—
Neill Woelk: Ten Takeaways from the Washington game
From CUBuffs.com … Mike MacInytre's Colorado Buffaloes will have no time to wallow in their misery this week.
With Saturday night's 37-10 loss to Washington no doubt still very fresh in their minds, the 3-1 Buffs must return to work Monday morning and begin preparation for a game against another squad that endured a less than-successful Pac-12 opener.
Waiting for the Buffs on Saturday night in the Rose Bowl (8:30 p.m., ESPN2) will be the 2-2 UCLA Bruins, who kicked off conference play with a 58-24 loss to Stanford.
But while the Buffs will want to put the Washington game behind them as quickly as possible and turn their attention to the Bruins, they will also no doubt take away some valuable lessons from the loss to the Huskies.
Thus, our weekly "10 Takeaways:"
… Continue reading story here …
–
—
Steven Montez still learning 
From the Daily Camera … Following the worst game of his young career, Steven Montez sat in front of the media and answered questions.
It could have been very easy for the sophomore to skip the press conference after a 37-10 loss to Washington, during which he threw three interceptions. He could have given terse answers and got out of there as quickly as possible.
Instead, he answered every question in detail and, as he always does, ended the session by telling the media, "I appreciate you guys."
It might seem minor, but chalk up a victory for the young quarterback.
This was the first time Montez has had to deal with an ugly performance in a humbling loss and the first time where he's the guy getting blamed, and he handled himself with class.
Just seven starts into his career, Montez is still learning. Some lessons will be tougher than others, but Saturday's loss could be significant for his development as a quarterback and as a leader.
"I definitely hope so," head coach Mike MacIntyre said. "I definitely hope it can be and it needs to be. As he watches the film and talks about what we're doing; we have to find out maybe more ways to help him, so to speak, as we watch and look at it and talk to him."
… Continue reading story here …
–
—–
September 24th 
… CU in a few minutes …
Rankings … CU drops to No. 34 in Associated Press poll … No. 43 in USA Today Coaches poll
Defeating Colorado was good for Washington, as the Huskies moved up one spot to No. 6 in the Associated Press poll. USC stayed at No. 5, while Washington State (up two to No. 16) and Utah (up three to No. 20) also made moves.
Oregon, No. 24 last week, dropped into a tie for 36th after losing to Arizona State. Stanford, Cal, and Colorado came in at No's 32-34.
Associated Press poll: 
1. Alabama
2. Clemson
3. Oklahoma
4. Penn State
5. Southern California
6. Washington … up one
7. Georgia
8. Michigan
9. TCU
10. Wisconsin
11. Ohio State
12. Virginia Tech
13. Auburn
14. Miami (Fla.)
15. Oklahoma State
16. Washington State … up two 
17. Louisville
18. South Florida
19. San Diego State
20. Utah … up three
21. Florida
22. Notre Dame
23. West Virginia
24. Mississippi State
25. LSU
Others receiving votes … NC State (3-1) 87; Duke (4-0) 79; Texas Tech (3-0) 40; Florida State (0-2) 35; Memphis (3-0) 26; Iowa (3-1) 16; Stanford (2-2) 8; California (3-1) 7; Colorado (3-1) 5; UCF (2-0) 4; Kansas State (2-1) 3; Minnesota (3-0) 3; Oregon (3-1) 3; Wake Forest (4-0) 1; Tennessee (3-1) 1
–
USA Today Coaches poll
1. Alabama
2. Clemson
3. Oklahoma
4. Penn State
5. Southern California
6. Washington
7. Michigan
8. Georgia
9. Ohio State
10. Wisconsin
11. TCU
12. Virginia Tech
13. Miami (Fla.)
14. Oklahoma State
15. Auburn
16. Washington State
17. South Florida
18. Louisville
19. Utah
20. Florida
21. San Diego State
22. LSU
23. West Virginia
24. Mississippi State
25. Florida State
Others Receiving Votes: Notre Dame (3-1) 100; Duke (4-0) 93; NC State (3-1) 54; Memphis (3-0) 44; Kansas State (2-1) 27; Wake Forest (4-0) 15; Minnesota (3-0) 15; UCF (2-0) 13; Stanford (2-2) 12; Texas Tech (3-0) 11; Iowa (3-1) 9; Oregon (3-1) 9; Tennessee (3-1) 7; Georgia Tech (2-1) 6; South Carolina (3-1) 6; Navy (3-0) 6; Texas A&M (3-1) 4; Colorado (3-1) 3; Maryland (2-1) 1; Appalachian State (2-2) 1; Troy (3-1) 1
—
UCLA's Jim Mora: "I can't remember ever being around a run defense that gives up so many big plays"
… Related … "Mora remains dignified in defeat as his job security becomes more tenuous" … from the Los Angeles Times
From the Los Angeles Times … It was more of the same in a series that seems stuck on repeat.
UCLA had some momentum and some hope against Stanford. Then things fell apart in a big way.
Crucial mistakes by Bruins receivers and a badly faltering defense were at the center of the latest implosion, helping the Cardinal run away with a 58-34 victory Saturday night before 48,042 at Stanford Stadium.
Stanford notched a 10th consecutive victory over the Bruins despite shuffling through three quarterbacks after starter Keller Chryst was hurt midway through the first quarter. Somewhat surprisingly, its offense did not solely consist of tailback Bryce Love from the moment Chryst left the game — although Love certainly did his part, shredding the UCLA defense for 263 of the Cardinal's 405 yards rushing.
"I can't remember ever being around a run defense that gives up so many big plays in my career," Mora said. "It's something we've worked really hard on."
Cardinal backup quarterback K.J. Costello, who alternated series with Ryan Burns, completed his first two career touchdown passes and ran for another score. Love had a 69-yard touchdown run that extended the Cardinal's cushion to 51-34 in the fourth quarter, part of a run of eight consecutive Stanford drives that ended in scores.
UCLA's offense continually stumbled over itself. Receiver Theo Howard dropped a potential touchdown and lost a fumble after making a catch. Bruins receiver Christian Pabico also lost a fumble after making what appeared to be a first-down catch.
"A lot of things were going right and then all of a sudden they started to go wrong," UCLA coach Jim Mora said after his most lopsided loss to the Cardinal.
… Continue reading story here …
–
—
MacIntyre: "Good teams make you pay"
From CUBuffs.com … Now they know.
The Colorado Buffaloes entered Saturday night's game against Washington anxious to prove they belonged on the same stage as the nation's seventh-ranked team.
They left knowing what they must do to get there.
On the surface, Saturday night's 37-10 Huskies win was eerily similar to last season's Pac-12 title game, when the Huskies pulled away for a 41-10 win. The comparison is striking, right down to the Huskies outscoring the Buffs 27-3 in the second half of both games and CU's quarterback throwing three interceptions in both games — including a third-quarter pick six that turned the tide in Washington's favor for good both times.
But beyond the numbers, there was a significant difference.
A year ago, CU's players left the field acknowledging that they had been physically outmatched.
Saturday night, the Buffs left the field knowing they had their chances, but simply gave the Huskies too many opportunities. The Buffs were beaten by a better team — at least on this night — but they also did themselves no favors, shooting themselves in the foot at too many junctures.
"Good teams make you pay," Colorado head coach Mike MacIntyre said. "When something happens, they make you pay for it."
… Continue reading story here …
–
—–