—
Colorado Daily – Oregon State
—
October 14th – Game Day!
… CU in a few minutes … 
Drew Litton's take on CU/Oregon State
From the Daily Camera …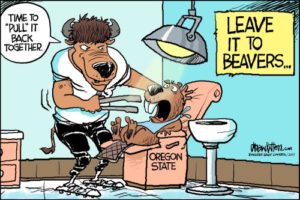 –
—–
October 13th
… CU in a few minutes … 
Dave Plati's streak of consecutive games worked coming to an end
From CUBuffs.com … Many of you who know me know that for the last decade or so, I've been dealing with some circulation issues in my left leg; the swelling at times makes it look like a Hawaiian banyan tree.  Recently, it developed some complications and it's being treated accordingly (I'll be fine); but its condition at present is enough to end a personal streak I have taken great pride in: starting on Nov. 19, 1983, I have attended and worked every Colorado football game – all 410, beginning with a 38-21 win over Kansas State to close the '83 season up to last Saturday's Arizona game.
(I wasn't overly keen on doing this, but our CUBuffs.com contributing editor, Neill Woelk, told me it was necessary to write something, or he'd write a news story and post it himself, with made-up quotes from me – though he said "I'd be surprised at what I said." So, since most of us are tired of fake news…)
I've done many a Top 10 list through the years, in my game notes, here in Plati-'Tudes.  So out of 410 games, I've taken a crack at the top 10 that I was a part of, with some reflection as to why (doubt any of these will surprise any longtime CU fan, imagine most would be on your lists).  These are just the tip of the iceberg, I could do a top 50:
–
—
Neill Woelk's Friday Five Keys to CU at Oregon State
From CUBuffs.com … Halfway through the season, the Colorado Buffaloes are still aiming to put together a complete game on both sides of the ball.
Saturday at Oregon State would be a good place to start for the 3-3 Buffs (0-3 Pac-12) — but the formula became a little more complicated this week.
Saturday's game at Reser Stadium (2 p.m., Pac-12 Networks) will pit the Buffs against a team reeling from the unexpected resignation of head coach Gary Andersen earlier this week. The question is how the Beavers (1-5, 0-3) will react. Will they be emotionally charged or simply going through the motions?
Colorado will be prepared for the former.
What Mike MacIntyre's team must do to end a three-game skid and collect its first Pac-12 win of the season:
… Continue reading story here …
–
—–
October 12th
… CU in a few minutes … 
History of Ralphie I – 1966-72
From CUBuffs.com … NOTE: Thursdays are for Ralphie!  We will profile Ralphie each week throuhgout the season, the 50th Anniversary of Ralphie. 
BOULDER — In March 1966, John Lowery, the father of a Colorado freshman from Lubbock, Texas, purchased a six- month old buffalo calf from Sedgewick, Colorado for $150 and donated her to the University. Lowery bought the calf from rancher Art Kashcke. Bill Lowery (John's son), John McGill, Don Marturano, and Vic Reinking were the original Ralphie Handlers who trained Ralphie I.
Ralphie first attended a game on October 1, 1966 when Colorado played Kansas State. Ralphie did not run onto the field during the game, but stood on the sideline and slept in her trailer. Colorado won the game 10-0. She attended the remaining three home football games that year, standing on the sidelines.
Around that same time, head football coach Eddie Crowder was approached with the idea of the buffalo charging out onto the field before the game, the team closely following. After much discussion, the debut of this great tradition took place on September 16, 1967, when Colorado played Baylor. Colorado beat Baylor 27-7. Ever since then Ralphie has been leading the way as the football team takes the field. Ralphie's first bowl game was the Bluebonnet Bowl on December 23, 1967, where Colorado beat Miami (FL) 31-21. The five sophomores that 'handled' her appointed themselves as the board of directors of a fundraising effort to bring Ralphie to Houston. By selling "Buffalo Stock," they raised the necessary funds to send Ralphie to Houston, and help cover other costs associated with the program.
… Continue reading story here …
–
—
Jay MacIntyre becoming the "go-to" receiver on third down for Steven Montez
From CUBuffs.com … Colorado junior wide receiver Jay MacIntyre has quietly become one of quarterback Steven Montez's favorite targets on third down this season, showing a special knack to get open from the slot on key downs.
MacIntyre has 13 receptions this year — 11 of which have produced first downs — and he is averaging 17.2 yards per catch, the best of any CU receiver with at least 10 receptions.
Equally importantly, MacIntyre has six catches on third or fourth down, with five of those producing a first down. Only one other CU receiver, Devin Ross, has produced more first downs (six) on third or fourth down.
Usually, such a connection between quarterback and receiver is not planned. Rather, it's an organic process that develops over the course of a season. The receiver has a knack for getting open in certain situations and the quarterback begins looking for that receiver in those specific instances.
"A lot of times we have the right play called — and now it's getting to be a pride thing," MacIntyre said. "When I see third down, I just figure I have to get open, make a play for the team and keep the drive going. When you put that pressure on yourself and the team knows you have to get this down, I feel like you're able to make more plays that way."
… Continue reading story here …
–
—
CU defense looking for a better outing against Oregon State
From the Daily Camera … After playing fairly well for the first five weeks of the season, the Colorado defense took a hit last Saturday against Arizona.
"Took a hit? We took an explosion," head coach Mike MacIntyre joked after practice on Wednesday.
That's probably a more accurate description of CU's 45-42 loss to Arizona, during which quarterback Khalil Tate set an FBS record for rushing yards by a quarterback, with 327.
Tate ran all over the Buffs, who couldn't figure out how to tackle him or slow down the Arizona attack, which racked up 567 yards and scored on five consecutive possessions at one point.
"We're not proud of how we played as a team defensively last week," senior linebacker Derek McCartney said.
This week, the Buffs (3-3, 0-3 Pac-12) are hoping to regain some of their pride when they visit Oregon State (1-5, 0-3). Riding a three-game losing streak, the Buffs need a win, but also need their defense to bounce back.
… Continue reading story here …
–
—–
October 11th
… CU in a few minutes … 
Phillip Lindsay will leave with many records, but an even better legacy
From CUBuffs.com … Maybe the most important thing to know about Phillip Lindsay is this: it's never "about" Lindsay.
Yes, when the Colorado running back's CU career finally comes to an end, his legacy will be one that will be difficult to surpass. With at least six games still to go in his career, he is CU's all-time leader in all-purpose yards with 4,989. Now trailing him on that list are the likes of Eric Bieniemy, Rashaan Salaam and Byron White to name a few — a literal pantheon of Buffs greats.
He also now owns the fourth-best single-game rushing performance in CU history (281 yards last weekend against Arizona) and the CU single-game school record for rushing attempts (41).
That alone is enough to put him on the list of all-time favorites for Buffs fans.
But Lindsay is more than that. Lindsay is the epitome of college football, the very definition of what every coach in America wants from his players: tremendous work ethic, unwavering loyalty to the program, a strong believer in the importance of family, great team leader and maybe most of all, a player who wants one thing above all else:
Lindsay wants to win.
… Continue reading story here …
–
—
Mike MacIntyre post-practice media talk (Wed.)
From YouTube, courtesy of CUSportsNation:
–
—
Even with Lindsay's record-setting efforts, Beau Bisharat is getting more carries
From the Daily Camera … Last Saturday, Phillip Lindsay carried the football more than any other running back in Colorado history.
Had it not been for the efforts of Beau Bisharat, Lindsay might have been even busier.
Despite the disappointing 45-42 loss to Arizona, Lindsay was sensational in rushing for a career-high 281 yards and three touchdowns on a school-record 41 carries.
Bisharat, meanwhile, contributed an extremely valuable 32 yards on his eight carries. Those are modest numbers, but his efforts allowed Lindsay to get some much-needed rest at times.
"That was huge, because (Lindsay) was dog tired," CU running backs coach Darian Hagan said. "To have a guy who has the potential like Beau to spell him, that was really big for his growth and our growth."
… Continue reading story here …
–
—–
October 10th 
… CU in a few minutes …
Rashaan Salaam voted into the Colorado Sports Hall of Fame
From CUBuffs.com … Rashaan Salaam, Colorado's 1994 Heisman Trophy winner and the only Heisman winner ever from a Colorado school, has been voted into the Colorado Sports Hall of Fame.
The announcement was made Tuesday.
Salaam, who died Dec. 5, 2016, at the age of 42, will be joined in the latest class by former Broncos quarterback Peyton Manning, as well as Joe Glenn, Sam Pagano, Tracy Hill and the late Alex Burl. The group, along with the 2017 Athletes of the Year (to be selected in January 2018) will be officially inducted at an April 18, 2018, banquet in Denver.
Salaam is considered to be among the most dominant running backs ever in CU's history. As a junior, he led Bill McCartney's 1994 Buffaloes to one of the best seasons in CU history, an 11-1 finish that included a 41-24 win over Notre Dame in the Fiesta Bowl and a No. 3 ranking in the final polls — still the second-best finish ever by a CU team.
Salaam was a runaway winner in the 1994 Heisman voting after rushing for 2,055 yards to become just the fourth player in college football history at the time to surpass the 2,000-yard mark. He averaged 6.9 yards per carry that season and had 10 100-yard-plus rushing games.
Salaam won the Heisman by 248 votes and 842 points and was also a landslide winner in the voting for the Doak Walker Award, given to the nation's top running back. He also became the fifth player in CU history to earn unanimous All-America honors.
Salaam's final season at CU produced a long list of records. He set the school scoring mark that season with 24 touchdowns and 144 total points; had nine consecutive 100-yard games, including a pair of 200-plus games; and his 317-yard effort in a 34-31 win over Texas is still the second-highest single-game total in CU history. Salaam also had 45 yards receiving in the game, giving him a CU-record 362 yards from scrimmage.
… Continue reading story here …
Rashaan Salaam highlights:
–
—
Mike MacIntyre Tuesday press conference quotes
From CUBuffs.com …
Opening Statement
"I was stunned yesterday when one of the coaches showed me a Tweet that [Oregon State head coach] Gary Anderson had resigned. I've known Gary for a long time. He was at Utah State when I was at San Jose State and he rebuilt the Utah State program. Then, he went to Wisconsin at the same time I came here. I've known him for a long time and just think the world of him. Every time I've been around him and seen him deal with his teams he's been a great person and excellent coach. I know it's hard to rebuild something and I don't know anything that happened, but I do wish he was still there. We actually exchanged texts yesterday. He said, 'I guess I won't see you on Saturday.' We talked about a few other things over text, just mainly that I'm there for him and thinking about him. Our team has to bounce back from the game Saturday. It was a fun game to watch as a spectator, but a gut-wrenching game for both coaches until the very end until you become the winning team. That was a tough loss. Our kids have definitely practiced really well. They've bounced back and now we've got to go on the road and win a game, which will be a little bit different of an environment with the situation going on."
On Oregon State Head Coach Gary Anderson Waiving The Rest Of The Guaranteed Money From His Contract 
"He had to do what he needed to do I guess in that situation. For as hard as your families work and as hard as you have to work and you move your families around – my kids went to multiple high schools during multiple moves – that'd be hard for me to ever think about doing when you work as hard as you can your whole career. I don't know what happened, but they didn't give him enough time at Oregon State. They were really down when he got there. [Former head] Coach [Mike] Riley had done a great job there, but it was dwindling as Coach Riley left. There wasn't a lot of players there. Their material has improved. We've played them every year and they've gotten better, they've got good running backs, they're line's gotten better and they've gotten better at receiver. They've got a freshman receiver that's making plays and they've got freshman secondary players making plays. I see their talent getting better and I see them getting better from their first game this year to now. Not just because we're playing them, they've gotten better. They've played some really good teams too. I definitely think he should still be there for what he did at Utah State and how he turned that program around and what he did at Wisconsin. He said, 'I like Corvallis; I like that area; I like the West Coast; I know how to recruit that area; I feel at home; I feel comfortable.' I could see in his voice that he wanted to be successful there. I do think if they would have given him enough time, then he would have been successful, because he's done it in other places."
On Team's Being Able To Bounce Back
"I have had teams that have lost hope. I do not think that this team has gotten even close to losing hope. I think this team has just gotten mad. That's a good emotion when you push it the correct way. What we've told them, you don't get all mad and get out there all hyped up. You have to put your energy and emotions into your preparation.  You say, 'I'm going to do this harder; I'm going to be study more; I'm going to be more focused; I'm going to practice more; I'm going to ask more questions; I'm going to get more sleep; I'm going to get more rest.' That's what I've seen these guys do. The leadership is doing that. When the team feels hopeless, then the senior leadership doesn't do that all the time, they don't practice right, they're not focused and they're coming late to meetings. That's not happening. They're there early, asking questions and coming by the office. All of that shows you they still believe."
On If The Team's Preparation Has Changed Due To The Coaching Change At Oregon State
"I do expect an emotional aspect as far as that I do know that their players do like Gary Anderson. I think they're going to come out and play in a way of thanking Gary. I know a lot of the guys on his staff have been with him and know him well and believe in him. I think they'll have extra energy on that side of it for sure. At the same time, they kind of have nothing to lose in a way, even as a staff. You can take more gambles and more risks I would imagine. We've got to be ready for that. If they do that type of thing, we'll prepared enough to take advantage of it if we can make a play on it. I've gone against teams before where this has happened as an assistant coach and head coach. It was a little bit of a different atmosphere and energy in the beginning of it."
On Defending The Run Against Oregon State
"They're big, powerful runners. They've run the ball well at times. We're going to have to fit it up better, be more stout inside and hold the point a little bit better. We've been working on that. We're going to have to tackle those guys and get them on the ground. It's easier said than done. We've been working on that area. Washington got us going in the second half a little bit after they got up again on us. In the second half, No. 9, [Myles] Gaskins got going, but besides that we haven't had a ton until the other night. That really wasn't inside runs. It was clogged up and he went the other way and made a guy miss and went to the house. We've got to do a better job coaching it and on our angles. The running backs haven't really gashed us inside other than Gaskins in the second half. Hopefully, we can fit it up right and do it. We'll see. They've (Oregon State) got three really big backs. They are powerful. Ryan Nall's going to be back. Thomas Tyner is a big back that was at Oregon. They're over 230 pounds – that's big for a back – and they can run. I definitely think they'll pound us and try to do some things with those guys attacking us. We've got to be ready for it."
On Wide Receiver Jay MacIntyre's Production And Being A Reliable Target For Quarterbacks On Third Down
"A lot of times it's dictated by the coverage and different things we're doing. He's been in the opportune spot sometimes to make some plays doing that. He has a knack for being able to read the linebacker and read the coverage from being a former quarterback. I think there's a connection with that. 'Chev' (co-offensive coordinator and wide receivers coach Darrin Chiaverini) and [co-offensive coordinator] Brian Lindgren have done a good job of getting him isolated in situations that have helped us."
On Tailback Phillip Lindsay's Leadership
"I have been around one other guy, David Quessenberry, who played for us at San Jose State and plays for the Houston Texans now. You all know his story of battling cancer. He was the same way. Both guys were similar in ways they had great family backgrounds, great ambition and they had excellent work ethic. Nothing was ever given to them easily. They had to earn it all, so they learned the work ethic. They knew the amount of time you had to put in. They never took it for granted. Sometimes when it comes really easy, you go, 'It's just one game.' No, they don't want to miss one game, one play or one rep. Everybody calls it the chip on your shoulder or extra motivation, but to me that's what makes anybody excel past what other people do. They go, 'Gosh that guy is a little crazy.' Yeah, because it means so much to them for what they've had to do to get there. They're not going to relinquish it. That's what I've seen with Phil. He's an amazing young man and excellent player. You can always count on him. It definitely resonates with his teammates. They see him doing it and him pushing and going. He's a guy that everybody can get along with too. He's not aloof or egotistical. He's a down-to-earth guy. I think that also helps him be a really good leader, because anybody can relate to him and communicate with him. He has time for anybody, which is special."
On The Team Averaging More Penalties This Year
"Some of our penalties are aggressive penalties. You've got to teach them parameters of where the sidelines are. Targeting situations as we well know are up all over the place. That's something we work and coach on. The aggressive ones, you've got to curtail and show them, but you don't want to curtail the aggression. It's a fine line. Our offsides penalties or our holding penalties, those are things you can keep coaching. We discipline them on the late hits, there's no doubt. But, the holding and the offsides, those types of things they've got know if the guy's going away from them they've got to let him go. Offsides is just paying attention and understanding in the heat of the moment what's going on. Those types you can curtail. Some of those guys making those penalties, they've never played major college football before. That's been tough. You usually go through a few things. We've got to fix that. We've had the least amount of penalties in the history of this school before and we've had the least amount of penalties in the history of San Jose State. We teach it and do it. It's a fundamental thing that we go over. We discipline and work on it. Sometimes, they're making the right calls and doing the right things – it's kind of like speeding – you get caught. Sometimes you don't get caught. It's kind of the way it works out. We do need to cut down on the offsides and holding penalties. I think some of those kids that made late hits are guys that haven't played as much. They need to understand where to go and where to target. They're getting a better feel for that. I would say we'll drastically cut down in the last half of the year. I'd be extremely disappointed if we don't."
On The Third And Short Situations Against Arizona Compared To Third And Long Against UCLA
"In the second half against UCLA we found our running groove. We were going to have a hard time tackling [Arizona quarterback Khalil] Tate. It was just one those nights where he was on fire. It's like a guy in a basketball game, you just can't stop them. I told the offense, 'It's four down territory the whole way down. I don't care if we have to punt it from the 22-yard line, we've got to go score and keep the ball away from them.' And that created more third down and shorts. Now, instead of us throwing it on second and ten or second and nine we ran it again or we threw a short pass. We were utilizing all four downs and that created a few more of the third and shorts. That's something we'll do in the other games too. In that situation, I felt that was the only way to handle him. We didn't handle him enough but the only way to was to try to keep him on the bench as long as we could. We had to make sure we scored, we had to score every time. I think if we would have stopped them on those two third downs at the end of the game, I think we would have scored again."
On The Missed Big Plays This Season Compared To Last Season
"We're working on it. We had a couple we missed. We a couple that I thought we had but they barely made the play right at the last second. They're secondary made a couple good plays. I definitely think that's something we'll end up hitting. We tried a few and didn't connect. When you do, it makes a big difference. That's something we definitely need to hit on."
On The Late Kickoffs The Past Two Weeks And What Is Being Done To Move Kick Times
"We have talked with the Pac-12 when we have our meetings in May and in the summer. We've brought it up. Again, you sign contracts with television and they own you. That's basically the answer. There's the new NCAA rule that if you get back in after five in the morning you technically can't take that day off, you have to practice. So, I went and petitioned the NCAA this summer through the Pac-12. I said, 'that's ludicrous, if we got back in at 6:15 in the morning from our trip in Southern California, we're not getting back until seven or so in the morning.' So you're saying that we can go sleep for five or six hours and then come back and have to practice football. To me, that's not for the wellness of the student athlete. So we give them Sunday off. We wrote a waiver, I met with all of the Pac-12 coaches, explained it, and they agreed. It could happen to Utah, but they're a little bit closer flight-wise than we are. We'll never get in before five AM in the morning. So, we take Sunday off. Monday is just a walkthrough and a meeting. We lose a day of practice anyway. We have to work on and understand that. We think about that beforehand and the next game, how much I'm going to practice, how much am I on the feet. Because, that will wear you out. You play a hard game and get off the field at 12 o'clock your time, fly all the way back, then you bus. It's really a hard travel. We've petitioned that, the NCAA granted it because they understand our situation. It is tough but that's just part of it. Teams that come here don't have it as bad because they lose an hour coming back. It's a little bit different for them."
On The Impact Of Recruiting For Late Games
"It's hard to stay up for late kickoffs. If the game is kicking off at 8:45 PM pacific time, that's 11:45 PM eastern time, which makes it tough for people on the east coast to watch. ESPN knows what they're doing, they get the fans and they get the commercials they want. They make the money they want, we understand that's how that works. I love us being on ESPN. That's a good plug for us, recruiting wise too. And especially on the west coast and our time zone, it will be a plus for recruiting."
On If Oregon State And Their Quarterback Will Game Plan Based On How Arizona Played
"I would think they would. We've been practicing for that. We're going to practice for him (Oregon State wide receiver and former quarterback Seth Collins) being at quarterback some. I would if I was them. We couldn't tackle the guy."
On If "Repping" The Big Throws At Quarterback Is Hard In Practice For The Players
"We've been repping it. We do it in different ways. We'll do a full speed rep and then we'll do a rep where the receiver is 35 yards down the field and then he's speeding up at the end. Then, we'll do a stationary rep where they're trying to throw in a trash can or hit a certain spot. The main thing is, if they're open just get it to them. Don't try to lead them, just get it to them. He (Steven Montez) has plenty of arm strength. Sometimes he has too much arm strength. They'll end up getting it. Of course it's frustrating that we haven't gotten it as many times as we'd like so far. But, I definitely believe we will. When we do it will open up even more."
On The Offensive Lines Play Last Week And This Week's Starters
"I thought the offensive line played better, I thought they did some good things. The first play of the game was really a scheme situation. But, I think they played better. We should have the same five out there unless we have some type of injury week. Hopefully we don't."
… Continue reading here for press conference quotes from Phillip Lindsay and Derek McCartney …
–
—
Lack of success in the passing game a source of frustration for Buffs
From the Daily Camera … It's no secret why the Colorado football team believed it could have one of the most explosive offenses in the country this year.
After all, the Buffaloes feature a talented group of receivers that includes speedsters Shay Fields and Devin Ross.
Pair them with rocket-armed quarterback Steven Montez, and it seemed like the Buffs could spend this entire season burning the opposition with big plays.
Six games into the season, however, the struggling Buffs (3-3, 0-3 Pac-12) have yet to hit home runs in the passing game.
CU doesn't have any completions longer than 44 yards, and its longest touchdown pass was a 39-yarder to tight end Chris Bounds on Saturday against Arizona. The longest touchdown to a receiver was a 31-yarder to Fields in the season opener.
"It's very frustrating," Montez said Monday. "We work on it and work on it, and to miss three or four of them in the game (against Arizona on Saturday), especially a close game like this, it's tough. It's very frustrating."
… Continue reading story here …
–
—–
October 9th
… CU in a few minutes … 
Buffs hope they have issues on offense figured out 
From CUBuffs.com … The Colorado Buffaloes knew their offense was close to a breakout game.
Saturday, "close" finally became reality in the Buffs' 45-42 loss to Arizona. Colorado finished with season highs in points (42), total yards (551), rushing yards (300) and time of possession (35:54) against the Wildcats, the type of performance many expected to be a regular occurrence when the season began.
Had Arizona quarterback Khalil Tate not put up previously unmatched numbers in the game, CU's offense — in particular the efforts of running back Phillip Lindsay — would have been the talk of the night.
Still, it was an optimistic sign for the 3-3 Buffs (0-3 Pac-12) as they head into the second half of the season, beginning with Saturday's matchup at 1-5 Oregon State (0-3) and new Beavers interim head coach Cory Hall.
"It was good to see," Buffs co-offensive coordinator Brian Lindgren said. "We had seen signs of it in practice and at times during games this season. We just hadn't been able to stack them like that."
In terms of consistency, Saturday's performance might have been one of CU's best in recent years. In 10 possessions, the Buffs put together five touchdown drives covering 75 yards   and another covering 85 yards, with a seventh possession ending in a missed field goal attempt.
… Continue reading story here …
–
—
Mike MacIntyre post-practice talk with media (Mon.)
From YouTube, courtesy of BuffStampede.com:
–
—
Colorado at Washington State will be nationally televised … heaven help us
From CUBuffs.com … The Colorado at Washington State football game on Saturday, Oct. 21st in Pullman will kick off at 8:45 p.m. MDT (7:45 p.m. local) and will be televised nationally by ESPN.
Other Pac-12 selections that day (all times MDT):
1:30 pm  – FS1 or 2:00 pm MT FOX: Arizona State at Utah (start time/network will be announced on Sunday morning, 10.15.17) 
2:00 pm  –  Oregon at UCLA, Pac-12 Networks
5:30 pm  – USC at Notre Dame, NBC
6:00 pm  – Arizona at California, Pac-12 Networks
–
—–
Neill Woelk – Ten Takeaways from Arizona game
From CUBuffs.com … Two weeks in a row, the Colorado Buffaloes have come up one score short.
In a 27-23 UCLA loss two weeks ago, the missed opportunities came on the offensive side of the ball while the defense kept the Bruins' high-powered offense relatively in check.
Saturday night, the offense found its groove, but the defense never found an answer for Arizona quarterback Khalil Tate, whose record-setting evening paved the way for a 45-42 Arizona victory and left the Buffs at 3-3 overall and 0-3 in Pac-12 play.
The question, of course, is whether the Buffs can put both sides of the ball together and produce a complete game. If they can, there's a good team waiting to emerge over the last half of the season.
What we learned from Saturday night's Folsom Field point explosion:
… Continue reading story here …
–
—–
October 8th
… CU in a few minutes …
Neill Woelk – CU goals are simplified: Go 1-0 this week
From CUBuffs.com … With a return to the Pac-12 championship game now a long, long shot — at best — the Colorado Buffaloes can reset their focus.
Win a Pac-12 game and turn the tide.
Nothing more needs be in their sights.
Don't worry about a bowl game. Don't worry about what possibilities might still exist as far as the Pac-12 title chase is concerned. Don't worry about the math involved and the remaining schedule when it comes to becoming eligible for the postseason.
Concentrate on going to Oregon State next weekend and getting a win. Nothing else need be on the Buffs' minds, because truth is, nothing else matters. Speculation and long-term guesswork need not be part of the equation.
The numbers now are quite simple: CU needs to go 1-0 next week.
… Continue reading story here …
–
—
Phillip Lindsay continues to re-write the CU record book
From CUBuffs.com … Tailback Phillip Lindsay (41-281, three touchdowns rushing; 3-39, 1 touchdown receiving; 320 all-purpose yards)
 He became CU's all‐time leader in all‐purpose yards with 4,989, passing Rodney Stewart (4,669 from 2008‐11);
 The 320 all‐purpose yards were the seventh most in school history;
 Top five rushing games in CU history:
Yds (att-td) Player Opponent Date
342 (34-1) Charlie Davis OKLAHOMA STATE Nov. 13, 1971
317 (35-1) Rashaan Salaam at Texas Oct. 1, 1994
309 (25-2) Chris Brown at Kansas Oct. 12, 2002
281 (41-3) Phillip Lindsay ARIZONA Oct. 7, 2017
259 (29-2) Rashaan Salaam Iowa State Nov. 19, 1994
 He now has 3,043 rushing yards, as he moved from sixth to fourth passing Charlie Davis (2,958, 1971‐73) and Bobby Purify (3,016, 2000‐04). He trails Eric Bieniemy (3,940, 1987‐90), Rodney Stewart (3,598, 2008‐11) and Rashaan Salaam (3,057, 1991‐93) as he is the fifth to eclipse 3,000 yards.
 This was his ninth career 100‐yard game and second career 200‐yard effort;
 His three touchdowns/18 points gave him 198 for his career, tying Rashaan Salaam for seventh all‐time (this was also his third career three-touchdown game, the others coming against Arizona and Arizona State last year);
 He has scored at least one rushing TD in all six games, and became the fifth CU player to score 30 career rushing touchdowns;
 He is closing in on 4,000 yards from scrimmage, with 3,912 total (3,043 rush, 869 receiving); a reminder he is also bidding to become CU's first‐ever 1,000/1,000‐yard rusher/receiver;
 17 first downs earned: tied the school mark for the most by a non‐quarterback (16 rush, 1 receiving; matched Rashaan Salaam at Texas, Oct. 1, 1994 (15, 2);
 41 rushing attempts broke the 40‐year old school record (40‐170, James Mayberry vs.Kansas State in Boulder, Nov. 19, 1977).
To his credit, Lindsay is all about wins, not records."I do it for my team, period," Lindsay said. "I'm going to do whatever I have to do to get the win. We came up short so obviously, I didn't do enough.
"We're going to be OK at the end of the day," Lindsay said at the post-game press conference. "Whether you guys, believe it or not, we don't care."
–
—–