—
Colorado Basketball
—
August 23rd
… CU in the Arena … 
Buffs fall in exhibition finale, finish Tour of Italy with 3-1 record
From CUBuffs.com … Saving the best opponent for the final game of a long, but memorable, foreign tour was probably not the ideal situation for the Colorado basketball team.
However, this game more than others, gave the Buffaloes a good barometer of where they are after this four-game tour and what needs to come next.
Novipiu Junior Casale built a big early lead and held on late to defeat Colorado 72-64 Friday night in Vercelli. Colorado's Italy tour ends with a record of 3-1.
Unlike the previous three games on the trip where the Buffaloes were playing all-star squads, individuals from different local professional teams, Novipiu is a program where its core group has played several years together in the Italian A2 Division.
That familiarity was apparent from the beginning. Junior Casale made Colorado pay early for defensive mistakes. Their passes were crisp, using screens and back cuts for wide-open shots; and like the majority of professional players, a wide-open look usually goes in.
Novipiu shot 58 percent in the first half building a 46-22 advantage and extended its lead to 26 points early in the third quarter before the Buffaloes mounted a comeback that fell just short.
… Continue reading story here …
–
—–
August 21st 
… CU in the Arena … 
CU men's basketball runs exhibition record to 3-0 with easiest win of the tour
From CUBuffs.com … It took nearly four minutes for Colorado to dial it in on defense. Four minutes too long for a coaching staff that hangs its hat on defense, but nonetheless, once the Buffaloes clamped down everything started clicking.
Colorado mixed in a three-quarter press with tenacious half-court defense, its best overall effort in three games, in an 87-54 win over the Vicenza All-Stars Monday night at the Pala Goldoni Arena.
The Buffaloes improved to 3-0 on their Italy Tour and will wrap up exhibition play Wednesday against Novipiu Junior Casale at 12 p.m. MT in Vercelli.
Colorado had 17 steals and forced 24 Vicenza turnovers, leading directly to 24 points. The Buffaloes also had plus-19 advantage on the boards (58-39) and pulled down 22 on the offensive end while holding the host team to 11.
McKinley Wright IV led Colorado with 13 points on six of 10 shooting with four assists and three rebounds. He was recognized as CU's Player of the Game by the hosts from Vicenza.
… Continue reading story here …
–
—–
August 20th
… CU in the Arena … 
New central video screen makes Coors Event Center debut
From the Daily Camera … The intrasquad Black and Gold scrimmage wasn't just a test run for the Colorado volleyball team.
Saturday afternoon's exhibition also marked the official unveiling of the new center-hung video board above the Coors Events Center floor.
Added this summer at an expense of about $1 million, the new structure includes a total of four video boards and a number of amenities and attractions CU officials believe will enhance the fan experience at the 38-year old facility. In addition to live feeds, the new video screens will provide additional replay viewings and statistics among other features.
"It really changes the visual fan experience pretty dramatically," said Matt Biggers, CU's associate athletic director of external affairs. "People have been coming into this building for many years, and obviously we've had the video boards in the corners that have served us well. But to have a center-hung and to have the replays and the graphics in your line of vision, your line of sight, it really changes the whole atmosphere in the building."
Those two video boards in opposite corners of the arena will remain intact. The center-hung structure includes two large screens measuring 11.5 feet by 20 feet that face each sideline and a pair of 8.5 feet by 14.5 feet screens that face each baseline.
… Continue reading story here …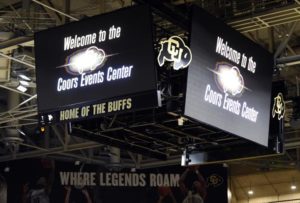 –
—–
August 18th
… CU in the Arena … 
Buffs run exhibition record to 2-0 with fourth quarter run
From CUBuffs.com … There were moments over the last 24 hours the phrases of endurance, long bus trips, hot & humid conditions made their way around the Colorado basketball camp.
The Buffaloes' first two games in Italy were played in a span of just over 24 hours. In between those games included several hours on a bus, traveling from Rome to Florence, and a two-hour stop and walking tour of Siena, with normal summer heat and humidity reigning in this Mediterranean climate.
Despite those conditions, Colorado showed some strength through adversity and displayed its depth as the Buffaloes defeated Silute BC out of Lithuania 73-60 on Friday night.
Colorado survived a sluggish start and took a close game into the fourth quarter before opening up a double-digit point lead. The Buffaloes outscored Silute 23-15 in the fourth hitting 9 of 11 from the floor.
Look no further than Colorado's bench for the difference, scoring 47 points highlighted by 14 from junior Namon Wright. Deleon Brown had 12 points and Lucas Siewert had 10 points and nine rebounds.
"It's actually kind of scary to think about," said Brown on the team's depth. "Everybody on our team can play. We've got shooters, to big men, to guys that can handle the ball. We're a really well rounded team and I feel like there is no limit to what we could do."
… Continue reading story here …
–
—–
August 17th
… CU in the Arena … 
Buffs win exhibition opener in Italy
From CUBuffs.com … Few exhibitions are this highly anticipated, but few have as many questions leading into them.
Colorado played its first of four summer-tour games in Italy, featuring a lineup where six of the 11 that played have never suited up for the Buffaloes. Throw in a mixed group of Italian professionals to make up "Dream Team Italy" as the opponent, so scouting opportunities were slim to none.
The questions were never expected to be fully answered after one 40-minute session, but the contest gave head coach Tad Boyle and his staff a first look and their new squad in a game situation.
Colorado had two key spurts in the second and fourth quarters, allowing the Buffaloes to pull away from Dream Team Italy 70-56 Thursday night.
Senior wing George King led Colorado with 13 points and 10 rebounds. Freshman point guard McKinley Wright IV had 12 points and two assists. Senior Dominique Collier fought off foul trouble, but came up huge in Colorado's final stretch finishing with 12 points as well.
"I was pleased with our effort," Boyle said. "For a young team, we've really got to talk more on the floor both offensively and defensively."
… Continue reading story here …
–
—
August 16th
… CU in the Arena … 
Buffs in Rome, begin preparations for exhibitions
From CUBuffs.com … With nearly two full days in Rome coming to a close, the Colorado men's basketball team got back to the business of basketball on Wednesday.
The Buffaloes held their lone practice in Italy during the morning before taking in the famous Roman Colosseum in the afternoon. Their first of four exhibition games will be played Thursday evening locally (11 a.m. Mountain).
"It was good to get in a good sweat," head coach Tad Boyle said. "They were a little sluggish at the beginning, but it got better as we went. It was good to be in the gym. It's our only practice over here so we made the most of it. Now it's game time."
After arriving in Rome Monday morning, the Buffaloes' travel party spent the day in Rome's city center, visiting the Trevi Fountain and the Pantheon.
Colorado will tour the Vatican on Thursday morning before preparing for its game against All-Star Italy at the Stella Azzurra Sport Center. The game will be played under FIBA rules, meaning the Buffaloes will have to make some adjustments.
… Continue reading story here …
–
—–
August 12th
… CU in the Arena … 
Now it's official: Kim English CU's new assistant coach
From CUBuffs.com … Even Buffaloes know that Jayhawks and Tigers usually don't mix well — but if they do, it must truly be special.
That's why regardless of long-standing former allegiances, no one is happier to bring former Missouri standout Kim English into the Colorado basketball program as an assistant coach than his new boss, former Kansas guard and Buffaloes' head coach Tad Boyle.
English replaces Jean Prioleau, who recently became the head coach at San Jose State.
"For a guy that went to Kansas, to hire a guy that went to Missouri, you know he's really good," Boyle said.
English, appreciative of the rivalry jab, responded in kind.
"And for a former Tiger to go and work for a Jayhawk, you know he must be good!"
English spent the last two seasons on the men's basketball staff at Tulsa under Frank Haith, who he played for as a senior at Missouri. He was an assistant coach last season for the Golden Hurricane while serving as the program's director of player development in 2015-16.
"It's a chance for me to get to the Power 5 level and compete against the best," English said. "The Pac-12 Conference is at an all-time high. Bill Walton always calls it the 'Conference of Champions' and it truly is. I'm excited to work for coach Boyle and this staff and excited to work extremely hard for these student-athletes."
… Continue reading story here …
–
—–
August 9th
… CU in the Arena … 
Report: CU men's basketball hires new assistant coach
From the Daily Camera … Less than 30 hours after saying "there's one guy that I'd really, really like to get and I'm zeroed in on," Colorado men's basketball coach Tad Boyle may have found his guy in the search for a new Buffaloes assistant coach.
On Tuesday afternoon, ESPN college basketball reporter Jeff Goodman released a tweet stating the Buffs have "hired Tulsa assistant Kim English."
… English has spent the past three seasons on the men's basketball staff at the University of Tulsa, serving the previous two years as an assistant coach following one season as the program's director of player development.
English played four seasons at Missouri, leading the Tigers to the 2012 Big 12 Conference tournament title while getting named the tournament's Most Outstanding Player. He was selected in the second round of the 2012 by Detroit and played 41 games with the Pistons during the 2012-13 season. His professional playing career included stops in Italy, France, and Venezuela before he turned to coaching.
Boyle is attempting to quickly fill the void left by the departure of associate head coach Jean Prioleau, who on Friday was named the new head coach at San Jose State University.
–
—–
August 6th
… CU in the Arena … 
Buffs resume practices in anticipation of trip to Italy
From CUBuffs.com … After a month off, the Colorado men's basketball team resumed practice for its August tour of Italy Saturday morning at the Coors Events Center.
The Buffaloes will have eight days of practice in Boulder, including Saturday, before leaving for an 11-day, four-game tour featuring stops in Rome, Florence, Venice and Como. The NCAA allows for 10 practice days for foreign tours. Two of those practice days were used in June.
Colorado enjoyed a spirited, but focused morning on the practice floor. The task for head coach Tad Boyle and his staff is to get the team ready for game action, in about a quarter of the time they would for the regular season.
"We've got to move fast, that's the biggest thing," Boyle said. "Normally when you start practice you can take baby steps with 30 days before your first game. Now we've got eight. The key for us is to move quickly, but yet still trying to teach; trying to get them to absorb as much as they can within these eight practices."
… Continue reading story here …
–
—
Lazar Nikolic's arrival with CU men's basketball delayed by paperwork
From the Daily Camera … While the Colorado Buffaloes bid farewell to assistant Jean Prioleau on Saturday, they also began their final stretch of workouts before the program's four-game trip to Italy later this month.
They resumed workouts without the final piece of their 2017 freshman class, Lazar Nikolic.
Earlier this summer head coach Tad Boyle believed the Serbian guard would be in Colorado in time to take part in the pre-Italy workouts. However, NCAA paperwork and visa issues have conspired to keep Nikolic at home for the time being.
"He's dealing with stuff with NCAA clearinghouse. Transcripts being sent and translated…there are so many hoops you have to jump through," Boyle said. "We were hoping he could be here by now, but some of his work got in a little bit late. Everything had to be graded, transcripts have to be uploaded. (Assistant) Bill Grier has done an unbelievable job with the day-to-day minutiae of getting him here. It just hasn't happened like we wanted to."
… Continue reading story here …
–
—–