—
Rankings and Ratings 
—
October 7th
ESPN Football Power Index doesn't like the Buffs
From ESPN … The Football Power Index has USC with a 60.1% chance of winning; CU is at 39.9%.
Colorado is ranked for the first time in more than a decade. But that doesn't mean the Buffaloes still aren't underdogs.
Colorado (4-1 overall, 2-0 Pac-12) will put its first ranking since 2005 on the line when it travels to USC (2-3, 1-2) Saturday for a 4 p.m. ET kickoff from the Los Angeles Coliseum.
"We've got to keep playing games," Colorado coach Mike MacIntyre said.
"Every team that's left to play can beat us, and we can beat every team left. We have to come and play Colorado football, that's what I tell them all the time. Play Colorado football; that means take care of yourself. Then, you go out there and play and see what happens."
The matchup is between the most surprising team in the league against probably its most disappointing. The Trojans stumbled out of the game in Clay Helton's first full season as head coach, losing 52-6 to Alabama in Arlington, Texas, and then later dropping games to Stanford (27-10) and Utah (31-27).
But all is not lost.
The Trojans have a chance to get right back into the Pac-12 South race by beating front-running Colorado. USC is hoping last week's 41-20 home win over Arizona State was a turning point.
"It could be," said cornerback Adoree' Jackson. "That's one of those things where you never know what may happen. But it could be a turning point and we just want to keep this momentum going and keep it going from there."
… Continue reading story here …
—–
October 6th
College Football News … Buffs to finish 7-5
From College Football News … The 2016 Pac-12 schedule with the predictions for the remaining games, scores and schedules after Week 5
Pac-12 Predicted Finish After Week 5
North
1. Washington
2. Stanford
3. Washington State
4. California
5. Oregon
6. Oregon State
South
1. UCLA
2. USC
3. Colorado
4. Utah
5. Arizona State
6. Arizona
2016 Colorado Buffaloes Football Schedule
2016 Updated Prediction: 7-5
2016 Record: 4-1
Sept. 2 at Colorado State (in Denver) W 44-7
Sept. 10 Idaho State W 56-7
Sept. 17 at Michigan L 45-28
Sept. 24 at Oregon W 41-38
Oct. 1 Oregon State W 47-6
Oct. 8 at USC L
Oct. 15 Arizona State W
Oct. 22 at Stanford L
Oct. 29 OPEN DATE
Nov. 3 UCLA W
Nov. 12 at Arizona L
Nov. 19 Washington State L
Nov. 26 Utah W
—
ESPN Pac-12 picks – beat writers pick CU over USC, 3-2 (and all five have CU beating the spread)
From ESPN … Welcome to Week 6! Visit our college football PickCenter page for additional information on these games and many more.
NAME
PICK
SCORE
Kyle
Bonagura
38-35
Kevin
Gemmell
28-24
Chantel
Jennings
31-27
David
Lombardi
31-30
Ted
Miller
30-27
Other Pac-12 games:
— No. 5 Washington a unanimous pick to end 12-year losing streak against Oregon
— Cal a unanimous pick on the road against Oregon State
— No. 24 Utah a unanimous pick at home against Arizona
— UCLA a unanimous pick on the road over Arizona State
— No. 15 Stanford in a split decision, 3-2, at home against Washington State
—–
October 5th
CBS' Tom Fornelli "enamored with this Colorado team" 
From CBS Sports … Could there be a Fornelli 50 curse developing?
Last week, as I do every week in The Fornelli 50, I singled out a number of teams I felt like writing about. The six teams were Memphis, Wisconsin, Maryland, Arizona State, Wake Forest and Missouri. Do you notice anything that those teams have in common?
Five of them lost over the weekend.
Does the same future await the five teams I highlight this week? Only the future knows …
19. Colorado 4-1 (37): I've been avoiding writing about Colorado in these rankings all season long. They dropped out for a week following the loss to Michigan, but in every other week of The Fornelli 50, they've been here and I've been too scared to say anything. I'm like that 13-year-old boy with a crush on the prettiest girl in school, but I don't want to tell her because what if she doesn't like me?
I'm smitten, you guys. I am enamored with this Colorado team, and I have been since its first game of the season against Colorado State. The reason I've avoided writing this is just the silly, superstitious fear that by sharing these feeling with the public, I will ruin what Colorado has going on. But I must be brave.
I must let the world know that I am fully here for the 2016 Colorado Buffaloes. They're in first place in the Pac-12 South right now, and while I'm not going to sit here and tell you they'll win the division, I firmly believe they'll be in the hunt all year long. Mike MacIntyre's offense is finally coming along in his fourth season, but the biggest difference is on the other side of the ball, where the hire of Jim Leavitt is paying huge dividends.
This was a Colorado defense that in 2014 allowed 461 yards per game, which caused MacIntyre to go out and get Leavitt last year. We saw some immediate improvement, as the Buffaloes allowed 416.9 yards per game last year. Well, through five games this year, the Buffs defense is allowing 290.4 yards per game. There is no Pac-12 defense allowing less. Not Washington, not Utah, not Stanford, not anybody.
And if it continues, don't be surprised when Jim Leavitt's name comes up in coaching searches this winter. Yes, the way he left South Florida was ugly, and shouldn't be forgotten, but if Art Briles is going to be mentioned for jobs this year, there's no reason Leavitt doesn't deserve a second chance as well.
—
CampusInsiders picks for Pac-12 games … including CU at USC
From CampusInsiders.com … Below are the breakdowns and predictions for the 10 most consequential and entertaining games of Week 6:
9. UCLA (3-2) at Arizona State (4-1)
Everyone is in the Pac-12 South race, save for possibly Arizona. So, these kinds of matchups could help decide who's still in the hunt next month and who's hunting for a Motel 6 Cactus Bowl invite.
Both teams are coming off three-touchdown blowouts, the Bruins taming Arizona and the Devils bowing to USC. It'll be strength vs. strength in Tempe, with a talented UCLA defense facing the high-scoring ASU offense that'll be without starting quarterback Manny Wilkins. In his first career start, redshirt freshman Brady White will have to dodge defensive end Takkarist McKinley and defensive tackle Eddie Vanderdoes and outwit the veteran Bruin defensive backs. White will actually have more luck testing the Bruin run defense by handing the ball to Demario Richard and Kalen Ballage.
The Sun Devils have another glaring issue, a rotten defense allowing more than 500 yards a game. Bruin quarterback Josh Rosen will build on last week's outing, outplaying White to guide his squad to an important conference road win.
Prediction: UCLA 37, Arizona State 28
Line: UCLA -10
—
8. Colorado (4-1) at USC (2-3)
The Buffs are ranked. The Trojans are below .500. It's a classic flip the script matchup at the Coliseum.
Colorado has been one of the stories of the first half of 2016, escaping a decade of futility to become a legitimate player in the Pac-12 South race. The offense has rocked, even after freshman quarterback Steven Montez replaced injured Sefo Liufau, and coordinator Jim Leavitt is doing a bang-up job with the defense. But USC is feeling optimistic, too, torching Arizona State last Saturday behind its own emerging rookie quarterback, Sam Darnold. And the Trojans understand that a loss Saturday essentially ends any hope of winning the division … or possibly returning Clay Helton in 2017.
Fascinating game, rife with all kinds of changing-of-the-guard possibilities. The Buffaloes are for real. On this day, though, they'll succumb to their one relative weakness, stopping the run. The Trojans won't bother challenging the Colorado defensive backs, pounding Justin Davis and Ronald Jones behind a physical offensive line.
Prediction: USC 30, Colorado 28
Line: USC -5
—
5. Washington (5-0) at Oregon (2-3)
Last week, the Huskies kneecapped Stanford to rise to the head of the Pac-12 class. This week, they look to exorcise lingering demons with one of their biggest rivals.
U-Dub has lost 12 straight to Oregon, a harrowing stretch that's haunted fans of the program. But the schools are traveling in opposite directions these days. The Huskies are unbeaten and knocking on the playoff door after climbing to No. 5 in the AP poll. The Ducks have dropped three straight, putting skipper Mark Helfrich's future in Eugene in jeopardy. The entire Oregon staff needs this game, but it'll be too tall of an ask in the face of a Washington team that's clicking in all phases and focused on exacting revenge.
The Huskies might be even more motivated this week than they were last Friday. Jake Browning will surgically dissect an overmatched Oregon defense, while the U-Dub D wins the line of scrimmage to disrupt running back Royce Freeman's running lanes.
Prediction: Washington 44, Oregon 24
Line: Washington -8
October 4th
Mike MacIntyre No. 8 on a list of potential Coach-of-the-Year candidates
From CampusInsiders.com … Through the first five weeks of the 2016 college football season, select head coaches are standing out among their peers in the profession. As such, they've angled into the inside lane in the race for Coach of the Year, a contract extension and possibly a high-profile promotion now that job openings have already begun popping up.
8. Mike MacIntyre, Colorado (9)
The Buffaloes are ranked for the first time in 11 years, a remarkable turn of events for a program pegged in the preseason to finish last in the Pac-12 South. And Colorado has risen to prominence, despite being forced to pull redshirt freshman quarterback Steven Montez off the bench to replace injured starter Sefo Liufau. Recent wins over Oregon and Oregon State have the Buffs believing they're good enough on both sides of the ball to contend for a divisional title and a spot in the league title game.
—
October 3rd 
Colorado "on the board" for national championship
Okay, now we are getting into some serious fantasy land.
Ted Miller from ESPN has posted a tweet, listing the odds from betting site Bovada, showing the current odds for teams to win the national championship.
As Miller put it in his tweet, "Colorado … you are ON THE BOARD"
Check it out (sorry about the poor quality, it's taken from Miller's tweet, but you get the idea):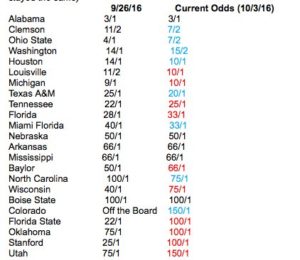 —
Colorado up to No. 24 in CBS rankings … but not a bowl team 
From CBS Sports … The University of Colorado is starting to get some respect from CBS. The Buffs were in the 90's in the CBS Sports listing of the 1-128 teams to start the season, but are up to No. 24 in the latest rankings.
But … Jerry Palm, who has eight teams from the Pac-12 going to bowl games this fall, still does not have CU as a bowl team in his latest projections.
Hard to figure how the No. 24 team in the nation wouldn't qualify for a bowl, but perhaps Palm knows more about the Buffs' future than does the team …
—
October 2nd
Colorado ranked in the national polls for the first time since 2005
It's been a long time coming, but Colorado is back on the national stage. The Buffs were ranked No. 22 in the nation on November 6, 2005, with a 7-2 overall record. That week, however, the Buffs lost on the road against Iowa State. 30-16. The following week, the Buffs lost to Nebraska, 30-3, and haven't been heard from since.
Until now …
… Here is a link to CU's history in the national polls …
The Week Six Associated Press poll:
1. Alabama
2. Ohio State
3. Clemson
4. Michigan
5. Washington
6. Houston
7. Louisville
8. Texas A&M
9. Tennessee
10. Miami (Fla.)
11. Wisconsin
12. Nebraska
13. Baylor
14. Ole Miss
15. Stanford
16. Arkansas
17. North Carolina
18. Florida
19. Boise State
20. Oklahoma
21. Colorado
22. West Virginia
23. Florida State
24. Utah
25. Virginia Tech
Others Receiving Votes: Western Michigan (5-0) 76; UCLA (3-2) 56; LSU (3-2) 49; Auburn (3-2) 46; North Dakota State (4-0) 46; Georgia (3-2) 42; Oklahoma State (3-2) 41; TCU (3-2) 26; Maryland (4-0) 23; Air Force (4-0) 17; San Diego State (3-1) 10; Michigan State (2-2) 7; South Florida (4-1) 6; Arizona State (4-1) 4; Indiana (3-1) 3; California (3-2) 3; Texas (2-2) 1
—
The USA Today coaches poll:
1. Alabama
2. Ohio State
3. Clemson
4. Michigan
5. Houston
6. Washington
7. Texas A&M
8. Louisville
9. Tennessee
10. Miami (Fla.)
11. Baylor
12. Nebraska
13. Wisconsin
14. Ole Miss
15. Stanford
16. North Carolina
17. Arkansas
18. Florida
19. Boise State
20. West Virginia
21. Florida State
22. Oklahoma
23. Colorado
24. Utah
25. Western Michigan
Others Receiving Votes: LSU (3-2) 77; Michigan State (2-2) 71; Maryland (4-0) 70; Georgia (3-2) 65; Air Force (4-0) 59; Virginia Tech (3-1) 50; UCLA (3-2) 50; Oklahoma State (3-2) 43; TCU (3-2) 32; South Florida (4-1) 24; Arizona State (4-1) 23; Auburn (3-2) 21; Texas Tech (3-1) 11; San Diego State (3-1) 10; California (3-2) 7; Indiana (3-1) 3; Troy (4-1) 3; Minnesota (3-1) 2; Southern California (2-3) 2; Southern Mississippi (4-1) 2; South Alabama (3-2) 2; Wake Forest (4-1) 1; Eastern Michigan (4-1) 1; Middle Tennessee (4-1) 1; Appalachian State (3-2) 1
—
ESPN national power rankings … Buffs join the list for the first time
From ESPN … Here's how things shook out in ESPN's Power Rankings for this week.
5. Washington
13. Stanford
18. Colorado Buffaloes (4-1)
Trending:

Week 4 ranking: NR
Week 5 result: defeated Oregon State 47-6
Colorado coach Mike MacIntyre might be an early candidate for coach of the year honors given the way the Buffaloes have started the season. They cruised 47-6 over Oregon State and have more than one Pac-12 win for the first time since 2011. Next they play USC, a team they have never beaten.
24. UCLA
25. Utah
—
ESPN Pac-12 Power Rankings 
From ESPN … Welcome to the Week 5 Power Rankings. You can see last week's rankings here. If you don't like where you're ranked, play better.
2. Colorado (4-1, 2-0; No. 5 last week)
Meet the leaders of the South Division. Colorado put on a calm, poised and destructive performance against Oregon State after coming off an emotional win the week before. With a trip to USC next week, it would have been easy for the rising Buffs to play down or overlook the Beavers. They didn't, and that's the mark of a mature team.
—
ESPN Bowl Projections … Buffs San Diego bound
From ESPN … Washington is the top Dawg. The Huskies are the Pac-12's only remaining unbeaten team, and they certainly look like the league's most complete squad at this point. Friday's 44-6 dismantling of defending champion Stanford — the Cardinal's worst loss since Jim Harbaugh's first season there in 2007 — makes Washington the Pac-12's legitimate contender for the College Football Playoff.
… As for the rest of the projections, Colorado continues to surge and is alone atop the Pac-12 South, USC moves up the pecking order but still has more to prove, and the Cougars are back in the picture. Arizona State suffered a blow at the hands of the Trojans, while Arizona fell out entirely. Here's the full rundown:
College Football Playoff semifinal at the Chick-fil-A Peach Bowl:Washington
Rose Bowl Game Presented by Northwestern Mutual: Stanford
Valero Alamo Bowl: UCLA
Holiday Bowl: Colorado
Foster Farms Bowl: Utah
Hyundai Sun Bowl: USC
Las Vegas Bowl: Arizona State
Cactus Bowl: California
At large: Washington State
—
College Football News has CU at No. 19 nationally
From College Football News … Based on looks, talent, and what's happened so far, here we go with the Week 5. CollegeFootballNews.com Rankings 1 to 128.
The Pac-12 … 
7. Washington
13. Stanford
19. Colorado (4-1)
CFN Week 4 Rank: 28
Final Score: Colorado 47, Oregon State 6
Up Next: at USC
If the world ended right at this very moment, Colorado would forever be the Pac-12 South champs – or at least at the top of the standings. That Michigan loss is more than okay, but if the Buffs really want to be taken seriously, they've got to get by USC next week on the road.
21. UCLA
22. USC
24. Arizona State
26. California
33. Utah
58. Arizona
65. Washington State
66. Oregon
87. Oregon State
(110. Colorado State)
—–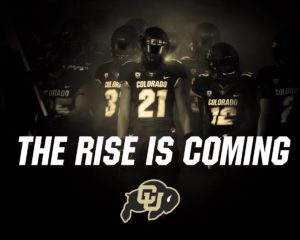 —–