—
Colorado Daily – Colorado State
—
September 2nd
… CU in a few minutes … 
Related … "QB Liufau Celebrates Return With Win Over Rams" … from CUBuffs.com
Related … "Sefo Liufau becomes school's all-time leading passer in easy win" … from the Daily Camera
—
Coach MacIntyre defends keeping Sefo in the game 
Perhaps the only criticism which could be made of the coaching staff in a 44-7 rout was the decision to keep the oft-injured quarterback Sefo Liufau in the game into the fourth quarter.
"We were moving the football, and we haven't been in that situation a lot", said MacIntyre. "There was still a whole fourth quarter left in the game. He should have slid on the hit he took in the fourth quarter, which is something we've been working on with him. I guess he just won't slide."
"I don't think we had any conversations to be honest", said Liufau when asked about coming out. "We just wanted to keep going out there and putting some drives together. We were for the most part our biggest enemy tonight as an offense. I think we stopped ourselves the most. And we never really talked about me coming out."
—
Starting off with a rivalry game not a concern for the Buffs
From the Daily Camera … "I feel like this year it's just about intensity more than anything," senior center Alex Kelley said. "We only have X amount of practices, X amount of games and then we're done — most of us possibly forever. As a whole, this senior class has really taken everyone else under our wings like, 'Hey we don't have that many chances.' We're trying to get (the underclassmen) to realize how short this actually is and what an opportunity we have."
… "This year, it's about starting the season off right and on a winning note," Gilbert said. "It's a year-round bragging rights for the people who live here, but for us seniors, it's the last first game that we'll ever get so we have to come out good."
From CUBuffs.com … "To me, it's  just another game and it doesn't matter who you go up against in week one," said Buffs quarterback Sefo Liufau. "To me it is just another game. Not to disrespect anybody, but whoever you put in front of me, I'm going to go out there and do my best and treat each game like it's a championship game. Each week, you want to go 1-0 and do your best against whoever you line up against."
—–
September 1st
… CU in a few minutes …
Drew Litton on the Rocky Mountain Showdown
From the Daily Camera …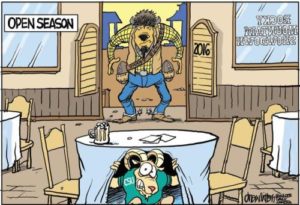 —
ESPN picks the Pac-12 games … all unanimous picks
ESPN's five beat writers for the Pac-12 have posted their choices for Week One (Cal v. Hawai'i notwithstanding). Surprisingly enough, they are unanimous in all 11 Pac-12 games.
The article can be found here.
If correct, the Pac-12 will go 9-2 this weekend, with the two losers being USC (to Alabama) and Oregon State (to Minnesota). Surprisingly (at least to me), UCLA is a unanimous choice to defeat Texas A&M …
—
Neill Woelk lists top six CU/CSU games in Denver
From CUBuffs.com … Friday night's Colorado-Colorado State game at Sports Authority Field (6 p.m., ESPN) will mark the 16th time the two teams have met in Denver.
There have been blowouts, big plays, fantastic finishes and even a pair of overtime games (both won by the Buffs). Colorado currently holds a 9-6 edge in games in Denver.
But the total number of games in Denver isn't scheduled to reach 20. The in-state rivals will play again in Denver the next three years, with the final game in the current contract scheduled to be played in Fort Collins in 2020.
And, while there is a strong likelihood that the two programs will play again as soon as 2023, Colorado athletic director Rick George has made it clear he any future games will be on-campus affairs.
Thus, with the series in the Mile High City inching ever closer to an end, here's a look at our top five (actually six) CU games in Denver:
— Sept. 5, 1998: A capacity crowd of 76,036 at old Mile High Stadium watched Rick Neuheisel's Buffs roll to a 42-14 win in the first-ever game in Denver between the two teams … CU at the Game recap: "CU v. No. 15 CSU – Buffs take down Rams in Mile High rout"
— Sept. 1, 2001 — While it wasn't the season opener, the game nevertheless proved to be an extremely pivotal moment. One week after falling at home to Fresno State in the opener, Gary Barnett's unranked Buffs bounced back in a big way for a 41-14 win over the No. 24 Rams … CU at the Game recap: "CU v. No. 24 CSU – Relief"
— Aug. 30, 2003 — In a game dubbed an "instant classic" by ESPN, Buffs quarterback Joel Klatt threw for 402 yards and four touchdowns in a wild 42-35 CU win that included a driving rainstorm, a thunderous lightning display and an Invesco Field crowd of 76,219 — still the largest crowd ever for a CU-CSU game … CU at the Game recap: "CU v. CSU – Klatt sets records in an 'electrifying performance' "
— Sept. 1, 2013 — Mike MacIntyre made his debut as Colorado's head coach a successful one. With a 41-27 win over the Rams to open the 2013 season, MacIntyre became just the second head coach since 1932 to win his first game with the Buffs, joining Rick Neuheisel in 1995 as the only pair to do so among the 15 different coached to lead the program in that time frame … CU at the Game recap: "A will to win in MacIntyre's debut"
— Sept. 1, 2007 — For the second time in three years, the Buffs rallied from 11 points down to collect a 31-28 win — but this one came in the first overtime game in series history … CU at the Game recap: "Desperate Time Call for Desperate Measures"
— Sept. 19, 2015 — Once again, the Buffs were forced to come from behind, this time erasing a 14-0 first quarter CSU lead … CU at the Game recap: "A Matter of Trust"
… Continue reading Neill Woelk's recaps here …
—–
August 31st
... CU in a few minutes …
Coach MacIntyre post-practice talk with media 
YouTube video courtesy of CUSportsNation:
—
FoxSports: Colorado one of the five most underrated teams in the country
From Fox Sports … There are many underrated teams in college football entering the 2016 season, from teams looking to make it to a bowl game, to teams competing for conference championships, but here are the five most underrated teams.
… 5. Colorado Buffaloes
Yes, Colorado actually has a chance to be a good team and make their presence known in the Pac-12 in 2016. No, they will not be competing for the conference championship but a step towards bowl eligibility is exactly what the program needs.
Colorado has not been to a bowl game since 2007 when it lost to Alabama, 30-24, in the Independence Bowl. After almost 10 years since that game, the time has come for the Buffaloes to become one of the better teams in college football by making it to a bowl game.
Colorado has Sefo Liufau back at quarterback after an injury in 2015. The offense, despite the loss of Nelson Spruce at receiver, should be balanced and has a playmaker in Phillip Lindsay at running back.
The Buffalo defense is what makes Colorado a team to watch in 2016. Defensive Coordinator Jim Leavitt leads a veteran, talented and fundamentally sound defense led by cornerback Chidobe Awuzie. The defense returns a total of 9 starters from last season.
Colorado might not take the world by storm in 2016, but don't be shocked if this team doesn't upset a Pac-12 team or two and makes it to a bowl game this season. Colorado will only keep getting better.
… Continue reading story here (Oregon also on the list) …
—
Buffs saying the right things when it comes to showing respect to the Rams
From CUBuffs.com … Colorado tight end Sean Irwin may have said it best.
Asked to describe the annual Colorado-Colorado State game atmosphere, the Buffs' fifth-year senior didn't have to think twice.
"It's a beast," Irwin said. "The blood's flowing, and you always know one thing: you'd better come with your heart."
Quotes praising the Rams …
— "They're a really good football team," MacIntyre said at his Tuesday press conference. "Their offensive line kicked our butt last year. (Running back Dalyn) Dawkins ran all over us. … Defensively, Coach (Marty) English knows what he's doing. Two years ago, when he was the defensive coordinator, they pretty much shut us down. Mike Bobo is an excellent offensive coordinator and head coach. …It's going to be a heck of a football game and our young men are excited about playing."
— "In my five years here, I've learned this: as Buffaloes, we need to prepare like we've never prepared before," said fifth-year senior Alex Kelley. "Those guys, they bring it every single time we play them. If you're not prepared, they'll jump on you."
— "As much as people want to look down upon them, CSU is a really tough team, especially on defense," Sefo Liufau said. "Those front seven guys that they have — last year they had some great guys, and every year they play us tough. It's a rivalry game. Up front they are strong and so I expect a battle. I expect us to do well and execute our operation on offense, but I expect a battle. They are not just going to roll over and let us win."
— "I love this game," Irwin said. "I think we all do. It's always special, and for the seniors, it means even a little more. This is it for me. I want to go out on top. I'm tired of hitting my guys and I'm sure they're tired of hitting their guys. I'm just ready to hit some green."
… Continue reading story here …
—–
August 30th
... CU in a few minutes … 
Coach MacIntyre's Tuesday press conference
YouTube video courtesy of BSNDenver.com:
—
Related: "Tuesday Tidbits" by B.G. Brooks at CUBuffs.com
Related: "Liufau Eager To Make His Comeback Complete" … from CUBuffs.com
Related: "CU Buffs' Sefo Liufau focused as return nears" … from the Daily Camera
—
Two Colorado television shows make season debuts this week
From CUBuffs.com … Two new "all-Colorado" sport programs will debut this week on two different networks, one of which enables CU to once again have a weekly television presence in Denver for the first time since the 2011-12 athletic year.
"The Buffalo Stampede" returns but with a new format and a new home: Altitude Sports (Comcast Ch. 25/725 HD).  This week's football preview show will debut on Wednesday, Aug. 31 at 11:00 p.m., with replays Thursday (2:00 p.m., 10:30 p.m.) and Friday (3:00 a.m., 5:30 p.m., 10:30 p.m.).  The show will be hosted by KOA's Mark Johnson with Altitude's talent set to host many segments, and will run through the end of basketball season.  Starting with the second program next week, it will also air on Pac-12 Mountain.
The Stampede aired through the 2011-12 and was produced in-house by CU.  This version won't be like the typical coaches shows of past, as it will be more feature-oriented and will also spotlight all 17 of CU's intercollegiate sports.
"The Rise" is a video series that will follow the Colorado Buffaloes through the 2016 season. This team has a large senior class with more experience and skill than any of the previous MacIntyre-coached teams at CU.  "The Rise" will be an interview driven narrative featuring and following the seniors through this journey.  Six episodes are planned at present and will cover the season from camp to bowl week.  "The Rise" will be cinematic, yet organic, featuring behind-the-scenes footage and a narrative told by the seniors and coaches.  It will premiere on Wednesday, Aug. 31 on Pac-12 Mountain at 6:30 p.m. MDT, with replays following at 7:30, 9:00 and 10:30.
—
Jimmie Gilbert talks with media at CU press conference
YouTube video courtesy of the Daily Camera:
—
Injury Report: Jaleel Awini and Isaac Miller out "indefinitely"
The injury report for the Colorado State game has been released. Three players are out for the season, and were already known – linebacker Trent Headley; defensive back Jaisen Sanchez; and wide receiver Juwann Winfree.
The other two names on the report were known (they showed up as injured when the depth chart was released over the weekend), but not the extent of the injuries:
— WR Jaleel Awini – back – practiced on a limited basis early on in fall camp – Status: Out/Indefinitely
— OT Isaac Miller – knee – has seen limited action in fall camp (injured the knee in the spring game April 9th) – Status: Out/Indefinitely
—-
Details of renewed Nike contract compiled by Daily Camera
From the Daily Camera … CU's original deal with Nike began in 2001 and, in 2006, the deal was extended through June 30 of this year. This new extension takes the deal with Nike through June 30, 2025 – another nine school years.
Between now and 2025, CU will receive roughly $2,928,000 per year in base compensation and supplied product. Those numbers are broken down as follows:
Base compensation: $750,000 each year Supplied product limit: $2,177,778 average per year (annual value escalates throughout the contract, topping out at $2.4 million in each of the last two years)
In addition, CU received a one-time $2 million commitment bonus from Nike – basically a signing bonus.
Nike also supplies CU with products (such as T-shirts) for sports camps, and there are minimal performance bonuses written into the deal. For example, if the Buffs reach the Pac-12 title game in football, they'll get a $10,000 cash bonus; if they win the Pac-12 tournament in men's basketball, they'll get $10,000; winning the Pac-12 tournament in women's basketball brings a $5,000 bonus.
The largest bonus is $100,000 for winning the college football playoff national championship.
Adding up the base compensation, supplied product values and commitment bonus, CU's new deal is worth around $3.1 million per year over the next nine years. That's around $1 million more per year than the previous deal
—–
August 29th
… CU in a few minutes … 
CU uniform combination for Rocky Mountain Showdown revealed
Via tweet from Colorado Equipment … Classic look (my favorite):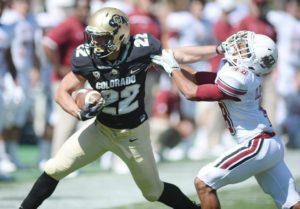 —
Mike MacIntyre's first recruiting Class making up much of the 2016 starting lineup
From CUBuffs.com … Every recruiting class for every head coach is special. Every class means a group of young men who have decided to cast their lot with that head coach and his staff, a decision that will have a tremendous impact not only on their ensuing four years, but for the rest of their lives.
But Friday night, when the Colorado Buffaloes open their season versus Colorado State at Mile High Stadium, there will be a group of seniors who will represent Mike MacIntyre's first recruiting class in Boulder — and that group, MacIntyre admits, will always have a special place in his heart.
They are the Buffs who chose to come to Colorado when the program had just completed one of the roughest stretches in its proud history — and all MacIntyre could promise them was an opportunity to be part of a resurgence.
It wasn't as if MacIntyre had plenty of time. Hired in mid-December 2012, he had mere weeks to talk to players who had committed to the previous staff, as well as add to that group. It was, he admits, a whirlwind experience.
But what he produced is a class that will have as many as 11 starters in Friday night's season opener vs. Colorado State, along with a half-dozen other key contributors. It is, he believes, a group that has established a foundation upon which success at Colorado will be built.
… Continue reading story here …
—
Mike MacIntyre post-practice talk with media
From YouTube, courtesy of CUSportsNation:
—–
August 28th
… CU in a few minutes …
Getting to know CU freshmen Sam Noyer, Derrion Rakestraw, and Trey Udoffia
From CUBuffs.com …
Sam Noyer, quarterback, Beaverton, Ore.
For many high school athletes, the recruiting process goes well into their senior season, but Sam Noyer got it out of the way early. As the first commit in CU's 2016 class, the senior year pressure was lifted off his shoulders a year before he ever stepped on campus as a Colorado Buffalo.
"I definitely wanted to commit early just so I could get it out of the way and focus on my senior year and I think that helped a lot," Noyer said recently.  "My junior year there was a lot of stress on me with recruiting. The  recruiting process is a lot of fun but it's stressful." …
—
Derrion Rakestraw, wide receiver, Woodstock, Ga.
With the loss of Nelson Spruce, the Pac-12's all-time leader in receptions, a big hole was left in Colorado's receiving corps. Although the Buff's are returning five receivers who saw the field in 2015, they are also bringing in three freshmen, including Derrion Rakestraw.
During his senior season at Sequoyah High School, Rakestraw earned honorable mention all-state honors and was also named first-team all-county, along with being selected as the county athlete of the year …
—
Trey Udoffia, defensive back, Loomis, Calif.
Last season, Colorado's defense showed significant strides going from 116th (11th in the Pac-12) in the nation in points allowed in 2014 to 70th (sixth in the Pac-12) in 2015. With most of the defense returning, defensive coordinator Jim Leavitt is focused on making sure the defense doesn't become stagnant and with freshman cornerbacks such as Trey Udoffia, it doesn't seem as if it will be an issue.
In his senior season at Del Oro High School in Loomis, Calif., Udoffia was named first-team all-state on defense by Cal-Hi Sports. He was also the area defensive player of the year as selected by the Sacramento Bee as well as the defensive MVP for the San Joaquin Section of the CIF …
… Continue reading story here …
—
Run, Ralphie, Run photo
Bob Hislop is a CU at the Gamer and a friend to the Buff Nation. He sent me the photo below, offering it to fellow Buff fans to use as a screen saver or a print.
Though he didn't ask for a plug, I'm going to give him one … check out Bob Hislop Photography here.
Thanks, Bob!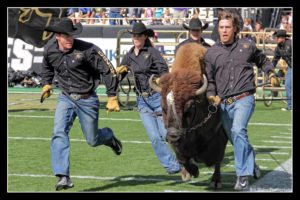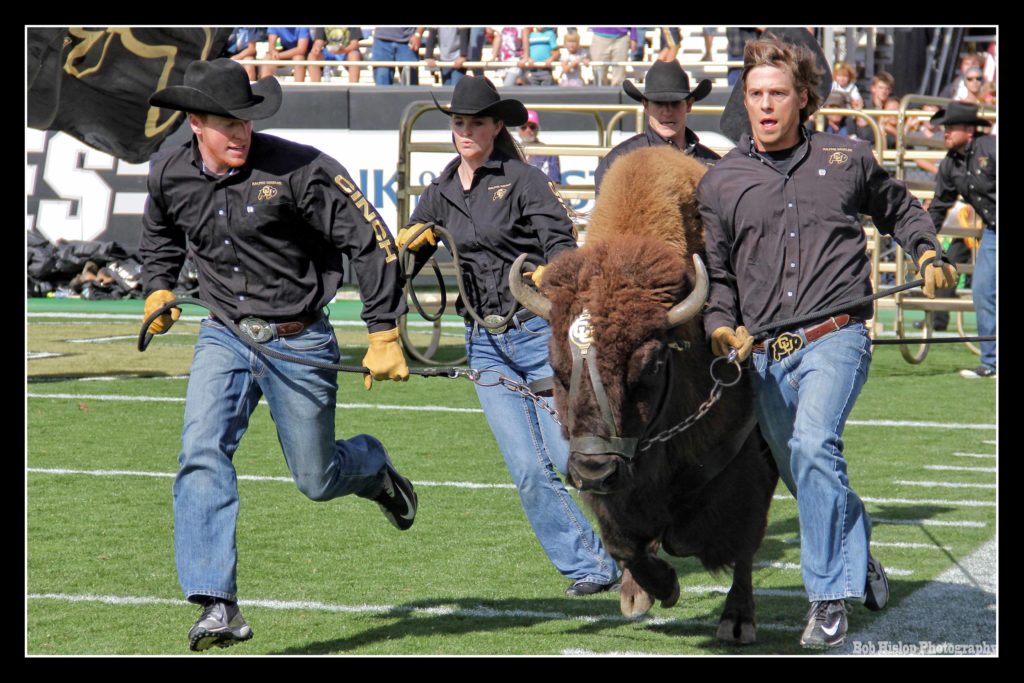 —–
August 27th 
… CU in a few minutes … 
CU Depth Chart released
… Jay MacIntyre listed as No. 1 punt returner; Phillip Lindsay as No. 1 kickoff returner …
… Injured … wide receiver Jaleel Awini (back) and offensive lineman Isaac Miller (knee) …
From CUBuffs.com … Since the day he arrived in Boulder, Colorado head coach Mike MacIntyre has aimed for the day that he would have an experienced, upperclassmen-dominated team.
That day has arrived. When the Buffs open their season Friday versus Colorado State at Sports Authority Field in Denver (6 p.m., ESPN), MacIntyre will have the most juniors and seniors in his starting lineup since he took the reins in Boulder in 2013.
Of course the actual starting lineup won't be determined until game day. But according to the latest depth chart, released Saturday, the Buffs' opening day starters will include 11 seniors, 10 juniors, two sophomores and one redshirt freshman on offense and defense (there are two positions where two players are listed as co-No. 1).
It's the most seniors, the second-most juniors and the fewest sophomores for an opening day lineup in MacIntyre's tenure, and it's part of a team that has a school-record 412 starts on its resume´.
… One change occurred at defensive end, where senior Samson Kafovalu has moved into the top spot.Addison Gillam and Rick Gamboa are listed as co-starters at inside linebacker and Ahkello Witherspoon and Isaiah Oliver are listed as co-starters at cornerback.
—
First practice on the newly sod Franklin Field 

Coach MacIntyre post-practice talk with media after Saturday morning's practice
YouTube video courtesy of CUSportsNation.com:
—
Neill Woelk identifies 11 "under-the-radar" who could help the Buffs this fall 
From CUBuffs.com … With a lineup dominated by upperclassmen and a school-record number of starts (412) represented on the roster, picking the players who will likely be impact performers this year for the Colorado Buffaloes isn't difficult.
Chidobe Awuzie, Tedric Thompson, Josh Tupou, Kenneth Olugbode, Sefo Liufau, Jeromy Irwin,Shay Fields, Phillip Lindsay — and that's just a short list. All have plenty of starting experience, all are proven playmakers and all have had solid if not outstanding fall camps.
But along with the obvious, there are other Buffs who might be flying just a bit below the radar in terms of recognition — but could be poised for big seasons.
In no particular order, here are 11 of those players to watch as we inch ever closer to next Friday's season opener vs. Colorado State:
… Continue reading story here …
—
Colorado has a small lead in ticket sales for Rocky Mountain Showdown
From BSN Denver … If early attendance numbers are any indication, the 2016 Rocky Mountain Showdown between the Colorado Buffaloes and Colorado State Rams could exceed the atmosphere of last year's overtime thriller in Denver.
All in all, 66,253 fans made their way to Mile High for a chance to pick their side in 2015. With a week remaining before the game, CSU has sold 25,008 tickets overall, with 6,468 of those being sold to students according to the Reporter-Herald. Down in Boulder, the school is reporting a total of 27,805 tickets sold, with 5,432 of those going to students.
By game time last season, Colorado had sold 31,796 tickets—7,145 student tickets—despite roughly 30-percent of CU season ticket holders opting out of the game.
Yes, it appears that Buffs Nation is indeed ready to be a part of this rise everyone keeps talking about.
—–
August 26th 
… CU in a few minutes ... 
The top-selling vanity plate in the Dallas-Fort Worth area? University of Colorado!
From the Ft. Worth Star-Telegram … The Colorado Buffaloes left the Big 12 athletic conference five years ago. And yet, the university located 800 miles from Dallas-Fort Worth was the region's top-selling specialty license plate this year, topping the Dallas Cowboys, the University of Texas and Texas A&M.
The black and gold University of Colorado plate was the top seller for the first six months of the year in the four largest Metroplex counties. Statewide, the Cowboys were the clear winner, outselling their intrastate rival in the National Football League, the Houston Texans, as well as the state's most popular pro basketball club, the San Antonio Spurs.
"The reason the University of Colorado is so high is that they only recently launched their plate in the Texas market, and prior to this launch they were at a preorder phase for six months going back into 2015," said Steve Farrar, president of My Plates, the private-sector company that manages Texas' vanity plate program.
Even so, the Buffaloes must have a heck of a loyal fan base in Tarrant, Denton, Dallas and Collin counties.
—
—–
August 25th
… CU in a few minutes … 
CU uniform combinations for the season revealed … sort of
A tweet from CU … This graphic accurately represents how many times we will wear these colors this @RunRalphieRun season. #GoBuffs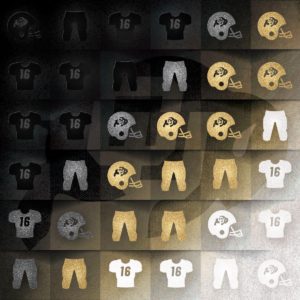 If you don't want to count it up for yourself, CU will wear black shirts seven times, white shirts four times and gray once. With seven home games (counting the game against CSU), it's likely that CU will wear a black shirt for each of those games and either white or gray on the road.
The Buffs will be in gold helmets six times, gray three times, white twice and black once. Their most common pants color will be gold (five), followed by gray (three) and black and white (two each).
—–