—
Colorado Basketball
—
October 31st
… CU in the Arena … 
Colorado ranked No. 41 in preseason AP top 25
The Pac-12 has three teams ranked in the Associated Press top 25, including two in the top ten, Oregon (No. 5) and Arizona (No. 10). The other Pac-12 team to make the list is UCLA, at No. 16. Among the others receiving votes were Cal, at No. 29, Colorado, at No. 41, and Washington, at No. 45.
| | | | |
| --- | --- | --- | --- |
| 1 | Duke (58) | 0-0 | 1,612 |
| 2 | Kentucky (2) | 0-0 | 1,479 |
| 3 | Kansas | 0-0 | 1,476 |
| 4 | Villanova (4) | 0-0 | 1,465 |
| 5 | Oregon (1) | 0-0 | 1,343 |
| 6 | North Carolina | 0-0 | 1,314 |
| 7 | Xavier | 0-0 | 1,167 |
| 8 | Virginia | 0-0 | 1,149 |
| 9 | Wisconsin | 0-0 | 1,135 |
| 10 | Arizona | 0-0 | 1,004 |
| 11 | Indiana | 0-0 | 917 |
| 12 | Michigan State | 0-0 | 903 |
| 13 | Louisville | 0-0 | 755 |
| 14 | Gonzaga | 0-0 | 699 |
| 15 | Purdue | 0-0 | 672 |
| 16 | UCLA | 0-0 | 540 |
| 17 | Saint Mary's | 0-0 | 512 |
| 18 | Connecticut | 0-0 | 504 |
| 19 | Syracuse | 0-0 | 464 |
| 20 | West Virginia | 0-0 | 360 |
| 21 | Texas | 0-0 | 250 |
| 22 | Creighton | 0-0 | 231 |
| 23 | Rhode Island | 0-0 | 199 |
| 24 | Iowa State | 0-0 | 168 |
| 25 | Maryland | 0-0 | 144 |
—
Tad Boyle post-practice interview with media
From YouTube, courtesy of CUSportsNation:
—–
October 30th
… CU in the Arena … 
Athlon: Colorado to make it five NCAA bids in the past six years
Athlon … Tad Boyle came to Colorado in 2010 with the intention of turning the Buffaloes into winner, and wasn't looking for a quick fix. "The challenge with Colorado basketball isn't to build a successful team; it's to build a successful program that can sustain itself over the course of time," Boyle said.
Now entering his seventh season in Boulder, Boyle has done that. The Buffs have been to the post-season six consecutive years, including four trips to the NCAA tournament (they got there three times in 47 years before Boyle's arrival).
To keep it going, the Buffs have to replace one of the best players in program history in Josh Scott, but they've got a talented roster that features four fifth-year seniors and eight players with significant college experience.
… Newcomers … CU is thin up front, which means it will need either freshmen Lucas Stewart or Dallas Walton – or both – to provide quality minutes off the bench. Freshmen guards Deleon Brown and Bryce Peters both have the talent to push for playing time in a crowded backcourt. Fifth year senior transfer Derrick White was an All-American at Division II Colorado-Colorado Springs and has the ability to be among CU's leaders in scoring rebounding, and assists.
… Final analysis … The Buffs have more talent and experience than they have had in awhile. It's a group that has yet to play together, though, and finding cohesiveness will be crucial early in the season. CU's capable of being the best shooting team in the Pac-12, and if the Buffs stick to their principles of defense and rebounding, there's no reason they can't finish near the top of the Pac-12, get back to the NCAA Tournament, and advance once they get there.
… Pac-12 – Predicted order of finish: 
1. Oregon – Final Four
2. Arizona – Sweet Sixteen
3. UCLA – Sweet Sixteen
4. California – One and Done
5. Colorado – One and Done … Led by junior George King, the Buffaloes will be a factor in the Pac-12. Tad Boyle has an underrated roster. 
6. USC – NIT
7. Utah – NIT
8. Washington – NIT
9. Oregon State – NIT
10. Stanford
11. Arizona State
12. Washington State
—–
October 29th
… CU in the Arena … 
Freshman seven-footer Dallas Walton impressing enough that he may not red-shirt
From CUBuffs.com … In almost everyone's mind except his Dallas Walton was added to the University of Colorado's basketball roster last spring as somewhat of a project – or in his own words, "This skinny seven-footer; he's going to have to redshirt for sure, for sure."
It might turn out that Walton is indeed outfitted in a redshirt for the 2016-17 basketball season. But for the time being – at least until next month – Buffs coach Tad Boyle is putting that decision on hold, mainly because Walton hasn't practiced like the project that so many outsiders believed he would be.
When I asked Boyle after a recent practice if Walton's early performance had given him pause in answering the redshirt question, this was Boyle's answer:
"The way he shoots the ball from the position that he plays gives me pause. Because he can really stretch the defense and you have to guard him beyond the three-point line. He stretches the defense from that five spot."
Now this is something that belongs in any conversation with Boyle about redshirting: If he had his druthers, he would redshirt every incoming freshman. He might even redshirt managers, trainers, cheerleaders, even reporters covering his team.
"No question, a redshirt year will benefit anybody," Boyle said. "That makes Dallas no different. It's 'do we have enough depth at that position' – that's what the question comes down to . . . I'd love to redshirt every freshman and every 'big' for sure. We'll see; we'll make that decision come November.
… Continuing reading story here …
—
CU rotation starts to take shape as opener nears
From the Daily Camera … Friday is the two-week mark from opening night for the University of Colorado men's basketball team. While head coach Tad Boyle said it remains too soon to start settling on lineups and player rotations, those conversations have begun with his coaching staff.
"We started talking about it as a staff," Boyle said. "Started throwing out ideas. Certainly we're going to find out more in these two weeks. This team, because of our depth and because of our experience, I don't think it's going to be really critical or imperative who starts the game. A lot of it will be dependent on rotations."
The most obvious candidates for at least four of the starting spots are seniors Wesley Gordon and Xavier Johnson alongside juniors George King and point guard Dominique Collier. Derrick White or Josh Fortune are the players most likely land the fifth spot.
… Continue reading story here …
—–
October 28th
... CU in the Arena …  
Wesley Gordon stepping out from the shadow of Josh Scott
From CUBuffs.com … For the last four years, Colorado senior Wesley Gordon has more or less played in the shadow of fellow big man and good friend Josh Scott.
It's been fine with him. The unassuming Gordon isn't the kind of player who seeks the spotlight. It's just the opposite. Gordon is a lunch-pail guy, a player who shows up for every game, grabs his rebounds, scores when necessary, plays hellacious defense — and goes home.
But after three years of playing alongside Scott (and a redshirt season), Gordon is now the man in the middle for the Buffaloes. And while the Buffs' offense will quite likely no longer be directed solely through the post, Gordon will be expected to score a little more this year, grab a few more rebounds — and still play fierce, tenacious defense.
"I'll have to be more aggressive," Gordon allowed earlier this week after practice. "Josh was a great offensive player. With him leaving, that gives me a lot more opportunities and other players. I'll just focus on rebounding and being aggressive on the offensive end of the floor."
… Continue reading story here …
—–
October 26th
… CU in the Arena … 
Lindy's … Colorado the No. 19 team in the nation
From Lindy's … In the era of the one-and-done college player on the front or back end of his career, Colorado boasts two mainstays entering their fifth year of residency in Boulder (6'9″, 220-pound forward Wesley Gordon and 6'7″, 225-pound forward Xavier Johnson).
But that's not all.
Colorado has two other fifth-year seniors (6'5″, 200-pound guard Josh Fortune and 6'5″, 193-pound guard Derrick White) who decided to finish their playing days as Buffaloes, giving seventh-year head coach Tad Boyle a talented team with experience and stability.
… "We should have very good experience," Boyle said. "Those players will be counted on for leadership".
Even with the familiarity, the Buffs look for a change in identity. Gone is the 6'10" Josh Scott, an All-Pac-12 regular. In his absence, Colorado might not use a traditional center in the five-man lineup.
"We have to play some small-ball this year with a four-guard lineup," Boyle said. "There are things defensively we haven't done".
2016-17 Honors Candidates … Senior forward Wesley Gordon is a cinch for Pac-12 All-Defensive honors and will boost his 7.6-rebound and 2.0-block numbers. Senior transfer guard Derrick White is a Newcomer of the Year prospect.
Keep an Eye On … Senior Xavier Johnson is a year removed from Achilles' surgery, and, if healthy, could provide the X-factor on inside-outside scoring.
Lindy's prediction … Ranked No. 19 … Fourth in the Pac-12 … 2017 NCAA tournament: Round of 32.
Honor Roll … George King – Second-team All-Pac-12 … Also "Top Shooter"
Good News … Most of key personnel returns from the NCAA Tourney team, and Xavier Johnson and Derrick White come off redshirts … Bad News … One of the few personnel losses was a big one – Josh Scott is now collecting Euros … Our Call … Way too many – excluding Pac-12 coaches, of course – have no idea how Tad Boyle has it going here.
The Pac-12:
1. Oregon – national champions
10. Arizona – Sweet Sixteen
13. UCLA – Sweet Sixteen
19. Colorado – Round of 32
33. California – One-and-Done
35. Oregon State – One-and-Done
No. 7 – USC … No. 8 – Washington … No. 9 – Utah … No. 10 – Stanford … No. 11 – Arizona State … No. 12 – Washington State
—–
October 25th
… CU in the Arena … 
Tad Boyle Media Day quotes 
… Related … "Boyle Says Buffs Need Consistency, Leadership" … from CUBuffs.com 
… Related … "George King primed to build on breakout season for CU Buffs men's basketball" … from the Daily Camera 
—
Here is the YouTube video of Tad Boyle at CU Media Day, courtesy of CUSportsNation, if you would prefer to watch rather than read:
From CUBuffs.com …
General
"It's another year for Colorado basketball. We're extremely excited, anxious for the season to start. We're 18 practices in and I think that those of you who follow this team and this program know we have some pretty talented guys in uniform this year. Right now, if I had to describe our team in one word it'd be overrated. We're not consistent enough to be considered an upper tier Pac-12 team right now. That's as of today, October 25. But we're a work in progress. We're getting better. Thank God the season doesn't start right now. We still have some time to get better. We have a couple of scrimmages coming up and we'll find out where we're at. We've got a lot of room for improvement and we've got to get there in a short time to make it happen."
On high player expectation in the preseason
"I think with an experienced team it's common. In today's world with social media and information and how it travels, I think it [high expectation] is probably a little bit more that way today than it was 15 or 20 years ago before the onslaught of all the ways the kids communicate and get information. I think it's pretty common. I think you can talk to a lot of coaches that have teams that have external expectations on them and they'll feel the same way."
On coaching players who have high exception
"I think you have to be hard on them, more demanding and you have to be truthful. That's why we film every practice that we do. This is the time of the year when, as a coach, I have to step back and really analyze things. I'm usually in a bad mood after practice because we have a gold team and a black team that are playing against each other. The nature of coaching is that if the gold team wins then I'm mad at the back team and vice versa. What I'm looking for is guys who separate themselves with a consistency factor and I haven't seen that yet. There are one or two guys who I think are separating themselves, but might come back and have a bad practice or do some bone headed things the next day and I'm questioning that. I'm looking for separation. Consistency is where we need our work. We have talented guys who understand what needs to be done but they just don't do it consistently."
On where the team needs to find consistency
"Defense, showing on ball screens, switching on ball screens, guarding the ball. I might guard really well this possession and the next time get blown by. Rebounding; we're charting every offensive rebound. Am I going? Am I pursuing the ball the way I'm supposed to be pursuing the ball? We want to be doing that at a 90 percent clip. We're not even close to that. We're doing it 40-50 percent of the time. Again, the reality factor is that we're not getting it done. That reality is going to become painful if we don't figure it out between now and when we start playing games. So rebounding, defense, taking care of the ball. It's little things, passing and catching the ball cleanly. I could go down a whole list of areas where we need to get better."
On the importance of pre-season scrimmages
"That's why we have these closed scrimmages, I can't talk about them per say but you do get a closed scrimmage or exhibition game against quality opponents that expose your weaknesses, show your warts. We'll find out a lot more over the next two weeks. We've got a week to figure it out after that last one before we start tipping it up. That's why I'm not waiting until those scrimmages. I'm trying to analyze our team on a day to day basis."
On role of the upperclassmen
"We have four fifth year seniors, Xavier Johnson, Wesley Gordon, Derrick White and Josh Fortune. I expect those guys, their fifth year in college and college basketball to understand what leadership looks like and what needs to be done. George King, he's a fourth year junior and I expect it to come from him too. Dominique Collierand Thomas Akyazili, two point guards who have great qualities. I've always said it, when Josh Scott left, that we can replace his production, his points, his rebounds. What the question is if we can replace his leadership and I'm not sure of that right now. That's a big question mark with this team. The only way we're going to find out is when adversity hits. It's the only way you figure out what kind of leadership you have, when that adversity happens. We don't know when that's going to happen. It could be November 11th against Sacramento State. It could be in the next two weeks, one of these scrimmages. Adversity is going to hit is and then I'll be able to answer that but right now I just don't know."
On the competition in the Pac-12 Conference
"The league is very good, very talented. There are very good coaches. The coaches who don't win move on. You look at the players coming in to the league. Teams have reloaded and added to their arsenals and I think we've recruited well too. We have a team that has a lot of pieces coming back and that are capable. But, our players may think they know, but this league is no joke. The margin for error is very thin and little things make a big difference. Right now we have a lot of little things that we have to get better at. But the league is terrific."
On this year's freshmen
"I like freshmen. Every year is different but again, we have a team that has a lot of pieces coming back. Xavier Johnson coming back off of his Achilles, Derrick White sitting out last season. We have eight guys returning so the freshmen are certainly going to help us infuse some energy and talent. But how much are they going to contribute? How many minutes are they going to get? We're in a nice situation because we don't have to count on them but whatever they give us is almost like a B12 shot in the arm that will make us that much better. But Bryce Peters,Deleon Brown, Lucas Siewert and Dallas Walton have done some nice things. Dallas is a possible redshirt, we'll figure that out the next three weeks. But those four guys are really talented. They're going to have good careers at Colorado. What kind of freshmen year are they going to have? I don't know. But, most freshmen have ups, downs, inconsistencies. But those guys are all talented and they're going to help us whether it's this year or in the future."
On point guard play
"I think our point guard has to be better this year than it was last year for us to continue on our upward trajectory in terms of advancing in post season play. Dominique Collier is a capable player going from an underclassmen role as a sophomore year a new role his junior year. Now he has two years of college basketball experience. He had a good year in the weight room, his body changed. Thomas Akyazili went through a lot his first year, a foreign kid goes through a lot more of an adjustment even than a domestic kid in terms of that freshman adjustment. But he's much more comfortable this year. We added Bryce Peters and Deleon Brown. We have depth. Derrick White is someone we can throw in at point guard if we need to. We have a lot of depth there, a lot of choices, a lot of options. But the one or two guys who do emerge, I said this in San Francisco (at Pac-12 Media Day), that position is very well manned. Now it has to be very well played. That's the step we have to make."
On preseason play
"Our players have no idea how good Xavier is right now. They could beat us by 20 right now. It wouldn't even be close. Our guys don't understand that. They're going to find out and we have some time hopefully to figure that out. Notre Dame in Brooklyn on the 21 of November is a pretty good program, pretty good coach. Sacramento State, I'm nervous about that right now on November 11. That's how I feel right now as a coach and you guys probably chuckle but that's the reality of where I'm at as a coach. We have talent. We have these expectations but I think they're a little bit out of whack right now."
On how expectations of this team have grown
"If you talk to people who have been around here before, we've had that chip on our shoulder. We've been the underdog and the team that everyone is counting out. You can really inspire a group of guys a little easier that way. With those expectations grown now, people do expect us to go to postseason play, they do expect us to go to the NCAA Tournament and advance. Your program is either getting better or it's getting worse, it's not staying the same. We all want to get better. For us to get better and make that next step, it's not easy. It's not going to be given to us or handed to us or tweeted to us. We're going to have to go out there and earn that and we have to beat people to make it happen and we have to do it on a consistent basis. That's where we're not; where we could have been right now. We're not consistent to say, 'okay people need to hunt us.' We still need to be the hunter in my opinion. I mean, (the Pac-12 Preseason Media Poll) picked us fifth. The exceptions have certainly grown, internally with coaches and players. They've grown externally certainly with media and fans. And I think they've grown with recruits. We're going to have a great recruiting haul in November and that's a result of the expectations on this team getting bigger and better."
On one big change his team has to make
"I just haven't seen the separation in practice in some of our guys who have the Allen Iverson approach to practice right now, with all due respect to Iverson who's a hell of a player. The fact is that we have to bring it every day. Whether it's Sacramento State on November 11 or Xavier in December 10. Once we get into Pac-12 play, it's on. We can't wait until then though. That's the one thing about our league. November and December are so important for a basketball program and a set of programs in a league like the Pac-12. We had seven teams in the tournament last year. Every team in the Pac-12 had a great nonconference showing in their schedule. It's important that we do that for ourselves because six years ago when we didn't get in and we're the number one seed in the NIT, that's not a good feeling. We have to make sure we have a good non-conference for ourselves and also for the league."
On transfer Derrick White
"Again, I don't like to hype guys up. Derrick's a terrific player and he's worth the price of admission. When he's got the ball in his hands, he's going to make the right decision nine out of 10 times. What makes Derrick White such a special player though is when he doesn't have the ball in his hands. The lost art of basketball today is guys moving without the ball and playing without the ball. That's what Derrick White does at a level that's so much higher than the average player. That's what makes him so dangerous. He's dangerous with the ball but he's just as good without the ball, reading screens, making cuts, blocking shots, getting rebounds. He's terrific and I expect a lot out of him. His teammates have a lot of trust in him. I'm not going to hype him up but he's very good."
On work done in the off season
"We watched a lot of film with our team. (Assistant Coach) Bill Grier has been a great addition to our staff. Obviously we lost a great coach in Rodney Billups when he went to Denver. But Coach Grier has been a great addition. There are new ideas, new thoughts, new energy. Sometimes change can be good even when you lose a good coach. We replaced a good coach with a good coach. Coach Grier has really helped myself and my stuff with that infusion of ideas and energy. Went down to a clinic in Florida and spoke and shared ideas. You get new ideas. With this team coming back, you know what you have coming back. We don't know the freshmen, all of the roles that the they are going to have and what they're going to do. But we kind of knew the guys coming back. So figuring out what we need to do differently defensively this year now that Josh Scott is gone. What we need to do different offensively and making those adjustments in the off season."
On growth seen in post players Tory Miller & Wesley Gordon
"We want every player to add to their games in the off season, whether it's a post or perimeter player. It's important that both of those guys had good off seasons. We want them to have a low post presence offensively. I don't expect either of them to be Josh Scott because they're not but be the best Tory Miller you can be. Be the best Wesley Gordon you can be but certainly expand your game. Wesley is a good low post scorer but he's also a good passer, can step away from the basket. He worked on his jump shot a lot this off season. Hopefully he can be an inside out guy. Tory, same thing. He's really worked on his perimeter game. Those are the guys we want to get the ball down low to. But we also have guys like Xavier Johnson, George King, Derrick White, Josh Fortune, who are big wings and can post up as well. What makes this team so exciting to coach and watch is that we have a lot of balance and can post up a lot a lot of different guys. Last year we were playing through Josh Scott whether it was at the post or the elbow or wherever. This year it can be a multitude of guys."
On George King's progress as a player
"Good players make themselves better. In his redshirt year, George made himself better which is obviously because he's Pac-12s Most Improved Player with his breakout season. He is a good player, we all know that. Now, what does it take to become a great player? Great players make those around them better. That's George's challenge now. You've made yourself a good shooter, you're a knockdown guy who can get to the foul line, get to the rim and score points. That's great. But, people can take that away from you. Now can you distribute, make plays for your teammates; be a better screener, be a better offensive rebounder. All of the things that you can do that don't involve scoring points, you can do those things too. Going from being a good player to a great player is the hardest jump to make but he's got to make those around him better. That's been the biggest challenge for George."
On the two biggest changes the team needs to make to finish games
"Number one is taking care of the basketball. The UConn game was lost because we couldn't take care of the basketball, gets back go guard play. The second thing is getting stops when we need to get stops. There are times during the season when we are going to have to get a stop and we have to get those stops when they need to be had. Those are the two things. We have some offensive things; George King doesn't hit the three here against Washington State, we probably lose that game and maybe the NCAA Tournament bid is jeopardized. You have to make plays there as well and your players have to make plays. But, defense and taking care of the ball at critical times [are key].
—–
October 21st
… CU in the Arena … 
Colorado picked to finish 5th in media preseason poll
From the Pac-12 … For the first time in the 28-year history of the conference preseason poll, OREGON has been chosen the favorite to win the 2016-17 Pac-12 men's basketball title in a vote of 27 media members who cover the league.
The Ducks, who return four starters from last year's Pac-12 regular-season and tournament championship team, received 23 first-place votes and 320 points to sit atop the preseason poll. ARIZONA collected the remaining four first-place votes and 298 points as the predicted runner-up.
UCLA, which also returns four starters and adds three Top 100 freshmen including McDonald's AllAmericansLonzo Ball and T.J. Leaf, was picked to finish third. CALIFORNIA, anchored by All-American candidate Ivan Rabb, was chosen fourth. COLORADO, one of four Pac-12 teams set to return four starters, was narrowly edged by Cal and picked fifth. WASHINGTON and national freshman of the year candidate Markelle Fultzrounded out the top half of the preseason poll.
USC, UTAH, OREGON STATE, STANFORD, ARIZONA STATE and WASHINGTON STATE completed the predicted order of finish.
Media have correctly picked the Conference winner 14 times in 24 tries, while the winner has been accurately chosen in 16 of the 27 all-time preseason votes.
Coming off a historic 2015-16 season in which a league record seven teams earned NCAA Tournament bids and nine teams finished in the RPI Top 100, the Pac-12 enters the 2016-17 season with three teams (No. 5 OREGON, No. 11 ARIZONA, No. 20 UCLA) in the USA Today Coaches Preseason Top 25, as well as a total of eight teams receiving votes in the poll.
The 2016-17 season gets underway with 10 games on Friday, Nov. 11. Eight of those contests will be televised live on the Pac-12 Networks as part of this year's Full Court Friday, while ARIZONA will battle Michigan State in the Armed Forces Classic in Honolulu, Hawaii on ESPN at 4 p.m. PT, and STANFORD will meet Harvard in the 2016 Pac-12 China Game in Shanghai, China on ESPN2 at 8 p.m. PT.
Pac-12 regular-season play begins on Wednesday, Dec. 28 and culminates with the 2017 Pac-12 Men's Basketball Tournament presented by New York Life at brand new T-Mobile Arena in Las Vegas, Nev., from March 8-11, 2017.
The poll, with first-place votes in parenthesis and total points:
1. Oregon (23) 320
2. Arizona (4) 298
3. UCLA 259
4. Cal 209
5. Colorado 199
6. Washington 167
7. USC 163
8. Utah 142
9. Oregon State 122
10. Stanford 119
11. Arizona State 78
12. Washington State 30
—
USA Today coaches preseason poll … Colorado in at No. 41 in "others receiving votes"
From the USA Today …
| | | | |
| --- | --- | --- | --- |
| 1 | Duke (27) | 0-0 | 792 |
| 2 | Kansas (1) | 0-0 | 721 |
| 3 | Villanova (1) | 0-0 | 700 |
| 4 | Kentucky (2) | 0-0 | 695 |
| 5 | Oregon (1) | 0-0 | 620 |
| 6 | North Carolina | 0-0 | 614 |
| 7 | Virginia | 0-0 | 596 |
| 8 | Xavier | 0-0 | 552 |
| 9 | Michigan State | 0-0 | 544 |
| 10 | Wisconsin | 0-0 | 487 |
| 11 | Arizona | 0-0 | 468 |
| 12 | Indiana | 0-0 | 435 |
| 13 | Gonzaga | 0-0 | 371 |
| 14 | Louisville | 0-0 | 367 |
| 15 | Purdue | 0-0 | 324 |
| 16 | Connecticut | 0-0 | 239 |
| 17 | Syracuse | 0-0 | 224 |
| 18 | West Virginia | 0-0 | 204 |
| 19 | Saint Mary's | 0-0 | 203 |
| 20 | UCLA | 0-0 | 185 |
| 21 | Maryland | 0-0 | 153 |
| 22 | Texas | 0-0 | 124 |
| 23 | Creighton | 0-0 | 113 |
| 24 | Rhode Island | 0-0 | 85 |
| 25 | Cincinnati | 0-0 | 75 |
—–
October 5th
… CU in the Arena … 
Tad Boyle on transfer Derrick White: "Let's put it this way – he's a special player"
From CUBuffs.com … Colorado senior Derrick White finally has a basketball game on the horizon, one close enough that he can count the time to tipoff in weeks and days instead of months.
It's been a while.
White, a transfer from CU-Colorado Springs, took the floor with his teammates Friday morning for the Buffs' first official practice of the season. But unlike last year, when White practiced every day knowing he would not play for the entire season, he hit the court Friday knowing he'll be in uniform Nov. 11 when the Buffs open against Sacramento State.
"It's exciting," White said. "We've got a lot of potential on this team, so it's good to get in here, learn from our mistakes and continue to get better. We're all excited but we all know we've got a long way to go to be ready for our first game."
White is one very big reason the Buffs will enter the season with high expectations, a player head coach Tad Boyle has been waiting — not always patiently — to see on the floor in a game.
"Let's put it this way — he's a special player," Boyle said last spring. "He is going to be able to affect the game in a lot of different ways. He can score, he can shoot, he can distribute the ball, he can rebound the ball, he can block shots for a guy that's 6'5", he is a terrific defender. Derrick White is going to have a great year, there is no question in my mind."
… Continue reading story here …
—
Josh Fortune hoping for more consistency in 2016-17
From the Daily Camera … There were times last season when Josh Fortune turned nail-biters into comfortable victories for the Colorado Buffaloes with his silky smooth 3-point shot.
There were other times, though, when a series of poorly-conceived passes from Fortune helped turn those same nail-biters in the wrong direction for the CU basketball team.
Heading into his final season of college basketball, the Buffs' fifth-year senior is looking to iron out those wrinkles to his bring his other skills to the same level of consistency as his deadly outside shot.
"I really wanted to get stronger," Fortune said. "I wanted to add muscle to my frame and just continue with the same skills I've been doing all my life with shooting, dribbling, and passing."
… Continue reading story here …
—–
October 1st
… CU in the Arena …
CU opens fall camp with great expectations for the 2016-17 season
From CUBuffs.com … When it comes to members of the Colorado men's basketball team, Dominique Collier is every Buff's best friend.
It's understandable. Collier is the likely starting point guard on a team that is loaded with scorers, a team overflowing with players who love to have the ball in their hands — and it is the point guard who directs traffic.
"I noticed that this summer," Collier said with a laugh. "They're all my best buddies."
But while Collier can joke about his teammates courting his favor, the Buffs' arsenal will be no laughing matter — at least not to opponents. Along with returning the Nos. 2 through 5 leading scorers from a year ago — George King, Josh Fortune, Collier and Wesley Gordon —  the Buffs will also have the services of standout transfer Derrick White, as well as Xavier Johnson, a double-digit scorer two years ago who missed last year with an Achilles injury. Throw in a leaner, stronger Tory Miller, a more experienced Thomas Akyazili and some talented freshman, and expectations for the Buffs will be high.
"We could have a really good year," Collier allowed. "Being a point guard, you want to have a team like this with weapons on the wing, weapons down low — just weapons everywhere. It's going to be a lot of fun for me because it's fun to get the guys involved and see them have a good time — and getting them the ball will open up my game also."
Collier started 33 of Colorado's 34 games a year ago. He was fourth on the team in scoring (7.5 points per game), led the Buffs in assists (2.7 apg) and steals (1.1 spg), and was 15th in the Pac-12 in steals. He was also second in the Pac-12 in 3-point percentage, hitting 40 of his 88 attempts (.444), and had seven games with five or more assists.
All in all, a solid season.
Now, however, he's aiming for more consistency. He spent the summer working out in Denver with a variety of former and current college and professional players, including Chauncey Billups and Jimmer Fredette, and believes that work will yield positive results.
"I worked on being more of a leader, communicating — even outside of basketball, just communicating more effectively," he said. "On the court, I worked on shooting, ball handling, making smarter decisions and the pick-and-roll offense."
… Continue reading story here …
—–
September 27th
… CU in the Arena … 
Colorado picks up a commitment from four-star power forward Evan Battey
Just the facts … Evan Battey is a 6'7″, 275-pound power forward from Villa Park, California. Rivals bio  Scout bio
What others have to say about Battey … Battey is considered to be a four-star prospect by Scout, but a three-star prospect by Rivals. Scout rates Battey as the No. 23 center in the nation, and the No. 5 center in the western United States. Rivals, meanwhile, has Battey as the No. 143 overall prospect in the country.
Battey had other offers from … at least a dozen other schools, including Power-Five schools Miami, Purdue, Boston College, and TCU. In addition, Battey had offers from G-5 conference schools with basketball pedigrees such as DePaul and New Mexico.
Battey becomes the third member of CU's Recruiting Class, joining four-star guard D'shawn Schwartz and four-star forward Tyler Bey. While Signing Day is still over a month away, Colorado's Class is currently ranked 10th in the nation, according to Rivals.
Here is a YouTube mixed tape of Battey in action:
—–
September 21st
… CU in the Arena … 
CU women's basketball announces full schedule 
From CUBuffs.com … The University of Colorado announced its full 2016-17 women's basketball schedule on Wednesday. The Buffaloes will play 29 regular-season games, including 18 Pac-12 games. Fourteen of the games will be broadcast nationally on Pac-12 Networks.
"We are very excited about the upcoming season and our 2016-17 schedule," head coach JR Payne said. "There is a healthy mix of high-caliber teams which will certainly challenge and prepare us for the rigors of the Pac-12. It will be fun to play some Colorado teams in UNC and Colorado State as well."
CU opens the season at Northern Colorado at 7 p.m. on Nov. 11 with its home opener two days later on Sunday, Nov. 13 against Air Force at 2 p.m. The University of Kentucky will make a trip to Boulder the following weekend on the 19th. Tipoff for that game is tentatively set for 7 p.m., but could be moved to an earlier time if CU's football team plays a night game the same day.
After a road trip to North Dakota State on Nov. 22, CU hosts the 30th Annual Omni Hotels Classic at the Coors Events Center with Boston College, SMU and St. Francis visiting Boulder on Nov. 25 and 26.
The Buffs will play four of their remaining five non-conference games at home in December, hosting Southeastern Louisiana on the 1st, Idaho State on the 3rd and Colorado State on Dec. 8. CU will play at Mississippi Valley State on Dec. 17 before wrapping up non-conference play at home with Wyoming on Dec. 21.
Colorado opens Pac-12 play in Los Angeles over New Year's weekend, playing at Southern California on Dec. 30 and UCLA on Jan. 1.
… Full schedule can be found here …
—
September 10th
… CU in the Arena … 
Colorado picks up a commitment from four-star wing Tyler Bey
According to a tweet from Evan Daniels of Scout.com, Colorado has picked up a commitment from four-star wing Tyler Bey.
Just the facts … Tyler Bey is a 6'7″, 200-pound power forward from Middlebrooks Academy in Los Angeles. Rivals bio  Scout bio
What others have to say about Bey … Bey is rated as a four-star recruit by both Rivals and Scout. Rivals has Bey as the No. 114 overall player in the nation, while Scout has Bey rated as the No. 27 power forward in the country.
An evaluation from Rivals.com: "There haven't ever been any questions about Bey's athletic ability. He's a long, rangy and bouncy swingman who can play as a three or a four man because of his size and athleticism. Consistent output has been the question. During the spring word was that he started to knock down more jumpers and be a more consistent producer". 
Bey had other offers from … at least a dozen other programs. From the Pac-12, Bey reported offers from Arizona State, Utah, and Washington State.
—–
September 8th
… CU in the Arena … 
CU men's basketball television schedule released … Buffs to appear on ESPN networks ten times 
From CUBuffs.com … The University of Colorado men's basketball team will once again appear on prime, national television slots throughout the 2016-17 season as the Pac-12 Conference announced the school's broadcast package Thursday.
Ten Colorado games will air nationally on the ESPN Family of Networks. The Buffaloes will play at defending league champion Oregon on Sunday, Feb. 19, at 1 p.m. in a national game-of-the-week caliber event on FOX, while three more contests will air on FS1.
In addition, 15 regular season games are slated for the Pac-12 Network, beginning with the season opener, a 7 p.m. tip against Sacramento State on Friday, Nov. 11.
Colorado will travel to Air Force on Monday, Dec. 19, for a 7 p.m. tip on CBS Sports Network. Television for one final nonconference road game, Saturday, Dec. 3, at Portland, will be determined once the West Coast Conference broadcast schedule is announced.
While the Pac-12 opponent weekends were announced earlier this summer, the order, dates and times have now been released. Colorado rings in the Pac-12 schedule, and the New Year, with a 4:30 p.m. tip at Utah on Sunday, Jan. 1, on ESPNU.
Colorado opens the home portion of its Pac-12 schedule by hosting UCLA on Thursday, Jan. 12, for a 9 p.m. tip on FS1.
After opening with three on the road, the Buffaloes will alternate home and road for the next six weeks before finishing with three straight at home. With that, Colorado will play five of its first seven on the road, but finish with five-of-seven at home.
Colorado's Pac-12 home schedule will feature five Thursday games with an even split of Saturday-Sunday contests. The Buffaloes will get an extra day in three of four road trips, playing either Wednesday-Saturday or Thursday Sunday on stops in the Bay Area, Oregon and Washington.
In all the Buffaloes will have 17 home dates at the Coors Events Center, featuring matchups with Colorado State (Nov. 30, 7 p.m., Pac-12), Xavier (Dec. 7, 7 p.m., Pac-12), Oregon (Jan. 28, 7:30 p.m., Pac-12), Utah (Feb. 23, 9 p.m., ESPNU) and California (Mar. 4, 12 p.m., Pac-12). One home tip time, Thursday, Feb. 9, vs. Washington to air on FS1, will be announced at a later date. Colorado will play seven games against 2016 NCAA Tournament teams at the Coors Events Center this winter.
… The Buffs' full schedule can be found here …
—–
August 6th
… CU in the Arena … 
New Coors Events Center Floor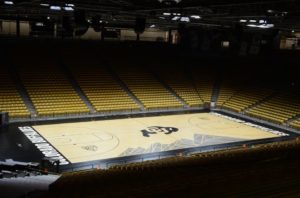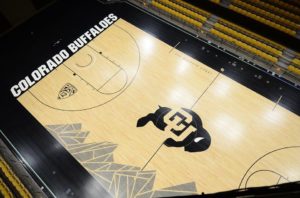 —
August 3rd
… CU in the Arena … 
Go Fund Me site set up for Team Colorado
From Go Fund Me …
I am an Alum from the University of Colorado and love CU sports.  You could say I was raised  to be a Buff from the start with my dad being a member of CU's men gymnastics team when it was still a varsity sport at CU.
I wanted to put this fund together for the members of Team Colorado who played in the 2016 The Basketball Tournament.  I thought it would be awesome to show them how much we appreciated their effort and school pride throughout the tournament and show the rest of the nation how great it is to be a Buffalo.
Since the 2nd place finish resulted in no prize money for these incredible Buffs let us band together to show them some love and our appreciation. This money will be given to the team to help offset their expenses they may have incurred throughout the tournament or some extra spending money for their efforts.
I would love if we were able to hit the same amount as the prize money would have been if they had won the tournament.  If we could reach that $2 million goal or a significant amount in time for the home opener for the CU's Mens' Basketball to present a check to the team during halftime, to me that would be an incredible show of love to them and for effort they gave for Buff pride.
… Contribute here …
—–
August 2nd
… CU in the Arena … 
Team Colorado falls six points short of $2 million
From CUBuffs.com … With a $2 million prize on the line, Team Colorado fell just short.
But a month-long journey will pay dividends for years.
Marcus Hall had 24 points, and a late 3-pointer that could have sent the game to overtime just missed, as Team Colorado fell to defending champion Overseas Elite, 77-72, in The Basketball Tournament championship game at Fordham University.
Team Colorado held a 20-point lead in the first half, only for Overseas Elite to rally for a back-and-forth finish that the former Buffaloes had become accustomed to in this championship. After falling behind by two points mid-way through the second half, Hall sparked a 9-0 run that put Colorado back up 63-56 with about six minutes left.
Team Colorado's foul trouble, and Overseas Elite's ability to get to the line, hurt the former Buffs throughout the game. Overseas Elite made 26-of-32 free throws, including 14-of-17 in the second half. Team Colorado was a very respectable 9-of-11 from the stripe.
Despite Hall's successes, he was in foul trouble most of the game, picking up his fourth during an Overseas Elite 7-0 run to tie the game at 63-63 with 4:27 left.
Hall briefly gave Team Colorado the lead back at 68-65 with a step-back 3-pointer, but Overseas Elite found their way back at the line and a clutch shot by D.J. Kennedy gave the defending champs a 75-70 lead with 20 seconds left.
Hall quickly cut to lead to three with a layup and what transpired next, almost put this game into legendary status. Team Colorado stole the inbounds pass, with enough time for Hall to get a good luck at what would have been his fifth 3-pointer, but it rimmed out. Team Colorado grabbed the offensive board, but couldn't get another good look, as the Overseas Elite stole the ball and iced the game with a pair of Kyle Fogg free throws.
… Continue reading story here …
—
Team Colorado a significant underdog in The Basketball Tournament finals
From ESPN … Overseas Elite, a team comprised primarily of former college stars playing professionally in other countries, will try to repeat as champion and earn $2 million on Tuesday night in the final of The Basketball Tournament.
Former Arizona guard Kyle Fogg, who recently signed a deal to play in Spain this upcoming season, scored 42 points on Saturday night against City of Gods to lead Overseas Elite into the championship game.
Overseas Elite will face Team Colorado on Tuesday at 7 p.m. ET at Fordham University. The game will be televised on ESPN.
… Agent Drew Morrison put the team together a year ago and kept the core intact: Errick McCollum, the older brother of NBA standout C.J. McCollum; former St. John's players D.J. Kennedy and Paris Horne; Fogg; former Texas point guard Myck Kabongo; and big men Johndre Jefferson (South Carolina) and Todd O'Brien (Saint Joseph's). Former Oakland guard Travis Bader, one of the best pure shooters in TBT, didn't play in Saturday's semifinal but is expected to play on Tuesday night. Morrison added three players this year: former Iowa State standout DeAndre Kane, big man Ryan Richards, a former second-round pick of the San Antonio Spurs, and guard Anthony Raffa, who played at Albany and Coastal Carolina.
… Team Colorado is a significant underdog heading into the title game. Marcus Hall is playing with a broken bone in his wrist as well as plantar fasciitis, but managed to score 25 points in the semifinal win over Always A Brave, a team that featured five players from Bradley's Sweet 16 team of a decade ago. Colorado will be without one of its top players, former Buffs standout Richard Roby, who injured his knee a couple of weeks ago while trying out for the Korean basketball league.
Dominique Coleman, 32, who played at Colorado from 2005 to 2007, played in the Ukraine last year and is still waiting to see where he will play this season. His share will be $142,500 if Team Colorado beats Overseas Elite.
… Continue reading story here …
—–
August 1st
… CU in the Arena …
Team Colorado set for "winner-take-all" $2 million TBT Final
From the Daily Camera … With $2 million on the line and last year's The Basketball Tournament winner next on its plate, Team Colorado has some serious work to do in the championship game on Tuesday.
The squad, which consists of University of Colorado basketball alumni, has so far beaten five talented teams under the guidance of head coach Dwight Thorne II and the offensive firepower of Marcus Hall, who's averaged 24 points per game so far.
While the roster has a good amount of offensive talent to it, the former Buffaloes have relied on their defensive presence to get the job done thus far. In Sunday's final four win over the Bradley University alumni team, Always a Brave, Team Colorado fell back on its strong defense down the stretch when its opponent closed the scoring gap late.
On Tuesday night at 5 p.m. on ESPN, Team Colorado will face its final — and perhaps most challenging — test of all against last year's champions, Overseas Elite. And with a winner-takes-all prize, it's do or die time for the ex-Buffs.
But that will be no easy task.
Overseas Elite, which hails former players from a number of universities, has been decimating each team it plays with a high-octane offense fueled by several leading scorers, including University of Arizona alum, Kyle Fogg.
… Continue reading story here …
—
CBS: Colorado a "sleeper" threat to win Pac-12 this season
From CBS Sports … Tad Boyle has made the Buffaloes into a perennial NCAA Tournament contender and don't be surprised if next year's squad plays its way into the top third of the Pac-12.
Colorado lost a first-team all-conference player in big man Josh Scott, but returns arguably the league's most underrated core of wings.
George King (13.6 points, 4.7 rebounds in 2015-16) and Josh Fortune (10.3 points, 4.0 rebounds in 2015-16) are two guys that started last season while talented forward Xavier Johnson returns after missing last year with an achilles injury.
Add Derrick White, a former Division II All-American that sat out last season and Boyle has some serious options on the wing, one of which is to play Johnson in spurts at power forward — a position where he has thrived at in the past.
Wesley Gordon and Tory Miller are back as two experienced big men while Dominique Collier and Thomas Akyazili also return to form a solid combo at point guard.
The Buffaloes may be under the radar but there's certainly the potential to contend in the conference.
Expect Boyle to boast one of the most complete rotations in the Pac-12 while leading Colorado to its fifth NCAA Tournament appearance in the last seven seasons.
—–