—
Colorado Daily – Arizona State
—
October 15th – GameDay!!
… CU in a few minutes … 
Drew Litton on the Arizona State game
Litton right on point (as usual) … From the Daily Camera …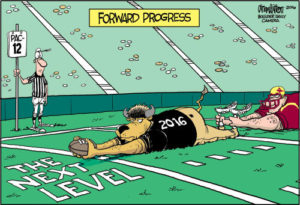 —
Arizona State game important … but not pivotal 
From CUBuffs.com … The opportunities for the Buffs are many.
A win would keep them in at least a tie for the Pac-12 South lead, depending on the outcome of the Utah-Oregon State game.  It would move them one step closer to bowl eligibility, end a 23-game skid against ranked teams, almost certainly earn them at least a few more votes in the weekly polls, and end an 0-7 skid against ASU.
But maybe most importantly, it would simply lend more weight to a goal they've quietly been talking about since the season began: this is a team aiming to play for a Pac-12 championship.
So, pivotal? Must-win? Do-or-die?
"I think it's an important game, I don't know about pivotal," said Buffs quarterback Sefo Liufau, whose injured ankle has kept him from starting CU's last three games and might still be a factor Saturday. "I think there are a lot of pivotal games in a season."
Liufau is correct, of course. After Saturday, the Buffs will still have three more home games — two against Pac-12 South foes — plus two more contests on the road, with one against a South opponent. It's hard to see a game in the future that doesn't have some major implications.
But, Liufau also allowed, "It's an important game, to be able to play for top of the South, especially at home. You want to go out there and put on a good showing and ultimately come out with a win."
… Continue reading story here …
—–
October 14th
… CU in a few minutes … 
"The Rise – Episode 3"
In Episode 3, Colorado video takes you from the end of the Michigan through to the end of the USC game. You can't but enjoy not only the highlights as seen through the lens of CU's Emmy-award winning crew, but to practice and to pre- and post-game speeches.
If the next 23 minutes don't get you excited about Saturday's game … check your pulse!
From YouTube, courtesy of CU video:
—
Neill Woelk's Friday Fast Five Keys to the game
From CUBuffs.com … For the second week in a row, the Colorado Buffaloes will play a team they've never beaten.
They'll obviously be aiming for a different outcome this week. After watching their all-time record against USC slip to 0-11 last week, the 4-2 Buffs have a chance Saturday to get into the victory column against 5-1 Arizona State in a 6 p.m. Homecoming game at Folsom Field.
A win would not only end an 0-7 skid against the Sun Devils, but end a skid that has been decidedly one-sided. In those seven game, the closest the Buffs have come is a 14-point loss in Boulder (38-24) two years ago.
Overall, the Sun Devils have won by an average margin of roughly 42-15.
But as the Buffs have said all season — and as they've been able to prove up to this point — this is a different team.
In order to produce a different outcome, here are some keys to Saturday's game:
… Continue reading story here …
—–
October 13th
… CU in a few minutes …
Tweet of the Day … from CU defensive coordinator Jim Leavitt: "We work hard. Many times blinded by the grind to get better. We should never take for granted the beauty and power of Folsom! Appreciative!"
—
Herb Orvis to be honored at Homecoming game
From CUBuffs.com …
The University of Colorado and The National Football Foundation (NFF) & College Hall of Fame announced today that they will jointly honor Herb Orvis with an NFF Hall of Fame On-Campus Salute, presented by Fidelity Investments. The Salute will take place Oct. 15 in Boulder, Colo., during the Buffaloes' game against Arizona State. Coverage of the game will start at 6 p.m. MT on the Pac-12 Networks.
"First of all, it's a great surprise," Orvis said in a Colorado release after the announcement. "A run of vivid memories come back to mind … the players you get to play with, the coaches you played for, the games. They all eventually disappear into another life, but an honor like this brings it all back together – just the excitement of playing on a great team and the love of the game. This is truly an unexpected honor.
The NFF Hall of Fame On-Campus Salute program, which began with the inaugural class in 1951, has become a hallowed tradition, and to this day the singular events remain the first of numerous activities in each inductee's Hall of Fame experience. During the NFF Hall of Fame On-Campus Salutes, each inductee returns to his alma mater to accept a Hall of Fame plaque that will remain on permanent display at the institution. The events take place on the field during a home game, and many inductees cite the experience as the ultimate capstone to their careers, providing them one more chance to take the field and hear the crowd roar their name.
… Continue reading story here …
—
Jaleel Awini may (finally) get onto the field this weekend
From the Daily Camera … Coming into this season, Jaleel Awini had hopes that by the midpoint of schedule, he'd have a key role in the Colorado offense and a few catches — and touchdowns — under his belt.
Instead, the senior has yet to play a snap, but he heads into the second half healthy and ready to contribute.
"I'm excited to be back," said Awini, who has been out all season with a back injury. "The team is on a good roll, so I want to help the team any way I can."
Awini, a 6-foot-2, 215-pound receiver, said his back started bothering him in the spring, and he tried to ignore it, but the pain became too much as he began going through fall camp in August. It was determined that Awini needed to step away from the field for a while.
"It's been a lot of rehab, a lot of core stuff, and then I have to get my mentality back," he said. "I think that's the biggest part I need to deal with is the mental side. It's getting better."
This week did wonders for his mental state, he said. On Monday, he returned to the field, put the pads on and is running around and hitting teammates again.
… Continue reading story here …
—
CU's "Tasmanian Devil" garnering national attention
From the Associated Press … His nickname: Tasmanian Devil. His hair: Untamed. His running style: A combination of the two.
The Colorado Buffaloes are pretty much molded in the image of junior tailback Phillip Lindsay — a gritty, no-nonsense player with a cool nickname (given to him by head coach Mike MacIntyre) and springy hair to symbolize his "wild side."
Lindsay's never-shy-away-from-contact running approach and passionate leadership has the Buffaloes (4-2, 2-1 Pac-12) in contention for a Pac-12 South title as they host Arizona State (5-1, 2-1) on Saturday night.
"He's just a hard-nosed kid who earns everything. A local kid making good," running backs coach Darian Hagan said of Lindsay, who's from Denver. "You think about all recruits all over the country, and you're trying to find players who can do special things — and you have one right down the street."
Colorado is finding more and more creative ways to get the ball in Lindsay's hands. In a loss at Southern California last weekend, Lindsay had six catches for 105 yards — the most yards receiving for a Colorado tailback in nearly 15 years. Lindsay's not always flashy out of the backfield — his longest career run is 37 yards — but always tough to bring down. He's averaging 4.9 yards per carry this season and has scored six times.
One of his most memorable moments so far this season wasn't so much on the field, but on the bench at Michigan . When Wolverines returner Jabrill Peppers crashed into the area where injured quarterback Sefo Liufau was being examined, Lindsay quickly jumped up and screamed at the Heisman Trophy candidate.
"That's him. He's protective of everything," said Hagan, who helped the Buffaloes capture a national title in 1990. "He's the middle brother but acts like the big brother and the father."
… Continue reading story here …
—
Sefo Liufau: "Some things take a little time to heal, which is OK"
From CUBuffs.com … It's still a day-to-day affair, a one-day-at-a-time process that won't have a definitive answer until later this week.
But Wednesday morning, Colorado quarterback Sefo Liufau looked — and felt — better than he has at any time since suffering a third-quarter ankle injury in CU's Sept. 17 game at Michigan.
Liufau and Steven Montez both took snaps again in Wednesday's workout. But, just as it's been since Liufau was injured, CU head coach Mike MacIntyre has said he'll closely monitor Liufau's progress throughout the week before making a decision on who will start for the 4-2 Buffs in Saturday's Homecoming game against 24th-ranked Arizona State (6 p.m., Pac-12 Networks).
Montez has started the last three games for the Buffs, although Liufau did make an appearance in last week's narrow 21-17 loss to USC when Montez went out late in the first half after having the wind knocked out of him. But after the game, MacIntyre said while Liufau was available in an emergency role, he still wasn't 100 percent.
Now, the CU senior believes he's closer to being ready — but he's not ready to pronounce that he's fully recovered.
"I think I feel a lot better every day," Liufau said. "That's kind of how I want to take it right now, is a daily process and see how it goes on a daily basis cutting, running, throwing, different kind of things."
Maybe the most positive aspect of Liufau's road back has been that his daily progress has been steady. Oftentimes, an ankle injury will involve periodic setbacks. That, Liufau said, hasn't been the case.
"Even if it's minor increments of getting better, it's gotten better every day," he said. "It's just been a slow process. Some things take a little time to heal, which is OK."
… Continue reading story here …
—–
October 12th
… CU in a few minutes … 
Dear CU Fans: Show up on time (for a change)
… Related … It's been announced that, in order to attempt to get students into the stands before kickoff, students will not be restricted on the entrances they can use. Students will be allowed to use all entrances …
From Ted Chalfen at BSN Denver …
Dear CU fan,
The biggest University of Colorado football game in the last decade kicks off at 6pm on Saturday night. Roughly 50,000 people will be there, but it's a fair bet that about half of them will still be outside the stadium when Ralphie runs.
Do me a favor, and look up any CU home game from the late 80s, the 90s or the early 2000s on YouTube.
You'll notice a few things: The Buffs usually win, they're usually ranked, and the crowd is always there in full before kickoff.
Then, for a contrast, check out a game from the last few years. The Buffs usually lose, and the crowd doesn't completely "fill in" until sometime late in the first quarter. Thus far in 2016 the Buffs have been winning, and they've been ranked, but the fans haven't gone back to being on-time. It's time to change that; starting on Saturday night.
… Continue reading story here …
—
Mike MacIntyre post-practice comments to media 
MacIntyre on ASU running game, benefits of playing at home, Jaleel Awini to play for the first time this season
From YouTube, courtesy of CUSportsNation:
—
Colorado earns the respect of the USC players – "That's a great team we beat"
From ESPN … Despite the obvious improvement compared to the last time they were in the building, the 21-17 loss (to USC) was a much more painful experience. Call it the price of success.
"We have a lot more at stake right now, we all know that," linebacker Addison Gillam said.
Added teammate Jimmie Gilbert: "I'm tired of these moral victories."
It's not the moral victories that opposing teams have taken notice of. After watching Colorado film all week, USC safety Chris Hawkins came away impressed. It didn't matter that USC was 5-0 against Colorado since the Buffs joined the conference or that the average margin of victory was 23.6 points per game. He saw a team perfectly capable of going into the Coliseum and winning.
"I felt like they should have won the Michigan game," Hawkins said. "They were up big. The tape says it all. They were doing whatever they pleased against Michigan.
"That's a great team we beat."
For Hawkins, Colorado's rise was also expected.
"It's the same players I've been playing since I was a redshirt freshman, but they've gotten older," he said. "Their offense is a little different, but it's just experience. You give the same guys three years with each other I would hope they're having the season like they're having.
"Now they're grown. They're juniors and seniors, so now it's showing that if you stick together through thick and thin good things do happen at the end."
… Continue reading story here …
—–
October 11th
… CU in a few minutes … 
Tweet of the Day, from Colorado Video: "Color grading and audio mixing The Rise: Episode 3 today. The show airs this Thursday at 6:30pm MT on Pac-12 MTN #TheRise"
—
CU men's basketball to hold scrimmage Saturday afternoon before Arizona State game
From CUBuffs.com … This Saturday, Oct. 15, University of Colorado fans have a chance to add a little basketball to their usual football tailgating party.
The Buffaloes' men's basketball team will hold a practice and intra-squad scrimmage at 2 p.m. that will be open to the public, head coach Tad Boyle announced on Tuesday.
Colorado's football team hosts Arizona State at 6 p.m. for the school's annual Homecoming Game. The main entrance to the Coors Events Center, at concourse level on the northwest side, will open at 2 p.m. The Buffaloes are scheduled work on normal practice drills for the first 45 minutes and then scrimmage with officials at 2:45 p.m.
The public is welcome to attend the practice with open seating in the arena. All normal football game day parking rules will apply. Lots will open at 12 p.m. on Saturday.
Colorado is coming off a 22-12 record in 2015-16 and fifth place finish in the Pac-12 Conference. The Buffaloes advanced to the NCAA Tournament for the fourth time in six seasons under Boyle and his staff.
—
Colorado athletic director Rick George addresses the media
The CU athletic director discusses DirecTV, attendance at games, and CU fall sports achievements.
YouTube video, courtesy of CUSportsNation:
—
Mike MacIntyre Tuesday press conference
Related … A transcript of Tuesday's press conference
YouTube video courtesy of CUSportsNation:
—
Mike MacIntyre again non-committal on CU quarterback situation
Related … from the Daily Camera … "CU Buffs enter another week with QB questions"
From CUBuffs.com … t's a new week but the same story, at least as far as the Colorado quarterback situation is concerned.
After both Sefo Liufau and Steven Montez took their share of snaps in Monday morning's practice, head coach Mike MacIntyre said the Buffs will continue to monitor Liufau's progress throughout the week before making a decision on a starter for Saturday's Homecoming game against Arizona State at Folsom Field (6 p.m., Pac-12 Networks).
"We're going to work this week like we did the previous couple weeks," MacIntyre said. "We'll see how Sefo's feeling and go from there."
… "We're all going to do whatever's best for the team, whether it's to play Steven or it's to play Sefo," MacIntyre said. "They both are completely on board. I don't see a selfish bone in either one of their bodies. That doesn't mean that both of them don't want to be out there playing every down, either, but they truly understand the team concept."
Monday morning, Montez said he and Liufau are both preparing to be the starter — but added he'll be fine with whatever decision the coaches make.
"You always have to plan to be the starter," Montez said. "I think we've handled it really well, being good friends. As I always say, whoever Coach Mac puts in, they're going to give us a really good chance to win. Whoever doesn't end up starting is going to be behind the starter a hundred percent."
… Continue reading story here …
—–
October 10th
… CU in a few minutes …
Tweet of the Day: from CU defensive coordinator Jim Leavitt: "Bottom line. Our job on defense is to get the ball back to the offense. We didn't do that enough. No excuses. Must get better. Go Buffs"
—
Arizona State head coach Todd Graham expecting starting quarterback to be able to play against Colorado
From azcentral.com … Entering this week, Graham said he expects sophomore Manny Wilkins to start against Colorado. Wilkins started the season's first five games but suffered a high-ankle sprain in an Oct. 1 loss at USC. Wilkins didn't practice last week and watched last Saturday's contest from the sideline, wearing a protective boot as White started against the Bruins.
A positive: Wilkins started running last week in the swimming pool.
"I fully intend on Manny being back," Graham said. "Our plan is for him to practice by Thursday."
At the same time, ASU will prepare freshman Dillon Sterling-Cole to start if needed. Sterling-Cole took two snaps at the end of the UCLA contest, throwing an interception in the end zone. On ASU's final possession, he lined up as a receiver in ASU's "Sparky" formation.
"We're working hard with Dillon to get him ready," Graham said.
—
Traditional uniforms for Homecoming game against Arizona State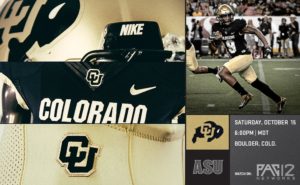 —
Coach MacIntyre post-practice talk with media
Starting right tackle Aaron Haigler out this week with an MCL sprain (perhaps back next week) …
From YouTube, courtesy of CUSportsNation:
—
Arizona State may be down to its fourth string quarterback
From azcentral.com … Arizona State opened preseason practice in August with a three-man quarterback competition, sophomore Manny Wilkins, redshirt-freshman Brady White and redshirt-freshman Bryce Perkins all battling for the starter's job.
Two months later, all three quarterbacks are injured, putting the Sun Devils (5-1 and 2-1 in the Pac-12) in a perilous situation as the season's second half kicks off Saturday at Colorado. Freshman Dillon Sterling-Cole played the final minutes of Saturday's 23-20 win over UCLA, and it appears there's a good chance he'll start against the Buffaloes with first place in the South Division on the line.
"We'll figure out a way," coach Todd Graham said.
Following White's injury against UCLA, the freshman from Houston played two snaps, throwing an interception in the end zone on the second. On ASU's final series, ASU lined up junior running back Kalen Ballage at quarterback in the team's "Sparky" formation with Sterling-Cole split wide as a receiver. His preparation this week will be accelerated.
… Beyond Sterling-Cole – assuming Wilkins and White are unavailable this week – ASU has emergency options in freshman Jack Smith and possibly sophomore Coltin Gerhart. Smith is listed as a receiver, but played quarterback at Phoenix Mountain Pointe High. Gerhart signed with the Sun Devils as a quarterback in 2014, but later was moved to defense. Recently, Gerhart has practiced on offense, but his role on that side has not yet been defined.
… Continue reading story here …
—
Buffs still control their own destiny in Pac-12 South 
From CUBuffs.com … If this team has proven anything this year, it's that win or lose, they go back to work on Mondays with the same narrow focus.
One snap and clear, one game and clear. The only thing on their minds now will be Saturday night's Homecoming game with Arizona State (6 p.m., Pac-12 Networks) — one of the teams tied with Colorado for the Pac-12 South lead.
"They'll bounce back," CU head coach Mike MacIntyre said late Saturday. "That's all we talked about in the locker room. We have a ton to play for and they know that. They'll be back, no doubt about it."
… "We're going to move on," vowed Buffs running back Phillip Lindsay, whose 105 yards receiving Saturday was the most by a CU running back since Cortlen Johnson had the same amount in 2001. "We're going to look at the film and learn from it. We're going to see what we have to do to get better and for Homecoming, we're going to come out firing."
… "We put our defense in a bind because we didn't go out there and play ball like we're supposed to," Lindsay said. "We need to go back, refocus and come out with the same intensity we had before we got here. Our defense played great. You can't put your defense on the field all day and expect to win the game. We have to help them out more."
… Continue reading story here …
—–
October 9th
… CU in a few minutes … 
Colorado listed as a ten-point favorite over Arizona State
Arizona State is 5-1; Colorado is 4-2. The Sun Devils are coming off of a 23-20 win over preseason Pac-12 favorite UCLA. Colorado is coming off of a 21-17 loss to the preseason choice for the Pac-12 South No. 2, USC.
Yet the Buffs opened as an eight-point favorite at VegasInsider.com, but the line quickly moved to ten points (perhaps due to the instability of the ASU quarterback situation; perhaps due to the Sun Devils being last in the nation in pass defense).
The Pac-12:
— Colorado … a ten-point favorite at home against Arizona State
— Stanford … a 2.5-point underdog on the road against Notre Dame (the game opened as a pick 'em)
— Washington State … a 3.5-point favorite at home against UCLA (the Cougars opened as a 1.5-point pick)
— Arizona … a seven-point underdog at home against USC
— Oregon State … a 12.0-point underdog at home against Utah (the Utes opened as a 14-point pick)
Idle … California; Oregon; and Washington
—
Buffs
From CUBuffs.com … "We didn't play Colorado football," MacIntyre said. "We didn't play hard and fast like we're capable of doing. They (the Trojans) are a good team and had something to do with that, but we didn't play as well as we could have."
Not that the Buffs didn't do some good things. The offense finally found its footing, long enough at least to produce a fourth-quarter scoring drive that tied the game at 14-14. Given time to throw, Montez looked sharp. The redshirt freshman made plays when he had the chance — but he also made some mistakes, including an interception that he simply threw up for grabs.
"I've to learn to throw it away and not try to be the hero," Montez said. "I have to fix those things."
The defense, meanwhile, was good — very good at times. After giving up two long scoring drives in the first half, Jim Leavitt's crew produced three straight turnovers in the second half, giving the Buffs every opportunity to get back in the game.
Colorado did convert one of those turnovers into scores — the Bobo pass to Lindsay — but as MacIntyre later said, the Buffs didn't take full advantage of the opportunities that came their way.
"We did some good things," said Buffs defensive lineman Jordan Carrell, who came up with one of CU's three fumble recoveries. "But we have some things we can do better. We needed a stop at the end and didn't get it. We have to get better in those situations."
… Continue reading story here …
—–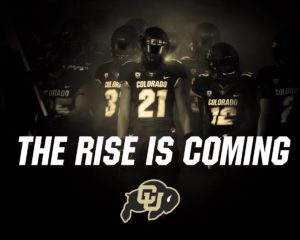 —–