—
Spring Notes
—
April 24th
CU Spring Recap
Program Note … Colorado equipment managers put away the Buffs' helmets and pads over a month ago, but many other teams are just wrapping up spring practices. The website SaturdayEdge.com is compiling a collection of recaps of Spring football, and asked me to do one for the Buffs. Here is what I submitted:
Will the Colorado offense be better, worse, or about the same?
Passing numbers might not improve over last season, but rushing numbers will definitely be better in 2015.
Last season, quarterback Sefo Liufau set over two dozen school passing records, including the record for the most passing touchdowns in a season (28). Liufau, however, also threw 15 interceptions and was sacked 18 times, with the latter numbers contributing to the Buffs' 2-10 final record. Liufau's accuracy reportedly improved this spring, but, as most practices were closed to the public, Buff fans will have to wait and see if the junior-to-be comes into his own this fall.
Liufau will not be lacking for weapons, with Nelson Spruce, the first CU player to post over 100 catches in a season (106 for 1,198 yards and 12 touchdowns) back for his senior season. Finding a compliment to take some of the pressure off of Spruce will be an important factor in CU's success. A long list of sophomore wideouts – Shay Fields, Devin Ross, Donovan Lee, Bryce Bobo and Elijah Dunston – will be given the opportunity to make a name for themselves this fall.
The Colorado rushing game will almost certainly be improved in 2015. Last year, four backs posted rushing totals between 391 and 448 yards, with injuries keeping any one player from taking over the starting spot. Three of the four backs from last year – senior Christian Powell, junior Michael Adkins and sophomore Phillip Lindsay – will vie for the role as the No. 1 back. Whoever assumes the feature back position will be rushing behind an offensive line which returns starters at both tackles and at center. Settling on the two new starting guards will be a battle which will continue into August.
Will the Colorado defense be better, worse, or about the same?
The Colorado defense will be much, much better in 2015 … if only because it can't get much worse.
Colorado has ranked 100th or worse nationally in both total defense and scoring defense for the past four seasons. In 2014, the Buffs were 111th in total defense (461.0 yds/game) and 116th in scoring defense (39.0 ppg.).
So why would there be any reason for optimism for 2015?
Two reasons: First, there has been a huge influx of talent along the defensive line. Three of the four starters from 2014 return: Derek McCartney (former head coach Bill McCartney's grandson), Jimmie Gilbert, and Josh Tupou (who missed the spring after being arrested for assault … the charges have since been dropped). Joining that trio are a pair of former starters – Tyler Henington (who missed all of 2014 with an ACL) and Samson Kafovalu (out last season for personal reasons). Those five players would form a good nucleus, but they have been supplemented by three junior college transfers (Jordan Carrell; Leo Jackson and Blake Robbins) and a host of returning contributors.
Numbers alone do not a quality defensive line make, but the unit is far deeper, and far more talented, than in any time in the recent past.
The second reason for optimism this fall is the hiring of CU's new defensive coordinator, Jim Leavitt. The former defensive coordinator at Kansas State and head coach at South Florida has made a name for himself in building defenses from scratch (K-State was, quite literally, the worst team in college football when Leavitt arrived to help Bill Snyder build up the Wildcats in the early 1990's, and USF was a brand new D-1 program when Leavitt took on the challenge in 1996). Leavitt's style and enthusiasm has received rave reviews from players and fellow coaches.
Are you buying or selling this team in 2015? (How many games they winning this year?) 
Colorado is a "buy and hold" team in 2015. The Buffs will be much improved, but the college football world may not take much notice, as Colorado will face one of the toughest schedules in the nation.
Take a look … In 2014, Utah finished in fifth place in the Pac-12 South … with a 9-4 record. Every team in CU's division finished with nine or ten wins last fall, so it is hard to see a CU team which went 2-10 in 2014 jumping immediately into the mix as a contender in the Pac-12 South.
That being said, the early season schedule does allow Colorado to make a fast start. Colorado opens the season on the road against Hawai'i, and college football fans know how well Hawai'i plays at home. If the Buffs can get past that game, though, there are very winnable games at home against UMass and Nicholls State, along with the annual grudge match against Colorado State in Denver (series note: since the rivalry was resumed in 1983, CU has lost only once to CSU when the game was not the first game of the season – 8-1 … Translation: When the Rams don't have the entire month of August to prepare for their biggest game of the year, CU wins).
If Colorado can get through its non-conference schedule 4-0, then a six- or even seven-win season is not out of the question.
If Colorado starts out 2-2, however, then another nine- or ten-loss season is in the offing … and head coach Mike MacIntyre will be on the hot seat in 2016.
—-
March 20th
CU quarterbacks confident of improved play in 2015
From the Daily Camera … Not much changed at the quarterback position this spring at Colorado.
The Buffs wrapped up spring football practices last weekend with junior-to-be Sefo Liufau firmly entrenched as the starter and junior-to-be Jordan Gehrke as his backup. Both players said they felt good about what they were able to accomplish in the spring as individuals and how the offense continues to progress now entering a third year with offensive coordinator Brian Lindgren calling the plays.
"It's been a journey and it's been a long one with this team," Liufau said. "Our ultimate goal is to win and I think we're heading in the right direction. I think the camaraderie and the teamwork is coming along and if we just put in the work, we'll be a lot better off than what we were last year."
… "I think we ran the ball a lot better, not that we didn't run the ball well beforehand, but I think we found a rhythm," Liufau said. "The offensive line and the running backs did a really good job this spring camp and hopefully we can improve that even more over the summer and make it a dual-threat offense next season."
Gehrke, played in three games last season, including a start at Oregon in November. He said he has worked hard to get stronger so far this offseason and is paying special attention to improving his footwork. He said the improvements he believes he is making are more subtle but will help make him more successful when his next opportunity comes.
"I'm confident," Gehrke said. "I got some playing time last year, so that really helped with me mentally and everything. I know what's expected. I'm ready to go."
—–
March 17th
MacIntyre; Lindgren pleased with progress made by the offense
From cubuffs.com … High on the Buffs' list of spring offensive objectives was improvement in the running game, which coordinator Brian Lindgren says was achieved despite the absence of tailback Michael Adkins II (knee).
Progress was made, said Lindgren, because of O-line improvement: "I was pleased with way we ran the ball. We improved on it a year ago, but we were not where we wanted to be. Our guys up front – coach (Gary) Bernardi did a great job with them. We're going to keep developing more depth; there are more guys we feel more comfortable putting in there."
In Adkins' absence, the Buffs relied on returnees Christian Powell (tailback/fullback) and Phillip Lindsay, and redshirt freshman Kyle Evans, whose 65-yard TD run was Sunday's longest.
"I'm pleased with his development," Lindgren said. "He reminds me of Tony Jones (graduated tailback)."
Another running back will join the summer mix. He's transfer Aaron Baltazar, who had major college experience (Boise State) and is a bigger back (5-10, 220).
Also, CU's 2015 offense will have 6-2, 250-pound George Frazier as a full-time member; he won't be switching to defensive end. Frazier can play fullback, H-back and tight end – and Lindgren won't be hesitant to use Frazier's versatility.
"The range of things we can do with him is pretty broad," Lindgren said. And Frazier said being anchored on offense suits him fine: "I'm happy with it. I knew at the first of spring it was going to happen. (MacIntyre) told me there were more numbers on defense and he would like me to focus on offense."
Offensive players MacIntyre said made good spring impressions included: receiver Shay Fields, tight end Sean Irwin, center Alex Kelley and tackle Stephane Nembot. "He's gone to another level, he's a really good Pac-12 tackle," MacIntyre said.
—–
March 16th
Spring Practice Awards
Here is the roll call of this year' spring honors as determined by the coaching staff:
Eddie Crowder Award (Outstanding Leadership) …… OT Stephane Nembot & ILB Kenneth Olugbode
Fred Casotti Award (Most Improved Offensive Back) ……. WR Robert Orban
Joe Romig Award (Most Improved Offensive Lineman) …… Gerrad Kough
Hale Irwin Award (Most Improved Defensive Back) …… John Walker
Greg Biekert Award (Most Improved Linebacker) …… Jaleel Awini
Dan Stavely Award (Most Improved Defensive Lineman) …… Jase Franke
Daniel Graham Award (Most Improved Big Skill Player) …… FB George Frazier
Bill McCartney Award (Most Improved Special Teams Player) …… PK Diego Gonzalez & FB Jordan Murphy
John Wooten Award (Outstanding Work Ethic) …… WR Nelson Spruce
Dick Anderson Award (Outstanding Toughness) …… TB Phillip Lindsay
Jim Hansen Award (Outstanding Academics) …… PK Chris Graham
Sal Aunese Award (Most Uncommon Player) …… S Jered Bell & TB Christian Powell
—
2015 Iron Buffaloes (Weight Room; presented by position to those who represent hard work, dedication, toughness and total lifting performance)
Defensive Line ….. Leo Jackson
Linebackers …… Mike Mathewes
Defensive Backs …… Jaisen Sanchez
Offensive Line …… Jonathan Huckins
Tight Ends …… Chris Hill
Wide Receivers …… Jay MacIntyre & Lee Walker
Quarterbacks …… Jordan Gehrke
Specialists …… Diego Gonzalez
—
Defensive coordinator Jim Leavitt: "If they work very hard this summer then we've got a shot. That's it"
Press release from cubuffs.com … The Colorado Buffaloes launched spring football practice a month ago with one objective overshadowing most of the others: start the long climb back on defense.
The man tasked with shifting the Buffs into climbing gear – new defensive coordinator Jim Leavitt – believes some upward mobility was shown in the 15 spring workouts that concluded with Sunday's final practice/scrimmage at Folsom Field.
But Leavitt, as expected, isn't ready to say that the Buffs will field a better defensive unit this fall. In fact, all he's willing to say is that if tirelessly hard work continues between now and August, the Buffs have a chance to be better.
That's as far as Leavitt will go – a chance.
According to his reckoning, about "80 percent" of what he hoped to install on defense actually reached the practice field. Players picked it up, he said before adding, "Yes, but they're not great at it. The key for us is going to be how hard they work this summer; if they don't do good work then we're not going to be very good. If they work very, very hard this summer then we've got a shot. That's it."
Arriving from his former job with the San Francisco 49ers – he was the linebackers coach – mere days before spring drills began, Leavitt first had to put names with faces, numbers and positions. "I know the defensive guys now and about half the offensive guys," he said.
When practice began, he said he saw a series of "ups and downs because of this: we kept putting in things, putting in things, putting in things. So as you keep layering it in, they struggled mentally. We tried to get in as much as we could but we didn't get it all in. We've got to shore it down. But overall, they did good. I was happy with it. The thing about these guys is that they want to be good. It's hard for them because they've been in different systems."
The 80 percent install, he added, "is probably where I thought it would be. Couple of things we wanted to get in that didn't, couple of things we got in that I didn't think we would. They've just got to have a good summer."
The learning curve goes both ways – coach to players and back again – but the Buffs as a team learned quickly about Leavitt and his energy level.
"From talking in the locker room away from the coaches, we all just really took pride in his energy," cornerback Ahkello Witherspoon said. "When you have someone who has such energy you want to put your all in for that person and do your best, really listen and fit into his schemes as best you can. You get to practice every morning and he's meeting you at the gate – 'We're moving, we're moving!' You can't deny that energy. It's awesome."
It quickly became evident to offensive players as well. "I don't know how to say it, but he's really a lively person," backup quarterback Jordan Gehrke said. "He brings an atmosphere with him when he comes into a room; everyone knows he's in there. He's always excited, excited when he speaks. He's a great fit."
Leavitt's tweaking of the Buffs defense and its fronts also proved beneficial to the offense, Gehrke added: "It just adds to what we can do (offensively) when we get more complex looks. His schemes are a little different between an 'Okie' and an under-front. It'll only help us get better."
Leavitt declined to list players on his side of the ball who caught his eye during the 15 spring drills, his boss – Mike MacIntyre – filled in a few blanks.  Leavitt said he wouldn't point out anybody unless "there was somebody who was unreal, off the charts. A lot of guys did some good things, but I don't know if there was anybody who set the world on fire. That's not to say that they didn't some good things."
Maybe the best thing collectively, he added, was their understanding of where he's coming from in terms of expectations. While those are yet to be met, Leavitt at least said, "I think they understood what my expectations are. I think they're now in the process of trying to get there. Again, we're not where I want to be. They're starting to learn how to work hard and learn what I want."
—–
March 15th – Spring Game          Gold 14, Black 10
Stats Sheet
Team Stats …
First downs … Black (Gehrke) 12; Gold (Liufau) 2
Third-down efficiency … Black 1-of-6; Gold 0-of-3
Rushing .. Black 24-for-156 (6.5 ypc); Gold 8-for-44 (5.5 ypc.)
Passing … Black 9-of-16, 54 yards, one interception; Gold 3-of-4, 76 yards, one touchdown
Total plays/yards … Black 40 plays for 210 yards (5.3 ypp); Gold 12 plays for 120 yards (10.0 ypp)
Time of possession … Black 17:52; Gold 6:08
—
Individual Stats …
Passing … Sefo Liufau … 3-of-4 for 76 yards, one (70-yard) touchdown … Jordan Gehrke … 9-of-16, 54 yards, one (costly) interception … sacked four times
Rushing … Kyle Evans … eight carries for 96 yards and a touchdown … Phillip Lindsay … 12 carries for 78 yards … Christian Powell … seven carries for 45 yards
Receiving … Chris Hill … three catches for 20 yards … Robert Orban … two catches for 19 yards … Christian Powell … two catches for six yards … Devin Ross … one catch for 70 yards and a touchdown … Nelson Spruce … one catch for seven yards
Tackles … Christian Shaver … five tackles (three unassisted) … Ahkello Witherspoon … four tackles (four unassisted) … Justin Solis … four tackles (two unassisted) … Samson Kafovalu … three tackles (two unassisted)
Defensive stats … Sacks … De'Jon Wilson (2); Eddy Lopez (1); Jordan Carrell (1) … Interceptions … Ahkello Witherspoon (1) … Tackles for loss … De'Jon Wilson (2); Jordan Carrell (1); Kenneth Crawley (1); Eddy Lopez (1) … Third down stops … John Walker (1); Kenneth Crawley (1); Jordan Carrell (1); Samson Kafovalu (1) … Forced Fumble … Hunter Shaw (1)
—
Noteworthy …
MacIntyre, whose 2-10 record last fall gives him a two-season mark of 6-18, said the Buffs' emphasis going into August camp will be weight-room oriented. "We've gotten a lot more powerful," he said, "and we've got from March 15 until August first – so that gives them a long time in the lifting cycle and in the competition we're going to have in the weight room. The power and strength were going to get will be a big difference. We're not teenagers anymore, we've got a few 20-year-olds playing . . . that's exciting to me."
. . . . Last spring, MacIntyre held the 15th practice on the day after the spring game to brief players on their summer work and give them a practice to conduct themselves. That wasn't necessary this spring because of an NCAA rules change that permits coaches to meet with players weekly. Still, some instruction for player-led summer work was addressed in Saturday's practice, MacIntyre said. "Guys who have been on campus – like Sefo – have been doing player-led practices a while," he added. "It's been running smooth and we'll be able to do it all the way through (summer)." Players and their position coaches will meet on Thursdays every week through August, MacIntyre said
. . . . Eleven players missed Sunday's work due to injuries, including possible starters Jeremy Irwin (OT, ankle), Tyler Henington (DE, knee), Adkins (TB, knee), Jered Bell (S, knee), Bryce Bobo (WR, shoulder)
. . . . Also not suiting up Sunday for disciplinary reasons were defensive tackle Josh Tupou, receiver Donovan Lee and linebacker Jaleel Awini . . . . Sunday's winners were to eat steaks for dinner while the losers dined on hot dogs – a spring game menu that is usually rescinded. FWIW: Media and assorted press box guests ate hot dogs
. . . . Tentative preseason dates to remember: Aug. 4 – players report; Aug. 5 – first practice; Aug. 8 – practice in full pads; Aug. 9 – Media Day; Aug. 24 – first day of fall classes
. . . . Pac-12 football Media Days are scheduled July 30-31 in Los Angeles.
—
Some thoughts and a drive-by-drive look at the Spring Game …
– Being pre-empted on the Pac-12 Networks by a women's softball game is ludicrous. Yes, there was a rain delay and the teams scored over 30 runs. True enough, the Pac-12 has no control over a game which is supposed to take two hours to play going for over three (and ending in a five-run mercy rule at that). Still, if they wanted to keep Pac-12 Oregon on the game (the softball game was Oregon State at Oregon) fine, but to keep the rest of the Pac-12 Networks on that game instead of switching to a football Spring Game? Madness. One question for the Pac-12 Networks: Would they have done the same had it been a USC or Oregon Spring Game which was being preempted? I sincerely doubt it.
– Very much dislike the format. I understand that the Pac-12 Networks asked CU to run practices for the first half, so I understand the Buffs going along. Again, however, I would like to see the UCLA or Utah Spring Games played under the same conditions. If the other teams don't have to run through drills before an abbreviated (45 minute) Spring Game, I don't see why Colorado should have to, either
– First drive (Black team) … De'Jon Wilson gets a sack of Jordan Gehrke before Phillip Lindsay gets loose for a 38-yard run … Pac-12 Networks showing coach MacIntyre when Gehrke throws a pick-six to Ahkello Witherspoon, who returns his interception 69 yards for a 7-0 lead for the gold team. Buff fans will recall that Witherspoon was also one of the defensive heroes of the 2014 Spring Game, when he also had an interception;
– Second drive … (Black) … Heavy doses of Phillip Lindsay, with the Black team, behind Gehrke, gaining only 16 yards before Diego Gonzalez misses a 51-yard field goal wide left
– Third drive … (Gold team) … First drive for the Gold team, led by Sefo Liufau … Gold goes three-and-out with Chris Graham punting the ball 40 yards with no pressure (all of the punts were without a pass rush, and all of the returns were fair catches)
– Fourth drive … (Black) … Red-shirt freshman running back Kyle Evans goes 65 yards for a touchdown … Evans, a walk-on, is 5'6″, 175-pounds, and came to CU from San Jose … Extra point by Diego Gonzalez looks off to me, but he is given credit for it anyway … Black 7, Gold 7
– Fifth drive (Gold) … Sefo Liufau's team goes three-and-out again, almost losing the ball on a Christian Powell fumble … 35-yard punt by Chris Graham
– Sixth drive (Black) … Behind the rushing of Phillip Lindsay (12 rushes for 78 yards on the day), the Black team moves into position for another field goal attempt … This time, Gonzalez is true, connecting from 38 yards out.
"Halftime" score: Black 10, Gold 7
– First drive of the second half (Gold) … Sefo Liufau redeems the Gold offense with a 70-yard touchdown pass to Devin Ross on the first play of the drive … Yuri Wright on the coverage – beaten badly … Gold 14, Black 10
– Second drive (Black) … Jordan Gehrke misses a wide open Shay Fields on a play in which safety Tedric Thompson was hurt (not badly, he wanted to stay in the game, but was told to sit out) … Diego Gonzalez punt of 45 yards, with Jay MacIntyre back deep (Shay Fields and MacIntyre were the designated punt returners for the game)
– Third drive (Gold) … Three Christian Powell runs fail to gain ten yards … The third three-and-out for the Gold under Liufau … Chris Graham punt of 35 yards
– Fourth drive (Black) … Jordan Gehrke throws a 31-yard touchdown pass to sophomore walk-on wide receiver Joseph Hall, but the play was called back on off-setting penalties … A pass interference call on red-shirt freshman defensive back Jaisen Sanchez was then (correctly) waived off (the players tripped over one another) … Sacks by junior college transfer Jordan Carrell and De'Jon Wilson (on a play in which Gehrke threw a touchdown pass to Shay Fields, but Wilson clearly had a line to the quarterback before Gehrke threw the ball)
– Fifth drive (Gold) … Stymied the entire afternoon, except for the 70-yard touchdown pass, the Gold offense finally gets some positive yardage on a 29-yard run by Christian Powell (Powell had six carries for 16 yards otherwise) … Game ended with Gold near the Black 20-yard line.
Final Score: Gold 14, Black 10
—
March 13th
Spring Game to be "half practice, half spring game"
—
Here is a link to a video preview of the Spring Game with Mark Johnson of KOA radio and B.G. Brooks from cubuffs.com.
—
Press release from cubuffs.com … The Colorado Buffaloes' annual spring football game on Sunday will be "half practice, half spring game," coach Mike MacIntyre said at the conclusion of Friday's closed practice – the last before Sunday's event at Folsom Field.
"The Pac-12 Network wants us to do some practice stuff but we'll still have a game-type situation but not a full, long game," MacIntyre said.
Sunday's work begins at 2 p.m., with gates opening at 1 p.m. Postgame activities include a "meet-and-greet" selfie session with players and staff. Parking and admission are free.
The Buffs' final spring practice, which is open to the public, will be on Saturday from 9:50-11:50 a.m.
OFFENSIVE COMPETITION
With spring camp coming to a close, MacIntyre is getting a few final chances to move members of his young team around and find the best personnel/position fits before August camp and the 2015 season arrive.
Two offensive line starting positions are open after the departure of seniors Daniel Munyer and Kaiwi Crabb last fall.
"We have four or five guys who are rotating in there," MacIntyre said of the current competition. "It depends on how they play, to be honest with you."
Four players preparing to take those o-line spots are sophomores Gerrad Kough and Jonathan Huckins and juniors Sully Wiefels and Shane Callahan.
CORNERBACK GROWTH
Junior Ken Crawley has been working tirelessly in the cornerback spot to fill the massive gap left by senior Greg Henderson.
"I think he [Crawley] improved last year and he's getting bigger and stronger," MacIntyre said. "That'll be a big difference for him so he's not getting pushed off on by other guys who are stronger going to the ball. I'm looking for him to have a great senior year."
MacIntyre also the cornerback position as a whole has "been working hard on making sure they make the plays and catch the football and do that kind of thing."
WITHERSPOON MAKING AN IMPRESSION
Sophomore Ahkello Witherspoon is also looking to make a big impact in the secondary after suffering a back injury last fall camp.
"Ahkello has had a phenomenal spring," MacIntyre said. "We have to make sure he's healthy and he'll have a good fall and a good season. He has great ball skills."
—–
March 12th
Spring Game opportunity for Buff fans
From cubuffs.com … Attention Colorado Buffaloes fans: You have the opportunity to add your name to a piece of university history.
In honor of the athletic facilities expansion, a ceremonial beam will be available to sign at Sunday's Spring Game which kicks off at Folsom Field at 2 p.m.; gates open at 1 p.m.
The 22-foot topper beam can be found at Folsom Field near Gate 6 on Sunday. This beam will be the last one placed atop the new Champions Center structure upon its completion. The beam is 16 inches tall, weighs 67 pounds per foot, and totals 1,463 pounds overall.
Traditionally, beams in topping out ceremonies feature the signatures of all workers involved in the project. According to Mortenson Construction, "athletes, students and faculty are encouraged to sign the ceremonial beam" during the spring game at CU.  Mortenson-Populous, based in Denver, is the company involved with the current Athletic Complex Expansion project. M.A. Mortenson Jr., a CU graduate, is the company's chairman.
In addition to signing the beam, fans who don't already have tickets will get a chance to see and purchase season tickets in the best locations still available. For more information or to set up an appointment call 303-492-8282.
Concessions partner Levy Restaurants will also have stands open throughout the stadium, featuring a new smoothie "power up" station at the Club Level and a BBQ smoker on the east concourse. Fans can enjoy free samples of smoked wings and made-to-order smoothies, all perfect for a warm spring day in Boulder.
Following the game, season ticket holders are invited onto the field to participate in a meet & greet and 'selfie' session with the 2015 Colorado Buffaloes squad.
Admission and parking are both free of charge, and the Byron R. White Club level will be open for all fans. General public parking is available in lots 354, 359, 380, 436, 494N and ADA parking is available in lot 360.
—–
March 11th
Pro-Timing Day at Colorado involves 11 Buffs
From cubuffs.com … The University of Colorado hosted 11 former Buffaloes at the school's Pro Football Timing Day on Wednesday.
The players in attendance who showcased their talent in front of NFL scouts from nine teams were offensive linemen Woodson Greer and Daniel Munyer, tailbacks Malcolm Creer and Tony Jones, defensive backs Greg Henderson, and Terrel Smith, defensive lineman Juda Parker, wide receivers Tyler McCulloch and Wesley Christensen, place kicker Will Oliver and punter Darragh O'Neill.
The day's events started in the Dal Ward Athletic Center weight room, where players weighed in and participated in a vertical jump test. Henderson put up the highest number with a vertical jump measuring 39 inches.
The players then followed with the bench press, where Munyer set the pace with with 25 reps.
Pro Timing Day then moved to the practice bubble where the group participated in the 40-yard dash, the pro shuttle, the "L" drill and 60-yard shuttle. McCulloch turned in the day's fastest 40 at 4.65 seconds. He also had the best broad jump with a leap of 10-feet, 10-inches.
Jones led the way in the shuttles finishing with a time of 4.29 in the pro shuttle, a 6.96 in the "L" and an 11.48 mark in th 60-yard shuttle.
The 2015 NFL Draft will take place Thursday, April 30, through Saturday, May 2, at the Auditorium Theatre of Roosevelt University in Chicago.
—
Here is a link to the results from CU's Pro Timing Day
—–
Buff Nation loses offensive lineman Ryan Johanningmeier
Press release from cubuffs.com … Former University of Colorado offensive lineman Ryan Johanningmeier passed away here Monday from yet to be determined medical reasons; he was 38.
The coroner said it would be six-to-eight weeks to determine the exact cause of his death, which is believed to have occurred just before he was leaving for work Monday morning.
One of the most versatile linemen in CU history, he started games at offensive tackle, guard and center in earning four letters from 1996-99.   In 1998, he actually started at all three of those positions over the course of the season, and finished up his career as the Buffaloes left guard.
As a senior when he was a team co-captain, he earned first-team All-Big 12 honors from the league coaches and preseason Playboy All-American honors.  He was a second-team All-Big 12 selection his junior year.
He played in 44 games during his Colorado career, including 35 starts; he even saw time at tight end as a redshirt freshman when injuries at the position forced the coaches to move him there the last half of the season.  An All-American and All-Colorado performer at Centaurus High School in Louisville, Johanningmeier was a member of Rick Neuheisel's first recruiting class at Colorado in the winter of 1995, never wavering from a commitment he had made to previous coach Bill McCartney to attend CU before the latter's surprise retirement.
"Ryan was one of those players who never gave it anything less than his best effort, in practice, in games and off the field," Neuheisel said from Arizona.  "A lot of players would have been apprehensive about moving around from position to position as much as he did, but he embraced it with a positive attitude and played all of them well.  For him to pass at such a young age is nothing short of tragic."
He played his final season under Gary Barnett after Neuheisel left for Washington, and was a member of four bowl champion teams in his career: the 1996 Cotton, the 1996 Holiday, the 1998 Aloha and the 1999 Insight.com.
A 2000 graduate with a degree in Business (Management Systems), he was a second-team Academic All-Big 12 team member as a senior, a two-time member of CU's "Academic Starters" team and was also on the Big 12 Commissioner's Academic Honor Roll.
While not drafted, Johanningmeier did sign as a free agent with the National Football League's Atlanta Falcons and spent the 2000 and 2001 season on the payroll with the club.  Neck and back injuries cut short a promising professional career, and he had been working in private business in the Denver metro area since his retirement from the game; included during that time was a stint as a spotter for CU football games on KOA-Radio.
He was born January 22, 1977 in Fort Collins, and football was in his blood.  His father, B.J., played football at Colorado State and in the NFL for Green Bay and Denver.  He is survived by his parents; B.J., and his mother, Sandy Curfman, and stepparents Jim Curfman and Debby Johanningmeier.
A public memorial service will be held at 1 p.m. on Saturday, March 21, at the East Stadium Club (on the Byron R. White Club Level) at Folsom Field on the University of Colorado campus in Boulder.
—–
March 9th
Defensive back transfer Afolabi Laguda: "I always feel like I can improve"
From the Daily Camera …
Afolabi Laguda transferred to CU in December from Butler Community College in Kansas. He has three years of eligibility remaining and it wouldn't be a surprise if he becomes a regular contributor and maybe even a starter as soon as next fall.
"I'm a perfectionist," Laguda said. "I try to strive for perfection. So I'm never happy with the way I practice. I always beat myself up. I try to learn everybody's position. In the secondary you see everything that everybody else doesn't get to see. Them guys count on you back there. So I kind of take it hard on myself. I always feel like I can improve."
Laguda is 6-foot-1 and 200 pounds with the speed to play cornerback and the pop for safety. CU coaches recruited him to play safety, but he said he has spent about 50 percent of his practice time at cornerback this spring. He said he will play wherever coaches want him.
MacIntyre said he likes what he has seen from Laguda to this point. He said Laguda has long arms and plays a physical style that will help him and the defense when the season arrives.
"I think he'll help us next year for sure," MacIntyre said.
… Continue reading story here  …
—–
March 8th
Fate … and an injured wrist … led Jordan Carrell to Colorado
From the Daily Camera …
One of the new defensive linemen on the Colorado football roster who has coaches excited this spring wasn't even thinking he would play defense in college.
Two years ago, Jordan Carrell was being recruited by a handful of schools as an offensive lineman out of Roseville High School in California. Carrell said he was planning to attend Nevada and play center but suffered a broken wrist. The injury limited what he could do in the weight room and he lost 25 pounds.
Carrell said when Nevada coaches heard about the injury and his weight loss, they decided to stop recruiting him. With few options he liked, he chose to attend American River College, where CU coaches found him.
The wrist injury ultimately led Carrell to move to defense. He credits American River College head coach Jon Osterhout and defensive line coach Mason Mitchell for helping him become a junior college All-American in less than two years.
"I just developed this work ethic that's all I wanted to do was just practice on my craft," he said. "I had a lot of support from my coaches and stuff. They worked on me a lot one-on-one."
——
March 5th
Spring Game schedule
From cubuffs.com … CU's annual spring game is Sunday, March 15; the format has yet to be determined, but will include some position drills ahead of either a scrimmage or game situation.  The Pac-12 Network will televise the session and scrimmage/game live on all seven of its networks.
This year's spring game will kick off at 2:00 p.m. at Folsom Field, and will end by 4 p.m. as the P12N will then shift to other events.  There will be a handful of short commercial breaks (2 minutes in length).
PARKING: We will have media parking available in lots 386 AND 169, provided you show your CU season credential or spring game individual credential at the checkpoint at Folsom and Stadium Drive for 386 (the game day lot for beat media next to Carlson Gym) and 169 (the lot right off Folsom at the base of the hill just north of Boulder Creek (you will need to walk up the hill to get to the stadium).  If you do not have a CU season credential, contact me to get the individual one for this game to gain access to the parking areas.
STATISTICS: Game/scrimmage statistics will be available in the sports information office following the game, and will also be e-mailed and posted on CUBuffs.com.
RADIO BROADCASTS:  KKZN-Radio (AM 760) will broadcast the game live; two journalism school class simulated broadcasts will also take place.
NOTE: After the spring game, it will be CU's annual healthy kids day with student-athletes from all 17 varsity sports participating with area youth in a number of activities.
——-
March 4th
Coach MacIntyre: "Defensive line depth does everything for the defense"
Press release from cubuffs.com … Colorado football coach Mike MacIntyre is more than pleased with the spring progress of his defensive line and the unit's overall depth, which could help resolve an issue that plagued the Buffaloes in 2014,

One major criticism of the Buffs last season was their inability to play a complete four-quarter game on defense, but MacIntyre believes that the team's new-found depth will remedy that in 2015.
"It [defensive line depth] does everything for the defense," MacIntyre said after Wednesday's scrimmage – the last of spring camp before the annual spring game on Sunday, March 15.
"This depth is going to help us in the fourth quarter, making big sacks, clogging up the run," MacIntyre continued. "All of a sudden you get the ball back. That type of thing makes a big, big difference for us in the fourth quarter and in overtimes."
The Buffs also struggled last season with keeping their defense healthy, particularly in the secondary. MacIntyre hopes the added depth will help remedy any similar problems the team may face going into the 2015 season.
"If you lose a guy in a game, now you have five or six players," MacIntyre said. "It keeps you in the right direction during the season."
MAJOR IMPROVEMENTS BEING MADE
Regarding players that have made major spring improvements, MacIntyre listed a fair number of Buffs on the offensive line as well as on defense.
"Stephane Nembot has really improved," MacIntyre said. Nembot started at right tackle in 2014 and received the Joe Romig Award for the most improved offensive lineman last spring.
Another player that MacIntyre notes as having had an impressive spring season is sophomore tailback Phillip Lindsay, whom MacIntyre said is "running really well. He's done a really good job."
Lindsay rushed for 391 yards and had 118 yards receiving in 2014.
On defense, MacIntyre is looking toward the new size of cornerback Ken Crawley and defensive back Ahkello Witherspoon to strengthen his secondary.
Both players "have put on about 10 pounds," MacIntyre said. "They're playing extremely well." Crawley is listed at 6-1, 180, Witherspoon at 6-3, 185.
COMPETITION AT RECEIVER
Two underclassmen, Donovan Lee and Jay MacIntyre, are actively practicing to fill any receiver spots that the Buffs may need support in.
"They're both similar, they're both quick and fast," MacIntyre said. "They're very similar in their quickness and their athleticism. They both played both sides of the football in high school so they're used to playing different spots and moving around in the receiver quarters, which is good."
Nonetheless, both players have impressed their coach on offense this spring. Both scored touchdowns in Wednesday's scrimmage and both contributed additional big plays, Mike MacIntyre said.
"They're also playing other spots so that the receiver coach doesn't have to teach all of them," he added. "It looks to me that their learning capacity on all of those is going well, too."
——
March 2nd
New defensive coordinator Jim Leavitt teaching defense to "play hard"
From the Daily Camera … Jim Leavitt has discovered this much about his new defense at Colorado: He has some talent with which to work, but his players need to put it in another gear.
Leavitt is already more than halfway through his first set of spring football practices at CU less than a month after his hiring was announced. He and coach Mike MacIntyre along with the other defensive assistants are still in the process of deciding what the defense will look like next fall.
They are practicing 4-3, 3-4 and hybrid defenses. Leavitt said he needs the second half of spring ball to sort it all out.
What he has discovered is he has some work to do when it comes to getting CU defenders to practice and play at a level he expects.
"That's my biggest thing right now is trying to teach them what it is to really work and play hard," Leavitt said. "They don't really understand what it is to play hard yet. They don't. We're trying to get that instilled, but we're not there.
"What I define as playing hard and what they define as playing hard are two different things right now, but we're trying to push to what it is to play hard. That's probably more important to me right now than anything."
… Continue reading story here …
—–
February 28th
Isaac Miller adjusting to life as a Buffs, both on and off the field
Press release from cubuffs.com … In high school, incoming freshman Isaac Miller shone just as brightly in the classroom as he did on the football field as an offensive tackle. At the University of Colorado, Miller's priorities haven't changed one bit.
Leaving Silver Creek High School with a 4.3 GPA, All-Colorado honors and a 3A state title, Miller seemed more than prepared for life as a Division I student athlete. But, even for him, each day is still a challenge as a brand new Buffalo.
"It's taking some getting used to, it's a lot different than high school," he said. "I've just got to keep battling, and eventually, I'll become one of the guys. They already have their camaraderie, but they've been welcoming, too."
A few veteran Buffs on the offensive line, like junior Jeromy Irwin, have taken Miller under their wing, allowing him to grow into his new life in Boulder.
"He really welcomed me with open arms and saw something in me," Miller said. "He's also been helping with plays and life outside of football."
Aside from fitting in, the gap between high school and college ball is harder to jump than Miller anticipated.
"The physicality and speed is the hardest part, no doubt," he said. "I was a part of a lot of things in high school, so my scheduling and time management skills are good enough to keep up with the practice and weight schedules, but the in-game challenges are what I'm focused on."
Coach Mike MacIntyre sees Miller's struggle, but doesn't sense any sort of hesitation from the freshman.
"He's sticking his face in there, he's not backing down from anything, and he's working hard every day," MacIntyre said. "But he's not as strong yet, and he's not as mature. He needs a year to soak and gain some weight and strength . . . . A lot of his stuff has to do with the weight room, size and work ethic."
MacIntyre mentioned this "soaking" period would put the 6-7, 265-pound Miller in a redshirt during the 2015 season. The most immediate goal for his physical transformation is a 30-pound gain and a few more plates on his squat and bench bars.
Beefing up in the weight room should be the hardest part, looking at Miller's academic history. In the classroom, a heavy load of AP classes refined his ability to hit the books and manage the clock. It also helps that CU's football program is built to maximize student retention and success.
"He'll do really well," MacIntyre said. "That's one of the main reasons we practice in the morning; we wake the guys up, feed them breakfast, and don't have any tutors scheduled after six o'clock at night, so they can wind down, go to study groups, get a date if they want, and be college students."
Miller is currently completing his first academic semester at CU as a declared Integrative Physiology major. Despite having plenty of time to decide on a career path, he knows his passions point toward the medical field. Luckily, his ambitions are parallel to the excellence required in those lines of work.
"You go to school for the school aspect of it. I want to get a 4.0, I've set my goal there, and it's cheesy and cliché but that's what I want to achieve," Miller said.
Future aside, the day-to-day routine in Boulder is slowly becoming home. Aside from exhaustion and stress, Miller is already growing steadily into his new role as a Colorado Buffalo.
"I just want to be the best player that I can be," he said. "It's a team game, so anything I can do to come compete every day and help other guys. I just have to make sure to do the things my coaches and teachers ask of me and stay healthy."
—
The Isaac Miller file
… A grey-shirt from the Class of 2014, enrolled in January … Still has five years to play four
Just the facts … Committed May 24, 2013 … Miller is an offensive tackle prospect from Longmont, Colorado. Miller is 6' 7″, 250-pounds. Rivals bio  Scout bio Hudl video highlights
What others say about Miller … Miller was rated as a three-star offensive lineman by both Scout and Rivals. Miller was rated by Rivals as the No. 8 prospect out of the state of Colorado out of the Recruiting Class of 2014, while Scout had Miller rated as the No. 95 offensive tackle in the nation. Other accolades: All Region First Team bocopreps.com … All State First Team 3A Denver Post … All State First Team 3A CHSCA, Academic All State … Number 15 rated overall junior by ColoradoPrepReport.com.
Miller had a 4.2 GPA, so qualifying was never an issue. "I'm extremely excited for Isaac for a lot of reasons," Raptors head coach Mike Apodaca told the Daily Camera when Miller committed. "One, he can concentrate now on his senior year, both academically and athletically. That's a great thing when you have that out of the way. And I'm excited for Isaac to be close, to be honest."
Miller had other offers from … Washington State, Wyoming, New Mexico State and Northern Colorado. Miller also took unofficial visits to Michigan State and Purdue. Arizona State was also reportedly interested in Miller's services. Miller was in Boulder for Junior Day in the spring of 2013, and received his first scholarship offer from the Buffs. "Every coach went out of their way to introduce themselves and tell you what they were about," Miller told ColoradoPrepReport that March. "I appreciated that a lot."
In his own words … "I'm pretty fired up about being a Buff," Miller told BuffPlayBook.com. "I called Coach MacIntyre this morning, he was very excited to have me as a member of his football family."
What did Coach MacIntyre say to Miller when he received the news? "He sounded very excited," Miller said. "He asked me if both of my feet were in the Colorado boat. He doesn't rush a commitment, but once you make a pledge he wants to make sure that I'm completely committed to him and his football program. I'm completely committed to being a Buff".
—–
February 27th
Mike MacIntyre: "I do see a lot more power" in the Buffs this spring
Press release from cubuffs.com … At the conclusion of the 2014 Colorado football season, coach Mike MacIntyre made a vow that his 2015 team would be stronger and more powerful. Halfway through spring practices, he has already begun to see the effort in the weight room paying off on the field.
"I think our strength is really improving," MacIntyre said Friday following the seventh of the Buffs' 15 practices. "We changed around the weight room a little bit this off-season; it's a lot more power oriented. So, that's really helping us, too. I think it is translating to the field."
MacIntyre noted that it will translate "a lot more" by the time August camp rolls around and his players have five more months in the weight room with director of sports performance Dave Forman under their belts. But MacIntyre is pleased with the progress he has seen thus far.
"I do see a lot more power," he said. "And the guys are wanting to get in the weight room and starting to understand what we're doing with the squats and dead lifts and bench and everything we're doing. A lot of power stuff there."
What MacIntyre is really looking forward to seeing is the effect that the new strength program will have on the win-loss column for the 2015 Buffs. Particularly, MacIntyre pointed to the defense and the secondary, where he sees some of the biggest improvement occurring.
"[DB] Kenneth Crawley is having a really good spring and he is getting bigger," MacIntyre said. "Him and Ahkello Witherspoon, I was teasing they can actually wear their sleeves up now. They're getting bigger and stronger and getting into the 180's. John Walker has gained 10 pounds, so all of those guys are getting bigger and stronger. Evan White, too, so it's exciting seeing all of that happen, it really is."
MacIntyre expects to see the defense force more turnovers this fall as the team plays with more physicality on defense. Knocking passes down in the secondary and forcing fumbles in the backfield are all aspects MacIntyre is looking for improvement on, along with what he says are "the little things" that win football games.
"(The players) are working hard," he said. "Dave is doing a good job in the weight room. We're continuously lifting all through spring and the whole time we have a big cycle."
Following spring practices, the team will hold a Night of Champions, where each player will "max out" on certain lifts in a competition for proving their strength. In addition, MacIntyre said each player has had a picture taken before spring practices began and will have it displayed next to a picture taken after spring concludes as a way to demonstrate the noticeable difference in each player's appearance.
The Buffs will continue with spring practices on Monday, Wednesday, and Friday of next week. All are closed to the public except for the first thirty minutes.
—
Jimmie Gilbert: Under new defensive coordinator Jim Leavitt, "The sky's the limit"
Press release from cubuffs.com … At Colorado's first scrimmage of spring practice, Jim Leavitt, the Buffs' new defensive coordinator, never stopped moving. He would pause here and there to offer a few words of coaching, then motor on, from sideline to sideline, circumnavigating the play, sweat soaking through his layers of Colorado gear. Leavitt was manic, kinetic, intense, and it was contagious.
The Buffs scrimmaged as close to game speed as a team can seven months before the games begin. The energy inside the practice bubble was palpable. When defensive back Yuri Wright put his shoulder into receiver Joey Hall's chest and blew up a swing pass, it exploded.
"Oh, for sure," redshirt sophomore defensive lineman Jimmie Gilbert said when asked if this spring was more intense than last year. "(Coach Leavitt) is always upbeat, positive. He gets on you when he needs to. He supports you, he tries to stay away from the negative things. He's very strong when it comes to positive encouragement. There's no walking around, but when we rest, we rest and when we work hard, we work hard."
Gilbert is part of a revamped defensive front seven that will determine how well and how quickly Leavitt's 3-4 scheme translates to on-field results. Last season, under Kent Baer, the results were not good; Colorado allowed 39 points and 205 rushing yards per game. The Buffs sacked opposing quarterbacks only 22 times and forced just 19 turnovers.
Compared to that unit, this year's is almost unrecognizable. Gilbert is healthy — he dealt with shoulder injuries last year — and he's spending more time standing up as an outside rush linebacker. His freshman year, he played mostly with his hand in the dirt as a defensive lineman.
"Played some 3-4 in high school," he said. "It's more natural to me, but at the same time I still have to be able to put my hand down and stop a tight end or a tackle if I need to. I just like playing."
As the Jack (the pass-rushing outside linebacker in a 3-4) Wednesday, Gilbert was at times unblockable. He flustered the first-team offense and often left offensive tackle Stephane Nembot visibly and audibly frustrated as he left the field.
"Jimmie is getting off the ball quicker," Buffs head coach Mike MacIntyre said. "Our tackles, I think, are very good. Seeing Jimmie do that, I'm mad at our offensive tackles but I'm also excited about Jimmie doing that. We need that. We need a four-man rush, we need a guy that can rush off the edge and that's something that I've always thought Jimmie can do."
Three unfamiliar faces lined up to Gilbert's left. If everything goes according to plan, though, Colorado fans will know the names of Leo Jackson, Jordan Carrell and Jaleel Awini before long.
Jackson and Carrell are junior college transfers — Jackson from Foothill College in Los Altos, Calif.; Carrell from American River College 130 miles north in Sacramento.
"They're a big benefit," Gilbert said. "They're a big help on the inside, just as far as getting penetration, stopping the run, and allowing us linebackers to move freely in the backfield."
Awini transferred, too, from Air Force, where in 2013 he played quarterback and rushed for four touchdowns. Now he might be the Buffs' shiftiest pass-rusher.
"He uses his speed to get around the edge," Gilbert said. "Real quick, does a good job of using his hands. He's fearless."
Awini, Carrell and Jackson scrimmaged with the first-team defense because linemen Josh Tupou and Samson Kafovalu were held out with injuries. In the fall, with Tupou and Kafovalu hopefully healthy, they will be joined by the four freshmen defensive linemen who are part of Colorado's 2015 recruiting class. All of this — the recruits, the transfers, Gilbert's emergence — hints at the previously unfathomable possibility that the defensive line could be one of the Buffs' strongest and deepest position groups.
"The sky's the limit," Gilbert said. "Didn't do too well this past year. Hoping to improve on everything from tackling to sacks to stopping the run to getting pressure on the quarterback."
After the scrimmage, Leavitt finally stopped moving, if only to confer at midfield with MacIntyre and offensive coordinator Brian Lindgren. Then, as his players knelt, exhausted, and listened to MacIntyre congratulate them on a good scrimmage, Leavitt was again on the move. He paced back and forth, his gaze as intense as the practice that had just concluded, a boundless font of energy that Colorado needs to carry it into the fall and over the top.
——
February 26th
ESPN … Spring Questions: Colorado
… See if you agree …
From ESPN … Spring Questions: Colorado
1. Will the defensive front seven develop into a more cohesive run-stuffing unit?
2. Is this the beginning of breakthrough Year 3?
3. Will strength and conditioning gains begin translating to the field?
ESPN's David Lombardi's answers to these questions can be found here.
—–
February 25th
Offensive coordinator Brian Lindgren on quarterback Sefo Liufau: "I'm really excited to watch him play this year."
Press release from cubuffs.com … With a new defensive coordinator, a new secondary coach whose previous job was as a defensive coordinator, and defensive stats that lagged badly in most Pac-12 categories, the area in which Colorado hopes to see the most dramatic improvement throughout the 2015 football season is . . . .
You can fill in the blank. Shouldn't be too taxing.
The other side of the ball was pretty good. The Buffaloes set or tied 107 individual and/or team records in 2014, the bulk of them on offense. CU scored 342 points last fall, the most since 2002, and averaged 439.2 yards in total offense, reaching the 400-plus plateau for the first time since 2001. Red zone productivity (88.9 percent) was at its best since 1997 (89.7) and last season's 42 offensive touchdowns were 11 more than in 2013 and 15 more than in 2012.
But the haunting numbers the Buffs will haul into 2015 are 2-10 and 0-9 – their overall and Pac-12 marks. If major improvement is expected on defense, the offense hasn't been given license to slide during spring drills.
On the contrary this spring, coach Mike MacIntyre has targeted third-down proficiency (40.1 percent, ninth in the Pac-12), run scoring (13 of 42 TDs were rushing last fall), and sharpening/toughening the Buffs' mindset on drives from the 25-yard line to the end zone.
And, in the interest of not standing pat, "a couple" of the things that worked offensively last season are being tweaked to stave off predictability. "We'll see what (defenses) started adjusting to," MacIntyre said, "and try to get things off of that. But we don't want to put in so much that you confuse your players; we'll refine a lot of things."
Very general talk, but one area of offensive improvement that he and coordinator Brian Lindgren can get specific on is quarterback play. While incumbent starter Sefo Liufau set a handful of seasonal school records in 2014, his 15 interceptions and three lost fumbles offer a downside as well as clear spring/fall goals.
MacIntyre, Lindgren and Liufau can't ignore the turnovers, but each says that through six spring practices Liufau is exhibiting a better understanding of the defenses he's seeing and is better at making decisions. A qualifier should be inserted here: Liufau isn't seeing the same things defensively he saw from the Buffs last spring and fall. If new coordinator Jim Leavitt isn't in major overhaul mode, he's at least into moderate tweaking.
Said Liufau: "Our new defense is a lot faster, they move faster and switch coverages a lot on us. So for me, in terms of reading defenses, that's a big key and something I've really improved on."
Lindgren said understanding whatever defensive schemes and coverages the Buffs face is a major goal for Liufau as he preps for his junior year. "We've watched games from last year and the ways people tried to attack us with schemes," Lindgren said. "You try and build anticipation for that. I think he's done that, but we've still got a lot of time before fall. So there are some things to still work on."
Leavitt's schemes also have benefitted the entire offense, noted Lindgren: "It's a little different from what we'd seen . . . there's a few new wrinkles. It's been really good for us as an offense to see that stuff and have to adjust. It's been different. I think coach Leavitt has brought so much energy and passion and that's kind of given the whole team a little bit of a spark."
Along with the intangibles – reading defenses, making better decisions – Liufau identified for personal spring improvement, he concentrated on improving his mobility through off-season weight/conditioning work with director of sports performance Dave Forman and his staff.
"My mobility is definitely better this spring," said Liufau, who ran 69 times last fall for 262 yards before sack yards (126) were subtracted. "It comes down to being in the weight room with coach Forman and working on strength in my legs and flexibility. I'm not there yet, far from where I want to be for next year, but it's definitely an improvement."
Running-wise, Liufau is hoping the biggest difference in his mobility is apparent in the execution of the zone-read option. "I think I'll be better at (it)," he said. "It'll definitely help our running backs and give them some more open holes and running lanes. It'll create indecision among the linebackers."
In the passing game, where he completed 65.3 percent of his throws (325-of-498) in 2014, Liufau is looking at better accuracy when he throws to his left. He hedged in saying he had "concentrated on that specifically . . . but it was a weakness I had last year so I definitely wanted to improve and put a little focus on it. Obviously you want to work on it and I have. Overall, I want to have my hips open up a lot more so I'm able to throw across my body or throw deeper down the field."
MacIntyre said Liufau's accuracy has shown gradual improvement in years one (59.4 percent) and two, and that his accuracy already had climbed during the first five spring practices. Liufau throwing to his left, conceded MacIntyre, "was a trouble spot at times (last season). But right now, he's throwing a higher completion percentage to his left than his right – and we're counting drops there, too."
One area that has been a constant in Liufau's nearly two full seasons as a starter has been his leadership. Lindgren sees it on a daily basis and says the offense – truthfully, the team – does, too. "I've been really pleased with that," Lindgren said. "In competitive drills, I see guys really responding to him, with his experience and his making good decisions with the football. I'm really excited to watch him play this year."
In other areas of offensive interest this spring:
·       Redshirt freshman QB Cade Apsay is "still trying to learn and get more comfortable with the system," Lindgren said. Junior Jordan Gehrke remains a solid No. 2 behind Liufau, but further evaluation will come at the conclusion of spring drills. "I've been pleased with Cade's and Jordan's development so far," Lindgren said.
·       Before spring drills began, sophomore Donovan Lee was mentioned by MacIntyre as a strong candidate to replace graduated D.D. Goodson as a slot receiver. That plan remains in place, but Lee – a shifty 5-8, 170-pounder – also has showed well among a thin spring running back corps. Said Lindgren: "He's someone you can do a lot of different things with. I think we can be pretty creative with how we use him. Last year we used him on some reverses and some different things . . . I think between now and the season we have to see what he can handle and what he can't and the role he'll play."
·       Sophomore George Frazier (6-2, 250) is still listed as a fullback/defensive end, but by the beginning of fall camp one of those roles could be scratched. Lindgren says Frazier is "athletic enough and smart enough to do both," but adds, "Selfishly, we'd love to keep him on offense (exclusively). But we've got to make a decision as a staff as to what's best for the team, what's going to help us win football games. Coming out of the spring going into fall, we'll look at our depth, whether we're healthy or not and where he can best help us."
WEDNESDAY SCRIMMAGE REPORT
In their major scrimmage of spring practice, MacIntyre said the Buffs showed well overall, particularly in their physicality. The morning's work, conducted inside the team's practice bubble, covered a variety of scenarios – including overtime, two-point conversions, sudden changes in field position, the offense being backed up and various third-down situations.
"I was pleased on both sides . . . one side was not ahead of the other," MacIntyre said. "Guys made plays on both sides. It was a good scrimmage and no one got hurt."
Defensive lineman Samson Kafovalu missed the work due to a minor injury suffered earlier, MacIntyre said.
Wednesday's practice marked the sixth of the Buffs' NCAA allotted 15. Two more scrimmages – both also closed – are scheduled before the annual spring game on Sunday, March 15 in Folsom Field (2 p.m.).
—–
February 23rd
CU defense getting settled into new schemes
Press release from cubuffs.com … A Colorado defense that has struggled in recent years will stand at the center of the attention this fall. A unit that has ranked at or near the bottom in total defense every year since the team joined the Pac-12 in 2011 now comes under the responsibility of newly hired defensive coordinator Jim Leavitt.
Through the first five spring practices, Leavitt's defense is trying to adjust on the fly to his schemes, but head coach Mike MacIntyre expects a long learning process before any assessment can be made of just how much better the unit can be in 2015.
"They're learning. It's a matter of terminology and just learning the new system," MacIntyre said Monday at the conclusion of practice No. 5. "We weren't ready to run red-zone defense on Saturday, but it's something we're working on for the next scrimmage to simulate real game situations."
Although nothing could become very clear until late August, a closed scrimmage on Wednesday is expected to serve as an early litmus test as the defense will get a chance to show how much of Leavitt's scheme it has absorbed.
"Wednesday should be pretty interesting," said MacIntyre. "We haven't gotten a chance to really see them in full-on action yet and as a staff we're looking forward to that."
One of the players expected to help that defense make the big leap will be starting middle linebacker Addison Gillam, the team's leading tackler as a freshman in 2013. After a record-setting first season on campus, Gillam's sophomore season was plagued by myriad injuries that frequently derailed the tackling machine last fall.
The same concussion and elbow issues that disrupted most of his 2014 campaign are now reason for caution during the spring as the coaching staff looks to limit the amount of hitting their defensive captain will do until August camp opens. As a result, Gillam hasn't taken part in any of the tackling and physical play during the team's first two practices in pads of the spring.
"He got dinged up a lot last year and I just didn't want to get him hurt on the first few days of hitting," said MacIntyre. "I'm sure he will hit at some point but I'm not sure when."
Returning stalwarts like Gillam will definitely play big roles in turning the unit around this fall but some of that burden will also fall to a number of the new faces expected to see significant and immediate playing time. Chief among those newcomers may be junior college transfer Afolabi Laguda, who made a name for himself at Butler Community College (Kansas). In the absence of graduating senior and top cornerback Greg Henderson, Laguda is expected to be one of the top candidates to start opposite senior Kenneth Crawley.
"He's good," MacIntyre said of Laguda. "He's been as good as advertised so far. He really looks like he can be a strong player and we're very excited."
—–
February 21st
First spring scrimmage – "We got a lot of stuff accomplished"
Press release from cubuffs.com … The University of Colorado football team continued with spring practices Saturday, once again from the confines of the team's practice bubble as snow continued to fall in the area. It was the third of four practices thus far to be completed in the bubble, and the first to include full contact hitting and scrimmaging.
"We got a lot of stuff accomplished," coach Mike MacIntyre said. "I thought the defense in one week's time has got a lot of stuff together and is doing well there, and offensively I think they are making plays there, too. I thought today was a good hard practice."
This is MacIntyre's third spring with the program and he feels that continuity is paying dividends in the effectiveness of each practice and how it translates to developing players. Particularly, this spring has been even more effective due to recent changes in NCAA legislation that allows coaches contact with players prior to spring practices beginning.
"Practices just keep getting smoother and smoother," MacIntyre said. "I've been pleased with how the defense has been able to learn as much as they've learned. The meetings we had before we started (spring practice) were good, because of that new NCAA rule we can meet with them, so that helped our guys get prepared for spring practices, especially on defense."
About half of Saturday morning's practice consisted of contact drills and tackling, including a scrimmage at the end. Thus, players were able to display more tenacity than any previous practice.
"Yeah, it was physical," MacIntyre said. "Our inside drill was physical, I thought the scrimmage was physical at times, especially when there were physical parts that needed to be done like coming off the ball offensively and defensively. I thought the physical part was pretty good."
Unfortunately, the increase in hitting led to some injuries as walk-ons Joey Tuggle and Devyn Grimes both left practice early due to knee ailments. MacIntyre is unsure of the extent of Tuggle's injury, but said he believes Grimes suffered a sprain and should be back soon.
The Buffs are scheduled to practice again next Monday, Wednesday and Friday, with a scrimmage set for Wednesday.
LIUFAU MAKING PLAYS
MacIntyre was asked about his impressions quarterback Sefo Liufau, and the coach said he has liked what he's seen from his incumbent starter thus far.
"He's looked good," MacIntyre said. "He made some plays today. I thought he's done some good things, moving around well, I know he is moving better this spring than he was last spring."
MacIntyre said Liufau appears to be in better shape which has allowed him more mobility and play-making.
BOWLING WITH THE BUFFS
Saturday afternoon the Buffs visited Fat Cats bowling alley in Westminster to take on former players in a round of bowling.
Former CU All-American and John Mackey Award winner, Daniel Graham, has been organizing a group of about 40 former players that are trying to get involved with current players in a fun and different way than simply attending practices. MacIntyre is a big proponent of the idea.
"I think it will be a lot of fun for (current players) to meet guys they've read about, heard about, and then guys tell stories and tell them what it's about and what their future is about," MacIntyre said. "They'll probably tell them, 'We hated spring practice too, but it's a necessary evil' and all of those sorts of things."
MacIntyre said all players will be divided by position and have competitions between position groupings. In the future, more events are expected to be planned including community service efforts involving both the current and former Buffs.
—
Early enrollee Dillon Middlemiss happy to be in Boulder
Press release from cubuffs.com … For most high school football recruits, putting pen to a National Letter of Intent is the culmination of a years-long recruiting process, and choosing the school that they want to send it to is the biggest decision of their lives. Not for Dillon Middlemiss. For him, the NLI was a formality, the solidifying of a commitment he had made long before a coach knocked on his door.
"My dad came here (University of Colorado)," Middlemiss said. "It was just an easy decision. It's where I wanted to go. I was a fan since I was a little kid. Always came to games and stuff. They gave me the whole tour but this is where I wanted to go."
Middlemiss appeared on Colorado's radar two years ago, when the staff noticed his size, his toughness, his potential for growth, and his strong academics — he graduated from high school a semester early with a 3.0 GPA.
"We had a couple nice, long visits," Buffs offensive line coach Gary Bernardi said.  "I think his family was happy with everything."
The visit to the 6-foot-5, 290-pound offensive lineman may have been the easiest recruiting trip that Bernardi and special teams coordinator Toby Neinas will ever undertake. Middlemiss' other scholarship offers — from Colorado State and Wyoming — barely merited consideration.
"They didn't really have to pitch to me, honestly," Middlemiss said of his visits from Neinas and Bernardi. "There was no other choice."
So from the start, CU had the loyalty of the fourth-ranked in-state prospect. Middlemiss started for three years at Pomona High School in Arvada — at left guard as a sophomore and left tackle as a junior and senior. He was a mauling run blocker for an attack that averaged nearly 300 rushing yards per game.
Middlemiss committed just two penalties in his career; the five sacks he allowed as a sophomore are the only ones he ever gave up, and in his junior and senior seasons he let his quarterback be pressured only twice. Middlemiss shrugged that off as a product of the level of competition in Colorado high school football, but it helped land him all-state honors and got him on the Buffs' radar.
The only school Middlemiss wanted to attend was the first one to offer him a scholarship. A month later, at Colorado's spring game in April 2014, Middlemiss verbally committed.
His decision made, Middlemiss spent the summer installing garage doors with his best friend (he joked that it would make a nice fallback career, should football not work out), then played his senior season free from the recruiting circus.
"I hated recruiting," Middlemiss said. "I hated talking to coaches, I hated them messaging me on Facebook, I hated having to call them. I don't know, something about that bugged me. All the rules and stuff, I didn't really like it. I just wanted to get away, just go to college."
"Obviously, I wanted to talk to the CU coaches," he continued. "I wanted to get that offer, I wanted to become close with them. But I feel like there are some coaches that are a lot more pushy, not as friendly."
Two months after Pomona's season ended with a loss to Valor Christian in the state quarterfinals, Middlemiss was in Boulder, another freshman awed by the size and scope of a college campus as a January enrollee.
"Stepping into Chem 140, the huge lecture hall, is insane," he said. "Just to see 200 people sitting in one room, getting ready to listen to one teacher."
If Middlemiss was as amazed by the college practice field as much as the college classroom, he hasn't shown it. He, Isaac Miller and Grant Watanabe are the Buffs' only freshmen who are participating in spring drills, and they have all acclimated admirably.
"They're doing well," Colorado coach Mike MacIntyre said. "It's kinda coming at them fast, but they're doing good."
That first lecture in Chem 140 was Middlemiss' Whoa, I'm not in high school anymore moment. He'll have plenty of those this season — the first time he sprints onto Folsom Field behind Ralphie, the first sack he allows. But those are a spring and a summer away.
"Wait and see," Bernardi said of the Buffs' approach with Middlemiss in camp. "Right now, what is it, February? But he's fine. He's doing good."
Right now, it's time for practice, and Dillon Middlemiss is exactly where he wants to be.
—
Jaleel Awini and Christian Shaver adjusting to life at linebacker
From the Daily Camera … "I just hope to get on the field," Jaleel Awini said. "I just want to help this team out in any way I can."
Awini seems perfectly suited to outside linebacker, where he is practicing this spring. He is 6-foot-2, 225 pounds and can run. If coaches opt to spend a significant portion of the defense in hybrid looks or the 3-4, Awini or another player could see a lot of action and plenty of opportunities to make a name for himself.
"He looked good moving around running and showing his athleticism," coach Mike MacIntyre said of Awini's first practices on defense this week. "He didn't look like he was a fish out of water."
Awini said playing quarterback for several seasons at the college level will help him on the defensive side of the ball because he will know certain clues to look for in reading an offense.
…
Shaver said he played half a season at linebacker during his junior season of high school.
"It's difficult but I feel like it will be a good position for me," Shaver said. "I feel like I fit in really well there. I've got a lot of work ahead, but if I can just get the fundamentals down, I feel like I'm going to be a good asset to the team."
Shaver is playing the same position as two-year starter and team captain Addison Gillam. He said Gillam has been excellent in pointing things out and making suggestions in the early going this spring.
"He's just a good leader for us," Shaver said.
… Continue reading story here …
—-
February 20th
Buffs practice at Boulder high fields
Press Release from cubuffs.com … With a snow storm fast approaching, Colorado head coach Mike MacIntyre decided to take advantage of what might be his final chance to practice outdoors for a quite while by moving the team's Friday session to the football fields at nearby Boulder High School.
MacIntyre and his Buffs have practiced inside their bubble structure below Folsom Field for the first two days of spring camp. They will more than likely work from inside it again Saturday morning as heavy snow is forecast for the metro area.
With only 15 spring practices allotted, MacIntyre knows his time is limited to work in an environment that will more closely mimic game days this fall.
"It was great (practicing at Boulder High)," said MacIntyre. "The snow (from last week) had all melted but our practice field was all muddy and I wanted to get outside because it might be snowing again tomorrow. I didn't want to be in the bubble again. It was really excellent out there. We had a lot of room and the kids enjoyed running around out there. Some of them had never been there even though it was right by campus. About half of (the players) had never been there. It was fun."
The outdoor session also gave the team the opportunity to work in the kicking game without worrying about the restrictions inside the bubble.
"It definitely affects kickoffs and punting," said MacIntyre. "But, what they do is, (special teams coach) Toby (Neinas) takes (the kickers) outside and they clear off some snow and they kick out there but we don't get to work on it as a team. So, we did some of that today so in that area, getting outdoors really helped."
Saturday's practice (8:50-11 a.m.) will be the first of the spring open to the public.  All are welcome for an early glimpse of Colorado football in 2015.
—
THOMPSON SEES FIRST CONTACT SINCE INJURY
For the first time since a frightening concussion in late October that would sideline him for the remainder of the season, safety Tedric Thompson participated in full-contact drills on Friday. Thompson did not tackle but was allowed to hit in workouts and MacIntyre thought the result was positive.
"He did well today," MacIntyre said. "Today was the first time he has hit since (his injury). We didn't go to the ground but he was doing well in the tackling drills. I never saw him shudder away or anything like that. It was just one of those freaky deals where a knee hit him in the head. I think he'll be fine."
Thompson led the team in both interceptions and in tackles at the time of the injury on October 25th. His loss over the final month of the season forced a fast-improving defense to take a step back without one of its most talented athletes.
"He was playing really, really well when he went out in the UCLA game there," said MacIntyre. "That hurt us in some other games because he was starting to make plays and (interceptions). He was very active. I think he was kind of coming into his own at the time. Hopefully he'll keep improving from there and I believe he will."
—
Mike MacIntyre comments after Friday morning's practice
Coach MacIntyre post-practice comments posted on YouTube, courtesy of BuffStampede.com
—
Mike MacIntyre interviewed by Fox Sports
From FoxSports … CU head coach Mike MacIntyre joined Bruce Feldman and Stewart Mandel on a new edition of The Audible to discuss the "climbing" process currently ongoing in Boulder, how Marcus Mariota will adapt to the NFL, how he's trying to return the Buffaloes to their glory days of a generation ago and much more.
The podcast can be found and listened to here.
—–
February 18th
MacIntyre: Jered Bell's sixth year should be a "slam dunk" … Awini adjusting to linebacker
Press release from cubuffs.com … Early in spring camp, much of the focus for Colorado football has been on a rebuilt secondary that has been victimized by a tremendous amount of player and coach turnover since the conclusion of the 2014 season.
Coach Mike MacIntyre, who spent much of his efforts during fall practice helping with the coaching of the defensive backs, is taking more of a hands-off approach this spring. He makes room for newly hired assistant Joe Tumpkin, who will coach the safeties, while returning assistant Charles Clark coaches the cornerbacks, giving the team two full-time defensive backs coaches for the first time since 2013.
The move not only increases the amount of attention the unit receives, it frees up MacIntyre to broaden his focus on the entire team and play more of the overseer's role that circumstance robbed him and the team of a year ago.
"What I did with the (cornerbacks) last year is I took them individually and I was around them some but not all the time," MacIntyre said Wednesday after day two of the Buffs' spring drills. "Individually, they do so many different things than the safeties do. So, in practice I'm roaming around a little bit more (now) especially during the individual periods and watching different things, taking notes and coaching the coaches."
Actually, MacIntyre reminded the media that the DB unit will really have the entire defensive staff to help direct and supervise a group that allowed the fifth-fewest passing yards in one of the nation's most pass-happy conferences in 2014.
"(Defensive line coach) Jim Jeffcoat has a graduate assistant, AJ Baer and (GA) Nate (Taye) is helping (defensive coordinator) Jim Leavitt so we have six guys working with it," said MacIntyre. "Most of the games you are playing, 75 percent of the season or more, you're playing with five DBs on the field. Sometimes a linebacker is sinking off and playing some DB type schemes and so you need all of those eyes back there and all that expertise."
Expertise is one of the biggest qualities MacIntyre saw in Tumpkin when he hired the former Central Michigan defensive coordinator less than two weeks ago. Tumpkin brings an added to dimension that the unit may have lacked a year ago, giving them their very own defensive coordinator, an expert mind who understands the intricacies of the entire defense and can offer more than what the typical defensive back gets from a typical defensive backs coach.
"He has great knowledge," said MacIntyre. "He's an excellent teacher and very fundamentally sound on what he's doing. He understands secondary play and defensive front play. He's very good with all phases of it. I've been impressed with his work ethic with the guys and his knowledge. I knew his knowledge was good. I see him in meetings and he can translate it to the players. He is very vocal with the secondary."
As for personnel on the field, the unit is hoping to count on the return of sixth-year senior safety Jered Bell, who missed all of two seasons (2012, 2014) with torn ACL injuries to both knees. Bell is now close to returning to full strength but is still awaiting word from the NCAA on whether he will be eligible for another year.
"Compliance has turned in (the petition for a sixth year)," said MacIntyre. "We hope it's a slam dunk because he's not even played a play for two seasons with his injuries on both knees. We feel it's going to be a slam dunk and we should know something hopefully sometime this spring.
"Missing two complete seasons is the standard. He didn't even play a snap so we feel good and he's a good student. There's no issue there, no GPA problems or anything like that so we feel good about it. They're in the process and we're waiting on it."
Bell started in 11 games in 2013 and was second and fourth, respectively, in interceptions and tackles.
AWINI ADJUSTING TO NEW ROLE
Air Force transfer Jaleel Awini, who redshirted as a quarterback a year ago, appears to be a comfortable fit at linebacker this spring. The team wanted to keep Awini at QB, but there was lack of depth at linebacker. With his athleticism, Awini became an ideal candidate to make the transition.
"He looked good moving around out there," said MacIntyre. "He looked good in space, he looked good moving around and running. He showed his athleticism. When we throw them into pads Friday it'll be a little bit different but he looked good and athletic.
"He didn't look like a fish out of water. I think one of the biggest tests will be how he reacts when the ball is snapped on defense. He was a good safety in high school so I think it will be all natural. To see how he reacts and see how his instincts are there will be the biggest thing, because he's definitely athletic enough."
—–
February 16th
Spring Practices underway
Press release from cubuffs.com … The University of Colorado football team opened spring practice Monday morning inside its practice bubble, where the Buffaloes went through a 120-minute non-contact workout.
Coach Mike MacIntyre left the practice feeling positive about where his team is after the first of 15 spring drills leading up to the annual spring game on March 15th (2 p.m., Pac-12 Network).
"They had a good day, they got after it in here," MacIntyre said. "It looked like to me that they were all moving around well and doing some good things."
MacIntyre's first-day focus was on the team working through injuries that will keep some players sidelined and replacing the 22 lettermen the Buffs lost.
Nowhere is the team dealing more with setbacks than at the running back position, which hasn't been at full strength since prior to last season. Junior Michael Adkins II and sophomore Phillip Lindsay, two of the team's three leading returning rushers, both began the spring on the disabled list.
"Phil is a little bit farther ahead than Michael and it's just a turf toe so you have to see how that goes," said MacIntyre. "It'll be day-to-day with Phil. Some days he'll be able to go a little bit but if it's too sore, we'll have to back off.
"With Michael, his knee is fine, he just had a bone bruise which is really tender so we have to make sure that heals up. That takes a little bit longer but he'll be back here hopefully by the middle of the spring."
As a result of both injuries, a number of players from other positions have been working out at running back in order to compensate for the loss.
"We've moved a couple of guys over there" MacIntyre said. "We do have to be creative on what we're doing there to make sure we don't bang them up."
One of the players looking forward to getting more playing time is redshirt sophomore Devin Ross.
"I think this is really big for Devin," MacIntyre said. "This spring, I'm looking for Devin to step up and be a good football player for us. I think he has the athletic ability to do it."
Meanwhile, on the defensive side MacIntyre is looking towards sophomore Chidobe Awuzie, among others, to pick up some of the slack created by the departure of three key defensive backs who have graduated. Cornerback Greg Henderson, and safeties Richard Yates and Terrel Smith were each significant contributors in 2014 and Awuzie might be needed to fill in at a number of spots while many of the newcomers adjust to their roles.
"We have him in all three spots and we'll figure out where that fits and what we're doing on defense," MacIntyre said. "He's a very good athlete, he's very physical and we have to find out the best place for him to help us in all phases of the defensive game."
The team will return to work on Wednesday morning for its second practice.
—–
Earliest start to spring practices in CU history …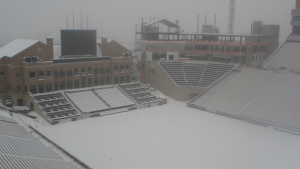 ——