—
Colorado Daily
—
August 29th
… CU in a few minutes …
Hurricane Ignacio currently a category 4 hurricane, but looks less and less like an issue for the Buffs
From accuweather.com … Ignacio is more than 600 miles east-southeast of Hilo, Hawaii, and not expected to pass north of the islands until Monday night and Tuesday, but impacts will begin sooner.
"Ignacio will pass to the north of the Hawaiian Islands impacting the islands with rough surf and strong rip currents," warned AccuWeather Senior Meteorologist Mike LeSeney.
The threat for rip currents and rough seas increase across the Hawaiian Islands (in an east-to-west fashion) on Sunday, with the potential to become quite dangerous late on Sunday into Monday.
Ignacio will continue to shift towards the northwest, bringing it closer to the Hawaiian Islands on Monday.
The northwestward progression will bring Ignacio into an environment of cooler ocean waters, drier air, and increasing shear.
These factors will begin to weaken Ignacio by Monday, and this trend will cause Ignacio to become a tropical storm by Wednesday as it passes just north of Hawaii.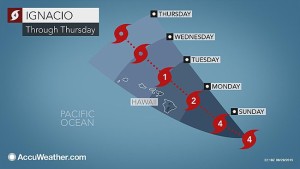 —–
August 28th
… CU in a few minutes …
Hurricane Ignacio likely to be gone by next Thursday, but could affect CU travel plans
Hurricane Ignacio is projected to be on its way beyond the Hawaiian islands well before the Colorado/Hawai'i game is set to kickoff Thursday (7:00 p.m., local time). The storm could still impact the Buffs' travel plans, as the team is scheduled to leave Denver on a charter at 8:00 a.m. (MT) on Tuesday, September 1st.  There is a scheduled practice for 2:00 – 3:00 p.m. local time on Tuesday, with a team luau set for 6:00-9:00 p.m. at the team hotel.
The current track of Ignacio …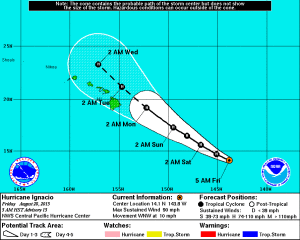 Here is the Honolulu forecast for next week:
Monday
Scattered showers after 8am. Mostly sunny, with a high near 87. Breezy, with a northeast wind around 16 mph, with gusts as high as 23 mph. Chance of precipitation is 30%.
Monday Night
Tropical storm conditions possible. Showers likely. Mostly cloudy, with a low around 76. Chance of precipitation is 60%.
Tuesday
Tropical storm conditions possible. Showers likely, mainly before 9am. Partly sunny, with a high near 86. Chance of precipitation is 60%.
Tuesday Night
Scattered showers. Mostly cloudy, with a low around 76. Breezy, with a northwest wind around 18 mph, with gusts as high as 26 mph. Chance of precipitation is 50%.
Wednesday
Scattered showers. Partly sunny, with a high near 86. Breezy, with a west wind around 15 mph, with gusts as high as 22 mph. Chance of precipitation is 50%.
Wednesday Night
Scattered showers. Mostly cloudy, with a low around 76. Breezy, with a southwest wind around 15 mph, with gusts as high as 21 mph. Chance of precipitation is 50%.
Thursday
Scattered showers. Partly sunny, with a high near 87. Breezy, with a south wind around 16 mph, with gusts as high as 23 mph. Chance of precipitation is 40%.
—–
August 27th
… CU in a few minutes …
Hurricane Ignacio could throw a wrench into CU's game at Hawai'i
From AccuWeather.com … Ignacio, located about 1,200 miles east-southeast of Hilo, Hawaii, has been strengthening since forming Tuesday afternoon and continues to become better organized, stated AccuWeather Meteorologist Dave Samuhel.
The combination of low wind shear and warm waters allowed Ignacio to become a hurricane on Wednesday evening.
"Ignacio is moving rather slowly, so it will not be a threat to Hawaii for some time," Samuhel said. The main danger Ignacio poses in the near-term is rough seas for those with shipping interests.
"Regardless [of its current distance], Hawaii residents should keep an eye on Ignacio," added Samuhel.
"The initial thinking is that Ignacio will pass just east of the Big Island Monday night, local time," stated AccuWeather Hurricane Expert Dan Kottlowski. "The large area of high pressure to the north could help guide it closer to the other islands Tuesday and Wednesday of next week, but it will be weakening by that time due to passing over slightly cooler waters."
Honolulu recorded 3.60 inches of rain Monday, more than six times the normal monthly amount.
Honolulu has received nearly 8 inches of rain for the month so far, which is 13.5 times their normal for the entire month. The heavy rain caused many issues ranging from flooding and washed-out roadways to sewer overflows.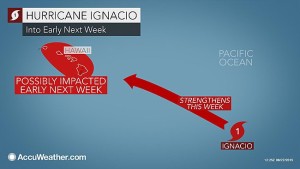 —–
August 25th
… CU in a few minutes …
CU's Chris Fowler moving from ESPN GameDay to the broadcast booth
From Neill Woelk at cubuffs.com … Twenty-five years ago, a young ESPN broadcaster walked onto the set of a nondescript, half-hour college football studio show for the first time, a show that was struggling to gain an audience and one that network officials frankly weren't sure would survive.
A quarter century later, Chris Fowler is stepping away from ESPN's GameDay, now a behemoth in the broadcast world, a show that has not only set the standard for the industry, but one that has established a wildly popular format that is unmatched on any other network.
Today, when GameDay shows up on a college campus, it's an event unto itself — some might argue bigger than the actual game itself. In his 25 years on the set, Fowler became synonymous with the show, planning, organizing and building it into a product that has won five Emmys and countless other awards within the industry.
But, 25 years — even 25 years of unmatched success — is enough. When the show makes its season debut in September, Fowler won't be the GameDay host. Rece Davis will take over those responsibilities.
Instead, Fowler will now have the luxury of concentrating on his first love: calling events from the booth.
"The booth is why I got into the business," Fowler said. "I've had the opportunity to do a wide variety of things at ESPN, from SportsCenter to GameDay to play-by-play. I've enjoyed every opportunity.
… Continue reading story here …
—–
August 21st
… CU in a few minutes …
Gary Barnett returns to CU … as a radio announcer for KOA
From cubuffs.com … His first time at the University of Colorado, he was an assistant football coach for a team that won a national championship and three Big Eight Conference titles. In his second stint in Boulder, he coached the Buffaloes to their only Big 12 championship. Now he will return to the state and school he loves for a third time, and hopes to bring that good fortune with him again.
CU and KOA announced Friday that Gary Barnett will join the broadcast team for Colorado football on a limited basis this fall, and in 2016, he will replace the legendary Larry Zimmer as the full-time analyst.
He will be in the radio booth for two games this fall, a road game at UCLA (Oct. 31) and the home finale against Southern California (Nov. 13), which will also be Zimmer's last game at Folsom Field as he wraps up his 42nd season calling Golden Buffalo football. Others will fill in for those few games they cannot attend, as Barnett is will work his 10th and final year as a regular commentator for Sports USA Radio Network, working top games around the nation.
"I think it's great timing for me and hopefully for the university," Barnett said. "Going through the new facilities (at CU) just really made me want to be a part of this. I've enjoyed traveling around the country for the last 10 years, but I gave this a lot of thought and I am looking forward to it. I also appreciate Larry being in favor of it, having the support of the broadcasting icon that he is. I think we'll have a lot of fun."
"Finding someone to follow a legend like Larry Zimmer is no easy task," CU athletic director Rick George said. "You need the right fit. Gary not only has familiarity with our program that dates back over three decades, he's one of finest game analysts in the business today. I believe our fans will be pleased with the addition of Coach Barnett to our broadcasts and we welcome him home."
"Gary is a dear friend and our relationship goes back to when he was a young assistant coach," Zimmer said. "I couldn't be happier with Gary taking my seat on the CU broadcasts. When he took the job doing the national radio college games, we sat on my patio and went over my charts and the type of preparation that I did for a game. So, in a way, I had some input in his training to be a radio broadcaster. He has come a long way since then, and I'm looking forward to working with him for the USC game and possibly others, and listening in the future."
… Continue reading story here …
—
Jeromy Irwin on Campbell Award Watch List
From cubuffs.com … Buff left tackle Jeromy Irwin has been named to the Earl Campbell Tyler Rose Award watch list.
The award, named after former college and NFL great Campbell, a native of Tyler, Texas, is given to the top offensive player in Division 1 who was either born in Texas and/or graduated from a Texas high school, and/or played college ball in Texas. According to the selection committee, the player must also exhibit "integrity, performance, teamwork, sportsmanship, drive, community and tenacity."
Irwin, a 6-foot-5, 295-pound junior, played high school ball in Cypress, Texas.
—–
August 20th
… CU in a few minutes …
ESPN Biggest position battle for Colorado … defensive line
From ESPN …
Biggest remaining position battle: Defensive line
Importance: In the Pac-12 South, Colorado faces possibly the most difficult rebuilding situation in the country. The margin for error is just too small to see incremental improvements translate to wins. A year ago, the offense — particularly the passing game — did its part to keep the Buffs in some games, but their defense just didn't hold up. They weren't big enough up front, not strong enough, not enough depth. That won't be fixed overnight, but through the recruitment of junior-college defensive linemen Jordan Carrell, Leo Jackson and Blake Robbins, it was clear the staff prioritized the need for players who could help right away.
Of those three, Carell and Jackson, both tackles, appears more likely to contribute right away. Carell was listed as the No. 2 behind Samson Kafovalu coming out of spring ball, but has worked with the first team at times in camp. Without last year's starting defensive tackles — Juda Parker (graduation) and Josh Tupou (discipline) — that is a definite spot of concern. Justin Solis has played a lot of football, but other than him, there isn't much experience on the interior. Kafovalu's return to the team after a season away should help, but, ideally, Jase Franke and Jackson would play a lot of snaps, too.
This isn't a traditional battle in that it's one guy vs. another, but it's still the most important in terms of where Colorado will benefit the most.
—
Mason Crosby listed on FWAA 75th Anniversary All-American team
From the FWAA … The Football Writers Association of America proudly announces its 75th Anniversary All-America Team, celebrating the association's All-America teams from near the end of World War II through the 2014 season. The FWAA, which was founded in 1941, has picked an annual All-America team since the 1944 season, making it the second longest continuously selected team in major college football.
The FWAA's first All-America team in 1944 included Army's famous running back tandem of Doc Blanchard and Glenn Davis and Georgia Tech's Frank Broyles, who later became Arkansas' legendary head football coach. Seven decades later, the 2014 team featured Heisman Trophy-winning quarterback Marcus Mariota of Oregon, Outland Trophy winner, offensive tackle Brandon Scherff of Iowa, and Bronko Nagurski Trophy winner, linebacker Scooby Wright III of Arizona.
"This was one of the most fun, yet most difficult exercises I've had in life – next to parallel parking, that is," said FWAA 75th All-America Committee chairman Kirk Bohls of the Austin American-Statesman. "Truly, it was an exciting – if not impossible – task to find the best 75 college football players ever. Please save your hate mail, but feel free to weigh in and tell us how we messed up. And I'm sure we did, but no one should argue that it wasn't a great idea to honor the best who have ever played the game. Let the debating begin."
A nomination ballot with selected players from all FWAA All-America teams was sent to the entire membership this spring. The popular vote was then taken into consideration by a Blue Ribbon Committee of FWAA past presidents, current board members and officers. That committee put the finishing touches on selecting the 75-man team. In order for a player to be considered for the FWAA's 75th team, he had to be on a previous FWAA All-America team.
The FWAA's 25-man first team included Navy quarterback and Heisman Trophy winner Roger Staubach, the only member from a military academy; the only two-time Heisman Trophy winner running back Archie Griffin of Ohio State; three-time FWAA All-America end Leon Hart of Notre Dame; and the only two-time Outland Trophy winner, center Dave Rimington of Nebraska. On the three 25-man teams, the Cornhuskers led all schools with six selections – including four on the first team – and four of their overall honorees are Outland Trophy winners. Ohio State and Pittsburgh each had five selections and Alabama, Oklahoma and Texas had four. Schools with three selections were Florida State, Georgia, Michigan and USC.
… The full list, including CU's Mason Crosby as the second-team kicker, can be found here …
75th Anniversary All-Americans by school (75 players from 41 schools): Nebraska 6, Ohio State 5, Pittsburgh 5, Alabama 4, Oklahoma 4, Texas 4, Florida State 3, Georgia 3, Michigan 3, USC 3, Florida 2, Miami (Fla.) 2, Notre Dame 2, UCLA 2, Auburn 1, Baylor 1, Boston College 1, BYU 1, Colorado 1, Georgia Tech 1, Illinois 1, Iowa 1, Kentucky 1, Louisiana Tech 1, Marshall 1, Maryland 1, Michigan State 1, Mississippi Valley State 1, Navy 1, North Carolina 1, N.C. State 1, Oklahoma State 1, Penn 1, Penn State 1, SMU 1, Southern Miss 1, Tennessee 1, Texas A&M 1, Utah State 1, Virginia Tech 1, Washington 1.
75th Anniversary All-Americans by current conference: Big Ten Conference 19, Atlantic Coast Conference 15, Southeastern Conference 13, Big 12 Conference 10, Pac-12 Conference 7, Conference USA 3, Independents 3, American Athletic Conference 2, Ivy League 1, Mountain West Conference 1, Southwestern Athletic Conference 1.
—–
August 19th
… CU in a few minutes …
Wilner: CU's schedule 9th-most difficult (4th easiest) in the Pac-12
From the San Jose Mercury News … Given the disparity in schedules and the role that plays in determining the outcome of division races and bowl bids, this seems like a worthy topic to begin our multi-part, weeks-long preview of the Pac-12 football season.
Of course, schedules that look ominous now could prove soft three months hence, and vice versa. But it's far more fun to break it all down before we actually know anything, with the expectation (as always in this space) that conclusions will prove to be at least reasonably accurate.
Key point this year and every year: Only in the quantity of league games are the schedules equal; the rotation is most certainly not.
… The Hotline took a close look at the schedules … the non-conference lineups, the home and road splits, the placement of byes, the weeknight and Saturday splits, the back-to-backs, the traps … all of it.
9. Colorado: Soft non-conference lineup with Colorado State (in Denver) as the stiffest challenge. Majority of the toughest games are at home and well placed: The Buffs get Stanford at home one week before the Cardinal's showdown with Oregon, and they get USC at home one week before the Trojans head to Eugene. Yes, CU plays 13 games because of the Hawaii exemption and doesn't have a true bye, but we will count Nicholls State as a bye.
—–
August 18th
… CU in a few minutes …
Albertsons/Safeway to serve as title sponsor for Rocky Mountain Showdown
Press release from cubuffs.com … Albertsons/Safeway, in association with the University of Colorado and Colorado State University Athletic Departments, announced today that the grocery retailer would serve as title sponsor for the Rocky Mountain Showdown on Saturday, Sept. 19 at Sports Authority Field at Mile High Stadium.
The Rocky Mountain Showdown is Colorado's longest running in-state football rivalry between the Colorado Buffalos and Colorado State Rams, attracting nearly 70,000 fans annually to the City of Denver and Sports Authority Field at Mile High Stadium.
"No other annual sports event in Colorado attracts greater anticipation, attention and emotion than the annual CU/CSU game," said President, Albertsons/Safeway Denver Division Susan Morris. "This sponsorship is a great opportunity to show our loyal customers that we are committed to Colorado and college athletics."
Albertsons/Safeway will work closely with Learfield Sports' Buffalo Sports Properties and Rams Sports Properties staffs, as the exclusive athletic multimedia rights holder for each University, to incorporate Albertsons and Safeway's trademarks with the game's brand in all advertising, promotion and game day signage.
The grocer plans to engage fans through a social media "submit it to win it" campaign with an ultimate tailgate package as the grand prize. More rules and details of the contest will be available on Albertsons and Safeway Facebook pages within the next few weeks.
—–
August 17th
… CU in a few minutes …
Drive for $105 picks up $5.5 million in 30 days … $20 million endowment goal achieved
It has been a good month for the Sustainable Excellence Initiative, with the "Drive for 105" picking up $5.5 million in the past 30 days, pushing past the $82 million mark.
Tracking the history this year:
Feb. 4th (Signing Day) … $73.4 million
Mar. 21st (email from Rick George) … $75.27 million … $57.41M capital (goal: $85 million) … $17.85M endowment (goal: $20M)
May 15th … $75.78 million … $57.64M capital … $18.13M endowment
June 15th … $76.01 million … $57.84M capital … $18.17M endowment
July 15th … $76.81 million … $58.53M capital … $18.28M endowment
August 15th … $82.36 million … $59.28 capital … $23.08M endowment (goal of $20 million achieved)
—
Kickoff luncheon set
From cubuffs.com … The 27th Annual Boulder Chamber Colorado Football Kickoff Luncheon is set for this Friday, August 21, at Balch Fieldhouse.
Individual tickets for the luncheon are $35 or tables for 10 people are available for $350 and table sponsorships are available for $1,000.  Doors open at 11:15 a.m. and the program will begin at Noon.  Friday's football practice is also open to the public starting at 9:50 a.m. on the lower practice fields.
Because the luncheon is prior to the start of classes on the CU-Boulder campus, the entire football team and coaching staff will be in attendance.  Additionally, those in attendance can take a tour of the football locker room and the training room on the first floor of the new Champions Center.
Complementary Parking is available in the RG Zone, the surface lot and parking structure along Regent Drive between the Coors Events Center and Colorado Avenue on a space availability basis.  Once those lots are full, parking attendants will be on hand to direct people to open parking lots which may be at the cost of the attendee.
—–
August 16th
… CU in a few minutes …
Pac-12 Network crew impressed with Colorado
From the Pac-12 … Wrapping up our tour of the mountain region, Mike Yam checked in with us after his day at Colorado to give some impressions of the team, new facilities and fellow analyst Jeremy Bloom's return to campus.
On facilities at Colorado…
"I was looking forward to checking out the facilities on the campus after speaking with Mike MacIntyre at Media Days. I already knew about the $156 million that was being used to upgrade the facilities. Coach MacIntyre had told me in Burbank that I was going to be blown away, and he was absolutely right. I did my own walking tour where I found Coach MacIntyre's office and decided to put my feet up on the desk to take in his view (which was absolutely stunning).
Ok, so I really didn't put my feet up in his office. I just took a look inside. The door was open, and the view was phenomenal!
The locker rooms are as good as anyone else's locker rooms in the Conference. The training facility is also very impressive, and that doesn't include the unfinished practice field that will be completed at some point over the next few months. Two years ago when we first started doing our training camp tour, it was abundantly clear that Colorado and arguably UCLA were at the bottom of the Conference in terms of facilities, which was disappointing for me considering what a great area Boulder is. I think moving forward, Coach Macintyre has an absolutely golden chip when it comes to recruiting."
Observations on the team…
"I think the one thing that stood out with the players on the field is just the sheer size of the guys. Two years ago when we were in Boulder, you could see they were towards the bottom of the Conference and were going to have some problems competing. Defensively, or even offensively, when guys put their heads down and were trying to make a hit, a lot of times they were being pushed back. I think this year, they're going to be the ones exerting more force.
I turned to Curtis Conway when we were watching the scrimmage and said, 'Is it just me, or does their offensive line look even bigger?' He turned back to me and said, 'It's absolutely night and day compared to what we saw two years ago.'
The other thing that stood out for me was the leadership and maturity. Sefo Liufau when i talked to him last year as a true sophomore, he's probably one of the most mature kids in the Conference. His ability now to be a leader on this football team is clear. Kenneth Olugbode is clearly vocal on the football field. You can see the leadership that's there. To give you some perspective on how young this team was even last year, 57% of their defensive snaps were from either true or redshirt freshmen, or sophomores. As this team continues to get older and develop in terms of their size and skill on the football field."
On Jeremy Bloom's return to campus…
"I knew when we were going to Boulder that Jeremy Bloom was going to be a popular guy. I was not only right, but I think I underestimated what his popularity actually is here. He was signing autographs with the kids, taking pictures and a horde of media who wanted to talk to him. He was definitely holding court for about 10 different reporters, which was kind of cool to see. You could just tell that there's so much pride when he's on the campus for his time here, but he's excited for the new facilities. I think for me, just seeing how happy Jeremy was to be back on the CU campus was a cool experience.'
—–
August 13th
… CU in a few minutes …
CU Video goes back-to-back, winning Football Scoop Video of the Year for the second consecutive year
From Football Scoop … We wanted to choose someone else. We really did. But in the end, Colorado once again produced the best video college sports had to offer in 2015.
Following last year's triumphant "Seasons" epic, Colorado provided a sequel in "Forever" that matched its predecessor in scope and execution. "Forever" successfully and elegantly informs recruits what life will be like when they are Colorado football players while also appealing to the fans who always wished they could be. The cinematography, editing, writing and overall concept are simply a step above the rest of the industry.
The FootballScoop staff would like to issue a congratulations to Jamie Guy and the rest of his staff and Boulder, and another congratulations to the five other finalists – Appalachian State, Clemson, Colorado State, Georgia and Mississippi State – as well the dozens of other entrants.
Here is a link to the "Forever" video … Enjoy!! (Even if you have watched it before, it's worth the next eight minutes of your day!!
—–