—
CU Through the Words of the Quotable Bill Murray
—
My education at the University of Colorado in the early 1980's was more than just blue books and long nights at Norlin Library. There were the Domino's pizza boxes stacked up in the corner of my dorm room, Sink burgers up on the Hill, and Long Island iced teas at What's Up? down on Pearl Street.
And there was Bill Murray.
My formative and impressionable years of high school and college were intertwined with Bill Murray classics, from Meatballs (1979) to Caddyshack (1980) to Stripes (1981) to Tootsie (1982) to Ghostbusters (1984).
So, with CU's football team mired in a Groundhog Day-esque series of losing seasons, and its basketball programs not providing sufficient hope for national relevance, I have turned to the words of Bill Murray for guidance (with my apologies to those too young or too insulated to get the references) …
—
"That is one nutty hospital" – Tootsie
On December 22nd, it was announced that CU defensive coordinator Kent Baer and defensive ends coach Andy Larussa were leaving Colorado for UNLV. With Colorado having finished 100th or worse in both total defense and scoring defense in each of Baer's years in Boulder, there were few tears shed.
If anything, the Buff Nation was excited about the possibilities for the future. The Buff defense in 2015 promised to be better, with a multitude of defensive linemen being added to the roster and only a few seniors lost. Speculation began that the CU administration was not only willing to pay for top talent at the defensive coordinator position, but were determined to bring such talent to Boulder.
Baer's announcement came just before Christmas, so the Buff Nation waited patiently during the bowl season, as high profile names like Clancy Pendergast, D.J. Durkin, and Ed Orgeron were tossed about. David Gibbs, the successful defensive coordinator at Houston and a former Buff, looked like a great fit.
One by one, though, the names came off the board, and Colorado fans were left to wonder whether anyone was willing to come to CU and coach the Buffs.
And the wait continues …
—
"So we finish the eighteenth and he's gonna stiff me. And I say, 'Hey, Lama, hey, how about a little something, you know, for the effort, you know.' And he says, 'Oh, uh, there won't be any money, but when you die, on your deathbed, you will receive total consciousness.' So I got that goin' for me, which is nice" – Caddyshack
With the conclusion of the football season this past Monday, the fall sports season finally came to an end. When the dust had cleared, the University of Colorado was standing 12th in the nation in the Learfield Sports Directors Cup standings. That's not bad when you consider that the Buffs had zero chance of accumulating points in sports such as women's field hockey and men's water polo.
The CU men's cross country team earned the school's sixth national championship in that event, with the women's team coming in seventh in the country. Meanwhile, both the CU women's soccer team and the CU's women's volleyball team had good seasons, advancing to play in the NCAA tournaments in their respective sports.
This past week, the CU ski team opened its quest for a 20th national championship with a victory at the Utah Invitational, and the CU women's lacrosse team opened practice for its second season, having posted a winning record and earning a post-season berth in its inaugural year. Meanwhile, track and field alumnae Jenny Simpson and Emma Coburn continue to set records and earn awards, with a fresh batch of CU track and field stars opening competition over the past few days.
The revenue sports at the University of Colorado continue to struggle, but other sports at CU (which will also be aided by the new facilities being constructed) continue to flourish.
So … We have that going for us … which is nice.
—
"And even if we win, if we win, HAH! Even if we win! Even if we play so far above our heads that our noses bleed for a week to ten days; even if God in Heaven above comes down and points his hand at our side of the field; even if every man woman and child held hands together and prayed for us to win, it just wouldn't matter because all the really good looking girls would still go out with the guys from Mohawk because they've got all the money! It just doesn't matter if we win or we lose. IT JUST DOESN'T MATTER!" – Meatballs
–
In a CU at the Game poll taken before the national title game, 83% of you wanted to "Back the Pac" and cheer for Oregon. I have to admit, I'm in the minority in such situations, going with the ancient proverb, "the enemy of my enemy is my friend".
This being the case, I had to chuckle when the following was posted on the internet the next day: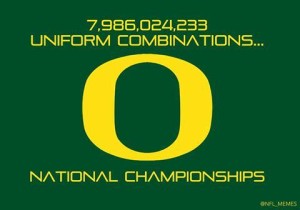 Still, schadenfreude aside, it's impossible not to accept that CU is Camp North Star to Oregon's Camp Mohawk. Colorado is so far behind in facilities, funding, talent, and fan support that it is difficult to see the Buffs catching up in the Pac-12 in the foreseeable future.
To make matters worse, it's not as if there are a bunch of Iowa State's, Kansas State's and Oklahoma State's (pre-Boone Pickens) – mediocre teams with little history – to jump over. Colorado is finally building new facilities, but, even when completed, Colorado will still be behind in the financial arms race. Utah, Washington State and Oregon State, teams above which Colorado should always be ranked, have already built new facilities, and are moving on to bigger and better while CU is just trying to equal what other schools already have.
The Pac-12 South finished the 2014 season with five teams in the national rankings. The 2015 season may very well open with five teams from the Pac-12 South ranked in the nation's top 25. As we have discussed before, for Colorado to rise up to even 5th place in the Pac-12 South will take some doing … and some time.
That being said, it wouldn't surprise me a bit to see CU rise up and take out a ranked team this fall, posting its first win over a ranked opponent since 2009.
But … it just doesn't matter … 'cause all the really good looking girls (recruits) will still go out with the guys from Mohawk (Oregon, USC) anyway, because they've got all the money!
—
"Recruiter: Have you ever been convicted of a felony or a misdemeanor? That's robbery, rape, car theft, that sort of thing.
"John Winger: Convicted? No.
"Russell Ziskey: Never convicted".  – Stripes
This week, it was announced that the NCAA would reinstate the victories taken away from former Penn State head coach Joe Paterno in wake of the Jerry Sandusky scandal. The NCAA settled its lawsuit with Penn State by giving back to Paterno and the Nittany Lions pretty much everything it had taken away two years ago. "The NCAA", said Pennsylvania state Senator Majority Leader Jake Corman, "has surrendered".
This had to raise a few eyebrows across the nation, especially in places like USC, which received a near death penalty for far less a crime than shielding a pedophile.
Meanwhile, in Boulder, the University of Colorado football team continues to pay for a crime it did not commit. Katie Hnida continues to travel around the country, blaming the University of Colorado and its football team for charges which were never actually filed. Here is an excerpt from an article from a story about Hnida speaking in Indianapolis this past April:
"During her stint at CU, Hnida faced numerous instances of sexual harassment from her teammates. Teammates would ridicule her about her breasts and ask how she wore pads. The problem escalated and Hnida was raped by a teammate. This led her to transfer, but she did not tell anyone about the rape until a year later".
CU … tried and convicted … without so much as an indictment. No player was ever charged, no player was ever convicted. No opportunity to be found innocent or face the accuser. Just ten years of being convicted by mere accusation.
But, back in State College, Joe Paterno is once again a god, and the Penn State football team can move on.
—
"I was in the Virgin Islands once. I met a girl. We ate lobster, drank piña coladas. At sunset, we made love like sea otters … That was a pretty good day. Why couldn't I get that day over, and over, and over…" – Groundhog Day
It's tough to be a Buff these days, but it wasn't always that way.
If you are need of a little pick-me-up, there is no harm in reliving some of these memories (with video highlights to go with the game stories):
– October 25, 1986 – Colorado 20, No. 3 Nebraska 10
– November 4, 1989 – No. 2 Colorado 27, No. 3 Nebraska 21
– November 3, 1990 – No. 9 Colorado 27, No. 3 Nebraska 12
– January 1, 1991 – No. 1 Colorado 10, No. 5 Notre Dame 9
– September 24, 1994 – No. 7 Colorado 27, No. 4 Michigan 26
– November 23, 2001 – No. 14 Colorado 62, No. 2 Nebraska 36
Or, if you want something a little more recent:
– September 29, 2007 – Colorado 27, No. 3 Oklahoma 24
– November 16, 2013 – Colorado 41, California 24
—
There are plenty more Bill Murray quotes to work off of, but I've already rambled on too long. While you recall (and hopefully post in the comments section) your favorite Bill Murray quotes, I'll leave you with a few other gems …
—
"This crowd has gone deadly silent, a Cinderella story outta nowhere. Former greenskeeper and now about to become the masters champion" – Caddyshack
…. What Buff fans will hopefully have in 2015, with Colorado becoming a fan favorite and media darling by shocking the nation with the best one season turnaround since the Buffs went from a 1-10 team in 1984 to a 7-5 team in 1985 …
—
"And then … depression set in" – Stripes
Take your pick … Montana State in 2006 … "Ten wins, no excuses" … at Toledo in 2009 … at Kansas in 2010 … Sacramento State in 2012 … at Fresno State in 2012.
You get the idea.
—
"This is one time where television really fails to capture the true excitement of a large squirrel predicting the weather … This is pitiful. A thousand people freezing their butts off waiting to worship a rat. What a hype. Groundhog Day used to mean something in this town. They used to pull the hog out, and they used to eat it. You're hypocrites, all of you!
"… You want a prediction about the weather, you're asking the wrong Phil. I'll give you a winter prediction: It's gonna be cold, it's gonna be grey, and it's gonna last you for the rest of your life" – Groundhog Day
—
Unfortunately, this is what we in the Buff Nation have been living through for the past nine seasons …
—
"I think we're getting into a weird area here" – Tootsie
See: "Search for a Defensive Coordinator".
As always, we Buff fans, though jaded and perhaps a little cynical after years of frustration, remain ever hopeful.
The 2014 football season has come to an end. Every team now looks forward to the 2015 season. Every team is now 0-0, with dreams of a better tomorrow …
Go Buffs!
—–
As always, your comments and contributions are much appreciated. Just click on the "Comment Now" icon, above. Let us know your favorite Bill Murray quote, and how you would apply it to the CU Buffs!
—–