—
Colorado Daily – UCLA
—
October 31st – GAMEDAY!
… CU in a few minutes …
CU Video – "Forward – Episode 5"
The video from the Oregon State game … It will make you feel better …
Click here for the latest release from CU Video
—
Drew Litton
From the Daily Camera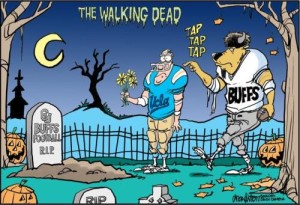 —
Plenty of stories about the Colorado/UCLA matchup (1:00 p.m., MT, Pac-12 Networks)
– "Pac-12 Gives Linebacker Leo Jackson Reason To Reassess His View Of SEC" … from cubuffs.com
– "Buffs Ready For Road Test vs. No. 24 Bruins" … from cubuffs.com
Odd quote: "We're really confident with the game plan given that we can go out there and put up a good showing, and even win the game," quarterback Sefo Liufau said. "No one really believes us — that's OK, we believe in ourselves."
– "Buffs hoping to take the offensive against UCLA" … from the Daily Camera
– "Jered Bell, senior class looking to 'cap off' their legacy" … from BSN Denver
– "Bruins look for another win, without a doubt" … from the Los Angeles Times
– "UCLA vs. Colorado: Key matchups and story lines for Saturday's game" … from the Los Angeles Times
– "UCLA shouldn't overlook Colorado after last year's double-overtime scare" … from the Orange County Register
—–
October 30th
… CU in a few minutes …
Friday musings
– Colorado gave up a touchdown to Oregon State on the Beavers' first drive of the game. It was the only touchdown of the game for OSU, so the Buffs will head into the Rose Bowl with a defense which has gone ten straight drives without allowing a touchdown. When was the last time that happened? …
– Probably awhile … The 13 points given up to Oregon State was the lowest point total in a conference game since Oct 11, 2008 vs. KSU. And it wasn't like CU was involved in a lot of games in the 20's. Before the win over the Beavers, the Buffs hadn't given up less than 36 points in a conference game since Nov 30, 2013;
– A fast start against a ranked team, on the road, is always imperative. Against UCLA, not getting off to a fast start can be fatal. UCLA is 23-4 under Jim Mora when scoring first (10-1 at home), and is 29-0 when leading at halftime;
– Last season, UCLA tied a school record with five games with 500 or more yards of total offense. The Bruins already have four such games this year, including the last two (503 against Stanford; 573 against Cal);
– UCLA kicker Ka'imi Fairbairn hit a Pac-12 record 60-yard field goal last weekend, and has made 37 straight attempts from 35 yards and in, with 24-of-26 overall;
– Not to jinx him or anything, but Sefo Liufau has a current streak of 99 straight passes without an interception. Only six times in school history has a Buff quarterback throw 100 or more straight passes without a pick, including a streak of 107 passes by Liufau earlier this year;
– Colorado has six players who have rushed for over 100 yards this season, and six players with over 100 yards in receptions (Phillip Lindsay is the only player on both lists). The last time CU had six or more players on both lists was in 1991;
– Injuries have certainly taken their toll on CU's starting lineup. Nelson Spruce has started 41 straight games, followed by offensive tackle Stephane Nembot with 31 and center Alex Kelley with 20. After that, you have to go all the way down to quarterback Sefo Liufau, with nine;
– Some improving numbers on defense … CU had 22 sacks all of last year, but has 20 so far this year … Last year, Colorado forced 11 turnovers in 12 games. In eight games so far this year, the Buffs have forced 14 turnovers … While the Buffs will be facing some high-powered offense the last five games, the bottom line has certainly improved so far this fall. Last season, Colorado gave up 39.0 points per game, 116th in the nation. In the first eight games of 2015, the Buffs are giving up 25.8 points per game, 57th nationally.
—
Nelson Spruce primed to take over all-time receptions lead in Pac-12 history
It's become so common that it's become hard to appreciate … Nelson Spruce setting another record.
After all, Spruce set almost three dozen school records last fall alone, and will leave Colorado with the most receptions, most receiving yards, and – with two more scores – the most receiving touchdowns in school history.
With 143 more receiving yards, Spruce will become the first Buff with 3,000 receiving yards, with his 2,857 total having eclipsed the old mark of 2,548 set by Michael Westbrook back in September.
The record Spruce is likely to set Saturday, though, is not a new school record, but an all-time Pac-12 record. Spruce enters the game against UCLA with 256 receptions in his career. Mike Thomas (2005-2008) of Arizona has the record at 259 and ASU's Derek Hagan (2002-2005) is second with 258.
Think about it … 100 years of Pac-8, Pac-10, and Pac-12 football, with names like Lynn Swann, James Lofton, Troy Walters, Brandin Cooks, Keyshawn Johnson and Marqise Lee. CU's own Nelson Spruce, however, who had all of his catches while a member of the Pac-12, will leave school with more catches than any other receiver in league history.
Spruce's fourth catch of the afternoon Saturday will likely be an eight-yard out, and attract little attention. Nothing new there.
But the catch certainly deserves recognition.
—
Better than a kick in the head
Yes, Colorado has won only one Pac-12 conference game this year, and yes, Oregon State is lousy.
Yes, a 4-4 record includes four wins (and a loss) against inferior opponents.
But that's still better than what CU fans have had to live with in previous years, when the Buffs didn't defeat inferior opponents – and inferior opponents were few and far between.
And while 4-4 may turn into 4-9 by the end of the season, enjoy the Buffs' .500 record while you can.
Here is a list of the 20 Power-Five conference schools who are looking at CU's 4-4 record with envy:
ACC … Syracuse (3-4) … Wake Forest (3-5) … Boston College (3-5) … Virginia (2-5) … Virginia Tech (3-5) … Georgia Tech (3-5)
Big 12 … Iowa State (2-5) … West Virginia (3-4) … Kansas State (3-4) … Kansas (0-7)
Big Ten … Rutgers (3-4) … Maryland (2-5) … Nebraska (3-5) … Purdue (1-6)
Pac-12 … Washington (3-4) … Oregon State (2-5)
SEC … Tennessee (3-4) … Vanderbilt (3-4) … South Carolina (3-4) … Arkansas (3-4)
From the above list, here are teams which received Top 25 votes in the AP preseason poll … No. 18 Arkansas (410 votes) … No. 25 Tennessee (114 votes) … No. 29 Virginia Tech (42 votes) … No. 34 Nebraska (6 votes) … No. 42 West Virginia (1 vote)
… In addition, Colorado currently has the same 4-4 record as Arizona State, which was ranked as the No. 15 team in the nation in the preseason poll.
—
CU Scouting report from the Daily Bruin
From the Daily Bruin blog … On Saturday, No. 24 UCLA (5-2, 2-2 Pac-12) will face a Colorado team that is last in the Pac-12 South division. The Buffaloes (4-4, 1-3) are fresh off their first conference win of the 2015 season, but have lost four games in a row to the Bruins since 2011.
Here's a scouting report for Colorado, which will need to find its consistency if it wants to upset UCLA at the Rose Bowl.
Offense
Base formation: Spread offense
Run/pass ratio: 56.5 percent rush, 43.5 percent pass
Blocking style: Man blocking
Strength: Quick passing
Weakness: Inconsistency
X-factor: Quarterback Sefo Liufau
For most of the season, the Colorado offense, ranked No. 10 in the Pac-12, has not lived up to its potential. The Buffaloes have been erratic throughout the season, their injury-riddled offensive line making it hard to pass and run effectively.
The offensive line's weakness has increased the defensive pressure on quarterback Sefo Liufau, who has not responded well. Two years after his breakout season, the junior has been largely inconsistent, throwing for only 1870 yards and nine touchdowns.
… Continue reading scouting report on the CU offense here …
Defense
Base formation: 3-4
Blitz tendency: Moderate
Strength: Forcing turnovers
Weakness: Stopping the run game
X factor: Cornerback Chidobe Awuzie
A week after it racked up nearly 600 offensive yards, UCLA will face yet another weak defense in Colorado. This is a unit that is one of the worst in the Pac-12, having given up an average of 35 points per game in conference play so far this year.
Defensive coordinator Jim Leavitt's unit primarily plays man coverage out of the 3-4, though it frequently rotates to a 4-2-5, as evidenced in Colorado's game against Oregon.
The Buffaloes are decent in pass coverage, ranked No. 3 in the Pac-12. The team's cornerback corps, long a sore spot for the team, has markedly improved this year. Junior Chidobe Awuzie has been the Buffaloes' best defensive back, leading the team with seven passes defended and two interceptions. Look for Awuzie to be complemented by a rotating host of corners, with senior Ken Crawley being the most experienced.
… Continue reading the scouting report on the CU defense here …
—–
October 29th
… CU in a  few minutes …
UCLA running back Paul Perkins "on track" to play against Colorado
From CBS Sports … UCLA's star running back Paul Perkins injured his knee last Thursday night against Cal, but coach Jim Mora, Jr. expects to have him in action this week against Colorado.
Mora spoke to the media on Thursday and updated the status of Perkins and backup running back Nate Starks for this weekend.
"I would assume that both of them would play," Mora said. "It looks like they're both on track to play. I'm not too worried. I was more worried about Paul earlier in the week, but he's done fine."
Perkins has 125 carries this season for 754 yards and eight touchdowns to lead the Bruins. He's second in the Pac-12 conference in rushing touchdowns and fourth in rushing yards this season.
Even with Perkins and Starks in the lineup, the Bruins might not have to use them too often against a Colorado defense that ranks 111th in the country in rushing yards allowed (209.5 yards allowed per game). Freshmen backs Soso Jamabo and Bolu Olorunfunmi could see more touches, especially if the Bruins find themselves up early on the Buffaloes.
—
Pac-12 preview of Colorado at No. 24 UCLA
Here is a link to the Pac-12 Networks preview of the CU road trip to Pasadena to take on the No. 24 UCLA Bruins.
—
CU Defensive coordinator Jim Leavitt sees progress
From cubuffs.com … There may be no tougher critic of the Colorado defense than Colorado defensive coordinator Jim Leavitt.
CU head coach Mike MacIntyre brought Leavitt to Colorado last winter to improve a defense that finished near the bottom of the nation in 2014 in nearly every key statistical category.
Improvement has been made, and Leavitt is optimistic. But for the man who helped turn Kansas State from a national laughingstock into a nationally ranked program as its co-defensive coordinator, it's just the beginning.
"There's some moments that you see that it's getting a little better," Leavitt said Tuesday morning. "The end of Colorado State was a good thing. The last game (Oregon State) was good. The end of Arizona was very bad. And then moments in other games … we're starting to build a little foundation, maybe."
… Continue reading story here …
—–
October 28th
… CU in a few minutes …
ESPN 30-for-30 on Bill McCartney
Here is a link to the ESPN 30-for-30 production of "The Gospel According to Mac", which is to air Tuesday, November 3rd.
A Summary
Football is a religion to many people. But few know the depths of both faiths as well as Bill McCartney, the former football coach at Colorado and the founder of Promise Keepers, a Christian men's ministry. "The Gospel According to Mac" tells the truth-is-stranger-than-fiction story of Coach Mac's controversial national championship run, and the two seasons that followed with multiple arrests and strife between his mostly African-American players and the Boulder police. McCartney's own daughter became pregnant by the team's quarterback before seeing that same quarterback struck by cancer. The saga culminated in consecutive Orange Bowl matchups against Notre Dame. Bill McCartney's passionate and often polarizing beliefs have made him many enemies and many admirers, but it's difficult to deny that he embodies the essential issues facing football in America to this day.
Director's Take
Getting the opportunity to tell a great story is a gift. And Dereck Whittenburg is the gift that keeps on giving. Dereck was the inspiration behind the 30 for 30 film "Survive and Advance" and his relationship with coach Jim Valvano was central to that film. After he left State, Whitt, worked at the University of Colorado, where he befriended football coach Bill McCartney. As a result, "The Gospel According to Mac" is now a film.
Mac, like Valvano, is truly a unique character whose own life story has a stranger than fiction quality to it. Mac has been a lightning rod during his life and after getting to know him during the filming, I could see why. His honesty was unusual and refreshing. In a time when people are unwilling or afraid to speak their minds, Mac is an open book and like him or not, that is something to be admired. Mac's story at Colorado plays like a soap opera. It is steeped in love, religion, conflict, humor, heartache and controversy — and almost as much drama on the football field. It's truly been a privilege to tell his tale.
—
Coach Mac's Wednesday post-practice talk with media
From YouTube, courtesy of BuffStampede.com:
—
GoJoeBruin: Is CU a trap game for UCLA?
From GoJoeBruin.com … UCLA Football just came off of a huge win against California, and now focuses their attention against cellar-dwelling Colorado, which is scary, considering how the Bruins play after big wins. Is this a trap?
What is a trap game, really? It is a game that comes out of nowhere, unexpectedly, yet has been in plain view the entire time. It is game against a supposedly lesser opponent who comes out to play a lot tougher than expected. It is a game where a "superior" team comes in thinking they will automatically win, only to get blindsided by the "lesser" team's efforts.
Basically, it is a trap.
—–
October 27th
… CU in a few minutes …
Breakfast with the Buffs next Saturday morning
From cubuffs.com … The Pac-12 Conference announced that the Stanford at Colorado football game on Saturday, November 7, will kick off at 11:00 a.m. MST and will be televised nationally by the Pac-12 Networks.
Pac-12 Television selections for that day (all MST):
11:00am — Stanford at Colorado, Pac-12 Networks
1:30pm — Arizona State at Washington State, FOX Sports 1 & FOX Deportes
2:30pm  – UCLA at Oregon State, Pac-12 Networks
5:30pm  – Utah at Washington, FOX broadcast
8:30pm  – Arizona at USC, ESPN OR ESPN2 (network desgination will be provided on Sunday morning, 11.1.15 at 8am PT/9am MT)
8:30pm – California at Oregon, ESPN OR ESPN2 (network designation will be provided on Sunday morning, 11.1.15 at 8am PT/9am MT)
—
Injury update
From cubuffs.com … MacIntyre said the status of receiver Shay Fields (high ankle sprain) and linebacker Ryan Severson (knee) should become clearer by week's end. He added that offensive lineman Gerrad Kough is likely to return, but was unsure about linemen Jonathan Huckins and Sam Kronshage. Safety Ryan Moeller (concussion) is definitely out.
—
Sefo Liufau not a running quarterback by design
From cubuffs.com … Rest assured, Sefo Liufau and the Colorado Buffaloes aren't drifting toward an offense that features a run-first quarterback. But if it takes leg work to make the offense work, well, Liufau is all in.
Entering his junior year not having scored a rushing touchdown, the midway point of the season finds him having reached the end zone five times – only two fewer than Bernard Jackson's running total in 2007.
No other Buffs QB has scored that many since, but with five regular-season games remaining Liufau seems a sure bet to get at least two more rushing TDs and surpass Jackson, who was generally considered a more efficient runner than passer.
As for entering his name in the record book as CU's most prolific running quarterback – at least in single-season TDs scored – Liufau likely will lag. Directing Bill McCartney's option offense in 1989, Darian Hagan ran for 17 touchdowns, many of them with the panache and sleight of hand that became Hagan's trademark.
That isn't Liufau's calling card. At 6-4 and a pumped up 245 pounds, he's more bulldozer than scatback – and that's why he and the coaching staff are allowing him more touches as a ball carrier. Also, Liufau fought through a largely unpublicized back problem in his freshman season (2013) that might have deterred him running frequently.
"He's faster than he looks; he makes up ground and is extremely tough and powerful," CU coach Mike MacIntyre said Tuesday. "He's one of those quarterbacks that I think the other team doesn't really like to see running; sometimes they like to see the quarterback run and they want to go hit him, you don't see people really want to go hit him all the time. I mean, when you hit 245 pounds at 6-foot-4 that's running pretty fast, it's a big load, it's like hitting a big tight end."
… Continue reading story here …
—
Transcript of Mike MacIntyre's Tuesday press conference
From cubuffs.com …
General
"I was excited about our win on Saturday night (at Oregon State), and we're also excited about playing a 12:00 o'clock kickoff. We had four night games in-a-row, our kids are excited about getting up and playing instead of waiting around the hotel. We have a tough, tough matchup with UCLA this week. I thought, losing (former quarterback Brett) Hundley that they might take a step back with their quarterback spot, but I think (current QB) Josh Rosen is an incredible freshman quarterback and I mean the word incredible. He has great arm strength, sees the field, and makes all the right throws. [UCLA head coach] Jim Mora and [offensive coordinator] Noel Mazzone have done a good job with him and with their offense. He has a lot of weapons on offense, you start with [RB] Paul Perkins, who I think is one of the best backs in the country. Then, they have the big athletic receivers that can make a lot of plays. Their offensive line is athletic. Defensively, their secondary is really athletic and moves well. They lost a couple really good players on defense of course, but they have guys that fill in right behind them who are excellent players. Their nose tackle Kenny Clark is just a sophomore, but I think he is a force inside. They have an excellent pass rusher when they put [LB] Deon Hollins outside to rush. They are a very talented football team. Also, their kicker, I think he kicked about an 80-yarder the other night. A 60-yarder, but it looked like to me it could have made it from 65, maybe even 70. He's an excellent kicker. They have a very good football team and it will be fun to go play in the Rose Bowl."
On what DB Chidobe Awuzie has meant to the defense
"Everything. He's a phenomenal football player who has gotten better and better every year, you know he started as a true freshman. He's a young man that I've known since he was a ninth grader, I kind of saw him grow up there in San Jose. He comes from an excellent program in Oak Grove high school there in the San Jose area. I think, to me, he's an All-Pac-12 football player. He makes plays, he sacks, he covers, he rushes, and he does a little bit of everything. He's an excellent player for us."
On the progress made by the defense this season
"I definitely think we've improved on defense, we have more athletes out there. We've been bummed up over there too, we went into one game with all freshmen linebackers and it was tough. Then, not having [LB] Addison [Gillam] out there, he's been bummed up and now he's going to redshirt, that hurt us. I think we're making good progress there and our guys are getting better and better at understanding the defense. I think our d-line is getting better and better, understanding how we're doing that. In this league a lot of teams score different points at different times; we have to find some way, somehow to have one more point than the opponent. I do think our defense is making a lot of plays, we're being aggressive, challenging a lot of things. Still, in this league you have to be able to tackle in space and we've done that well at times and not as well at times, but I think we're getting better and better at that and understanding our leverage. Our guys are doing a good job, just have to keep moving down the road, keep improving and I think we're making some progress there."
On if the defense will try to disguise packages more to confuse UCLA QB J. Rosen      
"We're going to try to put 13 guys out there and really confuse him on the coverages. Their offense, one of the thing about spread offenses when they spread you way out, is it's harder to disguise (defenses), and when it's going fast. We'll definitely try to disguise like a lot of teams have, but sometimes when the (offense) is going really fast, you just have to get lined up, you can't drop down late or see the time clock because they are snapping it so quick. We will do some things to try and confuse him, just like we have tried to do against all the quarterbacks (they have played). He's a young man that came from a really good program, and of course he was there for all spring practices. But, his ability to adapt and make accurate throws within the pocket with the pocket moving he can just side step. He's made a couple throws off his back foot that you'll see NFL guys make, and really strong arm. So I've been impressed with what I've seen. We definitely have to confuse him, we definitely have to make him uncomfortable; if he's comfortable and he knows right where he's going, he'll make a lot of plays."
On the injury situation among players
"We'll know more about [WR] Shay Fileds as the week goes along and we'll know more about [LB] Ryan Severson, but we'll prepare for them not to be there at this point in time. But we'll know later in the week. Both of those guys have played enough where if they got well, they could go play. I think we'll have [OL] Gerrad Kough back, he practiced today but was not able to play in the game Saturday which we were hoping he would, but we went out there and we had about eight starters out if you go from the beginning of the season and if you take into (account) a couple of backups who became starters and then they were out. So it was kind of a mix and match. But the way the coaching staff handled all that, it also affected our special teams a lot – we had a little substitution error one time because another guy got hurt and it was just kind of hectic because you're starting to get down the road some there. We were able to handle that though. I think well have a few of those guys back, right now I could say Gerrad Kough will be back, but I don't know about everybody else. I don't know if [OL] Jonathan Huckins will be out there, I don't know if [OL] Sam [Kronshage] will be out there. We'll know as the week goes on. [LB] Ryan Moeller will not be out there. He's still in his concussion protocol and he's feeling better and better, but at this stage he will not be able to be out there. I'm not going to rush him back. He's moving better right now, but he's still at the higher stages of the concussion protocol so we'll give him some more time."
On how much a win in conference play can propel this team      
"I think what it does, any time you work hard at anything in life, any business or anything, and you're not having all the results you want and you're going like, 'Gosh, when is it going to happen, when is it going to happen?' When are you going to breakthrough with a big sale if you're a salesmen or when are you going to be able to finish the house, whatever, all the different things, even the stockbroker world. I think the players were kind of feeling that, and then getting that (win) kind of validated all their hard work and time and effort. Then it puts you at 4-4, we're 4-4 late in October, I don't know how long it's been since Colorado has been 4-4 late in October. We'd like to be 8-0 late in October, but it still gives us hope to reach some goals that they want to reach."
On if he's notice an extra 'pep in the step' of players
"Well, we didn't have a lot of extra pep in our step when we landed and went into our houses at 6:30 in the morning Sunday morning. Then, Monday we kind of game them some time to recover. But today, I thought they had a pep in their step and I think they were excited. And of course, it doesn't hurt when you go outside and it's a gorgeous day in Boulder, Colorado like it was today. So that makes practice even more fun.
On why he is so emotional on the sidelines as a coach       
"If you think about your own personal family, if you spend hours and hours and time and time and invested in them and see them overcome different obstacles and see them reach different goals and then they don't get to reach certain goals and you see them hurting and trying. Just take your own family, that's what a football team is to me. All 112 of these young men are really my kids, their parents entrust them to me. I have to love them, care for them, discipline them, handle them when they're knuckle heads, keep maturing them, keep praying, keep working with them, keep pushing them, and keep finding ways to push the right buttons. A coach's job is to make a player do the things he doesn't want to do in order to reach the goals he wants to reach. When you're pushing kids and you're helping them – when you see, game after game and their eyes are like, 'Oh crud,' you want them to be successful. Then when you see that joy in your eyes and you see them proud and excited and all that, it's just like a proud dad. It's an emotional situation and it should be, if you put that much time into something it's going to be emotional. If it's not, why do it? That's the thrill of it, and that's also why a loss hurts because you put a lot of time into it. But, there's all the other things, too. When I watch a kid make a play, I think about the time the kid sat in my office, or I think about the time that something happened within his family and we had to go through it; or he's having a hard time here or something off the field that nobody knows about and I'm the only one that knows about and I see him overcome something. That's what I see. I don't just see [DB] Chidobe Awuzie, I see everything about Chidobe. I don't just see [QB] Sefo Liufau, I see everything about Sefo Liufau. I'm fully invested into these kids and that's why it's emotional to me."
On his willingness to be himself on the sidelines     
"I think Bill Parcells gave me the best illustration, and Bill Belichick worked for Bill Parcells and I worked for Bill Parcells; no way am I anywhere near Bill Parcells or Bill Belichick as a coach, not even close. But he told me, he said, 'Mike learn from me and do the things we ask you to do, but be your own personality, be your own person. Don't try to emulate or be someone else, or you'll be a phony, you won't be who you are.' I grew up with a dad who really cared about me and cared about people, that's what I saw and I saw that attribute. That's the same thing that I do, and I can't help it. I'm just who I am. That's who I am, and I'm passionate about it and care about them. My youngest son, he always tease me and says, 'Boy we love our wins in the MacIntyre household,' and yeah we do, we always have. Even when they were little kids and they would play and win. But, we also put the right understanding. In college football to me, it's different. You're truly trying to build young men, you truly are. Now, you have to win football games, there's no doubt about that, but I think that you definitely will win more than your share doing it the right way and you'll definitely be able to look yourself in the mirror at night."
On if the team is where he wants it to be       
"I think as a coach it's never where you want it to be, you're always critical and you have to be. But at the same time, you have to find the silver lining in different things. I think that we need to execute better at different times, we've had too many penalties this year. Our first year here, we had the least amount of penalties in the school's history. No excuse on it, but when you switch your offensive line around everywhere and a lot of them are holding penalties and you have new kids out there and all that, that sometimes happens, but we need to fix it. We did some running after practice today for penalties and they know that, so we'll keep working on that. Then, we need to keep working on our execution. We always want to execute better. I definitely think we're a better football team than we were last year. I think if we lined up and played our exact team from last year we would beat them pretty good, even with all the guys we have out, because those kids have gotten better. But, there's no doubt you're always looking for more perfection, and you always do that as a coach. The good thing we're doing is we're not really turning the ball over, that's the biggest key. You hear coaches say it all the time, but it is. We need to execute better and get the ball more in the end zone this week because they have a more high powered offense. We're going to have to score points. UCLA is very exceptional on offense and they're very good on defense."
On what they're doing to execute better in games   
"We did some good execution last week, we controlled the game there in a lot of phases. So, I thought that was good. But in practice, we're working on the plays, working on the fundamentals, working on different situations that we haven't done well at and you repeat them and repeat them, and repeat them. It's basically repetition and executing it in the right manner, the right alignments, the right speed and all those kinds of things. Try to put good on good, going the ones-against-ones and we do that in practice and we've tried to do that a little bit more recently. Sometimes injuries curtail you from doing that as much as you would like, though, because you're trying to get guys back."
On FS Jered Bell starting at Oregon State
"Jered played really well, I thought he did some really good things out there. 'Fo' (Afolabi Laguda) played a lot on special teams, he did a lot there. And Fo will play some at safety this week too, he's been doing a good job. (In the Oregon State game) with all they were doing with quarterback changes, and we hadn't busted any coverages or anything like that we just kept it rolling like it was (with Jered Bell at safety). But, Fo will be a guy that will play on every special teams, he played on every one last week and he will this week. He'll also play some safety in there. But, it was fun to see Jered out there after all that he's been through and he's a great leader and a good football player."
On CU being 2-18-1 all-time in the state of California and what a win would do
"It would be a win there in LA. and the Rose Bowl, it would be a great win for us. Definitely it would be a great deal for recruiting, but it would be a great win for our team and for our University. There's probably a reason that it's 2-18-1, there's UCLA and USC that you play and they're pretty good year-in-and-year-out in the Pac-12. That just shows you the power of the Pac-12 conference and what Colorado stepped into five years ago. They stepped into a 'man's league.' We're moving that way and we'll keep moving that way. There will be a day when you turn around see that we've caught up in that area a little bit. Hopefully we can do it Saturday. That's what we definitely want to try and do."
On how much of an advantage it is to have a lot of California players on the roster
"It's always big for them to go home and play. Their parents come to games here, but they'll have aunts, uncles, and little cousins that look up to them. All that type of thing adds a little bit better to their motivation, they really don't need any more motivation, but I think that's a good deal. They'll have their high school coaches and pop warner coaches come to the game, all that type of thing. It makes it a big deal because of that, but it's exciting anytime you play in the Rose Bowl, too."
On upsets occurring in the Pac-12 and that inspiring the team   
"Our kids truly believe, and I think if you asked them they would look you in the eye and it wouldn't be B.S. anymore, they definitely think they can beat anybody they play. That's why they fight so hard and keep battling and believe that they can do it. That's our plan, is to line up and play and beat anybody that we play."
On QB Sefo Liufau's ability to run and how it alters defenses
"Sefo's ability to run, like I've said I think he's in better shape than he ever was, he's running better than he ever was. A lot of that was because of his back problem that he had his freshman year that not many people knew about and he kind of overcame all of that. He's in great shape and he's faster than he looks. He makes up ground and he's extremely tough and powerful. He's one of those quarterbacks that I think the other team doesn't really like to see running; sometimes they like to see the quarterback run and they want to go hit him, you don't see people really want to go hit him all the time. I mean, when you hit 245 pounds at 6-foot-4 that's running pretty fast, it's a big load, it's like hitting a big tight end. We'll definitely keep running him, but we're cautious about how we do it. But if we need to get a touchdown or are in a valuable situation he gives us an advantage. Because, now they have to pack the box when we spread out because you have a running back and another running back, but he can also throw it. If they pack the box he has reads to throw it, if they don't pack the box he has reads to run it, so it gives us an advantage and is something the opponent has to be aware of. It gives us another weapon. And it helps us to control the clock and grind out first downs, which helps our defense to get fresh and stay available on the sidelines."
On how to avoid getting Liufau injured with the increased running      
"He's done a good job of sliding or getting out of bounds, but when he has to get a first down he's going to go get it. But he understands how to do that, and I think he's done a good job with that, I really do."
On managing game situations and conversations on the sidelines          
"We've gone over that before the game, we practice it a lot, we have some different things that we are going to do. It also kind of goes on are we stopping them, how good are they moving the ball, if it's 45-47 it's a different thing than if it's 10-17. You're thinking, 'What do we want to do? Are we going to take chance and give them the ball right here? Can we run out their timeouts? Can we move the ball as well?' So all of that is a thought process that I have and that we're talking about. There's no doubt that you want to be able to put the game away on offense. Those are things that we talk about, work on, and go over. Sometimes you're very fortunate where you bust a run or they bust a coverage. It's a thing that we work on constantly and talk about as the game is going on."
On run defense      
"We did some good things against them (Oregon State), and they did some good things against us. There was a few times where our defensive tackle came clean and hit him 2-yards in the backfield and he broke the tackle. There were a couple times where we hit him clearly in the backfield, read the thing right, did it right, and he just ran over us. Then we hit him on fourth down and inches and stopped them, which was really a huge turning point in the game. It really went back to tackling the big guy is really what happened."
On Kenneth Olugbode coming back     
"He looks good, he looks fresh. He didn't get any repercussions from his leg after the game from getting hit, it was padded well. He looked good in practice, he was moving around well, and he played well in the game. It was good to have Kenneth back out there. There's so many things that he does. Number one: he makes tackles and makes plays, and he can run people down. But he gets us lined up right, he sees certain things, and he'll make an opportune play from time-to-time, like he did with the interception against CSU. But also, he'll make a play that you might not see. He might cover a back out of the backfield that would have been wide open, but he got him and they can't throw it to him and we get a sack. Things like that that you don't notice that he does. He's a really good football player."
—
Buffs content to stick with running back by committee
From the Daily Camera … The term "featured back" doesn't exist at Colorado.
At least, it hasn't since Rodney Stewart exhausted his eligibility after the 2011 season.
The Buffaloes (4-4, 1-3 Pac-12) continue to rotate their running backs and have now had four different rushing leaders in eight games this season.
Stewart led CU in rushing every year from 2008-11 and is second on the school's career rushing chart, with 3,598 yards.
In the four seasons since, CU has had seven different running backs lead the team in single-game rushing, with Donovan Lee becoming the latest. He had a team-high 55 yards in Saturday's 17-13 win at Oregon State.
… Continue reading story here …
—
… Other Buff stories …
– "The CU Buffs are still far from a successful season " … from BSN Denver
– "UCLA's division title hopes got a boost from USC's win over Utah" … from the Los Angeles Times
– "UCLA RB Paul Perkins returns to practice" … from the Orange County Register
—–
October 26th
… CU in a few minutes …
Colorado a 20.5-point underdog to UCLA
Colorado will be on the road this weekend, taking on UCLA in the Rose Bowl (1:00 p.m., MT, Pac-12 Networks). The Buffs, according to 5dimes.com, is a three touchdown underdog, coming in at 20.5-points down.
Other Pac-12 lines:
Arizona Sate is a 1.5-point favorite at home against Oregon (Thursday night)
USC is a 6.0-point favorite on the road against Cal
Utah is a 23.5-point favorite at home against Oregon State
Stanford is a 13.0-point favorite on the road against Washington State
… No line yet posted for Arizona at Washington …
—
Buffs' late arrival home from Corvallis results in team getting two days off
Press release from cubuffs.com …
With our late arrival home (5:32 a.m. back in Boulder) and no bye week this season, the coaches have given the players the next TWO days off, so no football activity until they resume practice on Tuesday (8:30-11).  So the first interview window is after that practice and then normal from there on out.
—
Buffs not satisfied with just one Pac-12 victory
From Neill Woelk at cubuffs.com …  Maybe the best news coming out Saturday night's Colorado win over Oregon State — well, other than the fact that the Buffs ended a Pac-12 win drought, earned a much-needed conference road win, played their best defense of the year and moved back to .500 for the season — is that even as the 4-4 Buffs were celebrating their win, they were looking ahead to more.
"This is just one," head coach Mike MacIntyre said, merely minutes after Chidobe Awuzie's fourth-quarter interception nailed down a 17-13 CU win. "We have to build on this and get some more."
Players echoed MacIntyre's sentiments. In almost the same breath of talking about the importance of getting their first Pac-12 win in nearly two years, players also talked about the importance of next week's game at UCLA. They talked — confidently — about adding more wins to their ledger, and how their preseason goal of a bowl game is still on the table.
Simply, they talked about the end of the skid as the beginning of something much bigger, one piece of a foundation they plan on adding to soon.
… Continue reading story here …
—
Bruins still playing with a chip on their shoulders
From the Los Angeles Times … UCLA Coach Jim Mora was heard before he was seen after the California game Thursday night at the Rose Bowl.
He was loudly cursing at a UCLA official as he entered a news conference.
This after the Bruins won.
UCLA's 40-24 victory over No. 20 Cal, which came after back-to-back losses, did little to immediately ease the tension around Westwood.
Mora provided the first example. Then safety Randall Goforth entered the interview room and loudly proclaimed, "We hear what the outside noise is. I'm not going to sugarcoat anything. All we do is do what we do every day. We work hard, we come to practice, we go to meetings, and we're just like everybody else.
"Everybody believes just like we believe, so we don't fear anybody, and we're ready to play with whoever's out there on the field," Goforth said. "So, you know, I don't think a lot of people understand the coverage contours or the sequence of what happens on the field on every play. So, you know, all we do is go out there and play, and as you can see, it shined tonight.
"So, like I said, everybody continue to doubt us, and all we're going to do is sit there and work. Thank you guys."
He then left without taking questions.
UCLA was favored to win Thursday's game, but Mora managed to foster a no-one-believes-in-us chip on his players' shoulders.
… Continue reading story here …
—–