—
Colorado Daily – Stanford
—
November 7th – GAMEDAY!
… CU in a few minutes …
Drew Litton
From the Daily Camera ..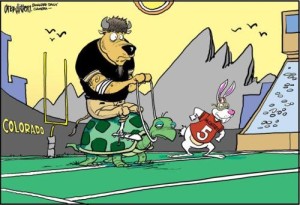 —
"We have to be able to stop the run"
From cubuffs.com … Saturday, the Buffs will have their hands full with a team that boasts a well-balanced offense that includes a Heisman Trophy-candidate running back and a defense that is stout in virtually all areas.
"Stanford is an excellent, excellent football team," head coach Mike MacIntyre said. "They are a powerful football team. Coach (David) Shaw has done a great job there."
CU coaches have said all week the Cardinal might be the most well-rounded team they've seen this season. Running back Christian McCaffrey — the Cardinal's leading rusher and receiver — plays behind a mammoth offensive line, one that averages well over 300 pounds per player. Quarterback Kevin Hogan is an experienced leader whose dual-threat abilities give Stanford plenty of options when it comes to moving the ball downfield.
It is McCaffrey who makes the Cardinal offense go. The nation's leader in all-purpose yardage (244 yards per game) has surpassed 100 yards in offense in seven games this year — and the Cardinal have won all seven.
Asked about McCaffrey, CU head coach Mike MacIntyre ticked off the attributes: "He has excellent vision .. he's powerful … he's extremely fast … and then he's a tough runner."
The Buffs are looking forward to the challenge — and they know that stopping the run will be a big key to their success.
"It's always a fun game when you get to hit the linemen all of the time," linebacker Kenneth Olugbode said. "We have to be able to stop the run game, first of all, because everything is set up off of the run game. We have to stop the run, and that helps eliminate the play action. It (allows) our safeties to play high and make plays."
… Continue reading story here …
—–
November 6th
… CU in a few minutes …
– Some Friday musings –
– Colorado came close to a school record in holding the ball for 41:05 of game clock last weekend against UCLA. Overall this season, the Buffs have been good about playing keep-away from the opposition. Colorado is 20th in the nation in time of possession, keeping the ball for 32:32 per game on average. Stanford, however, is not only No. 1 in the Pac-12 in time of possession, but No. 1 in the nation, averaging 34:56 of possession per game.
– For the home underdog to pull of an upset, turnovers have to play a key role. Colorado is 27th in the nation in turnovers gained, with 16 (after forcing only 11 all of last season). The Buffs are also 27th in turnover margin, at a plus-four overall. Stanford is a minus-one for the year, 77th in the country.
– You can take your bathroom break when the teams are in punt formation … Colorado is 106th in the country in punt returns, averaging only 4.2 yards per return. Stanford, even with Christian McCaffrey, is 119th in the nation in punt returns, averaging only 2.4 yards per return.
– With all of the injuries Colorado has had this fall, there have been only six players who have started every game at the same position this fall. Three are on offense: quarterback Sefo Liufau, wide receiver Nelson Spruce, and center Alex Kelley, and three are on defense: defensive lineman Jordan Carrell, cornerback Ken Crawley, and safety Tedric Thompson.
– Truth be told, Jordan Carrell has been on the field for 83.1% of the defensive snaps this fall. If that percentage holds, it would be the sixth-highest by a defensive end at Colorado in the last 22 seasons.
– As you would expect from the No. 1 team in the conference, several Stanford players are leading the league in several categories. Buff fans have heard all about how Christian McCaffrey leads the nation in all-purpose yards per game (244.3), but the Cardinal also boasts the Pac-12 leaders in passes defended (CB Ronnie Harris), tackles (LB Blake Martinez), and yards per completion and attempt (QB Kevin Hogan).
—
Woelk's Five Keys to the Stanford game …
From cubuffs.com … The Colorado Buffaloes aren't expecting any surprises Saturday from the ninth-ranked Stanford Cardinal at Folsom Field (11 a.m., Pac-12 Networks).
As Buffs defensive line coach Jim Jeffcoat said earlier this week, "They do what they do and they're very, very good at it. They don't change. They're going to do what they do."
What 7-1 Stanford does is eat up the clock and score points. The Cardinal are fourth in the Pac-12 in scoring offense, averaging 36.5 points per game; and first in time of possession, holding the ball for almost 10 minutes per game more than their opponent. When they're on defense, it's the same story: third in scoring defense, giving up less than 22 points per game; and first in total defense, yielding just more than 352 yards per game.
What the 4-5 Buffs need to do to flip those stats:
… Continue reading story here …
—
CU Athletic Hall of Fame inducts 11 new members
From cubuffs.com … An overflow crowd of more than 400 people shared plenty of laughs, lots of cheers and even some tears Thursday night as the University of Colorado Athletics Hall of Fame inducted its 11th class.
The latest group is an impressive array of former athletes, coaches and administrators representing six decades of excellence and 10 sports at CU.
Each of the inductees spoke of the opportunities they received as Buffaloes, the lifelong relationships they formed and the support they enjoyed. They spoke of championships, of records, of careers after graduation and of family.
Basketball star Erin Scholz delivered a stirring, heartfelt message.
"This award is about you," Scholz told the crowd. "The award is about all of us. We all have a part to play. Thank you for all that you do in your lives, thank you for your commitment to show up every day."
The latest class included nine athletes, one coach and one administrator: Chauncey Billups, basketball, 1995-97; Jon Burianek, administration (1968-2006); Bill Fanning, baseball (1946-49); Stephan Hienzsch, skiing (1975-78); Frank Prentup, baseball and assistant football coach (1941-69); Mike Pritchard, football (1987-90); Erin Scholz, basketball (1993-97); Mark Scrutton, cross country and track (1979-83); Nicole Vranesh, volleyball (1990-93); Scott Wedman, basketball (1971-74); and Tom Woodard, golf (1973-77).
… Continue reading story here …
—
Fitzgerald twins featured by ESPN
From ESPN … On Nov. 22, 1924, Colorado whipped Colorado State 36-0 on its way to a second consecutive Rocky Mountain Athletic Conference championship under Myron E. Witham. The biggest news for the Buffaloes that week, however, happened three days before, though few realized a momentous event was transpiring.
That's when Betty and Peggy Fitzgerald were born on a cold night in Haxtun, Colorado.
While probably few Colorado fans recall Witham, — 63–26–7 from 1920 to 1931 in Boulder — just about every Buffs fan knows Betty and Peggy, aka The Twins. To say they are fixtures at Colorado sporting events puts too much pressure on the term "fixtures."
They've attended just about every Colorado home football game since 1940. Same goes for men's and women's basketball and myriad other CU sports. That's 75 years of cheering, of thrills and disappointments for the pair, known by their married names of Betty Hoover and Peggy Coppom.
"We have never left a game early," Peggy said. "As long as the players are out there, we're in the stands with them."
The Twins, by the way, turn 91 this month. They are still going strong, something that becomes abundantly clear during a 20-minute phone conversation.
… Continue reading story here …
—–
November 5th
… CU in a few minutes …
Punter Alex Kinney's numbers keep improving
From the Daily Camera … Say this for Alex Kinney's collegiate football debut — it definitely will be a moment he will always remember.
The Colorado native was booming punts for Rocky Mountain High in Fort Collins just a year ago, and on Sept. 3 he fulfilled a lifelong dream by stepping on the field at Hawaii to launch his first punt for the Colorado Buffaloes.
What occurred next probably still roils the stomachs of many Buffs fans. Kinney's first attempt was blocked, leading to an opening Hawaii touchdown in a loss that remains the harshest blight on CU's 2015 resume. Yet to say Kinney has settled in would be an understatement, and his continued poise and efficiency could prove to be a critical element in any hopes of a CU upset Saturday at home against No. 9 Stanford (11 a.m., Pac-12 Networks).
"You just try not to think about that," Kinney said of his disastrous debut. "The most important kick is the next one. Coach (Toby) Neinas always says that. I've really taken that to heart. If you have a bad kick, you just have to make it up on the next one."
Although he had another punt blocked at Arizona State, leading to a field goal in a 48-23 CU defeat, Kinney has nonetheless morphed from a legitimate question mark to a reliable asset over the past two months.
… Continue reading story here …
—
Junior college defensive lineman Samson Kafovalu starting to make his mark
From cubuffs.com … When Colorado defensive lineman Samson Kafovalu scooped up a fumble by UCLA quarterback Josh Rosen last week and rumbled 33 yards to the end zone, CU defensive line coach Jim Jeffcoat was obviously one of the happier people in the Rose Bowl.
Jeffcoat has spent much of this season urging, coaxing, cajoling and pushing the CU junior to improve his conditioning. The fact that the play came in the fourth quarter was proof that Kafovalu is improving in that area.
"People have asked me all year why I hadn't played him a lot," Jeffcoat said. "It's because of his endurance and stamina. But now you see that he's improved on that, and he's getting a lot more plays and being more productive. That's why he was in the game then to make that play."
Indeed, Kafovalu's playing time has increased as the year has gone along. After playing sparingly early in the year, he's steadily increased his time on the field, to the point that he's averaging about 25 plays per game over the last month. Against UCLA, he was on the field for 26 snaps — nearly half of UCLA's offensive total.
"He's been playing better and better," Jeffcoat said "He's really stepped it up conditioning-wise, and it shows on the field."
… Continue reading story here …
—
Tight end Sean Irwin becoming part of the CU offensive game plan
From cubuffs.com … Buff tight end Sean Irwin is developing into a big-play threat. The 6-foot-3, 245-pound junior has eight catches for 173 yards, and his 21.6-yards-per-catch average is more than anyone else on the team with more than one reception. His big catches include a 47-yarder against Arizona, a 42-yarder against Arizona State, a 31-yarder against UCLA and a 22-yarder against Oregon State.
"Sean has kept getting better and better since we've gotten here," MacIntyre said. "He's worked really hard. When we first got here, he was mainly just a blocker. He's worked really hard to develop his receiving skills. He has good hands, but just route running and understanding where to be and how to body a guy. A couple of his catches, in the past they would have intercepted it, (but) he was able to body it. He's catching the ball with a lot of confidence and the quarterback has confidence in him catching the ball."
Irwin spent much of his summer working on those skills, and now he believes he's earned the trust of quarterback Sefo Liufau — particularly after two of his catches looked like possible interceptions before he went up for the ball.
"Learning how to run routes, all the little things that go into it," Irwin said. "I worked on that a lot. I think Sefo has confidence in me and we're working together better and better."
—
Pac-12 preview of No. 9 Stanford at Colorado
… Here is a link …
—–
November 4th
… CU in a few minutes …
Mike MacIntyre post-practice talk with media
From YouTube, courtesy of BuffStampede.com:
—
Stanford offense not a good matchup for Buff defense
From cubuffs.com … When the Colorado defense lines up against Stanford on Saturday (11 a.m., Pac-12 Networks), they'll see one of the best running backs in the nation in Christian McCaffrey and an experienced dual-threat quarterback in Kevin Hogan.
It's a talented duo that nobody in the Pac-12 has been able to stop thus far this season. McCaffrey leads the Cardinal in rushing (1,087 yards) and receiving (25 catches for 310 yards) while Hogan has 1,662 yards passing and 186 yards rushing.
But the first thing Buff defenders see won't be McCaffrey or Hogan.
Rather, the Buffs will first see a massive offensive line, one that averages well over 300 pounds per player and one that takes great pride in imposing its will on opponents. To get to the Cardinal stars, the Buffs will have to first deal with the hosses up front.
"They have a lot of big guys up front and they just try to pound the ball," Buff linebacker Kenneth Olugbode said. "That's what they've done all year, and what they've done in the past. They work really well with their technique and they get up to the second level and make sure their running backs don't get touched."
Indeed, the Cardinal aren't fancy. Unlike the spread offenses that have proliferated throughout the Pac-12, head coach David Shaw's pro-set offense is relatively simple.
They don't try to fool you. They just try to beat you.
"They're well-coached, they do what they do and they're very, very good at it," CU defensive line coach Jim Jeffcoat said. "That's why they've had so much success. They don't change. They're doing to do what they do and dare you to try and stop them."
… Continue reading story here …
—
More on ESPN's "Gospel According to Mac"
… I hope you got the chance to watch it. It was a great story, and brought back a flood of memories …
– "Brian Howell column: ESPN film tells story of Bill McCartney and his faith" … from the Daily Camera
– "The University of Colorado needs The Gospel According to Mac" … from Mile High Sports
– "Former Buffs QB Charles Johnson talks Coach Mac "30 for 30" " … from Mile High Sports
– "30 for 30 Review: "The Gospel According to Mac" " … from the CU Independent
… In case you missed it, you can watch it here …
https://www.youtube.com/watch?v=hiYT5X8QFN0
——
November 3rd
… CU in a few minutes …
"Gospel According to Mac" premieres
From cubuffs.com … The wait is over.  Ever since ESPN's award-winning series 30 for 30 debuted in October 2009, many CU fans thought the same thing: "When are they going to do one on the Buffs?"
The answer is now.  "The Gospel According To Mac," the third film in the third volume of the series, debuts Tuesday night on ESPN.
The film is best summarized by those who made it.  From ESPN:
"Football is a religion to many people. But few know the depths of both faiths as well as Bill McCartney, the former football coach at Colorado and the founder of Promise Keepers, a Christian men's ministry. "The Gospel According to Mac" tells the truth-is-stranger-than-fiction story of Coach Mac's controversial national championship run, and the two seasons that followed with multiple arrests and strife between his mostly African-American players and the Boulder police. McCartney's own daughter became pregnant by the team's quarterback before seeing that same quarterback struck by cancer. The saga culminated in consecutive Orange Bowl matchups against Notre Dame. Bill McCartney's passionate and often polarizing beliefs have made him many enemies and many admirers, but it's difficult to deny that he embodies the essential issues facing football in America to this day."
With the focus both on football and McCartney's faith, director Jim Podhoretz pulls no punches when talking about either topic.  The bulk of the movie is focused on the 1987-90 era, and former players Darian Hagan, Eric Bieniemy, Chad Brown, Deon Figures, Mike Pritchard and Charles Johnson are featured throughout.
While the film dives into many things that happened on the field, including the fifth down at Missouri and both Orange Bowl games against Notre Dame, it also explores in detail McCartney's faith and how that guided his coaching career.
The film will air twice Tuesday night on ESPN and ESPN2 and then not again until December 20.  The initial airing will be on ESPN at 7 p.m. and it will air on ESPN2 again at 11:30 p.m.  Then on December 20, it will air on ESPN both at 2 p.m. and 6:30 p.m. (all times mountain).
—
Here is a review
From Awful Announcing … While the description does it no justice, 'The Gospel According to Mac' is to me one of the best kind of 30 for 30's in that it's a very compelling story that's told well, but more importantly a story that was totally new to me. Without this film, I don't know if I'd never know much about this story and that would be a loss because it's just so rich with twists and turns that rarely exist in reality, let alone sports.
… I found myself yearning to know more about these Colorado teams. More game footage, more info about the players, more context on their seasons. One thing I made note of is that there is no major college football media personality who helps guide the story. Similar installments often have a Chris Fowler, Brent Musburer, or Keith Jackson to help provide the proper context of just what the lay of the land was for certain points in time and historic games. I found myself wanting to know how these teams were viewed at the time and what the buzz was for some of these larger moments. Instead more of the retracing of these seasons relies on players and coaches and hence it's a bit unclear what the national reaction and perception was to many of these events.
But this documentary is only 1/3 football. It's only 1/3 McCartney and his religious convictions. The rest is 1/3 of everything a screenwriter could offer in terms of off the field storylines. Suffice to say if you're a college football fan or just appreciate a good and yes long story, you'll be rewarded here.
Director Jim Podhoretz does a fine job telling it. It doesn't stick out as one of the more artful 30 for 30's. I wouldn't say it seemed low budget, but I got the sense the budget for this film might have been a bit thinner than others. But with that said, there weren't any obvious creative choices that didn't sit well with me.
… Continue reading story here …
—
Tuesday Press conference quotes from Mike MacIntyre
From cubuffs.com …
General
"First of all, I want to talk about [WR] Nelson Spruce breaking the record (Pac-12 all-time receptions leader). He broke a record which is awesome and will stand for a while, but the thing about Nelson is he's a phenomenal student, he's a phenomenal person, he's a great leader and he is going to be a success in whatever he decides to do. I definitely feel like he'll play at the next level for a while, but I know one thing: whatever he decides to do business-wise or investment-wise, I'm going to find out what it is and he'll probably be hiring some of our guys to work with and work for him one day. He's a great player, but an even better all-around person. He's been a pleasure to coach and have on our football team.
"Stanford, is an excellent, excellent football team. They are a powerful football team, is a good way to explain them offensively and defensively. Coach [David] Shaw has done a great job there with Stanford and their players. Their quarterback, Kevin Hogan, is a very, very good player. He can make all the throws, he does a great job and completely understands their offense. They give a lot on their quarterback; he'll go up there with probably three or four different calls when he goes up to the line of scrimmage on certain things they're going to do and he is able to handle all of it and get them in the right run or the right play. He makes the engine roll and he's excellent. Then, of course [Christian] McCaffrey at tailback, receiver, returner, I guess he's on the field all the time. For a minute there, I kind of got worried because they had a No. 5 on defense so I said, 'Wow they have him doing that too' but they have double numbers, although he probably could (play defense). So, they have an excellent football team and our guys are excited about playing Saturday and we'll kick off at 11:00 and it will be a gorgeous, gorgeous Colorado day, too."
On if the style of play in today's game can take away from Nelson Spruce's stats          
"No, I wouldn't say that at all. Football changes all the time and it adapts. He could play in any style offense and excel. We've been able to get him the ball and the other thing is he's stayed durable, stayed healthy, he's always come with great work ethic, he's always come prepared to play every game. That's also a credit to him for having so many catches and such longevity, he just keeps coming every day; that's a credit to his mental toughness and the way he takes care of his body."
On if he tried to recruit Stanford RB Christian McCaffrey from Valor Christian High
"We definitely tried to recruit him but I think he was probably going to Stanford all along there for a minute. But he's a heck of a player and of course we would of loved to have him here. That was kind of when I was coming in and it was the first year I was here and it (the recruiting process) was already kind of down the road a ways. The way recruiting has sped up so much, if you don't really know them a bunch at least by the middle of their junior year, you're already behind the eight ball in a way, unless they are a late bloomer."
On Stanford's defense and the importance of CU's offense clicking
"They're excellent on defense, they're strong and powerful up front. They do a good job of controlling the line of scrimmage and harassing the quarterback usually with just four rushers, and their secondary does a good job of coverage. We are definitely going to have to move the ball and score points in order to have an opportunity to win. I think that we are being able to do a lot of things and utilizing a lot of different weapons, so that's helping us. We just have to finish out some plays that we had a chance to finish out last week, and if we would have finished out some plays we would have won the football game, so we have to do that this Saturday, there's no doubt about it."
On QB Sefo Liufau closing in on CU's all-time leading passer record and his durability
"It says a lot about Sefo, especially doing it here in the Pac-12 which is an excellent conference. He's kind of grown with our team as our team has grown. He's made a lot of plays for us and done a lot of things. That's a great honor for him, I know he would like to have more 'W's along with that, and that will continue to come for him. I thought that he did some really good things Saturday also."
On if Stanford is a tough team to prepare for because of their pro style offense            
"Yes, just because who they're handing the ball too and who's throwing it, and those big tight ends they got, they have excellent players which makes it the toughest. We do a little bit combination of tight ends and fullbacks so hopefully that pays off for us (in preparation) and that's one of the reasons we do that is so we can be prepared for every type of offense. Because (in college football) you don't have any pre-season games and that type of thing like you do in pro football, so you have to be prepared. They do a very good job of what they do. David Shaw does a very good job of using multiple groupings. And [Mike] Bloomgren their offensive coordinator, we worked together at the [New York] Jets, they do a good job with what they do."
On what makes Christian McCaffrey so good
"He has excellent vision, number one. He's powerful, even though he doesn't look powerful when you see him in person. He's a very powerful runner, has a great body lean, and he can make himself small in the hole, that sounds funny but he can get into a hole and turn sideways and slip and fall through it and keep moving forward and still have power. The other thing is he's extremely fast, he's extremely fast, so he's able to pull away from guys that don't have angles on him and is able to gain some more yards. And then he's a tough runner, he doesn't tip-toe, he doesn't hesitate, he's a tough runner. And then they move him out at receiver because he has excellent hands, so he's kind of an all-purpose guy, I guess that's why he leads the country in it."
On QB Sefo Liufau and what he displayed Saturday at UCLA         
"He did some excellent things there, there's no doubt about it. I think we've talked enough about his toughness, he exudes that every Saturday. His leadership to keep bouncing back, keep fighting, keep competing was really good. He doesn't hang his head. He's made some bad throws and he doesn't get upset about that, but he's also made some great throws and we've dropped some balls and he doesn't get upset he just keeps playing. I think that is why the guys on the offense keep playing for him, they keep pushing, they keep fighting, and I think that is a credit to his temperament, his attitude and his selflessness."
On how CU matches up with physical teams compared to speed teams
"I guess we'll find out Saturday. They're very powerful, we'll have to stay on our blocks, our running backs will have to hit the hole and slice through some arm tackles, that type of thing, to be able to run the football. Hopefully we'll be able to sustain our blocks long enough in order to get our running backs going, and stay on our blocks long enough that we can throw the ball down the field. Offensively, it's very unique, they have the same five offensive lineman in all of their games and they're good and have stayed healthy, and keep playing so they've gotten in a rhythm. Their running backs are really good, (but) their offensive line is excellent. How we play up front and how we stay stable, hopefully our linebackers stay healthy and we'll be able to fit the run up like we need to. It's going to be a physical game, but that offensive line has stayed healthy all year long and that has really helped them stay physical and be able to keep running the football. Same with their defensive front, those guys have been able to stay healthy which I don't think that was the case for them as much last year."
On if he looked to model a program after Stanford while at SJSU             
"I thought it was an excellent program, but no it wasn't one I looked to model after. I thought coach [Jim] Harbaugh did a good job there, and then coach [David] Shaw did a great job taking it over and keeping it running and going like it is. We played them at San Jose State; I thought they were an excellent program, but it wasn't one that I was trying to model after. But I thought they were an excellent program. The people I coached under David Cutcliffe at Duke, Bill Parcels at the [Dallas] Cowboys and the [New York] Jets, when I was there and other coaches that I had coached under through the years, looking at that. Stanford is unique, though, San Jose State was a great school, but it's not Stanford. Stanford University is unique; every place you are (at) is unique and you kind of mold it to what fits you, you kind of model it to what you are and what's best for your school."
On learning from Duke vs. Miami game and the crazy finish
"You always keep playing; both teams did. You can always learn from it. There's a lot of controversy going on with that. That's going to change how we interpret instant replay in the future. That hit pretty close to home for me. I saw it on the airplane and was yelling at the top of my lungs. I wasn't sure the guy's knee was down, but I saw the clip of it. I texted Coach Cutcliffe right as I got off the plane. That's a tough thing for everybody involved in it."
On strategy used by Northwestern to give Stanford its only loss
"Northwestern played really well on defense; Stanford wasn't really clicking in the first game. Traveling all the way to Chicago and it's the opening game, sometimes you don't do as well as you would have liked to. If Northwestern came all the way to Palo Alto, it might have been a different result, because it was a close game. Give Northwestern credit, they're a good football team."
On Stanford's Christian McCaffrey
"I don't remember a guy that can do as many things as he does, as far as kick return, punt return, and catching the ball out of the backfield. I think the most amazing thing to me is when you meet Christian, he is maybe 5-10, looks like he weighs 150, but probably weighs 200. If he walked in this room, you'd probably say that's not him. He's really talented, very fast, and very fearless. Can he run the ball up inside, can he bounce it out outside, yes he can. He can do all of it. He's just a really good football player. I don't know who he reminds me of, but I think he's a special type of athlete, I really do. When I saw him play in high school, I couldn't believe how fast he was. There wasn't anybody close to him on the field, and he's that fast out here too. Wow, can he take the punishment, and he can and he'll dish it out too. He's a really good player; he's gotten stronger and bigger."
On players with concussions
"Gerrad Kough had one and Jay MacIntyre had one. It looks like Gerrad won't be back. Jay might have a chance."
On the challenge of facing a dual threat quarterback
"I'm a little nervous, because he can definitely do both. [Stanford Quarterback Kevin] Hogan can really run. That's something that people might overlook at times. He's able to sit in the pocket. The thing that he does really well is he understands where he is supposed to go with the ball. He gets them in the right protections and in the right running plays. Last week, I think because of the weather, they ran him a little bit more. I assume they'll run him against us, because we had a little bit of a problem of stopping a running quarterback in our games. I think they'll see that and utilize it. We need to be prepared for that. I don't think they want to run him all the time, but when they need to he is capable of doing that. You have to be careful in your rush lanes and not open them up wide open. That makes it tough sometimes too, because if you're not a little bit reckless on your pass rush, it's hard to get past that tackle to get to the quarterback. His ability to run does hamper your pass rush a little bit."
On injuries to S Ryan Moeller, LB Ryan Severson, and TB Michael Adkins II
"Severson has a chance to be back. He was out there running around today. He did some of the practice, then we slowed him down and iced him up. We'll see how he is tomorrow. I hope he'll be back, at least on special teams. We'll see. Ryan Moeller will not be back and Adkins will not be back."
On developing CU's identity
"We want to be a football team that is physical on defense and athletic. We're getting there – we're not close to it yet – but we've made strides there. We're more athletic, you've heard other teams say that. Offensively, I want to be a team that is balanced, that can be able to run and throw it. We've showed good portions of that, and bad portions of that at times. You have to be balanced. That's where we're headed and looking for. We want to be more and more physical. We had some games where you could say CU was the most physical football team on the field. That hasn't happened, but it's starting to happen more often. We're getting bigger and stronger. We still got a ways to go. Our identity would be able to have a balanced offense, and on defense I'd like us to be more physical and very athletic."
—
Jon Wilner: Stanford should handle Colorado
From the San Jose Mercury News …
Next up: at Colorado
The matchup: Favorable.
The timing? We'll see. Kickoff is 10 a.m. pacific, and Stanford's only other morning affair didn't work out so well.
But let's face it: The Buffs are built to handle Stanford's power game. Their defense is 11th in the Pac-12 in total yards allowed (489 per game) and 11th against the run (244.6) in conference games. Also, expect the Cardinal OL to ramp up its execution after getting outplayed by WSU.
In other words: It could be a huge homecoming for the Denver-born/Castle Rock-raised McCaffrey.
*** Also to watch: Colorado QB Sefo Liufau injured his wrist late in the loss to UCLA. He stayed in the game, but it remains to be seen whether it worsened overnight and affects his preparation this week.
*** Stanford is favored by 16. It's easy to envision an early surge by CU that gives way, in the third quarter, to Stanford's advantages in brute force and execution.
The Cardinal is favored by 16. Colorado isn't Washington State. If Stanford plays reasonable well, it should win comfortably.
—
– Other Buff Stories –
– "Buffs show progress in season of ups and downs" … from the Daily Camera
– "CU Buffs Nelson Spruce is still under-appreciated" … from BSN Denver
—–
November 2nd
… CU in a few minutes …
CU hosting a food and toy drive at the game Saturday
From cubuffs.com … The University of Colorado is hosting both a food drive and a toy drive prior to the start of the football game with Stanford on Saturday (kickoff 11 a.m., Pac-12 Networks).
The food drive will benefit Community Food Share and help fight hunger in Boulder and Broomfield counties.  Any factory sealed canned good is welcome, but the most needed items include:
Peanut Butter
Canned Meals
Cold & Hot Cereal
Canned Tuna/Chicken
Canned Vegetables
Pasta Sauce
Pasta
CU student-athletes will staff donations bins on game day located at the northeast, northwest, southeast and southwest gates as well as in Ralphie's Corral.
Additionally, the CU Alumni Association is teaming up with the U.S. Marine Corps to collect toys for their Toys for Tots program at Ralphie's Corral before the Stanford game. Please bring an new, unwrapped toy to donate for a child in need this holiday season.  We will have Marines on site to collect your generous gift.
Ralphie's Corral is located on Benson Field south of the stadium across from Colorado Avenue
—
Buffs still trying to figure out how to close the deal
From cubuffs.com … For the Colorado Buffaloes, progress has been … well, painful at times.
Saturday's 35-31 loss to UCLA, a game in which the 4-5 Buffs overcame a 21-3 deficit to take a 31-28 lead in the fourth quarter only to see it slip away, is simply the latest example.
Once again, the Buffs played well enough to win — at times. The offense had its best day of the season — but struggled in the red zone. The defense came up with plenty of big stops — but still gave up 6.8 yards per play.
They had the opportunity to win, but could not close the deal.
… Continue reading story here …
—
Other Buff Stories …
– "Buffs' Shay Fields makes quiet return" … from the Daily Camera
– "Wrap-up: Buffs give Bruins a scare, can't finish once again" … from BSN Denver
—–
November 1st
… CU in a few minutes …
Colorado a 16-point underdog against Stanford
According to vegasinsider.com, No. 9 Stanford is a 16-point favorite over Colorado for their game this Saturday (11:00 a.m., MT, Pac-12 Networks).
Other Pac-12 lines:
– Washington is a 1.5-point pick over No. 13 Utah
– USC is a 17.5-point favorite over Arizona
– No. 22 UCLA is a 15.5-point favorite on the road over Oregon State
– Oregon is a 5.5-point favorite at home against California
– Arizona State is a 1.0-point favorite on the road over Washington State
—
CU Video – "Forward – Episode 5"
The video from the Oregon State game … It will make you feel better …
Click here for the latest release from CU Video
—
Colorado remains at No. 11 in ESPN Pac-12 Power Rankings
It's going to take an upset for the Buffs to move up from its current No. 11 spot.
Here is a link to the full rankings.
What ESPN had to say about the bottom three:
10. Arizona Wildcats: With just three games left against USC, Utah and Arizona State, you have to wonder whether the Wildcats can find just one more win and get to the postseason. If they turn the ball over the way they did Saturday against Washington, the answer is no.
11. Colorado Buffaloes: Another week, another coulda-woulda-shoulda-been for the Buffs. Saturday's 35-31 defeat to UCLA was Colorado's second loss in three weeks by one possession.
12. Oregon State Beavers: I don't think I'm alone in the thought that I came away fairly impressed by Oregon State's defensive front seven on Saturday. Tough environment on the road, and I thought the Beavers held up pretty well against Utah for most of the game. They just didn't have the offense to keep up.
—
Stanford falls one spot in AP poll after close call in Pullman; UCLA up one spot
Once again, the Pac-12 has three teams in the Associated Press top 25 rankings, with No. 9 Stanford leading the way. The Cardinal, 30-28 winners over Washington State, fell one spot, while UCLA, 35-31 winners over Colorado, rose two spots to No. 22.
Three teams from the Pac-12 are amongst the others receiving votes, with USC (CU's next opponent) coming in at No. 27, Cal in a tie for 32nd, and Washington State in a tie for 37th.
| | | | | |
| --- | --- | --- | --- | --- |
| 1. | Ohio St. (39) | 8-0 | 1465 | 1 |
| 2. | Baylor (6) | 7-0 | 1408 | 2 |
| 3. | Clemson (6) | 8-0 | 1381 | 3 |
| 4. | LSU (5) | 7-0 | 1346 | 4 |
| 5. | TCU (4) | 8-0 | 1336 | 5 |
| 6. | Michigan St. | 8-0 | 1249 | 6 |
| 7. | Alabama (1) | 7-1 | 1160 | 7 |
| 8. | Notre Dame | 7-1 | 1019 | 9 |
| 9. | Stanford | 7-1 | 1014 | 8 |
| 10. | Iowa | 8-0 | 954 | 10 |
| 11. | Florida | 7-1 | 923 | 11 |
| 12. | Oklahoma St. | 8-0 | 879 | 12 |
| 13. | Utah | 7-1 | 809 | 13 |
| 14. | Oklahoma | 7-1 | 712 | 14 |
| 15. | Memphis | 8-0 | 683 | 16 |
| 16. | Michigan | 6-2 | 613 | 15 |
| 17. | Florida St. | 7-1 | 571 | 17 |
| 18. | Houston | 8-0 | 466 | 18 |
| 19. | Mississippi | 7-2 | 414 | 19 |
| 20. | Toledo | 7-0 | 366 | 20 |
| 21. | N. Carolina | 7-1 | 248 | NR |
| 22. | UCLA | 6-2 | 190 | 24 |
| 23. | Temple | 7-1 | 175 | 21 |
| 24. | Mississippi St. | 6-2 | 144 | 25 |
| 25. | Texas A&M | 6-2 | 101 | NR |
 Others Receiving Votes: Wisconsin 64, USC 57, BYU 27, Northwestern 21, Duke 7, Penn St. 5, Appalachian St. 4, Boise St. 4, California 4, Pittsburgh 2, Tennessee 2, Navy 1, Washington St. 1
——