—
Colorado Daily – Oregon State
—
October 24th – GAMEDAY!
Buffs and Beavers in must-win mode
From cubuffs.com … Something has to give Saturday night at Reser Stadium.
Either the Colorado Buffaloes (3-4 overall, 0-3 Pac-12) or the Oregon State Beavers (2-4, 0-3) will walk off the field with their first Pac-12 win of the season (8:30 p.m. Pac-12 Networks), with the other team left as the lone team in the conference without a league victory.
If the Buffaloes get a win, it will end a 14-game conference drought that stretches back to Nov. 16, 2013, when the Buffs beat Cal 41-24 in Boulder in Mike MacIntyre's first season. A win over the Beavers would also end a 13-game road losing streak in Pac-12 play, one that stretches back to the 2012 season.
The Beavers have not fared much better in recent Pac-12 play. Since defeating CU in Boulder early last season, OSU has dropped nine of its last 10 conference games. The Beavers are now under the direction of Gary Andersen, who made the jump to Corvallis from Wisconsin after long-time OSU boss Mike Riley took the reins at Nebraska, and Andersen is still looking for his first Pac-12 win.
…"You have to bounce back, look deeper into your soul, so to speak, and then you just have to find ways to win," MacIntyre said. "You have to find ways to win and finish it off. … It all goes back truly to technique, and X's and O's and blocking and tackling, and making plays and not making plays. We have to do a good job of coaching it and the young men have to do a good job of playing in those situations."
… The Buffs will have some good news defensively this week, as inside linebacker Kenneth Olugbode is scheduled to return after missing two games with a leg injury. MacIntyre said Olugbode will rotate with freshmen Rick Gamboa and Grant Watanabe. The Buffs will be aiming to improve on last week's effort, when they held Arizona scoreless for two quarters before the devastating fourth quarter.
… The Buffs continue to believe they are ready for a breakthrough game.
With six games remaining and four wins necessary to become bowl eligible, the Buffs haven't changed their preseason goal of earning a postseason bid. But they also know the clock is ticking.
"We're very frustrated right now, but we just have to keep playing," senior cornerback Ken Crawley said. "We believe in ourselves.  We know any time we can knock any team off; we are better than those teams. We've just got to keep fighting."
… Full story can be found here …
—
Drew Litton …
From the Daily Camera …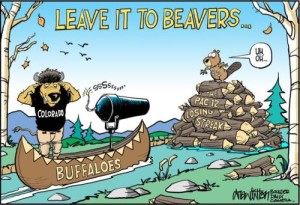 —
Other CU/Oregon State stories …
– "5 questions: Oregon St. struggles in season of transition" … from the Daily Camera
– "What they're saying: Beaver banter" … from BSN Denver
– "Colorado Buffaloes at Oregon State Beavers: Which team breaks Pac-12 losing skid in battle of conference bottom-feeders?" … from the Oregonian (prediction: Colorado 27, Oregon State 23)
—–
October 23rd
… CU in a few minutes …
Athletic Department update from athletic director Rick George
Dear Buffs Fans,
I would like to apologize that I have not updated you for a while on our progress in athletics.  It has been very hectic with the construction, move and the start of our athletic competitions in multiple sports.  It's hard to believe that we're already more than two months into the academic and athletic year.  We have enjoyed a good amount of success to date, both on and off the fields and courts of play.
Athletics Complex Expansion
On the construction front, phase two of our Athletics Complex Expansion is nearly complete, as we are in the process of moving those into their new offices who will occupy the fifth floor of the Champions Center, where our administration and most of our Olympic coaches will now be located.
We have "move-in" days scheduled over the next two weeks and soon the bulk of us will be together under one roof for the first time since the entire department occupied the fieldhouse back in the 1950s.  That might sound trivial, but believe me it isn't.  The third phase, the IPF (indoor practice facility) and underground parking garage are on schedule for completion shortly after the first of the year.
On February 26, we will have a signature event to celebrate the completion of the entire project, and I know this is teasing you a bit, but I am looking forward to announcing in the upcoming weeks our special guest speaker for the evening.
Our facilities left a solid impression Pac-12 Commissioner Larry Scott on his visit for the Arizona game.
"What Colorado has built here is state of the art," he said. "It compares very well with everything else I've seen in the conference. If you are a student-athlete thinking about coming here, you realize there's a big commitment to football, to the student athletes.  It was really well done."
Night Games
There has been a lot of discussion lately and some dissatisfaction expressed by some of the league's coaches about the number of night games in football.  We have played four night games in a row for the first time in our history and have at least one more coming up in November for a school record minimum of seven this year.
The athletic directors have discussed this at our Pac-12 Council meetings; the welfare of our student-athletes has to be front and center, and returning home from a road game at 5 a.m. has to be the exception and not the norm.  And while many fans are okay with night games, others are not, as it can be tough for families and our older fans and those wanting to watch us in the eastern and central time zones.  That said, I am very proud of our student turnout and enthusiasm at the Oregon and Arizona games, your support and their support truly does help the team.
Fall Competition Update
The men's and women's cross country teams geared up for the Pac-12 Championships with an impressive showing in the Pre-Nationals in Terre Haute, the site of next month's NCAA's.  The men, ranked No. 1 since the preseason, dominated their race and are now in full pursuit of a fifth straight league title.  The women, led by junior Erin Clark's individual win, finished second and are ranked No. 3 in the nation.
We've had some good moments as well as disappointments in the first half of the football season in which we posted a 3-4 record. I do believe the team is maturing and is fighting through several injuries and have been competitive in their pursuit of getting our football program on track.  At times, our own mistakes have been our undoing and those have to be minimized since qualifying for a bowl game is still within reach.  I am proud of the way the players have maintained a positive attitude through the disappointments, especially after the season opener at Hawai'i.
Soccer is making a push for the NCAA's, as they own a 7-6-1 record against very tough competition, including a 1-2-1 mark against ranked schools. CU defeated No. 14 California, 2-1 in overtime, for its best victory of the year to date.
The women's volleyball team is also charging toward the NCAA's, coming off a weekend with wins over No. 6 Stanford and California; they are just outside the Top 25 (28th) having reached the No. 21 spot earlier in the season.  At 12-8 on the year and in fifth place in the Pac-12, almost half of the team's matches have been against ranked programs, which will help our strength of schedule when the NCAA is contemplating which teams to invite.
The golf teams have had some good performances to date.  The men won the two tournaments they hosted, the Ballyneal Challenge and the Mark Simpson Invitational.  They've had some growing pains with five newcomers, but are getting great leadership from four veterans.  The women finished first in the qualifying portion of the East-West Match Play Challenge en route to a runner-up performance in the match play, riding those efforts to an early No. 10 national ranking.  Both teams have one more tournament remaining in their fall seasons.
Tennis competes in individual tournaments in the fall, and last weekend we made some program history.  Junior Nuria Oremo Ruiz won the USTA/ITA Mountain Region Championship and in doing so, became the first player from CU to win the regional singles title.  The previous week, sophomore Tina Bokhua defeated the No. 5 player in the nation in the ITA All-American Championships, the first Buff to win the event's main draw.
Basketball practice is in full swing and we had great attendance at our annual media day.  If you haven't seen the coverage, there's plenty of it on CUBuffs.com.  Believe it or not, their first games are just three weeks away.
Celebrating Champions
We had a great turnout for our first "Champions Weekend," highlighted by their introductions during the Arizona football game.  Our defending national champion skiers, owners of 20 national titles, were featured during the first quarter break, and at halftime, we honored the 1972-79 ski teams, winners of eight straight crowns, the 1995 women's basketball and cross country teams and the 2005 men's and women's cross country squads.
Sports Governance Center
In late August, we rolled out our plans to partner with the university on the creation of a "Sports Governance Center" (SGC) that still is in its conceptual stage.  Right now there is more going on behind the scenes in the start-up of the program, but we did have our first public event on October 13 and it was very well attended.  If you're interested in learning more about the SGC, go here:  ( http://pacmail.em.marketinghq.net/ct.html?ufl=2&rtr=on&s=x7ies0,l5mr,2a,dqvv,5y2w,3hbj,2bk0&MLM_MID=987075&MLM_UNIQUEID=27a6f1a700 ) www.CUBuffs.com/governance.
Congratulations to Two Great Buffs
And finally, congratulations are in order for two of our own as the recipients of a couple of very prestigious university awards.  Former athletic director and ski coach Bill Marolt was presented with the George Norlin Award for outstanding service to society in their chosen profession.  Bill as you likely know coached our skiers to seven of those aforementioned titles and took the U.S. Ski Team to new heights, both as its coach and then as its CEO after 12 years as our A.D.  And our longtime sports information director David Plati earned the Robert Stearns Award for contributions for extraordinary contributions to the university.  Dave's crew will move into the Champions Center next week; did you know he's gone to work through the same front door of the Balch Fieldhouse Annex almost every day since he was a freshman in 1978?
Looking Ahead
Our Sustainable Excellence Initiative and "The Drive to 105" is continuing and we have now raised over $85 million toward our goal.  There is more information at  ( http://pacmail.em.marketinghq.net/ct.html?ufl=2&rtr=on&s=x7ies0,l5mr,2a,eo23,bipf,3hbj,2bk0&MLM_MID=987075&MLM_UNIQUEID=27a6f1a700 ) http://pacmail.em.marketinghq.net/ct.html?ufl=2&rtr=on&s=x7ies0,l5mr,2a,8ova,jc5i,3hbj,2bk0&MLM_MID=987075&MLM_UNIQUEID=27a6f1a700 and as always to learn about other ways to support your Colorado Buffaloes, visit www.cubuffclub.com (or phone the Buff Club office, 303-492-2200).   Kurt Gulbrand's staff is in the process of moving this weekend into the Champions Center, so also feel free to visit any of our Buff Club staff members in person.
We have some big events coming up in the next month, starting with our annual Athletic Hall of Fame induction on Thursday, November 5 at the Coors Events Center; we hope you can attend to honor nine very special Buffaloes.  On Friday, November 13 during the USC football game, we will honor Larry Zimmer, who will be announcing his final home game after 42 years serving as the "Voice of the Buffaloes."  Then the first NCAA championships are on deck, and I hope to celebrate our successes with you as the fall sports seasons wind down.
Go Buffs!
C ollaboration and U nity,
Rick George
—
Friday musings
As I get ready to board my flight to Portland, a few random thoughts and figures:
– Utah will be looking to defeat USC in back-to-back games for the first time since 1915-16. Sounds like the Trojans have been dominant against the Utes, but for the Buffs, it's even worse. When CU takes on USC on November 13th, it will be the 10th game ever between the two schools. CU's all-time record against USC? 0-9;
– Saturday night's game against Oregon State (8:30 p.m., MT, Pac-12 Networks) will mark the first time in school history in which the Buffs have played four consecutive night games. The Buffs have gone 0-3 in their first three efforts under the lights, with the string finally being broken next weekend, when Colorado will play UCLA in the afternoon (1:00 p.m., MT, Pac-12 Networks);
– Colorado and Oregon State have one common opponent so far this season, Arizona. The Wildcats handled the Beavers, 44-7, two weeks ago, before finishing off the Buffs, 38-31, last weekend;
– So far in Pac-12 only games, Oregon State is giving up 551 yards per game to the opposition … Colorado is giving up 548 yards per game;
– Oregon State leads the all-time series, 5-2, but this weekend's game will be just the second to be played in Corvallis. The first two games in the series, played in 1961 and 1963, were played in Portland (OSU won both games);
– Colorado is getting deeper and more experienced, but not as fast as we might think. Despite the huge number of juniors on the roster (almost 30), a total of 33 Buffs have seen the field for the first time in their careers this fall. That number is third in the nation, behind only Kansas (37) and TCU (36). Colorado is also fourth nationally in first-time starters, with 18;
– The home game against the Buffs represents the first for the Beavers in 29 days. With a Friday night game, a bye, and two road games, this weekend is the first home game for Oregon State in 29 days;
– Without Sean Mannion at quarterback, Oregon State has turned into a running team. The Beavers have 57 rushing first downs so far this season, compared to 47 through the air. The last time Oregon State had more rushing first downs than passing first downs in a season was 2000 (to date, Colorado has 74 rushing first downs and 80 passing first downs);
– No senior citizens … Colorado only has 15 seniors on the roster (nine in the two-deep), while Oregon State has only 13 seniors on their active roster;
– True freshman punter Alex Kinney is getting better. After a disastrous start to his career – a blocked punt by Hawai'i in the opener – Kinney has steadily improved. Two games into the season, Kinney was averaging only 33.5 yards per punt. In averaging over 40 yards per kick in Pac-12 play, Kinney has his season average up to 39.2 yards per punt, fourth amongst the seven CU punters who took the field as freshmen (and better than future standouts Andy Mitchell and Nick Pietsch;
– In his first game on the field in almost two years, Grant Watanabe showed he was ready to play. The freshman linebacker (who gray-shirted in 2014) had 14 tackles in his first game last weekend against Arizona. The total is tied for the fourth-most by a true freshman at Colorado (Addison Gillam has two of the three better games, with 18 and 15 in 2013 games. J.J. Billingsley had 15 as a true freshman in a game in 2002)
—
Oregon State practice report: Beavers not shy about showing backup quarterback getting reps
From the Oregonian … The media was able to watch a bit of scout team work, where Mitchell and Collins split reps, and a team period, where Mitchell was the only quarterback to take snaps on a possession that began around the OSU 25-yard line.
By my count, Mitchell went 5-of-13 (every play was a pass) but converted two key fourth downs to keep the drive moving and also got the Beavers going up-tempo on a couple different occasions. On the final play of the workout, a red-zone pass over the middle got to Victor Bolden but was nicely knocked away by linebacker Bright Ugwoegbu.
Following practice, Mitchell also pulled true freshman tight end Noah Togiai aside to work on routes on their own.
Here's Andersen on the quarterback situation entering Saturday night's game against Colorado:
"The great thing is when a young man (Mitchell) — especially with a very young football team — has proved himself to practice well enough to get into a game situation and see how he can react and how he is going to play, and then the opportunity presents itself, we'll play him," Andersen said. "And if that's at the quarterback spot this week, then so be it in certain situations.
"Seth's gonna start the game, and we'll see how it goes as we move forward throughout the game."
—–
October 22nd
… CU in a few minutes …
Oregon State Beavers practice report: Seth Collins still starting quarterback, but backup Nick Mitchell could play against Colorado
From the Oregonian … Though offensive coordinator Dave Baldwin said Seth Collins is still the Beavers' starter, the coach added Mitchell could get some action against the Buffaloes.
"We're gonna go with our quarterback as it is," Baldwin said. "You might see the other kid (Mitchell) play. When you carry the ball 23 times, you're a little beat up. And (Collins) did carry the ball 23 times and is a little sore, so I'm preparing for everything that we could be prepared for.
"I think the other kid (Mitchell) has done a nice job this week, but the other kid (Collins) will start and we'll go from there."
It's the latest twist in quarterback derby that had seemed to settle down. After competing with Mitchell at the end of spring practice and then McMaryion throughout most of fall camp, Collins has started all six games so far of 2015.
At times, the true freshman has dazzled, such as when Collins compiled more than 100 passing and rushing yards against San Jose State and threw for 275 yards against Stanford. He's shown off a beautiful deep ball and his interception total of four at the season's halfway point is more than respectable (though three have come in the past two weeks). He's the Beavers' leading rusher, totaling 486 yards (5.4 yards per carry) and five touchdowns.
But Collins' quarterback rating of 105.43 and completion percentage of 51.7 both rank 98th out of the 100 quarterbacks that qualify to be measured. Overall, OSU's passing offense ranks 119th out of 128 teams nationally at 145.5 yards per game.
—
Other CU/Oregon State stories
– "OSU football: Andersen likes where defense left off at WSU" … from Corvallis Gazette-Times
– "Buffs getting unexpected lift from Rick Gamboa" … from the Daily Camera
– "CU Buffs Donovan Lee: 'We didn't have the maturity or resolve that we needed' … from BSN Denver
– "Buffs brace for another running quarterback" … from the Daily Camera
ESPN picks … Colorado a unanimous pick over Oregon State (kiss of death?)
ESPN has its weekly picks, with four of five of the Pac-12 writers taking Cal over UCLA tonight. Utah is a unanimous pick over USC, and Stanford is a unanimous pick over Washington.
The experts are split on Washington State and Arizona, with four of five choosing the Cougars on the road over the Wildcats.
Here are the predictions for the CU/Oregon State game:
Kyle
Bonagura
35-27
Kevin
Gemmell
35-24
Chantel
Jennings
31-24
David
Lombardi
35-34
Ted
Miller
38-35
—–
October 21st
… CU in a few minutes …
Buffs to try and get Phillip Lindsay more touches
From the Daily Camera … For the past couple of seasons, the Colorado football team has had a committee approach to its run game.
Sophomore Phillip Lindsay may be separating himself a little bit, though.
Lindsay had a career-high 23 carries in Saturday's 38-31 loss to Arizona. It's the most carries by a single player since Mike MacIntyre and his staff arrived in Boulder before the 2013 season, and just the fourth time anybody has had as many as 20.
"We wanted to get Phil in a groove and put him in a situation where he's able to see a lot of different things," running backs coach Klayton Adams said.
Lindsay had 91 yards against Arizona, and has posted 284 yards and four touchdowns on 61 carries in the past four games. He's the first player to lead CU in rushing four consecutive games since Christian Powell did so late in 2012.
Whether the heavy work load for Lindsay continues remains to be seen. The Buffs (3-4, 0-3 Pac-12) are simply trying to find what works to get their running game going.
The Buffs are averaging just 84.7 rushing yards in Pac-12 play. Sack yards count in those numbers, but taking those out, the tailbacks have managed just 94.0 yards in Pac-12 play, on 3.9 yards per rush.
… Continue reading story here …
—
… Oregon State stories from Oregon newspapers …
– "Poor fundamentals still plaguing Oregon State Beavers defense at season's midway point" … from the Oregonian
– "OSU football: Beavers doing the secondary shuffle" … from the Corvallis Gazette-Times
– "Colorado could be just the get-well card Oregon State needs: Issues & Answers" … from the Oregonian
– "Gary Andersen, on the three things Oregon State needs" … from the Portland Tribune
– "Oregon State offense goes three-and-out most frequently in Pac-12: Oregon State Beavers rundown" … from the Oregonian
—–
October 20th
… CU in a few minutes …
Addison Gillam out for the season, but Kenneth Olugbode will be back
From cubuffs.com … Junior linebacker Addison Gillam will undergo a second knee surgery on Friday and miss the remainder of the 2015 season, Colorado coach Mike MacIntyre said on Tuesday.
Gillam, whose 119 tackles in 2013 set a school freshman record and led the Pac-12 and FBS in tackles by a true freshman, played in only two games this season. He is eligible to apply for a medical hardship waiver, which MacIntyre called "a silver lining."
MacIntyre expects Gillam to be fully recovered and back for 2016. "I think he's a top Pac-12 player when he's healthy," he said. "Not having him out there (this season) hurts your defense (and) our leadership." He is a member of CU's 12-man leadership council.
Despite battling a variety of injuries (concussion, shoulder, leg), Gillam still was the Buffs' second-leading tackler in 2014 (79). In two games this season he recorded six tackles.
MacIntyre said Gillam's surgery involved a cartilage clean-up that was necessary due to continued swelling in Gillam's knee when he runs. The coach and player talked on Tuesday morning about the surgery, which MacIntyre called "a good conversation about it . . . he's doing as well as expected."
… Meanwhile … Meanwhile, MacIntyre said junior linebacker Kenneth Olugbode, who missed the last two games with a leg injury, will return to the starting lineup for Saturday's game at Oregon State (8:30 p.m. MDT, Pac-12 Networks).
Olugbode remains fifth on the team in total tackles (39) despite missing two games. MacIntyre said Olugbode would rotate with true freshman Grant Watanabe and redshirt freshman Rick Gamboa at inside linebacker.
In other injury news, the Buffs are likely to be without junior running back Michael Adkins II for fifth consecutive game.
MacIntyre said Adkins, who had averaged 70.7 yards a game rushing through the season's first three weeks with a season-high 119 yards against UMass, still is not recovered from a hamstring injury.
A more definitive word on Adkins' status is expected at the end of the week, MacIntyre said. But after not having played in four weeks, Adkins' availability appears doubtful.
—
… Here is a link if you want to watch the video of Mike MacIntyre's press conference.
… And here is the full transcript:
General
"Oregon State this weekend presents a big problem with their quarterback Seth Collins, (who) is an excellent runner, really good athlete, has excellent speed, has done a good job as a true freshman and he's an excellent weapon. They also have Storm Woods who is an excellent running back. They do a good job in their running game. Defensively, they play extremely hard, fly all over the place and they do a good job of attacking you different blitzes and doing a lot of different things there, an aggressive style. Their defensive coordinator [Kalani Sitake] was at Utah for a long time and did a really good job there. I know [OSU head coach] Gary [Anderson] from our days in the WAC, and he's an excellent football coach."
On using the fullback more vs. Arizona and doing so going forward      
"We felt like their scheme of defense, the 3-3-5, with the five nickel backs and the more linebacker type sets, a physical more presence would help us run the ball and it did give us some opportunities to run the ball a little bit better. We felt like that was something that would help us in last week's game. That's something we'll do, but last week's game personnel wise gave us a little bit better matchup we thought."
On if losing can "seep in to the team's DNA"            
"I don't think it can slip into the DNA. I think it just tough things to overcome. The lows of losing are lower than the highs of winning, you've probably heard that a million times. You have to bounce back, look deeper into your soul, so-to-speak, and then you just have to find ways to win. Sometimes, a win just falls in your lap at times, but you have to find ways to win and finish it off. I think it breads excitement and enthusiasm, but it all goes back truly to technique, and X's and O's and blocking and tackling, and making plays and not making plays. So, those are the type of things that you have to execute and do under pressure; we have to do a good job of coaching it and the young men have to do a good job of playing in those situations."
On players struggling with the losing after coming from successful high school teams            
"I would hope they would struggle with the losing, if they don't you're not going to be able to get them out of it; it needs to hurt them. You put a lot of time and effort into trying to do something and do it well, it should hurt when you're not as successful at it as you would like to be. Hopefully that is in their makeup that the losing does hurt them and they want to keep working to overcome it."
On the turnaround process being referred to as an analogy of pumping water from a well   
"Yes, it is. It's a process, sometimes a process comes quicker than others and sometimes it takes longer. When you kind of hit the water or the oil, or whatever you want to say, it's a great feeling and it gives them (the players) inspiration to keep moving on and going forward. But at the time you have to keep chopping wood, however you want to say it, hammering the nail, you know all the different clichés. But, if you stop, then you have no chance. And that goes with anything in life, you have to keep taking one step at a time and go forward."
On the psychological dynamic this week with both teams looking for first conference win
"I know on our side, and I know [OSU head coach] Gary [Anderson] on his side, hopes that his team and our team looks at every game as a winnable game. You have to, you see it happen every week in college football and pro football and other sports.  I guess if you look at it the way you're saying to look at it and everyone is saying, 'You should win this game, this is a great chance for you, if you don't win this game uh-oh,' all that kind of stuff. Which, really is just talk, that's all that is. You have to show up and play every game and do it, and find a way to win the football game. With us not winning some and them not winning some, I guess you put a little bit—you just asking the question puts the extra effort into it, or the extra emphasis on it, I guess."
On status of LB Addison Gillam and TB Michael Adkins
"Addison Gillam is going to get operated on again Friday, he's out for the year; which is very sad. He'll get a redshirt year (medical hardship waiver). Michael Adkins is not quite ready yet, we'll find out more and the end of this week."
On coaches evaluating themselves throughout the season
"We do that continually, and dissect what we're doing, how we're doing it. Then each week, you have different guys on the feel, because different guys are injured, and you try to find different ways to be successful. You try to utilize the strengths of the different players you have—that you have available that Saturday. Then, you look at best ways to attack the opponent, the strengths and weaknesses of the opponent to try to put your strengths on their weaknesses, and try to help where their strengths are going to attack your weaknesses. We constantly look at that, and constantly self-scout, quality-control and everything. You have to look yourself in the mirror every time and say, 'Was that the best thing to do? Yay or nay?' Sometimes it is the best thing to do, and sometimes you say, 'That wasn't the best thing to do.' You constantly look at that and try to find the best ways to fine-tune it. You tell your players that too, you say, 'Hey we screwed up here. You should have made this play here. Did we put you in the right position? Yes, we did, OK,' So, when you're honest with the guys, I believe they keep believing in you and you keep believing in them. Honesty and trust is always the best policy for trying to prove anything."
On the impact of WR Shay Fields' injury     
"Shay won't be with us this week. We have other receivers that will have to step up and move around. The good thing is [wide receivers coach] Troy Walters does a really good job of double-teaching all our guys which helps them understand the concepts of the offense better. We'll have guys playing multiple spots out there, trying to get our best players on the field. It's tough losing Shay; Shay is a very good player, he does a lot of things for us. I think we have some other guys that can make some plays, they might be playing different positions this week, moving around to different spots. We just have to utilize the guys differently."
On the extent of Gillam's injury and his emotions
"He's going to have another surgery on his knee, in the cartilage area again, it didn't come back exactly like we would like it, so there are other things they (medical staff) need to do to make sure it heals back correctly. He was trying to come back and it just kept swelling up every time he would run, so there was something else. They're going to go back in and clean it up some more and try to fix it. It will just take a longer rehab and that type of thing, so he won't be able to get back this year.
"We had a good conversation this morning about it, he's doing as well as can be expected. The silver lining on it is he would get a redshirt year (medical hardship waiver). The negative side of it, is he can't come back and help us. He was playing really good early and he's a really good football player, a guy that can make a lot of plays. I think he's a top Pac-12 type player when he's healthy. Not having him out there definitely hurts your defense. Not getting him back, the other guys have played a lot now, so we can't keep on moving on. He's also on our leadership council, he's also a captian and all those things. He's not really on the road, he's in and out of the training room, so you don't have his leadership qualities too, and you don't have his play-making. We've been without him, so we were hoping we would get him back, you always had that hope, now we don't have that hope any more. We'll have him back next fall."
On if there is another hump this team needs to get over
"I think the kids keep playing, I do not think they're sitting back, worrying about making mistakes, I think they are trying to play. Which is a big hump that we got over, we just need to go make the plays, and coach a little bit better, and have the ball bounce our way a couple more times. I don't think they are sitting back going, 'Uh-oh, I don't want to make a mistake.' I think they're playing hard. I did not see that, any hesitancy, in the game with our guys at all."
On LT Stephane Nembot
"First of all, Stephane has really, really grown in all aspects. When you get to talk to him and meet him, he's a phenomenal young man, has a bright, bright future, doing really well in school. He's kept developing his body better and better; he's a specimen, he's 6'-6" and a half, 323 (pounds) and no fat on him. He's kept improving, I would say he's improved every week in football (he's played). And he keeps improving, he's doing a good job at left tackle. I definitely think he has a future to play in the NFL. Where he gets drafted, I don't know. Do I think he'll make a team and play for a long time? Yes. Because, he's built well, I think he's smart, I think he's intelligent, he can play a few different spots on the offensive line. I think an NFL team, whoever gets him, would really like him because he is very mature, very articulate, and very smart. He's played in every game (knocks on wood), and he just keeps playing, and I think that's something you look for, the durability, especially NFL linemen, there's no doubt. I think he has a good chance to do that."
On LB Kenneth Olugbode's likelihood to play
"He'll be back. He'll play Saturday. He's recovered quicker than we thought. We had one that didn't go so good (Addison Gillam) and one that did, and that's just how it will work out."
On his mentality as a coach when he is searching for a win
"I think you do in the moment what you feel is the best  to help your team win a football game. If we feel like we can be aggressive, if you feel like you have the opportunity to do that, then you need to do it. If you feel like you need to be conservative because of a certain way the game is going situationally wise or where you are on the field, injuries that happen during the game. You want to try and find a way to win every game you're in, there's no doubt. I always go in with the mentality of wanting to be aggressive. Then, you kind of have to look at the situations in certain games, do you go for it on fourth-and-five backed up on your own 35 (yard line) in the first quarter, I don't know if you need to be that aggressive or not. You've got to look at it and see what you need to do. I've always said that you look at every game as a season within itself because every game is so different. Next week, we'll show up with a different team than the other game, because of injuries and guys coming back and not coming back, you know, weather and all the different things in different games that you play into. We want to try to definitely be aggressive on different situations. We talk about going into the game how we want to handle certain situations once you get there. Sometimes weather plays a factor on certain situations. Sometimes injuries play a factor on knowing if you can do this or you can do that. You get to certain areas of the field and you have already made up your mind on how you want to handle that, unless there is a big discrepancy and certain things that might happen. We always want to go in with an aggressive frame of mind, for sure."
On how the rotation will look at the Inside Linebacker position
"We'll rotate in [Rick] Gamboa, Grant [Watanabe] and Kenneth [Olugbode]. You know Kenneth, he's in good shape, he hasn't gotten out of shape, but just playing shape when you come back in and he wasn't able to do a lot on the leg at first, but he's been doing some biking and that type of thing. We'll rotate those guys in there and work them. The other guys will be playing some special teams as well, so you kind of work them in."
On if this team still enjoys the challenge that is in front of them
"Yeah, I do. I think that all these young men came here to go to an unbelievable University to get a great education and they also want to play in an unbelievable conference that plays against the best. This game Saturday is a big game and we have a lot of other big games ahead and a lot of fun atmospheres that we play in against a lot of great players and great athletes. I think they enjoy the opportunity to go up against them and do that. I do see that, I do see them excited about every game they've played in and excited about Pac-12 games especially."
—
With Shay Fields out, other wide receivers will have to step up
From cubuffs.com … With Colorado's biggest deep ball threat now sidelined with a sprained ankle, it means one of CU's other young receivers will have a chance to step up this weekend against Oregon State.
The question is whether any of them can fill Shay Fields' shoes when the Buffs hit the field Saturday at Oregon State (8:30 p.m., Pac-12 Networks).
The likely candidate to take Fields' spot in the starting lineup is sophomore Bryce Bobo, who had a solid freshman campaign but has not been a big factor thus far this year. Also figuring into the equation when it comes to stretching the field will be sophomores Devin Ross and Donovan Lee and redshirt freshmen Lee Walker and Jay MacIntyre.
All are capable receivers who have shown the ability to make big plays.  But they will still have a difficult time replacing Fields, who Saturday saw the best game of his career end with a sprained ankle. Fields caught eight passes for 168 yards and two touchdowns in the 38-31 loss to Arizona, suffering the injury on his final catch of the day, a 30-yard touchdown reception.
Fields will almost certainly be out for at least a week or two, a big blow to CU's deep passing game, as it was clear that he was beginning to be one of quarterback Sefo Liufau's favorite targets. The Buff sophomore also had a 72-yard touchdown reception against Arizona — CU's longest play of the year — and he has three of CU's four longest plays this season.
… Continue reading story here …
—
Oregon State makes mid-season hire of former Oregon offensive coordinator
From the Oregonian … Longtime college football coach and former Oregon offensive coordinator Gary Crowton has joined Oregon State's football staff as an offensive consultant, The Oregonian learned Sunday.
Crowton is perhaps best known for his tenure as BYU's head coach from 2001-04 but was most recently Southern Utah's offensive coordinator. He resigned from that post earlier this month.
Crowton was the Ducks' offensive coordinator from 2005-06 under Mike Bellotti and held the same job for LSU from 2007-2010, including when the Tigers won the national championship in 2008. Crowton was also the head coach at Louisiana Tech from 1996-98 and has been an assistant at Maryland (offensive coordinator, 2011), Louisiana Tech (offensive coordinator, 1995), Georgia Tech (co-offensive coordinator, 1994) and Boston College (quarterbacks, 1991-93). He was also the Chicago Bears' offensive coordinator from 1999-2000 and held the same position with the Winnipeg Blue Bombers from 2012-13.
… Continue reading story here …
—
… Other Buff Stories …
– "Linebacker Grant Watanabe goes from sitting to starting" … from BSN Denver
– "Bryce Bobo eager to step up for Buffs" … from the Daily Camera
– "Oregon State Beavers take pride in finish, but once again undone by slow starts" … from the Oregonian
– "OSU football: Beavers looking for a remedy" … from the Corvallis Gazette Times
—–
October 19th
… CU in a few minutes …
Coach MacIntyre post-practice talk Monday
From YouTube, courtesy of BuffStampede.com:
—
Woelk: Play of young players give CU hope for the future
From cubuffs.com … Perhaps lost in the immediate frustration of seeing two very winnable Pac-12 games slip from the grasp of the Colorado Buffaloes in recent weeks has been a bigger picture outlook.
Not only are the Buffs making steady — if incremental — progress, they are doing so with what is still a young lineup, the vast majority of which will be back a year from now.
Take a look at Saturday night's starters. The team that took a 24-17 lead over Arizona into the fourth quarter had just four senior starters on the offensive and defensive units. The rest of the starting 22 included eight juniors, eight sophomores and two freshman. Throw in a junior kicker and a freshman punter and it means that 83 percent of those starters will be back next year.
If you believe the Buffs are becoming more competitive — and it would be difficult to argue that's not the case — then it would be equally difficult to argue that the future does not bode well for Mike MacIntyre's team.
Almost no one who pays attention will argue that the Buffs are not inching closer to the pack in the ultra-competitive Pac-12. With six games remaining, the 3-4 Buffs have plenty of opportunity to continue to close that gap, pick up some victories and accelerate the process, beginning with Saturday night's game at Oregon State (8:30 p.m., Pac-12 Networks).
… Continue reading story here …
—
Colorado a 2.5-point underdog to Oregon State
According to vegasinsider.com, Colorado would be favored against Oregon State if the game were to be played at a neutral site or in Boulder. Allowing for the usual three-point bump for the home team, the 2.5-point spread makes this game basically a toss-up (the line opened at 3.5-points, but money has since been put down on the Buffs, moving the line lower.
Other Pac-12 games:
– USC – Despite being unranked, the Trojans are a 3.5-point favorite at home against No. 3 Utah
– UCLA – Despite being unranked, the Bruins are a 3.0-point favorite at home against No. 20 Cal
– Arizona is a 7.0-point favorite at home against Washington State
– Stanford v. Washington – no-line posted
– Arizona State and Oregon are idle …
—
Other Buff Stories …
– "Buffaloes not finishing games" … from the Daily Camera
– "Buffs can't get a handle on Randall, Pac-12 skid reaches 14" … from BSN Denver
– "Poor first-half defense dooms Beavers at Washington State" … from the Oregonian
—–
October 18th
… CU in a few minutes …
Utah up to No. 3 in latest AP poll; Stanford into the top ten
Utah inched past TCU into the No. 3 spot in the rankings this week, while Stanford moved up five spots to No. 10. UCLA, which was No. 18 last week, dropped out of the poll after falling, 56-35, to Stanford. Arizona State, which had been 28th in the polling before losing to Utah, 34-18, is now 33rd in the voting.
The three teams in the polls represent the lowest total of the season for the Pac-12. The conference had as many as six teams in the polls earlier this season, with preseason top ten teams Oregon and USC nowhere to be found in the latest polling. The Week Eight Associated Press poll:
| | | | | |
| --- | --- | --- | --- | --- |
| 1 | Ohio St. (28) | 7-0 | 1428 | 1 |
| 2 | Baylor (12) | 6-0 | 1416 | 2 |
| 3 | Utah (16) | 6-0 | 1362 | 4 |
| 4 | TCU (3) | 7-0 | 1338 | 3 |
| 5 | LSU (1) | 6-0 | 1306 | 6 |
| 6 | Clemson (1) | 6-0 | 1252 | 5 |
| 7 | Michigan St. | 7-0 | 1202 | 7 |
| 8 | Alabama | 6-1 | 1133 | 10 |
| 9 | Florida St. | 6-0 | 1041 | 11 |
| 10 | Stanford | 5-1 | 917 | 15 |
| 11 | Notre Dame | 6-1 | 898 | 14 |
| 12 | Iowa | 7-0 | 820 | 17 |
| 13 | Florida | 5-1 | 785 | 8 |
| 14 | Oklahoma St. | 6-0 | 735 | 16 |
| 15 | Texas A&M | 5-1 | 614 | 9 |
| 15 | Michigan | 5-2 | 614 | 12 |
| 17 | Oklahoma | 5-1 | 565 | 19 |
| 18 | Memphis | 6-0 | 553 | NR |
| 19 | Toledo | 6-0 | 345 | 22 |
| 20 | California | 5-1 | 336 | 23 |
| 21 | Houston | 6-0 | 317 | 24 |
| 22 | Temple | 6-0 | 216 | NR |
| 23 | Duke | 5-1 | 210 | 25 |
| 24 | Mississippi | 5-2 | 157 | 13 |
| 25 | Pittsburgh | 5-1 | 73 | NR |
Others Receiving Votes: Mississippi St. 62, BYU 21, UCLA 18, N. Carolina 17, Texas Tech 14, Georgia 12, W. Kentucky 11, Arizona St. 10, Boise St. 8, Wisconsin 8, Utah St. 7, Northwestern 4.
—
ESPN Power Rankings – CU No. 11 again
At least for one more week, Colorado avoids the bottom rung of the ESPN Pac-12 Power Rankings. The game to decide the worst team in the conference will take place in Corvallis Saturday night (8:30 p.m., MT, Pac-12 Networks), with Colorado taking on Oregon State. The gap between the bottom two and the rest of the league is evidenced by the fact that the No. 9 team on the list is UCLA, and the No. 10 team on the list is USC … teams which have both been ranked in the top ten in the nation this fall.
The bottom three:

10. USC Trojans: The Trojans fell to Notre Dame in their first of three straight games against ranked opponents. And while their effort against Notre Dame was admirable, you have to wonder what this team has in the tank. Many of the players have been through this awkward interim-coach transition before, but it's different this time around because the conference has gotten tougher. It's hard to imagine the Trojans missing the postseason. But when you go down the schedule, you can see that it's not out of the question.
11. Colorado Buffaloes: Same story, different week. So close, but not there yet.
12. Oregon State Beavers: Head coach Gary Andersen was quoted on the Pac-12 Networks broadcast game Saturday as saying that the fact that his team is young and inexperienced shouldn't be an excuse. Well, it kind of is. And they really are.
—
Oregon State reeling from its 52-31 loss to Washington State
From the Oregonian … In the end, only two Oregon State players came out to face the media, which is fitting. The Beavers (2-4, 0-3) weren't particularly noticeable on the field Saturday at Martin Stadium, either. Washington State stomped OSU 52-31 in a game that wasn't that close. When the Cougars (4-2, 2-1) left the field at halftime leading 45-17 the game essentially was over. To that point, the Beavers hadn't stopped a single WSU possession.
It was a half that harkened back to the miserable early days of the Jerry Pettibone era. It was as bad as anything the Mike Riley regime served up. A complete system failure. "Everything was better in the second half," OSU Gary Andersen said, reaching for some positive spin.
It's one way to look at it, although you could also make a case that the Cougars lost their edge. … The larger question is whether Andersen's team is going to salvage anything at all from the season. As he noted afterward, stuff happens. Sometimes it unravels. Some games are a running, throwing, kicking, tackling version of Murphy's Law.
It happens to everybody at some point.
When it happens every week, well, it's disastrous. The Beavers have lost their three road games this season by a combined point total of 131-45, and their three Pac-12 games by a combined 138-65. If they don't win next week's game against Colorado, it's difficult to find another victory on the schedule.
—–