—
Colorado Daily – Oregon
—
October 4th
… CU in a few minutes …
Oregon 41, Colorado 24 … A "moral victory"?
The talk in the locker room after the game was whether the 17-point loss could still be considered as a "moral victory". After all, the 24 points were the most Colorado had scored against Oregon in Pac-12 play, and the 41 points by the Ducks was their lowest point total in those same five games.
"I don't know when the last time it was 17-17 at the half with Colorado and Oregon; but in no way shape or form do we take any kind of moral victory", said head coach Mike MacIntyre.
Moral victory? Perhaps. Perhaps not. A sampling of quotes from the players:
– Center Alex Kelley: "I still think Oregon is a top tier team. We can hang with top tier Pac-12 teams. That's what I take from this. Every single team in the Pac-12 is good. We didn't play as well as we can but I think some of the young guys are starting to build confidence".
– Running back Christian Powell: "If this was two years ago, I would say this was a moral victory. But we felt like we were capable. We just had too many mistakes. We can't take this as a moral victory. We lost the game and that's what it is. We just have to work at it and keep moving forward".
– Running back Phillip Lindsay: "It's going to be like that every game because it's a different breed of people now. We're here to win. We're not here to just compete anymore. We're here to win. We need to put big plays together. We're a team. We have to stay close to each other. That's giving everybody props when they're doing well because that's only going to make our team stronger. It's about team building".
– Wide receiver Nelson Spruce: "Obviously you want to win every game but we are kind of looking at it like we need to learn our lesson from this one. This team has a different feeling about it and we feel like we can be competitive in every game so we can't let a loss like this carry on into our week of practice and affect next week. We are going to come in and watch film tomorrow, learn what we can and shake it off and get ready for ASU".
– Defensive back Tedric Thompson: "I mean we always knew we could compete with them. We look at them as another decal. No disrespect towards them, but we don't look at them as like a super great team, we feel that we can beat them. That's how we feel about every great team. So when it was 17-to-17 we felt like we should have been up, to be honest with you. We weren't even in the locker-room like patting each other on the back, it was more like why is this team tied with us; we shouldn't be tied. That's the kind of attitude we had".
—–
October 3rd
… CU in a few minutes …
Coach Mac: "It is going to be a tough battle for us"
From cubuffs.com … For the last week, two separate narratives have surrounded Saturday night's Colorado-Oregon game at Folsom Field (8 p.m., ESPN).
One involves the Buffaloes and their battle to regain respectability. From the very first day of fall camp, the Buffs have spoken openly about their goal to earn a bowl berth this year, a task that will require at least seven victories. After a 3-1 nonconference showing, they haven't changed that tune. They've set their sights on a win over the Ducks and ending an 11-game Pac-12 Conference losing streak in the process.
Oregon's storyline, however, has changed dramatically in the last seven days. The Ducks, defending conference champs and last year's national runners-up, began the season in the conversation as a team with a chance of earning another College Football Playoff  berth. But after last weekend's 62-20 loss to Utah, the narrative has changed dramatically. Now, the college football world is wondering whether the 2-2 Ducks' run as a Pac-12 power is in danger of ending, and the Ducks are determined to prove last week was an aberration, not the beginning of a trend.
One of those story lines will have another chapter added Saturday night.
Either the Buffs will collect their fourth straight victory — something the program hasn't accomplished since 2002 — and their first conference victory since late in the 2013 season; or the Ducks will at least temporarily right their ship and keep themselves in the hunt for a Pac-12 North title.
One thing, though, is already certain: the Buffs aren't buying any of the "demise of the Ducks" talk.
"Oregon is still an excellent football team," CU head coach Mike MacIntyre said. "They have speed, ability everywhere. They ran into a very good Utah team that I thought would be an excellent team in our conference this year. .. They're still one of the top scoring offenses in America and that's what they do very, very well. It is going to be a tough battle for us."
Indeed, while the Ducks were caught in an avalanche of big plays against Utah, they are still the same team that came within a fourth-quarter possession and three points of defeating No. 2 Michigan State earlier this season in East Lansing.
There are also plenty of players on the Oregon team that have played in past games against Colorado, giving them good reason to be confident against the Buffs. In the last four games between the two schools, Oregon has outscored Colorado 54-10.
"I think we'll face a mad, hungry Oregon football team coming in here thinking they can beat Colorado like they have beat us in the past," MacIntyre said. "I definitely believe our guys will be ready for the test."
… Continue reading story here …
—
Drew Litton on Colorado/Oregon
From Drew Litton and the Daily Camera …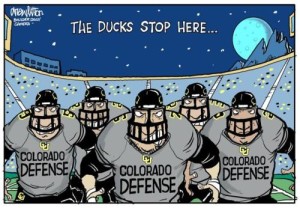 —
Jim Leavitt on CU defense: "I'm not a miracle worker; nobody is"
From the Daily Camera … In Biblical times, the ultimate underdog, David, took on the challenge of battling the invincible Goliath and found a way to slay the mighty giant.
Jim Leavitt may not be a modern-day David, but the challenge he accepted last February when he was hired as the defensive coordinator at Colorado seems nearly as impossible.
… Leavitt isn't expecting CU, which ranked 112th in 2014, to make an instant turnaround, either.
"I'm not a miracle worker; nobody is," he said. "I think what people will see is that you start to see some (better) things. But we are a long ways away. We'll have some good moments and we'll have some bad moments. I just hope there's more good moments than bad."
Leavitt cited several plays as proof of the long journey ahead, including a wide open touchdown pass that UMass threw on Sept. 12. Linebacker Addison Gillam was several feet behind the receiver, but it was actually the safety who busted the play. Gillam just happened to be the closest Buff who reacted.
"It's an easy play if you're in the system for a while," Leavitt said. "(The safety) just pulls off and picks it off. Not hard."
Two years from now, that play might have a different outcome. For now, though, those plays will be given up from time to time, as CU is working with several players who are in their first season of Division I college football and several others who have very little experience.
… Continue reading story here …
—
October 2nd
… CU in a few minutes …
Plenty of "ink" being used on Colorado v. Oregon
– Neill Woelk's "Keys to the Buffs-Ducks Game" … If you only have time for one CU story, it should be this one.
The opening:
Colorado brings a three-game winning streak into Saturday night's nationally televised contest at Folsom Field (8 p.m., ESPN) while Oregon is still hurting from last weekend's 62-20 thumping at the hands of Utah. The Buffs believe it's an opportunity to end an 11-game conference losing streak and start their 2015 Pac-12 campaign on the right note.
What has to happen for the Buffs to turn the opportunity into a reality? …
—
– "Linebacker Rick Gamboa Debuts For Buffs As A Thinking Man's Linebacker" … from B.G. Brooks at cubuffs.com
– "Buffs' safety Ryan Moeller Had Memorable Debut vs. Ducks" … from cubuffs.com
– "CU Buffs Fullback George Frazier: The consummate teammate" … from BSN Denver
– "Are the Oregon Ducks mentally tough? We'll know Saturday" … from the Eugene Register-Guard
– "Ducks believe offensive line concerns are 'fixable' after allowing Utah 5 sacks" … from the Oregonian
– "CU football: Buffs eager to reverse losing ways in Pac-12" … from the Daily Camera
—–
October 1st
… CU in a few minutes …
A pair of stories on two former Buffs
… Tyler Polumbus picked up by Denver Broncos, will likely start on Sunday … from BSN Denver
… "The Life and Career of Running Backs Coach Eric Bieniemy: A look into the life-changing decisions that landed Bieniemy in Kansas City" … from kcchiefs.com
—
Oregon trying to "simplify" its defense for CU game
From the Oregonian … Assigning blame for Oregon's slow start has turned defensive coordinator Don Pellum into a pincushion for public opinion after his unit ranks 113th in first downs allowed, 103rd in yards per play, 117th in points allowed and 110th in total defense.
… "We've asked those guys to relax and just play," Pellum said Wednesday. "Then we'll look at where we are on Friday. I don't know if there's going to be any drastic changes but I know that we're going to get the best 11 out there."
During fall camp, Pellum called his defense ahead of schedule relative to a year before, when he was in his first season as a coordinator. But one-third of the way through the regular-season schedule, the Ducks are searching for consistency not by adding new wrinkles but by clipping pages out of the playbook and reinforcing the importance of each player doing only his job.
Coleman called it getting "down to some bread and butter things" by removing "the more complex things."
"Our problem isn't guarding people one on one," he said. "It's people messing up their job and getting confused out there."
But the strategy still has to confuse an offense to work, which has made Pellum's job this week a balancing act of making the defense easy to operate, but not as easy to operate against.
The efficacy of such a boiled-down approach will be immediately apparent Saturday, when Oregon's riddled secondary faces receiver Nelson Spruce, a Biletnikoff Award candidate each of the past two seasons.
"It's a thin line," Pellum said. "That's what we're trying to figure out."
… Continue reading story here …
—
Oregon conducting tryouts for defensive backfield?
From the Lancaster (Pa.) online website (dated October 1st), touting a local athlete being offered a partial scholarship at Oregon … Jhet Janis, a 2014 Cocalico graduate, received an offer Wednesday to join the University of Oregon football program as a preferred walk-on.
At Cocalico, Janis recorded 58 tackles in intercepted eight passes in the Eagles' secondary as a senior.
Oregon held its football tryouts Monday, drawing about 40 participants two days after the Ducks fell to 2-2 this season with a loss to Utah.
—-
"We are expecting a capacity crowd"
Below is part of an email sent out to season ticket holders concerning the game. All you need to know about what to wear and how to obtain grey "Stripe Out Folsom" shirts if you don't have any grey in your CU arsenal.
… You do have to like the part about "We are expecting a capacity crowd" … Not bad for a program which hasn't seen a crowd of over 40,000 in two years …
STRIPING OUT FOLSOM: Buffs fans are being asked to help us Stripe Out Folsom Field for this game. Fans in odd-numbered sections as well as students are encouraged to wear grey or silver and fans in even-numbered sections are encouraged to wear black. If you aren't sure of your assignment,

check out the map

.
 
ENTRANCES: All entrances to Folsom Field will open at

6 p.m.

We strongly encourage fans to arrive at the gates no later than 30 minutes before kickoff to avoid lines and to get into the building quickly and safely with plenty of time before Ralphie and the Buffaloes take the field. We are expecting a capacity crowd for this game so please enter the gates as early as possible.
 
STRIPE OUT SHIRTS: Special shirts for the Stripe Out featuring an inverse colored Ralphie logo and the #SilverAndBlackAttack hashtag will be on sale at the Buffs Team Store outside Gate 2 beginning

Thursday

morning at

11 a.m. until 3 p.m.

,

Friday

morning from

10 a.m. until 3 p.m.

and

Saturday

starting at

4 p.m.

at Ralphie's Corral then at

6 p.m.

inside Folsom Field.
 
—
ESPN Pac-12 experts – Oregon a unanimous pick
Picks from ESPN, along with projected scores:
Kyle
Bonagura
49-28
Kevin
Gemmell
55-27
Chantel
Jennings
42-28
David
Lombardi
53-34
Ted
Miller
45-31
—–
September 30th
… CU in a few minutes …
Coach MacIntyre's Wednesday post-practice comments to media
From YouTube, courtesy of BuffStampede.com
—
Red-shirt freshman defensive lineman Michael Mathewes making the most of his opportunities
From cubuffs.com … Colorado defensive end Michael Mathewes may not be in the Buffs' starting lineup Saturday at Folsom Field, but it's a safe bet he'll see some playing time against Oregon (8 p.m., ESPN).
Mathewes has simply made it almost impossible for the CU coaching staff to keep him off the field.
Mathewes, a redshirt freshman from Mission Viejo, Calif., made the first start of his career last weekend against the Nicholls Colonels. Playing in place of injured regular Leo Jackson III, Mathewes recorded five solo tackles, one assist and a quarterback sack. He also has a forced fumble and a pass breakup to his credit this year, proving to be one of those players who has an instinct for being in the right place at the right time.
That instinct — and effort — has  caught the eye of his position coach, Jim Jeffcoat.
… Continue reading story here …
—
Oregon star wide receiver Byron Marshall "officially" not playing against Colorado
From the Oregonian … Oregon senior receiver Byron Marshall has been removed from the Ducks' depth chart.
Marshall, who led the Ducks in receiving a year ago, was injured early in the second half of Oregon's 62-20 loss to Utah on Saturday. Marshall laid on the turf for several minutes before limping off the field with assistance. He was later taken out of the stadium on a cart with what appeared to be an injury to his lower right leg.
Oregon released its updated game notes on Tuesday for Saturday's upcoming game against Colorado and Marshall's name wasn't listed. He has appeared as a starter in Oregon's prior four games.
Marshall has nine catches for 121 yards and two touchdowns this season. Last year, in his first year as a wide receiver, Marshall led the Ducks with 74 catches and 1,003 yards.
While Oregon hasn't announced the severity of Marshall's injury, it appears that he will at least miss a significant amount of time.
—–
September 29th
… CU in a few minutes …
Liufau – "Pain is temporary"
From cubuffs.com … He's had the opportunity to roll them out, and no one would have raised a question or an eyebrow if he did. But Sefo Liufau doesn't like excuses.
"It's kind of how I've been raised and how I've brought myself up," the University of Colorado quarterback said Tuesday. "I don't like excuses for anything or any of my actions – not just in football, it's kind of everything in life.
"Pain is temporary; if you go out there you want to win and you might have a couple of bruises, but those wins and losses stick with a lot longer than bruises that you have."
That said, Liufau wouldn't say – at least not with much conviction – that his bruised right shoulder was affecting his first-half accuracy in last weekend's 48-0 rout of Nicholls State. But it was "just a little bit," which Liufau conceded afterward.
… Continue reading story here …
—
How to defeat Oregon?
From cubuffs.com … Coach Mike MacIntyre, quarterback Sefo Liufau and safety Jered Bell were asked to list one key to defeating the Ducks at Tuesday's press conference. Their answers (and MacIntyre didn't stop at one):
MacIntyre: "Not give up sacks, don't turn ball over, create turnovers on defense and tackle Royce Freeman – he's a beast." (Freeman is the Ducks, 5-10, 230-pound running back. He's averaging 112.5 yards a game, third in the Pac-12.)
Liufau: "If we do not turn the ball over, speaking from the offensive perspective obviously, if we don't turn the ball over I think we have a really good shot at beating Oregon." (Liufau hasn't thrown an interception since the Hawai'i loss, or in his last 105 attempts.)
Bell: "Stop No. 21 (Freeman) . . . he's a phenomenal player." (And for the record, Bell says unlike in past Oregon-CU games, the Ducks will encounter a more experienced Buffs defense that features "more athletes who can compete with these guys. I like to think the DBs are the strength of our defense; put the game in our hands and we can take care of it."
—
Injury Update
Note … CU has adopted a policy of not releasing injury information unless it is season-ending …
MacIntyre said the status of running backs Michael Adkins II and Patrick Carr for Oregon could be determined Wednesday. Both missed last weekend's game . . . . Linebacker Addison Gillam hasn't played in two weeks and isn't likely to play this week. "He's better but I'm not sure he'll play," MacIntyre said . . . . There was no update on defensive end Derek McCartney or defensive tackle Leo Jackson III. Both sat out the Nicholls State game.
—
Nelson Spruce glad to get one last shot at Ducks
From cubuffs.com … In the four years that Spruce has been playing football at Colorado, he's lined up against the Ducks three times. None of them have been particularly memorable — at least not for the right reasons — as the Ducks have won handily each season.
Last year was particularly forgettable. Spruce entered the game against Oregon as one of the Pac-12's leading receivers, but left with just two catches for 16 yards, as the Ducks' defense made him their No. 1 target all day.
Saturday, he'll get one last chance when Oregon visits Folsom Field for an 8 p.m. nationally televised game (ESPN).
"I'm looking at every game I play as the last chance to get after a certain team," Spruce said. "This year, especially after we've built up the momentum that we have in the past three games, and with it being the Pac-12 opener on a Saturday night on ESPN, I think it's going to be a really special atmosphere. I'm excited for it."
… Continue reading story here …
—
Donovan Lee making the most of his opportunities
From the Daily Camera … Donovan Lee still isn't sure how he managed to go 59 yards for a touchdown during the third quarter of Colorado's 48-0 win against Nicholls on Saturday.
"I was a little in shock when I was still up," the Buffaloes' sophomore said. "I felt like I was down a few times, but I just kept my legs moving. To have runs like that, it's a blessing and unbelievable experience."
Just two weeks ago, nobody could have seen Lee having that type of run simply because he wasn't a running back.
… Continue reading story here …
—
Ducks hear it from the Oregonian columnists
Multiple stories from the Oregonian take a long hard (think Kizla) look at the Ducks' loss to Utah …
– "Oregon Ducks were awful against Utah, and it's up to Mark Helfrich to get this fixed" … The opening:
The Oregon Ducks were cover-your-eyes ugly Saturday at Autzen Stadium, and in the aftermath it's fair to wonder how bad this will get.
Utah stomped the Ducks 62-20 in a game in which the UO offense sputtered to a standstill, the defense folded up like a cheap lawn chair and, for this season at least, Oregon bid goodbye to national relevance.
… Continue reading story here …
—
– "The Oregon Ducks' choice: Will Utah loss be a bad omen, or a breakthrough?" … The opening:
There are three essential truths about losses in sports: No one wants them, everyone gets them, and the best learn from them.
In the aftermath of Utah's 62-20 rout of Oregon on Saturday – which goes down as one of UO's worst-ever home defeats, given no visitor had ever scored that many before, and led many to watch the program's foundations for cracks Sunday morning — it remains to be seen whether the Ducks will learn as much from it as it did from the last time Utah knocked off UO.
… Continue reading story here …
—
– "Oregon Ducks have lost their football identity" … The opening:
There was no Ducks defense. No offense, either. No innovation. No answers, no electricity and no response. If you expected Oregon would practice all week, suit up and produce that much nothing on Saturday against Utah, maybe you saw this national lampoon coming.
It was Utah 62, Oregon 20.
You'd be less surprised had you woken up this morning with your head sewn to the carpet, right?
Make no mistake. Something ended, officially on Saturday. Maybe it was done the minute Marcus Mariota left. Maybe the Heisman winner was so gifted he hid Oregon's growing warts from the world for the last few seasons. Maybe Mariota, most of all, saw this coming and could have called it from his seat in the NFL.
Vernon Adams Jr.?
Needed a bigger Band-Aid.
… An era of Oregon football ended Saturday. This wasn't like Alabama losing to Ole Miss a week earlier on a 66-yard touchdown pass that bounced off a couple of players and gifted seven pivotal points to the winners. No. The Ducks got whipped playing at home by six touchdowns.
Six.
Touchdowns.
… Continue reading story here …
—–
September 28th
Uniforms for Oregon game
… Not surprising that silver is a part of the CU outfit, what with a silver/black striping be asked of the Buff Nation in the stands …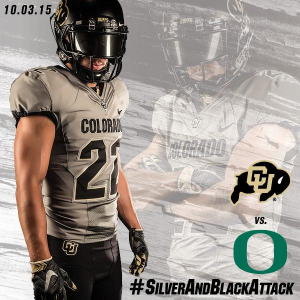 —
Game time set for Arizona State game
From cubuffs.com … The Colorado at Arizona State football game on Saturday, Oct. 10, will kick off at 7 p.m. Arizona time (which is MST; 8 p.m. in Colorado, which is on MDT).  It will be televised nationally on the Pac-12 Networks.
The complete TV schedule the next two weekends:
Pac-12 football game on Thursday, 10.8.15 (previously announced)
6:00 pm PT – Washington at USC, ESPN
Pac-12 football games on Saturday 10.10.15 
1:00pm PT – Oregon State at Arizona, FOX Sports 1
3:00pm PT – Washington State at Oregon, Pac-12 Networks
7:00pm PT – Colorado at Arizona State, Pac-12 Networks
8:00pm MT/7:00pm PT – California at Utah, ESPN  (8:15pm KO, w/five-minute slide available to 8:20pm)
This week's games – Saturday, October 3, 2015
1:00pm PT – Washington State at California, Pac-12 Networks
4:30pm PT– Arizona State at UCLA, FOX broadcast
8:00pm local/7:00pm PT – Oregon at Colorado, ESPN (8:07 KO, with 5-minute slide available)
7:30pm PT – Arizona at Stanford, Pac-12 Networks
—
CU wants fans to stripe Folsom for the Oregon Game
From cubuffs.com … Buffs Fans,
We've won three games in a row and will take that streak to the field against Oregon.
This Saturday, October 3 at 8 p.m. the Ducks are coming, and we are going to Stripe Out Folsom Field for a #SilverAndBlackAttack.
Odd-numbered sections will be wearing grey or silver and even-numbered sections will be wearing black. Please see the map at right to confirm what color you are wearing!
So get your gear ready and your game face on for Saturday! If you have friends who want to come, there are still some tickets available now.
—
Oregon starting quarterback for game against Colorado … "to be determined"
From ESPN … After Oregon's loss to Utah, it's safe to say the Ducks are back to square one with their quarterback situation.
Vernon Adams Jr., who has a broken index finger on his throwing hand, was pulled after completing just 2 of 7 passes for 27 yards and one touchdown. With the Ducks down 20-6, backup Jeff Lockie entered. He threw for 139 yards, one touchdown and two interceptions in the rout before coaches put in third-string quarterback Taylor Alie late with the game far out of reach.
with the team at 0-1 in Pac-12 play, who will start when the Ducks travel to Colorado for their second conference game of the year?
"That will be to-be-determined again this week," Oregon coach Mark Helfrich said Sunday night.
Colorado currently ranks second in scoring defense and fourth in total defense in the conference, but the Buffs have yet to play anyone near the caliber of a Pac-12 team. But regardless of competition, Oregon needs to get its offense right and settle on a starting quarterback.
"It's definitely different than it was the first week of the season — there's no doubt about that," Helfrich said of his quarterback situation. "But that's the nature of the game sometimes, just the ebb and flow of a season."
—
Oregonian: Ducks should not overlook Buffs
From the Oregonian … Apparently there is a lot of self-examination and reflection going on at Oregon this week, as there should be.
The Ducks didn't just lose to Utah on Saturday. They were destroyed.
But at some point, Oregon will need to refocus on this week's game with Colorado. CU has served as a Pac-12 doormat since joining the conference, and that reputation was buttressed by a season-opening loss at Hawaii.
But the Buffaloes have won three consecutive games since. And, while there weren't any Michigan States or Utahs among Colorado's first four opponents, anybody who knows anything about the rivalry with Colorado State knows that game wasn't easy, and how important the victory was for the CU program.
I'm guessing Colorado quarterback Sefo Liufau and receiver Nelson Spruce — third in the Pac-12 in receiving — are looking with delight at video of the UO secondary.
The game will be in Boulder, which is more than a mile above sea level, and at night.
I'm thinking Colorado is looking at Oregon like a hungry shark smelling blood in the water.
Oregon's defense is in disarray. The Ducks apparently are undecided about whether it's better to go with Vernon Adams — even with a broken finger on his passing hand — or Jeff Lockie at quarterback.
The Ducks should win. But they definitely should not take victory for granted.
I think Colorado is dangerous, with a capital D.
—–
September 27th
Oregon falls out of Associated Press Top 25 for the first time since 2009
… In case you were wondering, CU's longest streak, which lasted from the start of the 1989 season to the Michigan game in 1997, was 143 straight weeks …
From the Oregonian … In 2009, in the first year of the Chip Kelly era, the Oregon Ducks lost their first game of the season. The loss dropped the Ducks from their No. 16 preseason ranking, as Oregon fell completely out of the Associated Press Top 25. It took the Ducks three weeks, and three straight wins, to reenter the poll at No. 16 on Sept. 27, 2009.
Six years later, to the day, the Ducks are out for the first time since.
Following Oregon's 62-20 debacle at the hands of Utah, Oregon fell out of the rankings. The previously No. 13 ranked Ducks slid to 2-2 on the year, and collected enough votes to rank 27th in the nation.
But it's the AP Top 25. Not the AP Top 27. So in a sense, it's the end of an era. In the six year span in which the Ducks were ranked, Oregon won 69 games and lost 13. The Ducks had been ranked for 98 consecutive weeks, which was the second-longest active streak in the country.
—
California joins the Top 25 … Utah joins the Top Ten
Ohio State
Michigan State
Ole Miss
TCU
Baylor
Notre Dame
UCLA
Georgia
LSU
Utah
Florida State
Clemson
Alabama
Texas A&M
Oklahoma
Northwestern
USC
Stanford
Wisconsin
Oklahoma State
Mississippi State
Michigan
West Virginia
Cal
Florida
Others receiving votes: Toledo 68, Oregon 64, Arizona 48, Boise State 38, Iowa 37, Texas Tech 36, Houston 23, Duke 18, Temple 17, Miami (FL) 14, Kansas State 12, Memphis 11, NC State 10, Navy 9, Minnesota 5, BYU 5, Tennessee 4
—
Coach MacIntyre talks with the media after Sunday's practice
YouTube video courtesy of BuffStampede.com:
—
Colorado a 10.5-point underdog to Oregon
Colorado hasn't been within 34 points of Oregon in any of its four games as a member of the Pac-12, losing 45-2, 70-14, 57-16 and 44-10.
This weekend, though, the Buffs are predicted to stay within two touchdowns.
Oregon was listed as a 12-point favorite at the open by Vegasinsider.com, but the line has since moved down to 10.5 points.
Other Pac-12 lines:
– Cal is a 14.5-point favorite over Washington State;
– Stanford is a 17.5-point favorite over Arizona;
– UCLA is a 13.5-point favorite over Arizona State;
—
Oregon coach Helfrich on loss to Utah – "It's all on me"
From the Oregonian … Oregon Ducks coach Mark Helfrich talked after the 62-20 loss to Utah, their worst in 12 seasons, about problems in every aspect of the game.
"We play like that, it's on me," Helfrich said. "Offense, defense, special teams — it's all on me."
He talked about the decision to pull quarterback Vernon Adams Jr. in the second quarter. He talked about moving on from the loss, only after lessons are learned from it.
"Anything that could have gone wrong went wrong," Helfrich said. "We didn't play well enough to win. That starts and ends with me."
—–