—
Colorado Daily – Arizona
—
October 17th – GAMEDAY!
… CU in a few minutes …
Remembering the first Ralphie run at Folsom Field
From cubuffs.com … The way Bill Lowery remembers it, the very first time the very first Ralphie ever ran across Folsom Field, she did so at the direct orders of former Buff greats Hale Irwin and Dick Anderson.
Well, sort of.
Lowery, who attended CU from 1965 to 1967, is back in Boulder this weekend to take in CU's Homecoming festivities. A member of the first group of Ralphie's handlers, he stopped by Folsom Field late Friday afternoon to watch Ralphie V's current handlers put her through her paces in preparation for Saturday night's Homecoming game vs. Arizona.
"The whole thing got started in 1965," he said. "I was part of freshman group called 'Silver and Gold.' We were talking about how Colorado didn't have a live mascot. I was from Texas, and most of the Southwest Conference schools had live mascots and some of the Big Eight schools had them, too. I said we ought to have a live buffalo, and that's what you get for volunteering — they made me chairman of the buffalo committee."
… Continue reading story here …
—
Jon Wilner likes the Buffs
From the San Jose Mercury News … (He did get the Five-star special right, so perhaps he will be right about the Buffs) …
ARIZONA (minus-7) at COLORADO: If the Wildcats think this will be anything like their previous encounters with the Buffs — all blowouts — they're mistaken. CU should move the ball just as easily as Arizona will. Last possession wins. Pick: Colorado.
Straight-up winners: Stanford, Oregon, Colorado, Notre Dame, Utah and Washington State.
Five-star special: Stanford. The Cardinal will stop UCLA's attack more often than the depleted Bruin defense will stop the Cardinal. The over/under (54.5) is too low. Stanford 38, UCLA 28, or thereabouts.
—–
October 16th
… CU in a few minutes …
Neill Woelk's Five Keys to the Arizona game
From cubuffs.com … For the second straight week, the Colorado Buffaloes will be catching a team whose offense snapped out of a slump the previous week and put up big numbers.
A week ago, it was Arizona State. This week, it's the 4-2 Arizona Wildcats, who ended a two-game drought last weekend with a 44-7 win over Oregon State.
Here's what the 3-3 Buffs will need to do to stop the Wildcats in Saturday game at Folsom Field (7 p.m., Fox Sports 1) and end a 13-game Pac-12 winless stretch
… Continue reading story here …
—
Plus …
– "Wildcats' 'second season' begins with winnable game" … from azcentral.com
– "Arizona football: On Mr. Social Media, Parks' hit, Ralphie" … from Tucson.com
—
Bill Marolt and Dave Plati honored by CU Alumni Association
… Congratulations to both. Hard to imagine CU without either one …
From cubuffs.com … Two longtime members of the University of Colorado Athletics family, David Plati and Bill Marolt, were among 12 honored Thursday evening by the CU-Boulder Alumni Association at its 86th annual awards ceremony.
Marolt received the George Norlin Award. Norlin was CU's fifth president, and he oversaw the redesign of the campus to its current architecture, and resisted the efforts of the Ku Klux Klan to remove the university's Catholic and Jewish faculty. The Norlin award recognizes alumni who have demonstrated a commitment to excellence in their field and a dedication to the betterment of society.
Marolt was a four-time NCAA champion skier for Colorado and also a member of the 1964 U.S. Olympic team. He graduated from CU with a business degree in 1967 and returned to Colorado in 1969 when he was hired as the school's ski coach.
Marolt's teams won seven consecutive NCAA championships under his guidance (1972-78) and boasted 30 All-Americans. Marolt also oversaw the creation of the women's skiing program at Colorado.
… Plati has been sports information director at Colorado since 1984, and received the Robert L. Stearns award. Stearns was CU's sixth president, from 1939 to 1953, and the award named in his honor recognizes CU faculty and staff for extraordinary achievement in teaching, service to the university, work with students, research or off-campus service.
Plati is being honored for his long service with CU's athletic department. He worked in public relations for the sports information office as an undergrad in CU's School of Journalism,  and was hired to a full-time position after he graduated in December 1982. Two years later, he was the youngest sports information director in the country.
Plati has worked more than 1,500 CU sporting events. He's known for his incredible memory, and was the first statistician to track how efficiently football teams score in the red zone. He also still serves on statistic crew for the Denver Broncos, is KOA's game day statistician for Bronco games and is one of the official scorers for the Colorado Rockies.  Since arriving as a freshman at CU in 1978, he has worked the entire time for the Buffaloes sans the summer of his senior year, when he was the PR director for the Denver Bears, the city's former minor league baseball team.
… Full story can be found here …
—
Offensive line consistency a key for the Buffs against Arizona
From cubuffs.com … With the end of October and the midway point of the college football season in sight, Gary Bernardi figured his semi-rebuilt Colorado offensive line would have gained confidence, cohesion, experience and would be in optimum working order.
Instead, CU's O-line has become a mid-season work in progress.
"It's just the way it is," said Bernardi, whose August assignment of replacing two starting guards has been supplanted by an October challenge of what might best be described as the big-boy shuffle at tackle.
When the Buffs lost junior starting left tackle Jeromy Irwin to a season-ending knee injury on Sept. 12, Bernardi plugged in Sam Kronshage for the next three games. But Kronshage, a sophomore, suffered a concussion in the Oregon game (Oct. 3).
That prompted the shift of senior starter Stephane Nembot from right tackle to left tackle for last weekend's game at Arizona State. Redshirt freshman John Lisella II, making his first start, struggled and was replaced by junior Shane Callahan, who previously had rotated at guard with starters Gerrad Kough and Jonathan Huckins.
Need a diagram yet?
… Continue reading story here …
—
Grant Watanabe ready for first live action in almost two years
From cubuffs.com … It's been almost two years since Grant Watanabe played in an actual game.
That means the Colorado freshman linebacker has two years of pent-up energy to release Saturday when the Buffs play host to Arizona (7 p.m., Fox Sports 1).
"It's been a long time," Watanabe said. "The last game I played was the Texas high school state championship game in 2013. It's been a long process and a frustrating process. I'm ready to get back out there and play."
Watanabe was actually a member of the 2014 CU recruiting class, but he delayed his enrollment for a semester because of a lingering foot injury. He enrolled last January, but even then, couldn't participate in spring drills because of the foot sprain.
… "I think Grant will play well," MacIntyre said. "He's physical, he's got good instincts and he likes to stick his nose in there. He's excited about playing and he's completely healthy. I expect him to get out there and get after it right away."
"We're ready," Watanabe said. "I think it's going to be a great test for all the linebackers, but the way we've been practicing, we're ready to do our job. I'm just ready to get back on the field and play in a game."
Oh, that state championship game? Watanabe made 13 tackles, including two for losses, and was selected as the game's defensive MVP.
Saturday, though, Watanabe won't be concerned with numbers.
"Just win," Watanabe said. "That's what my goal is."
… Continue reading story here …
—
Other Buff Stories …
– "Buffs scramble to make pieces fit on offensive line" … from the Daily Camera
– "Hagan To Serve As Homecoming Parade Grand Marshal" … from cubuffs.com
– "Buffs' Tedric Thompson makes big impact in sport he was reluctant to play" … from the Daily Camera
– "UA football turning to backup RBs"… from azcentral.com
– "Nick Wilson questionable for Colorado game" … from Tucson.com
—–
October 15th
… CU in a few minutes …
N.J. Falo is the next man up
From cubuffs.com … When it comes to inside linebacker for the Colorado Buffaloes, it's literally been "next man up."
N.J. Falo is ready to be the next man.
Falo, a true freshman who looks like anything but, is expected to see some significant playing time Saturday when the Buffs play host to Arizona in a 7 p.m. game at Folsom Field (Fox Sports 1). He'll get the opportunity because Addison Gillam is out with a knee injury suffered against UMass, Kenneth Olugbode is out with a leg injury suffered in the Oregon game and Ryan Severson is nursing a sore ankle suffered last week against Arizona State.
Now, the Buffs' inside linebacking corps will consist of redshirt freshman Rick Gamboa, Falo, sophomore Christian Shaver and true freshman Grant Watanabe.
"Three freshmen and a sophomore," head coach Mike MacIntyre said, "with Rick Gamboa the only one that has played a lot of plays. But they had a good day of practice (Tuesday), they had a good day of practice Monday. They'll get out there and do what they can do."
… "My next four years here, I want to win the Butkus Award," Falo said. "I know it's going to take a lot of work — an unbelievable amount of work — but that's what I'm willing to work for."
… Continue reading the story here …
—
Other Buff Stories …
– "Buff Youngsters Ready For Duty vs. Arizona" … from cubuffs.com
– "The CU Buffs have found their leader – Phillip Lindsay" … from BSN Denver
– "Buffs look to channel anger into victory against Arizona" … from the Daily Camera
– "Wildcats turn to a Jake to solve problems at 'Mike' " … from the Tucson Daily Star
– "UA's Tagaloa fills hole with small adjustment" … from azcentral.com
– "Arizona Football: 5 Questions Heading Into Colorado" … from zonazelots.com
—–
October 14th
… CU in a few minutes …
Coach Mac discusses linebackers, including playing freshman Grant Watanabe
YouTube video courtesy of BuffStampede.com
—
Depth chart issues for Arizona as well
From ESPN … Some shuffling on the offensive line with Layth Friekh listed as the starting left tackle and Freddie Tagaloa moving inside to left guard. And it wouldn't be an Arizona depth chart without weekly changes at linebacker. To account for Paul Magloire's move to linebacker, DeAndre' Miller and Jake Matthews (the fifth starting middle linebacker this year since Scooby Wright III went down) are listed at the other two spots.
—
Transcript from Mike MacIntyre's Press luncheon
From cubuffs.com …
General
"We got Arizona this week for homecoming, which is exciting. Homecoming is always a lot of fun. They came off a big win last week against Oregon State. The thing that makes them go is [QB] Anu Solomon. He hadn't been playing the last few games with a concussion, but he's an excellent quarterback. The thing that Anu does is he's able to stay alive. They do a lot of what we call, 'Zone-read dive,' over and over and over, and then he'll pull it. He has the option to run or pass. He has a really great knack of staying alive, he's an excellent scrambler and can make plays. [RB] Nick Wilson keeps their offense moving, excellent runner. They have an excellent, big offensive line. Then, Cayleb Jones is a big receiver that is a good target for them. Defensively, they haven't had [LB] Scooby [Wright] who is a phenomenal player. But, they've moved a couple other guys around and they are able to make plays. A guy that really sticks out, who I think is an excellent player for them, is [DE] Reggie Gilbert. He's a good pass rusher, big, physical defensive end. Coach [Rich] Rodriguez does a good job with their team. They were ranked I think in the top-20 at the beginning of the year. I think they raced out to 3-0 and then lost a couple and then they've come back. So, they're a good football team that will be in here Saturday night."
On the status of his linebacker corps   
"[Ryan] Severson is out. Our three top linebackers are out. We'll have Rick [Gamboa] of course who has played really well for us. Then we'll have N.J. Falo or Grant Watanabe or Christian Shaver; so three freshmen and a sophomore, with Rick Gamboa the only one who has played a lot of plays. But, they had a good day of practice (Tuesday), they had a good day of practice Monday. So, they'll get out there and do what they can do."
On LB Addison Gillam's status for this week's game
"We'll find out later this week, but it's hard for him to not get many reps live at all and then try to throw him out there (in the game) off a knee (injury). Doesn't look as good if he can't get back out there (to practice) tomorrow."
On TB Michael Adkins status for the game
"Michael Adkins is not back yet."
On the biggest challenge of defending Arizona's spread offense
"When Anu Solomon is in the game, the other young man, Jerrard Randall did an excellent job, but he is just not as accurate of a passer on the run as Anu is. When you watch Anu play, it's kind of un-canning some of the things he can do. You're thinking, 'How can he even get the ball away,' and how he scrambles around and makes plays. He adds another dimension to it, but Rich [Rodriguez] does a good job, they do a good job with their offensive line. Their offensive line is big; they kind of knock you out of the way and then [RB Nick] Wilson cuts and boom he's in the secondary. So, you have to be able to tackle that. They do a good job of everything is a run-pass-action. So, when they're running a run play, there is really pass routes going on, so Anu is reading that as he goes. He does a good job of reading that."
On getting a call from a good coaching friend
"I had a coach who coaches another sport who is a very good friend of mine that saw a couple of our guys interviewed and read a couple of things that they said. He's a prominent head coach and a good friend of mine. He called and said, 'When your leaders get really angry and ticked off, it's a good thing because they now know that they have to go execute and do it. Until it really hurts them bad, really bad then they kind of just take it.' He called me and said, 'I think it's a good thing.' I'd rather see them angry then not feeling anything about it at all, to be honest with you."
On TB Phillip Lindsay calling a "players only meeting"      
"He called it right after the game was over. We were flying back and going to be back (practicing Monday), he called it right there (on the plane) while I was standing there said, 'Hey we're going to get together when we get back.' Because we didn't get back until 4:30 or 5:00 in the morning on Sunday, and we didn't get together (as a team) on Sunday. So they had dinner here at 6:00 and so he said, 'Let's get together right before dinner.' Phillip Lindsay, I call him the "Tasmanian Devil," he's an excellent leader, he gives everything he has; he has great heart, he's a great team player. Our leadership council said they wanted to get them together. I meet with the leadership council once or twice every week and talk to the different guys on the phone all the time. So, they were excited about what happened in the meeting and all type of things (that happened)."
On if he has sensed anything different from the team since then
"They were more focused, there was more guys getting on each other. More initiative, we didn't have to tell somebody to pay attention, the other players did. To me, that was a real positive."
On what the defense needs to do this week to be prepared for UA's offense   
"Reps, Reps, Reps., and we had a lot of reps today. Also, we'll break it down, it won't just be a team group, there will be an individual area where you just work on the right side of the line with the back and how to read it and how to see it. Just so over and over doing it, is the only way you can do it. And then you show them a lot of film on it too. But mainly, it's repetition and a lot of it is not full team repetition, it's diagnosed down into sub-parts."
On how to get QB Sefo Liufau more protection during games        
"It's a combination of things, it is. Sometimes of course it's the offensive line's fault; sometimes we might be holding the ball a bit longer to get a route type of situation. So it's a combination of different things. Last year we gave up the least amount of sacks in the league (Pac-12 conference). The other night it wasn't very good. We knew if we got behind against them like that, some of the things we did to be throwing all the time (to get back in the game) it would be a little bit tougher. When you can mix it up the run-pass, it helps that situation a lot."
On the struggles at offensive line and dealing with injuries
"You would like to have five guys and then have one tackle and one guard, so-to-speak, that can rotate in and then you have a good continuity. When you're having to move guards to tackles and opposite, left and right side. It sounds very simple but there's some logistics that go into you and communication. If you've always dropped with your right foot back and now you're dropping with your left foot back; again it sounds simple, but [when there is] a guy running at you who is 270-pounds running and he breaks down your left arm and your right arm and you get your foot turned the wrong way or you hip the wrong way. So that's been tough, but I feel like doing it again this week, we'll be better than we were last week. And then ASU had some very good pass rushers also, that has something to do with it, and so did Oregon.  I think that will help us some, as far as some of the guys that are pass-rushing against us at times."
If there is an emphasis on rush-defense this weekend due to UA's rushing offense   
"Oh yeah, definitely. They're kind of like Baylor and those guys, they spread you sideline-to-sideline. It's one of those things you know, my wife always teases me and asks, 'Why didn't you run it up the middle some?' Because everyone wants you to do all that. Well, you're going to see them (Arizona) run it up the middle, run it up the middle, run it up the middle. They get you spread out and try to get you tired and then hit some creases there on you. You have to be extremely sound and get lined up correctly. Then, they have some misdirection that they do that allow them to hit some. But, it's mainly the speed of the game and the size of their linemen kind of getting a push and it ends up being a crease. So yeah, we're all working on it hard.
On if Stephane Nembot and Sam Kronshage have been working different positions 
"We have been working it both ways in practice. We have been working Stephane at left (tackle) and Shane [Callahan] at right (tackle) and Sam at right and Sam some at left in case Stephane got hurt. You have to work all those scenarios and (knocks on wood table) we don't need that to happen. Stephane did a good job at left tackle too."
On encouragement he receives from friends and family    
"I would like to get the win and walk through the door with a smile on my face and not have the dog be the only one smiling in the room, is what I would like, there's no doubt. That's a great point, you get texts from friends and what not. I get texts from a lot of our players' parents and calls a lot from our players' parents saying, 'Coach hang in there, you all hang in there.' What hurts me the most is honestly, looking into the young men's eyes in the locker room, and looking at the coaches' eyes and they're blurry because they've worked all week and there is no reward so-to-speak. So that's really what frustrates you the most and really hurts you the most. And of course, going home and sometimes I wish I was always in a good mood and sometimes I'm not always in a happy mood, and I shouldn't let all these circumstances affect my mood but I do. There's no doubt that you would like to walk in the room and be excited about everyone around you and having a good feeling about the weekend."
On the trying to re-establish the running game        
"We had some good runs there (at ASU). We definitely thought we would have AN opportunity to run the ball on them, we did the year before, but we got behind the eight ball so fast. Then we came out in the second half and we got down again. We felt like running it in that type of situation, we needed to make some other plays and we made some pass plays and had an opportunity. But, there is no doubt whatsoever that we would like to be able to run the ball better. I think that will help us, and I think that we need to be able to do it Saturday. We still gained over 400 yards and all that type of thing (at ASU), but when you have good balance it enables you to have more big plays and it enables you not to have some negative plays. Also, it allows you a chance to not have so many turnovers when you're balanced. And balanced doesn't need to be 250 yards rushing, but it needs to be 150-175 and that type of thing. Now, you'd love to have 300 yards rushing and 300 yards passing but…"
On if he is ever amazed by QB Sefo Liufau's physical toughness  
"No, I'm not. I even went up to him (at ASU) and said, 'Sefo can you keep doing this?' And I said, 'Because if you can't, you let me know right now,' and he said, 'No coach I can keep doing this, I'm going to keep going. He can keep doing it. We haven't gotten into as good a rhythm as we would like in some of the games. Today, I always say this but I really mean it, today was the best Tuesday practice Sefo has had since the CSU game. He was throwing it good, he was moving it good. It was like he hadn't even been touched (in games) he was throwing the ball really well, our timing was good. It gave me a great feeling that he feels back kind of in the saddle so-to-speak. I've said it before, I've never been around a quarterback that is as tough as he is. Also, he's mentally tough because we're not winning and he's the quarterback and the quarterback and the head coach always take all the blame and then we get too much credit when we win. But he's a leader and a guy the guys believe in and trust. I would love to see him get some 'W's' and get some accolades because right now he hasn't gotten any but he has done a lot of stuff we just haven't won games. When we do win games, he will start getting some accolades."
On what positives they took from the past two losses         
"The positive is we were able to battle with them. We've come a long way but we have a long, long way to go, but we are not where we used to be. But, we want to be a lot better than we are. That's really hard and for the kids it's really tough. So, you have to keep telling them that and showing them that and building them up, and keep having them push forward. I think from the Oregon game they took that, 'Hey we can play with these guys, there's no doubt. The Arizona State game, the time we went there before, it was really ugly at half. This game, it was 24-10 at half, and we basically gave them, it was a couple of fluky plays, you knock a fumble loose and it bounces forward (for a touchdown). I think their effort, their know-how, for some reason we kind of busted a couple of things that we haven't busted in the secondary that hurt us early in that game and that we need to fix. I think their fight and their attitude is there."
On in-game execution      
"You just have to keep doing the repetition of it, and then keep doing it over and over, and be more precise. There were a couple times in both the games (vs. Oregon and at ASU) that we had opportunities to score really early in a couple situations and we were just a little bit off; if you score on those, the momentum is a little bit different in both those games. That's what we have to do. We keep talking about starting fast, and that's something that we want to do, and every team talks about that of course. We need to go do it. I think that just some things happen sometimes and it's not a perfect science that's out there. But, it's just the repetitions, if something fluky happens in front you, the repetitions help you to take care of it and you are a little more precise."
On how big a win this weekend could be for team morale
"A win is always, in our situation, is huge; especially a Pac-12 win. I think it is extremely big for the guys. Any time you win, you make some mistakes in a game and you don't look at them as bad; when you lose, every mistake is magnified. Winning kind of covers up sin, so-to-speak. That's what we need to do, we definitely need to win football games. Our kids definitely want to and they're fighting hard. I haven't had to get on them one time at practice of not going hard or doing that, which is encouraging to me that they are having the fortitude to come ready. When I have to start beating them with a bat, so-to-speak, to push them to go, then that's when you really get nervous. But, they give me confidence watching them and their work ethic and their attitude and their fight. They said earlier, they're angry and I'm glad they're angry, I'm really glad they're angry."
On if he feels this team has had bad luck       
"I think you make your own luck. If the ball bounces places, you have to react, you have to handle that and react. We've had our share (of bad luck), there's no doubt. You'd like the ball to bounce the other, so-to-speak, and eventually it will."
On Steve Sarkisian and how he balances a stressful job    
"First of all, I really feel for Steve. I've gotten to know Steve and I really like him and I'm praying for him and thinking about him, and I can't wait to see him get himself together because he's very talented, has a great charisma to him and I don't know all of what is going on. But, when I saw that the other day, someone came in and told me, I just sat in my office for about 10 minutes and was thinking and praying for him, to be honest with you. The way I handle everything is through my faith and my relationship with Jesus Christ; that's how I handle everything. That's the most important thing to me, and then my family is next. I found out an hour before the Oregon kickoff that my dad got put in the hospital and my mother in-law got put in the hospital and I didn't know if either one of them would get out. So, my wife has been in Nashville at Vanderbilt hospital going back-and-forward between my dad's room and my mother in-law's room, but I don't have time to get there. My dad is doing okay now, my mother in-law has had a small miracle but she still has cancer all over her body and I don't know how long she'll last. Those types of things are what keep you grounded, and make you understand what really is important in life. Football is important, winning games are important, how you treat people is important, how you care about young men is important; but I think there is a balance. But, I would love to win a bunch of football games, I would feel a lot better."
On what impresses him about SS Tedric Thompson
"Tedric, to me is an amazing young man. His mom, flossy, is an amazing lady how she's raised her young boys—he has a brother who plays for the [Miami] Dolphins now. [Tedric] is a young man that has come here and overcome a lot of obstacles. Academically he is doing really well. Watching him kind of blossom from being a little shy to talking—he asks me more questions than anybody, that's why he is going to be successful, he's not afraid to ask a question if he doesn't know something; I think that is a great quality in life. And then, to see Tedric come back from the incident in the UCLA game (in 2014 when he was injured) and that was a scary incident. He had a time there, he wasn't sure if he wanted to play again, and you can imagine laying on the field and getting locked down on a stretcher and being carried off in an ambulance. His mom is watching it on television, his brother is watching it in the airport with his Minnesota [University] team before they get on a plane and their coaches hear and are calling us trying to find out if he's okay. So, he kind of goes through that and wasn't able to come back the last half of the year. So, in the spring me and him met a lot, because he was just trying to figure out life, trying to figure it all out. Then, it finally clicked back and to watch him play now and see what he's doing and how he plays so hard and how he's become a leader and how he's grown up is really, really fulfilling to me. I'm excited about what his future is going to be, not just in football but in life. It's exciting, and I tell you, it hurts him so bad, he plays so hard. That play he made in the Oregon game on fourth down was a huge play and got us back in it. His blocked field goal against CSU changed the game. So, he brings that energy to our football team and he is a guy that I rely on and believe in."
On how Pac-12 games differ from others
"In Pac-12 football there is excellent players all over the field. It being a Pac-12 football game for us is a big deal, and it being homecoming. We sit 3-3, we'd love to be better than 3-3, but we can still reach aspirations, there's no doubt about it. This is a step, a home game, homecoming at Folsom; we've played pretty well at Folsom and I think we'll play well on Saturday night and I think our kids will be excited about playing."
On stretching the field on offense with receivers     
"Devin [Ross] has made a couple long catches, Shay [Fields] has. They are fast and able to get down the field. We have some other quick, fast guys that we feel like have gotten down the field and made some plays. We would of had more big plays, but Sefo [Liufau] got hit. If you go back and watch it on film you go, 'God, just one more step and and it's touchdown, touchdown, touchdown.' Our kids see that too and that frustrates them because they can just taste it and see it, and they watch it on film and go, 'Oh my gosh he's wide open,' and it doesn't happen. So, we make a few plays like that and it will change these games and I definitely believe that it will, we just have to keep pushing to do it. There's been some shots there, and you've probably seen it yourselves up in the press box. So we'll be able to make some of those shots."
—–
October 13th
… CU in a few minutes …
CU linebacker corps down another player
From cubuffs.com … What's the next step down from thin? Whatever, Colorado's inside linebacking corps is there. The Buffs aren't quite depleted at the position, but another injury or two might qualify using that term.
CU will go into Saturday night's Pac-12 matchup against Arizona (7:00 p.m., Folsom Field, FS1) with its top three inside linebackers sidelined. Addison Gillam (knee) has missed the past four games, Kenneth Olugbode (knee) missed last weekend's loss at Arizona State, and Ryan Severson (ankle) will miss Saturday's game.
Coach Mike MacIntyre on Tuesday said this week's list of replacements includes three freshmen and a sophomore. Redshirt freshman Rick Gamboa has started the past four games in place of Gillam and "has played really well for us," MacIntyre said.
The pair of true freshmen who could be used are N.J. Falo and Grant Watanabe, the sophomore is Christian Shaver. Falo has played in three games, Shaver two.
"Gamboa is the only one who has played a lot of plays," MacIntyre said. But they had a good day of practice (Tuesday), they had a good day of practice Monday. So they'll get out there and do what they can do."
… Continue reading story here …
—
Buffs have a chip on their shoulder
From cubuffs.com … So here's most of what we learned in Colorado's weekly Tuesday news conference from head football coach Mike MacIntyre and a couple of his players: The Buffs claim they're mad as hell and aren't going to take it anymore.
Right now, with last weekend's 48-23 loss at Arizona State still smoldering and their record settling in at mediocre (3-3), you have to take the Buffs at their word – at least until late Saturday night when the Arizona Wildcats exit Folsom Field.
That's when a week of anger, frustration, and hopefully ramped up focus will either have carried CU to its first Pac-12 win in 14 games or reduced Tuesday's talk to, well, timely and entertaining chatter.
Previous Buffs teams have never quite managed to walk the walk after a similar week of talk, but MacIntyre sees positivity in his third CU team's anger. And that view was reinforced by a telephone call from a close friend who happens to be a prominent head coach in another sport at presumably another school.
Recalled MacIntyre: "He called and said, 'When your leaders get really angry and ticked off, it's a good thing because they now know that they have to go execute and do it. Until it really hurts them bad, really bad, then they kind of just take it.' He said, 'I think it's a good thing.' I'd rather see them angry than not feeling anything about it at all, to be honest with you."
… Continue reading story here …
—
Mike MacIntyre talks with the media after Monday's practice
From YouTube, courtesy of BuffStampede.com …
—
Arizona quarterback Anu Solomon feeling better … All-American linebacker Scooby Wright still out
From Tucson.com … Many Arizona Wildcats would like to forget the team's Sept. 26 loss to UCLA.
Anu Solomon, for one, doesn't remember a second of it.
"Nothing," Solomon said, "not a thing."
The Wildcats' quarterback suffered a concussion when the knee of a Bruins' defender struck him in the head during the second quarter of the 56-30 loss. Solomon retreated to the locker room for concussion-related tests and didn't return for the second half. He missed the next week's game against Stanford before returning for the UA's 44-7 win over Oregon State.
"It felt great," Solomon said of his return against the Beavers. "A little rusty. I could tell throwing the balls out there I was lobbing it. I could tell I needed to get an extra lift in since I hadn't lifted in two weeks, but overall as a team, we did pretty good."
… Solomon ranks No. 52 nationally with 224.2 passing yards per game and is one of only three quarterbacks ranked in the top 55 who has yet to throw an interception. Mississippi State's Dak Prescott and Memphis' Paxton Lynch are the others. Solomon has 11 touchdowns and 1,121 yards, too.
… Continue reading story here …
Scooby Wright still out … Scooby Wright continues to progress in his return from a sprained foot, coach Rich Rodriguez said, though the All-American linebacker won't play this week.
Wright, who is still using a walking boot, is also doubtful to play Oct. 24 against Washington State
—–
October 12th
… CU in a few minutes …
Coach MacIntyre expresses support for Sefo Liufau … Sam Kronshage will be back at right tackle this weekend
From cubuffs.com … Colorado coach Mike MacIntyre had a succinct but definitive answer to a question about quarterback Sefo Liufau Monday morning.
Asked whether he "at any point" has considered making a change at the position, MacIntyre answered almost before the question was finished.
"No," MacIntyre said firmly.
MacIntyre made it clear that Liufau will still be the Buffs' quarterback when the Buffs play host to Arizona on Saturday at Folsom Field (7 p.m, Pac-12 Network).
Asked how big the gap is between Liufau and backups Jordan Gehrke and Cade Apsay, MacIntyre said, "Sefo has played a lot, he's done well, he's big, he's strong, he's competitive. I can't say how big the gap is, but we feel like he's better right now."
… Continue reading story here …
—
KRONSHAGE BACK: The Buffs received a bit of good news Monday when left tackle Sam Kronshage was cleared to return to practice. Kronshage — who replaced Jeromy Irwin in the starting lineup after Irwin suffered a knee injury in the second game of the season — did not play against ASU because of a concussion.
His return means Stephane Nembot will be able to return to right tackle, all of which is good news for CU's offensive line.
—
CU to wear all-silver uniforms for Homecoming this weekend
Here you go …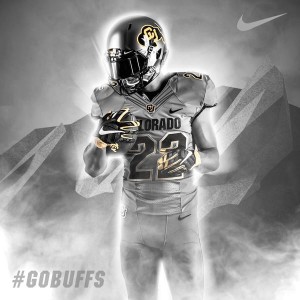 —
Colorado game at Oregon State will kickoff at 8:30 p.m. MT
From the Pac-12, the television schedule for next weekend:
California at UCLA – 7:00 p.m., ESPN (Thursday)
Washington State at Arizona – 2:00 p.m., PAC 12 Networks
Utah at USC – 5:30 p.m., FOX
Colorado at Oregon State – 8:30 p.m., MT, PAC 12 Networks
Washington at Stanford – 8:30 p.m., ESPN
—
Buffs back to work after rare Sunday off … Offensive line an area of focus
From cubuffs.com … For the first time since the season started, the Colorado Buffaloes didn't have a Sunday practice. Because they didn't return from their trip to Arizona State until the wee hours of Sunday morning, head coach Mike MacIntyre moved Sunday's practice to Monday, normally the players' day off.
It will be interesting to see how the Buffs react after having an entire day to digest Saturday's 48-23 loss to the Sun Devils — especially because it's the first practice of what could be the most important week of the season thus far.
No doubt, every week is important. Win or lose, every team needs to return to work each week with a clear sense of purpose.
But given the tone of locker room conversations Saturday night in Tempe, it's not unfair to say the Buffs are at an important crossroads of their season — one that could still produce plenty of success, or simply extend the program's frustrations.
… Continue reading story here …
LINE SHUFFLE: No one knows yet whether left tackle Sam Kronshage — who missed Saturday's game because of a concussion — will be available to play this week. If not, it wouldn't be a surprise to see regular right tackle Stephane Nembot play on the left side another week and Shane Callahan take over on the right side.
Callahan replaced starter John Lisella II in Saturday's game after the redshirt freshman struggled against ASU's pass rush, one that produced eight sacks. Callahan, who started his college career as a tackle but was moved to guard by CU's coaches, said he felt comfortable back at his old spot.
"It felt good," Callahan said. "It took a little while to get my rhythm back, but it felt pretty good."
—
Other Buff Stories …
"Buffs reeling from first blowout loss" … From the Daily Camera
"Wrap-up: Sun Devils stick a fork in the Buffaloes" … From BSN Denver
"Colorado Becoming Team With All the Makings of an Upset" … From Today's U Sports
—–
October 11th
… CU in a few minutes …
CU remains at No. 11 in ESPN Pac-12 Power Rankings … sandwiched between the Oregon schools
From ESPN … The ESPN Pac-12 Power Rankings have been updated, with Utah at the top, and Oregon State at the bottom. The full list can be found here, with the Arizona Wildcats, CU's next opponent, in at No. 9.
The Bottom Three:

10. Oregon Ducks: Right now Oregon is an incomplete, subpar football team with a very good running back. But any mystique that once surrounded the program has evaporated. The Ducks haven't looked this mortal in a long, long time.
11. Colorado Buffaloes: The Buffs reverted a bit in their loss to Arizona State on Saturday. The protection was horrendous and they weren't able to recover from the early mistakes. A home win next week against Arizona could be a shot in the arm for a team struggling to show it has improved. But if Colorado plays like it did against Arizona State, it could be another long Saturday.
12. Oregon State Beavers: The 44-7 loss to Arizona probably wasn't what Gary Andersen wanted to see from his team coming off the bye week. The Wildcats ran up and down the field and the Oregon State offense was mostly ineffective. But it's all part of the learning process. And the Beavers clearly have a lot more to learn.
—
Associated Press poll … Utah up to No. 4
For the first time this season, the Pac-12 conference is down to four teams in the Associated Press poll. Utah, after its win over California, moved up one spot to No. 4, while Cal, despite the loss, remained at No. 23. The other two teams in the poll from the conference, UCLA and Stanford, were idle this past week, and will play each other in Palo Alto this Thursday (8:15 p.m., ESPN).
USC, which lost to Washington, fell out of the poll after being the No. 8 team in the preseason poll.
The No. 7 preseason team, Oregon, was already out of the poll after falling to Utah a few weeks ago. The Ducks, however, after a 45-38 double overtime loss to Washington State, is no longer even in the "others receiving votes" category.
Arizona State, which easily handled Colorado, 48-23, moved up from No. 32 to No. 28 in the latest poll.
| | | | | |
| --- | --- | --- | --- | --- |
| 1 | Ohio State (27) | 6-0 | 1411 | 1 |
| 2 | Baylor (13) | 5-0 | 1390 | 3 |
| 3 | TCU (3) | 6-0 | 1354 | 2 |
| 4 | Utah (16) | 5-0 | 1350 | 5 |
| 5 | Clemson (1) | 5-0 | 1260 | 6 |
| 6 | LSU | 5-0 | 1231 | 7 |
| 7 | Michigan State | 6-0 | 1139 | 4 |
| 8 | Florida | 6-0 | 1075 | 11 |
| 9 | Texas A&M (1) | 5-0 | 1046 | 9 |
| 10 | Alabama | 5-1 | 1034 | 8 |
| 11 | Florida State | 5-0 | 937 | 12 |
| 12 | Michigan | 5-1 | 894 | 18 |
| 13 | Mississippi | 5-1 | 803 | 14 |
| 14 | Notre Dame | 5-1 | 766 | 15 |
| 15 | Stanford | 4-1 | 662 | 16 |
| 16 | Oklahoma State | 6-0 | 614 | 21 |
| 17 | Iowa | 6-0 | 520 | 22 |
| 18 | UCLA | 4-1 | 487 | 20 |
| 19 | Oklahoma | 4-1 | 342 | 10 |
| 20 | Northwestern | 5-1 | 317 | 13 |
| 21 | Boise State | 5-1 | 260 | 25 |
| 22 | Toledo | 5-0 | 237 | 24 |
| 23 | California | 5-1 | 204 | 23 |
| 24 | Houston | 5-0 | 121 | NR |
| 25 | Duke | 5-1 | 114 | NR |
Others receiving votes … Temple 96, Memphis 59, Arizona St. 27, Mississippi State 19, Georgia 16, Texas Tech 10, BYU 8, USC 5, W. Kentucky 5, Kentucky 4, Penn St. 4, Navy 3, North Carolina 1
—
Arizona a touchdown favorite over Colorado
According to vegasinsider.com, the Arizona Wildcats are a touchdown favorite over Colorado this Saturday (7:00 p.m., FS1).
Other Pac-12 games:
– No. 15 Stanford is a 5.0-point favorite over No. 18 UCLA at home (8:30 p.m., MT, ESPN, Thursday)
– Washington State is an 8.0-point favorite at home against Oregon State (2:00 p.m., MT, Pac-12 Networks)
– No. 4 Utah is a 6.5-point favorite at home against Arizona State (8:00 p.m., MT, ESPN)
– USC is a 3.0-point underdog on the road against No. 14 Notre Dame (5:30 p.m., MT, NBC)
– Washington is a 2.0-point favorite at home against Oregon (the Ducks opened as a 1.5-point favorite, but the line quickly moved 3.5-points in favor of the Huskies (8:30 p.m., MT, ESPN2)
—
Recap of Arizona's 44-7 drubbing of Oregon State
From the Arizona Republic … "We just needed a win," coach Rich Rodriguez said.
They got it in the most convincing way possible. Arizona had 644 total yards, including 368 yards rushing, while Oregon State was held to 249 total yards. Freshman running back Orlando Bradford rushed for three scores, Nick Wilson had two touchdowns in limited time and Jared Baker had 123 yards rushing.
Solomon, returning from a concussion that forced him to miss the Stanford game, completed 17 of 30 passes for 276 yards.
"I thought he was very sharp," Rodriguez said of Solomon, who wasn't made available to the media. "I don't know if it was his best game that he's played, but he commanded the offense."
Arizona scored on six of its first seven drives and what was a 13-7 game early in the second quarter was a rout by halftime.
"We got dominated basically in all three phases," said Oregon State coach Gary Andersen. "They beat us badly today."
… Arizona has a chance to string together some victories. Its next three games are at Colorado, Washington State at home and at Washington. After those three we'll know if Saturday's win was the start of something positive or just a one-week respite.
"We did exactly what coach (Rodriguez) told us to do," Magloire said. "Go out there and have fun."